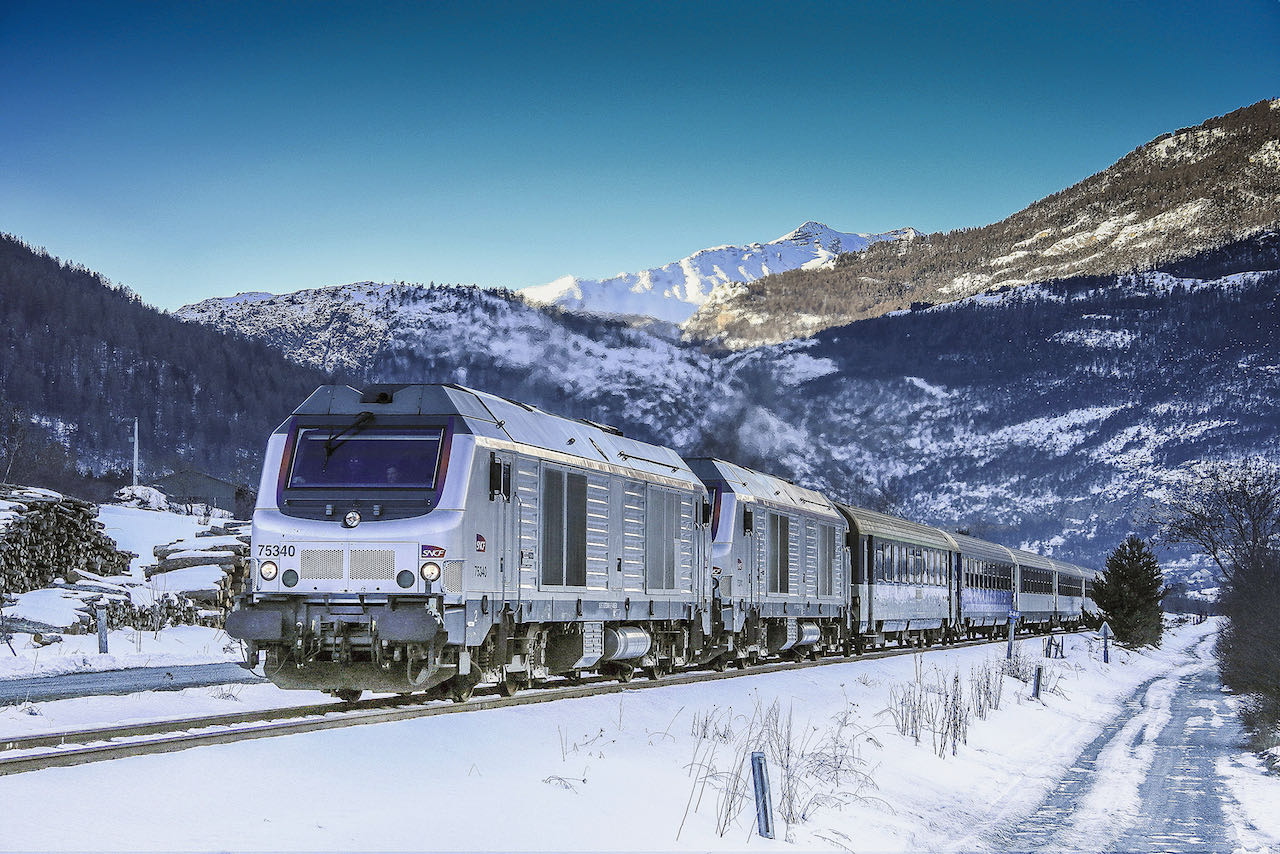 A last look at the winter of 2020/2021 as BB 75340 approaches Briançon on the 28th February 2021 at the head of the overnight train from Paris. Due to engineering work this service is temporarily suspended and the stock will be utilised on the Paris - Nice sleeper. BB 75340/75341 have been transferred to Brive for crew training. The Paris - Brive overnight service will resume in April, initially with BB 67400 until crew training on BB 75300 has been completed. Photo Christophe Masse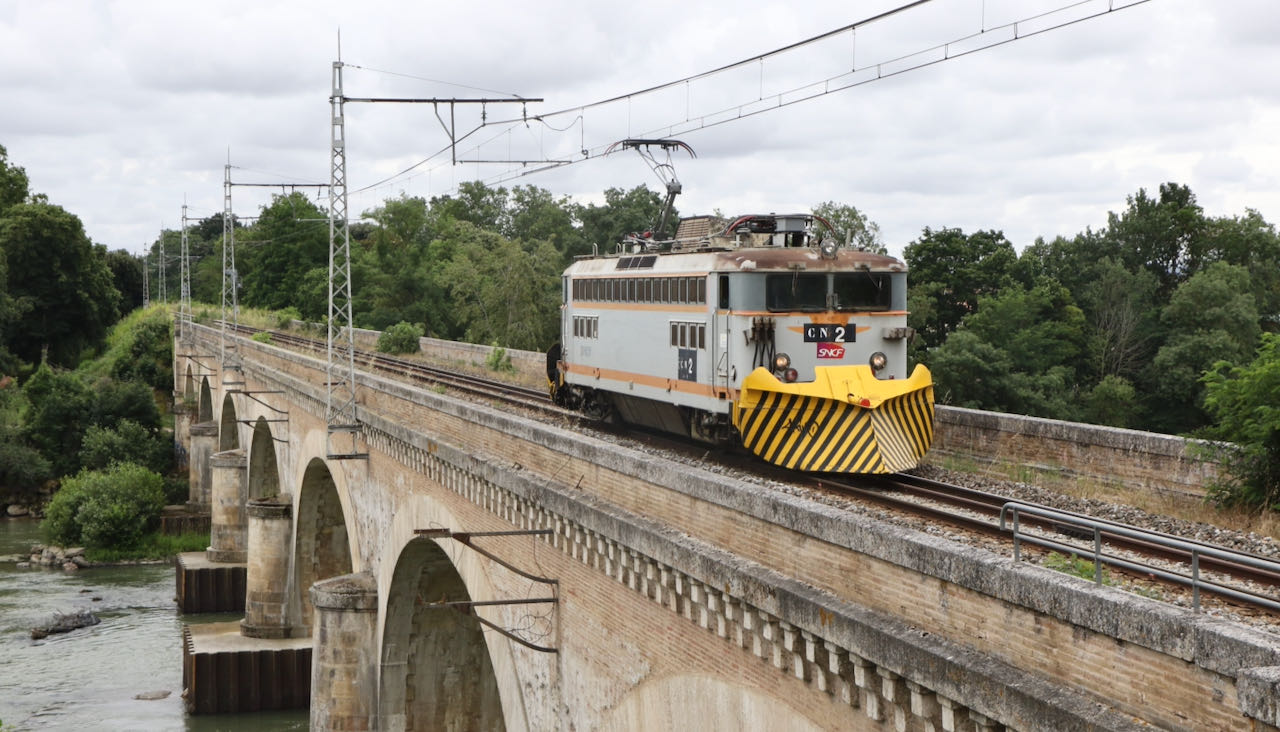 Broken ICE
During March DB ICE units were declared complete failures on two occasions upon arrival at Paris and had to be towed back to Germany for repairs. On both occasions German specialist operator RailAdventure provided the traction using their Stadler DE18s.
Right On Sunday 7th March ICE 708 passes through Lagny-Thorigny en route to Saarbrücken. Above On Sunday 21st March it was the turn of ICE 702 to be dragged backhome seen passing through Vaires-Torcy station. Both photos Christophe Masse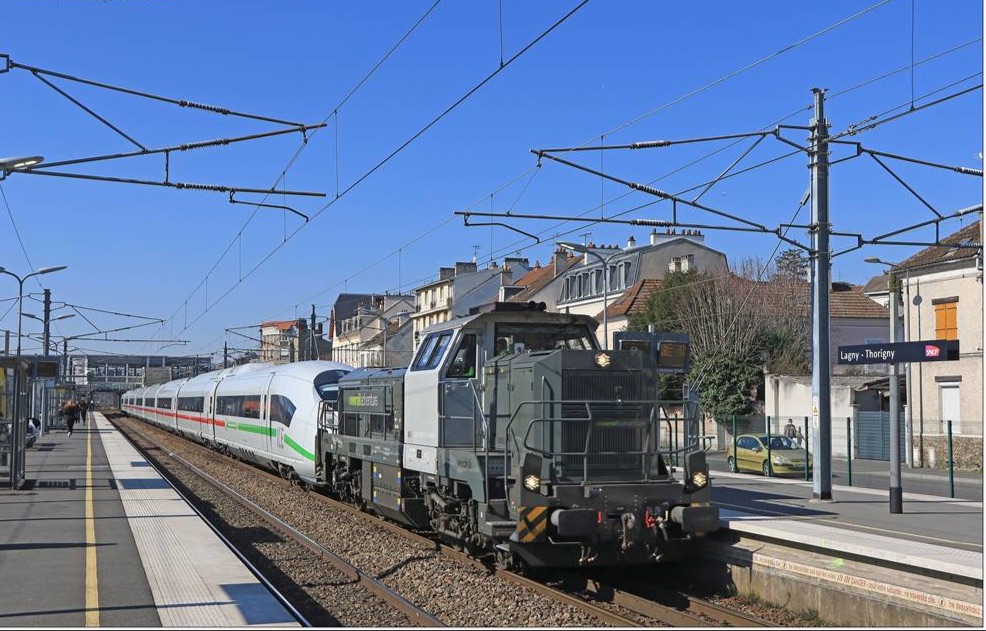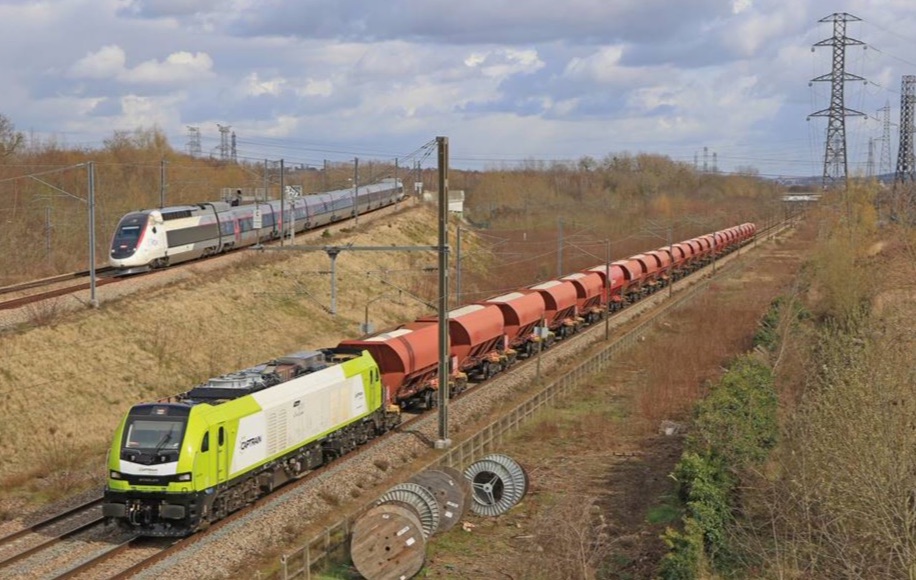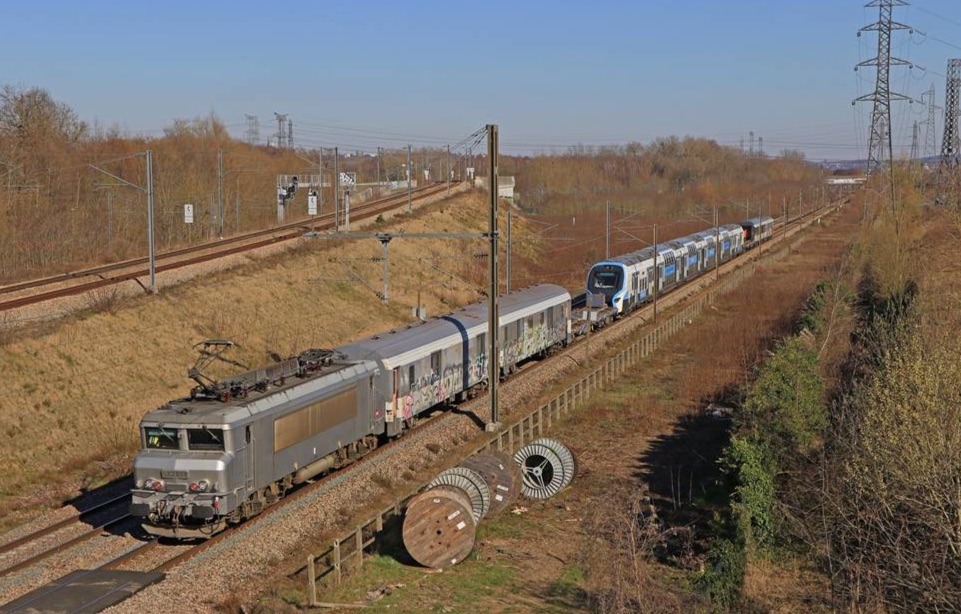 Variety at Vaires-Torcy
Above the hare and the tortoise, while POS 4419 descends down the toboggan run of the LGV EST at full speed with TGV 2540, Captrain E4001-3980 plods towards Gaillon-Aubevoye (Eure) with aggregates from Gudmont Quarries (Haute-Marne) on Sunday 14th March.
Right. On Saturday 6th March BB 22251 heads towards Noisy-le-Sec from the Nançois-Tronville railway test centre near Bar-le-Duc with RER NG Z58005/06. These will start to see commercial service on RER routes D & E in 2022 All photos Christophe Masse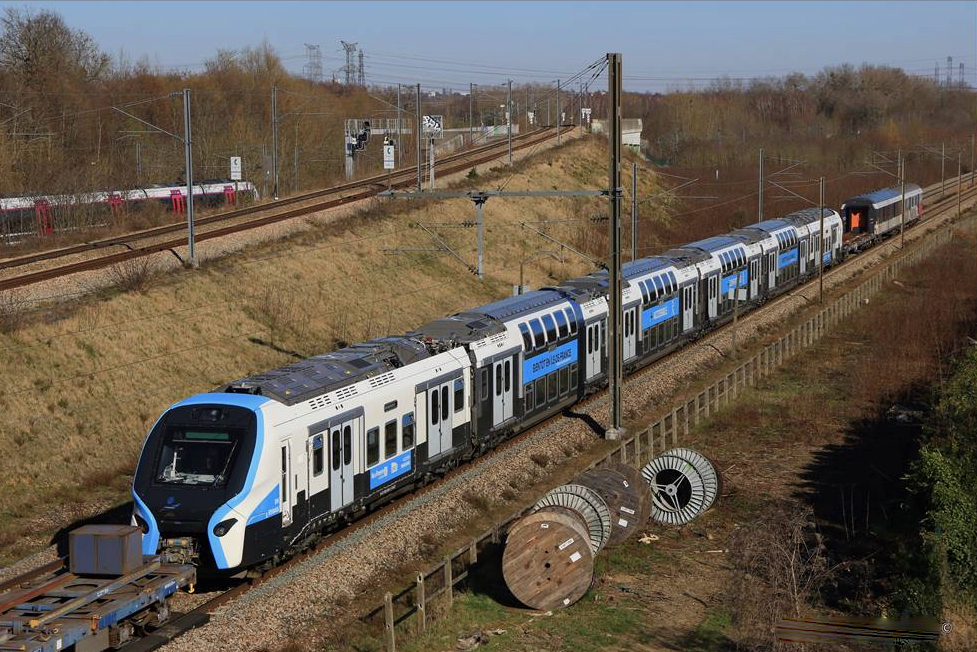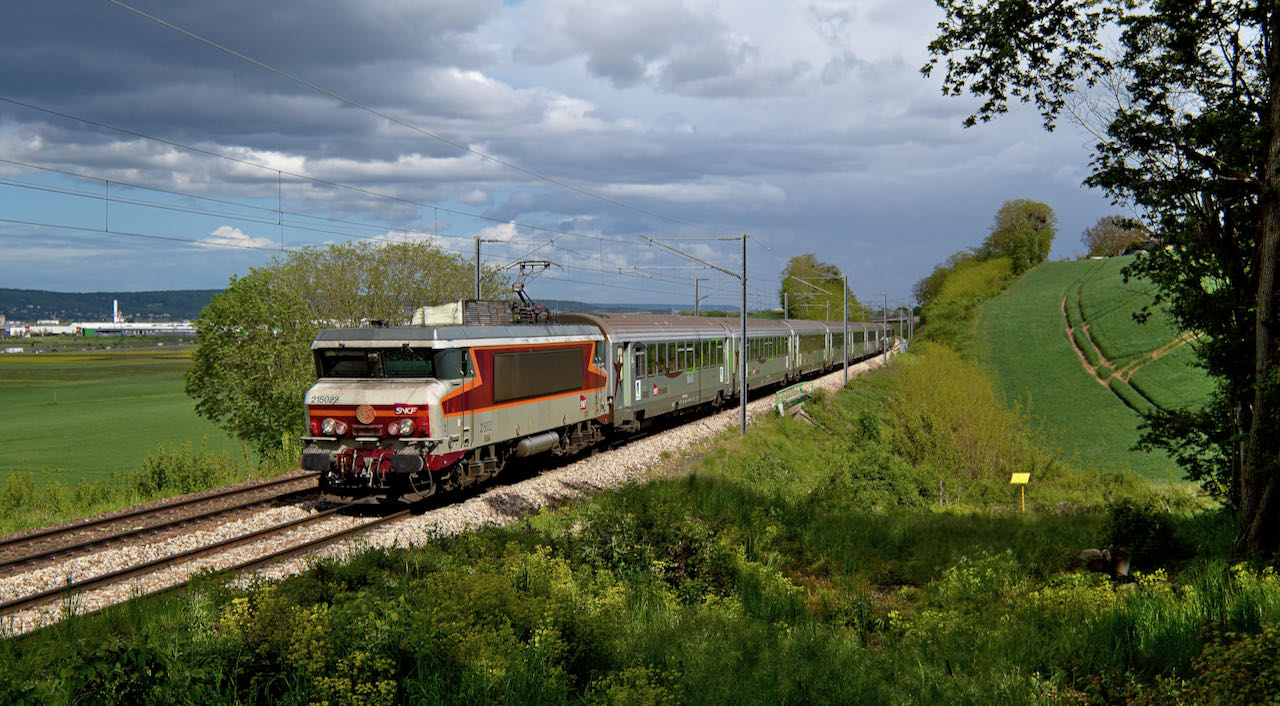 Former PACA BB 22200s continue to appear on corail hauled services from Gare du Nord, making a brighter appearance than the regular silver grey ghost liveried examples. On the 6th of March BB22261 catches the early morning sun at Faloises as it heads towards Paris with a service from Amiens. Photo Erwan Quintin.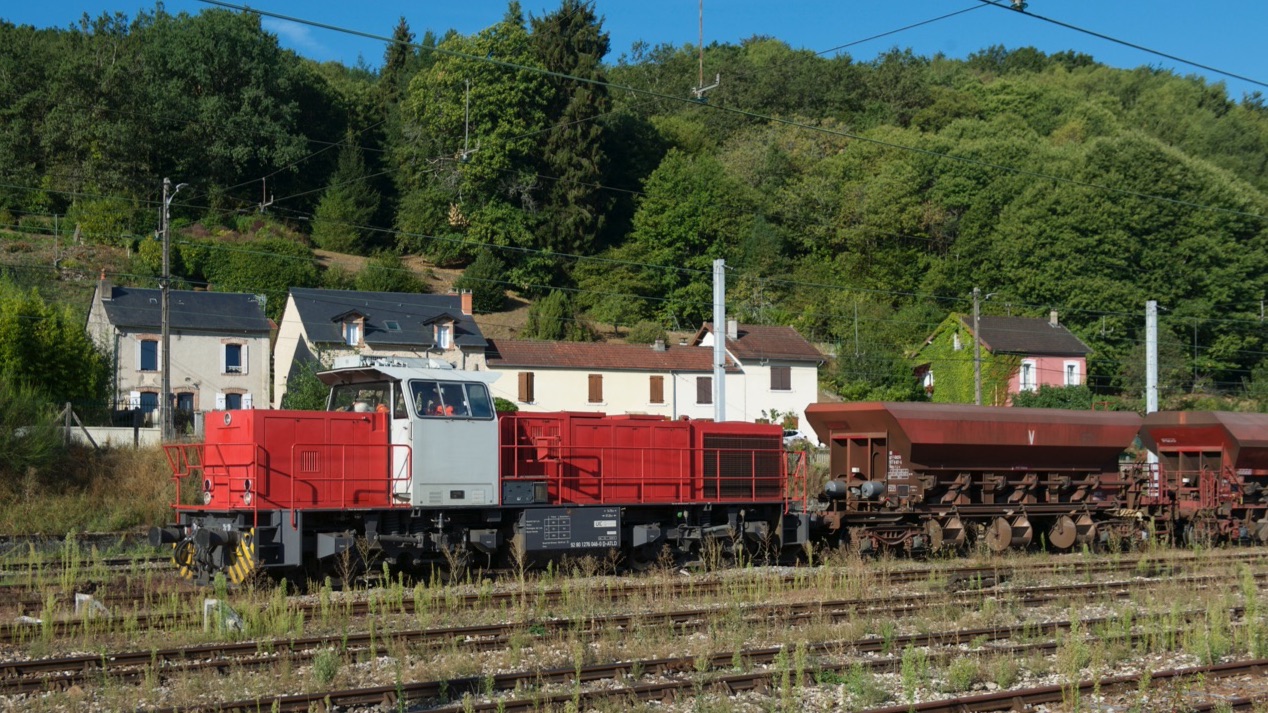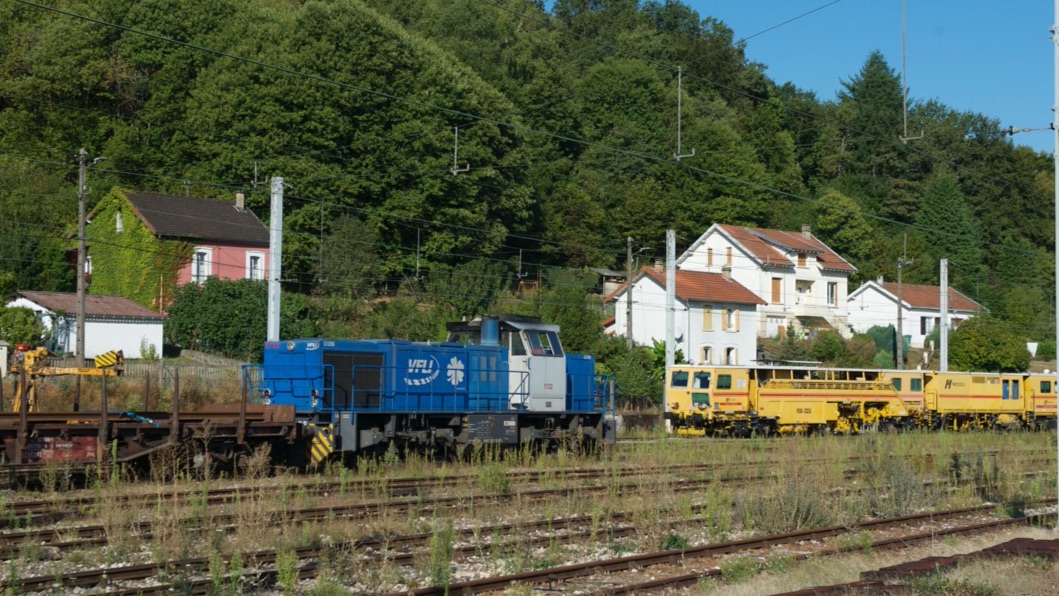 SNCF re-structures freight undertakings
From the 1st January SNCF has re-organised its various rail freight and freight logistics activities together to become Rail Logistics Europe.
The new organisation consists of five distinct brands: Fret SNCF, Captrain, VIIA, Naviland Cargo and Forwardis. Their main activities are:

SNCF Fret - Able to convey both large and small wagonload consignments across France including specialist cargoes. A member of the XRail Alliance, which allows transfer to other operators throughout Europe.
Captrain. Formerly SNCF's non domestic freight operator with operations in Germany, Italy, Spain, Belgium and Switzerland, Netherlands and Poland. Since 1st January VFLI has become Captrain France and able to offer europe wide services through the Captrain network. In addition it will continue to offer traction for railways work trains, as well as railway infrastructure engineering and maintenance operations.
VIIA is a combined transport operator specialising in "rolling motorways", carrying standard semi-trailers on trains without the drivers presence. The government has promised the introduction of new long-distance services to attract HGVs as part of their environmental plans
Naviland Cargo, is an operator as well as a freight forwarder specialising in maritime containers, swap bodies and tanks offering rail and road and waterway transport modes to form a single logistic chain.
Forwardis, is a freight forwarder, described as an "architect" of logistic solutions offering rail, waterway or multimodal solutions from China to spain using a range of different operators.
Rail Logistics Europe takes advantage of the synergies between these five companies to offer a range of personalized services throughout Europe around four businesses: railway operator, combined transport, rail highways and rail transport consolidator. Setting aside all of the "corporate speak" one of the more visible signs of the changes is likely to be the former VFLI red and blue locomotives appearing in Captrain's lime green livery. Above a pair of VFLI Vossloh G1206s prepare to leave St Sulpice-Lauriere with an engineers train in September 2019.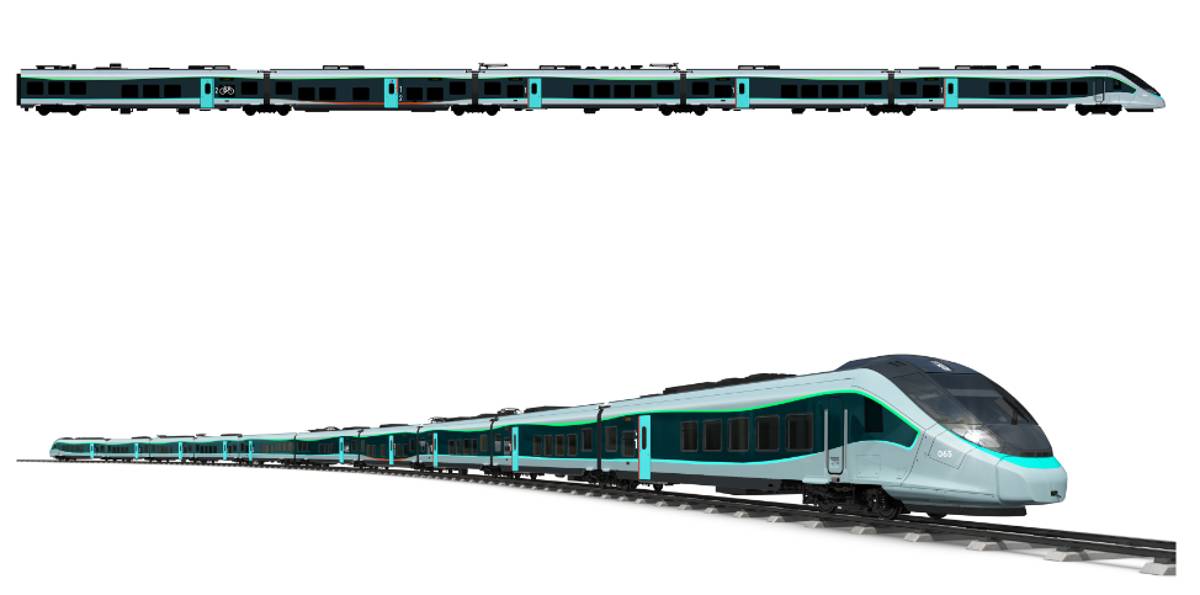 CAF unveils details of new Intercite units
Following a public consultation CAF have released the first details of the new AMLD articulated units that will replace the BB 26000 and corail stock on the Paris - Clermont Ferrand and Paris - Orleans - Limoges - Toulouse (POLT) routes between 2023 and 2026.
The black and green units will have a top speed of 200km/h and each unit will provide 420 ergonomic seats, Wi-Fi, USB sockets and ports, spaces for bicycles, and will offer independent access for people with reduced mobility.
Costing €700 million there will be 12 units for Paris - Clermont Ferrand and 16 for POLT. Testing will begin in 2022 with the units entering service between 2023 - 2026, with delivery scheduled at one unit a month.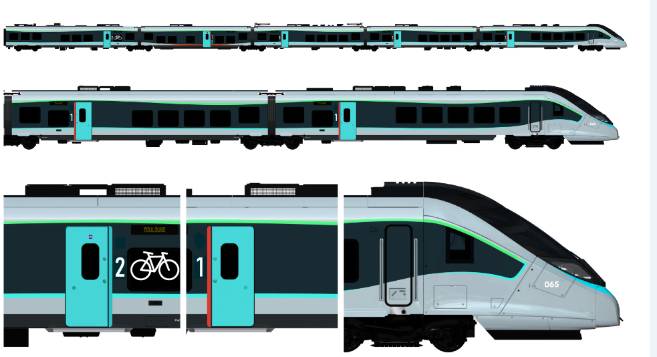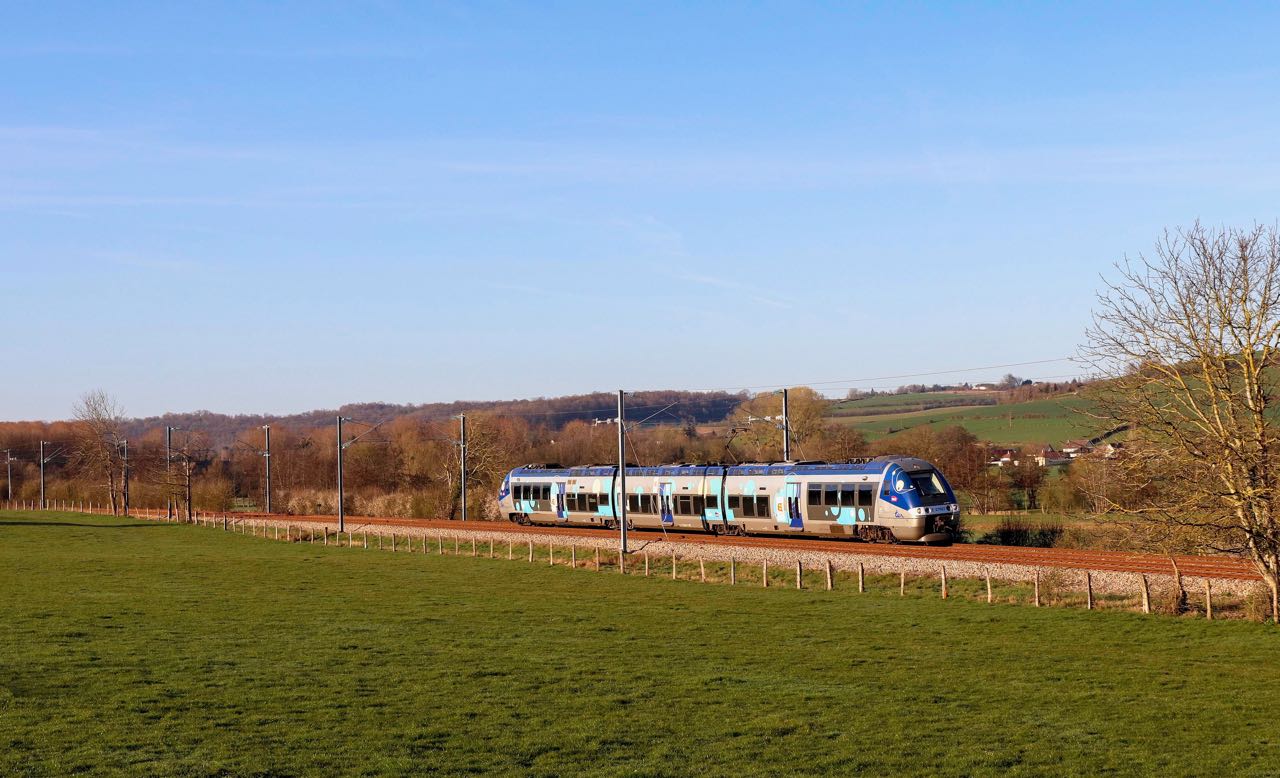 TER Normandie 851603, Gisors - Serqueux, operated by Z 27667/68 passes St Pierre des Champs, early on Monday morning, March 29th, the first day of passenger services on the newly electrified line. Photo Romain Vergnères.
Gisors - Serqueux re-opens after modernisation
After a closure of 3 years, the double track Gisors - Serqueux line (50 km) was re-opened at the end of March. It has been electrified and 9 level crossings have been suppressed. At Serqueux, a triangular junction has been created so that traffic can pass from Rouen directly on to the modernised line. The total budget was 260 million euros.
The planned capacity for freight from Le Havre to the Paris region via Serqueux is 25 trains a day. It is reported that very few freight trains have used the line so far since March 19th. The timetable for passenger services is the same as before; 4 return services daily Mondays - Fridays between Gisors and Serqueux, no trains at the week-end. (see photo above)
No through trains between Rouen and Paris St Lazare, via Gisors have yet been scheduled. The local population expressed an interest in such through trains in a survey last year.

SNCF to re-introduce loco hauled services?
International Rail Journal has reported that SNCF plans to re-introduce low cost loco hauled services on some traditional routes. The project is code named "Oslo", internally. The previous 100% Eco services were withdrawn last year when services were cut back due to coronavirus.
Plans include four services each way daily between Paris and Bordeaux, and three each way daily on both Paris - Nantes and Paris - Dijon - Lyon where they will compete with the BFC TER loco hauled services.
It is difficult to understand SNCF's strategy by the move, possibly to deter any open-access operators from introducing similar services?
Engineering work in the Lot
From March 8th - August 27th, the line will be closed between Turenne - St-Denis-près-Martel and between Lamativie and St-Denis-près-Martel. The work consists of replacement of rails, sleepers and ballast and renewal of certain level crossings. The total cost will be 26 million euros.
Trains between Brive-la-Gaillarde and Aurillac will be replaced by buses during this period.
Grand Est tendering progress.
Between four and ten companies or consortia are reported to have prequalified for the tender competion to operate two groups of Grand Est TER lines. The first are the Bruche-Piémont-Vosges group of services covering Strasbourg – Molsheim – Barr – Séléstat (51 km); Strasbourg – Molsheim (19 km); Strasbourg – Molsheim – Saales - Saint-Dié-des-Vosges – Épinal (147 km) and the 60 km section of line from Saint-Dié-des-Vosges to Épinal that will re-open later this year following €21 million of track and infrastructure repairs.
The second group covers the lines from Nancy to Mirecourt, Vittel and Contrexéville, where traffic has been suspended since December 2016 and services are scheduled to be restored in 2025. The tenders will cover the operation of rail and some bus services, plus rolling stock and track maintenance. The second group will include a transfer of responsibility for the infrastructure for the period of the contract under the Loi d'Orientation des Mobilités introduced in 2019. Contracts are expected to be awarded in 2023 for 22 years.
Grand Est are also planning to award a contract for a further groups of lines in 2025. This will cover the seven cross-border routes into Germany. 30 Alstom Regiolis units were ordered in 2019 to operate these services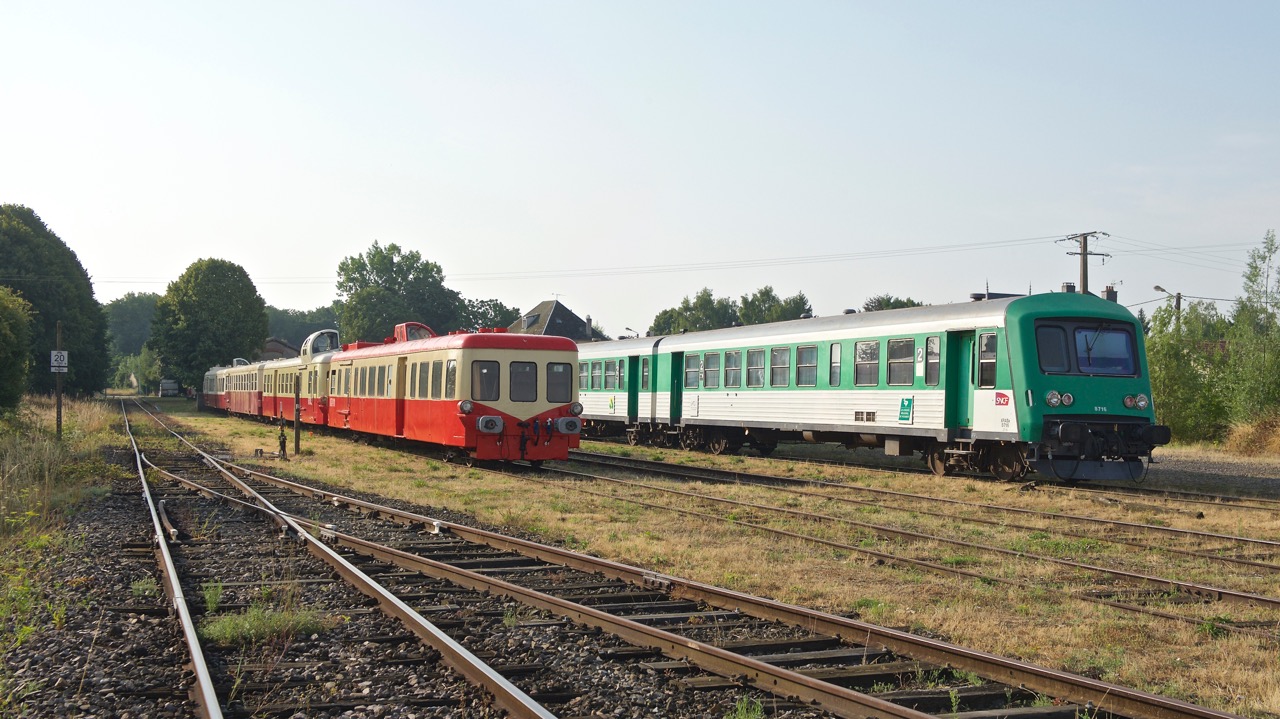 News from the Ardennes - Amagne-Lucquy - Voncq, a bright future
From January 1st, 2021, ownership of 20 km of a rural branch line was transferred for a symbolic "one euro" to the local communities. SNCF Réseau transferred the line from Amagne to Voncq to the Communauté des Communes du Pays Réthelois and the Communauté des Communes des Crêtes Préardennoises.
Shortly afterwards, the new owners signed a convention with Grand Est Region (and others) for 1.2 million euros for repairs to the track to keep the line open. No big deal for some we imagine, but a signficant event for the small villages tucked away among the fields of maize on the eastern plains of northern France. The preservation of the railway line by locals will benefit the cereals silo at Alland'huy (pk 6), and the CFTSA* at Attigny (pk 10). A new rail freight terminus at Attigny will be created for local enterprises.
The future of the line beyond Voncq to the terminus at Challerange remains unclear and will depend on negotiations and commitments that the municipalities along the route choose to make.
CFTSA occupies the station site at Attigny (see photo above). The association operates four Picasso railcars, several EAD "Caravelle" diesel railcars that are approved for excursions on the national network and three locotracteurs that can be used for shunting.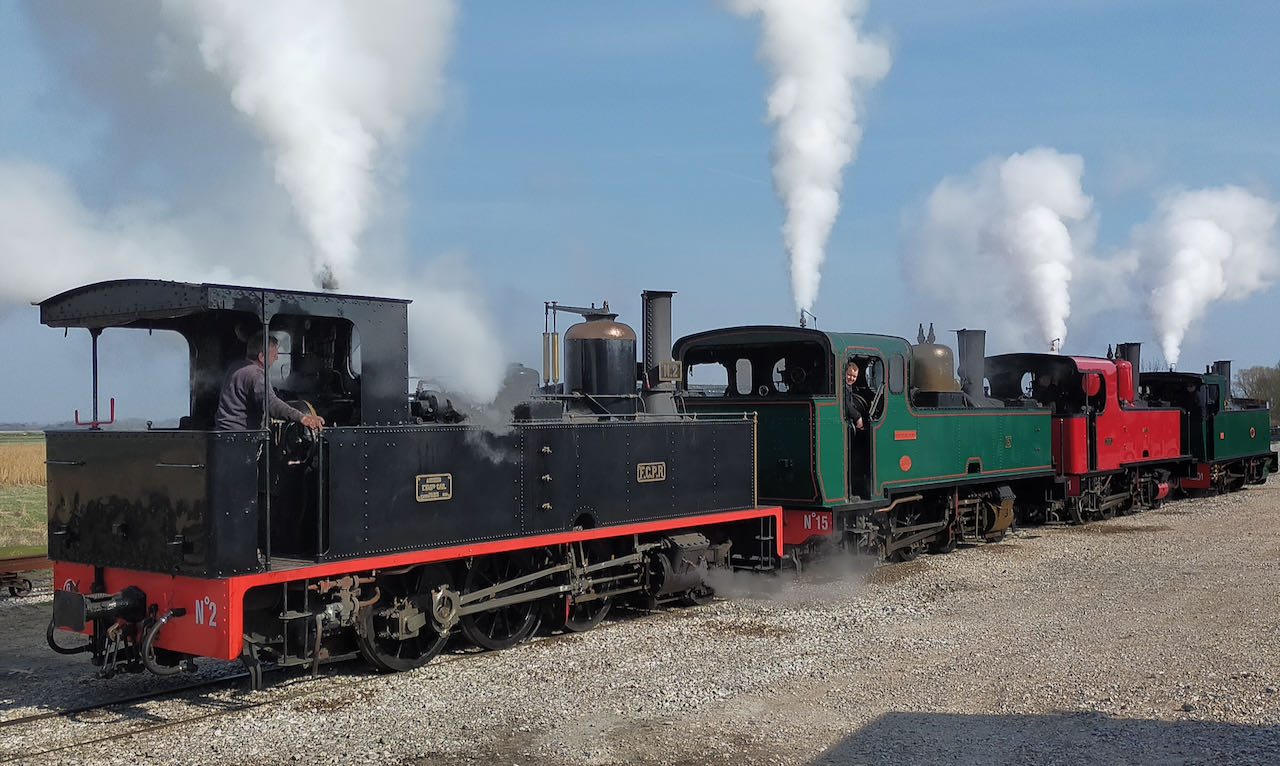 CFBS - Preparing for the forthcoming season
Following winter maintenance the CFBS steamed their operational fleet at the end of March in readiness for the forthcoming season. Above the Cail, Haine St Pierre, Corpet- Louvet, and Pinguely are seen blowing off outside St Valery depot. The Corpet-Louvet is now displaying a new bright red livery while the Pinguely has been repainted from blue to green. The Buffaud-Robatel has also been steamed in preparation for its APAVE boiler inspection. All of the locomotives (except for the Corpet-Louvet) have been fitted with concrete arches. This will help protect the tubes and reduce the thermal stress experienced by the boiler when cooling down overnight.
With increasing Covid infections in the region restrictions have been introduced and the start of the season has now been deferred from the 3rd to the 18th April at the very earliest, and may be deferred further*. SNCF has also introduced a reduced timetable from the 22nd March. Both photos - Alain Paillard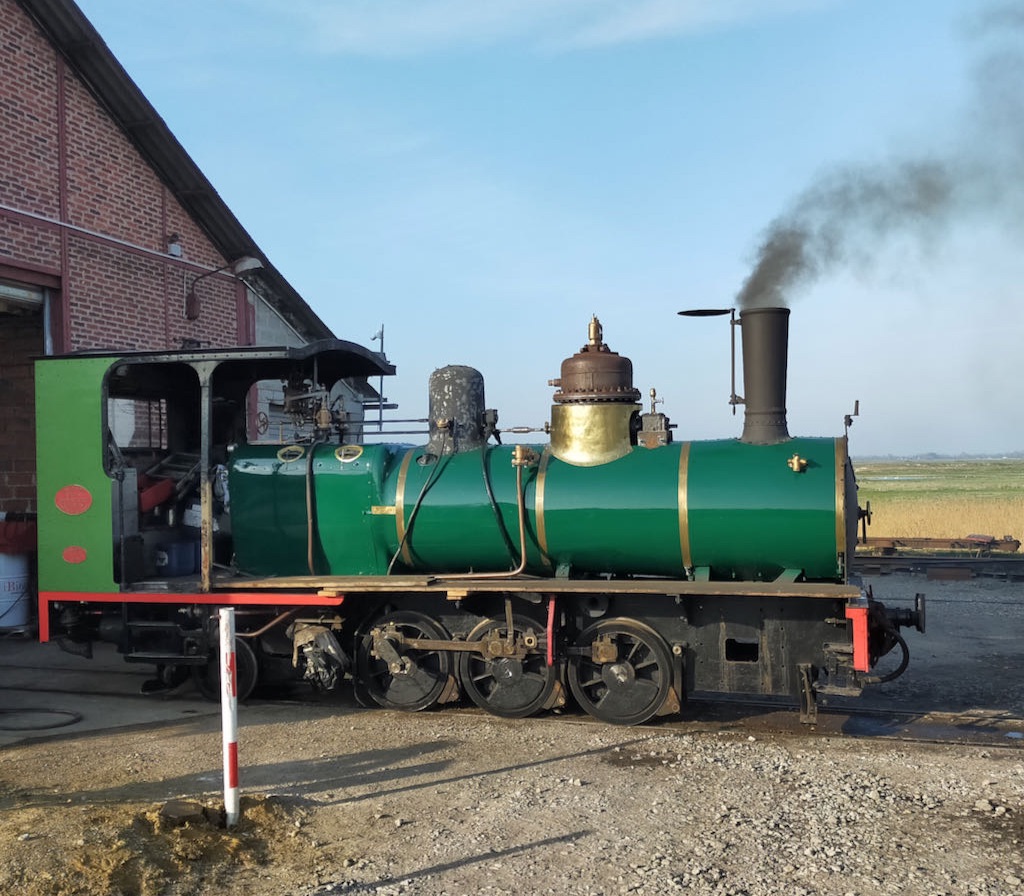 * Following the restrictions announced on 31st March, coming into force from 3rd April, operations unlikely to start until May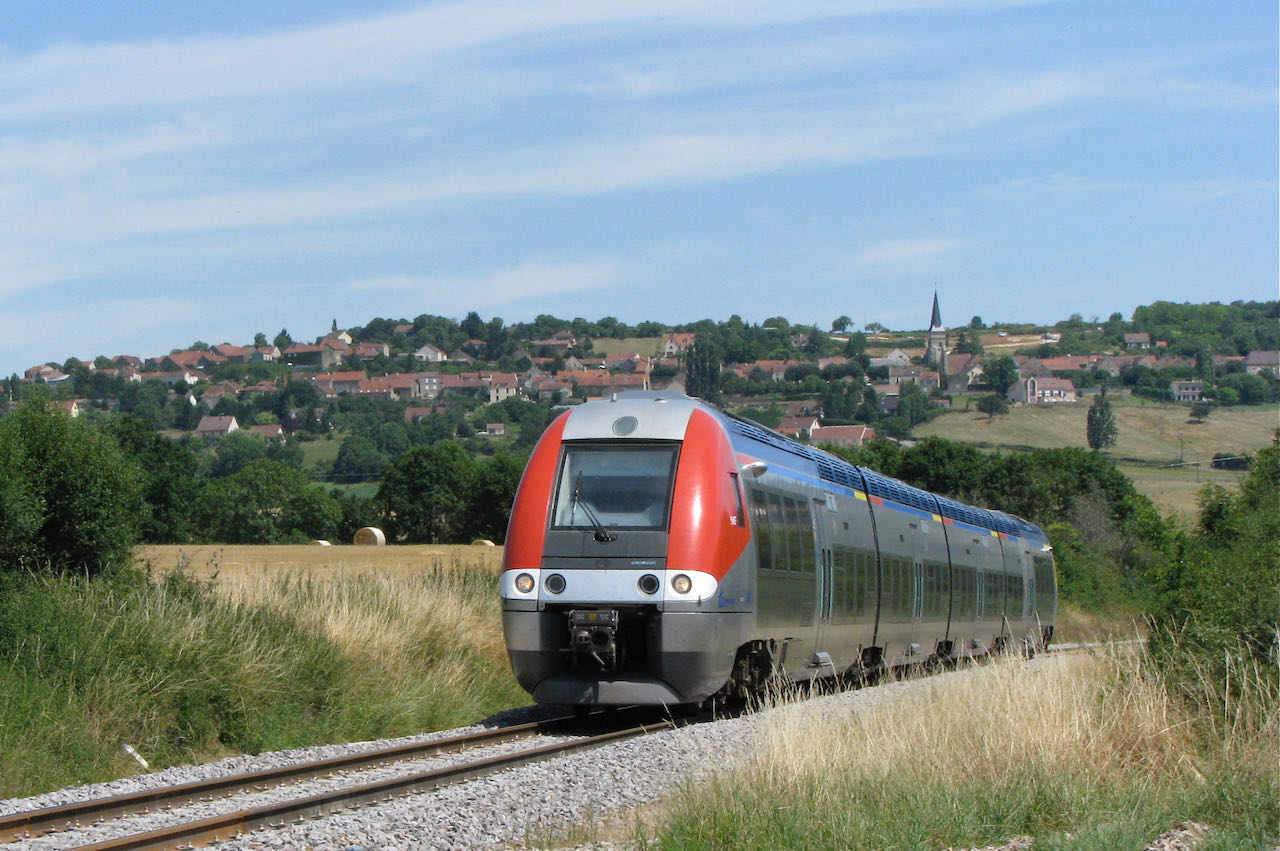 Spotlight on Bourgogne Franche-Comté
Transport minister Jean-Baptiste Djebarri visited Dijon on March 4th and various announcements were made, and agreements signed. Here is a summary
.
Above. A Bourgogne Region AGC from Avallon to Paris-Bercy is seen approaching Sermizelles in the upper valley of the Cure. On the ridge behind the train, the village of Annéot (Yonne) is visible.
Protocol of agreement concerning the "petites lignes"

.
In 2020, a new procedure was initiated to classify the "lignes de dessertes fine du territoire" into 3 groups. The "petites lignes" in France total 9,137 km, 31% of the network. 17% of TER trains travel on these lines which are often rural, but quite variable in their conditions and potential.
Maintenance of the first group of these lines will be financed 100% by SNCF Réseau. This group is considered to be of strategic importance in the national network. The second group of lines (currently open to passenger services) will be financed with the existing procedures of 5 year plans. The State and Regions will negotiate the sharing of costs, line by line. Responsibilty for the lines in the third group will be transferred to the Regions who will decide either to finance 100% the maintenance and regeneration of the lines or their replacement by other forms of transport, or closure.
To begin the process, a protocol of agreement will be signed between the State and each Region to identify the second group of lines. This protocol does not address the cases of lines which are closed to passenger traffic, but which some would wish re-opened. These 'third group" lines will be treated individually, apparently.
Below. In May 2013 black clouds hang over Clamecy, Nièvre. The two Bourgogne AGC units wonder if there will be any passengers that afternoon.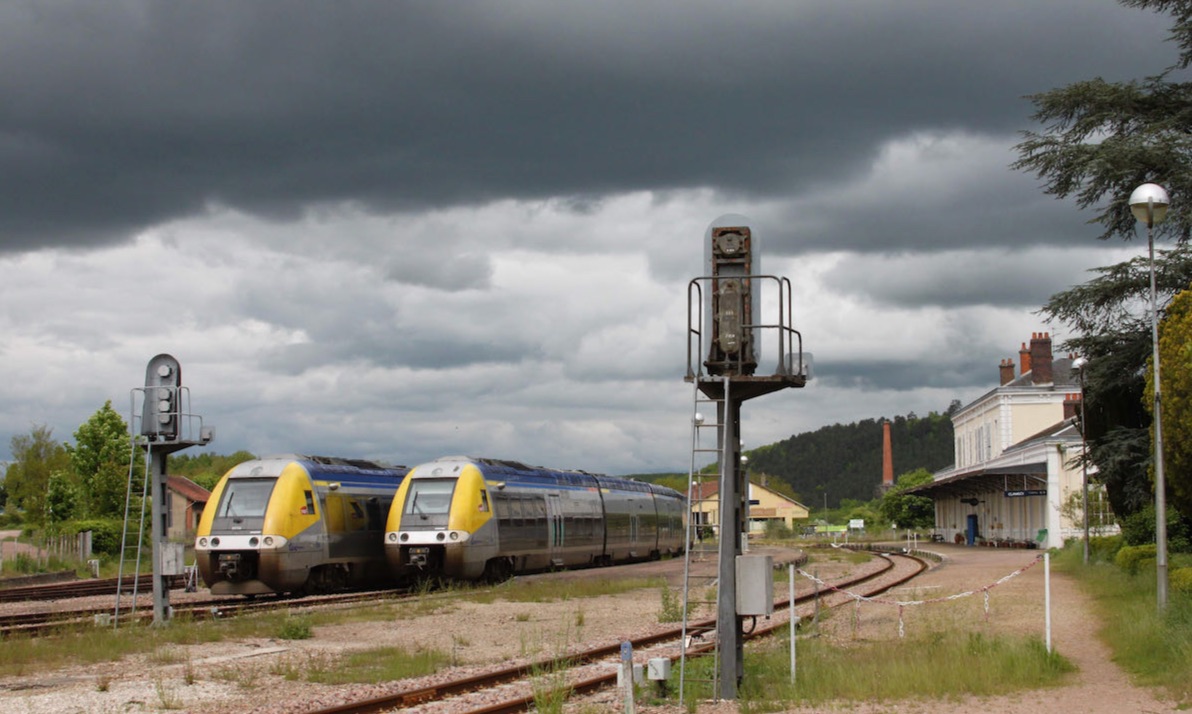 The protocol with Bourgogne Franche-Comté (BFC)
There are 2,507 km of railway lines in BFC including 644 km of "petites lignes" which are open with passenger services. These lines require maintenance and regeneration and the protocol signed on March 4th commits 455 million euros to be allocated during the period 2020 - 2027. The precise amounts by line (shared between the State and BFC) will be decided later in the framework of the 5 year plan. Usually the State contributes up to 30%.
The 14 lines, currently open to passengers, subject of this protocol, are as follows;
+ Nevers - Montchanin (see section below)
+ Gilly-sur-Loire - Paray-le-Monial - Chauffailles ( sections on the cross country route Moulins - Lyon)
+ Paray-le-Monial - Montchanin
+ Cravant-Bazarnes - Avallon - Clamecy - Corbigny
+ Lure - Luxeuil - Bain-les-Bains (Epinal) + Besançon - Le Locle (Swiss frontier)
+ Frasne - Pontarlier - Les Verrières (Swiss frontier)
+ Belfort - Delle (Swiss frontier)
+ Franois (edge of Besançon) - Arc-et-Senans (see comment below*)
+ Etang-sur-Arroux - Autun
+ Andelot - Morez - Saint-Claude (line closed to Oyannax/Bourg-en-Bresse)
* The Franois - Arc-en-Senans (21 km section of double track electrified line) is situated on the Besançon - Lons-le-Saunier - Bourg-en-Bresse transversale. It carries TER services, but no longer any Strasbourg - Lyon trains which travel via Dijon. But Arc-en-Senans - Lons-le Saunier - Bourg-en-Bresse is apparently an SNCF Réseau line. Not very coherent ! Why is part of the route a "petite ligne" and the rest not ?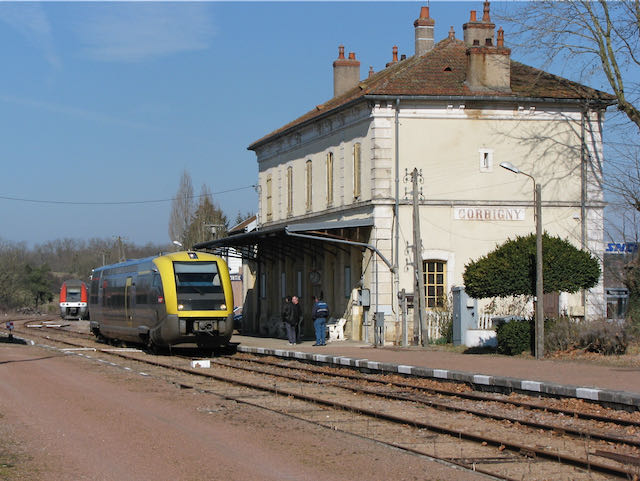 February 24th 2008. Corbigny, Nièvre. Sunday midday at the ex PLM station on a bright winter morning. The single Bourgogne X 73500 has just arrived with a TER service from Laroche-Migennes. In the background an AGC can be seen, parked. The AGC will operate the late Sunday afternoon service to Paris-Bercy. Corbigny is located 261 km from Paris.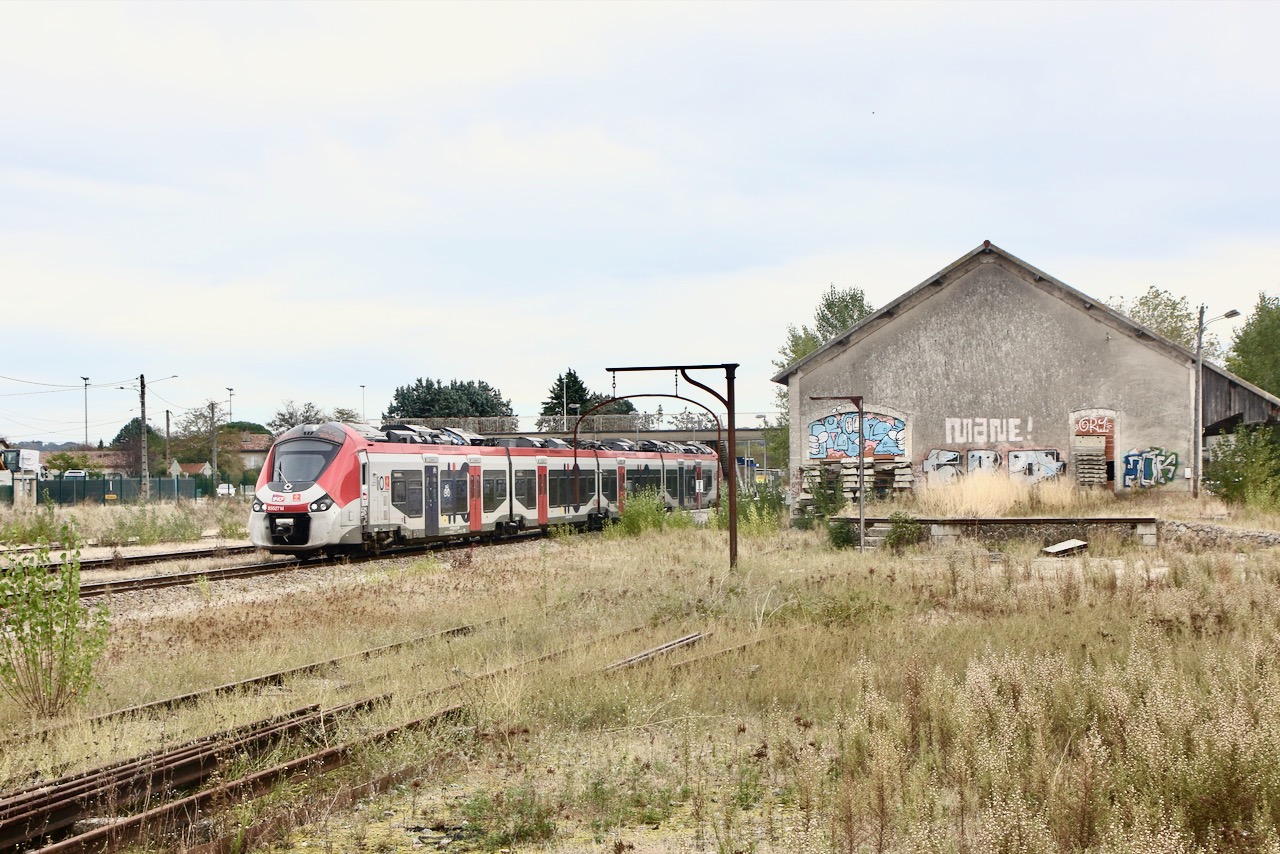 May 6th 2007 La Dheune. Between Chagny and Montchanin, a Bourgogne TER service from Dijon is seen approaching Montchanin operated by a 3 car X 72500 diesel railcar. It is this type of unit which Railcoop will use for their first passenger services in June 2022.

Nevers - Chagny - major regeneration from 2023
This double track route is not electrified. It links the Bourbonnais line at Nevers with the Dijon - Lyon line at Chagny. It carries regular TER passenger services between Dijon at Nevers, and Dijon - Montchanin - Paray-le-Monial. It provides a cross country link for freight traffic (avoiding the Paris region) from the Atlantic coast of France towards Eastern Europe. It carries freight traffic generated in the Morvan (ballast stones, wood, cereals)
Mr Djebarri announced at Dijon, on March 4th, the preparation of major engineering works on the line, to start in 2023 (financed 100% by SNCF Réseau);
+ the renewal of the track between Chagny and Montchanin
+ the renewal of the track between Montchanin and Nevers
+ modernisation of the station at Montchanin
However the project to electrify the line has not been approved yet. Neither has the project to connect the line (near Chagny) to the LGV Sud Est at the Creusot-Montceau-Montchanin TGV station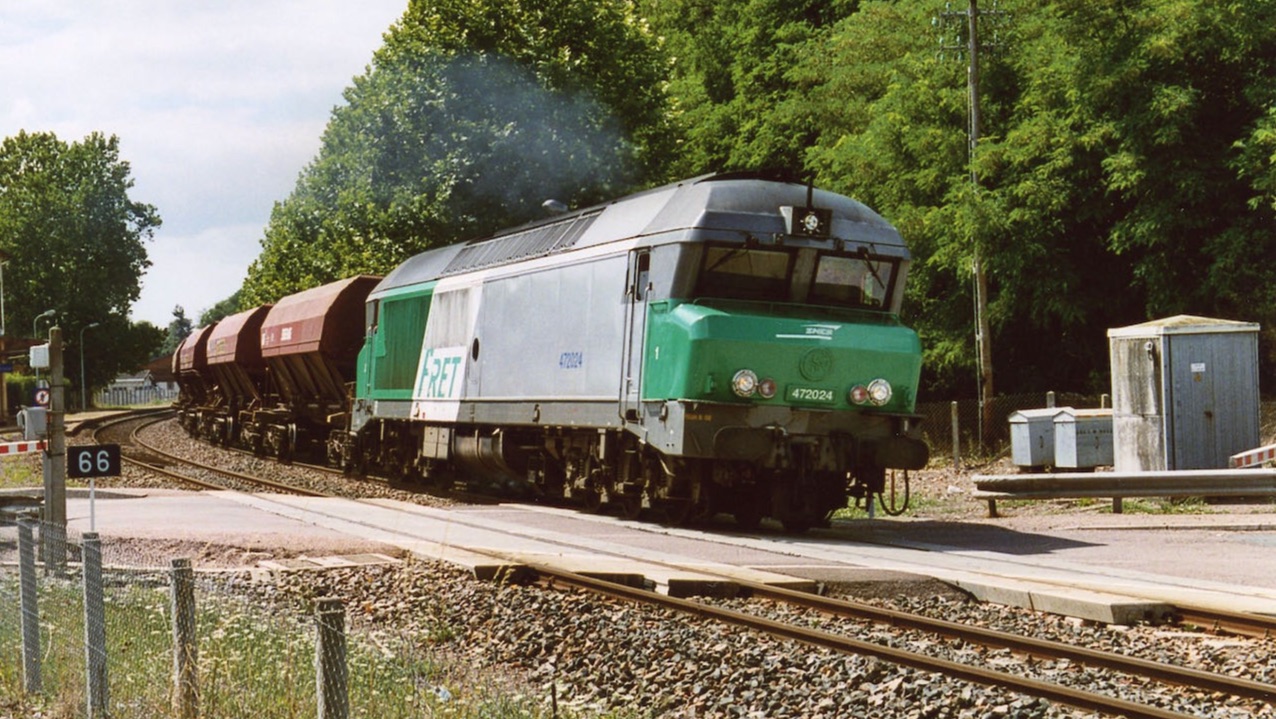 Freight lines in the Morvan
On February 4th, a multi party agreement in the amount of 6 million euros was signed to finance maintenance and renewals on two freight lines in the Morvan;
+ Nevers - Arzembouy
+ Clamecy - Corbigny - Cercy-la-Tour
The parties included the French State (2 million), BFC (1,7 million) and 10 other participants that included the various enterprises that use the line and the département of Nièvre and certain communes.
Lafarge and Eiffage transport 190,000 tons of ballast stones each year on the Corbigny - Cercy line. SOUFFLET and AXEREAL transport 243,000 tons of cereals on the Arzembuoy line, annually.
In 2021 (13/9 - 29/10) 8 km of single track will be repaired / renewed between Clamecy and Corbigny. 2.7 km of track between Corbigny and Cercy will be renewed in November/December. In 2022, work will be carried out between Arzembuoy and Guerigny on 7 km of track (renewals, repairs, replacement of 4,700 sleepers).
Above turning back the clock to July 2005. CC 72024 passes Mesvres, Saône et Loire and speeds towards Montchanin with a train of ballast from the Morvan. Below. Two years later in April 2007 at Chemilly - Appoigny, Yonne, a train of cereals is hauled slowly towards Laroche-Migennes by 69491. This train originated from the silo at Bonnard-Bassou, earlier on that misty spring morning. The silo is only 5 km from Laroche but there is no access to the up line there, so trains departing from the silo have to, first, run south 3 km to Chemilly-Appoigny. Under the control of the station agent, the locomotive is detached, runs forward, reverses on to the station track, runs past the stationary train of wagons, over the level crossing and then reverses over the cross-over to the down line and retrieves its train. Departure to Laroche-Migennes is back over the cross-over on to the up line after which the station agent can re-open the level crossing to road traffic. The station building at Chemilly can be perceived in the mist at the rear of the train.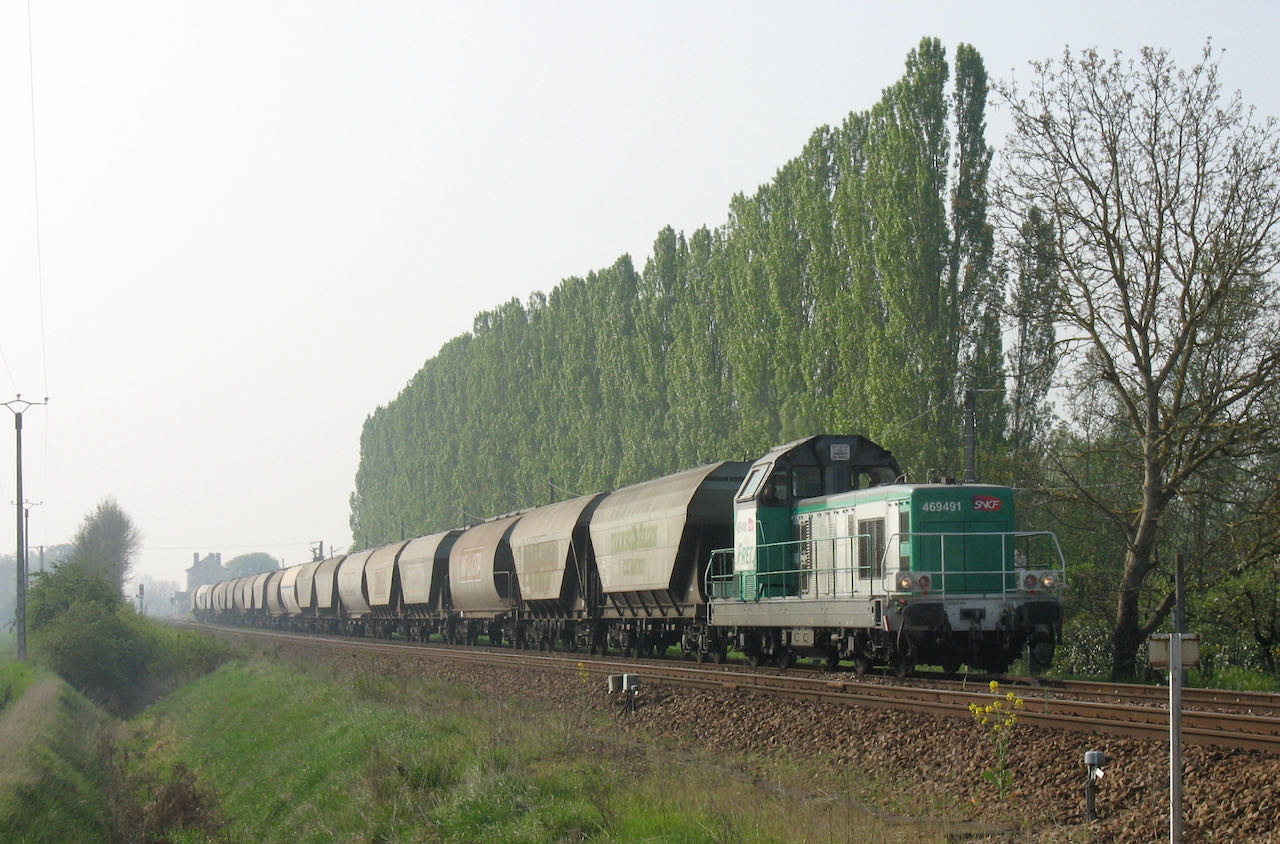 Modernisation of Laroche-Migennes - Auxerre St Gervais (Yonne)
From March 29th - July 10th, SNCF Réseau will proceed with the regeneration of 25 km of track between Laroche and Auxerre, using a "suite rapide" engineering train, 750 metres long, that can replace 900 metres of track each day. On average, 400 staff will be deployed each day. Rails, sleepers and ballast will be replaced. 15 level crossings will be treated. The total cost will be 44 million euros, paid by SNCF Réseau.
A plan to electrify the short 21 km line was cancelled in 2018 though it had been included in the 5 year plan.
The main flow of passenger traffic at Auxerre is north to Paris with a stop at Sens (Yonne). Electrification of Auxerre - Laroche would have allowed double deck trains (Bombardier Regio2N) to be used to increase capacity. The current regional government at Dijon does not seem to be concerned with improving the Auxerre - Paris service. They cancelled an order for Bombardier Regio 2N trains placed by the previous Bourgogne Region administration.
The Laroche - Auxerre line is partly single track. It is in "block manuel" with mechanical signals. There are no indications that the signalling will be modernised at this stage and the single line section will apparently remain. Between April 12th and May 28th train services from Laroche to Auxerre, Avallon / Corbigny will be suspended and replaced by bus services.
Three hydrogen trains - pourquoi faire ?
On Friday March 5th, Bourgogne Franche-Comté Region (BFC) signed an order for 3 Alstom 4 car Regiolis H2 trains, bi-mode (1500v / hydrogen cells). The cost of the three trains is 52 million euros. The first one will be delivered at the begininng of 2023, for tests. The small fleet of 3 will enter service in 2024. BFC announced that they planned to use these new electric trains powered by hydrogen cells on 3 routes, Auxerre - Avallon, Auxerre - Corbigny and Auxerre - Laroche - Dijon. A hydrogen production plant will be created at Auxerre in the autumn 2021. Five hydrogen powered municipal buses will be operated at Auxerre from 2022. The cost of the hydrogen plant will be about 8 million euros.
This is one of several experiments in the context of contributing to the reduction of carbon emissions. The Regiolis H2 trains are approximately double the cost of a "standard" bi-mode electric/diesel 4 car unit. Alstom is also developing battery powered Regiolis units. BFC announced that they were the first to order the new Alstom hydrogen powered trains but, in fact, 3 other Regions* have also ordered the same trains for the same price, this spring. A total of 14 trains is on order.
* Auvergne Rhône Alpes, Occitanie, Grand Est.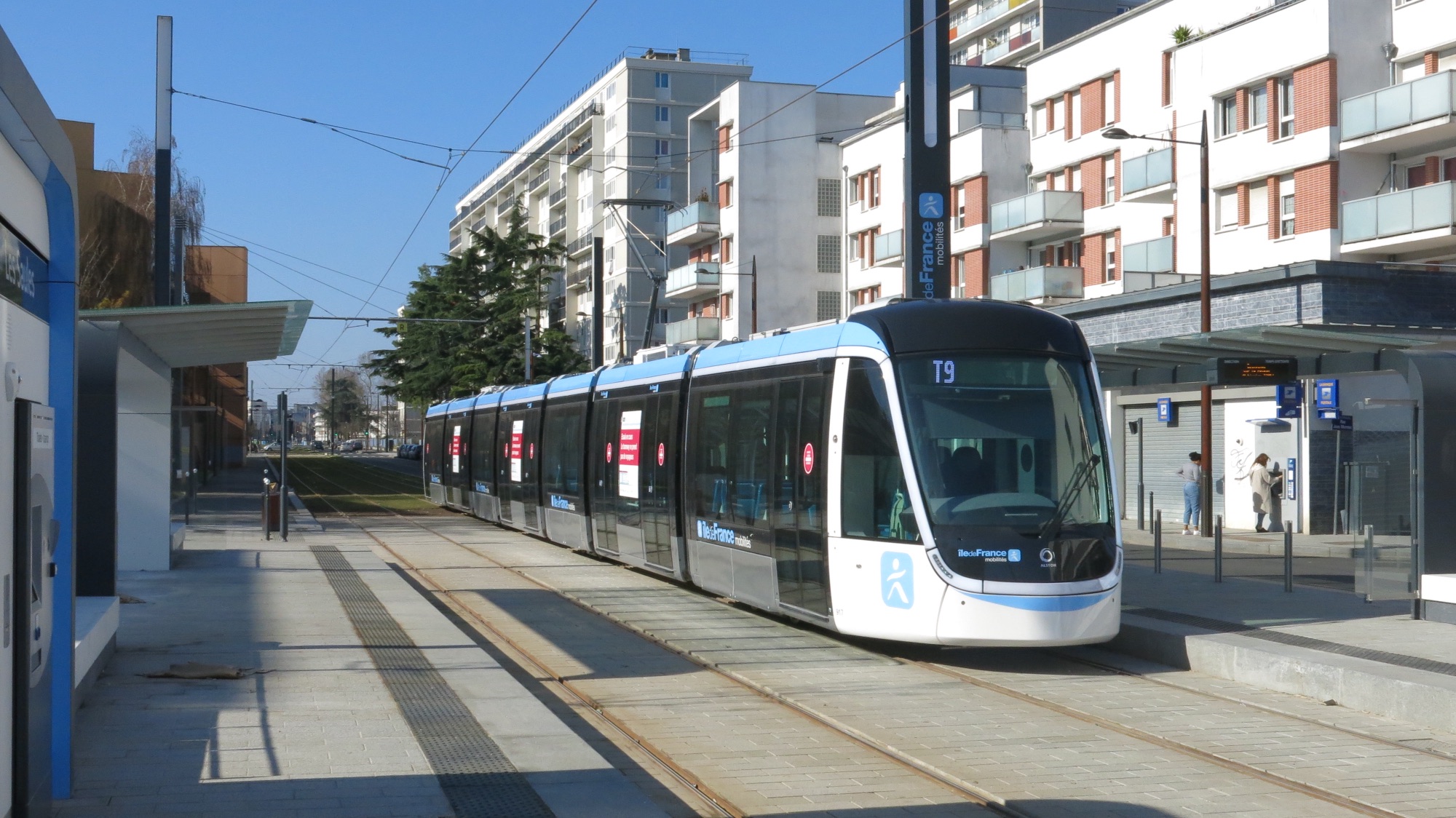 Ile-de-France. Tram 9 to open April 10th
A new tram line is ready to open in the Paris region, after the last one, Tram 8, which opened in December 2014. Test running to simulate future operating conditions began in March along the new double track Tramway 9 from Paris, Porte de Choisy to Orly-Ville. The tram line is 10 km long and will replace the busiest bus line in Ile-de-France, Bus 183 which carries 56,000 passengers daily.
Tram 9 will be operated by KEOLIS, whereas all the previous 8 tram lines in Ile-de-France have been operated by RATP. Twenty two Alstom Citadis 405 trams have been delivered. They are 44 metres long and 2.65 m wide. The livery is white and blue in the IDF Transport Authority style. At night time, these trams have a luminous band along the edge of the roof and around each end. The capacity is 314 passengers.
The journey time will be 30 minutes, with a frequency of 3m30s at peak periods and 6 minutes, off peak. There are 19 stops along the route which is mainly in a straight line down the centre of the road through Ivry-sur-Seine, Vitry-sur-Seine, Choisy-le-Roi and Orly.
Sixty eight drivers have been hired for the service which will be open 22 hrs out of 24 hrs, from 4 am - 2 am. The tram depot is located in the commune of Orly. It has a capacity for 40 trams so expansion of the fleet and extension of the line is covered.
Photos: On Sunday morning, February 28th, the new T9 trams were seen at Les Saules (RER C) with drivers getting familiar with the route.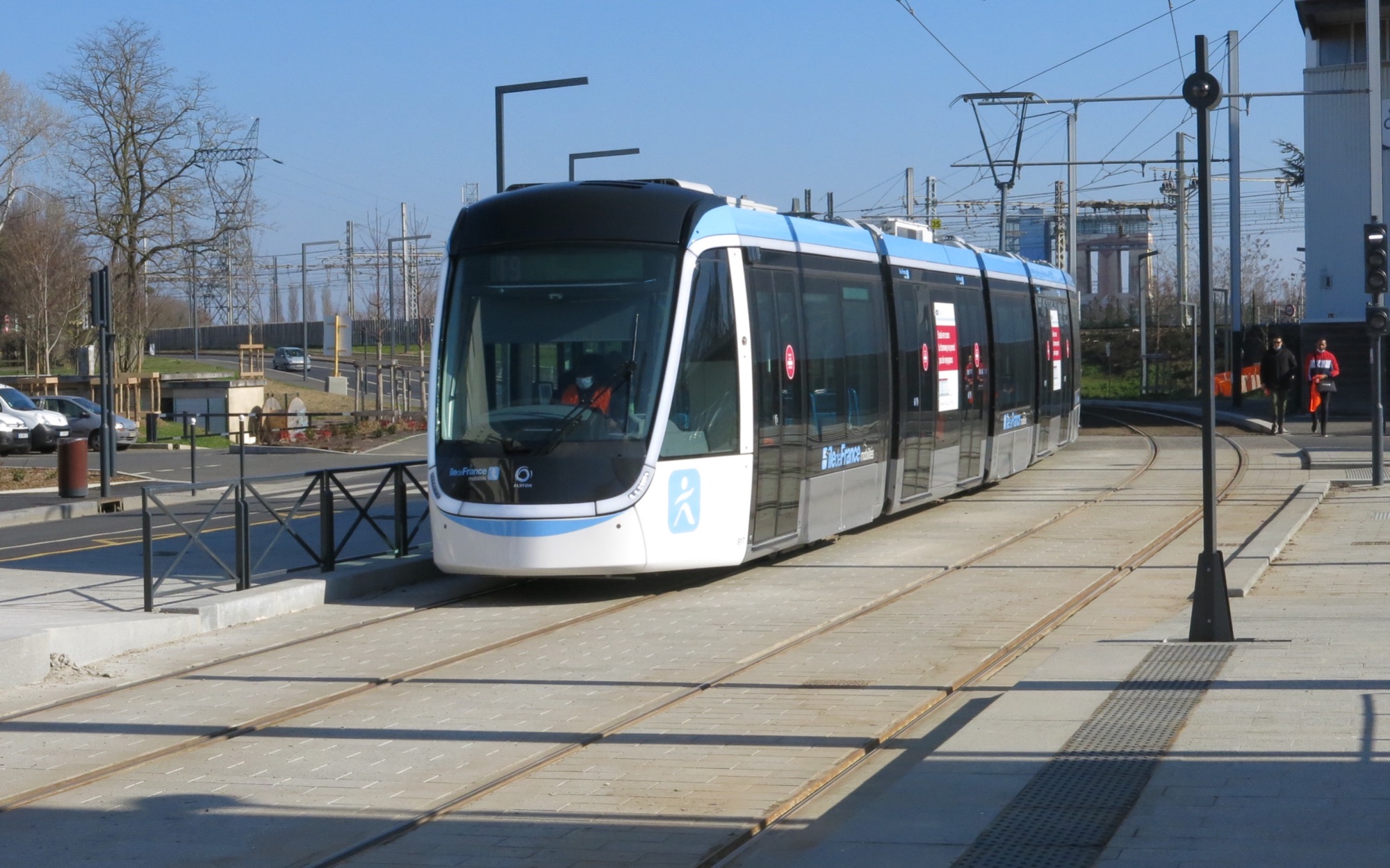 Additions to FRS Photographic Archive during March 2021
I have made some changes to the make-up of the photo archive and have created a new Folder 4, containing extracts from the AFAC magazines (there may be the occasional document on the same subject from other sources). Also, the non-AFAC materiel, previously in Folder 4, has been transferred to a new Folder 7, named "Miscellaneous"
To Folder 4
- Electric locomotives CC.7100, BB.16000, CC.10002, BB.20005, CC.21000, CC.6500, BB.25100, BB.25200, BB.25500, CC,40100, BB.30003 & BB.15000
- Diesel locomotives CC.72000, BB.67000, A1A.A1A.68000, CC.70000 & BB.69000
- Adieu a la Vapeur @ La Chapelle
- Turbo trains
- Paris Metro Motrice Serie E.001/E.040
- Automotrices Z.9056/Z.9058
- Ligne de Cevennes (PLM)
- Ligne des Causses (Midi)
- Ligne du Bourbonnais (PLM)
- Ligne Paris/Cherbourg (Ouest/Etat)
- Ligne Paris/Le Havre (Ouest/Etat)
- Ligne Paris/Nantes (PO/Etat)
- Ligne Paris/Granville (Ouest/Etat)
- La Saga des Bogies
- Trans Europ Express (TEE) - 15/20 years
To Folder 7
:
- CIWL - Fleche d'Or/ Golden Arrow
- CIWL - Wagons Reservoirs de Gaz & Wagons-Foudres
- CIWL - Wagons-Lits en 1984
- Twenty-seven (27) catalogue extracts from railway equipment builders (Franco Belge [6x], La Meuse [4x], Hanrez, Ats Metallurgiques [3x] & Couillet [2x], Borsig [2x], Hartmann [2x], Henschel [2x], Hanomag, Haine St Pierre, St Leonard, Schwarzkopff & St Egensdorf) Additions to the FRS public folder during March 2021 Nine (9) catalogues in pdf format from railway equipment builders (Marcinelle, Nivelles, St Leonard, Ragheno, Voitures Metalliques, AFB, Baume & Marpent, St Leonard & Isothermos)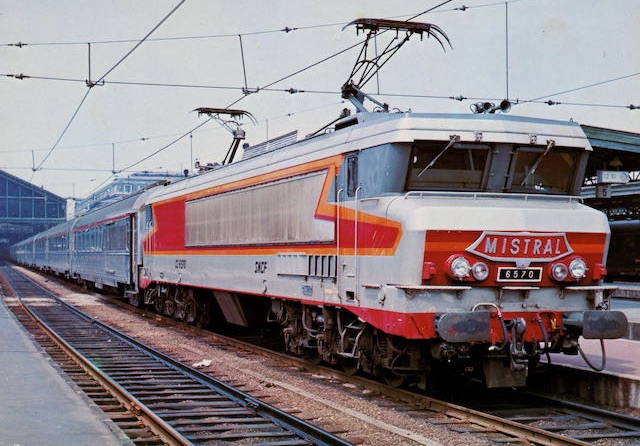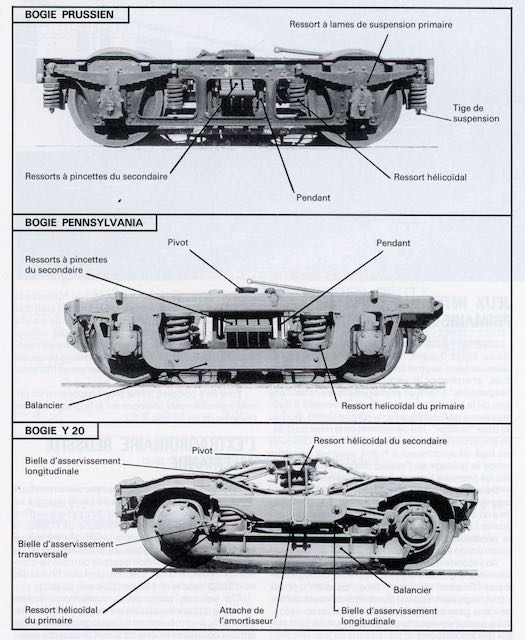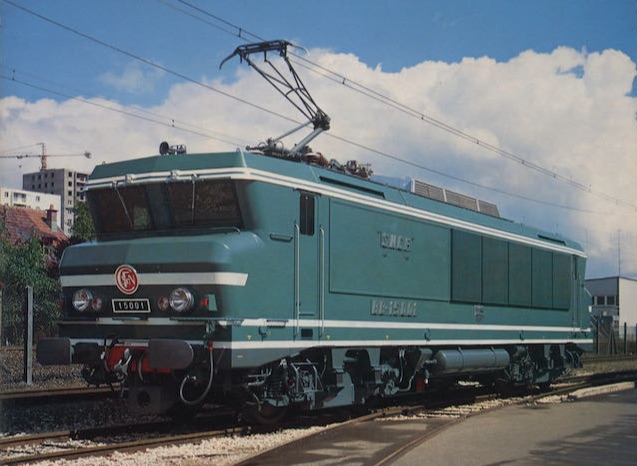 © Peter Lovell & Graham Skinner. The French Railways Society 2021. With thanks to Christophe Masse, Erwan Quintin, Romain Vergnères, Michel Costes and Alain Paillard