Farewell to Anne, Jeanne and Marie
The end of March saw the withdrawal after 65 years service, of the three electric rack railcars on the metre gauge Tramway Mont Blanc (TMB) that operates between St Gervais les Bains and Glacier Bionassay. Built by SLM/Decauville in 1956 they have operated since the line was electrified in 1957. With a driving cab only at the lower end they operate with a trailer at the upper end. They are now being replaced by new Stadler units. Above. Jeanne on one of her final runs in March, seen descending at Bellevue between Aiguille Verte and Aiguille du Midi.

Photo Christophe Masse
Le Train pour l'Egalité tours France
Between the 26th February and the 7th March an exhibition train
Le Train pour l'Egalité
organised by the
Fondation des Femmes
visited eight major cities (Paris, Nantes, Bordeaux, Toulouse, Marseille, Lyon, Strasbourg , Lille)
raising awareness of the major issues of gender equality.
The exhibition train was made up of several former TEE stainless steel coaches bearing the legend liberté – égalité -sororité as fraternité is considered too masculine. Wherever possible the train was driven by women drivers.
Above. On the 1st March it is seen en route from Bordeaux to Toulouse at at Dieupentale, near Montauban hauled by BB 22324. Photo Georges Turpin
Class BB 67400s returned to the Paris - Rodez/albi sleeper on the Brive - Rodez/Albi section during February and March with 67424/67441 and 67481 all appearing either singly or in pairs. It is unclear why there has been a preference for BB 67400s instead of BB 75300s. On Saturday 26th February BB 67441 is seen near Naucelle returning to Rodez with the empty stock from Albi.
Photo Georges Turpin.
SNCF launches Ouigo Train Classique
SNCF will launch its latest passenger service on the 11th April when
Ouigo Train Classique
is introduced. The new service will initially offer one daily return journey from Paris to Lyon in 4:45 to 5:15 hours, and two from Paris to Nantes in 3:30 to 4:15 hours, one via Chartres and Le Mans and the other via Les Aubrais and Saumur, all with intermediate stops as shown on the map opposite. From mid June it will increase to two Paris - Lyon and a third Paris - Nantes service via the southern route A "snacking" catering service will be provided
Early indications are that there is not a fixed timetable but timings vary daily, with the Lyon services using either Bercy or Austerlitz.
Tickets are priced at €10 - 30 euros for adults and €5 for children and will not increase as bookings increase on a capacity management basis. Bicycles can be carried for €10 or €5 if folded. Passengers will be limited to one piece of luggage + an item of hand luggage. Bookings can only be made on the internet. More information
via this link
The services will be operated with a dedicated fleet of refurbished Corail coaches in rakes of eight and BB 22200 locomotives painted in a distinctive rose livery (see below).
Originally referred to as Project Oslo, the new service will be operated by a new SNCF subsidiary OSLO (
O
ffre de
S
ervices
L
ibrement
O
rganisés)
Below. BB 22323 waits to leave Paris Austerlitz with a test run to Nantes on 28th March. The train has been dubbed the OUIGO Barbe à papa in view of the candy floss livery. Photo Christophe Masse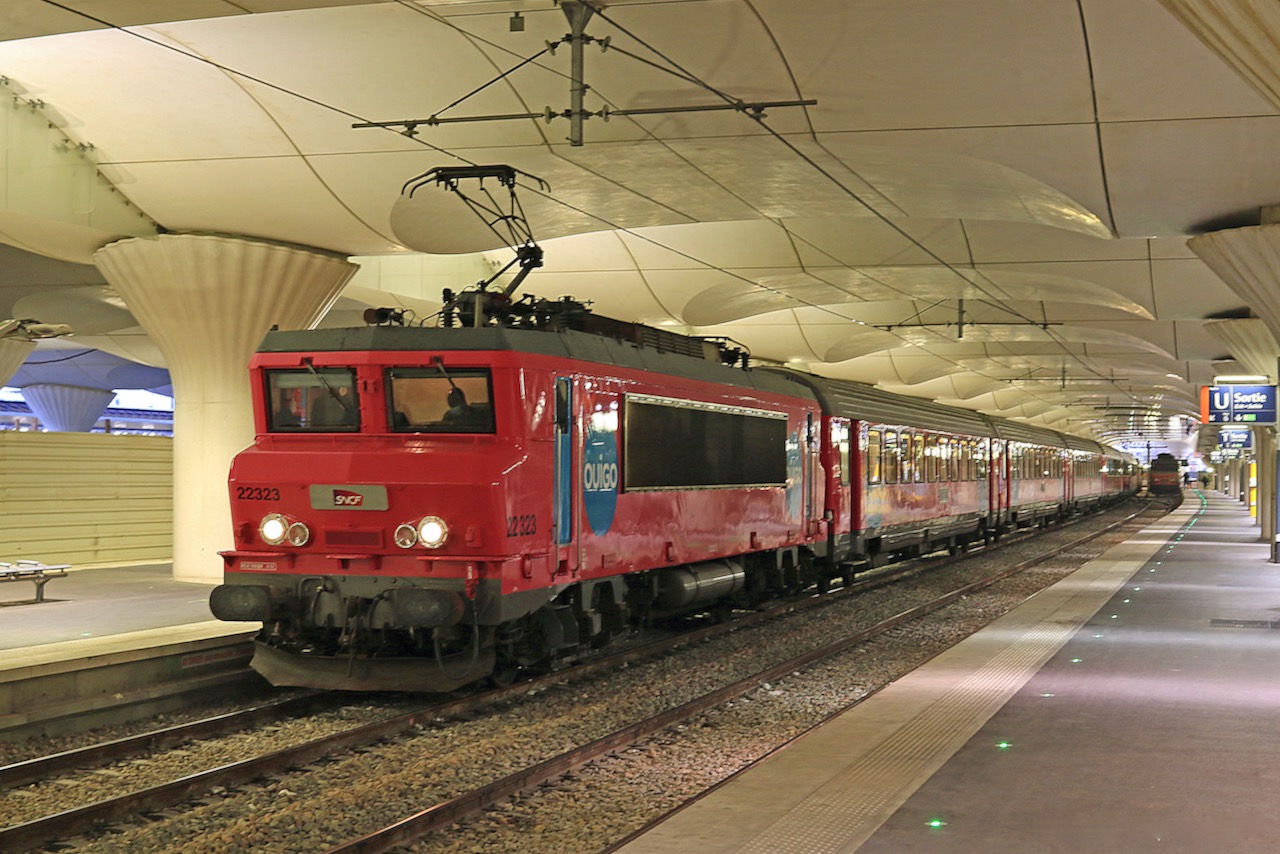 PARIS GARE DU NORD
"Horizon 2024"

Five months after the cancelation of the mega modernisation plan that had spun out of control, a modest new plan B has been announced to deal with the most urgent problems. For, in September 2023, France will host the Rugby World Cup and in the summer of 2024, the Olympic games. Traffic is expected to rise to 800 000 travellers a day during those events.
The principal objectives are to improve the flow of passengers through the station and to adjust access to the Gare de Nord on foot, by taxi and by bus.
Here are some of the main modifications planned;
Enlarge the Eurostar terminal and replace the electronic barrier controls to accelerate the movement of passengers. This must be completed by September 2023.




Remove all the boutiques on the main concourse and reorganise use of the space; visually identify waiting areas and access to and from the platforms.




Move the vertical arrival and departure boards to eliminate crowds blocking movement.




Replace all the escalators to lower levels.




Modernise the roof top bus station on the east side and optimise vehicle access to and from this area.




Create a large shelter for 1 000 bicycles




Expand the pedestrian only zone in front of the Gare du Nord and restrict road traffic to buses only. Taxis set down and pick up zones will be on the west side using two levels.



This plan entitled "Horizon 2024" is budgeted at 55 million euros compared to the mega project that was estimated at 700 million euros and was speeding out of control at over 1.5 billion euros when cancelled last September.


A plan C is likely later for completion by 2030 when traffic is expected to have risen to 900, 000 travellors daily.
SNCF and Government renew Trains d'Équilibre du Territoire agreement
On March 17th the French Government and SNCF Voyageurs renewed the
Trains d'Équilibre du Territoire
agreement by which the the state fund, and SNCF operates the
Intercités network. Following the transfer of many routes to the Regional TERs over the past three years the current network consists of 80 - 90 trains per day over the following routes:
Daytime services between Paris-

Limoges-Toulouse, Paris-Clermont-Ferrand and Bordeaux-Marseille, Nantes-Lyon, Nantes-Bordeaux, Toulouse-Hendaye and Clermont-Ferrand- Béziers and;

Overnight services between Paris-Briançon-Nice, Paris-Toulouse-Rodez/Albi and Paris-Lourdes/Latour-de-Carol/Cerbère



The agreement covers the period 2022 - 2031 and is based upon a 20% increase in passengers from the pre-pandemic 2019 levels. This has already seen the introduction of a fourth daily service between Bordeaux and Nantes and a third daily service will be introduced between Lyon and Nantes from 2023. Additional services will be introduced between Paris -
Clermont
Ferrand and Paris - Toulouse from 2026 when the new fleet of CAF
Confort 200
units have been delivered, the first is expected to enter service at the end of 2023.
The agreement includes financial incentives based upon increased customer satisfaction, currently running at 86%. While covering the period until 2031 the agreement provides for major change, this covers the introduction of new services by 2024 such as the Paris - Aurillac sleeper, the possibility of transferring the shorter non Paris routes to the regions and offering all of the services to competitive tendering during the life of the agreement. On the latter the Nantes - Bordeaux and Nantes - Lyon services were put out to tender in 2020 but SNCF were the only bidders. On this point is the introduction of the new low cost
Ouigo Train Classique
(see above) an attempt by SNCF to discourage other operators from getting a toe hold on the conventional
domestic
market?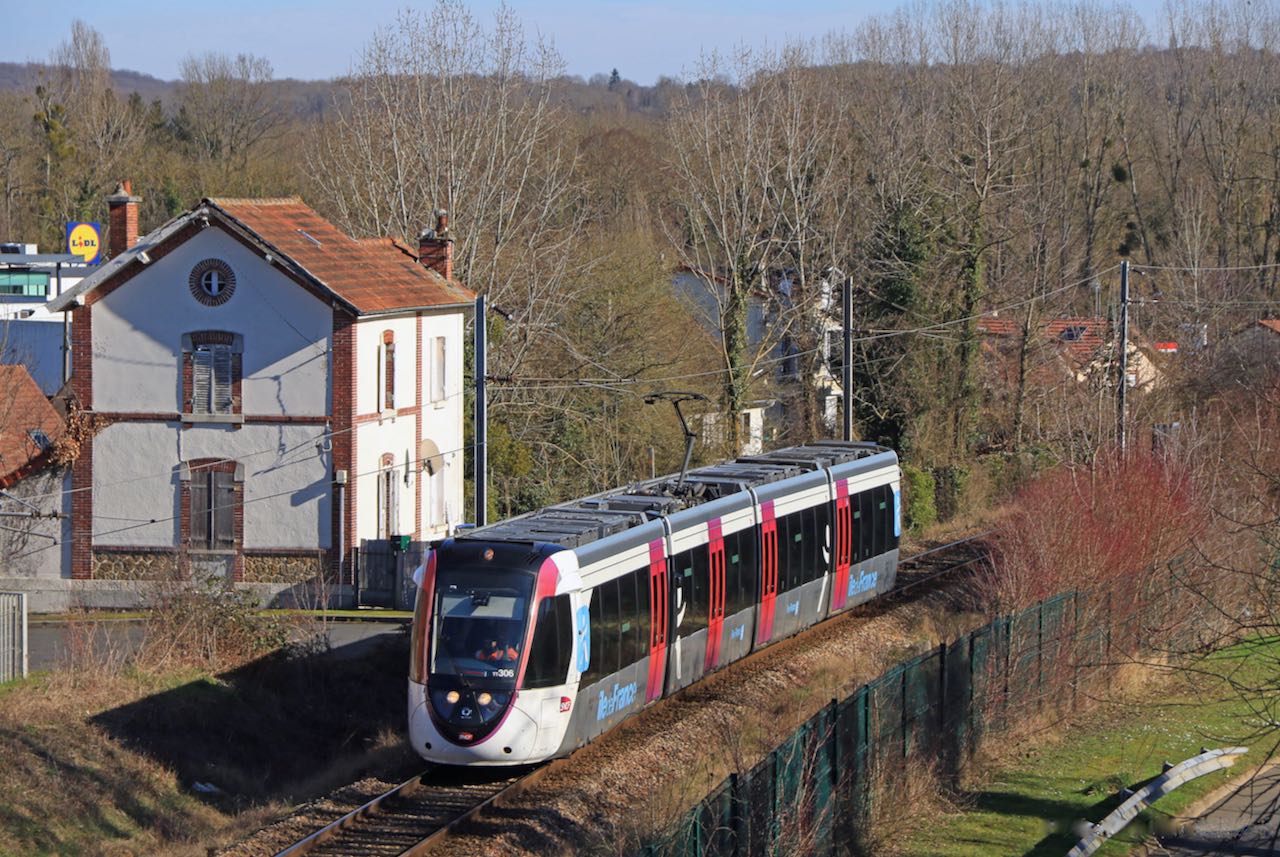 Dualis trams take over Esbly-Crécy services
From the 7th March Alstom Citadis Dualis trams were scheduled to take over services on the Esbly-Crécy branch. Formerly the haunt of Classes BB 16500 and BB17000 and RIB stock in recent years it has been worked by Siemens Avanto tram-trains that are now being replaced by Dualis trams. Above. On Saturday 12th February U65611/612 undertook testing on the branch making seven round trips. It is seen above passing the former PN at Champs Forts before arriving at Esbly.
Photo Christophe Masse.
Paris tunnelling progress.
Since the beginning of 2022, the boring of 4 rail tunnels under Ile de France has been completed. Now the laying of track, and completion of stations is underway.
Grand Paris Express (GPE):
1.Metro Line 14 - extension from Olympiades to Orly airport (7 new stations expected). Tunneling completed in Jan 2022. Opening in 2024.
2.GPE Line 15 south. Pont de Sèvres - Noisy Champs. Double track tunnel, 37 km long with 16 future stations and end to end journey time of 37 mins. Tunneling started in April 2018 and was completed in December 2021. Track laying and station building continues. Scheduled to open in 2025. Automatic trains on order to Alstom. This line is electrified at 1500v and corresponds to the gabarit of the RER system.
3.GPE Lines 15/16 north (Aubervilliers - Le Bourget gare RER B - (3.8 km)) This section will open 2026. Tunnelling completed recently.

4.EOLE (RER E west) - La Défense - Haussman St Lazare. The extension of RER E from St Lazare to Mantes-la-Jolie (underground to Nanterre) is proceeding but has hit several snags. The boring of the tunnel from La Défense to Haussman St Lazare was recently completed. But at the same time a budget overrun of 1.7 billion euros was discovered. Financing this overrun is a problem that has not yet been resolved. It threatens the continuation of the project. The overrun seems to be due to a combination of changes tothe original plans and an underestimate of the provision for risks. Additionally delivery of the new trains (RER NG) ordered for the opening of the extension is delayed by 2 years.
Tours - Chinon re-opens
On 12th February Tours - Chinon re-opened, having been closed since October for a €12 million re-building project, that should allow normal line speeds to be maintained for the next ten years.
The work was located between
Joué-lès-Tours and Chinon. 2km of track was completely rebuilt, mainly in Chinon tunnel where drainage was also improved.
Elsewhere 7km of track was
renewed
where the sleepers were in good condition, three sets of points renewed at Azay-le-Rideau station and four level crossings renewed. Overall the project involved18km of rails, 7,800 sleepers and 10,000 tons of ballast.
Haut Bugey line closed for at least two months
In the middle of the night of March 5th/6th, boulders and rocks crashed down from a cliff on to the Haut Bugey railway line and parallel road at Nantua (Ain). This line between Bourg-en-Bresse and Bellegarde is used by TGV Duplex trains on the Paris - Geneva service.
The single track and road have been damaged. After inspection it was determined that the cliff was still unstable. Further investigations will be required and the line, road and nets over the cliff face will have to be repaired.
No road or rail traffic was involved. TGV's will be diverted via Amberieu which adds 25 minutes to the journey.
140 C 27 to cover for 241 P 17
In the
November 2021 News
we reported that 140 C 27 had been moved from the
Train à Vapeur des Cévennes
to Nîmes in readiness for a return to the national network.
In 2022 it will be lent to Chemins de fer du Creusot (while 241 P 17 is under overhaul). Below is the anticipated programme for the 140 C.
June 4th. Nîmes - Lyon-Perrache




June 5th. Lyon-Perrache - Le Creusot




June 18th. Le Creusot - Nevers (return)




July 9th. Dijon - Le Creusot (return)




August 28th. Le Creusot - Ambérieu (return) (continuation with electric loco to Annecy)




Sept 11th Le Creusot - Lyon-Perrache




Sept 12th Lyon-Perrache - Nîmes



Funding package for Ligne Nouvelle Provence Côte d'Azur agreed.
At the beginning of March, following a public inquiry a €3.5billion funding package was formally agreed between the government, SNCF and local communities to commence the first two stages of the
Ligne Nouvelle Provence Côte d'Azur
project to modernise and increase capacity on the Marseille – Nice route.
The main element will be building a tunnel at Marseille to avoid trains needing to reverse at St Charles station that will also be re-modelled to increase flexibility. Other elements include a new station at Nice Airport and a commuter service around Toulon. Work will begin in 2024
Flexy - A light rail solution for rural lines?
Some time ago French Transport Minister Jean-Baptiste Djebbari announced that he was seeking a light rail solution for France's rural lines, and invited the innovation sector to develop a proposal. After three years of development with SNCF "Flexy" has been unveiled.
Flexy is a nine seater lightweight electric vehicle with a top speed of 60km/h. Designed to operate primarily on railway track it can also be driven on roads, providing rail transport closer to passenger needs, and reducing the need to drive a car to the local station.
Flexy will be operated by a driver and passengers will need to pre-book via a smartphone app. It is anticipated that Flexy will operate 80% on rail with some adaptations to infrastructure for road/rail interchange and passing points. Operating costs are expected to be 50% of conventional rail services. Experimental running on a pilot line is scheduled for 2024.
Greasing the catenary
One of the less glamorous jobs of railway operations is applying the conductive grease to catenary contact zone to reduce wear on locomotive pantographs. This is done with a vehicle fitted with adapted pantographs that project the grease onto the catenary, although a proportion of it is lost. Below BB 69161 is seen heading through Labège-Village on the 1st February while greasing the catenary between Toulouse and Béziers. Although the crew have the option of a trailing locomotive to enable them to operate in "top and tail" mode and avoid running around a single locomotive is preferred. Travelling at 80km/h the windows, steps and railings of the trailing locomotive will get covered in grease as can be seen by the amount on the roof of the greasing vehicle 80 87 979 0 401-4, built by Soulé.
Photos Georges Turpin.
French Railways Society Summer Rendezvous 2022
Our annual Rendezvous and Exhibition will be held on Sunday 21st August at Lenham Community Centre, Groom Way, Lenham, Kent, ME17 2QT. Opening hours will be 10am to 4.30pm.
For the exhibition part there will be layouts in 1/43; 1/87; and 1/160 scales in both standard gauge and narrow gauge, we anticipate 8 or 9 layouts in total. Our own sales and information stand will be present together with contributions from some other European railway societies. Other attractions will include the ever-popular members' sales stand; trade support; and a display of paintings. There will be a full programme of slideshow presentations and talks including guest presenters Andrew Martin with French Railways in Crime Fiction and Donald Wilson with Portuguese Steam, as I remember it.
Further details will be provided in future website news editions and in the June Journal.
If you have any questions or comments, please contact Roger Allen – email roger.allen1@btinternet.com or telephone 01689 871604

Additions to FRS Photographic Archive during February & March 2022

To Photographic section

Additions to Folder 11 ("French railway stations")

Additional photos to the Earle & David Boyd gallery in Folder 1




Additional photos by Damon Cox to "Miscellaneous Colour 2" gallery
PS: The additions to Folder 11 originating from Wikipedia websites may have COPYRIGHT RESTRICTIONS and are intended for personal enjoyment by members only

To Locations section
Five (5) new articles from early LVDR magazines



Additions to the FRS public folder during February & March 2022

CNAM - PLM equipment @ Int'l Expo Paris 1889




CNAM - Auguste Perdonnet 1843 - Chemins de Fer - Illustrations




CNAM - Course Materiel & Traction des CdF - 1924




CNAM - Revue technique Int'l Expo Paris 1889 - Illustrations




CNAM - Railway equipment @ Int'l Expo Paris 1900




CNAM - Railway equipment @ Int'l Expo Milan 1907




Dunod - Chemins de Fer - Agenda 1909



PS: The CNAM & Dunod files have COPYRIGHT RESTRICTIONS
SNCF - RENFE co-operation agreement to end
The 2013 Elipsos agreement between SNCF and RENFE that has been the basis for cross-border services between France and Spain will formally come to an end at the end of 2022. Although economic factors such as low cost air travel and car-pooling are quoted for not renewing the agreement, there is also a tactical reason as both companies will be seeking to compete with each other on both cross-border and domestic routes. Above. On 6th July 2019, AVE set 23 approaches Narbonne with train 9724 Madrid-Atocha to Marseille-Saint Charles.
Photo Georges Turpin.
© Peter Lovell. The French Railways Society 2022. With thanks to Graham Skinner, Christophe Masse, Georges Turpin and Roger Allen,