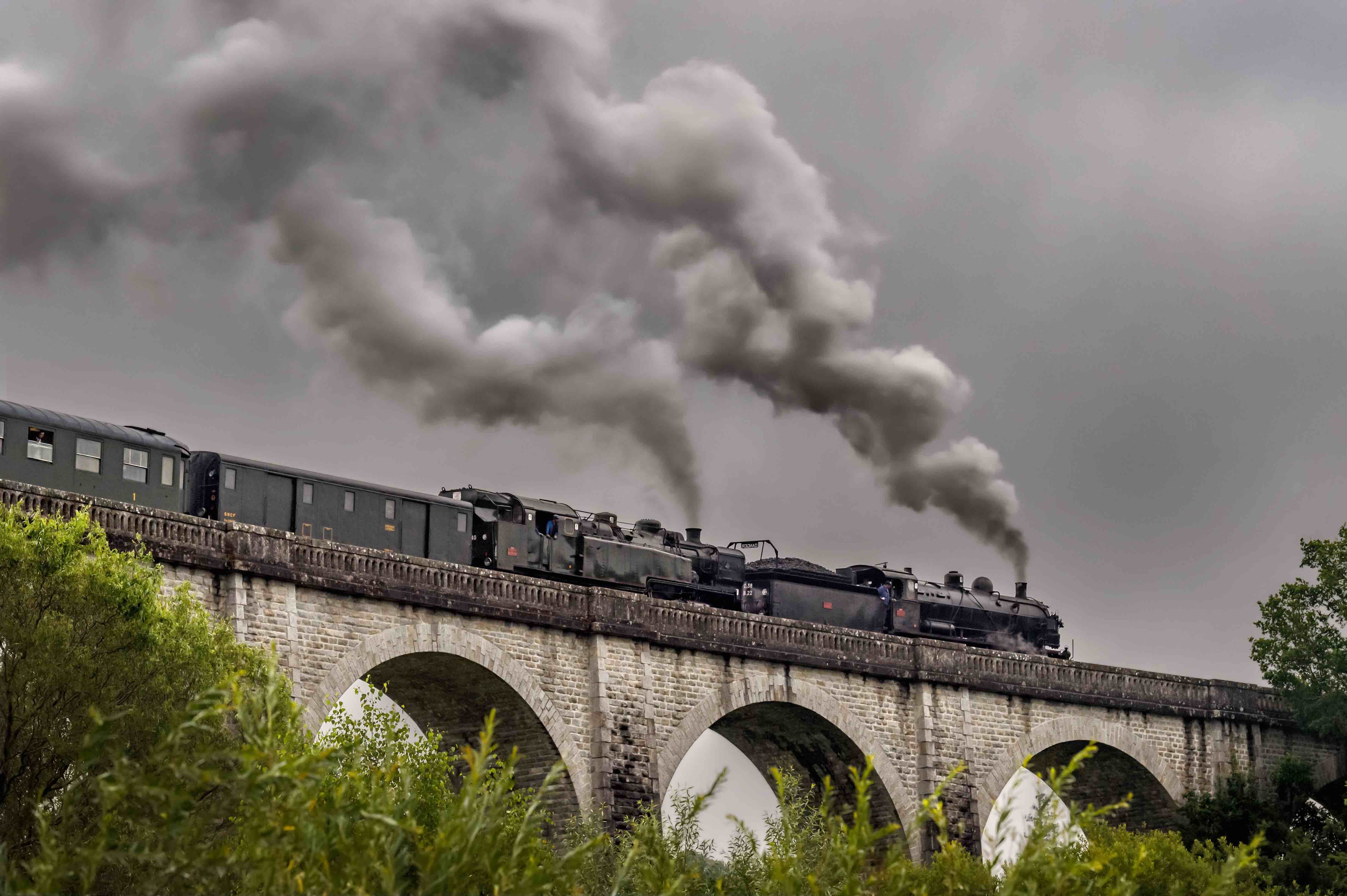 La Fête Nationale!. On the 14th July Train à Vapeur en Limousin (CFTLP Conservatoire Ferroviaire Territoires Limousin Périgord) operated their Limoges - Eymoutiers – Bugeat excursion with double traction, 140 C 38 piloting 141 TD 740. Against a threatening sky the pair are seen crossing the viaduct at St Leonard de Noblat (photo Jean-Marc Frybourg)
CFBS Fête de la Vapeur 2021 and 50th Anniversary
Over the weekend of the 3/4th July the CFBS held their Fête de la Vapeur 2021 and 50th anniversary celebrations. Despite the uncertainty over both Covid restrictions and the financial consequences of cancellation it was another memorable event with an exciting array of visiting locomotives and attractions in addition to the regular CFBS fleet. Below MTVS's recently overhauled Corpet Louvet 0-3-0T TIV 75 (1909) is seen crossing the D940 at Le Crotoy with a short demonstration freight (Photo Jean-Marc Frybourg)


Like most previous Fêtes the event started off on the Friday with a parade of metre gauge locomotives climbing the incline from St Valery Ville to
Mont Blanc
on the Cayeux line. Each locomotive climbing individually before descending and climbing
en masse.
Opposite the locomotives are seen assembling in St Valery Ville station and below eight metre gauge locomotives climbing
Mont Blanc. (Both photos Jean-Louis Poggi)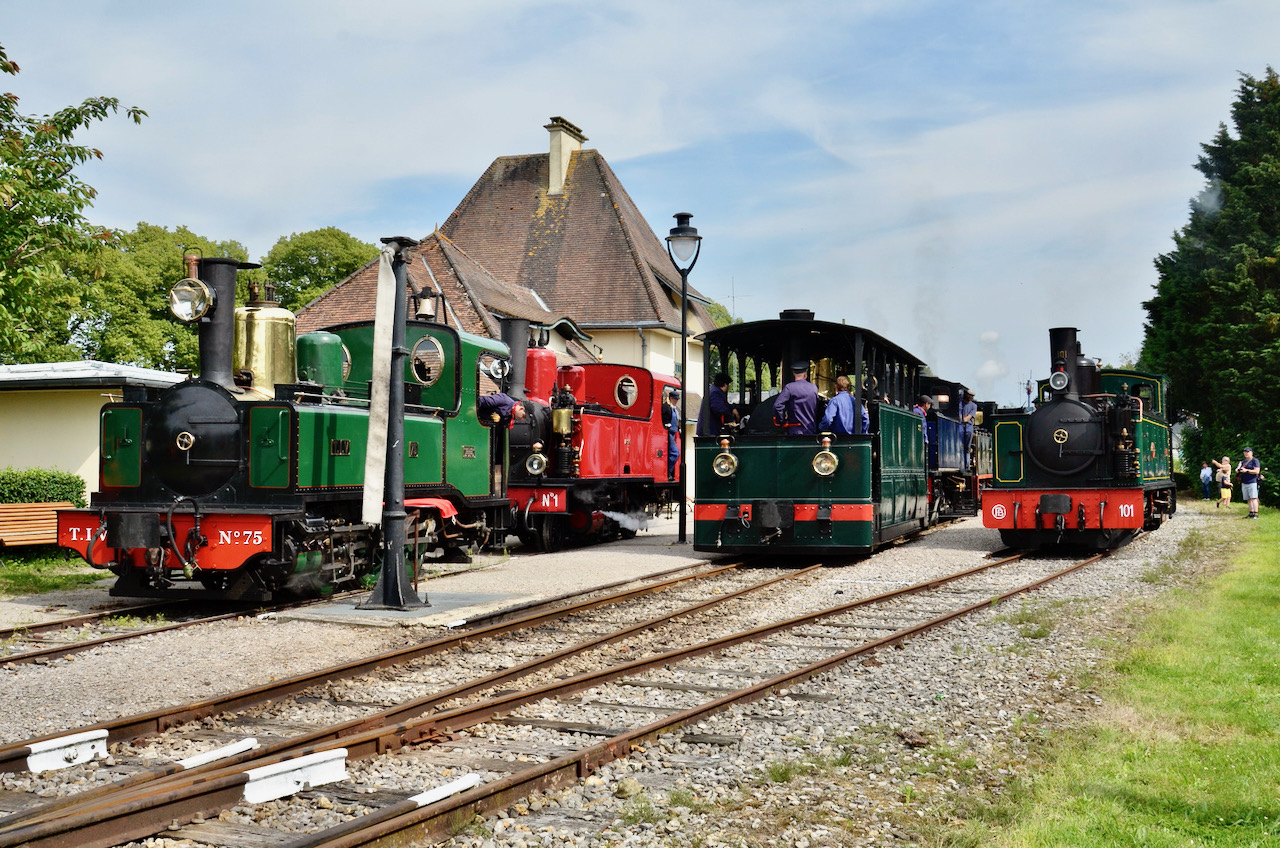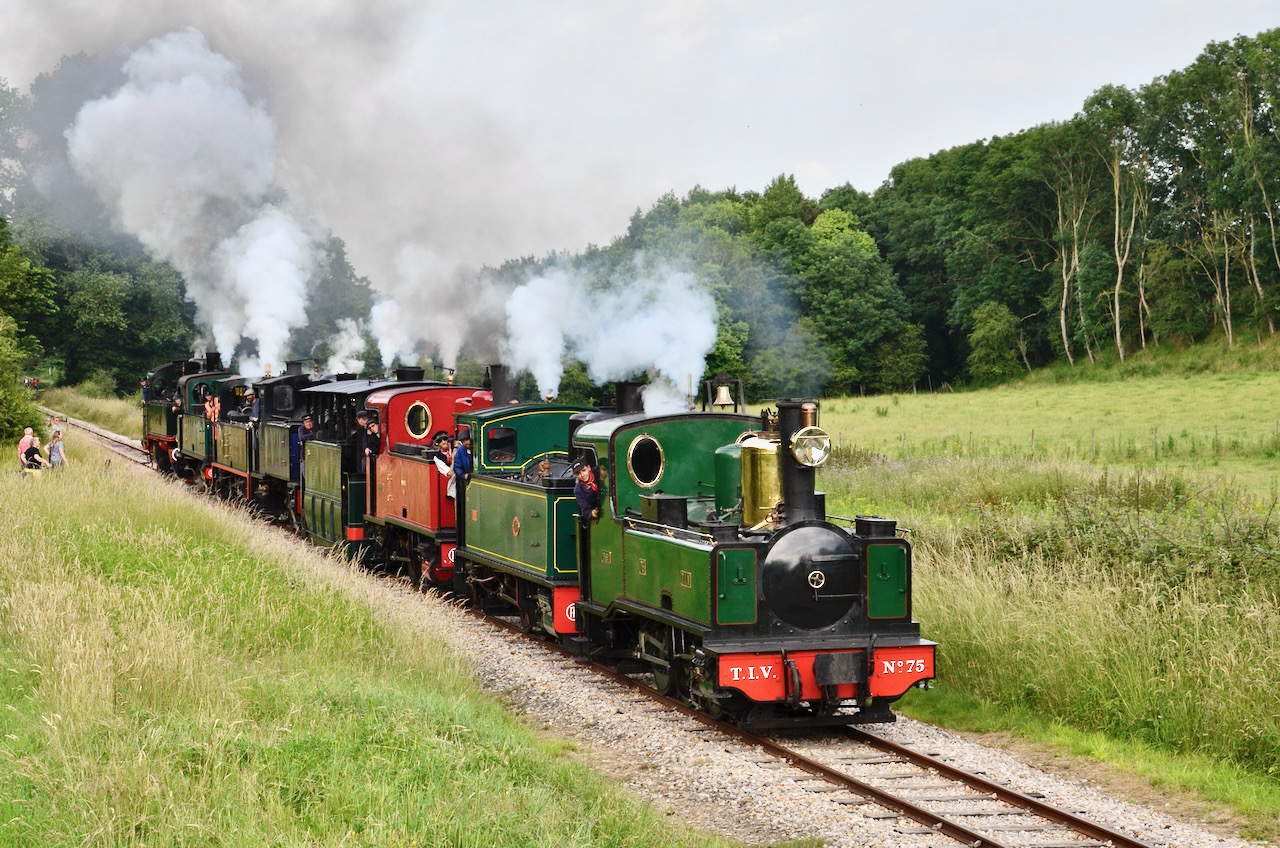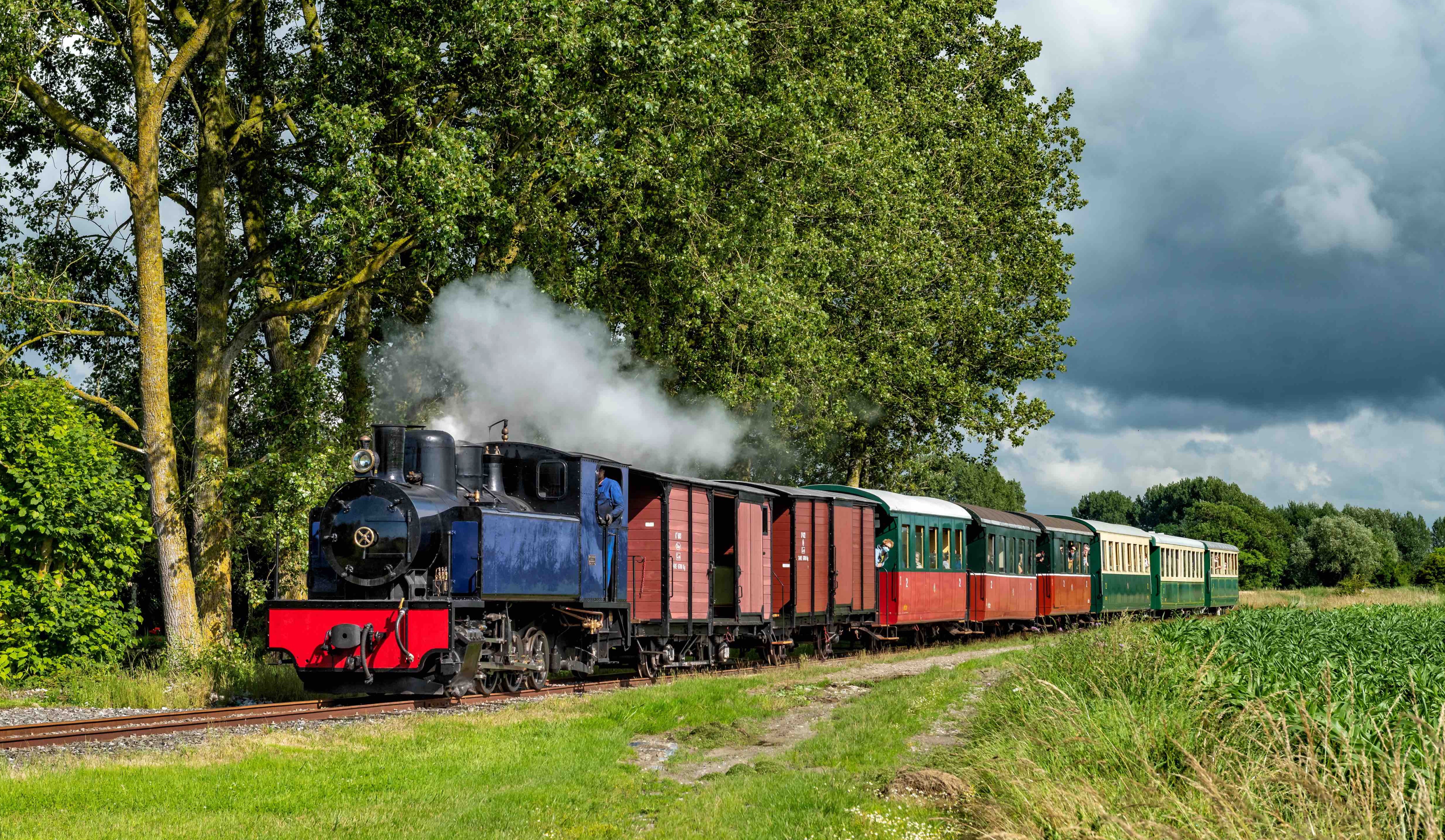 One of the more powerful visitors was the Voies ferrées du Velay (VFV) 1923 Corpet Louvet 0-4-0T No.22, seen above approaching Hurt, and below climbing out of St Valery, with the climb having little impact on its progress. The additional fourgon is to house a diesel air compressor to provide adequate braking capacity
Opposite is a video of trains climbing out of St Valery during the fête with the diesel banker struggling to catch up with No.22 as it climbs away from St Valery.
(Both photos Jean-Marc Frybourg)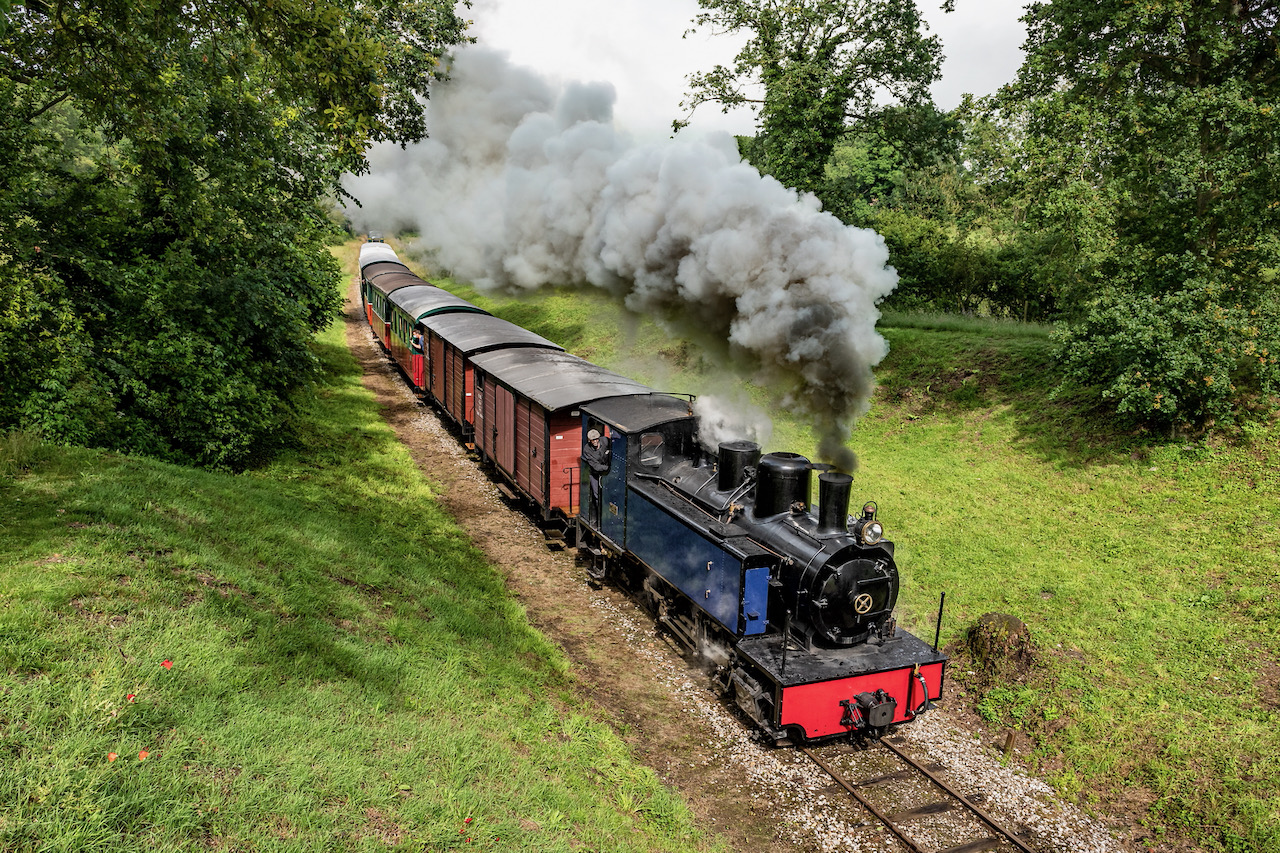 The other two metre gauge visitors to the fête were the SNCV (Liege) Vicinal Tram 1888 tram HL 303 (seen, opposite, departing from Lanchères en route to Cayeux )(
Photo Jean-Marc Frybourg
) and, from Germany, Brohltalbahn 0-2-0 0-2-0 Mallet No.11 (1906).
Despite some poor weather a patch of sunshine caught the Mallet below at Morlay (
Photo Jocelyne Bourneuf)
and a few minutes later approaching Le Crotoy (
Photo Christophe Masse
) while on the other side of the Baie St Valery was deluged with rain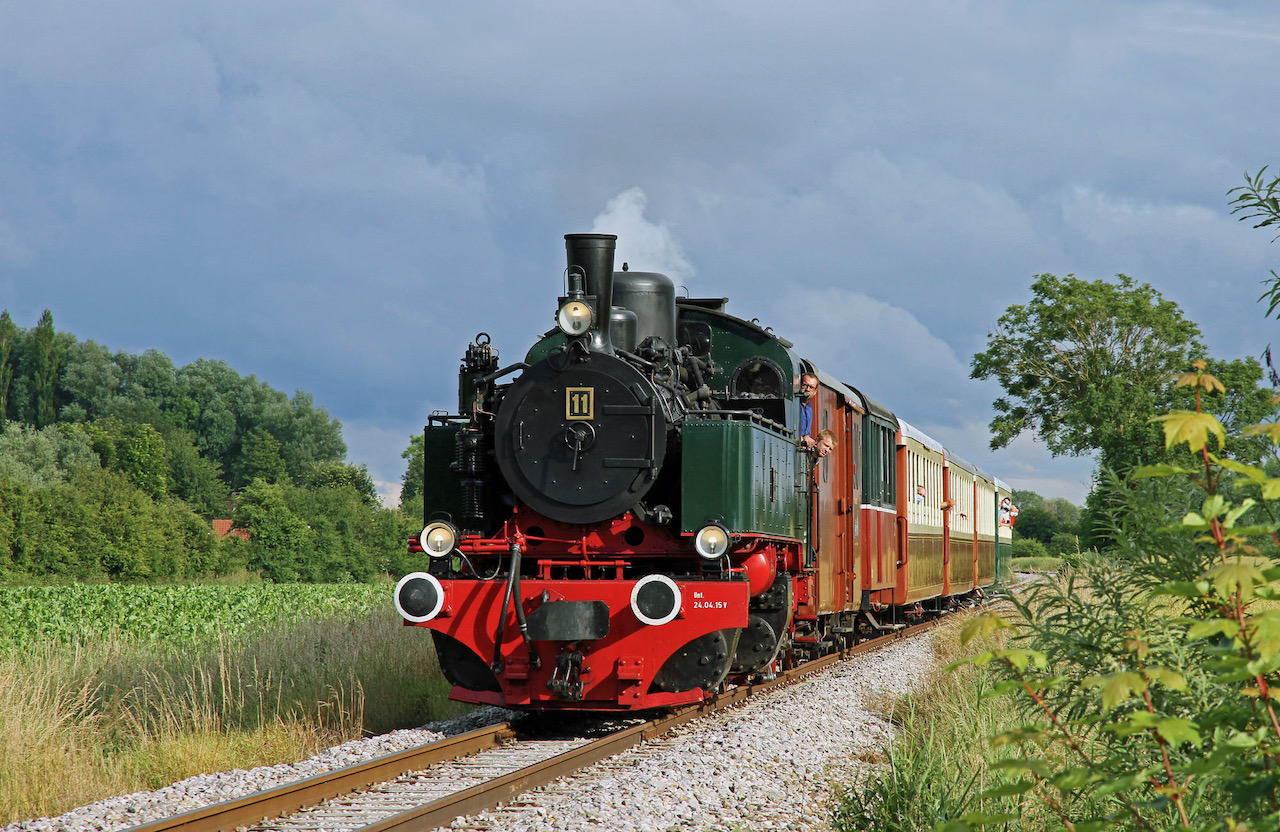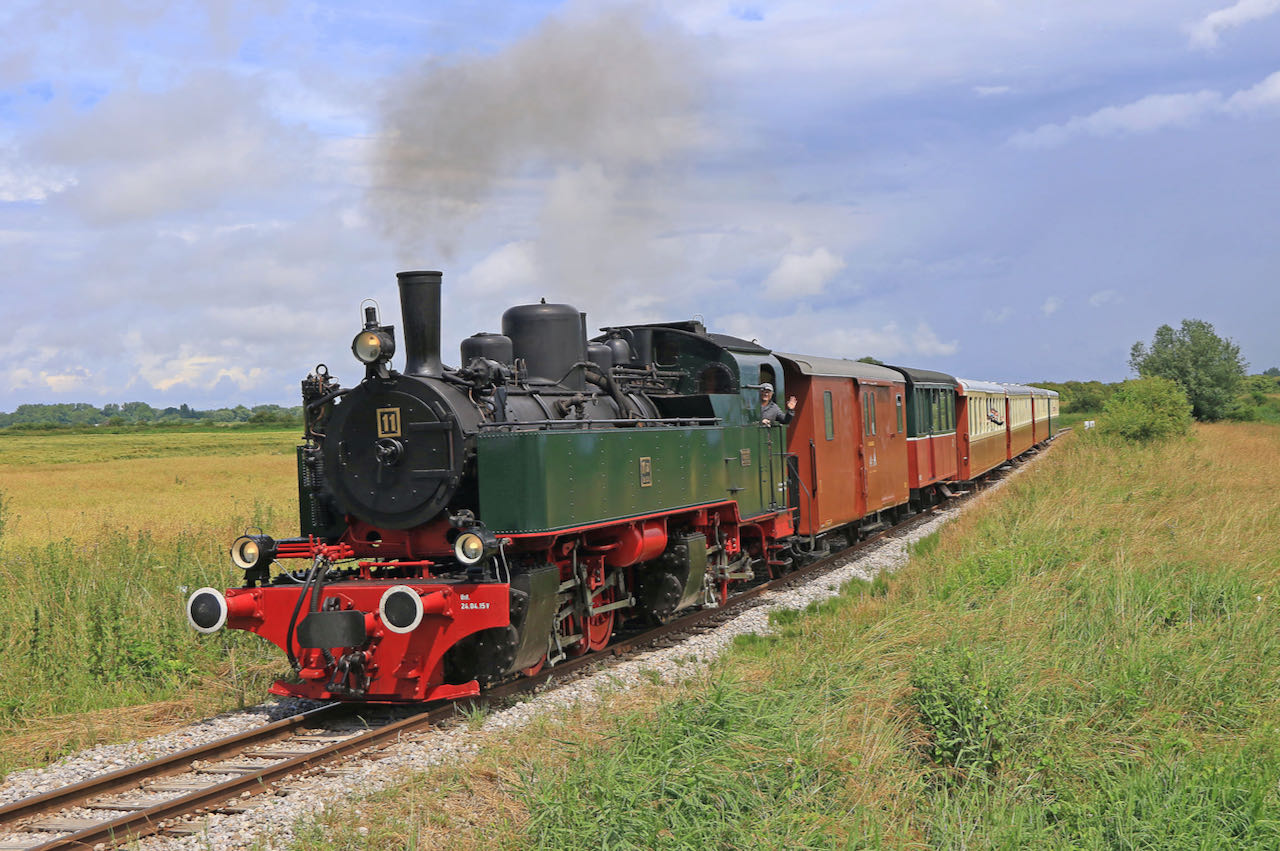 A wide range of attractions and exhibits were on display at the main stations. At Cayeux APPEVA had laid down their 60cm track for their Decauville 0-3-0 1652 to run on, and a 1957 Renault Galion provided rides to the seafront, At Noyelles, designated "Village Ferroviaire" a 1930s Paris bus provided a link to the car park and items on display included below Locomotive Marc Seguin and the Fardier du Cognot (Both photos Jean-Louis Poggi)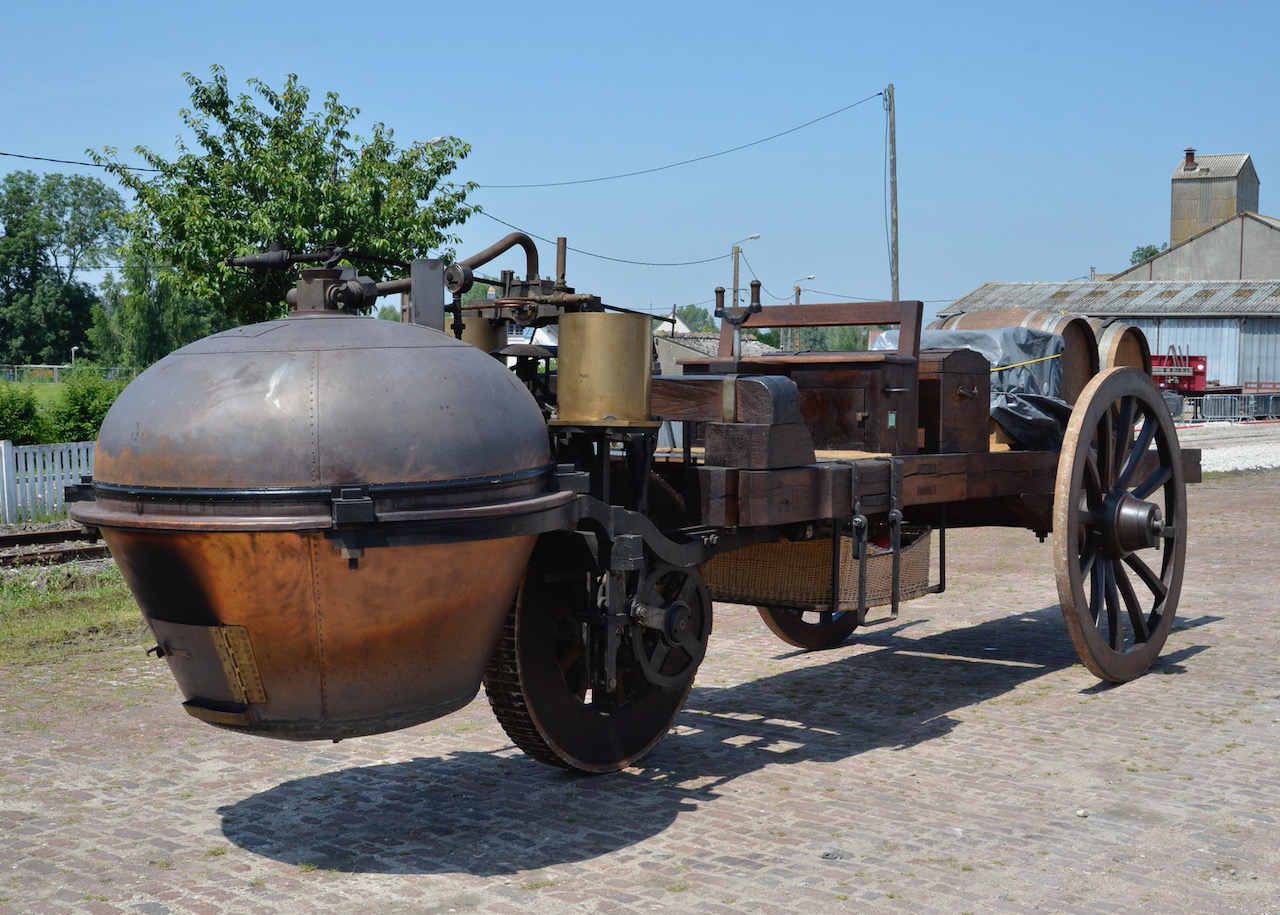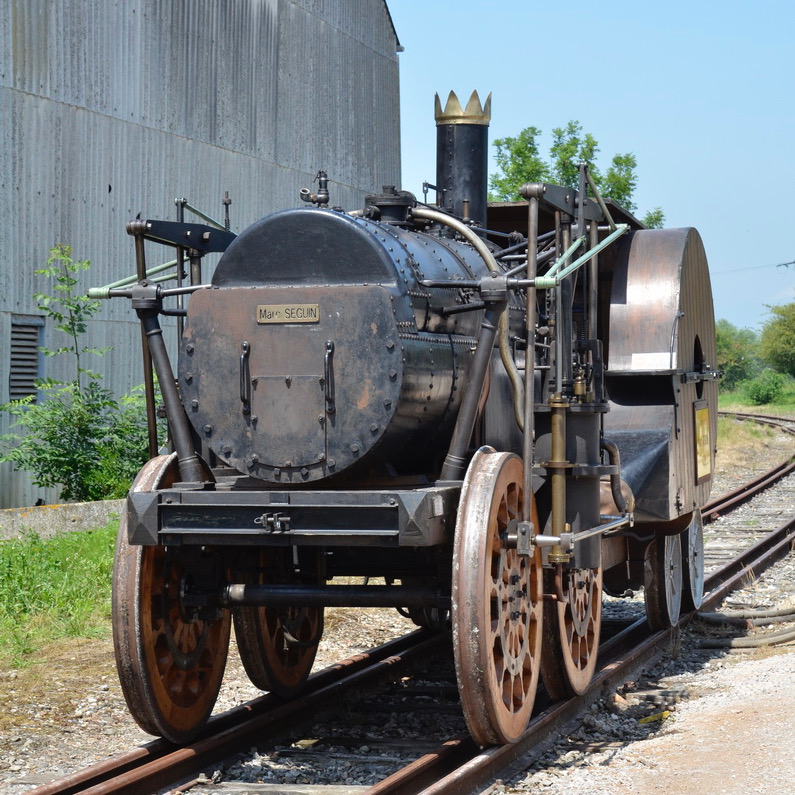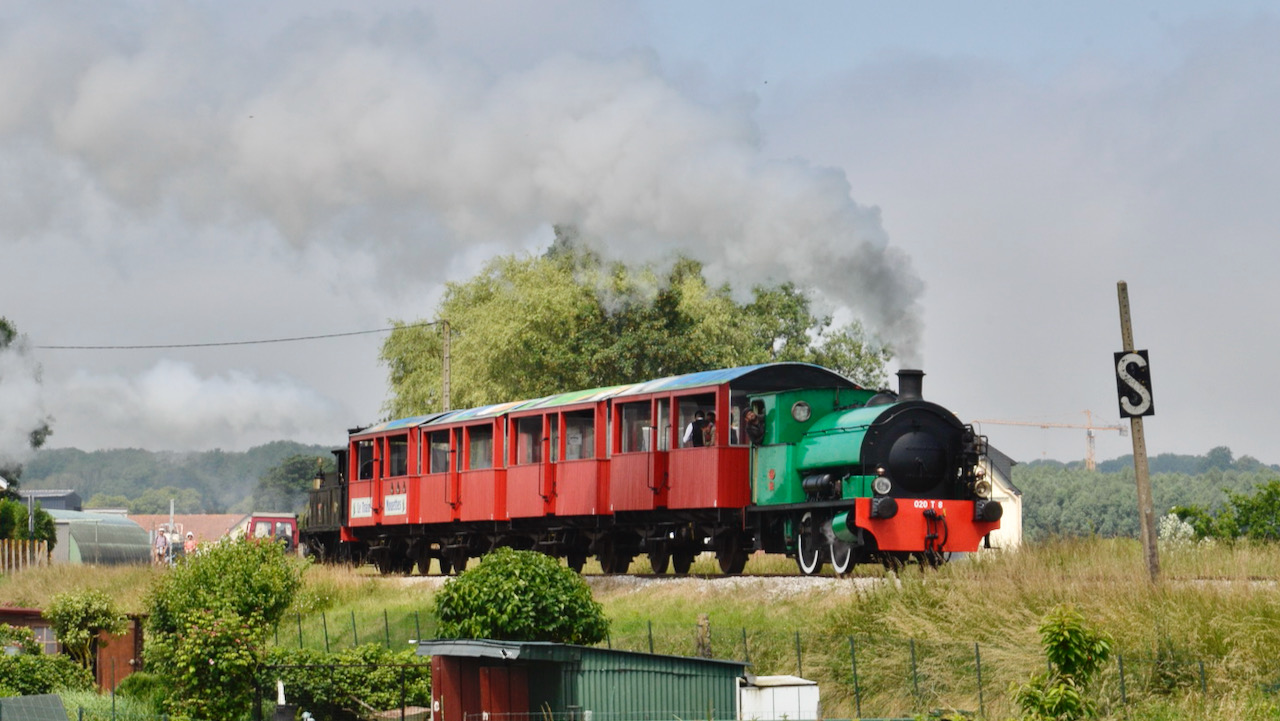 Standard gauge steam was represented by Transvap's 0-2-0T Stafford built Bagnall "Alice"(1917) and Train des Mouettes 0-3-0T Schneider No 3 "Progress"(1890) that "topped and tailed" between St Valery and Noyelles with some four wheel stock provided by Train des Mouettes. The open wagons are seen, above, with Alice leading away from St Valery Canal and, opposite, with No 3 "Progress" leading away from Noyelles. (
Both photos Jean Louis Poggi
)
From the CFBS fleet Corpet Louvet No 1 "Aisne", Morbihan Pinguely 101, VFIL Haine St Pierre 15 and FCPR Cail No 2 were all working, the latter two seen below climbing away from St Valery towards Cayeux (Photo Jean-Louis Poggi)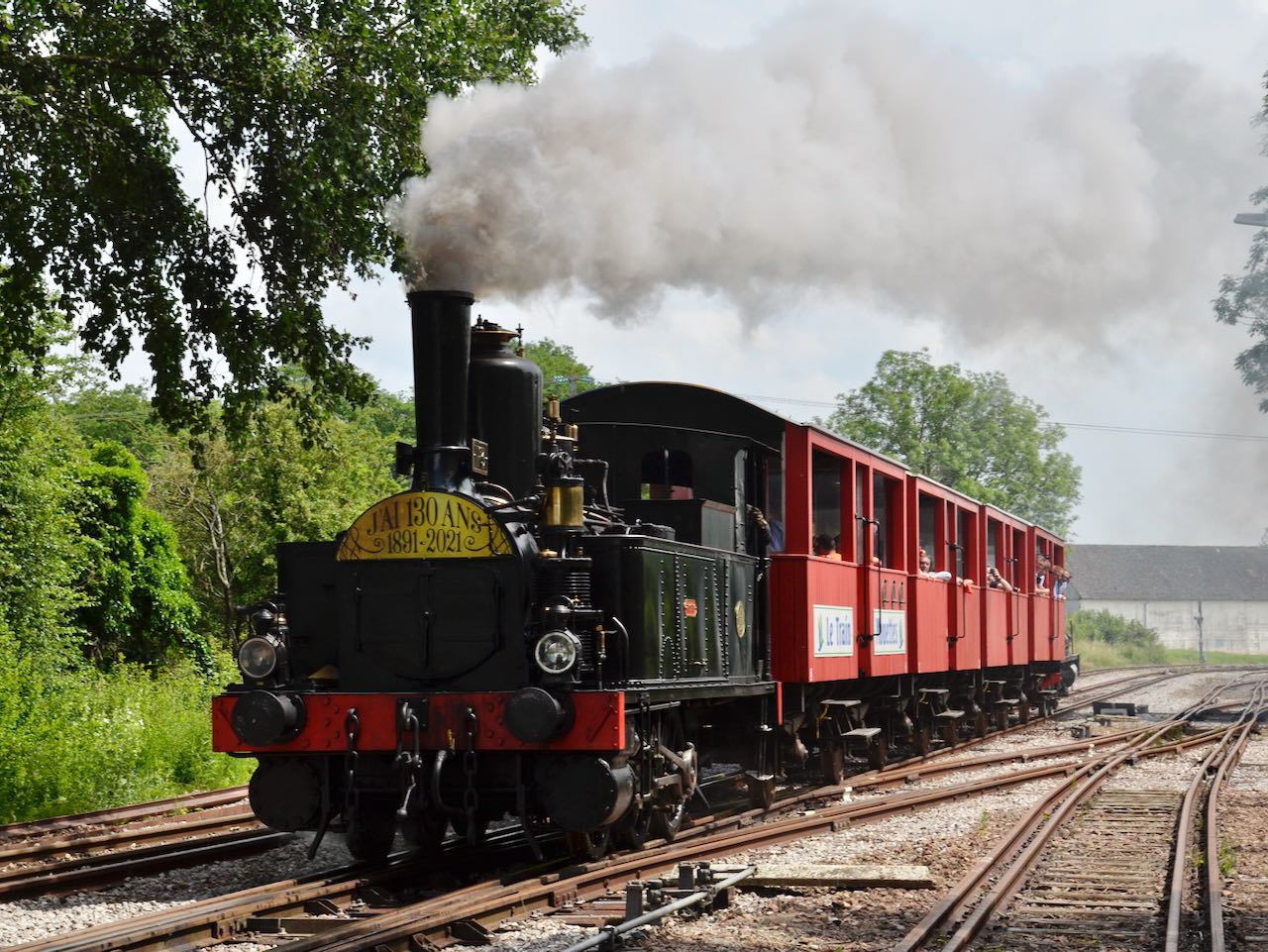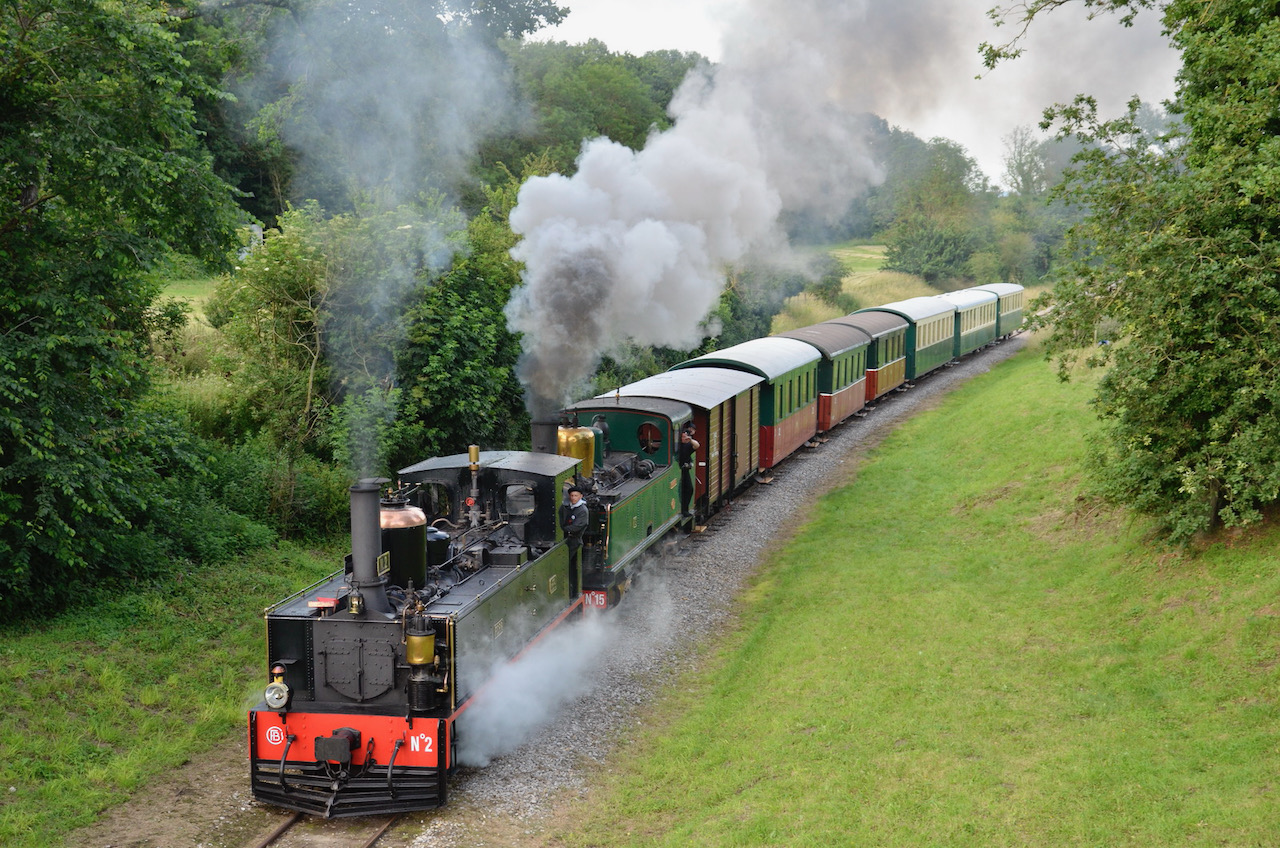 PVC (Pacific Vapeur Club) organised a trip from Sotteville to Noyelles on Saturday 3rd July hauled by heritage diesels CC 72084 and A1A 68081, seen opposite approaching Noyelles (
Photo Jean-Marc Frybourg
). Upon arrival at Noyelles a fault was detected on one of 72084's bogies and the tour returned to Sotteville hauled by A1A 68081 alone.
On the evening of Sunday 4th July, the unplanned finale of the fête took place when 72084 was towed to St Valery for repair by surprise visitor, Luxembourg Cockerill 503 (1920), and Schneider No 3 "Progress", (Photo Jocelyne Bourneuf)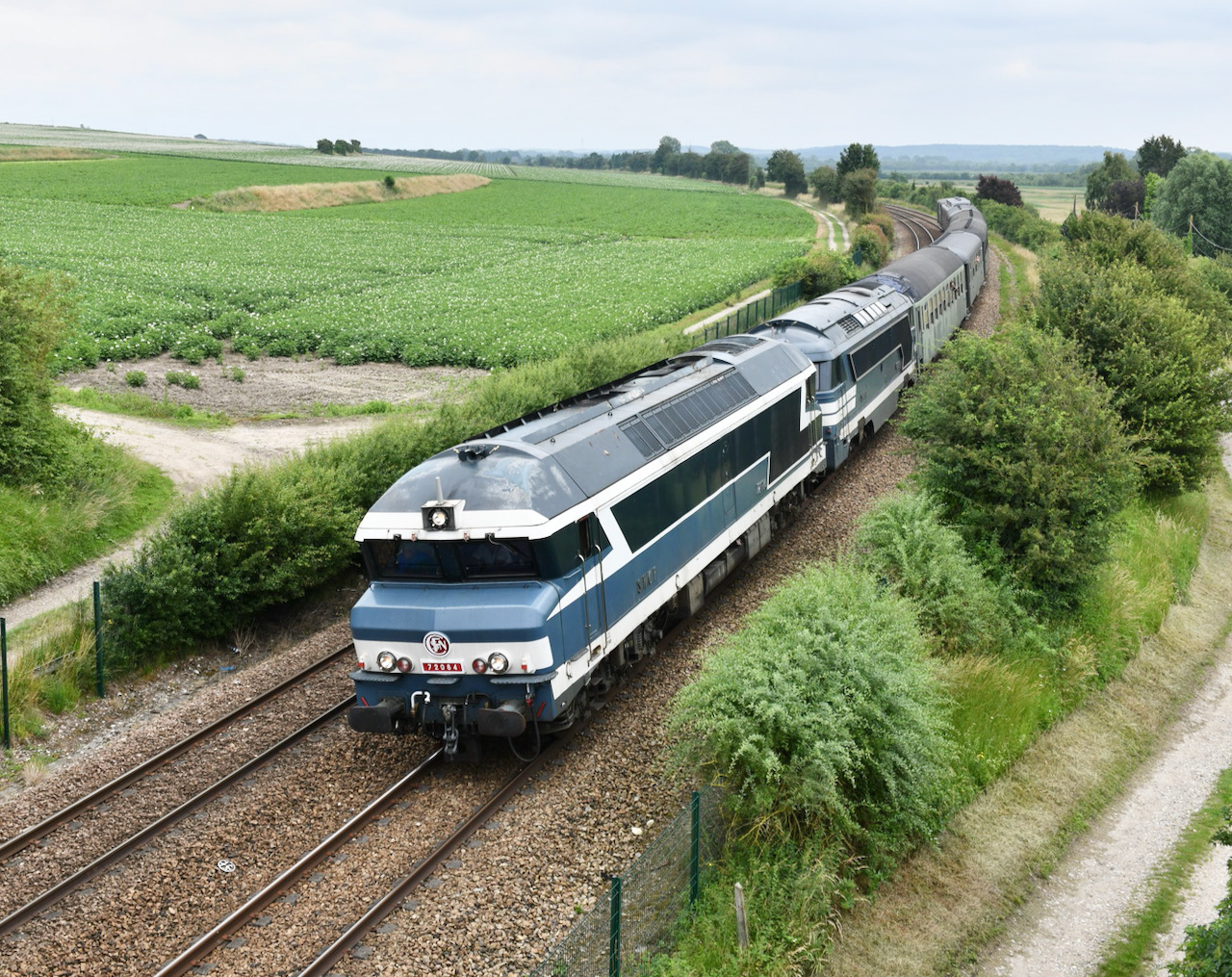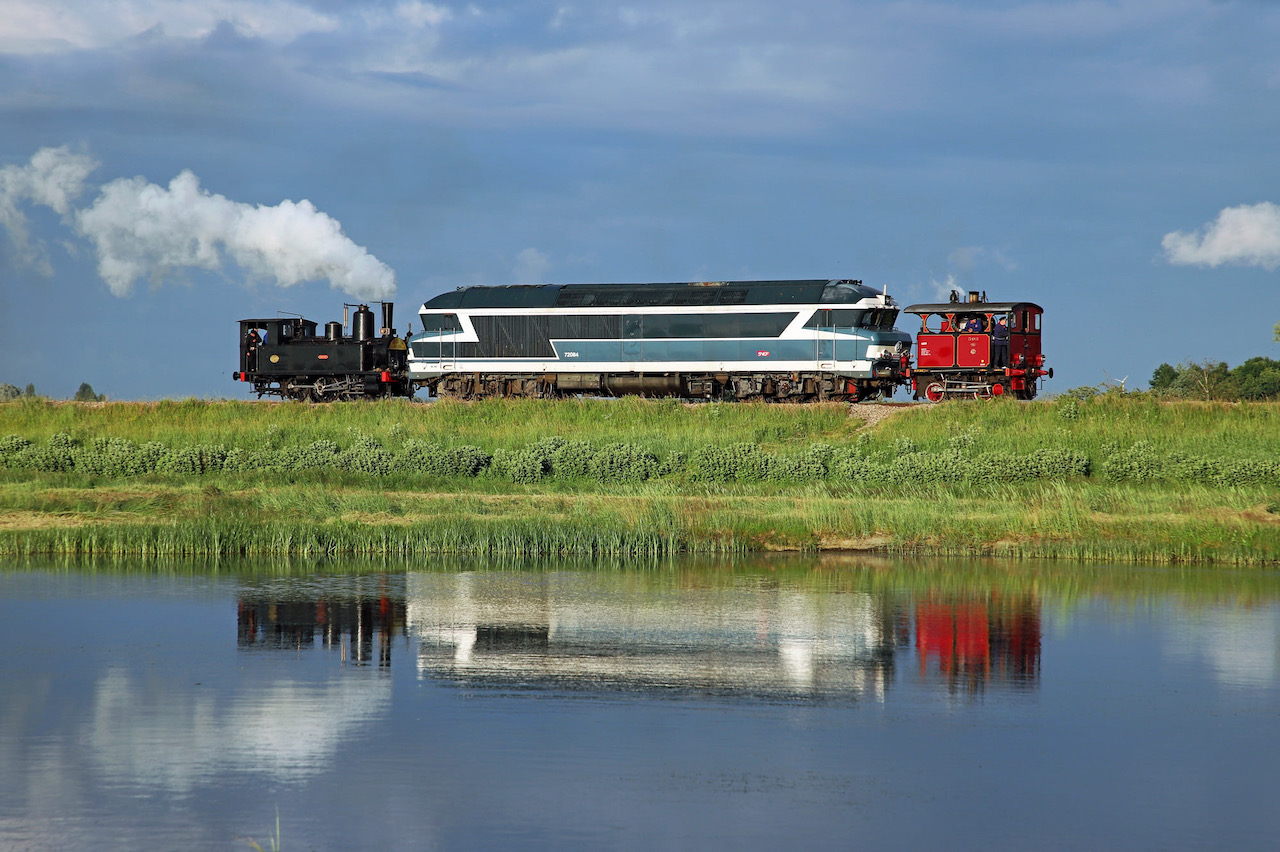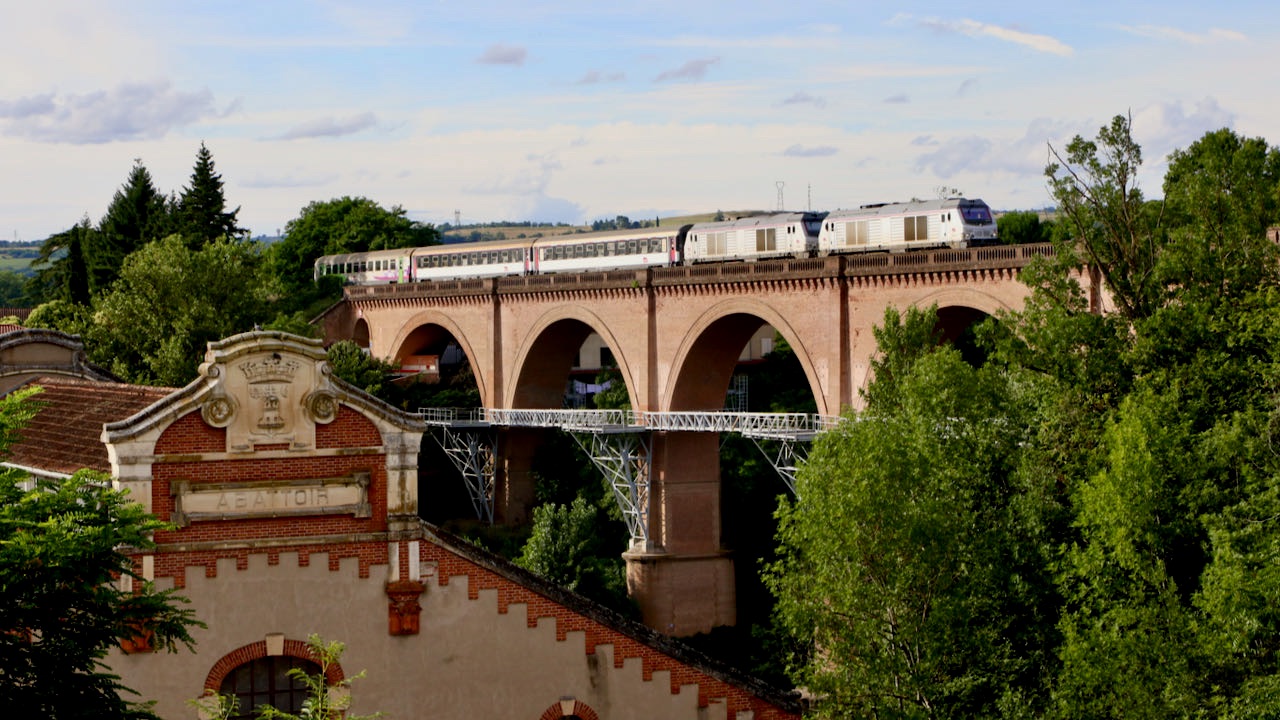 On the evening of Sunday, July 4th, the empty sleeper train from Rodez crosses the River Tarn at Albi to form the 20.50 weekly overnight express to Paris-Austerliz. It was the first train from Albi to be hauled by BB 75300 locos, a sub class adapted for passenger trains. That evening, BB 75341 + BB 75320 replaced the BB 67400 locos. Numerous SNCF managers and staff were present at Albi Ville to supervise the preparation of the short train of 2 couchette coaches and a reclining seat coach. The replacement of Class BB 67400 locomotives on these services has reduced their remaining passenger duties to just one or two rush hour turns around Strasbourg.
In the photo below, we see Z 27891/2 operating Lio 870625 from Toulouse to Narbonne on July 5th. The 4 car bi-voltage AGC is leaving Villenouvelle (Haute Garonne). In service since Aug 2009, the automotrice is decorated in the former Languedoc-Roussillon regional livery with "Lio" logos added. The Compagnie du Midi positioned the catenary poles on the north side of the line at this site for which photographers are for ever grateful. However, poles are advancing in the left background. Photos above and below by Georges Turpin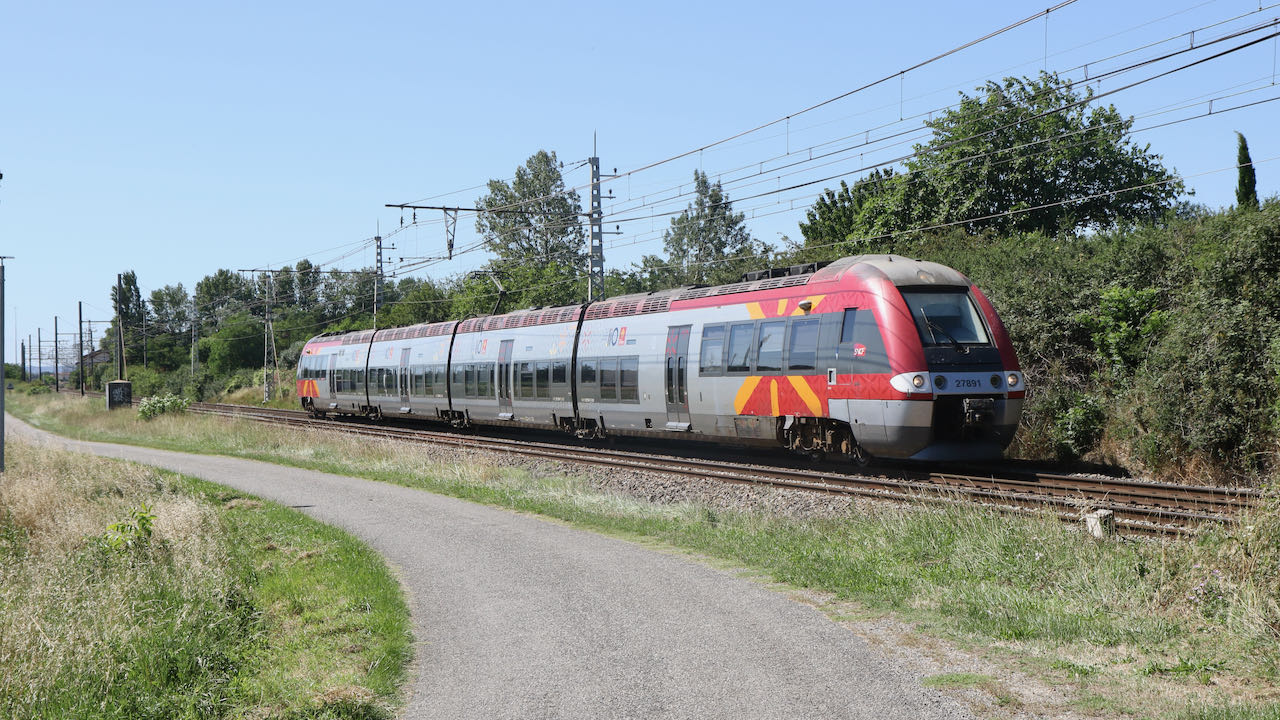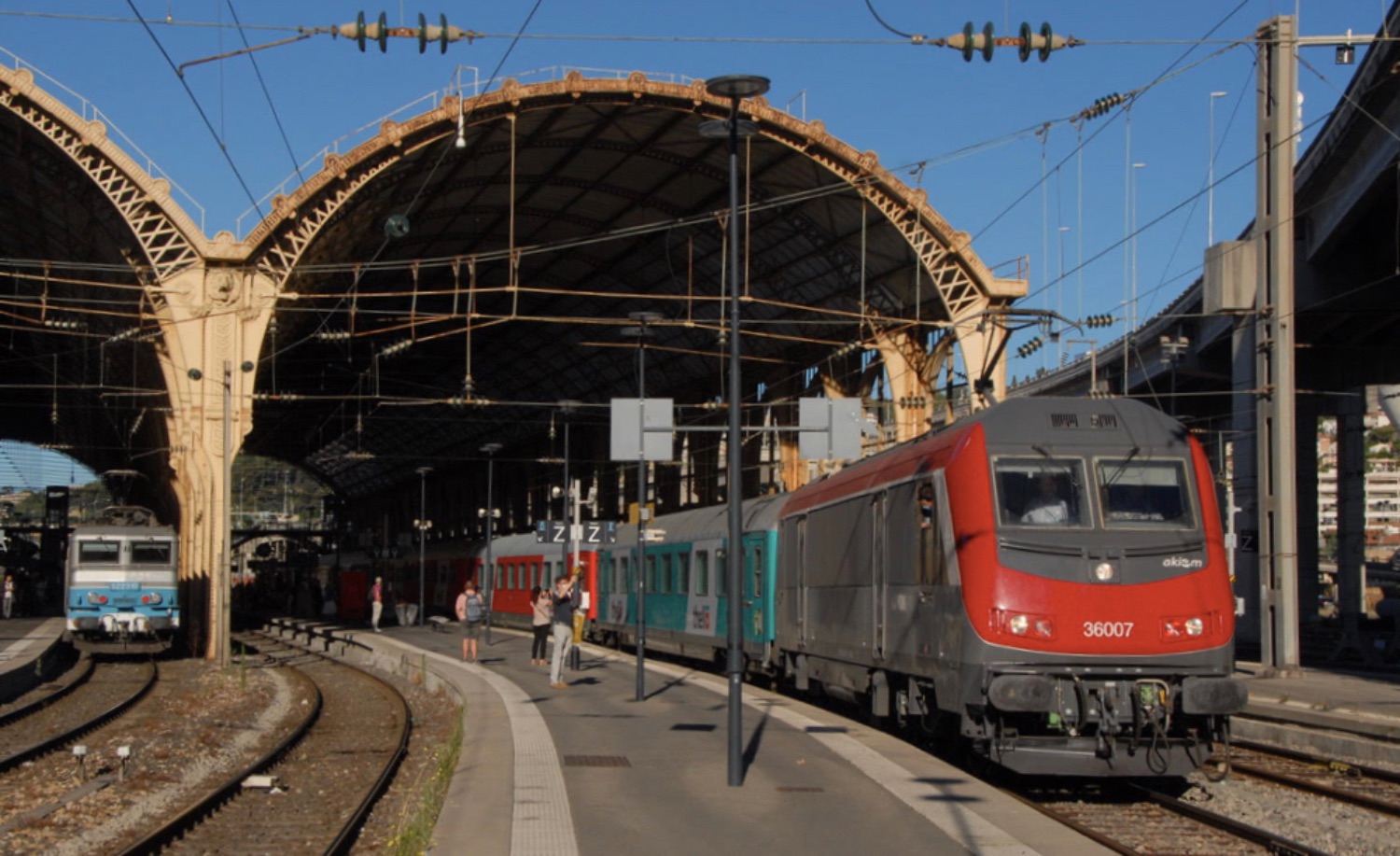 The Last Thello
Thello ceased operating their Marseille - Nice - Milan service at the end of June. On the 30th June BB 36007 is seen ready to depart from Nice with the final 07:57 Nice - Milan (EC139). BB 36007 only operated as far as Vintimiglia where an Italian locomotive took over. Photo José Banadoo
Béziers - Millau -St Chèly - Neussargues closed until Sept 17th
We previously reported that the line was closed from St Chèly to Neussargues for repairs to the track. SNCF has now closed the line completely from Béziers to St Chèly from July 3rd until September 17th. The trains are replaced by autocars with the occasional exception early in the morning.
No details of the work to carried out during the summer has been provided. In an article in the local press at Béziers, the journalist reports that, during the closure, the vegetation alongside the line will be removed or pruned on a stretch of 3 km of the line near Béziers. We hope that more essential work elsewhere will be done to justify closing the line in the peak holiday season. SNCF has published a normal timetable for the line from Sept 17th including the return of the Aubrac express, but, again, with no comments.
Mont Cenis base tunnel contracts awarded
On the 7th July three contracts worth €3bn were signed for the construction of the 57km Mont Cenis base tunnel. Co-financed by France, Italy and the EU they cover the key part of the €8.6bn Lyon - Turin high speed route due to open in 2030. So far about 30km have been completed
The twin bore tunnel will require 162km of tunnelling in total of which 60% will be bored and the remainder excavated, and will take about six years to complete using a mix of tunnel boring machines (TBMs) and blasting. When opened it will accomodate passenger trains at 220km/h and freight trains at 120km/h
Construction of the project is being managed by Tunnel Euralpin Lyon Torino a company jointly owned by the French government and Italy's FS Group
Ile de France - RER E West ( EOLE)
Under construction
In response to the saturation of the RER A tunnel under central Paris ( Nation - Chatelet - La Défense ) a second east - west line (
EOLE
-
E
st-
O
uest
L
iaison
E
xpress ) is under construction. The first section was opened in 1999 ( extended in 2003). This is RER E from Haussmann Saint-Lazare to the eastern suburbs ( 2 branches Chelles / Tournan ). The line is 56 km long. A new station, Rosa Parks, was added above ground in 2016 between Magenta and Noisy-le-Sec.
The western extension is under construction at different sites since 2016 - 2018. It will link Haussmann Saint Lazare with Mantes-la-Jolie, a distance of 55 km. The first 8 km from Saint Lazare to Nanterre will be in a new tunnel with two new stations, at Porte Maillot and at La Défense. A new station, above ground, is under construction at Nanterre. It is named, strangely, Nanterre-la-Folie. The RER E line will then use the existing Transilien Group V tracks (to be modernised) from Nanterre to Mantes via Poissy. At Mantes-la-Jolie, the station is being reconstructed.
On June 11th, SNCF president Jean-PIerre Farandou visited "Virginie", the tunneling machine that is boring the new tunnel towards Haussmann Saint-Lazre. 3 km remain to be bored. Virginie is expected to complete its work in January 2022.
The planned opening of the tunnel to rail traffic as far as Nanterre la Folie is set for mid 2023. Use of the line J to Mantes by RER E trains will begin in 2024. Future RER E trains services from 2024 will overlap as follows;
- Mantes-la-Jolie - Rosa-Parks
- Chelles / Tournan - Nanterre-la-Folie
RER E will be equipped with a new cab signalling system NExteo. A new generation of trains will be delivered for RER E ( and RER D as previously reported).
Nantes - Bordeaux: July 31st -
The return of Intercité trains
After 19 months of closure, the railway between La Roche-sur Yon (Vendée) and La Rochelle (Charente-Maritime) was opened on July 31st. This re-opening allows the return of the intercité services between Nantes and Bordeaux operated with Coradia Liner bi-mode trains. During the closure, the following work was carried out between La Roche-sur-Yon and La Rochelle (103 km);

- the double track line was singled, rails, sleepers, ballast and 13 sets of points were replaced
- 62 level crossings were renovated
- trains can cross on the single track line at Luçon and at Marans controlled from La Roche-sur-Yon.
- At Luçon, the station was modernised and accessibility was improved. A pedestrian tunnel under the tracks was built.
- a new digital signalling system (NExt Regio) installed controlled from a centre at La Roche-sur-Yon
- the speed limit has been raised to 130 kph. (For several years the line had been restricted to 60 kph)

The train timetable from July 31st is for 3 return intercité services daily between Nantes and Bordeaux (journey time 4h07 - 4h13 with 6 stops) and 1 TER service Nantes - La Rochelle. Departures from Nantes will be at 07h55, 11h55, 16h57. Departures from Bordeaux will be at 07h57, 11h57, 17h57. In 1975, the journey time was 3h52 with 6 stops and 3h47 with 4 stops. There is still room for improvement on the present schedules. This will require upgrading the line and signalling from La Rochelle to Bordeaux.
The transport minister has promised an additional intercité train (making 4 return services), presumably in the 2022 service. The return of the night train from Nantes to the Côte d'Azur via Bordeaux could provide the first morning service from Bordeaux and the last evening service from Nantes. Currently, the first train from Bordeaux arrives midday at Nantes.
Paris Termini
The never ending repairs, renovations and rebuilding
Among the six
intra-muros
rail termini at Paris,
Gare St Lazare and Gare de l'Est
have been renovated. There are no plans for further changes in the immediate future at those two stations.
At Gare Montparnasse (built in the '70's), the station has been substantially modernised during the last 3 years. Completion is imminent, this summer.
Tracks are situated several levels above ground and access to the 3 metro lines has always been a problem. Structural changes have been made to brighten the mezzanine levels. 15 new escalators have been added to the 20 existing ones. Large lifts have been added to improve vertical accessibility. 1 000 additional seats have been added in waiting areas together with recharging plugs. More shops have arrived. A total of 150 million euros has been spent at this terminus from where TGV's serve the west and south- west of France.
At Paris Gare d'Austerlitz, a forest of scaffolding occupies the centre of the station since 2018. It is not likely to disappear in the near future. The objective was to renovate the "GHV" (Grande Halle Voyageur) dating from the 19th century. But the discovery of more lead than expected halted the work. It was alleged that lead particles were showering down on to the public ! After a few months the subject was lost to public view (without any final explanations). Then the COFID pandemic further complicated conditions for the contractors. Completion of the project to renovate and modify the centre of the station is several more years away.

Modifications to the riverside of the station are finished. Platforms 1 - 7 are covered. The former buffet has been demolished and replaced with an entrance area. The west side is a "building site" and many years away from completion. The plans for redevelopment between the station and the Salpetrière Hospital have run into strong opposition. The Gare d'Austerlitz has been a problematique site ever since Metro line 5 was driven through the first floor of the original building. The line (which crosses the adjacent Seine on a bridge) will remain, and continue to baffle today's architects.

Across the river, at Gare de Lyon, just as work finishes to renovate and rebuild the east side of the station (the Chalons wing, the galerie des fresques, notably) a forest of scaffolding has invaded the west side of Hall 1 in order to renovate the PHV (Petite Halle Voyageurs), a century old. The work is scheduled to last 3 years and finish in 2024, the year of the Olympic games.

The most controversial project is at Gare du Nord. It has barely started and it is a huge challenge. The project is jointly run by SNCF and Ville de Paris with supermarket group Auchan to operate the new shopping area. The main contractor is Bouygues. The objective is to adapt the station for an increase in traffic expected from the current level of 700,000 passengers daily (pre COFID) to 900,000 daily in 2030. The construction will last 4 years while keeping the station open. It will cost 600 million euros, maybe more !!
Key points;
One of the principal changes will be separation of inbound and outbound passenger flows. Currently all passengers mill around at ground level in the big hall, a mixture of those waiting to board and those arriving and searching for taxis or metro or RER. On completion of the new project the following system will be applied:
- Inbound mainline passengers will disembark and use the big hall as now.
- Outbound mainline passengers will use a new departure hall at level +1 in a new building to be constructed between the big hall and the former suburban hall above RER B/D. ( 70% of outbound passengers arrive by RER or metro. They will reach the new departure hall by escalators and new lifts. A new entrance will be created on the east side of the station)
- The number of escalators will double. 6,000 bicycle racks will be created 1,000 extra seats will be provided
- Access to the main line platforms will be from the departure hall by 3 cross bridges and escalators.
- The Eurostar terminal called "TransManche" will be re-organised and expanded in priority for opening in 2023.
- Above the new departure hall there will be a commercial centre, on level +3 there will be a one hectare roof garden with a 1 km piste for running.
- Outside the front of the station there will be a pedestrian area in place of the road junction.
Opposition to parts of this mega project resulted in a reduction of the size of the commercial shopping area (one floor was removed from the new departure building).
The challenge is to complete as much as possible by 2024 when the Olympic Games are scheduled in Paris.

Below Gare d'Austerlitz in 2017 showing the overall roof before the scaffolding arrived. 141 R 840 has just arrived from Orleans following a major overhaul.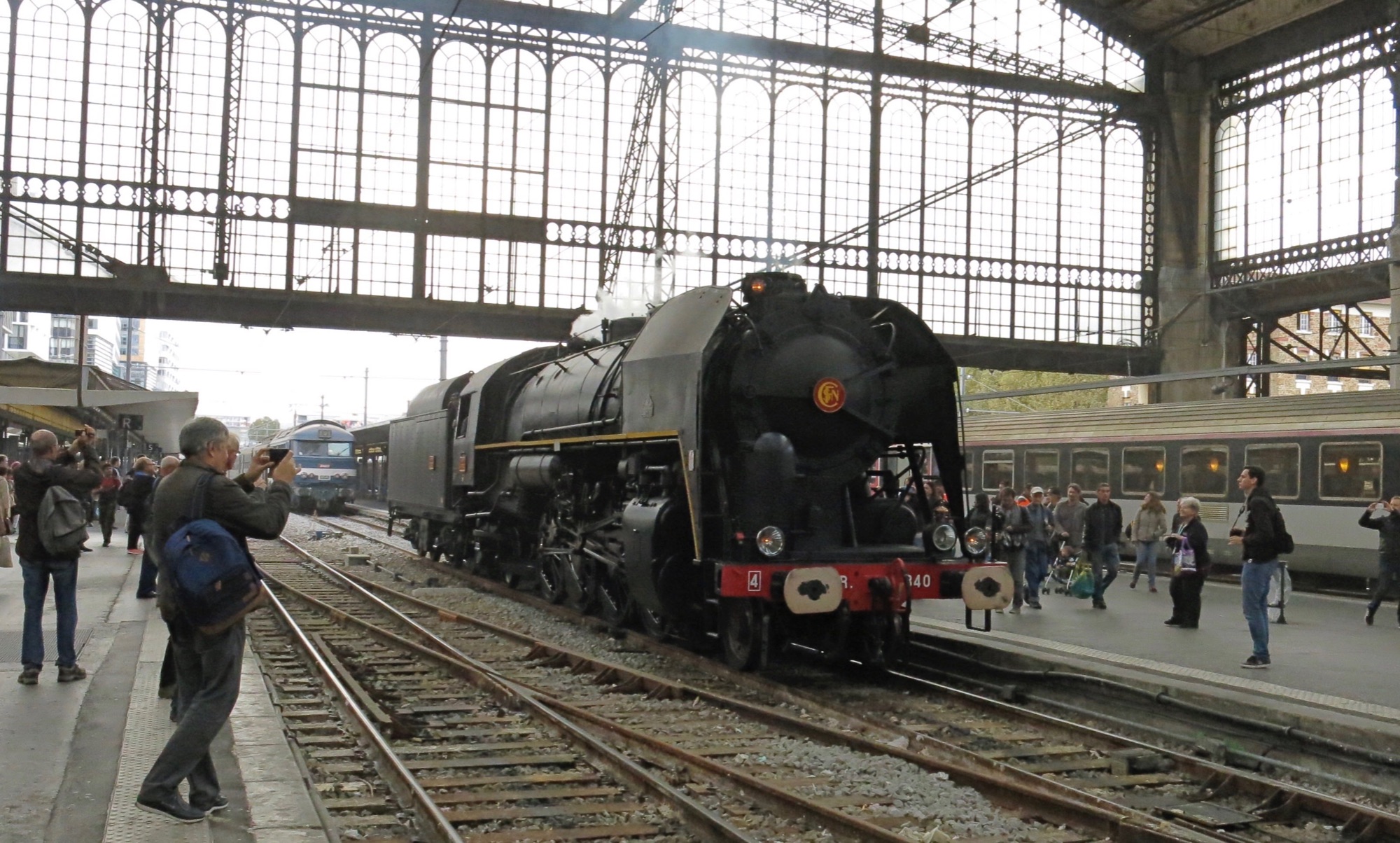 141 R 840 & 141 R 1199 - An update
AAATV-CVL (A
micale des
A
nciens et
A
mis de la
T
raction à
V
apeur
C
entre -
V
al de
L
oire) have recently reported that 141 R 840 should receive it's boiler certificate in September. Final assembly will then take place with the re-building of the brick-arch in the firebox and fitting of the Kylchap exhaust, followed by re-painting in preparation for a loaded steam test. It should then be ready for the 2022 season.
The saga of 141 R 1199 appears to be coming to a positive conclusion. Orignally based at Nantes and operated by Loco Vapeur R 1199. the locomotive was returned to SNCF when the agreement was rescinded, following a disagreement over storage of historic carriages. It was then mooted that it would go on static display at Mulhouse. Since then it has been stored at Le Mans where it has occasionally been displayed. AAATV - CVL are now negotiating a convention with SNCF to take custody of the locomotive and and it is expected to be transferred to Les Aubrais by the end of the year. The locomotive is in good condition as a major overhaul had been largely undertaken and this will be completed. This move should enable AAATV-CVL to keep one locomotive operational should the other be receiving an overhaul or under repair.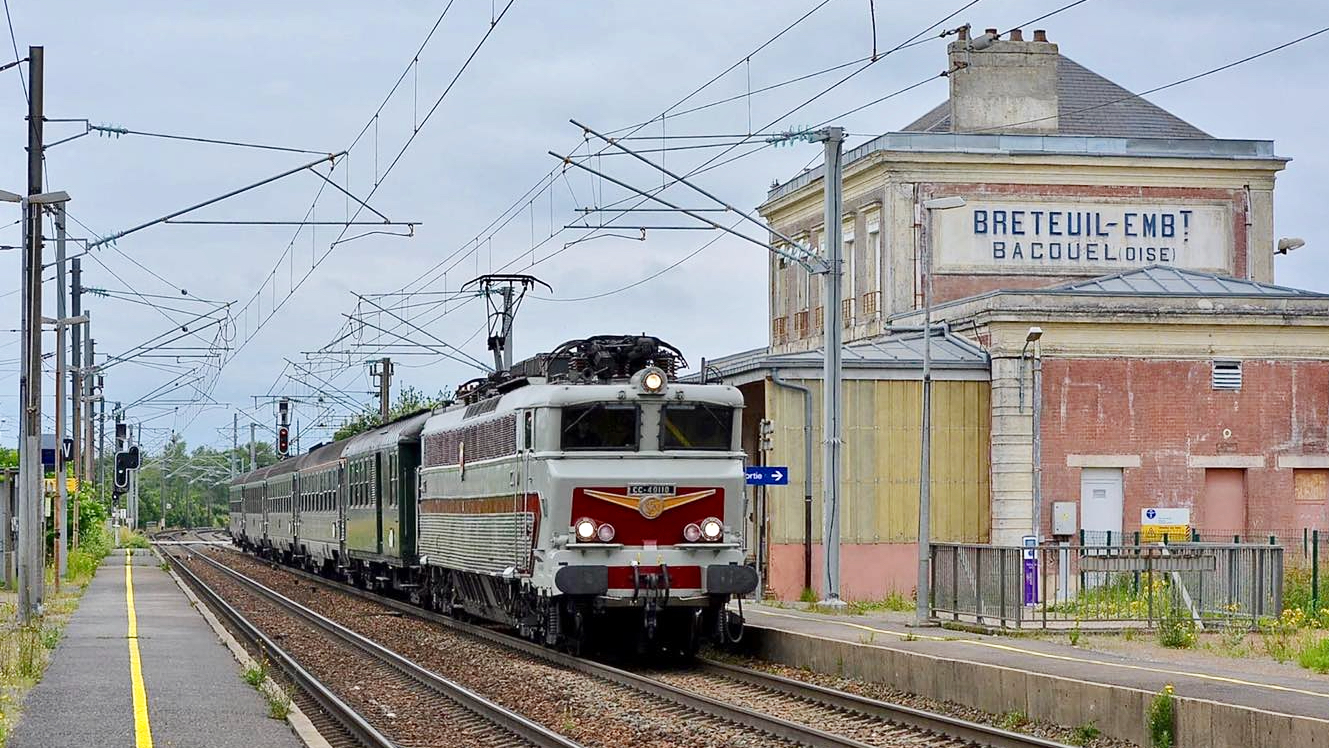 Successful run for CC40110
Following its successful test run on the 26th June preserved CC 40110 appears to have overcome its previous problems with a faultless run from Paris to Amiens on the 14th July when the quadruple voltage locomotive performed well in AC mode. This was its first passenger carrying service in preservation, having last operated in 1996. MFPN plan further trips later in the year, the next from Paris to Deauville on August 14th. It is seen above passing through Breteuil Embranchement on the return from Amiens. (Photo Philippe Armand)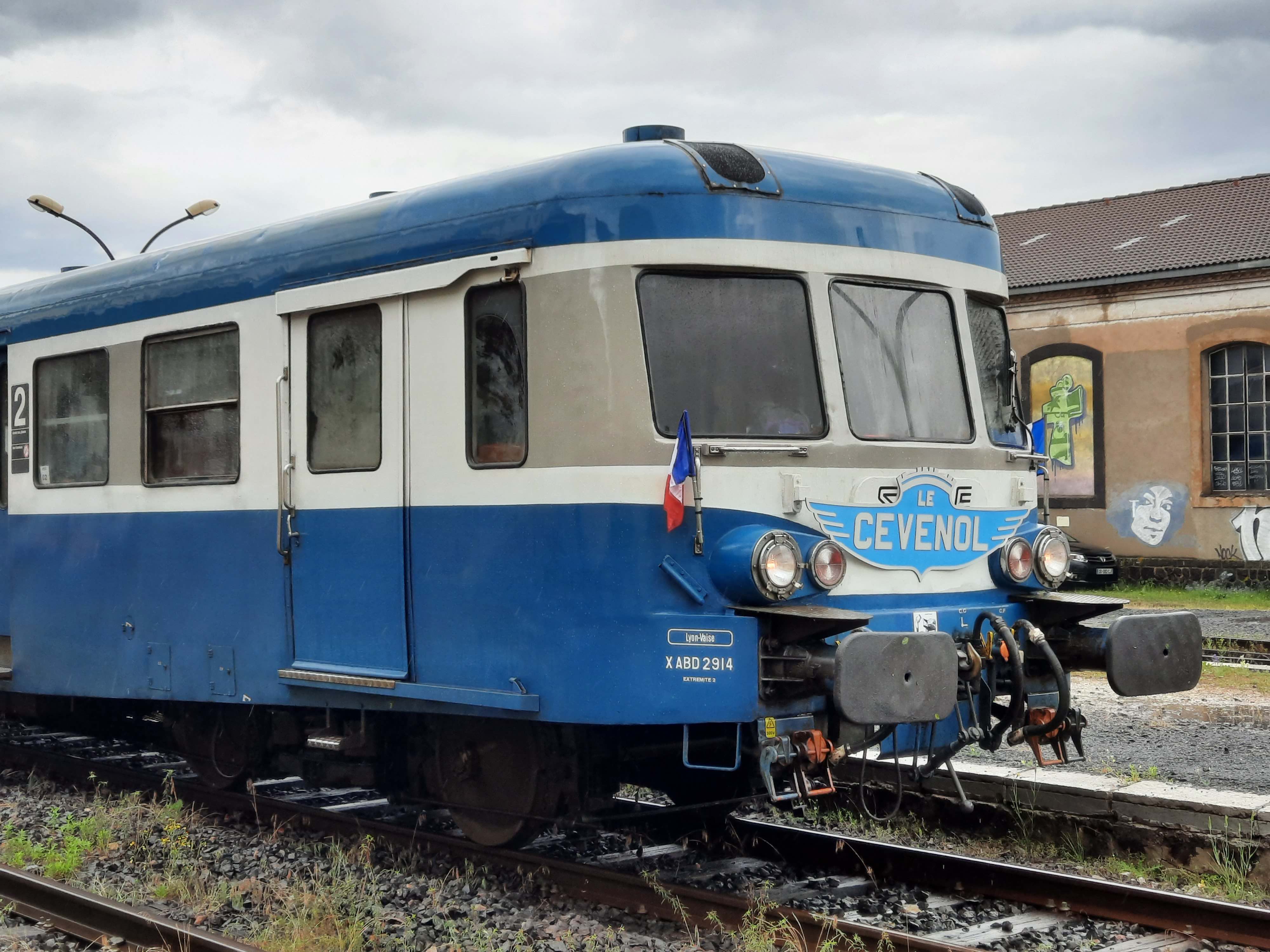 50 years of the Cévenol train
Anniversary Festival underway after postponement from 2020
At the beginning of July, festivities began along the Cévenol line between Brioude and Alès (184 km). Originally planned for the summer of 2020, the pandemic caused that event to be cancelled. A year later, the anniversary festival has finally started. It is a good deal more elaborate than the original inauguration in 1870. At that time, there was more concern about a war with Prussia than the openng of a remote railway line in the Massif Central. Today, we must admire the remarquable achievement to build 171 tunnels, bridges and viaducts in precarious conditions with little mechanical assistance and 6,000 construction workers. Keeping the line open is an essential tribute to their excellence.
This year, the Cevenol line was re-opened by SNCF on July 2nd, after the usual annual 3 months closure for engineering work.
On July 4th, a special train was operated from Alès to Marseilles and back via the newly re-opened Côte Bleue line. On July 6th, an unseasonal day of more or less continuous rain, celebrations officially began and the AP 2800 association operated a special train from Langogne to Clermont-Ferrand and back, with preserved autorails X 2914, X 2819, plus trailor. (photos). The X 2800 is inevitably associated with the Cevenol train since 1958 (depot de Marseilles) and, since 1977, modernised in Massif Central blue livery.
Special trains will visit many of the villages this summer during the various events.

The calendar of the festival dates and venues can be found on this
PDF
In July, Langogne, Langeac, Génolhac, and Brioude held their events. In August, the following villages will hold their events; Alleyras (1st - 8th), Villefort (10th - 15th), Monistrol d'Allier (16th - 22nd), and Chapeauroux (24th - 28th).
Photos Above: X 2914 with Cevenol headboard at Langogne, July 6th 2021
(Hansruedi Plüss
Right X 2819 + Régiolis Occitanie at Langogne July 6th 2021 (
Henri Tenoux )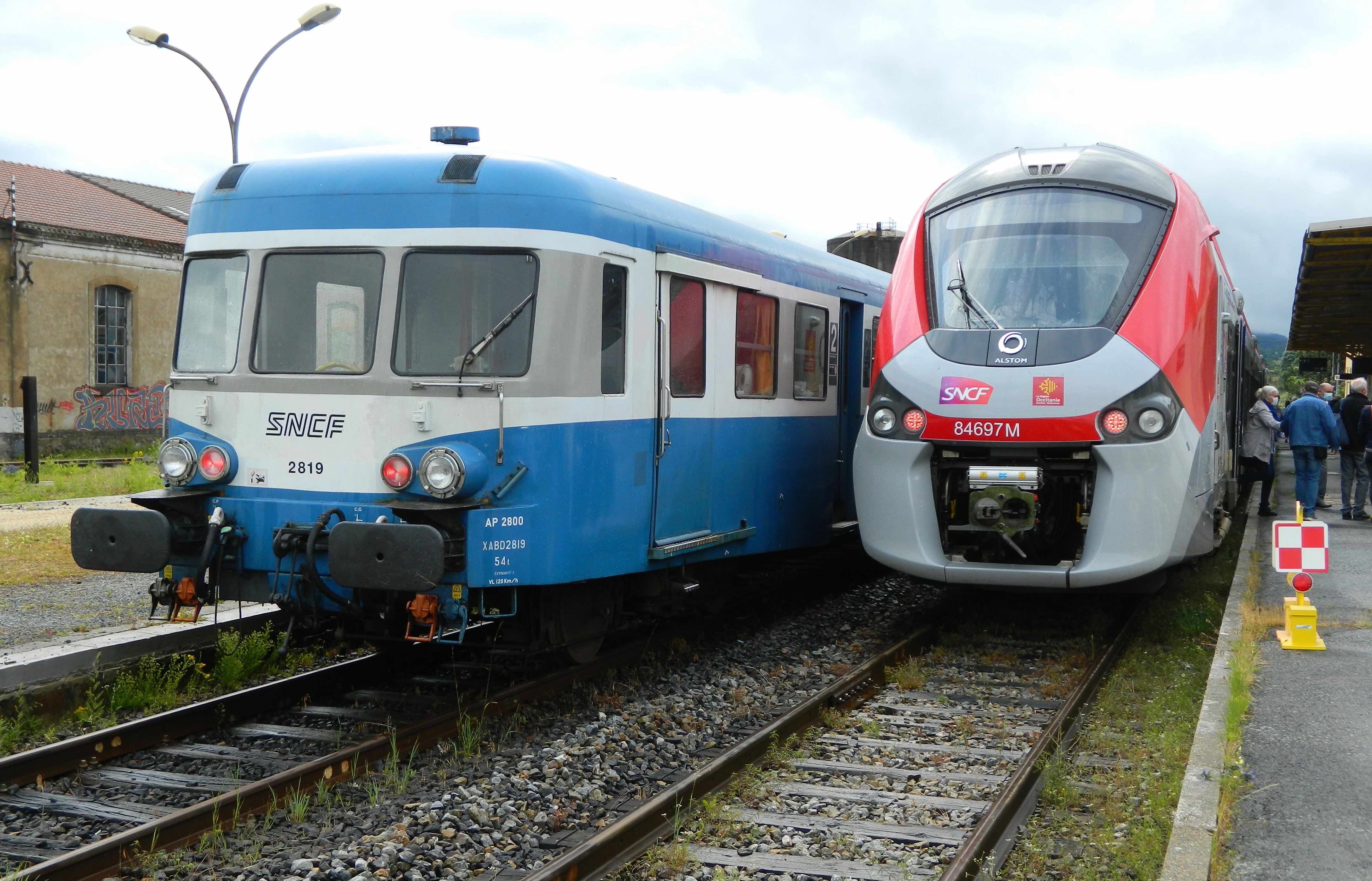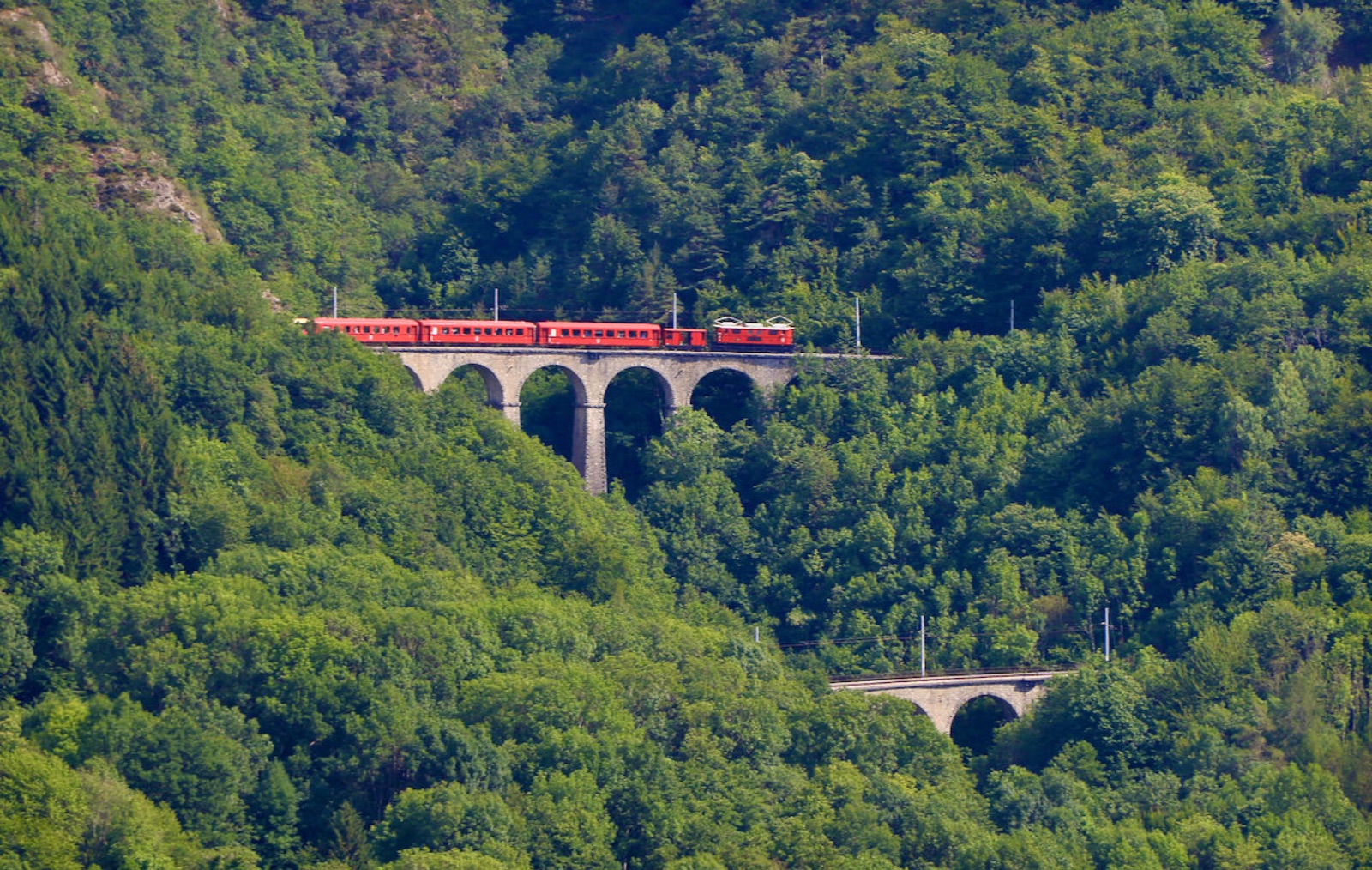 Le Petit train de la Mure - Open at last !

In JUNE NEWS we reported, at length, on the reconstruction of part of the former Chemin de fer de la Mure after the land slip in 2010 which blocked the original line. It was expected that the new tourist line would open in June. Then it became, definitely, July 1st, and bookings were opened with a timetable of 10 trains a day. But on June 29th, Edeis annouced that there would be a few days delay and bookings were suspended. There followed nearly 3 weeks of silence.
Finally on July 19th, the Prefet de l'Isère issued the essential authorisation to operate. It was effective from July 21st. Perusal of the document from the Prefet reveals that operations were only authorised until July 29th, with a number of conditions including only one train in service, obligation to install an additional circuit breaker by July 29th and 16 other procedures applicable, daily, monthly, annually and in case of incidents. The tourist line is checked by STRMTG for technical concept and implementation and CERTIFER for security matters. These two bodies only provided the final versions of their reports to the Prefet on July 12th and 13th.
Apparently it has not yet been possible to test 2 trains in operation simultaneously due to 2 of the 3 locomotives not being in service. This has delayed completing the training of staff including 5 drivers, 4 train managers and 3 line managers.
On July 30th, the prefecture de l'Isère published the authorisation for EDEIS to continue to operate the Petit Train de la Mure during the remainder of the 2021 season on the basis of one train in service with 3 departures daily except on Mondays when the line will be closed.
On July 30th, the prefecture de l'Isère published the authorisation for EDEIS to continue to operate the Petit Train de la Mure during the remainder of the 2021 season on the basis of one train in service with 3 departures daily except on Mondays when the line will be closed.

Opposite. A seven minute video showing highlights of the new train
Photos: Above Sécheron T7 (1932) crossing the Viaducs de Loulla, and below passing Puits de Villaret on Friday 23rd July.
Both Christophe Masse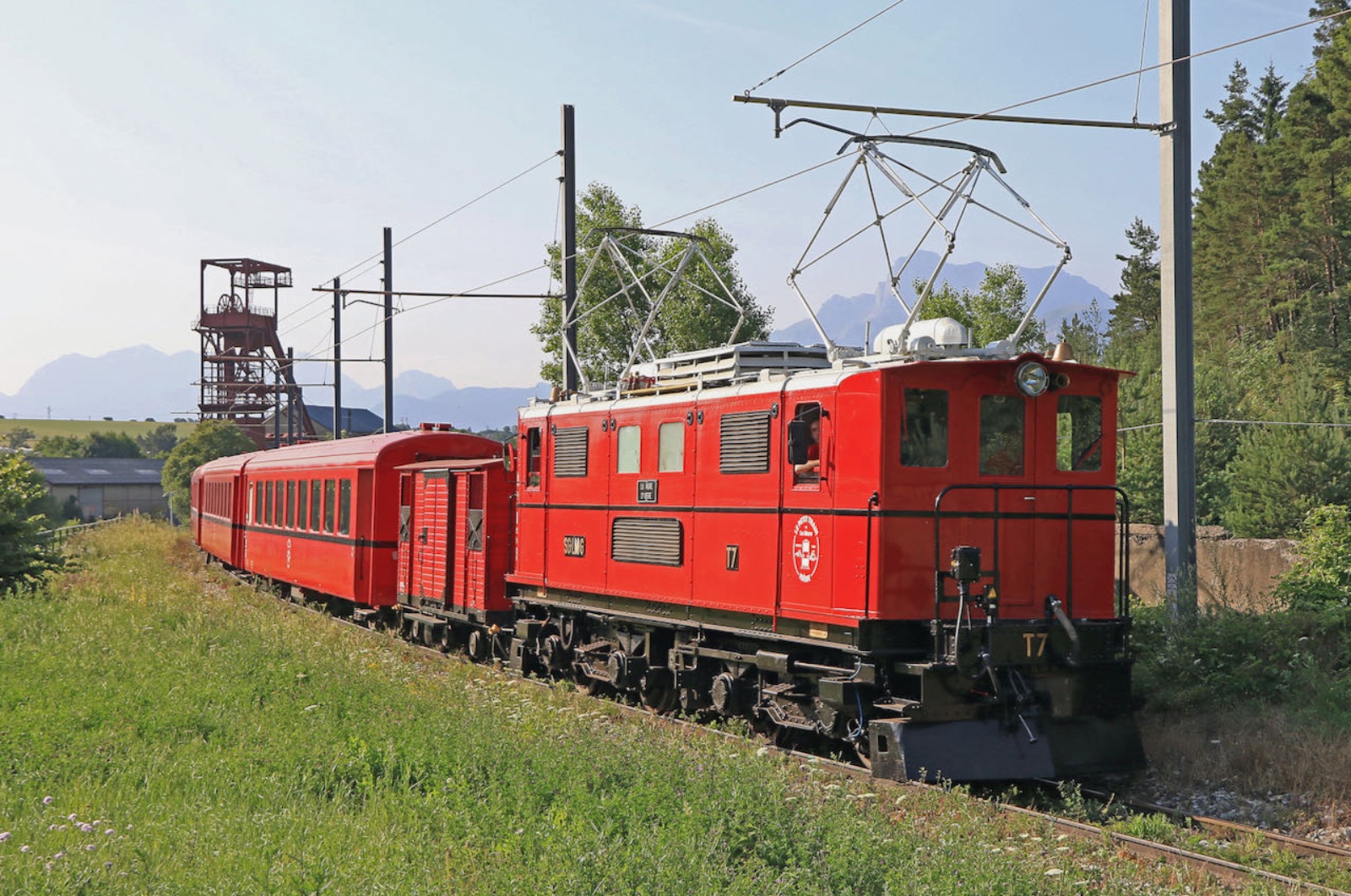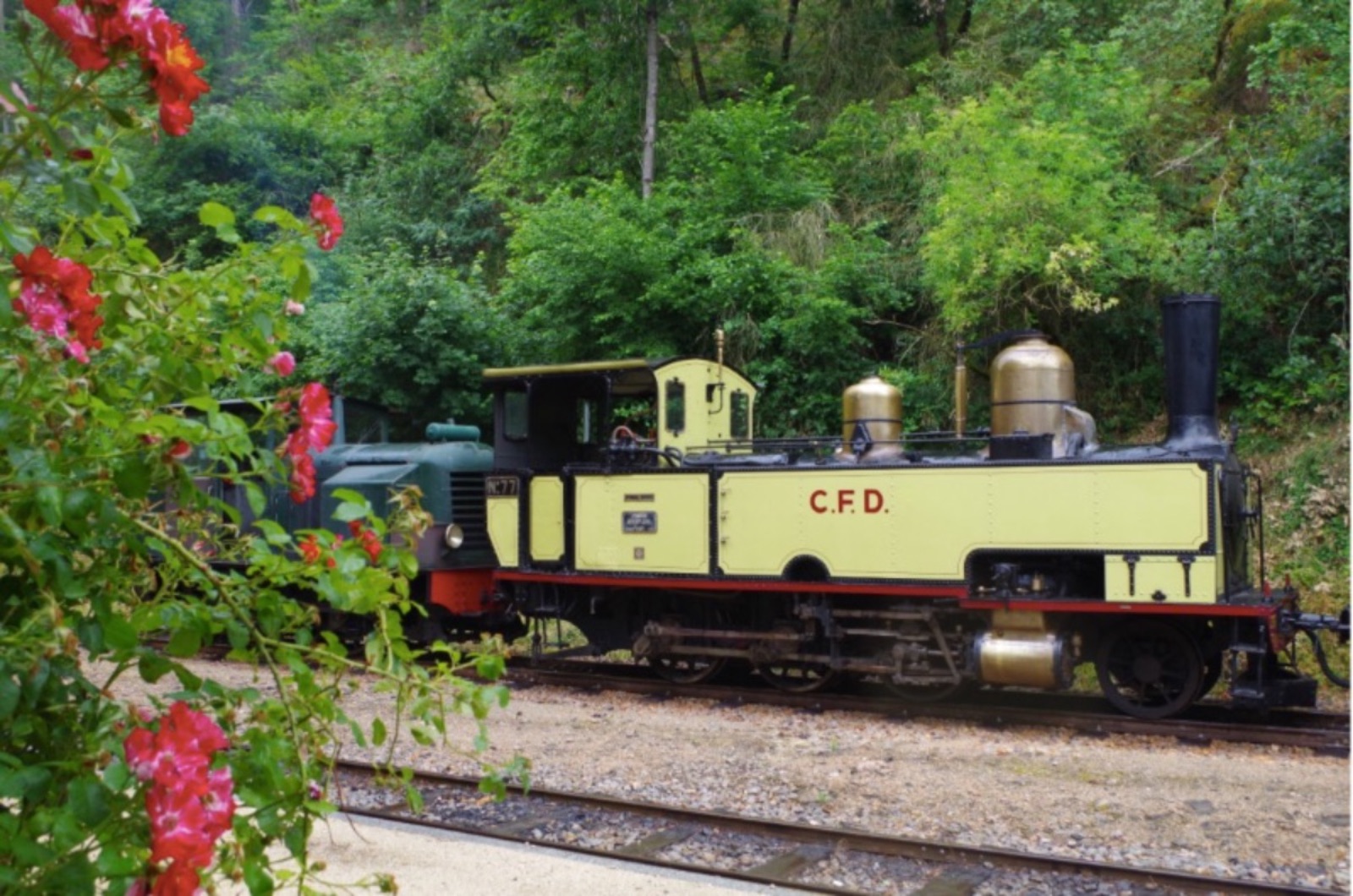 The Mastrou - 130 years of history
On July 12th 1891, a narrow gauge railway line was officially opened in the Ardêche. It ran through the gorges of the Doux from Tournon to Lamastre (28 km). Operated by CFD, it was one of the first sections of the Vivarais network which ultimately extended over 200 km, from the Rhône valley to the Haute-Loire. The Doux valley train was quickly dubbed by the population as the "Mastrou", (" the Lamastre train" in local Occitan dialect). The name has stuck until the present era.
130 years later, on July 12th 2021, a special "Mastrou" departed at 10h15 up the valley from Tournon St Jean to mark the anniversary. The line is now named "Train de l'Ardêche". Since 2011, the railway is operated by a private enterprise (SNC.CFV) after the collapse of the preservation association which had operated the line since 1968.
SNC.CFV was initially cited by some for a lack of sensitivity to historical aspects of the railway and, notably, poor relations with those concerned by preservation matters. If correct 10 years ago, the matter is no longer in question. The Train de l'Ardêche operates 3 historic rakes of carriages in addition to a specific "panoramic" rake of open carriages. Relations with SGVA ("Friends of the Vivarais") at Boucieu-le-Roi are excellent.
SNC.CFV operates 2 steam locomotives (restored Mallets 403 and 414) and 5 diesel railcars (Billards 213, 214, 316 + CFD ex Corsica 5001, 5002). In addtion to the rake of open carriages, there is a rake of ex Réseau Breton restored carriages, a rake of restored Swiss carriages and a "Vivarais" rake (work in progress).

On July 12th, a short train of restored stock was presented at Tournon St Jean. When the Mastrou opened in 1891, CFD operated a fleet of 5 new Fives Lille 130 T engines like No 61 in the black and white photo (opposite). None has survived. But, in a second batch of nearly identical locomotives used by CFD in Charente, No 77 was saved by FACS in the 1960's. It was restored cosmetically and displayed for many years at Pithiviers, Loiret ( a 0,60 cm line).

Recently, FACS transferred the loco to VFV Tence, Haute Loire. For the Mastrou anniversary, No 77, on loan, was transported to Lamastre and carefully hauled down the line to Tournon for display to illustrate motive power in the 19th century. Several CFD goods wagons and a passenger carriage, restored by SGVA, were added to make a representative train.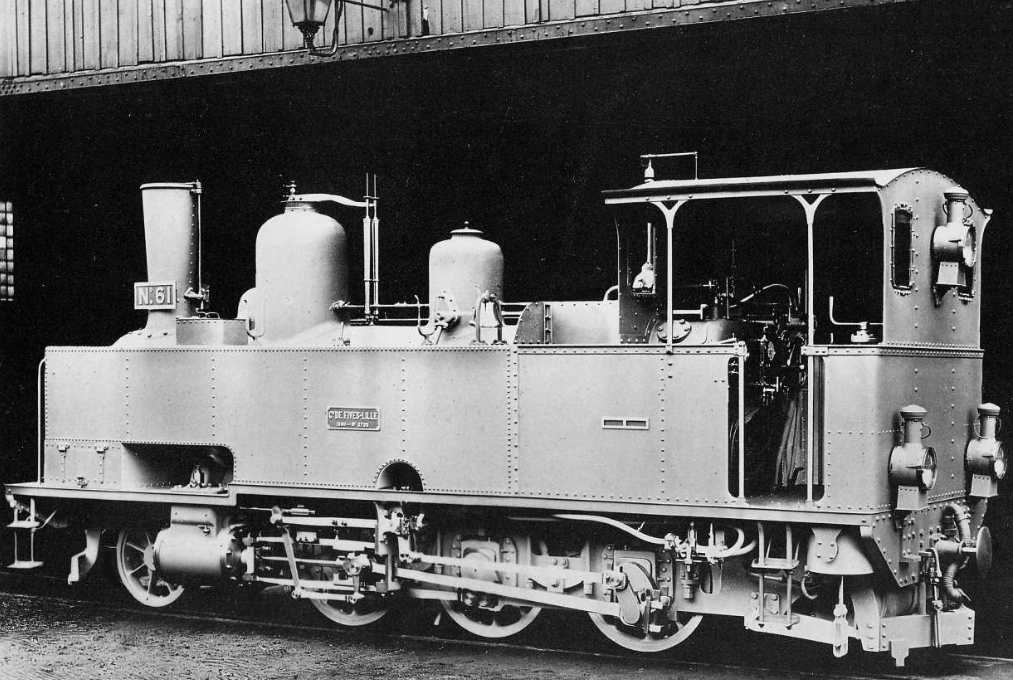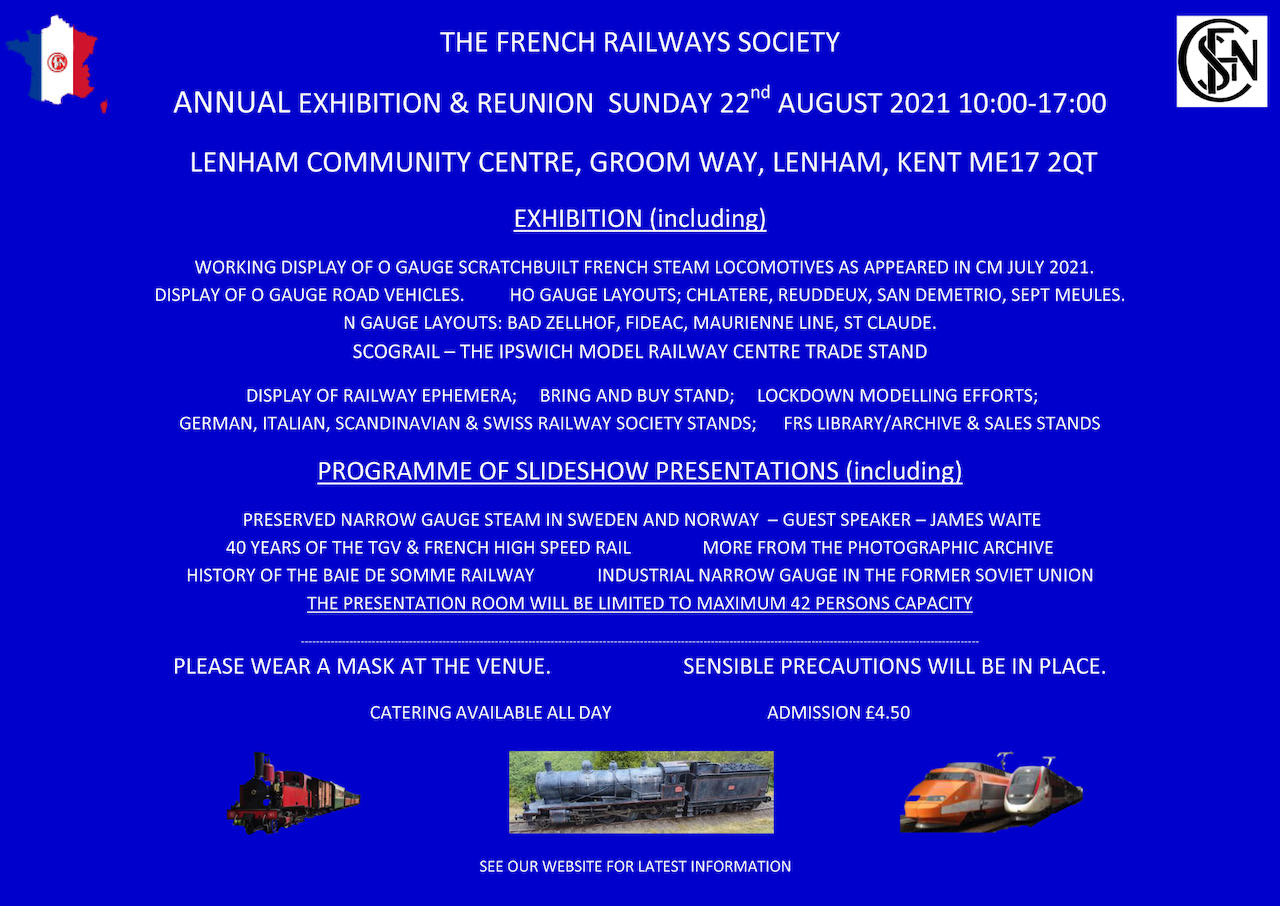 September News - Editorial break
After producing the monthly news page for nearly ten years the editorial team have decided to take a break and we do not plan to produce a September News page. Any items of importance will be posted on the io group.
This year they will fall over the weekend of the 18th and 19th September. We understand that the largest rail event in France will be at Nevers Depot where SNCF will combine with seven preservation societies. five preserved autorails will attend and two steam locomotives; 140 C 38 from Limoges, and the last working Mallet in France ABC n°2, built in 1911, and preserved by TTDA (Train Thur Doller Alsace)
Additions to FRS Photographic Archive during June 2021
To Folder 1
Additional images for the Jean Willig "Secondaires" gallery Some additional images to the "Miscellaneous" colour & B&W galleries
To Folder 2
Some drawings of PLM equipment
I have created the framework for a new Folder 10 which will cover the 50th anniversary of the Chemin de Fer de la Baie de Somme. Once uploaded, it will contain both photographs and videos taken by our members during the 3-day celebrations.
To Section "Locations"
Two additional articles from LVDR on, respectively, Ardennes and Reseau Breton .
Additions to the FRS public folder during July 2021
Updated photo indexes for additions to Folder 1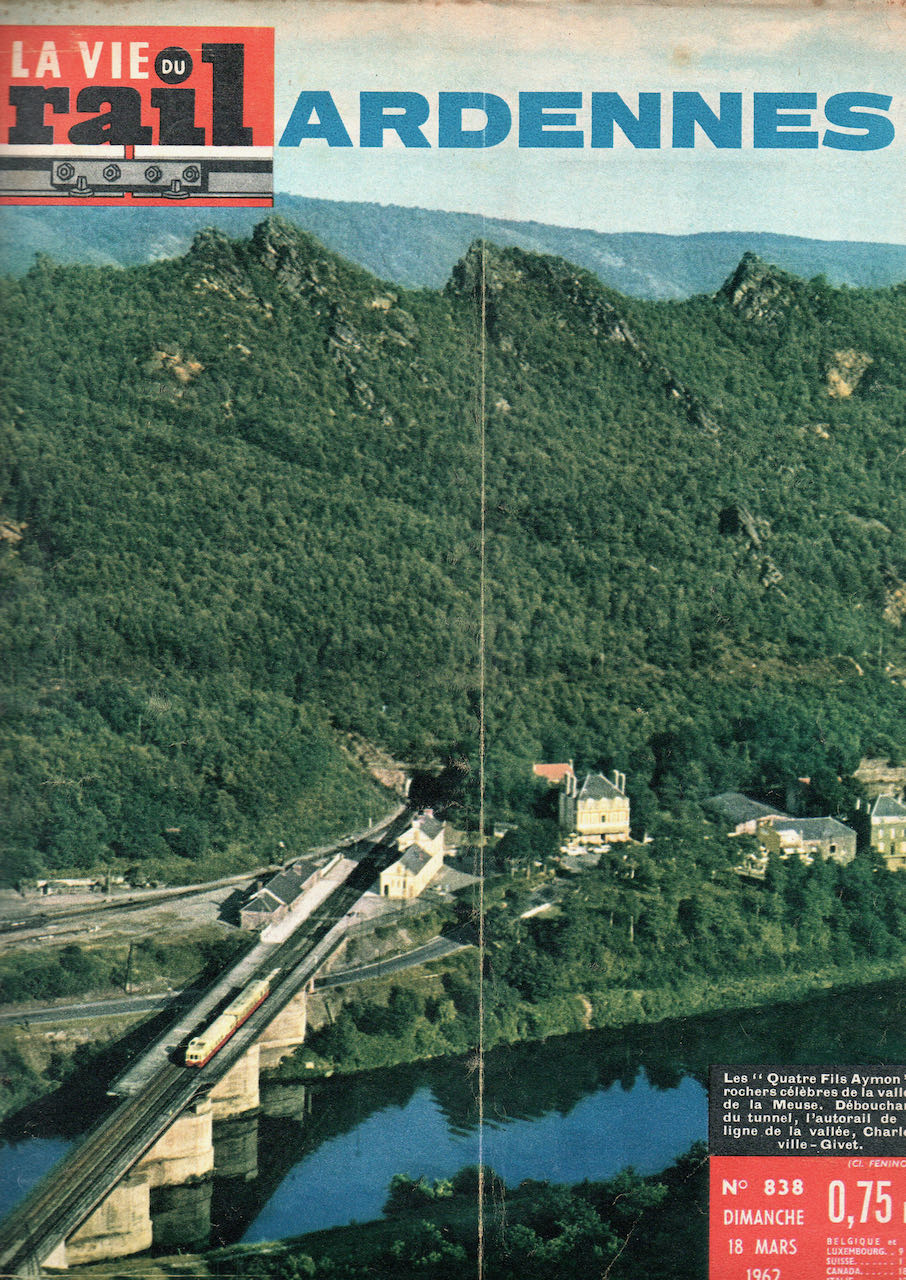 © Peter Lovell & Graham Skinner. The French Railways Society 2021. With thanks to Jean-Marc Frybourg, Jean-Louis Poggi, Georges Turpin, Christophe Masse, Michel Costes, Jocelyne Bourneuf, Philippe Armand, Hansruedi Plüss, Henri Tenoux and José Banadoo