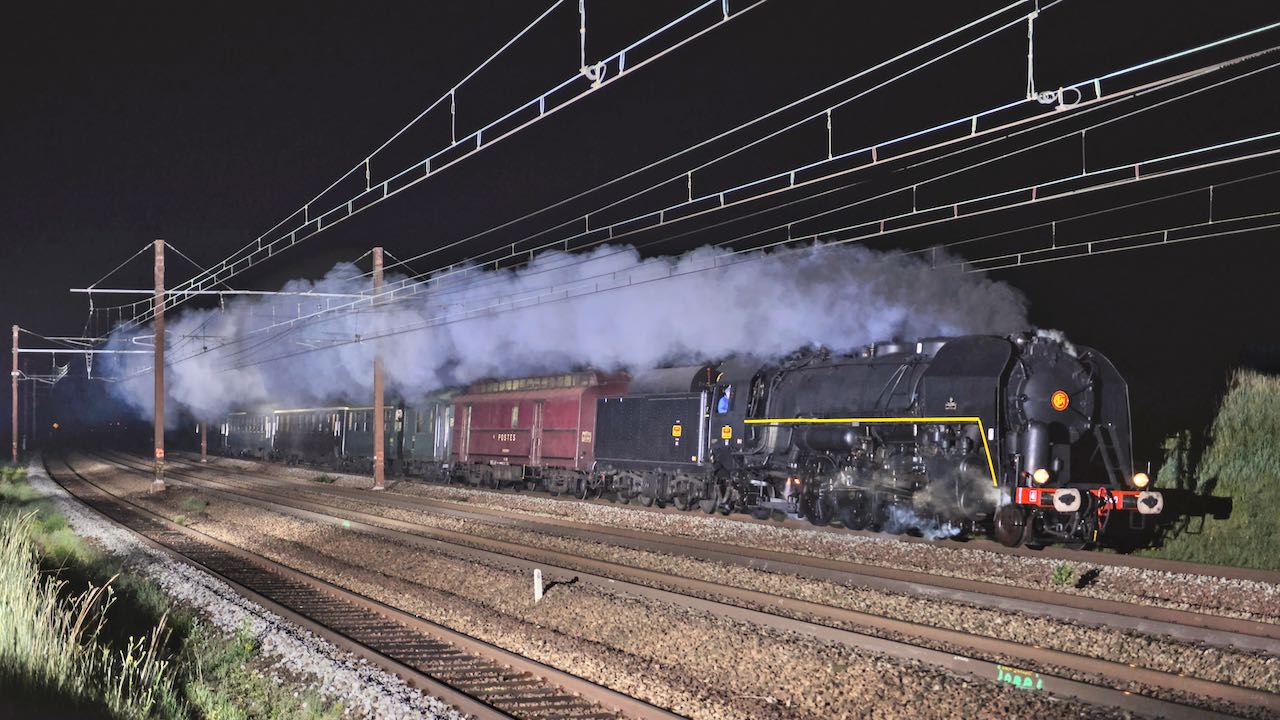 141 R 840 -Night and Day
141 R 840 returned to rail tour duty on the 2nd July with a return trip from St Aubrais to Paris Austerlitz. Prior to this it had travelled to Paris on the 29th June for a filming charter returning south on the evening of 30th June. Above, as midnight approaches 141 R 840 is seen above returning to Les Aubrais, and below passing Chamarande on the outward journey to Paris on the 2nd July.
Both photos Erwan Quintin
Sadly AAATV-CVL have announced that they are not planning any further excursions this year. They have suffered financially over the last two years due to Covid leaving them with limited reserves, and now face increased fuel oil costs due to the war in Ukraine. As a result ticket prices will rise above reasonable levels and they cannot risk not covering their operating costs. Excursions will only operate in the near future if the financial risk is underwritten by a third party (e.g. filming or publicity charter).
A further blow is that the axle certification for their heritage diesel A1A-A1A 68540 has expired and they need to replace the elastomer blocks between the bogies and load cross member. None of the SNCF depots are now equipped to undertake and certify this work. Although external solutions have been identified to undertake the heavy bogie maintenance it will take time to arrange and have the work certified for mainline operation by a competent authority.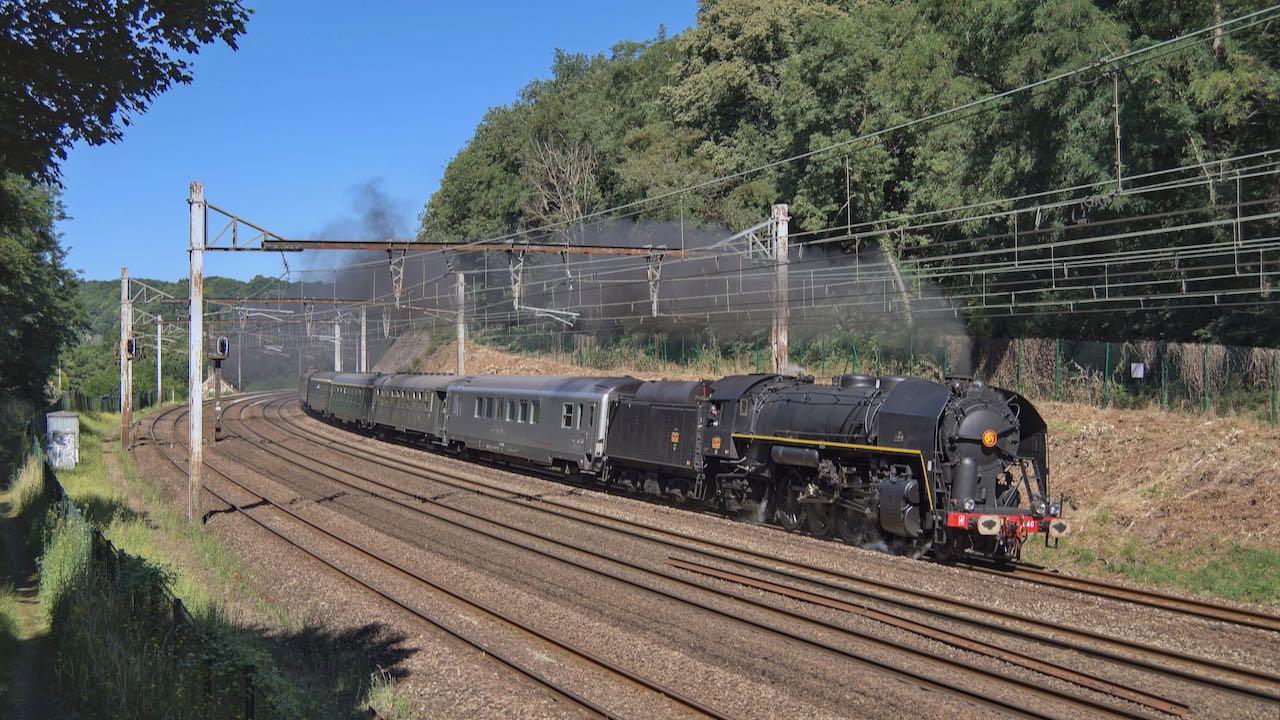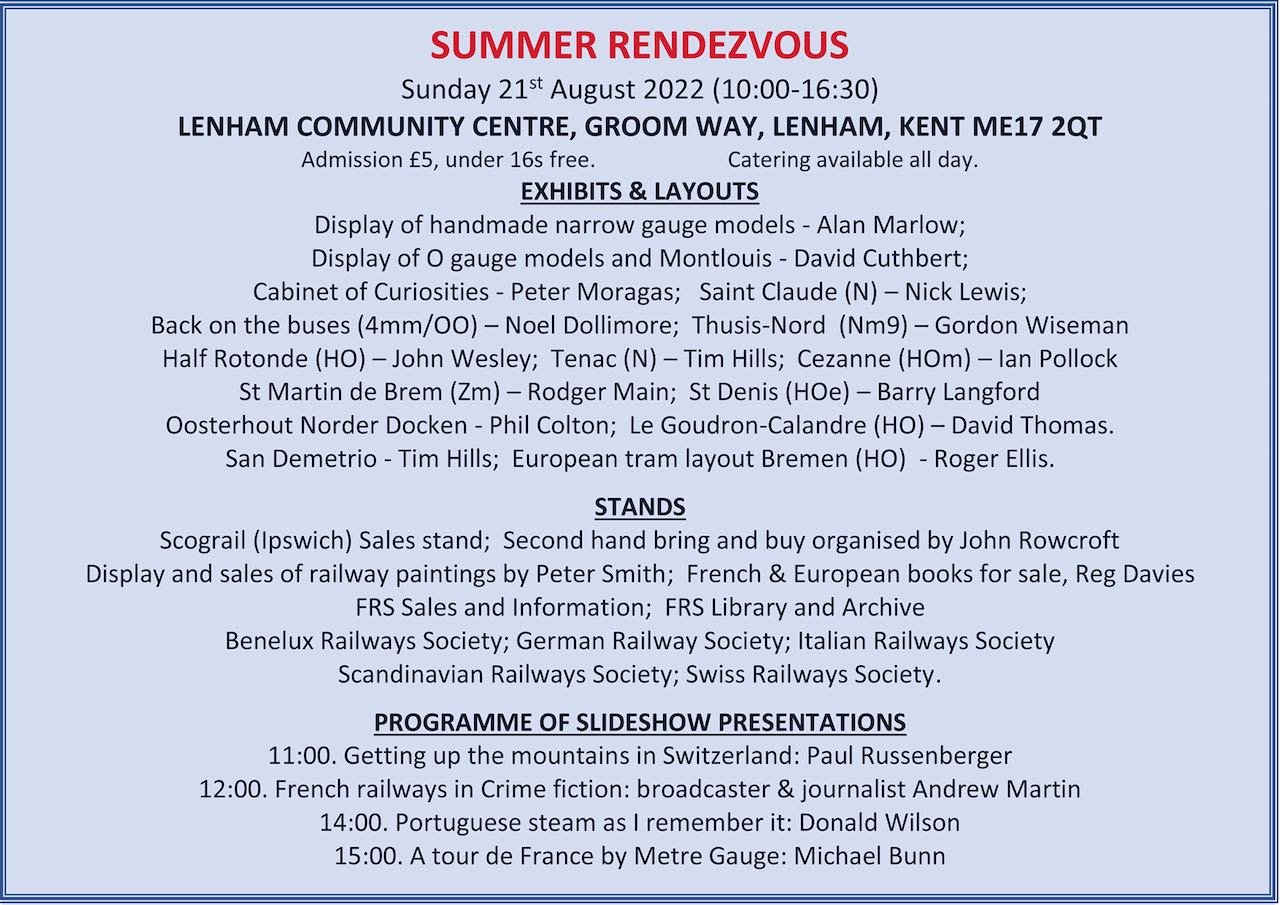 On the 24th June a grey liveried BB 27000 crosses the Barentin Viaduct, north of Rouen, with the second Le Havre - Bordeaux
Naviland
service of the day.
Photo Jocelyne Bourneuf
On 3rd June Europorte E4011 in Regionéo livery is seen heading the Vaires to Xeuilley cement near La-Ferté-sous-Jouarre (77). Regionéo was created in 2020 by RATP Dev and Getlink (Eurotunnel/Europorte parent company) to respond to calls for tender for regional passenger rail transport. Photo Christophe Masse

On 19th April Euro Cargo Rail (DB) 66193 has arrived at Mont-de-Marsan with aviation fuel from La Rochelle for the Service des Essences de l'Armée. It will be tripped around to the fuel storage depot at Carboue by a Vossloh G1000 for use by the l'Armée de l'air française at the nearby Base aérienne 118. The operator is ESIFER using wagons leased from Wascosa and Erwewa (SNCF leasing subsidiary) and traction provided by ECR. Photo Chris Bushell
SNCF Bombardier TRAXX 140 locomotives (leased from Akiem) normally used on cross border services from North Sea ports have replaced BB 27000 on two daily trains from Somain/Tergnier to Le Bourget. Above BB 186 195 passes through Les Noues on the 17th July with a mixed freight. Photo Christophe Masse
BB 7360/7345 operating in multiple pass alongside the Canal des Deux Mers at Pompignan, north of Toulouse, with train 489870 Miramas - Hourcade on the 4th July. The use of two locomotives in multiple is now a rare event in this area. Photo Georges Turpin
Captrain Stadler E4001 3974 waits at Saumur on the 14th July for the afternoon Nantes - Lyon Intercité service to depart, before following with the Montreuil-Bellay - Vittel water empties
The Perpignan - Rungis perishables train was re-introduced in the autumn of 2021, but does not run during late summer. This summer it ran for the last time on July 12 and should re-commence in October. Seen above on June 1st between Castelnaudary and Avignonet-Lauragais headed by BB 26059. Photo George Turpin
Calls to extend Aurillac sleeper to Mende
There have been calls from a number of rail user groups and local politicians led by
l'Association des amis du viaduc de Garabit (Amiga)
for the proposed Paris - Aurillac sleeper to be extended to Mende. Announced in October 2021 by former Prime minister Jean Castex, the Aurillac night service is expected to start in 2023. A report on the development of Trains d'équilibre du Territoire (TET) had already suggested that the service could be continued towards Clermont Ferrand.

Extending the night train would serve in particular Murat, Saint-Flour, Saint-Chély-d'Apcher, Aumont-Aubrac and Marvejols all potentially tourist destinations, and especially the resort of Lioran, whose station is the only one in Europe to be directly connected to the ski slopes. More importantly it would improve transport connections to large parts of Cantal and Lozère, the least populated departments of France.
Although it is argued that extending the train to Mende would be simple, and not require additional rolling stock or reversals, this fails to take account of the condition of the track. The section from Aurillac to Arvant is regularly closed for repairs. This year it has been closed since March and will resume in December 2022. (To replace 3 km of track and repair some tunnels). Between Neussargues and St Chèly there are 60 km of antiquated bullhead track that should have been replaced 20 years ago and would be damaged by the wheel profile of the BB 75300s.
BB 27300s heading east
As reported last month a number of BB 27300s are moving to Alsace and Lorraine with four car VB2N sets to cover for Z24500 units receiving mid-life overhauls. Opposite, on 5th July BB 67558 is seen passing through Pont de l'Arche with BB 27331 and a four coach VB2N set en route from Sotteville to Strasbourg.
Photo Jocelyne Bourneuf
The BB 27300s are expected to start on the 21st August on a range of services covering Epinal, Metz, Revigny, Bar le Duc Luneville, Nancy,Strasbourg and Neufchateau!
Right bank of Rhône re-opening
The line on the right bank of the Rhône will re-open to passenger services between Pont-Saint-Esprit and Avignon Centre on the 29th of August. Initially, five return services a day will operate, also calling at Bagnols-sur-Cèze. In 2026 ten return services are planned and 3 - 6 additional stations will be re-opened The project is funded 100% by the Occitanie region.

Passenger services were withdrawn in 1973 when the line was dedicated to freight traffic only.
Re-opening of Tours - Loches deferred
The planned 1st July re-opening of Tours - Loches after eight months for engineering works has been deferred for a further two months while SNCF undertake technical tests. SNCF Réseau contend that the work has not been delayed, but adequate time needs to be allowed for testing after the line has been closed for such an extended period. In the meantime the substitute bus service will continue.
Local politicians express their anger and point out that no proposed timetables are available and hope for a levelling up of fares; previously €9 for the TER compared to €3 for the Rémi coach
Auvergne-Rhone-Alpes cancelling services after heatwave
Auvergne-Rhone-Alpes TER is adapting its transport plan until mid-August (cancelling trains) due to rolling stock shortages. This has been caused by accident damage and a maintenance backlog with air-conditioning units in particular failing, following their heavy workload during the recent heatwave.
Information and revised timetables can be found on the ARA TER website
via this link
Blanc Argent holiday home
The former derelict station building at gare de Pruniers between Romorantin-Lathenay and Gievres on the remaining section of the Blanc Argent has been fully restored and is available to rent as a holiday home. More information
via this link
New roof for Rotonde de Montabon
The future of the
Association de la Rotonde Ferroviaire de la Vallée du Loir
(RFVL) has been secured with the re-roofing of the
Rotonde de Montabon.
The cost of replacing the 2,800 square metre roof covering the 1890 built roundhouse was €810,000. Of this €480,000 was raised through a Loto du Patrimoine, the remainder from local councils.
The RFVL houses a variety of rolling stock dating from 1900 to 1965. More information
via this link.
It is located at Montval-sur-Loir midway between Tours and Le Mans
"Suzanne" in first full season
At Bar-le-Duc, 55-Meuse, the heritage steam line is fully open this summer for the first full season with two departures on Sunday afternoons at 14h00 and 16h30 until 11th September inclusive. A museum is open at the end of the 4 km line through the forest. 0-3-1T Corpet Louvet tank engine "
Suzanne
" (1890) hauls three restored carriages at a stately 12 kph. "
Suzanne
" is the only one of the type to be preserved. Reservations can be made on the web site of the association;
http://www.lasuzanne.com/train-touristique-la-Suzanne
The heritage line is a re-creation of the ligne métrique de Varinot used particularly during the Battle of Verdun. The Association du Chemin de fer de la Voie Sacrée has worked for 20 years to reach this point, while confronting and overcoming many obstacles.

Line 4 electrification: Gretz - Provins - Nogent-sur-Seine.
The final countdown
On 2nd/3rd July, the 25 kV current was switched on for the new overhead wires from Gretz to Nogent and the Provins branch. At the same moment, a new control centre was commissioned at Gretz-Armainvilliers (77-Seine-et-Marne).
During the summer the signals along the line will be replaced
From September, use of the overhead wires will be authorised.

Currently the Grand Est Coradia LIner bi-mode trains change traction mode (while in motion) near Gretz-Armainvilliers. From September, they will change traction mode during the stop at Nogent-sur-Seine. Along the 72 km between Gretz and Nogent-sur-Seine, the diesel motors will be silent.
On Transilien line P, (Paris Gare de l'Est to
Longueville/Provins) the fleet of Bombardier AGC BIBI (Bi-mode, Bi-voltage) units will be replaced after 14 years in service.
A fleet of 18 Bombardier "Francilien" Z 50000 emu's will be introduced during the autumn. These units will provide extra capacity, comfort (air conditioning) and reliability. The exact date of the changeover is not yet known. However all the new emu's have been delivered. 351 Francilen units are in service in Ile de France.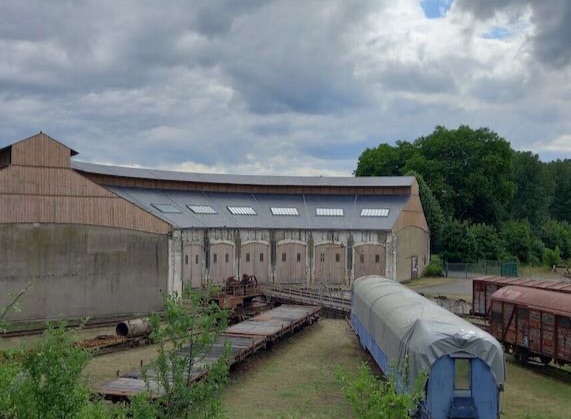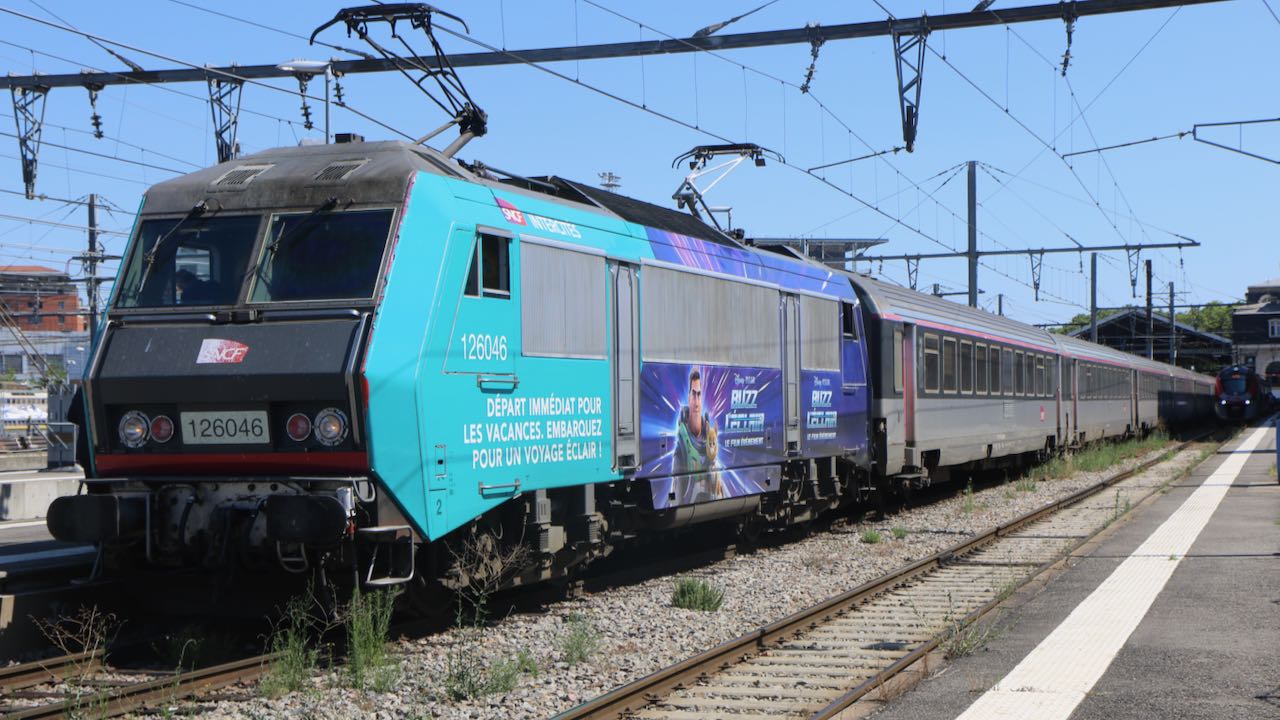 SNCF is the sponsor for the latest Disney Buzz Lightyear film. To celebrate the event BB 26046 has been adorned in a new livery depicting Buzz l'éclair. Seen above waiting to leave Toulouse with the evening locomotive hauled service to Paris on the 29th June. Photo Georges Turpin
On June 17th the morning TGV 6820 from Lyon-Part-Dieu to Toulouse-Matabiau arrived unusually formed of TGV Duplex 3UFC 855 of the 800 series rather than one of the older 200 series sets normally deployed. It has been given an individual livery reminding users that Ouigo operates 22 return services daily between Paris and Lyon although the wording is more familiar with that found on signs at passages à niveau. Photo Georges Turpin
Summer reprieve for three TMB girls
In
April 2022
News we reported that the three Tramway Mont Blanc (TMB) trams and trailer vehicles
Anne Jeanne
and
Marie,
that operate the TMB between Le Fayet and Nid d'Aigle (Glacier Bionassay) were being withdrawn and replaced by new Stadler units.
Due to teething problems with the new units this has proved premature and the three girls built by SLM/Decauville in 1956, and have operated since the line was electrified in 1957 are expected to continue for the remainder of this summer.
Opposite Anne and Jeanne pass each other at Col de Voza on the 7th July. The track can be seen ascending into the top right hand corner of the photograph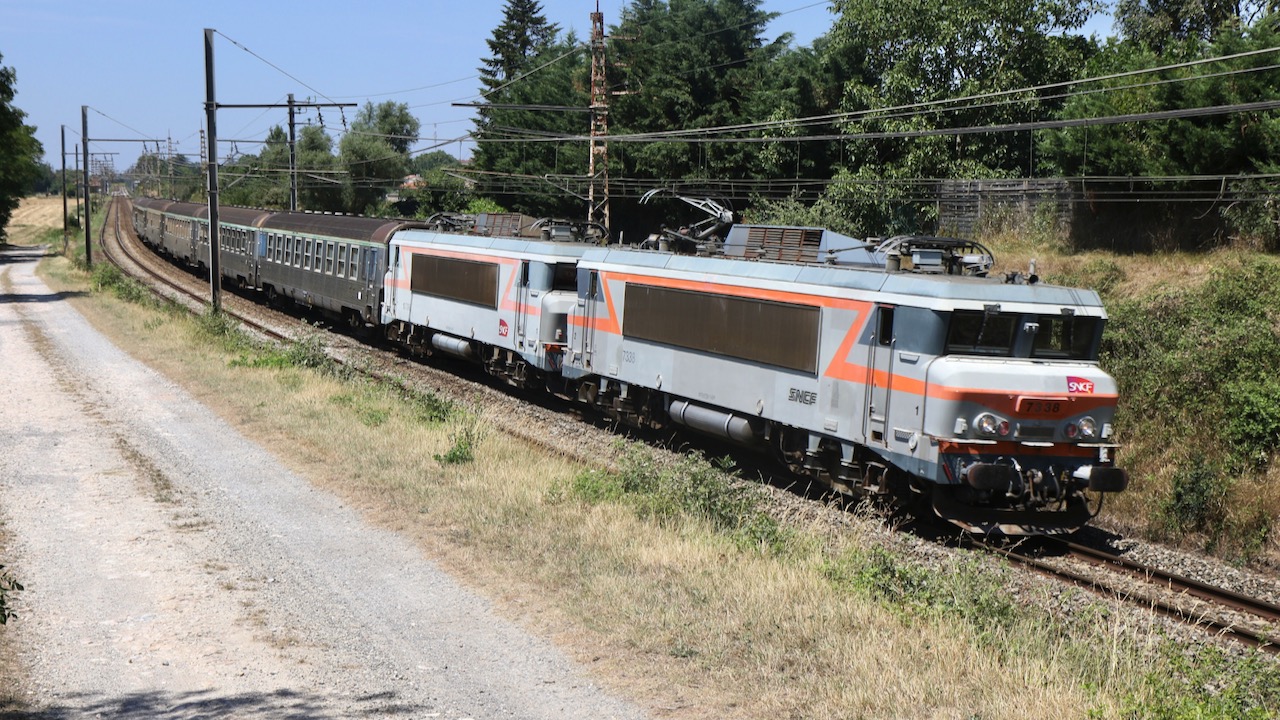 Fête Nationale
In the baking heat of the afternoon of 14th July
Train Historique de Toulouse'
s BB 7338 passes Montlaur with an excursion from Toulouse to Carcassonne for the
Fête Nationale
firework display. BB 7398 is dead in tow and will provide the power on the return journey. For those preferring some air-conditioned comfort SNCF and the
Occitanie TER operated a special formed of two
Régio2Ns with tickets at half price. Photo Georges Turpin
Tram 13 opens in 78-Yvelines, Ile de France
( Saint-Cyr l'Ecole - St Germain en Laye)

On July 6th, 2022, a new passenger rail link (designated
Tram 13 - Phase 1
) was opened in the
département
of 78-Yvelines, west of Paris, between Saint Cyr l'Ecole and Saint Germain-en-Laye. The electrified, double track line is 19 km long and is designed for the "tram-train" (*). Short terminal sections at each end of the Tram 13 line are in tram mode.
Construction of the line was formally approved in 2014. The intention was to replace a short SNCF line attached to Transilien line L that had been operated since December 2004 as "Grande Ceinture Ouest (GCO)" between St Germain-en-Laye Grande Ceinture and Noisy-le-Roi. Work began on Phase 1 in 2016. The "GCO" was closed in June 2019 so that the section could be adapted for the tram-train. The original name of the station at St Germain-en-Laye GC has been changed to Lisière-Pereire (name of an adjacent housing development). However, the historic
batiment voyageurs
has no function in connection with Tram 13.
The new link is shown on the diagrams. It is 18.8 km long comprising;
a double track, standard railway line 14.5 km long, electrified at 25 kV, including the "GCO" section previously opened, with BAL (**), and gabarit for freight.

from Lisière-Pereire to St Germain-en-Laye RER A, a section of double track in tramway mode (3.6 km long), electrified at 750 volts. At the TRAM 13 terminus, a pedestrian tunnel 200 mètres long has been built for the connection to the RER A terminus (2 1/2 minutes by travelator).

At the southern end of the line, there is a complicated junction at Saint Cyr l'Ecole. In the vicinity of the former Grande Ceinture station that is no longer used, a single track, 1 km long, leads to the dépot and control centre at Versailles-Matelots. In another direction, a steep, sharply curved double track line (in tram mode, but electrified at 25 kV) reaches St Cyr l'Ecole RER station.



On the central section of 14.5 km, TRAM 13 is operated as a standard SNCF railway line with automatic block, colour light signaling. There are speed restrictions approaching all the stations since travellers cross the line at ground level.
The station platforms along the line are 30 cm high for access to the Dualis tram-train, but there is a wide gap (for the non existent freight trains), covered at each stop by palettes extended and retracted from the 4 doors on the Dualis unit.
The Stations
Saint-Cyr l'Ecole RER C
. The RER station is 5 km from Versailles Chantiers. At peak periods 12 - 13 suburban trains an hour stop here; outbound to Saint-Quentin-en-Yvelines, Plaisir-Grignon or Rambouillet, inbound to Paris-Montparnasse, Invalides or La Défense. The TRAM 13 terminus is adjacent to the pedestrian subway that gives access to the Transilien trains.
Les Portes de Saint-Cyr.
This is a new tram-train station. The historic Saint Cyr Grande Ceinture station nearby is not used.
Allée Royale.
This is a new tram-train station adjacent to the domaine of the Chateau de Versailles, 2 km away. The tram station is carefully positioned to be invisible from the Chateau.
Bailly.
This is a new tram-train station.
Noisy-le-Roi - Lisières-Pereire
. These six stations (see diagram) were created for the GCO line and they have now been adapted with low-level platforms, pedestrian crossings and video control, automatic ticket dispensers, minimal shelters and benches.
Camp-des-Loges
. A new station on the tramway stub of 3 km in the forest of St Germain-en-Laye. This is the site of the training grounds of celebrated football team Paris St Germain (PSG).
St Germain-en-Laye RER A
. This is the terminus of Tram 13 carefully inserted into the environment of the Chateau and town centre so as to be as discreet as possible.

Versailles-Matelots. The depot and control centre are located here adjacent to the domaine of the Chateau de Versailles. The former Grande Ceinture tracks are no longer physically connected to the main line through Versailles-Chantiers

Tickets and Timetables
The first timetable applies from July 6th to August 26th, a reduced summer service that may be boosted after the holidays. Services operate from 06.00 am till midnight. The journey time from end to end is 32 minutes with 10 intermediate stops. On average, stations are 2 km and 2 - 3 mins apart.
The frequency in each direction is variable:
Mondays to Fridays; every 15 minutes at peak periods (06h00 - 09h00 and 16h00 to 20h00), every 20 mins off-peak (09h00 - 16h00), every 20 -30 mins to midnight.




Saturdays; every 30 mins, 06h00 to 13h00, every 20 mins 13h00 to 20h00, every 30 mins to midnight




Sundays; every 30 mins all day.



The official target is for an average daily ridership of 21 000. The initial timetable is particularly unattractive and infrequent at week-ends.


There are no ticket barriers. Origin-destination tickets can be obtained from dispensers on the platforms. t+ tickets are not valid on this new line. Various Ile-de-France travel passes are valid on the line which is in Zones 4+5.

Inauguration Day - July 6th
Usually new lines are opened on Saturdays or Sundays. For some reason, Tram 13 was opened at 18h on a Wednesday evening. Unfortunately the date coincided with a general rail strike, thus further reducing attendance.

A podium was set up on the terrace of the Chateau de St Germain for the officials. Valerie Pecresse, Présidente of Ile de France Mobilités, and the Prefet de Paris (representing the French State) announced the opening with several local mayors. Curiously, no senior figure from SNCF was apparently present.

After the speeches, the delegation went through the new pedestrian tunnel to the T13 terminus, but departure was delayed 30 mins by demonstrations down the line at Noisy-le-Roi. Residents close to the new line alleged that they had been tricked; promised a silent tramway, they were faced with a noisy train that passed every 5 minutes from 6.00 am to midnight.

Tram 13, at 19 km, is the longest new rail link to be opened in Ile-de-France for quite some years.

Notes:
The tram-train is an Alstom Dualis bi-voltage (25kV / 750 volts) 4 car emu. It has 95 seats and a total capacity of 220. There are only 4 doors and none at each end. There are 11 Dualis units deployed on TRAM 13. In Ile-de-France these tram-trains can also be found on TRAM 4 and TRAM 11. They will also be operated on TRAM 12 from mid 2023. The same units are deployed at Nantes and Lyon (Ouest Lyonnais)BAL.




Bloc automatique lumineux. The signalling system used on SNCF main lines.



Graham Skinner; text
Next month; Description of Phase 2
Montpellier Metropole orders 77 new trams from CAF group

On June 16, 2022, the Metropole of Montpellier announced that Spanish constructor CAF had been chosen as the best bidder to supply 77 new trams to the TaM authority. A firm order to CAF Group for 60 Urbos-3 trams has been placed with an option for an additional 17 units. Deliveries will begin from 2024 at 2 trams per month. The firm order exceeds 200 million euros. It is the largest single order for trams in France this year. For the first time, Alstom failed to be chosen to renew a fleet of its trams. For, at present, all 86 trams in service in Montpellier are Alstom Citadis units.

The purpose of this order for 77 trams is as follows;
30 new trams are for a new tram line, No 5, to open at the end of 2025.




22 trams will replace Citadis units on line No 1 (The Citadis 401 trams are currently 24 years old)




17 trams will be used to cover the expected increase in traffic when travel on the network is made free from the end of 2023.




8 trams will be added to the "reserve"
The fleet of trams at Montpellier will total 141 units after completion of all deliveries (64 Alstom Citadis, 77 Urbos). Tram line No 1 in Montpellier was opened in 1999. It currently sees traffic of 130 000 passengers daily. Three other tram lines have been opened in the metropole which has a population of 500 000. A 5th line is planned.
Montpellier will become the 4th city in France to operate CAF Urbos trams joining Nantes (12 units), Besançon (19 units) and St Etienne (16 units, metre gauge).

CAF is a Spanish multinational group that reported revenues of 3 billion euros in 2021. They have 16 000 staff around the world. Their product lines include rolling stock for overground and underground railways, tramways, buses, a range of emu trains including high speed trains and regional trains. CAF has its main production sites in Spain at Beasain (Basque) - 180 000 sq m, Zaragoza - 93 000 sq m, Irun 21 000 sq m. In the nearby French Pyrénées, CAF France has a small plant at Bagnères-de-Bigorre - 23 500 sq m. This summer, CAF will add the former Alstom site at Reichshoffen, Alsace to its production capacity in France.


The Urbos 3 tram from CAF
The Urbos tram is in service in over 40 cities around the world including 30 in Europe, 6 in North America, 5 in Asia and 3 in Australia. The details can be found on the CAF group web site. We can choose to mention, for example, in Holland; Amsterdam and Utrecht, in Belgium; De Lijn at Antwerp, Ghent and the coastal tramway (106 trams ordered), Ruhrbahn Essen, Freibourg, Germany, Edinburgh, Scotland.
Urbos is a low level tram that can be adapted to the specifications of the client.It is believed that more than 1 000 units have been ordered in the last 10 years.
On May 23rd 1998, TER St-Claude - Dôle is ready to depart from Andelot with X 2816 leading and X 2853. The two diesel railcars reversed at this station. They had just arrived off the branch line from St Claude and Morez at 10h50. Leading autorail
X 2816 was 40 years old and would remain in service for a further 9 years.
Graham Skinner
During the week end of June 4th/5th, 2022, preserved diesel railcar X 2816 operated two excursions from Besançon Viotte, on the Saturday to Morez and, on the Sunday, to Morteau. The association "Autorail x2800 du Haut-Doubs" organised the trips. Since 2012, members of the association have restored this railcar for service on SNCF lines (see below).


The X 2800 was a single diesel railcar with a powerful 825 hp V12 motor designated MGO (initials of the 3 designers). It was produced between 1957 and 1962. 16 railcars were constructed at Decauville, Corbeil (2801 - 2816) The remaining 103 units were produced at Renault, Choisy le Roi (2817 - 2919). These autorails were in service during 52 years, the last ones were withdrawn in April 2009. The X 2800 had a reputation for reliability. The class was given a mid-life renovation after 20 years. Enthusiasts adore the un-silenced exhaust noise during acceleration.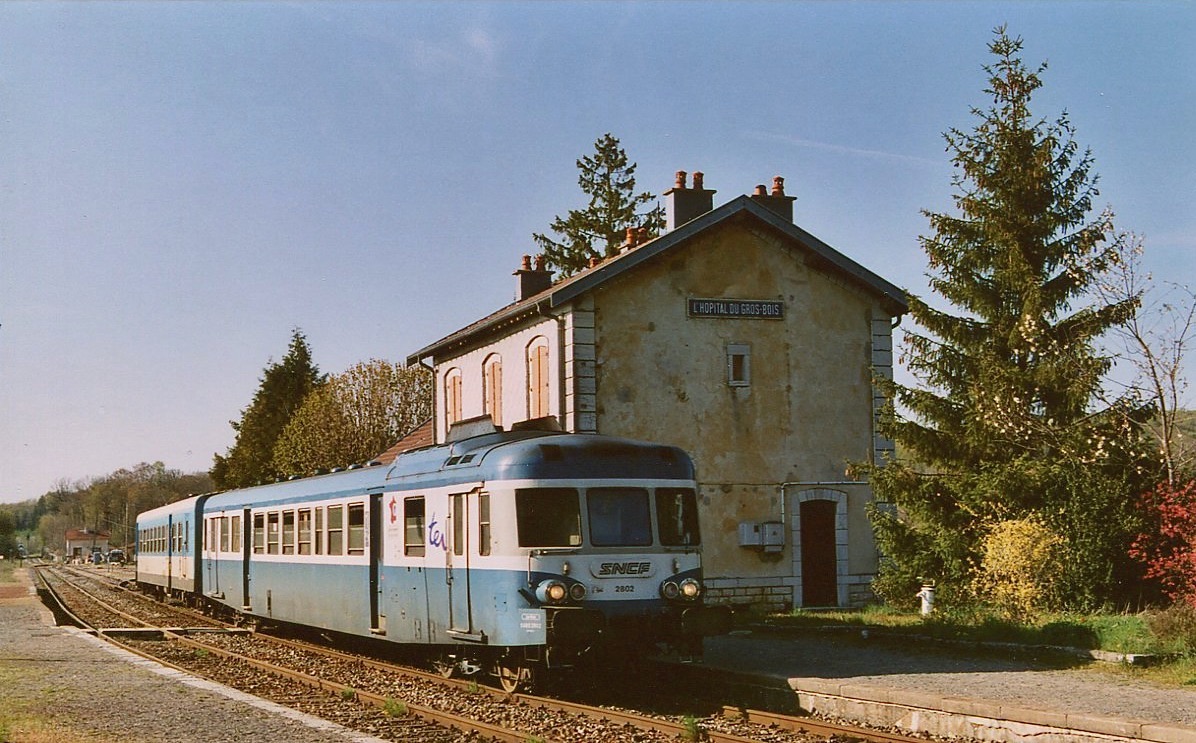 April 2004.

L'Hôpital du Gros Bois (25). A Besançon - Morteau train arrives with X 2802 + trailor. The autorail entered service in June 1957. It had two more years to go and was withdrawn in June 2006, aged 49 years (5.8 million km)
Graham Skinner
2816 - A full life
No 2816 was the last of the Decauville units and it entered service in February 1958. It was painted in red with a cream roof, and was immediately chosen for display at an exhibition in Brussels in the spring 1958 (see Vie du Rail cover). After its return, 2816 was configured with 48 1st class seats, 2 + 2, in tartan tissue. On December 31st, 1958, the new railcar was transferred to La Rochelle where it operated between Saintes and Angoulême connecting with the Paris - Bordeaux/Tarbes rapides. In July 1962, X 2816 was painted green and cream with "AUNIS" marked on the sides. "AUNIS" was a 1st class service operated, by 2808 or 2816 (with one or two trailer coaches, also in AUNIS livery) from La Rochelle to Poitiers where connections were made to rapide "Le Drapeau" (1st class only, Paris - Bordeaux). No 2816 kept the AUNIS livery for ten years.

In May 1967, both 2008 and 2016 were transferred to Ste Etienne depot. They operated (alternately) an international service from Lyon to Turin (634 km) designated "Il Piemonte". Departure from Lyon was at 07.31 and arrival at Turin (via Chambèry, Modane), was at 11h15. The return was at 19.10 for an arrival in Lyon at 23.25.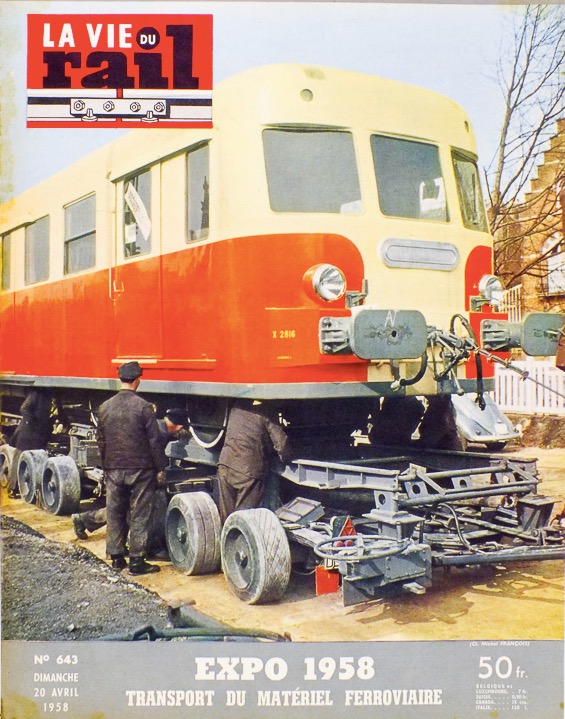 No
2816 was transferred to Lyon-Vaise in July 1969 and was re-configured with 12 1st class seats + 62 2nd class seats. At the end of the sixties, for security reasons, all SNCF diesel railcars were re-painted with a red roof. 2816 received the new livery in May 1972, but only kept it for 5 years !
In the late 1970's, (sources disagree on the exact date), No 2816 was given a mid-life overhaul and modernisation. It was repainted, for the 4th time since construction, in an overall blue livery. These modifications were applied to all the 2800 class, and the units became known as "Bleu d'Auvergne", although they did not all operate in Auvergne ! Between 1993 and 1995, 15 X 2800 units (including X 2816) were adapted to run at 140 kph.

On May 23rd 1998, I photographed X 2816 at Andelot in the Jura (see photo). At the time I had no idea of the history of that unit. I did not see it again until April 2013 when it had been saved for the patrimoine.

In December 2007, all the remaining X 2800's at Lyon Vaise were withdrawn including 2816 (after 5,304,000 km in service).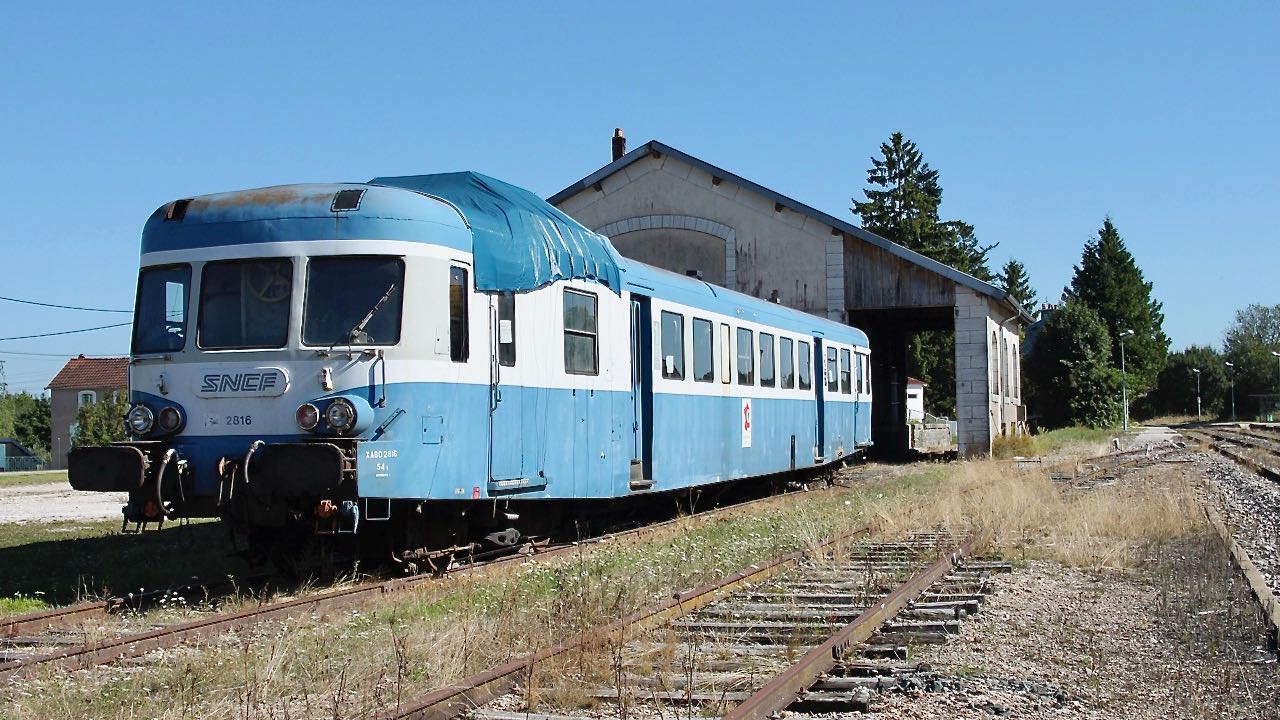 April 2013. L'Hôpital du Gros-Bois (25), Doubs. Preserved railcar X 2816 had been parked here, that day, for six months after transfer by SNCF to the care of association "Autorail 2800 du Haut-Doubs".The railcar was 55 years old at that time and the motor had not yet been restarted. 6 years later, 2816 would operate its first excursion to Morteau in June 2019. Graham Skinner
2816 - The preservation
On April 6th 2009, the last commercial X 2800 service on SNCF lines took place between Besançon and Le Valdahon. I described that event in Journal No 134. A few days later, in May 2009, a small, local, group of enthusiasts in Franche-Comté, suddenly inspired by the "last day" event and crowds, decided to form an association to preserve an X 2800. Their application to SNCF was one of the last to be considered, for at that moment, eighteen X 2800 railcars had already been reserved for preservation, including 2816 for a project near Döle. Fortunately for the newcomers, the Dôle project was abandoned and SNCF agreed to allocate 2816 to the association "Autorail x2800 du Haut-Doubs".

The permanent residence for 2816 would be at the Gare de l'Hôpital du Gros-Bois, on the Morteau line between Besançon and Le Valdahon. There is a goods shed there, owned by the commune. It was agreed that the association could have its own siding with access to the Morteau line and to the interior of the goods shed. The association extended their siding by 200 mètres during the winter 2010/2011. On October 4th 2012, SNCF delivered 2816 to its new home and restoration could begin. There would be many challenges over the following years. For the railcar was incomplete and its MGO motor did not function.
With remarquable dedication, the small group learned everything that there was to learn about the railcar, the MGO motor, the transmission, the bogies, the brakes and security systems, how to drive it, the regulations, the administration. How to finance the project was a challenge too.

After seven years, success was achieved, all obstacles overcome, and the first public excursion on board 2816 along the line to Morteau took place in June 2019. The following two years of COVID stalled the launch, but, since December 2021, the latest X 2800 to operate again on SNCF lines is present regularly in Franche Comté, after an epic restoration.

Postscript
Models of the X 2800 have been available from ROCO (Austria) for many years.REE Modeles, a young French company with a large catalogue of detailed train models (https://ree-modeles.com) has planned to market the X 2800 railcar in numerous versions. In 2019, they undertook to scan in 3D the exterior and interior of X 2816 at Hôpital du Gros Bois. This work forms the basis for the design. The first models are expected to be on sale in the summer of 2022.
Sources;
X 2800, Alain Blot, Presse & Edition Ferroviares, 2005, hardback 222 pages
Le Train magazine. Special 4/95 Les autorails unifiés.
Ferrovissimo, No 1, 12/2004, X 2800: roi des montagnes,
LR PresseVOIES FERREES magazine Nos 114, 122
Text and photos, Graham Skinner

2022 update: 18 railcars preserved

X 2800's in service on the SNCF network (in blue livery, unless otherwise stated)
2819 + 2914. Gare de Langogne (48), (Association ap 2800)
2844 + 2907 Limoges (87) (Autorail Limousin) 2844 - red & cream livery
2816 L'Hôpital du Grosbois (25)
2900 + 2895 + 2866 Montluçon (03) - AAATV Montluçon (not all in service)

X 2800's preserved on heritage "CFT" lines
2804 Ecomusée de Breil/Roya (06) display only
2807 Chemin de fer du Haut Forez (Estivareilles - Sembadel) red & cream (in service)
2825 ATTCV (Var)
2830 + 2847 + 2875 Chemin de fer de Centre Bretagne (Loudéac) not in service
2856 AGRIVAP (Ambert, Forez) in service
2883 + 2903 CF de la Charente Limousine (in service)
2908. Chemin de fer de Haute Auvergne (Gentiane Express) in service

Additions to FRS Photographic Archive during July 2022

To Photographic section
Addition to Folder 4 ("AFAC" & similar articles)
PLM Pacific 231 G/H/K (Revue Generale des CdF 1938)




PLM Diesel 262AD1 & 262BD1 (Revue Generale des CdF 1938)




Paris La Chapelle Depot Nord (Revue Generale des CdF 1938)



Addition to Folder 7 ("Miscellaneous")
Presentation history postal service by rail in France



Additions to Folder 11 ("Railway stations")


Forty+ images of French stations




Selection of small images of French railway stations (approx 1,100)



PS: The additions to Folders 4, 7 & Folder 11 (originating from Wikipedia & other websites) have COPYRIGHT RESTRICTIONS and are intended for personal enjoyment by members only
© Peter Lovell. The French Railways Society 2022. With thanks to Graham Skinner, Christophe Masse, Erwan Quintin, Georges Turpin, Jocelyne Bourneuf and Chris Bushell.