On Sunday 7th November BB 17016 (preserved by AAPSL) hauled its first rail tour in preservation
from Val-de-Reueil to Le Havre. It is seen above on the return journey crossing the
Viaduc de Mirville, hauling stock from PVC's historic train.
Photo Jocelyne Bourneuf
BB 67400 failure brings havoc to Périgueux- Limoges
On the 28th October loss of power on a 2,000 ton ballast train hauled by BB 67409/67421brought havoc to the Périgueux - Limoges line when it stalled on the incline approaching Nexon with loss of power. After blocking the line for five hours eventually BB 69285/69286 came to the rescue and are seen above north of Nexon.
Photo Jean-Louis Poggi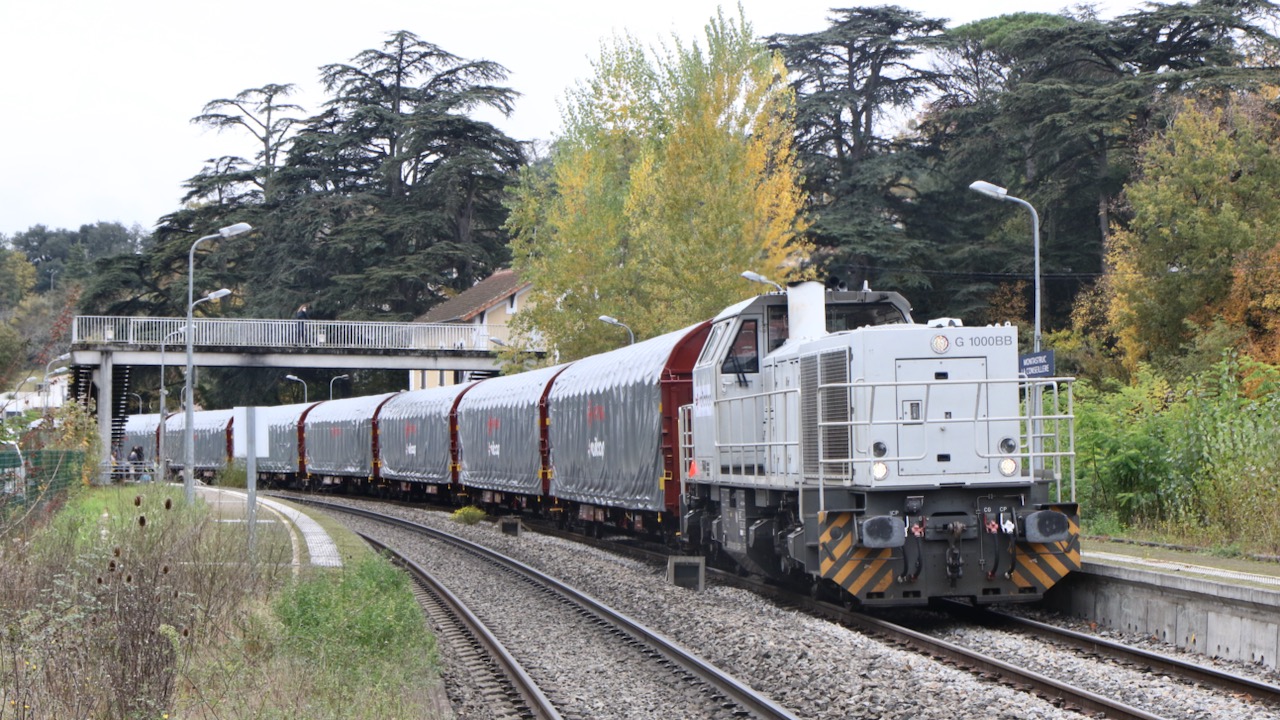 Railcoop operates inaugural freight service
On 15th November 2021 cooperative owned Railcoop operated its first freight service from St Jory Yard, Toulouse to Capdenac, the first commercial freight service to run over the route for some years. The train was formed of Vossloh G 1000 BB 92 87 0001 005-3 F-ECR one of two on hire from DB Cargo France, and eight bogie wagons with curtain tarpaulins on hire from former SNCF wagon leasing subsidiary Erwema. The locomotive and first three wagons all carried Railcoop branding. The train is seen above at Montastruc-la-Conseillère waiting to cross a Mazamet - Toulouse TER.
Photo Georges Turpin
.
Railcoop plan to operate a regular freight service from Vivier-Decazeville (Aveyron) to Saint-Jory via Capdenac-Gare conveying palletised freight. The first service conveyed Fairtrade coffee, tea and chocolate for the Ethiquable cooperative based at Fleurance in the Gers. However, the main traffic is expected to come from the 162 companies in Mecanic Vallée who produce components for the aerospace industry in Toulouse. Currently this is all conveyed by road. Railcoop plan to build up the service to operate five days a week and will need to achieve 60% occupancy of the train's capacity to break even financially.
RENFE formally abandons Toulouse - Barcelona service
Just a few weeks after announcing plans to introduce a Paris - Marseille service and possible further expansion RENFE has formally abandoned their Barcelona - Toulouse service.
Introduced in 2013 the service never met its full potential, with high fares and timings that did not allow a day at either destination or Carcassone. Reduced to a summer only service in 2016 it was suspended in 2019 due to Covid.
Opposite. On 15th December 2013 AVE 17 passes Montlaur with the inaugural Barcelona - Toulouse service. Photo Georges Turpin.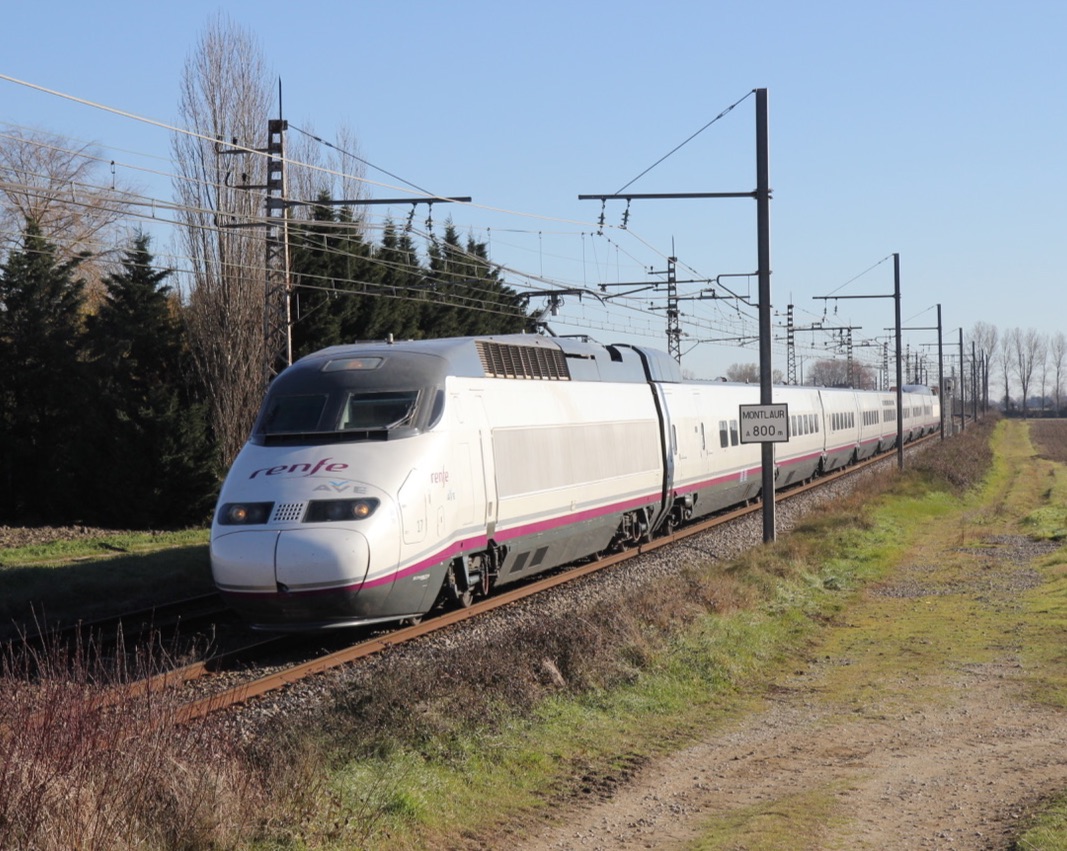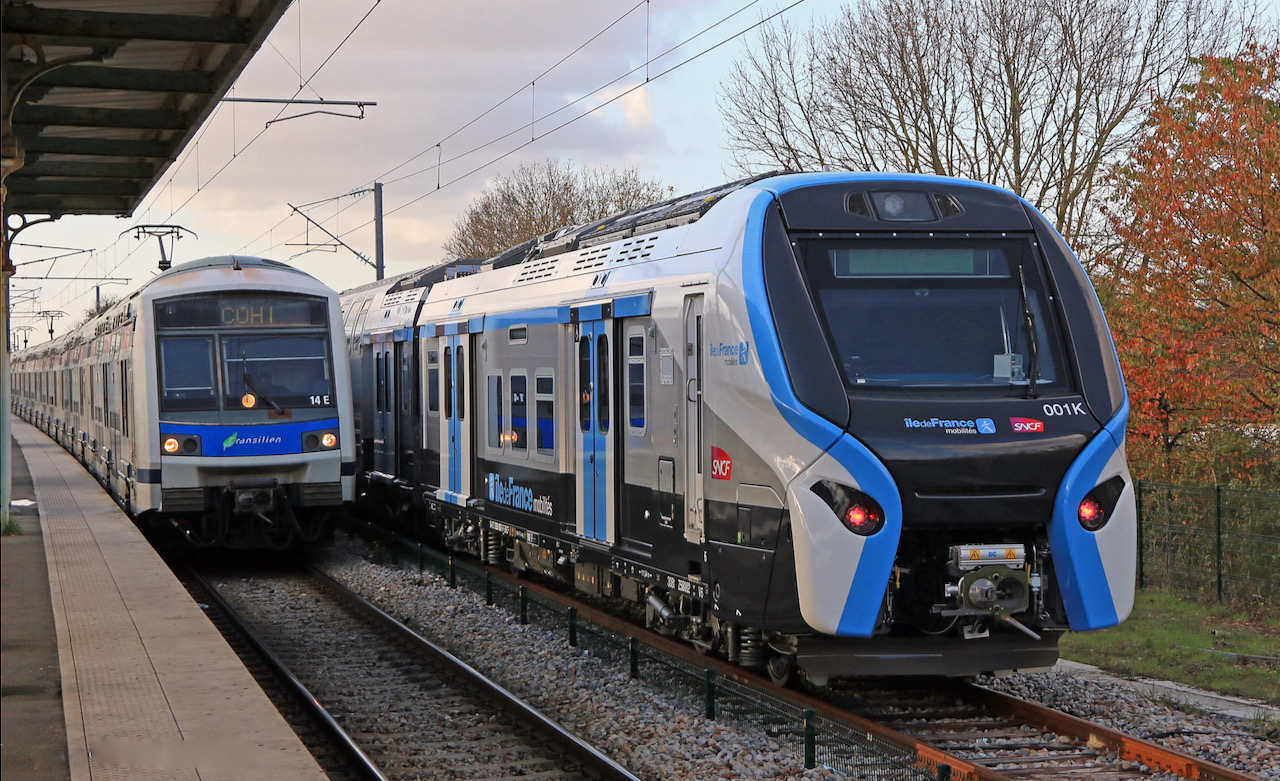 NExTEO Cab signalling testing begins
Testing of the new NExTEO cab signalling system that the RER NG (Class X58000) units will be equipped with began on the 2nd November at Gagny. Above - On the 8th November X58001/002 stands alongside an MI2N unit at Gagny before heading off towards Chenay-Gagny.
Photo Christophe Masse
The NExTEO train management/signalling system has been developed by Siemens and will be installed on the new
RER E between Nanterre-la-Folie (new station) and Rosa Parks and on RER D between Saint Denis and Villenueve St Georges. It will be installed in the new RER NG units that will also be equipped to operate with the existing systems. The key features of NExTEO is that it will allow trains to operate at higher speeds (120km/h) and with a shorter interval of 108 seconds instead of over 180 seconds at present). On the new section of
Eole (RER E extension) it will allow a maximum of 28 trains an hour each way giving a capacity of 620,000 passengers a day compared to 370,000 at present. Examples of reduced journey times are:
- 40 minutes from Mantes la Jolie to La Défense compared to 52 minutes today
- 14 minutes from Poissy to La Défense compared to 22 minutes today
- 36 minutes from Chelles to La Défense compared to 51 minutes today
- 18 minutes from Rosa Parks to Nanterre La Folie compared to 51 minutes today

The new RER E extension (Eole) is now expected to become operational in 2023.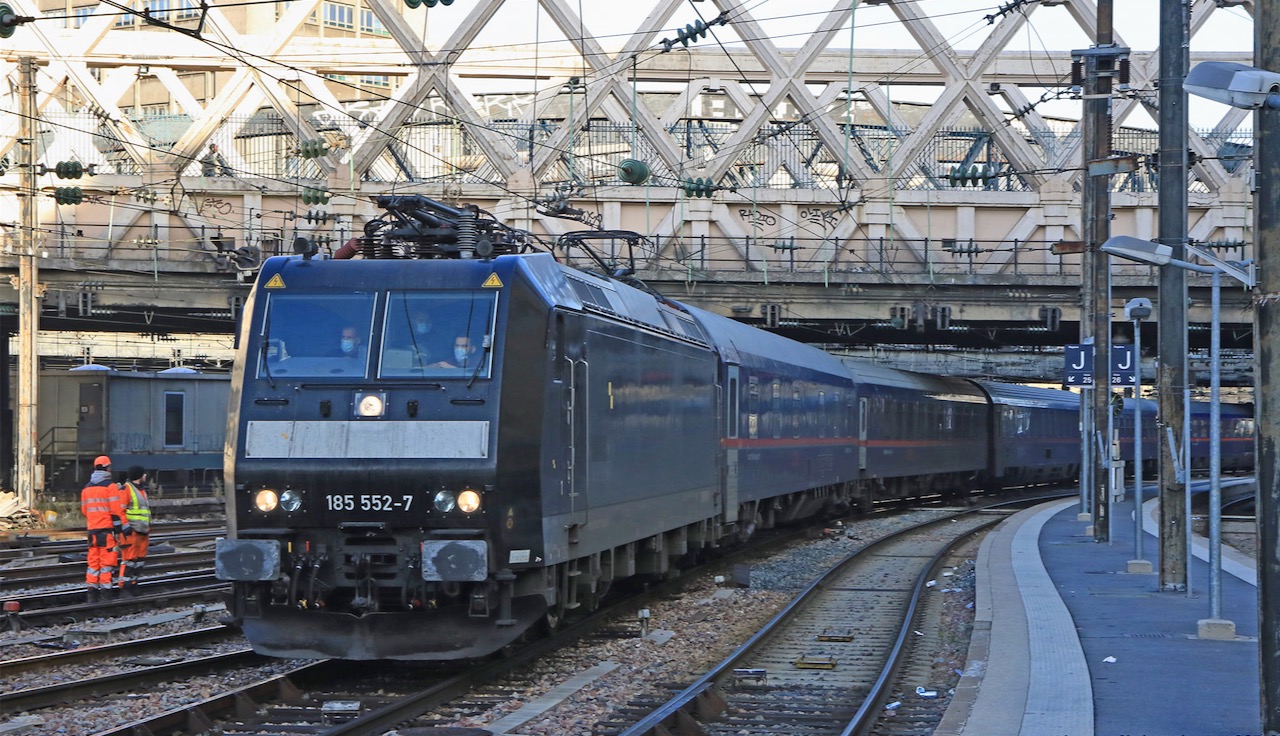 On the 9th November 185 - 552 heads in to Paris East with NightJet service 468 from Vienna. The locomotive had worked through from Karlsruhe. Photo Christophe Masse

TGVs carrying low carbon slogans
Linking in with the COP 26 conference in Glasgow slogans have been applied to TGVs highlighting the low carbon footprint of rail travel. Above left Duplex 878 at Toulouse on November 20, awaiting departure for Paris-Montparnasse with train 8514 carrying the slogan "Grande vitesse, bas carbone". Above right. Recently renovated TGV Atlantique 391 at Sables-d'Olonne station on November 1st carrying "voyager avec nous c'est moins de CO2 émis" and "merci de nous avoir choisi pour émettre ensemble moins de CO2". Photos Georges Turpin
Prime minister unveils more rail investment detail
On 22nd October at the Le Boulou rail motorway terminal Prime Minister Jean Castex and SNCF Réseau signed an agreement confirming €50 million of investment in rail freight as part of the
France Relance
programme with the aim of doubling rail freight by 2030. The key elements were:
- €37 million on infrastructure improvements at freight terminals covering improved track work, loading/unloading, access and parking facilities,
- digital automation of train paths to enable operators to book paths at short notice,
- develop the infrastructure of the Le Boulou railway terminal to increase rail freight traffic to Spain,
- Increasing the electrical capacity of the line between Dijon and Lyon to accommodate longer and heavy trains.
A few days later, on the 30th October, during a visit to Cantal
Jean Castex announced the return of the Paris - Aurillac night train. This will be formed from another portion of the Paris -
Rodez service
Epinal to St Die to re-open
Grand Est TER will re-open the line from Epinal to St Die from 12th December 2021. Bus replacements have operated in recent years while the infrastructure has been renewed
SNCF sells wagon-leasing subsidiary
SNCF has sold Ermewa its wagon leasing subsidiary to investment companies DWS and Caisse de dépôt et placement du Québec (CDPQ)
Ermewa is Europe's biggest wagon provider with a fleet of over 100,000 wagons and operates in 80 countries. DWS and CDPQ will own the company on a joint basis. They have taken responsibility for all of Ermewa's existing debt and paid SNCF €3.2 billion that will be used to reduce SNCF' Group's outstanding debt.
Mixed first season for Le Petit train de la Mure
Train de la Mure finished its 2021 season on 7th November having carried 22,000 passengers since re-opening on the 20th July, some eleven years since the original line was closed by a landslide.
Three separate incidents stopped operations for a total of three weeks and restricted operations to one train making three return trips a day. Improvements will now be made to the infrastructure and rolling stock to enable two trains to operate next year offering seven return trips daily. The long term plan is to increase passengers to 100,000 per year within five years.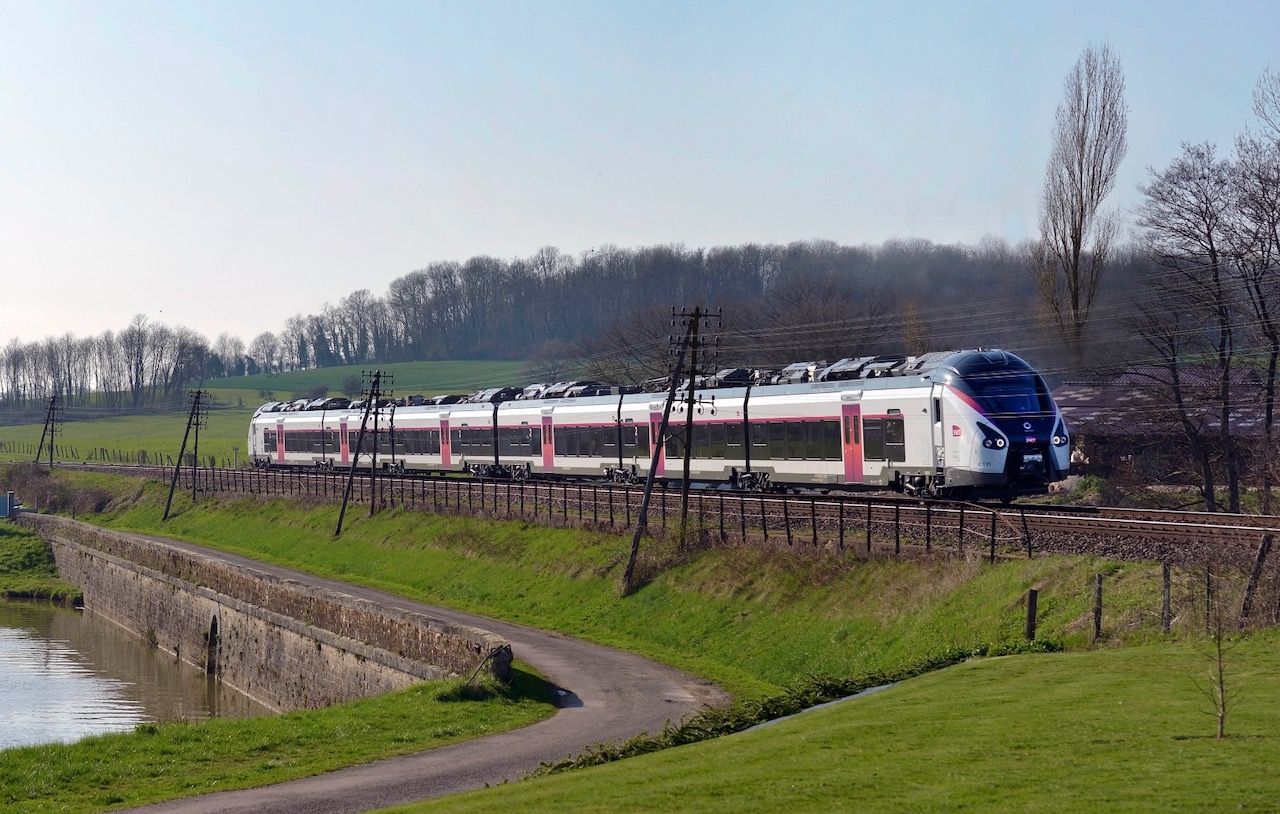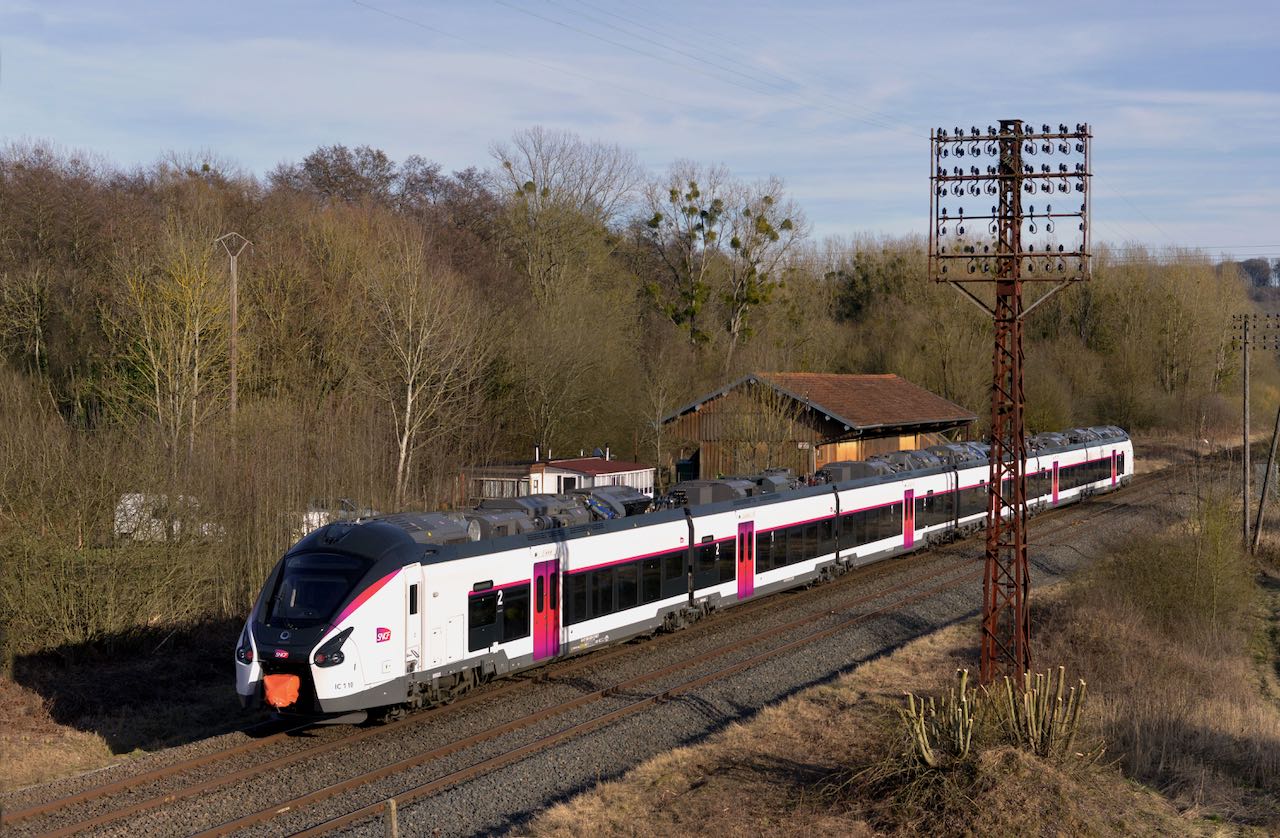 Line 4 improvements with new timetable?
It is hoped that the introduction of the new timetable on December 12th will improve reliability of Line 4 services (Paris - Chalindrey - Belfort - Mulhouse). For some months a combination of Covid and engineering work has seen the 08:42 and 13:42 Paris - Belfort terminating short, on occasions at Troyes with passengers then conveyed forward by bus. This leaves a ten hour gap between the 06:42 and 16:42 departures from Paris to Mulhouse. While passengers from Paris to Belfort have the option of travelling via the Rhin-Rhone LGV, or via Epinal or Strasbourg passengers travelling on the intermediate stations between Troyes and Belfort only have the option of an uncomfortable journey with journey times generally double that of the train. Perhaps it starts to explain why the population of Chaumont and Vesoul has fallen by around 20% in the last 30 years
Above Intercite Coradia 1.11 (now Grand East TER 85021/022 ) had been in service just 18 days as it passes through Montureux-lès-Boulay with a Paris Belfort service on March 25, 2017. Photo Michel Costes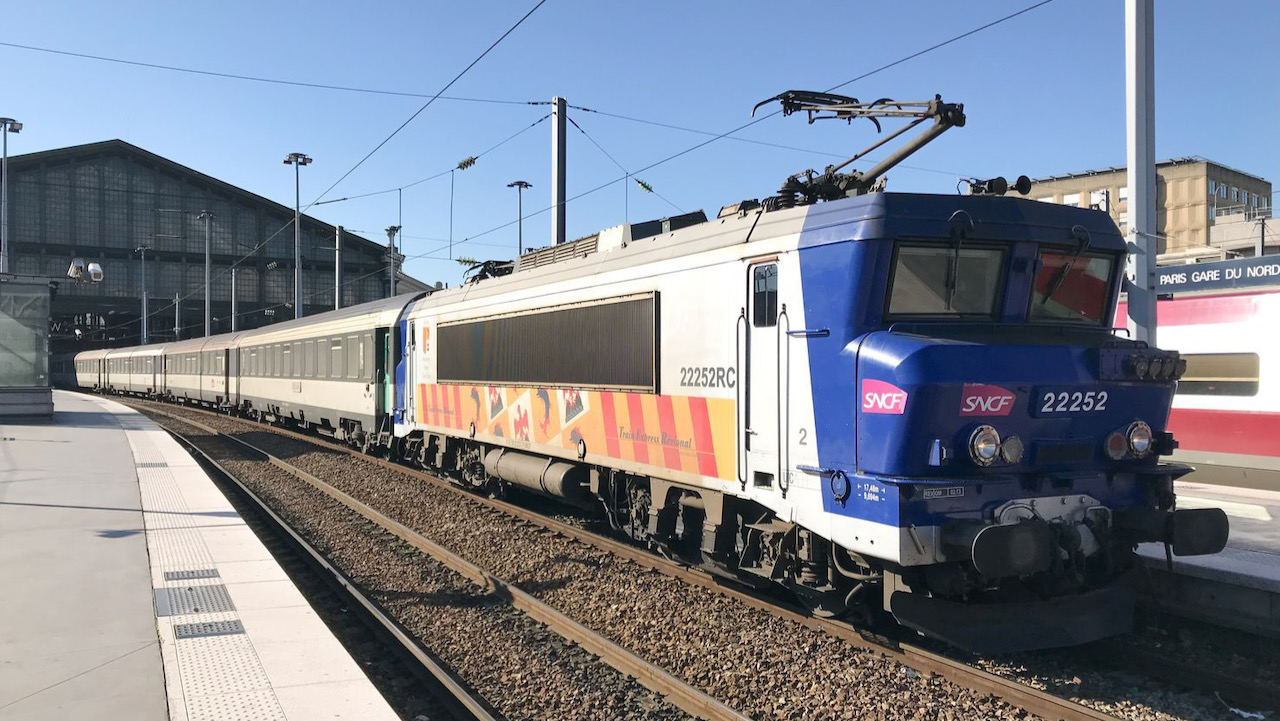 Hauts de France BB 22200 liveries
The Class BB 22200 employed on Hauts de France TER services from Gare du Nord and around Lille have now been allocated to a single "Hauts de France" pool. Along with a handful of BB 15000s they now operate the remaining locomotive hauled services north of Paris. With recent transfers of former PACA TER liveried locomotives they now offer a variety of liveries. Above and below top left on 24th October PACA liveried BB 22252 waits to leave Gare du Nord with train 847491 to St Quentin. Below top right. On 24th October BB 22232 in silver grey "phantom" livery waits at the Gare du Nord bufferstops. Below lower left.On 25th October Hauts de France liveried BB 22254 arrives at Chauny with 847917 from Paris Gare du Nord to St Quentin. Below lower right. On 27th October beton liveried BB 22348 arrives at Chauny with 16465 from Paris Gare du Nord to Maubeuge.
All photos Michel Joindot.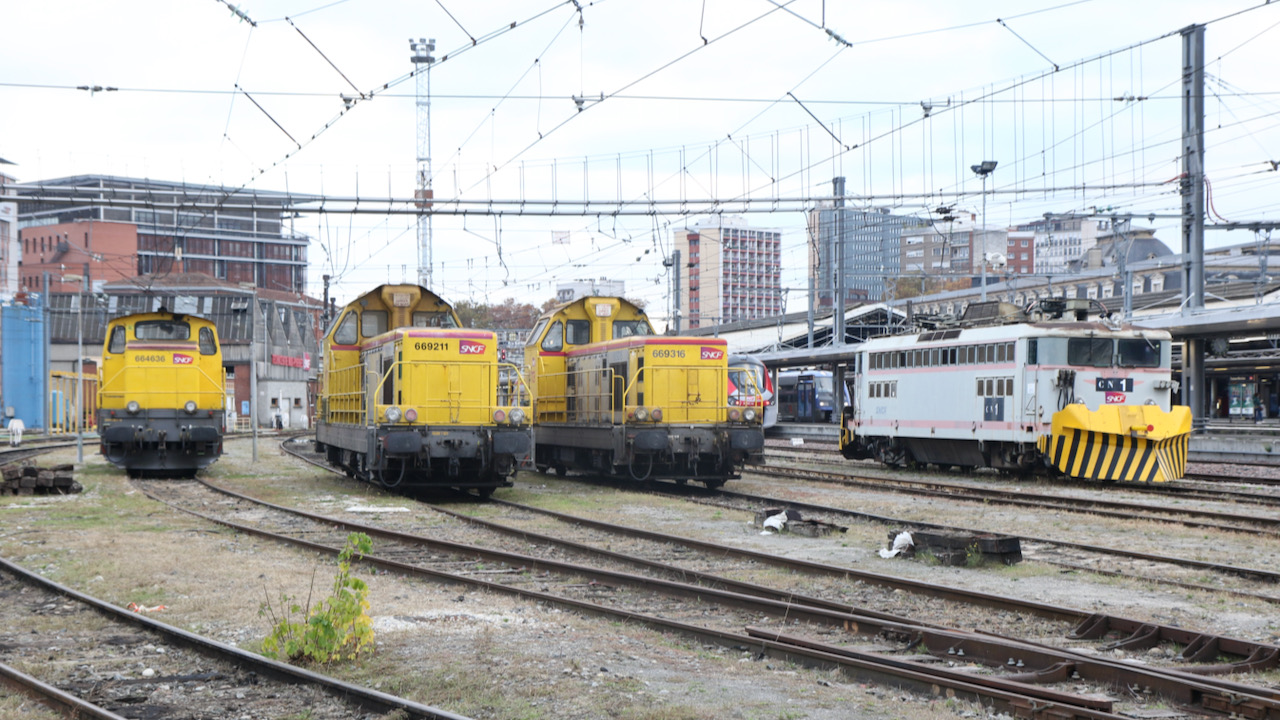 On the grid at Matabieu
At one time the grid at Toulouse Matabieu depot would typically have held 40 or more locomotives. On Saturday 6th November just four locomotives were present, all over fifty years old with a combined age of 213 - BB 64636 (ex 64003 September 1968), BB 69211 (ex 66211 October 1965), BB 69316 (ex 66316 February 1968) and snowplough CN1 (ex BB 8553 July 1970).
Inside the former workshop the only locomotive is 241 P 9 under restoration by AAATV - MP. As the photos below illustrate restoration is making steady progress, although there is still plenty to do before it will steam again. As the bottom left hand photo shows a part of 241 P 21 lives on. There are plans to demolish and re-develop the former workshops and AAATV - MP have yet to find a permanent home for 241 P 9. They are coming under pressure to relocate to the museum at Nimes, some 300 km away, where the Region are planning to develop a "centre d'interprétation du ferroviaire". All photos Georges Turpin
MTVS acquires second Swiss loco
MTVS at Crevecoeur-le-Grand have acquired a second Swiss locomotive. In August 2020, MTVS purchased an O & K tractor from Appenzellerbahn. This was originally built in 1959 as type MV 9 No 25892. It was acquired by Appenzellerbahn in 1993 having previously been owned by RhB since 1978 but not used.
Last month, MTVS took delivery of former MGB "Croc" Gm 4/4 70 "ELCH". Built in Germany by Jung Locomotivfabrik in 1966, it was exported to Finland before being sold on to the Furka Oberalp (CH) in about 1980. FO became part of MGB* in 2003. The "Croc" was sold to Dampfbahn Furka

* Matterhorn-Gotthard-Bahn AG




Bergerstreke in 2014 and has now been passed to MTVS in working order.Above - In service on the MGB in 2008 Photo Graham Skinner

End of season at Train des Mouettes

In the Charente Maritime the season at Train des Mouttes finished on Sunday 7th November. During October and November just one return service a day has operated between Saujon and La Tremblade.
Opposite On 24th October the 130 year old 030T Schneider is seen shortly after leaving La Tremblade.
At the moment this is the railways only operational steam locomotive due to problems with the recently re-boilered 030T Henschel. Photo Georges Turpin.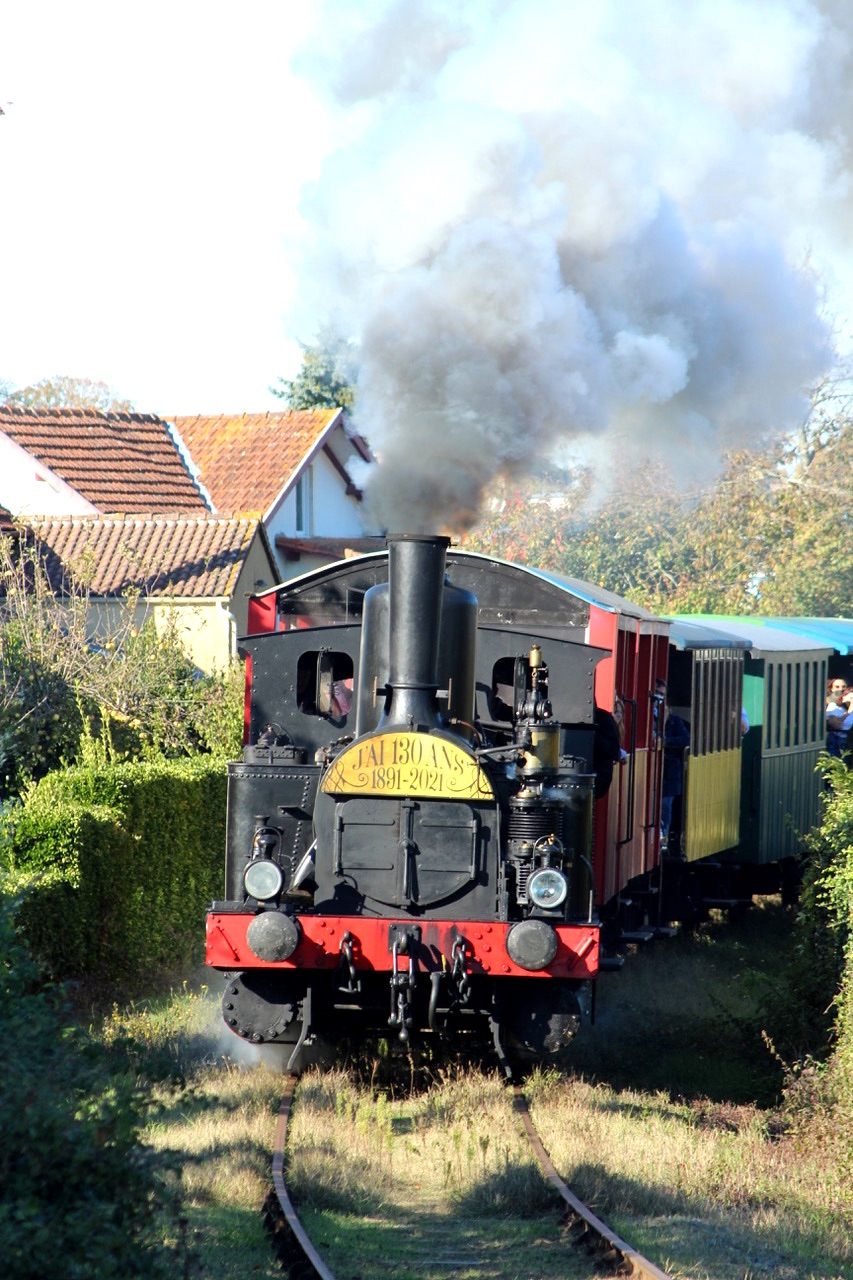 Additions to FRS Photographic Archive during November 2021

To Photographic section
Additions to Folder 11 "French railway stations" (approx. 250 images)
Additions to the FRS public folder during October 2021
- Les petit trains de grande guerre 1914/1918
- US Military Railway Service-French locomotive diagrams
- CNAM - PLM equipment displayed at the Turin exhibition in 1911
- CNAM - Locomotives at the Paris Exhibition 1878
- CNAM - Paris Metro 1922
- The Nord-Belge company
© Peter Lovell . The French Railways Society 2021. With thanks to Jocelyne Bourneuf, Graham Skinner, Christophe Masse, Georges Turpin, Michel Costes, Jean-Louis Poggi and Michel Joindot