On Saturday January 15, 2022, the Autorail de Bourgogne Franche-Comté (ABFC) association organized a rail tour with Picasso X4039 on the
Ligne des Horlogers
between Besançon and Morteau to mark its reopening following infrastructure modernisation works.
It is seen above departing from Morteau at the foot of the imposing Notre Dame de l'Assomption Church in crisp winter conditions. Photo Christophe Masse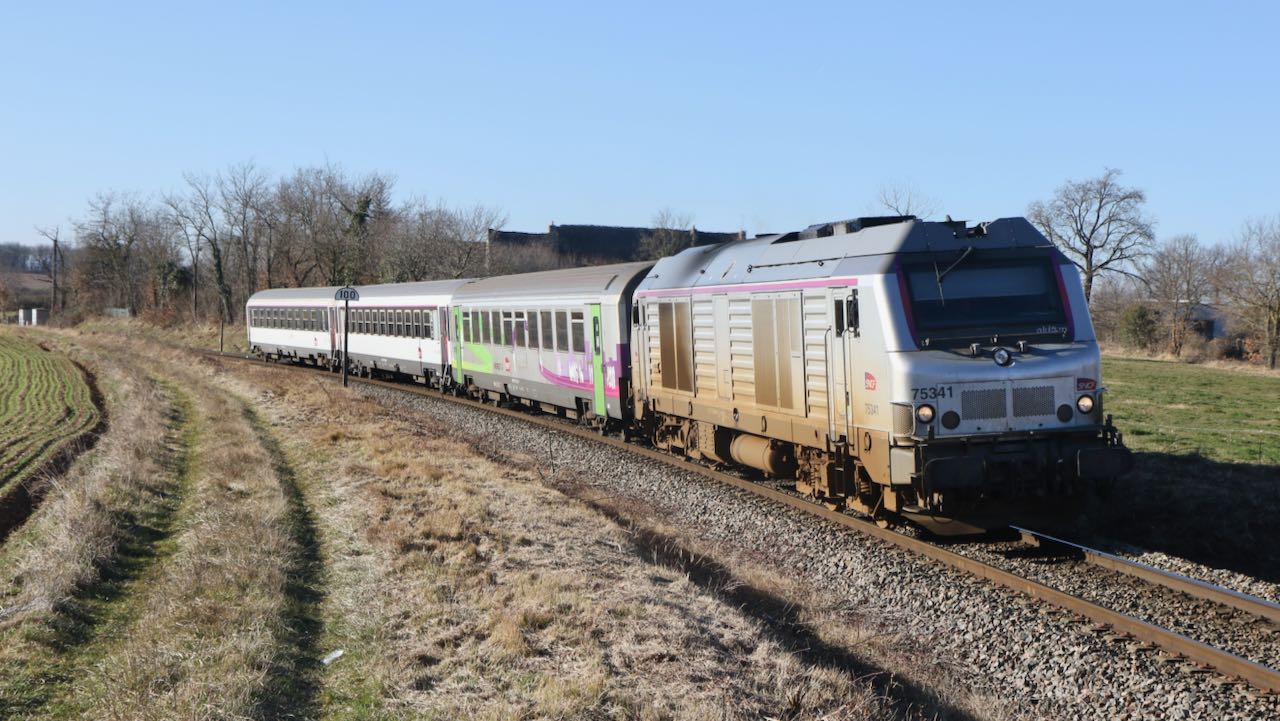 Overnight services problems continue
The operation of of the overnight services from Paris to Lourdes, Latour-de-Carol and Portbou continue to be disrupted. A combination of freezing weather, equipment failures, staff shortages and strikes has invariably seen trains terminating or starting from Toulouse, with passengers having to use TER services or special buses to connect. Temperatures of -10C have severely disrupted traffic
between Bordeaux and Hendaye, and from Toulouse to Tarbes, Latour-de-Carol, and Brive, with SNCF management finding it easier to provide buses at short notice rather than de-ice the catenary. Since its return to service in December, the Paris-Lourdes overnight night train has only reached its destination on a handful of occasions
On the Paris -
Rodez/Albi service locomotive problems saw the return of BB 67400s during the middle of January
. On the morning of 23rd January BB 75300s had returned and 75341 is seen above near Naucelle returning to
Rodez
with the stock from Albi.

Photo Georges Turpin

.
AJECTA renew Longeuville depot lease
On the 4th January AJECTA renewed their
Convention d'Occupation Temporaire
(COT) with SNCF for their base at the former locomotive depot at Longeuville. The new agreement is for ten years unlike the previous agreements that have only been for four year periods.
The longer period has been supported by the Seine & Marne Direction Régionale des Affaires Culturelles (DRAC) and will enable AJECTA to apply for funding to develop the depot as a visitor attraction and claim tax relief. In the past the DRAC has not supported applications for funding due to AJECTA's short terms of tenure at the site.
A1A A1A 65505 - an update
In January News we reported on the uncertainty surrounding A1A A1A 65505, and whether its transfer to Train des Mouettes at Saujon would take place. On a three day journey from lasting 3-5th January it made the journey west topped and tailed by a pair of BB 67400s at a maximum speed of 50 kmh.
Paris Est weekend closure
The weekend of 15/16th January saw Gare de l'Est closed along with RER E from Haussman to Rosa Parks for 50 hours. After 4 years of planning a bridge built in 1886 was replaced.
The closure saw locomotive hauled services diverted to Gare de Lyon and TGVs to Gare du Nord
The Vienna - Paris Nightjet sleeper appears to have enjoyed a more reliable start than France's new domestic overnight services. On the frosty morning of 21st December 2021 MRCE 185 - 557 is seen approaching Vaires, 14 hours after departing from Vienna. Photo Christophe Masse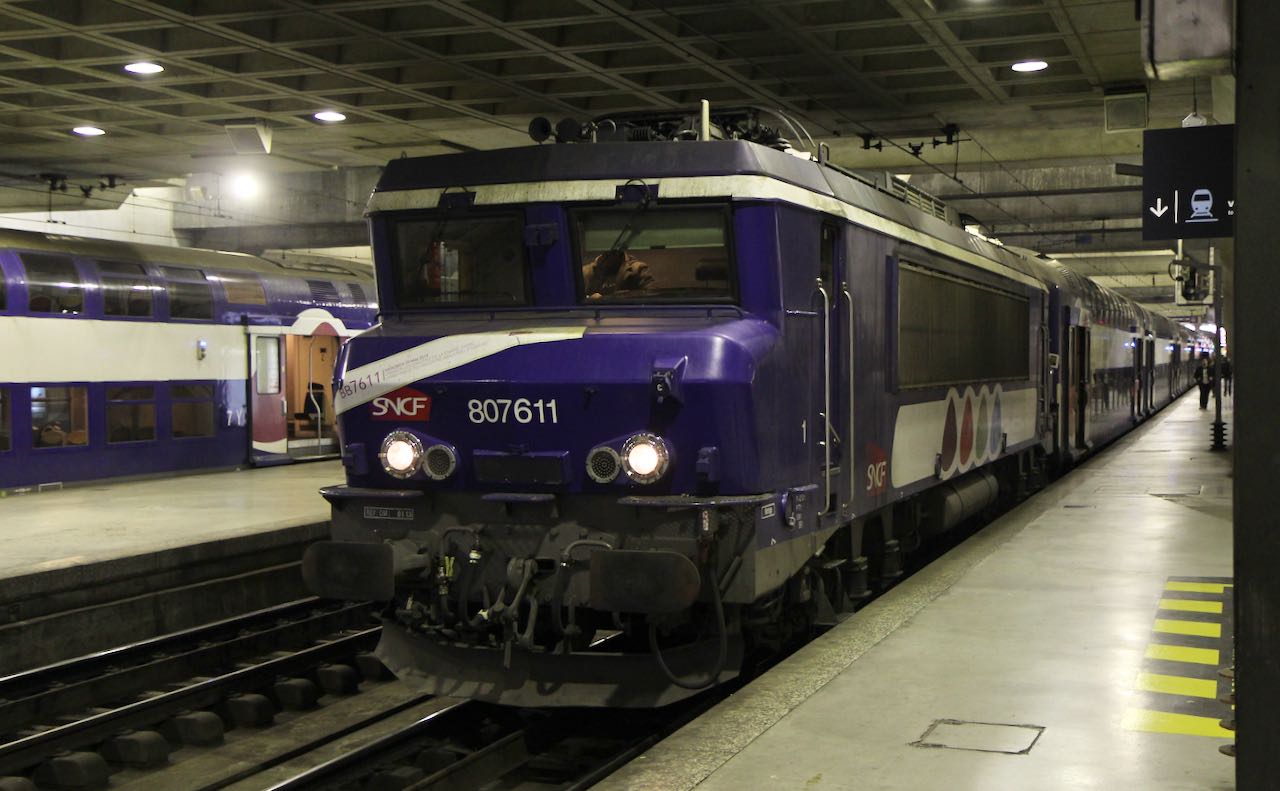 Farewell BB 7600
The BB 7600 sub class has become the latest group of locomotives to become extinct. Operations finished at the end of 2021 although three locomotives have yet to be officially withdrawn.
The 14 strong sub-class was created between 2011 and 2013 by converting surplus freight sector BB 7200 locomotives to replace Z5300 units on Transilien Line N between Paris Montparnasse and Rambouillet/Plaisir-Grignon operating VB2N stock (cascaded from Paris Nord services) The conversion work was undertaken at Oullins works, the main changes being:
- Six socket push-pull control cables fitted only to cab 2 end of each locomotive.
- Replacement of single air compressor with two larger compressors, one to cope with increased braking on suburban routes the
- EAS Driver only operation equipment (linked to station cameras and screens)
- "
Service d'information voyageurs embarqué
" passenger information system and driver announcements
- Emergency passenger/driver communication systems
- Enhanced cab soundproofing and an experimental air conditioning system that was subsequently introduced on remaining
.
members of BB7200, BB 15000 and BB 22200 fleets.
- Repainting in Transilien royal blue livery (with coloured berlingots and Transilien leaf)
Above. In November 2014 BB7611 waits to depart from the concrete cavern of Montparnasse for Plaisir-Grignon. On its nose it carries a riband indicating it was the final member of the class completed at Oullins on 29th May 2013.
Photo Georges Turpin.
Transport by rail in Ile de France
What to expect in 2022



OVERVIEW

Ile de France is the richest region in France, producing 30% of the national GDP with 20% of the population on 2% of the area of metropolitan France. The Ile -de-France region, also called the Paris region, comprises 8 départements. In normal times, 5 million journeys a day are made on the public transport system (underground and overground railways, buses and tramways).

Ile-de-France Mobilités (before 2016, STIF) is an entity of the regional government that controls the public transport system. It sets standards, tarifs, and the volume of the services in Ile-de-France. IDF Mobilities also finances the acquisition of new stock. The annual operating budget is 10 billion euros. The system is heavily subsidised; businesses in Ile de France pay a transport tax. Travellers pay only 27% of the cost of each journey. SNCF, RATP, KEOLIS and private bus companies are the operators in Ile de France under contractual arrangements with IDF Mobilities. During the next decade, the transport system will be gradually opened to competition in accordance with a decision of the EU in 2007.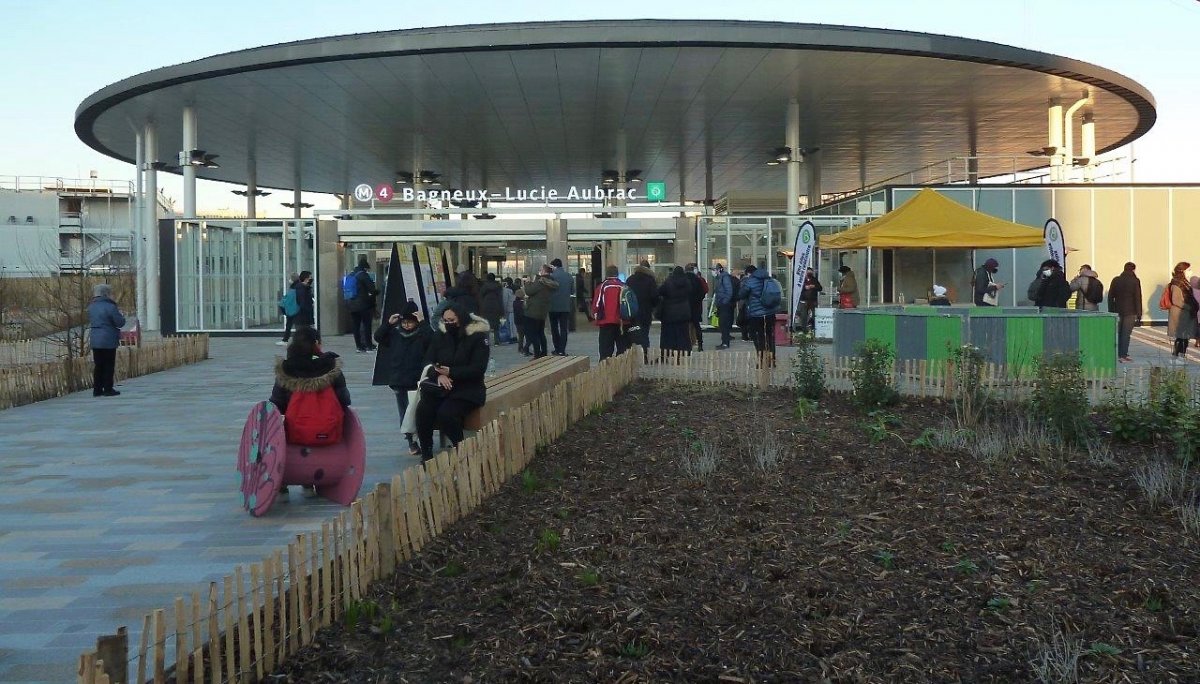 RAIL INFRASTRUCTURE
In addition to continuous maintenance and renewal of track, points, signals, catenary, bridges, tunnels, there are numerous other projects in progress to extend and modernise the Ile de France rail network. A selection of those due to be completed in 2022 is listed below;
Paris Metro - M4.
On
13th January
an extension of line M4 southwards was opened from Montrouge to Bagneux, a distance of 1.8 km with 2 new stations "Barbara" + "Bagneux Lucie-Aubrac" - see photo above (
Photo Gilbert Lafargue
). This short extension has been long awaited and will be welcomed. Line M4 is being modernised for automatic train control (as M1 and M14). The first automatic trains on M4 will be operated from the summer of 2022. All trains will be automatically controlled on the line in 2023 (no specific date yet).
M12
. Another Paris metro line extension into the suburbs will be opened in
May
. It will be at the northern end of line M12 in the commune of Aubervilliers (93). Currently the terminus is at "Aubervilliers Front Populaire". The line will be extended by 4 km with 2 new stations ("Aimé-Césaire" + "Mairie d'Aubervilliers"). This extension has been delayed many years due to technical incidents (the tunnel had been excavated already in 2011.).
Other Paris Metro lines with extensions under construction into the suburbs :M11 (Chatelet - Mairie des Lilas)
being extended to Rosny-Bois-Perrier, opening in 2023. Longer trains will be introduced.
M14 (Mairie de Saint Ouen - Olympiades).
This line with automatic trains is being extended for the
Grand Paris Express
project from Saint Ouen to Saint Denis Pleyel and from Olympiades to Orly airport. The tunnel has reached Orly. The two extensions are scheduled to open in 2024.
Tram express T13 (Yvelines (78)).
Tram express T13 is scheduled to open between St Germain-en-Laye and St Cyr l'Ecole in
July
after 3 years of construction. This will be the 3rd light rail line to be opened by SNCF after T4 and T11. T13 is created on the track bed of the original 'Grande Ceinture" railway that was opened in 1882 and gradually abandoned by 1990. It was then partly re-opened from December 2004 between St Germain en Laye GC and Noisy le Roi with a connection at St Nom-La-Bretëche with Transilien line L to Gare St Lazare.
This short line of 10 km was called Grande Ceinture Ouest (GCO) but it was not very successful. The master plan had called for the GCO to be quickly extended in both directions to serve additional
communes
. But it took 15 years for all parties to agree on a new project.
In 2019, the GCO was closed and an extension has been built from Noisy le Roi to St Cyr l'Ecole with a terminus next to the RER C station. A short extension has been constructed from the St Germain-en-Laye Grande Ceinture station to St Germain en Laye RER A terminus. The rolling stock will be 11 Alstom Dualis units which have all been delivered since August 2021. The units are the same as those on Tram 4 and Tram 11. The new depot for Tram 13 is situated 1 km from St Cyr at Versailles Matelots.
More details later, in July 2022.
Transilien Line P (Paris-Est - Provins)
. The long awaited electrification of Paris - Troyes phase I will be completed during 2022, about a year late due to COFID. After the financing agreement signed in Sept 2016, engineering work started in 2018. The project concerns 72 km of double track from Gretz Armainvilliers to Nogent-sur-Marne and the single track branch line of 7 km from Longueville to Provins.
A progress report in July 2021 indicated:-
- 99% of the catenary poles erected (3 180 estimated in total)
- 77% of overhead wires rolled out
- 98% of overbridges rebuilt
- the underground electric cable connection from the Coubert(LGV) sub station to Line 4 was complete. 6 auto transformers were to be built to distribute the electric current at 25 Kv. That work was 55% complete last July.
Testing is expected to begin during the first six months of 2022.
New signalling was 36% complete last July.
The newly electrified sections are expected to open during the summer 2022. According to Rail Passion magazine N° 291 the date will be July 18th. But an announcement just after Christmas 2021 by the Transport minister confirmed that the newly electrified lines would be delivered in October 2022.
All the Transilien AGC BiBi units on the Paris - Provins services of Line P will be replaced by 23 new Z 50000 Francilien units that are being delivered at present.
STATIONS
RER C : Gare Saint-Michel-Notre-Dame.
On August 23, 2022, the narrow, gloomy, claustrophobic platforms of this station on line C (between Gare d'Austerlitz and Invalides on the left bank of the Seine) will be closed for at least 4 months for modernisation and rebuilding. Trains will run through without stopping.
The project is complicated due to the constraints of the situation of the platforms close to the banks of the Seine. The objectives include renovating the roof which is 120 years old (!), creating windows and improving lighting and ventilation, adjusting the height of the platforms which are very low, creating two lifts for improved access.
In normal times, 51 000 passengers daily use these platforms. There are interchange tunnels to RER B and M4. These two lines will not be affected by the works on RER C. The project is budgeted at 32 million euros. It will be completed in 2023.
RER D - Gare de Creteil-Pompadour.
This station was opened in 2013 to provide an interchange with an express bus route, the Trans Val de Marne (TVM). The station replaced the nearby "Villeneuve Prairie" station which was closed. Creteil-Pompadour was initially built with one island platform only. Access is by steps and escalator to the ticket office and pedestrian bridge, both perched high above ground on metal pillars.
The first plans included 2 platforms. To save money only one was built and the track layout produced an obstacle to reaching the relief line used at peak periods and in the event of problems on the RER D.
The station is busier than expected and a new platform is being built next to the Villeneuve stabling tracks - see image below (there is no longer any
triage
(marshalling yard). The station layout will be rectified to restore seamless access to the relief line. The work is scheduled to be completed by
December 2022.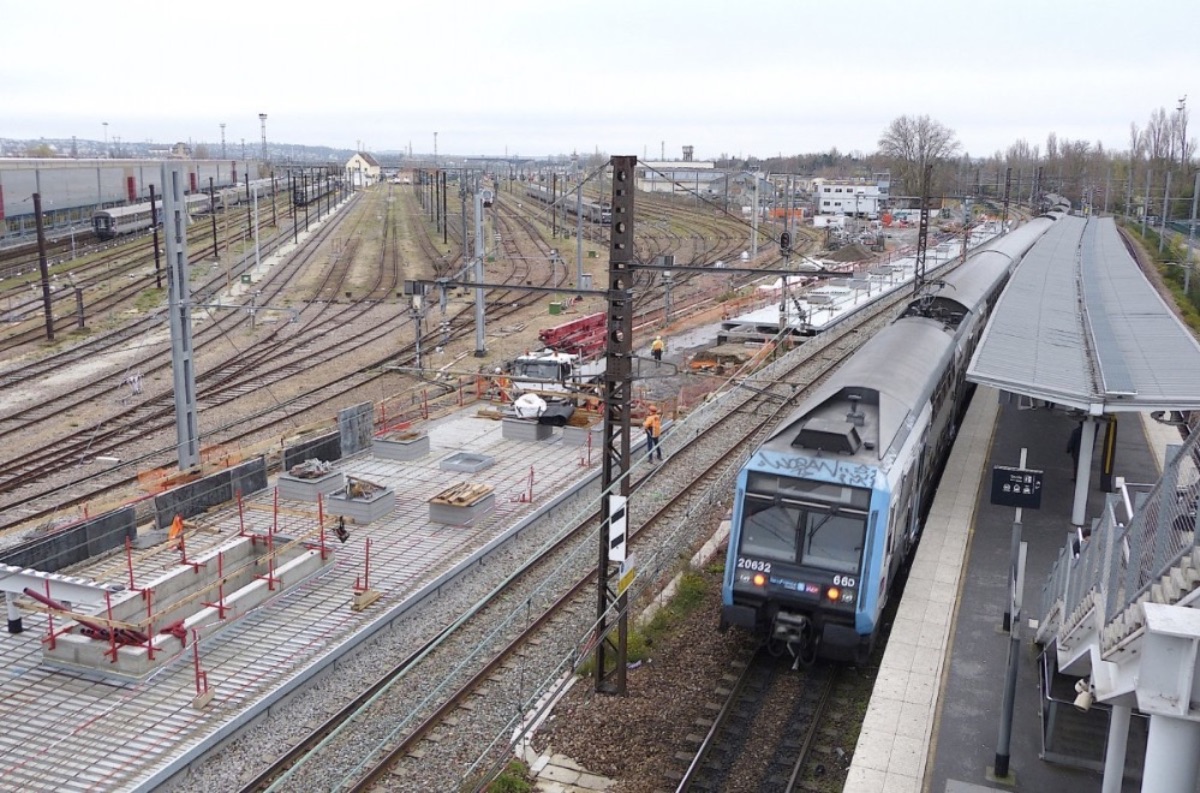 NOTES
The Paris metro has 16 lines and 350 stations. There are 13 tramways of which 4 are under construction. All are operated by RATP except T9 (the newest) operated by Keolis. The SNCF Transilien (suburban rail) system has 5 RER lines ( A - E ) that cross Paris, underground, and 8 other suburban lines designated (H, J, K, L, N, P, R, U ). There are more than 400 suburban stations.
Several major rail projects are not mentioned above. Two of these are organised directly by the French State and not by Ile-de-France Mobilités. These are:
Grand Paris Express
, the gigantic new deep underground railway to be constructed around Paris. The first section may be opened in 2026. It is not known at this stage who will operate the line. The cost of the total project exceeds 35 billion euros and it keeps rising all the time.
CDG Express
. This is a controversial project to construct a new rail connection between Charles De Gaulle airport and Paris Gare de l'Est. The RER B already goes to the airport. There is a plan for one branch of Grand Paris Express to go to CDG Airport. CDG Express is expected to open around 2026.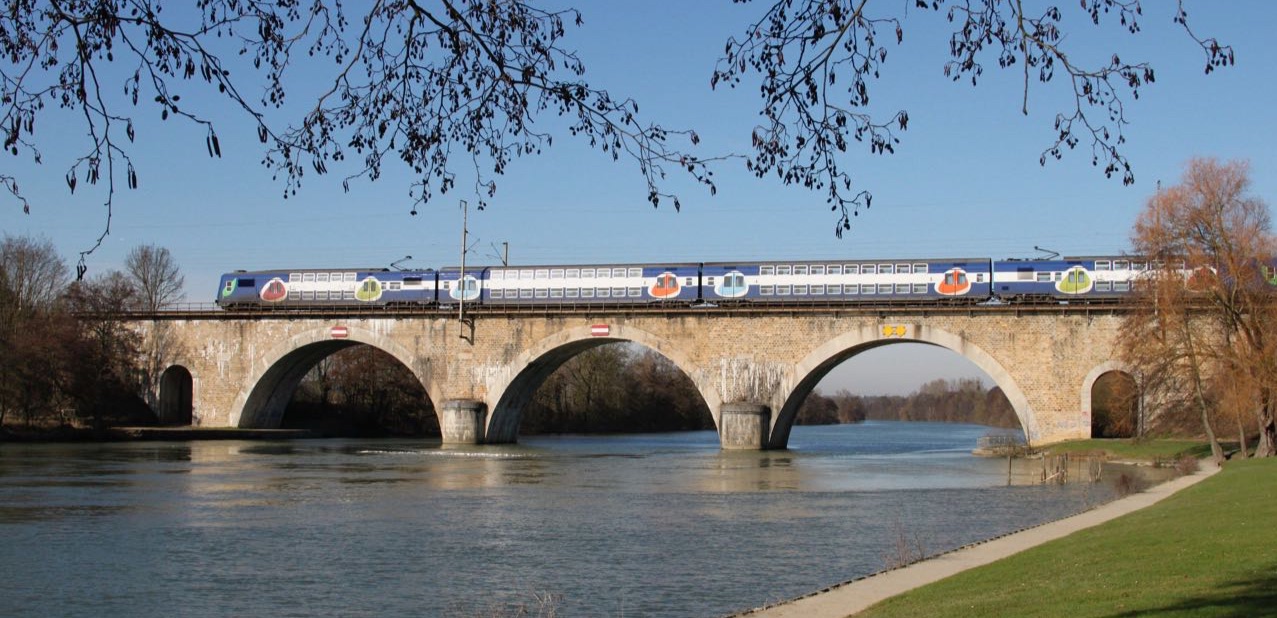 ILE DE FRANCE - TRANSILIEN
A question of liveries

The Transilien trade mark was introduced by SNCF in September 1999. A new livery was also introduced and gradually applied to the
double deck stock. It was a dark blue background with red, green, white and light blue blobs. The Transilien "green leaf" was included on each side of each end of the unit. This livery was applied to the Z 20500, Z 20900, Z 5600, Z 8800 and the VB2N fleets. The Transilien livery can be illustrated with the photo above as a
Z 20500 unit crosses the Marne at Trilport with a Chateau Thierry - Paris-Est service in
November
2011
A variation can be seen on the AGC (below left) which is decked out in square coloured blobs on a white background.
This photo shows a pair of AGC BiBi units in two different liveries arrives at Verneuil l'Etang from Provins with a service to Paris-Est in February 2011. This type of train will be replaced by electric Francilien trainsets in the summer of 2022.
SNCF later created the Carmillon livery that was applied initially, in Ile-de-France, to the Z 50000 Francilien and some AGC's on Line P. This livery included a white or silver grey background with black and crimson red highights.
Below right a Carmillon Francilien waits to depart from Valmondois for Paris Nord in September 2015.
The green Transilien leaves continued to cling to each end of the unit,
and it is badged STIF for the last time.
After 2016 the new regional transport authority, Ile de France Mobilités, that replaced STIF, created its own livery (to show who was in charge). Thus, as a magicien with his wand, suburban buses and trains changed colours in a wave of white, silver grey with blue highlights and lettering, across the region. In the excitment, as politicians promised new reliable trains for all, the green SNCF Transilien leaf was forgotten !
Mid way through the roll out of the new Francilien, this train also changed from Carmillon to the IDF Mobilités livery. All the Bombardier Regio2N units for the Paris region were produced in the Mobilités colours. Below left a
a new Regio2N leaves
Héricy,
for Montereau in July 2018.
(Photo D M Costes.)
The fleet of double deck Z 20500 on RER D and line P, as well as Z 20900 on RER C are being lightly renovated in a programme called "Waouh ! " that is approaching completion. This programme includes the new silver and white Mobilités livery. The renovated fleet must last until 2027 when all the new RER NG trais will have been delivered, it is hoped. Below right
Z 20636 , constructed in 1992 and a recipient of a
"Waouh !" renovation,
approaches Montgeron-Crosne in June 2020 with an RER D service from Melun to Goussainville.
Text and photos Graham Skinner (unless otherwise attributed)
CFBS increases covered accommodation
Over the last two years the CFBS has been working to provide covered accommodation for all of its wooden rolling stock and restoration projects. At St Valery Canal the floor of the main carriage shed has been fully concreted over with an inspection pit excavated. During the summer of 2021 the track work was changed to enable direct access to the main running line rather than via the coal line around the back of the locomotive depot.
In January accommodation was secured at Noyelles in the former grain warehouse and is being used to store some of the long term rolling stock restoration projects. Below the first two items are seen arriving Verney X213, following by 1938 built De Dion Bouton X157. Photos Maurice Testu
Additions to FRS Photographic Archive during January 2022

To Photographic section
Additions to Folder 11 "French railway stations" (approx. 700+ images)
A few additions to the Earl & David Boyd gallery
Addition to Folder 4 - "PLM locomotives 230B (Nos 2601/2760) - Museon di Rodo
Addition to Folder 7 - Presentation by GF Burtt to ILE on 3 Oct 1913 on "French train services and locomotive performance"
Addition to Folder 7 - Presentation by JP Mailand to ILE on 27 May 1911 on "French Locomotive Practice"

PS: Both presentations (in Folder 7) given at the Institute of Locomotive Engineers (ILE) have COPYRIGHT RESTRICTIONS
PPS: The colour images in Folder 11 ("French railway stations") originate from the Wikipedia website and may have COPYRIGHT RESTRICTIONS


Additions to the FRS public folder during January 2022


An updated photo index for the Earle & David Boyd gallery
CNAM - CdF Electriques by H. Marechal 1904
Peter Carver's summary of magazines, periodicals & other publications to the General Archive

PS: The CNAM file has COPYRIGHT RESTRICTIONS

© Peter Lovell . The French Railways Society 2022. With thanks to Graham Skinner, Christophe Masse, Georges Turpin, Maurice Testu and Gilbert Lafargue