October 2017 News
141 R 840 returns to main-line service
After a major overhaul lasting five years 141 R 840 returned to the main-line on the 16th September with a special train to Loches. The 70 years old locomotive is seen here at the approach to Reignac when returning to Les Aubrais. Photo Christophe Masse
Alstom and Siemens Mobility merger
On September 27th, Alstom and Siemens announced the merger of their railway divisions to form a Franco/German group that will become the No 2 in the world market opposite CRRRC the Chinese state owned group which is No 1. The merger will encompass the exisiting rolling stock, traction and signalling businesses.
Siemens will own 50.67 % of the new European multinational group with the option to increase the shareholding by 2% after four years. The French state, which has held 20% of the shares in Alstom, will not participate in the new group. Alstom's chairman and CEO, Mr Henri Poupart-Lafarge, will head the new company which will have its headquarters in the Paris region. The combined turnover of Siemens Mobility and Alstom in 2016 amounted to 15 billion euros. The merger is expected to be complete by the end of 2018 to allow sufficient time to gain approvals from the various regulatory authorities.
The motive for this merger is to create more effective competition to the China Railway Rolling Stock Corporation (CRRC) which was created by the Chinese State in 2014. It had a turnover of 28.6 billion euros in 2016. CRRC is moving aggressively into export markets and is seeking to establish a base in Europe (talks with SKODA).
Coradia Liners take over on Nantes - Bordeaux


From August 7th, the first Coradia Liner bimode train sets were deployed between Nantes and Bordeaux on the intercité services 3831 08:25 Nantes, and 3856 16:47 Bordeaux. The journey time is 4h45m for 376 km and 5 stops. As we have previously reported, this unattractive schedule is due to speed restrictions of 60 kph on the double track section (103 km) between La Roche-sur-Yon and La Rochelle which thus takes 1h52m instead of 60 mins normally. By the end of October, it is expected that Coradia Liners will have replaced the loco hauled Corail trains on all three daily intercité services.


As of Sept 1st, seven new Coradia units had been delivered to Nantes depot (Nos IC 1 20 - IC 1 26). Eight more will be delivered by the end of 2017 and they will also be assigned to the Nantes - Tours - Lyon service from Dec 9th.
Above. One of the first Coradia trains is seen on August 11th near Champ Saint Père with the intercité 3856 Bordeaux - Nantes.
Left. The double headed Corail intercité is shown on the same section on August 20th with the 3854 Bordeaux - Nantes hauled by BB 67441 and BB 67577. both Georges Turpin.



The Coradia bimode train sets will use the overhead electric wires between Nantes and La Roche-sur-Yon. However, due to the state of the track the overall times do not change compared to the loco hauled trains. Fridays to Sundays the Coradia trains will use two sets, Mondays - Thursdays a single set will be used.
Opposite. The 18:47 to La Rochelle waits to leave Bordeaux with 67447 on the14th September. This and the weekend Bordeaux - Ussel weekend services are expected to continue locomotive hauled until new 4 coach Coradias are delivered in 2018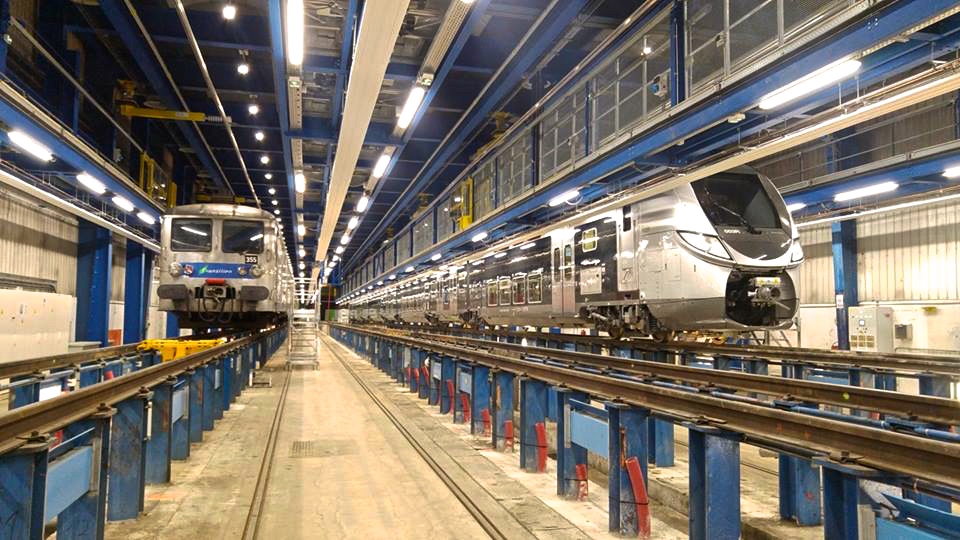 First IDF Regio 2N arrives
The first Bombardier Regio 2N for Ile de France, destined for use on Line R Paris - Montargis, arrived at Villeneuve St George at the end of September for driver training. The unit is seen inside the depot still in base livery.
On the 31st August the line from Barr to Selesat re-opened, having been closed for two months while 7km of track has been replaced in a project costing €20 million. The line will be closed again for second phase of engineering work scheduled for the half term holidays from 23th October - 4th November.
The line from Haguenau to Neiderbronn les Bains re-opened on 2nd September having been closed for five months. 22km of track has been renewed involving 30,000 tons of ballast and 16,500 new sleepers. The stations at Reichshoffen and Gundershoffen have been modernised. Line speed has been increased to 110km/h in places and new crossings will enable the line to handle two trains at peak times, with the service increasing from fifteen to twenty trains per day
Auvergne
The Auvergne Rhône-Alpes Region is showing some commitment to rail services in the region by contributing €23 millionof the €40.6 million budget to rebuild the section between Vorey and Bas Monistrol. Traffic has been suspended between Le Puy en Velay and Firminy since 10th April with the work scheduled to last for nine months
The project includes the relaying of 35 km of track in the Loire Valley between Vorey and Bas Monistrol. Ten tunnels and eighteen other structures are being re-furbished to protect the line and avoid landslides and rock falls. The platforms at Retournac and St Vincent are being extended and the line equipped with fibre optic cables.
Photos. Track relaying at Chamalières and part of the work undertaken to prevent rock falls near Retournac in the Loire Gorges. Photos: Patrick Bennett
Brittany
As part of a project to improve the robustness of the Caen to Rennes line the section from Avranches to Dol de Bretagne will close from 20th November 2017 to 30 March 2018. Track and signalling will be replaced at a cost of €18.4 million.
On Rennes - Châteaubriant traffic will be suspended during the period 6th - 17th November as part of major engineering work with the Châteaubriant - Retiers section suspended from 21st October until August 2018.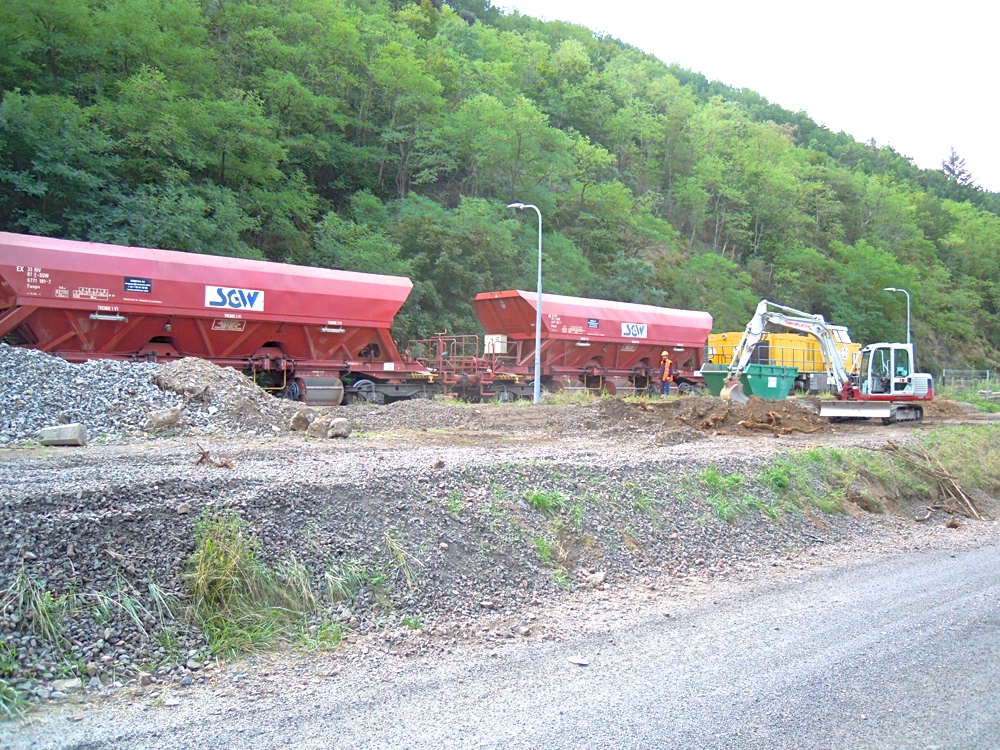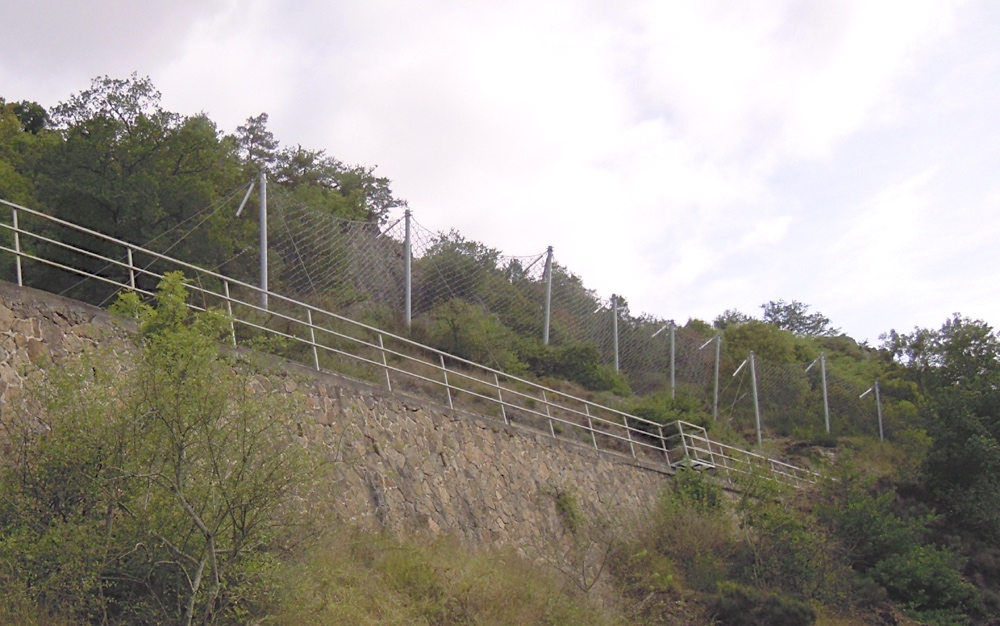 Lines closing: rumours and reality
We have frequently reported line closures and occasionally these lines re-open. There are no miracles. For country branch lines to survive there must be strong local support with local money. Thus, Guingamp - Paimpol in Brittany and Bréauté-Beuzeville - Fécamp in Normandie re-opened because the local communities all dug into their pockets and found many million of euros to rebuild their railways in the absence of any support from the French State.
But when the département of (38) Isère (Rhône-Alpes) votes to fund roads instead of repairs to the "Ligne des Alpes"



(Grenoble - Gap) which partly runs through its territory this is bad news for the railway.It is consequently more than probable that this line will close within 12 months, a tragedy for supporters of the railway and a lack of vision by local politicians. Are we surprised ?
Back in Brittany, the St-Brieuc - Loudéac freight line has been closed since the beginning of 2017. There is apparently some interest in creating a passenger service again but little sign of solid plans to achieve that. The heritage association CFCB based at Loudéac with diesel railcars has been unable to operate this year and the outlook is bleak.
There are rumours that the Morlaix - Roscoff branch line will close in January 2018. 40 million euros are needed to repair the 20 km line and in particular a viaduct. This line suffers from the lack of freight. Transport of local agricultural produce was transferred to the roads a few years ago.



There are also rumours that Rodez - Séverac-le-Chateau in the Aveyron will close in December.
These different lines all carry just a few trains a day in areas where the majority of the rural population travels by road.
Photos. Top: - Aspres Middle: Clelles Mens ( both Grenoble - Gap) Bottom: Loudéac Brittany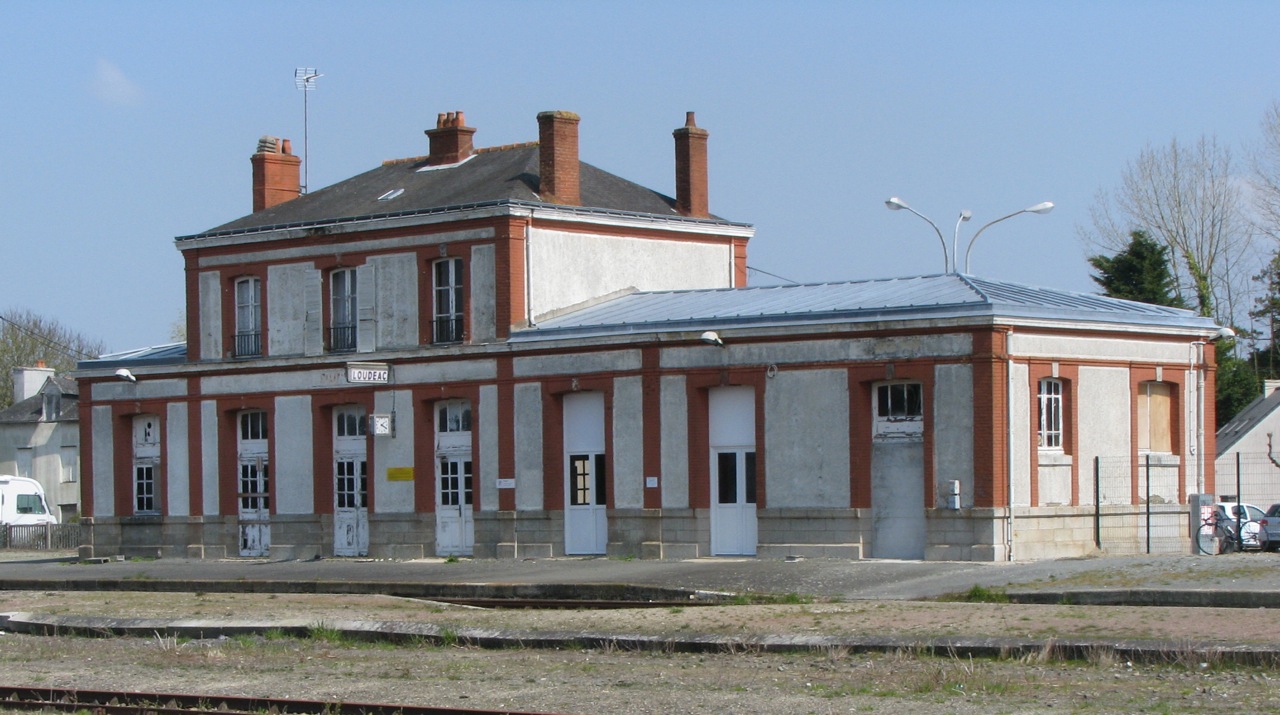 Belfort - Delle to open in 14 months.
The official end of the long running saga of the project to re-open Belfort - Delle has been announced. The line will re-open on December 9th, 2018, after 3 years of re-construction. It is nearly 10 years since the inauguration of Belfort-Montbéliard TGV station on the LGV Rhin-Rhône, which is the principal motive for the renaissance of the line.
As previously reported in April 2017, the modernisation work is well underway on this 22 km single track line that will be electrified at 25000 V AC 50hz. Since our visit the track has been laid and the catenary poles erected. It is expected that all the infrastructure will be completed by the end of 2017 and test running will be started in the summer of 2018. A GSM-R network will be installed (Global System for Mobile Communications - Railways) for communications between the trains and Belfort and Porrentruy (CH) control centres. At Delle, two of the three platform lines are electrified with the voltage of Swiss railways; 15000 V AC 16.67Hz.

No timetables have been published yet, discussions are on-going and it is not simple due to the incomprehensible decision by the French administration to block the entry of the Swiss trains to Belfort Ville.

Thus the Bienne - Porrentruy - Delle services will be extended to a terminus at Belfort-Montbeliard TGV station on a bridge over the high speed line. There is just a narrow island platform and the site was not designed as a terminus, there are no sidings to facilitate operations.

It is reported that there will be ten trains daily from the Swiss Jura, no doubt at hourly intervals being adapted to the existing train service that terminates currently at Delle. There will be a shuttle service from Belfort TGV to Belfort Ville and six trains every week days Belfort Ville to Delle.
Above. The station at Grandvillars undergoing modernisation.



Intercites 100% Eco to Strasbourg with BB 15016
The only traditional express that exists nowadays on the main line from Paris-Est to Strasbourg is the Intercité 100% Eco, a coupon of 7 Corail Plus carriages hauled by Sybic or more recently by a Class BB 15000 which are more than familiar with the route. The low cost trains operate on Fridays - Sundays and complete the journey to Strasbourg (with a stop at Nancy) in 4h25m compared to 1h46m on the TGV.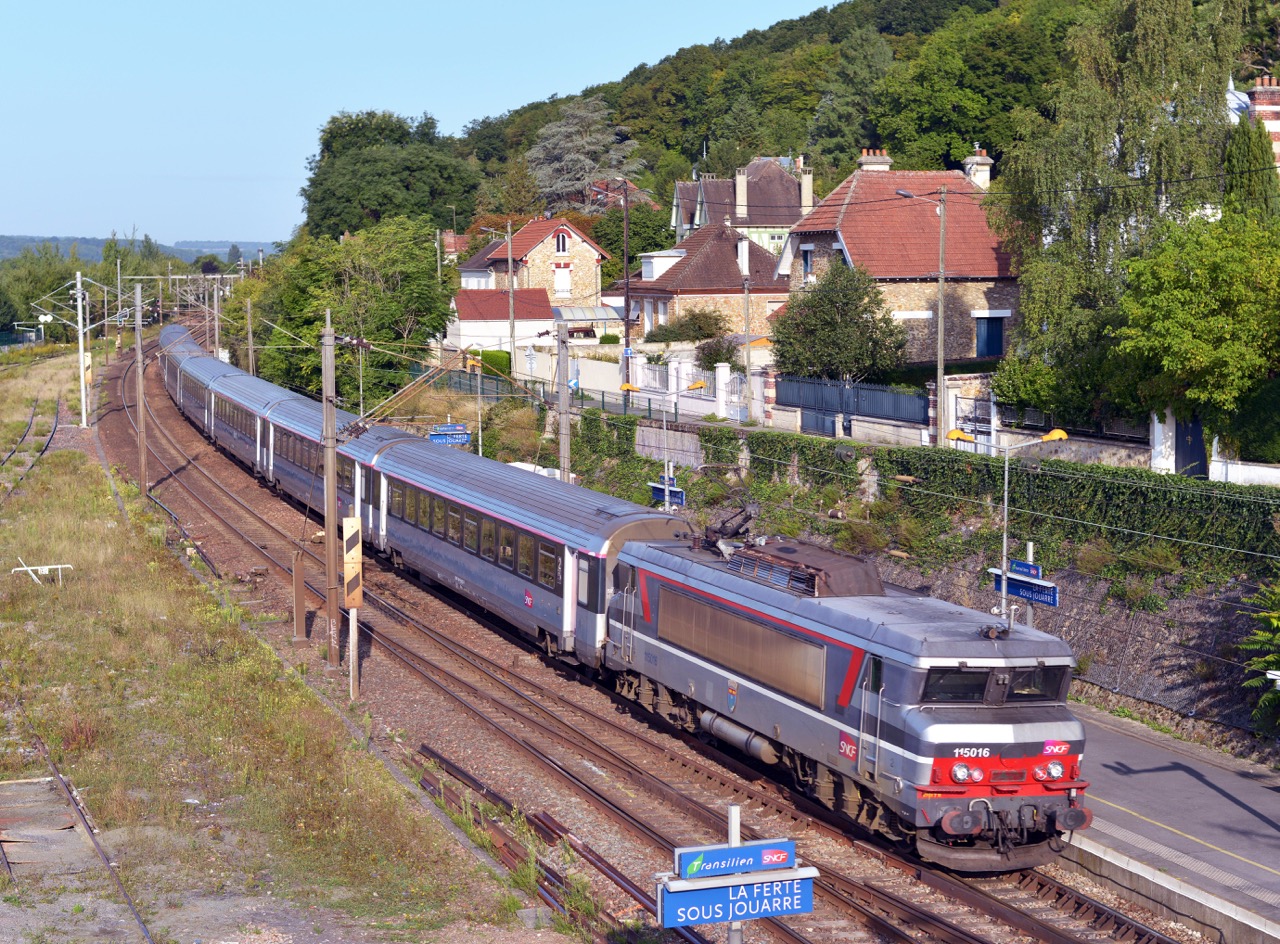 The cost comparison (2nd class) with the TGV is most interesting for travel at short notice. For a journey Paris - Strasbourg one week away the Intercité is 25 euros while the TGV is ... 107 euros !!. The journey one month away would cost 15 euros compared to 83 euros on the TGV. Two months away the TGV would cost 45 euros compared to the Corail Intercité 100% ECO which would remain at 15 euros.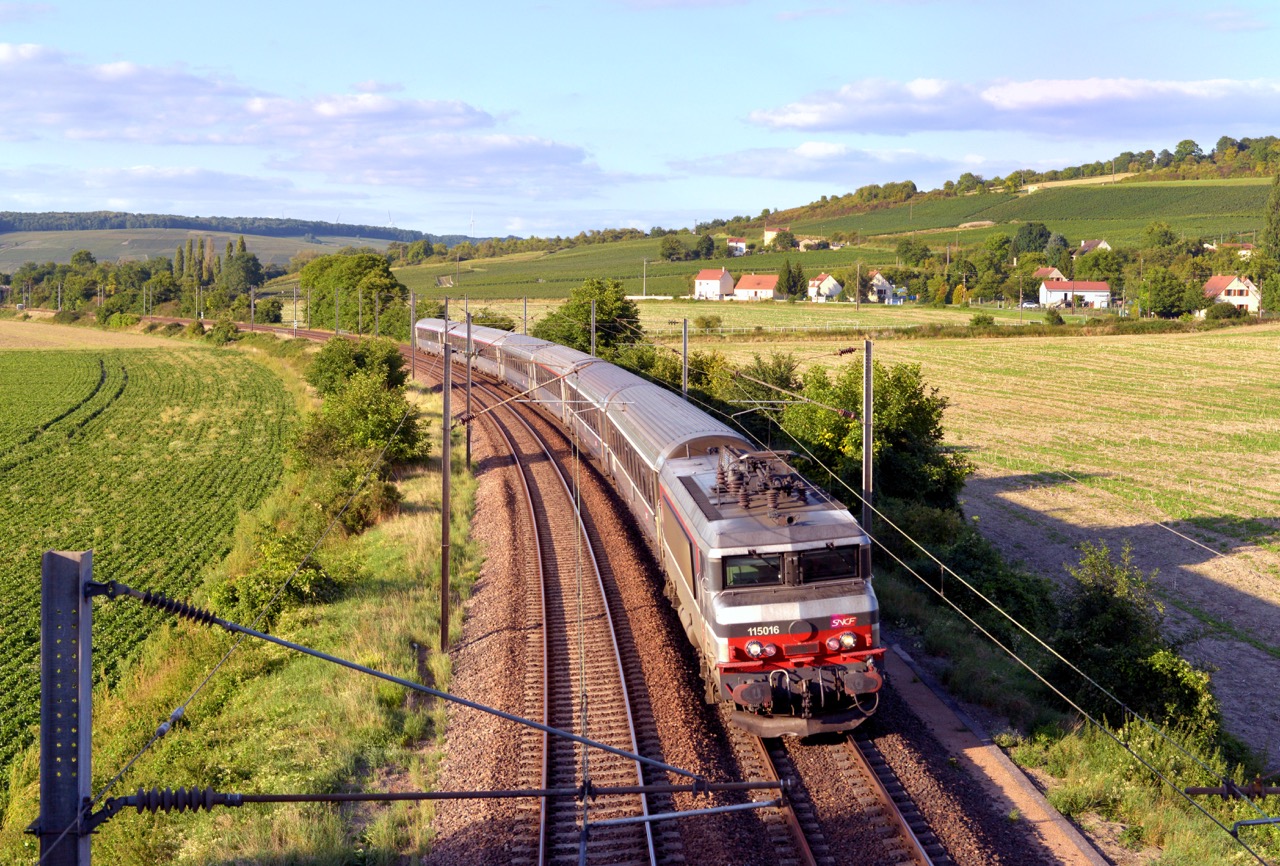 Our intrepid contributor, D.Michel Costes, got up early on August 20th to photograph the 08:21 from Gare de l"Est, a traditional long distance "rapide". as it passed through La Ferté-sous-Jouarre at 08:57 hauled by BB 15016. Ten hours later, the train returned from Strasbourg and was photographed in the Marne valley at Nogent l'Artaud with 15016 still in charge. Impressive day for the 43 year old locomotive that has already run 10 million kilometres.
The achievements of French engineer Paul Bodin link France and China in the Massif Central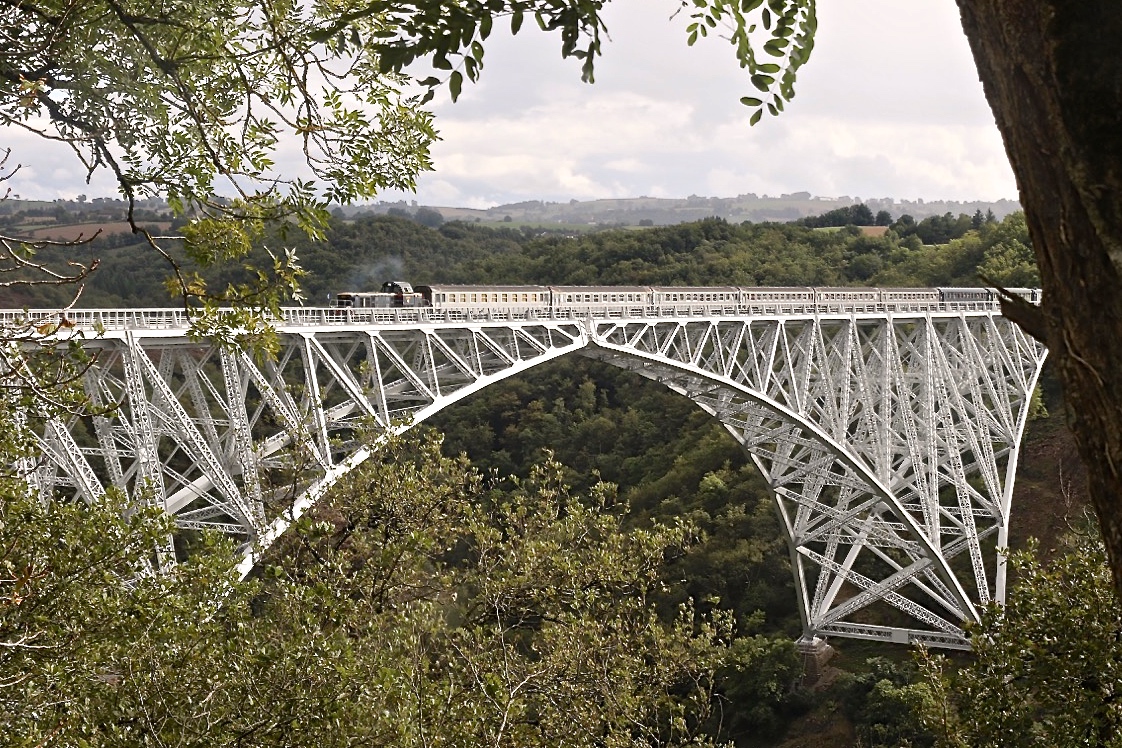 On Saturday, September 16th, a special train called « le train de Jaurès à Bodin » ran from Toulouse to Naucelle on the Toulouse – Rodez line. It was to celebrate the end of the painting works and a French-Chinese twinning.
The metallic viaduct of Viaur, designed by the engineer Paul Bodin and built by the Société de Construction des Batignolles, allows since 1902 the railway line Toulouse - Rodez to cross the profound valley of Viaur, thanks to its innovative system of well-balanced arches. This viaduct was repainted last year and was also the object of some work on damaged metallic parts. These works cost 26.5 millions of euros.
Paul Bodin is also at the origin of the viaduct of "Faux Namti" in China, on the Yunnan Railway which links Hanoi and Yunnanfou (Now Kunming). This kinship between both viaducts was celebrated with the consul of China and a work of art symbolizing this event was inaugurated next to the viaduct.
Above BB 66304 and the special train Toulouse – Naucelle is on the viaduct of Viaur. This train was, regrettably, diesel hauled as 141 R 1126 is still under repair. Text and photo: Georges Turpin
Signal Failure causes four days of turmoil at Montparnasse
At the end of July SNCF suffered it biggest disruption to services this century when a signal fault caused numerous cancellations and delays on services from Paris Montparnasse to Western France over one of the peak holiday weekends. The fault was first detected just after midday on Friday 28th July and at 18.00 an isolation fault was reported from the PRCI (Control Centre) at Vanves causing major disruption and cancellations to Friday evening peak services. This PRCI covers the initial 7kms from Montparnasse.
After traffic had stopped that night engineers started manual checks on the 17 electrical cabinets and thousands of cables. They replaced a defective item but the situation was not satisfactory and numerous services were cancelled, delayed or transferred to Austerlitz on the Saturday.. It seems there was no contingency plan for such an occurence. Communication to the public was based on 4 different databases of information. None was co-ordinated so they were often different and out of date. Chaos reigned as numerous travellers were sent from Montparnasse to Austerlitz to find that their TGV in fact would depart from Montparnasse or was cancelled. SNCF communicated principally on Twitter which left a substantial number of passengers in the dark.
On Saturday night the the fault was isolated to three suspect cabinets. On Sunday morning due to the risk of false green signals, the drastic decision was taken to make 54 signals 'marche a vue' red (can be passed at slow speed looking out for train in front) as well as making 36 electric points manually operated. By this time Montparnasse was totally blocked and traffic did not resume until 14.30.
On Sunday night only five and a half hours were available for trouble shooting and the problems continued into Monday with 75% of trains operating. On Monday night Montparnasse was closed from 22.00 to 06.00 and at 07.50 on Tuesday 1st August SNCF finally announced via Twitter that the fault had been resolved. Traffic then began to return to normal.
The result was 360 trains were cancelled or delayed by a total of 15,000 minutes. SNCF subsequently revealed that the cause was a fault involve modifications being made to increase the capacity at Montparnasse. The four and a half days taken to resolve the problem was in part due to the absence of senior technicians who had worked long hours preparing the two new LGV lines and had then gone on holiday. (Mike Swinn)
Class BB 8100s arrive at Sotteville
Since 2010 the former Triage Yard at Sotteville has been used to store withdrawn and surplus locomotives, the majority being scrapped at the adjacent Quatre Mares Works. Over the years the number has varied between 250 and 400 locomotives.
In the early days classes BB 63500, BB 66000, CC72000, BB 16000, BB 16100, BB 16500, BB 7200 and loco-tracteurs dominated, while BB 67400s have been a constant theme. Some locomotives have been cut up quickly others seem to have been here from the beginning.
More recently arrivals have been TGV power cars, BB 17000, BB 25500, BB 26000 and CC 72100s. There has also been the occasional surprise with the odd BB 9200 and A1A 68500 turning up. Most surprising has been the recent arrival of ten class BB 8100s, a mix of the original and later BB 80000 series designated for ECS duties. Two of the locos BB 8252/8266 were withdrawn in December 2002, while two others retain
their olive green livery with BB 8257 still carrying its cast number plate.
The photos in the gallery below (click to enlarge) were taken on 24th September and shows the BB 8100s, 72179/151/138/177 and the views from either side of the Pont de Quatre Mares that spans the yards at Sotteville
La Scarpe returns to St Valery
'La Scarpe' a 1907 Courpet-Louvet 0-6-0T, and the only surviving locomotive to have operated on the Baie de Somme network before preservation finally returned to St Valery on the 5th September.
From 1951 until 1965 'La Scarpe' was based at the raperie at Lancheres-Pende on the Cayeux line and for three months every year would bring in sugarbeet from the surrounding fields and shunt the raperie sidings. In 1967 'La Scarpe' was acquired by the Tramway de l'Aisne in Belgium where it worked until requiring major overhaul. It has been out of use for some years and was finally acquired in 2016.
At a ceremony at St Valery during the Journee de Patrimone Credit Agricole made a donation of €19,000 to complete the purchase.A further €180,000 is now required for a complete overhaul to return 'La Scarpe' to working order. On the 26th September 'La Scarpe' was formally declared a 'Monument Historique' that will provide state funding towards the restoration cost.
Photo: Charles-Edouard Girode
Opposite A short film by Maurice Testu with some stills and archive footage showing suger-beet operations at the Lancheres Raperie in 1958 .

St Louis - Bale tramway to open after 60 years
A new tramway at Saint-Louis (Alsace) was handed over to the operator, Bâle city transport authority (BVB), for test running at the beginning of August. This line is a 3.8 km extension of Bâle city tram line No 3 from Burgfelden Grenze at the Swiss border to Saint-Louis SNCF station. There is a project to extend this tram line further to reach Bâle-Mulhouse airport by 2022.
This will be the 4th time that Swiss trams have crossed into Saint-Louis. The first incursion was during 1900 - 1914 when Alsace was part of the German empire. Then, after the war from 1923 - 1939 the tram line was re-activated. After the second world war, the line opened again in 1947 but closed in 1957 after Bâle unsuccessfully asked the Alsacian town to share in the financial deficit.
The original route of the Swiss tramway was along the main street of Saint-Louis. When the present municipality of Saint Louis finally agreed to support the new project they did not want to choose that route again. So the new tram line passes through suburban areas and avoids the town centre.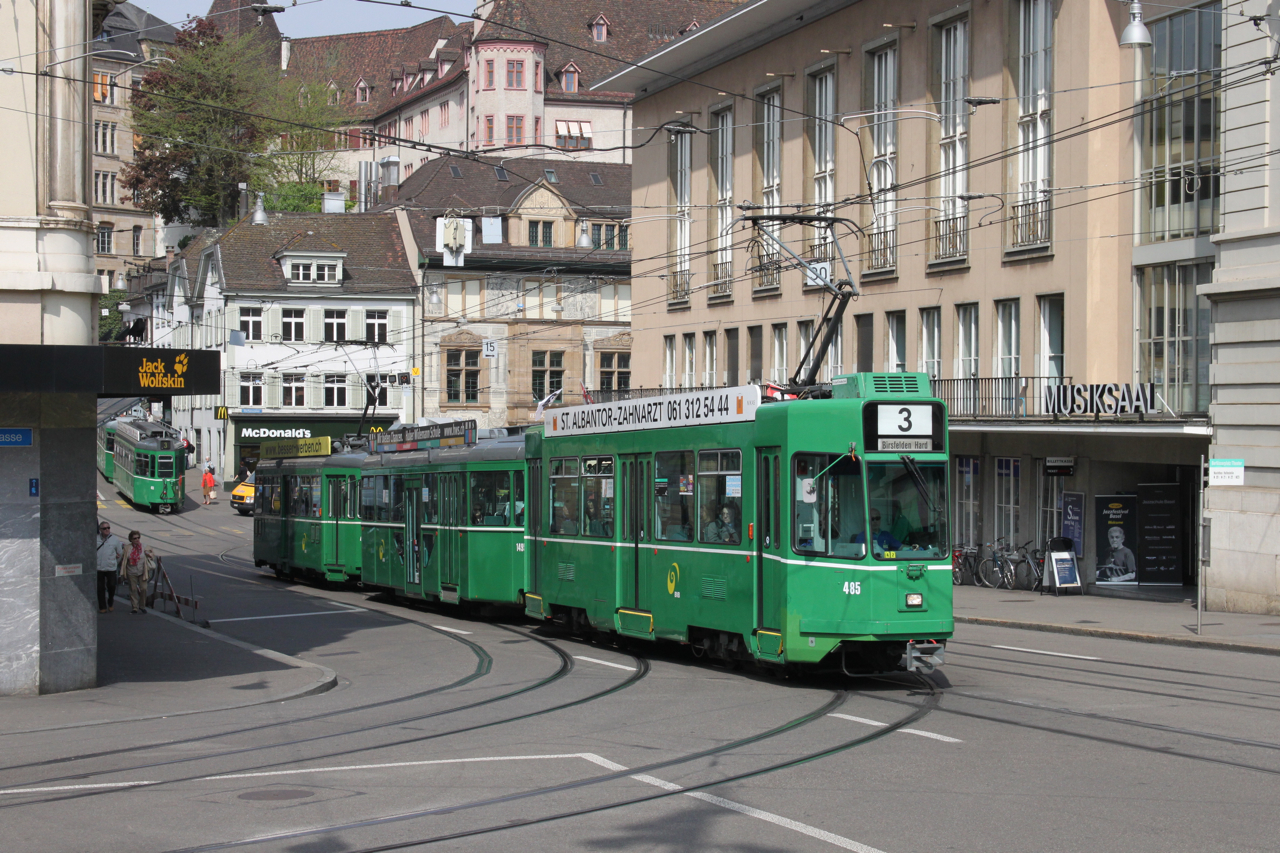 The line will open on Dec 9th 2017 and it will be operated with the latest Bombardier Flexity Basel trams. A new multi storey car park is being built adjacent to the Saint-Louis terminus Cross border workers ("frontaliers") are expected to use the tram to avoiding increasing road congestion at the border and in Bâle. It will take approximately 20 minutes to travel from Saint Louis Gare SNCF to the centre of Bâle (Barfusserplatz) on the tram. There will be a tram every 15 minutes.

© Peter Lovell & Graham Skinner. The French Railways Society 2017. Thanks to Georges Turpin, Christophe Masse, D Michel Costes, Patrick Bennett, Charles-Edouard Girode and Mike Swinn. Photos by authors unless credited.
Merci beaucoup à Georges Turpin, Christophe Masse, D Michel Costes, Patrick Bennett, Charles-Edouard Girode et Mike Swinn.