December 2019 News
Early morning at Gare du Nord. 231 K 8 with CC 40110 (dead in tow) wait to leave a deserted Gare du Nord with the special to Longueau on the 5th October. Photo Erwan Quintin
Grand Est to expand border rail links
During 2019, Grand Est Region concluded agreements with 3 neighbouring German regions to expand existing local cross border rail links and introduce through services.
These are the seven Franco-German local lines to be further developed;

Saarland
Metz - Forbach(F) - Saarbrücken
Strasbourg - Saarbrücken
Rhénanie-Palatinat (Rhineland)

Metz - Thionville(F) - Trier
Strasbourg - Lauterbourg(F) - Karlsruhe
Strasbourg - Wissembourg(F) - Neustadt
Baden-Würtemberg
Strasbourg - Offenburg
Mulhouse - Mulheim

On October 22nd, Grand Est Region placed an order with Alstom for 30 Régiolis 4 coach train-sets, bi-mode (diesel + electric) and bi-voltage (25 kW / 15 kW). These units will be compatible with systems in France and Germany. A prototype will be produced to test the compatibility in each country. The new trains will run up to 160 kph, with a 1st class compartment, space for bicycles, and WC accessible by wheel chairs. The cost of the order is 376 million euros to be borne by Grand Est. The German regions will share 50% of the cost of the prototype. Later they will share in running costs of the new trains. Delivery is planned for 2024. Where necessary, the lines will be upgraded and renewed. Invitations to bid will be invited to select an operator for the seven lines.
In addition, Grand Est ordered a further 9 Regiolis trains for their fleet in Alsace. In total, the investment amounts to 500 million euros. All the units will be assembled at the Alstom factory in Reichshoffen, Alsace, a welcome boost for the local company.
Autumn in Paris
A small selection of some recent interesting workings in Paris captured by Erwan Quintin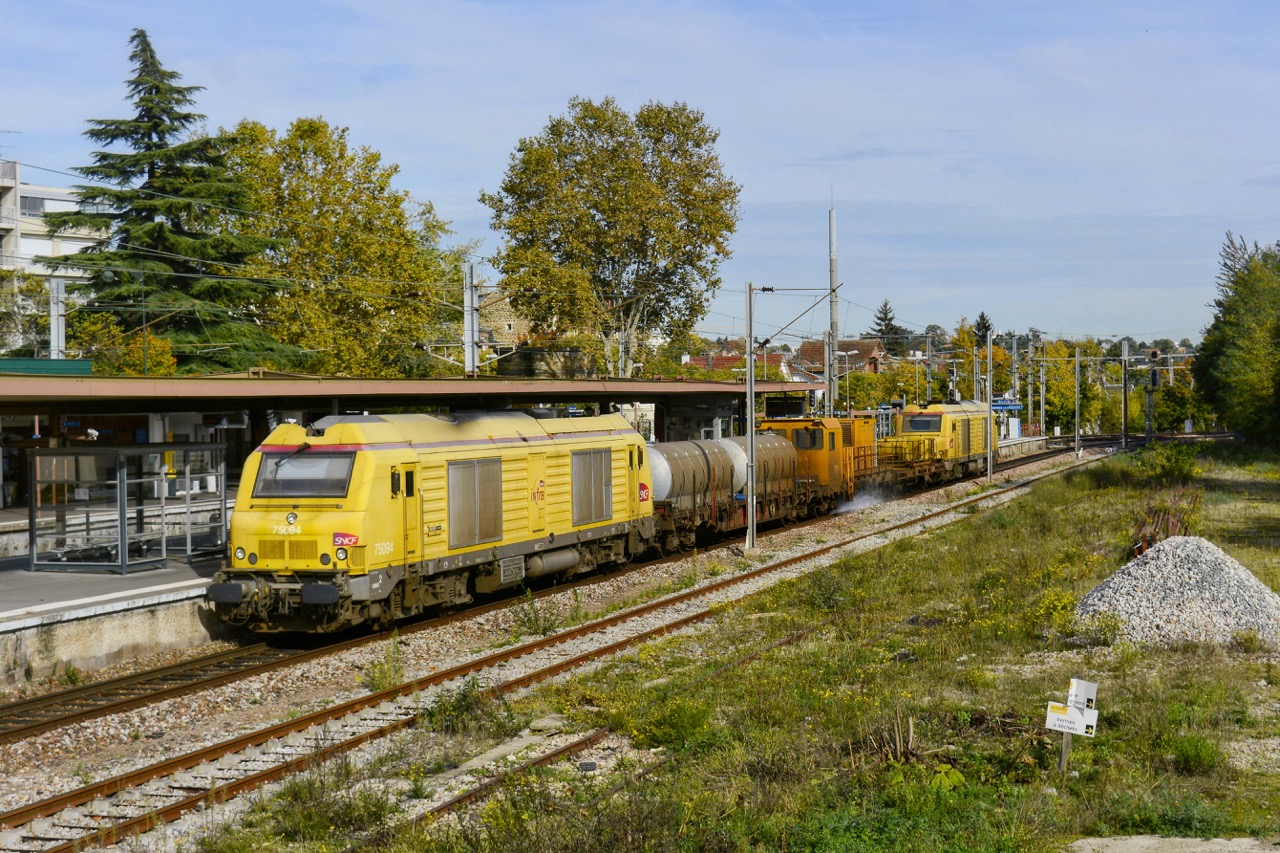 The leaf busting season in France. BB 75094 heads a rail head treatment train through Garches Marnes La Coquette, west of Paris on the Saint-Nom-la-Bretêche branch of RER Line L. Photo Erwan Quintin
BB 69542 passes through Pont de l'Alma on RER Line C with a measurement train consiting of Mauzin 213 + IES171 on the night of 15th November 2019. Photo Erwan Quintin.
CMR's BB 67614 passes through Villennes-sur-Seine on 14th November 2019 with three postal coaches destined for AAPSL (Amicale des Agents de Paris St Lazare who are preserving BB 17016 at Acheres) at Clichy Levallois. The three postes originated from the now defunct TVT (Trains à Vapeur de Touraine). They will be restored as part of a museum project
BB 67251 heads through the cutting at Chaville between Versailles and Montparnasse with a measurement train with Mauzin 212 on the 27th November 2019. Photo Erwan Quintin
BORDEAUX - NANTES, a revival in view ?
The long awaited modernisation of the line from La Roche-sur-Yon to La Rochelle (103 km) begins at the end of this year. From Jan 6th 2020 this section of the Nantes - Bordeaux line will be closed until May 29th 2021. 15 months to rebuild a section that contains track infrastructure dating from 1930's. The most recent elements date from 1950's. The signalling dates from the beginning of the 20th century (Block Manuel 1913).
The work which is now underway will comprise the removal of all elements of the double track line and renewal of track 2 as a single track line with passing loops at Luçon and Marans. The track bed will be rebuilt at certain points and new rails, sleepers and ballast will be laid. 13 new points will be installed. 15 of the 69 level crossings will be renewed. The mechanical signalling will be removed and replaced by a "state of the art" digital signalling system ((NeXT REGIO centralised BAPR) using optical fibre cables and controlled from La Roche-sur-Yon). The objective is to return the line speeds to 110-130 kph ( currently the line is limited to 60 kph ).
The cost of the modernisation is estimated to be 152 million euros (a few years ago it was discussed at around 125 million). In fact, the future of this section of the Nantes - Bordeaux line has been debated at annual round table meetings for more than 15 years: With, frankly, little progress or urgency. New rolling stock (Coradia Liner) was introduced to run on 70 years old infrastructure restricted, in 2016, to speeds that added one hour to the 4 hour journey.
Nantes is a metropole with a population of 639,000 on the west coast of France. Bordeaux is 350 km to the south, a metropole with a population of 733,000. The railway line was opened in 1871. It serves La Roche-sur-Yon, La Rochelle, Rochefort, Saintes notably. In 1975, the best trains (diesel hauled) operated along the line with 4 or 5 stops in 3h47 - 3h54 ( 5 hours today). The objective is to return the rail journey between the two metropoles to 4 hours, competitive with the journey by road (mostly by autoroute).
Unfortunately, there are still other sections ( between Saintes and Bordeaux) which need renewing to attain the 4 hour target. Currently there are reports that Nouvelle Aquitaine has recently financed a first stage of urgent repairs to those sections where speed restrictions are in place.
The view from the crows nest
As the autumn colours set in, we return to one of our regular locations, the view from the churchyard at Meulan Hardricourt, on the more northerly line from Mantes la Jolie to St Lazare via Conflans-Sainte Honorine. Above. On the 2nd November BB 15013 passes by with a diverted Cherbourg - Paris St Lazare service. Below. Shortly afterwards Europorte E4026 heads a lengthy train of new Renault vans from Le Havre to St Germain au Mont d'Or (near Lyon). Both photos Michel Costes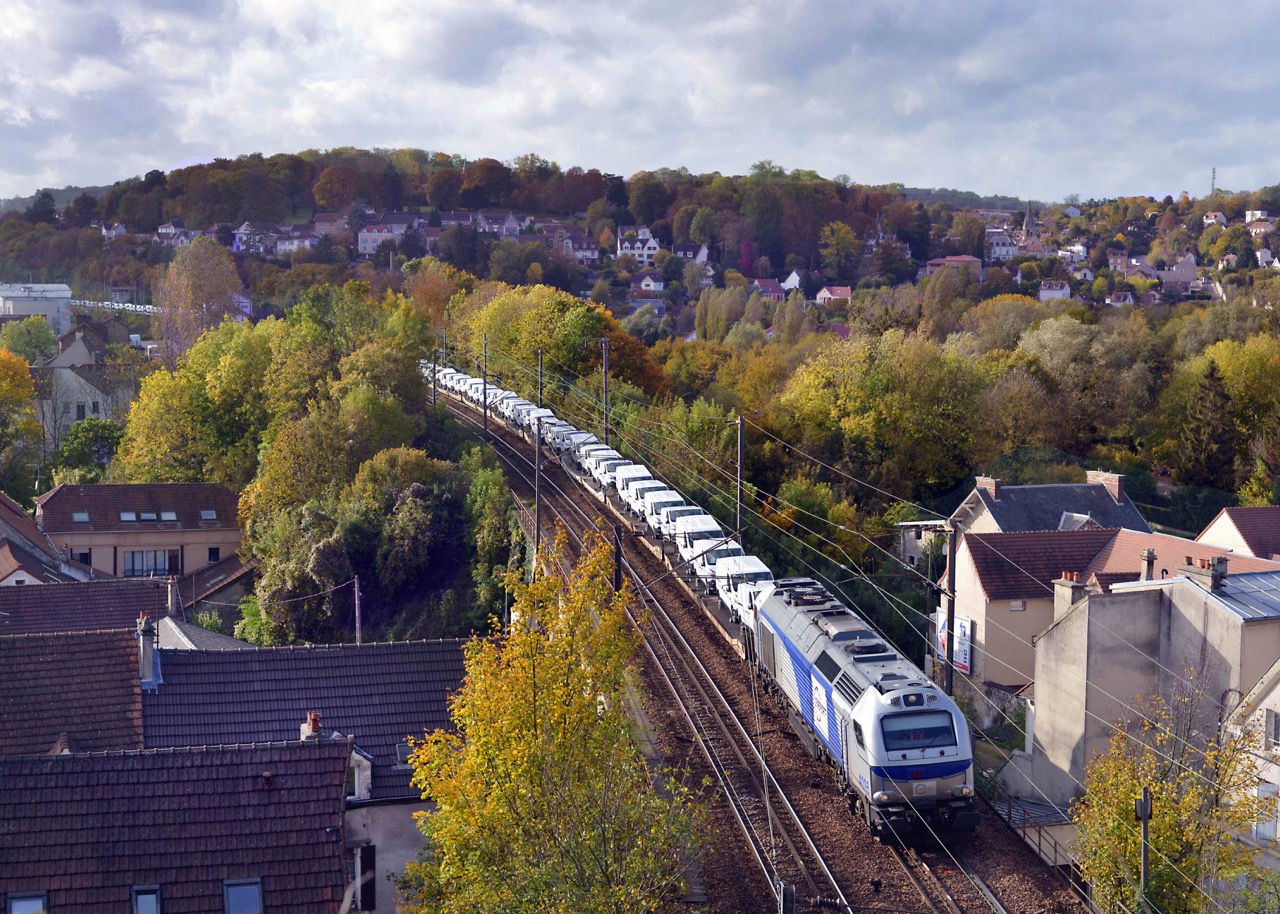 News in Brief
Fades Viaduct wins €500,000 in Lottery
In the second Patrimoine Lottery organised by TV presenter Stéphane Bern, the historic Viaduc de Fades (Puy-de-Dôme) was chosen as a leading subject. In September, a cheque for half a million euros was handed over to the local commune in connection with the projet to restore the ageing structure. More will come at the end of the year. A very welcome boost for preservation of a historic structure.
141 R 1199
Since it was returned to SNCF following the dispute with Loco Vapor R1199 at Nantes, 141 R 1199 has been stored at Le Mans making occasional appearances at Patrimoine events. Two further events are scheduled for 18th December (10:00 and 14:30) that will include a guided tour of the locomotive followed by a visit to the SNCF Historic Archive Centre. Reservations through Le Mans Tourist Office
via this link
Winter of discontent
As indicated in the article in
November News
(Changes at the top) industrial relations within SNCF are at a low ebb largely centred around government proposals to phase out the special cheminot pension arrangements, seen as a 'must win' dispute by both sides. All unions have called a general unlimited rail strike from Dec 5th that in a worst case will disrupt travel up to and including Christmas. At the beginning of November 200 of the 700 staff at Châtillon blocked the entrance to the depot, reducing TGV services from Montparnasse by 70% for a week. The following week services on the LGV Est were disrupted.
Ligne De Cevennes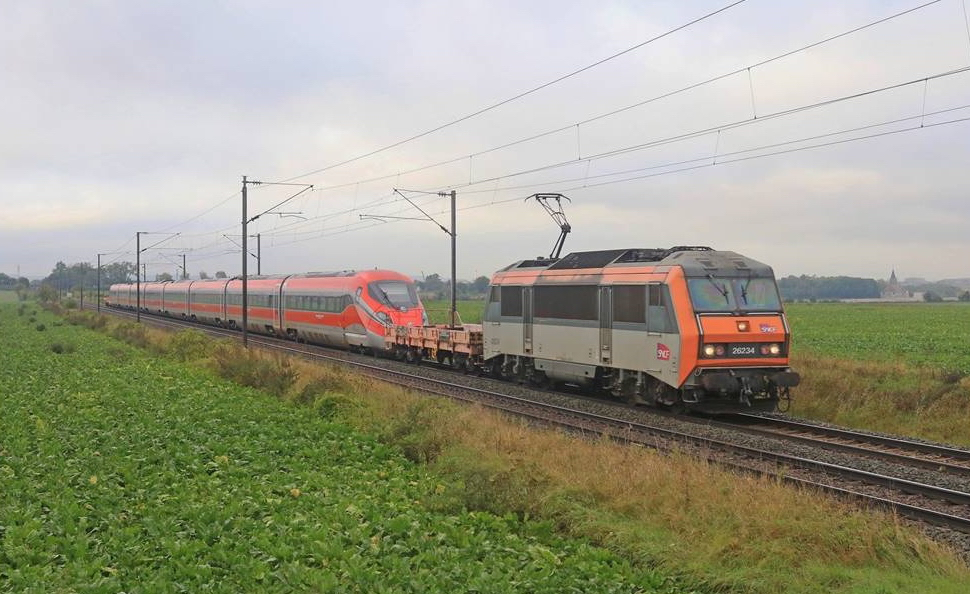 Zefiro V300s on test
For the last three months two Trenitalia Zefiro V300 units have been on test in preparation for Thello's Paris - Lyon - Chambery - Turin - Milan high speed service scheduled to commence next summer. Following track circuit testing between Plouaret-Tregor and Plounérin ( Cotes d'Armor) BB 26234 is seen above at Dammartin – Juilly – Saint Mard (77) returning to Le Landy in readiness for tests on LGC Nord. Photo Christophe Masse
Annemasse, inauguration of the new SNCF station
On Friday Nov 15th, the new station at Annemasse was officially opened although work is not completely finished, notably on the access roads and station square. The modernisation will have cost 50 million euros and was necessary to accommodate a considerable increase in numbers of trains and passengers expected from Dec 15th, the opening date of Léman Express (see main article below).
Features of the new station include a new island platform F/G that is 318 m long and will be dedicated to trains coming from Geneva that terminate at Annemasse. All the other platforms were rebuilt to the correct height and length for the LEX trains. A new pedestrian subway has been constructed north/south under the site. It serves all four platforms by stairs and 4 lifts. The original station building has been renovated and a larger passenger hall has been created.
It is expected that annual numbers of passengers using the station will rise from 800,000 to 4 million. Numbers of trains daily will increase from 80 to 270. The track layout has been optimised to separate freight movements from passenger train movements. A new technicentre has been created to service the fleet of 17 Regiolis electric LEX train sets.
Léman Express (Part 4) - Final Count Down
Timetables and tickets
INTRODUCTION

We have previously published 3 episodes about the count-down for Léman Express (September - November).

2 weeks to go !!
On December 15th, 2019, the most extensive cross-border regional rail network in Europe is scheduled to open in the "
Grand Genève
" territory. This area comprises the Swiss canton of Geneva (in the centre) surrounded by adjacent parts of the canton of Vaud and parts of the French départements of Ain(01) and Haute Savoie(74). This territory contains a population of more than one million inhabitants. It has experienced strong growth in jobs and residents during the last 30 years. Between 1990 and 2014, the population of the territory increased by 37% and the number of jobs increased by 23% to 451,000 jobs.
The jobs are primarily located in the canton of Geneva (> 300,000 jobs) and in the Nyon(Vaud) area (> 40,000 jobs). A majority of the population of
Grand Genève
is located in the French towns and villages that surround the urban centre of Geneva. As a result, there is increasing road traffic in and out of the urban centre totalling, at present, more than 600,000 border crossings daily (an increase in recent years of 20%). 55% of border crossings are work related. The Léman Express project is particularly designed to offer an attractive new public transport system to "frontaliers" as an alternative to motor vehicles and traffic jams. Léman Express will be operated with a new multi-modal ticket -
Léman Pass
- that will provide seamless travel across the Franco-Swiss border around the Canton of Geneva, on board all the Léman Express trains, but also on suburban buses and coaches and Swiss trams. We describe the
Léman Pass
in more detail below.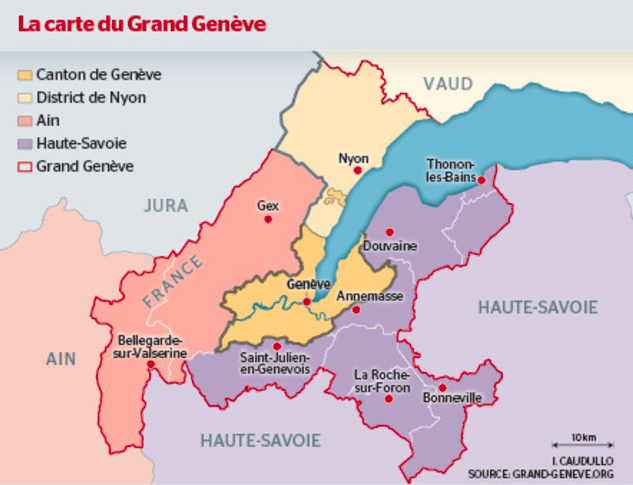 Timetables
The principal artery (29 km) of the new Léman Express rail network is the single track suburban line from Coppet (Vaud) to Genève Cornavin, extended by the new double track CEVA link, mostly underground, from Cornavin to Annemasse(F). Four of the six Léman Express routes run on this artery, from Coppet to Annemasse. Three of those routes continue along branch lines to Evian (L1), Annecy(L2) and St Gervais(L3). Léman Express routes L5 + L6 run to Bellegarde(F) from Genève Cornavin on the double track main line along the Rhône valley.
In addition, a CFF RegioExpress (limited stop) service will run from St Maurice, Vevey and Lausanne to Annemasse via the CEVA link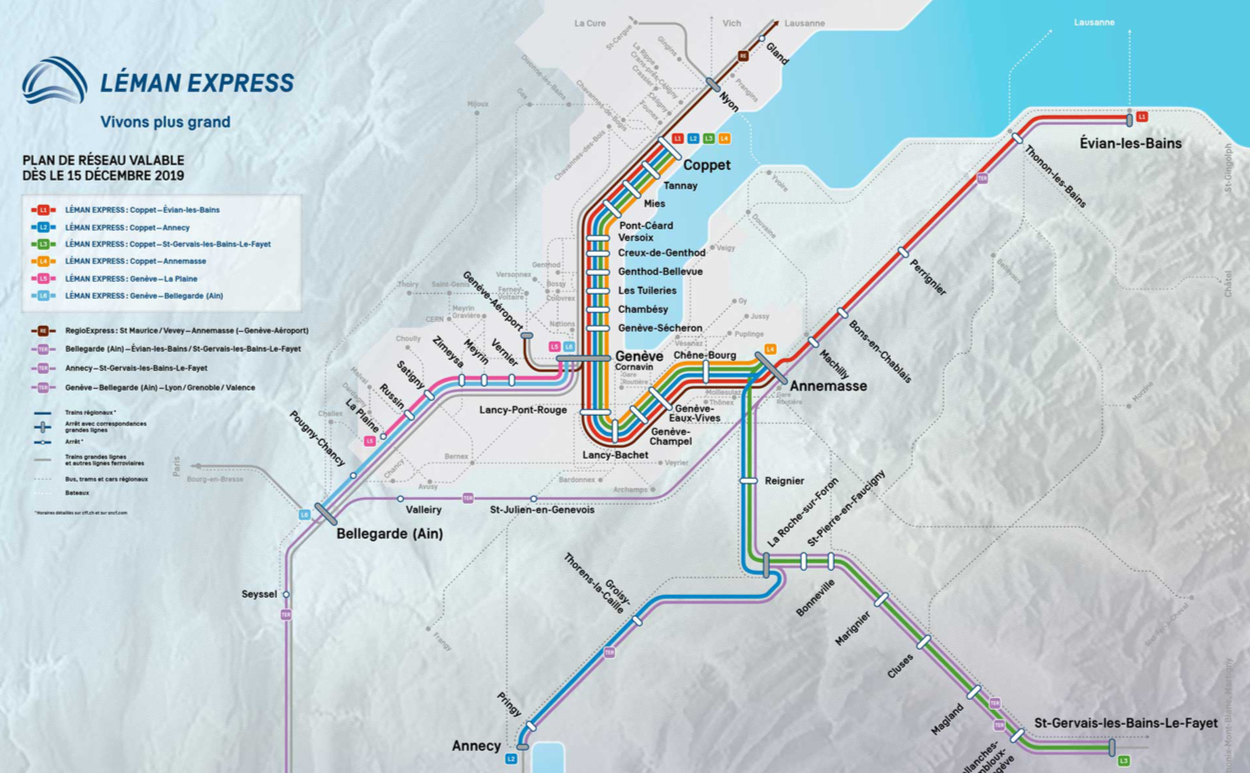 Coppet - Genève Cornavin - Annemasse ( L1 - L4 )
The basic timetable (Mondays to Fridays) along the principal artery provides 4 LEX trains an hour each way between 5.00am and midnight. The journey time to Annemasse from Coppet will be 51 minutes with 15 intermediate stops. From Genève Cornavin to Annemasse, the journey time will be 23 minutes with 5 intermediate stops. In addition, there will be two CFF RegioExpress services an hour (Mondays to Fridays) that will stop only at Coppet, Genève Cornavin, Lancy-Pont-Rouge and Eaux-Vives. On Saturdays and Sundays, that frequency will be reduced to one RegioEXpress an hour each way. On Sundays, the frequency between Coppet and Genève Cornavin will be 2 LEX trains an hour.




Annemasse and branches in Haute Savoie
The LEX services from Annemasse to Evian, Annecy and St Gervais will vary according to the time and the day of the week. On the branches in Haute Savoie, the train services will be operated either by through LEX trains coming from or going to Geneva and Coppet, or by Auvergne Rhône Alpes TER trains which will start or terminate at Annemasse. In other words, if you are crossing the border to or from Geneva, you may or may not have to change at Annemasse depending on the timetable and the destination or origin of your journey.
The journey time between Evian and Annemasse (L1) is 37 minutes. The journey time between Annecy and Annemasse (L2) is 57 minutes. The journey time between St Gervais and Annemasse (L3) is 68 minutes. Layover time at Annemasse is 6 minutes for L1, 9 minutes for L2 and 7 minutes for L3. The LEX trains to/from Annecy will be operated by Flirt France units.
The LEX trains to/from Evian or St Gervais will be operated by LEX Regiolis trains.

The Léman Pass
Léman Pass
is a new multi-modal ticket that will be available for international transit across the border within a perimeter that covers a large area of Grand Genève. The area of validity of Léman Pass is shown on various diagrams here:
Léman Pass plans
Léman Pass
is only valid for a journey
which includes a border crossing
. If your journey is entirely in the Canton of Geneva then you continue to use the UNIRESO multi-modal ticket system. If your journey is entirely in France then you should continue to use the Auvergne Rhône Alpes TER tickets and passes which are valid on all trains (including Léman Express) on the French side of the frontier
The area covered by Léman Pass is divided into zones (see plans). Zone 10 is in the Canton of Geneva. Adjacent zones, 210, 230, 240, and 250, correspond to Annemasse, Saint Julien, La Plaine, Pays de Gex. Non adjacent zones further away from the centre include 380 (Annecy), 400 (Bellegarde).
Léman Pass
is available in the form of annual or monthly season tickets, Day or Five Day Passes or single journey tickets. Léman Pass is usable on all trains on the Léman Express network*, and on urban and suburban buses, coaches and trams.
The Léman Pass tickets can be purchased from vending machines or on the web site. Season tickets can be loaded on to SwissPass or the OURA card in Auvergne Rhône Alpes. All other tickets are printed on paper. Single journey tickets and day passes are valid from the date and time purchased. Single journey tickets are valid 90 minutes for journeys between adjacent zones and 180 minutes for other journeys. As Léman Pass tickets are time limited there seems to be no obligation to "compost" them. We are not sure how that will work on the French side of the frontier where composting or no-contact validation is the rule.
Léman Pass tickets can be chosen for a cross border journey between two points, or two adjacent zones or from a point (e.g. Annemasse SNCF) to Zone 10 (anywhere in central Geneva).
* (note; Léman Pass is not valid beyond Pont-Céard on L1-L4. The last 3 stations, Mies, Tannay, Coppet are excluded from Léman Pass. We don't know why).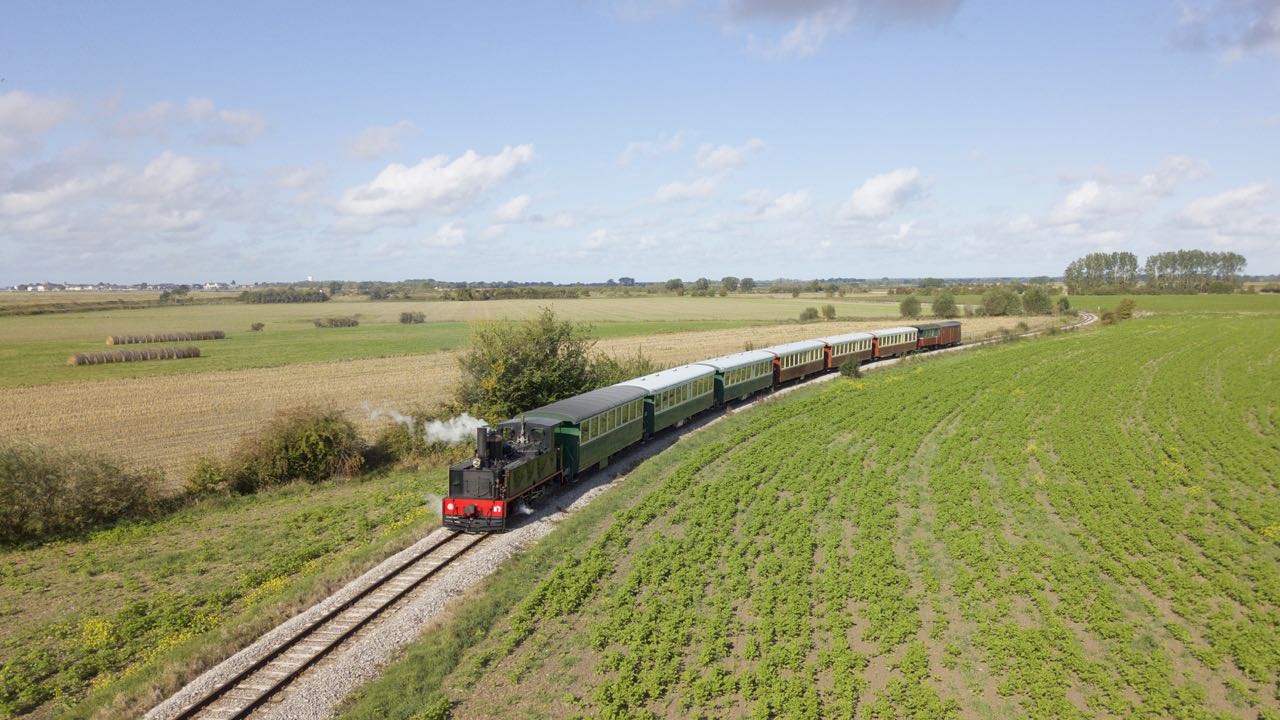 CFBS passes 200,000 passenger mark for season
On the 10th November, the last day of scheduled services, the CFBS (Chemin de Fer de la Baie de Somme) carried it's 200,000th passenger of the season. This is the first season when 200,000 passengers have been carried, although passenger numbers have exceeded 190,000 in recent years. The heatwaves in the south during July and August are believed to have had an impact with holidaymakers opting for the freshness of the north coast, in August alone 48,764 passengers were carried. Above, Cail 2-6-0T No 2 is seen between Favieres and Morlay with the morning train from Le Crotoy on 2nd October
This year has also seen a more targetted approach to match capacity with demand. Slightly fewer services were operated during the low season, with
supplementaires
provided on fetes and during the high season, where internet advanced ticket sales indicated that demand was unlikely to be met by the scheduled services.
Opposite. Turn back the clock 50 years to November 1969 and we see CFTA M42 waiting to leave Le Crotoy for Noyelles. At this stage the line has only a few more months to live.
A few days later on the 30th November 1969 a dozen people met in the waiting room at Le Crotoy and decided to form an association to save the Baie de Somme network. On the 14th February 1970 the association was formed, and the rest is history.
Photo: Charles-Edouard Girode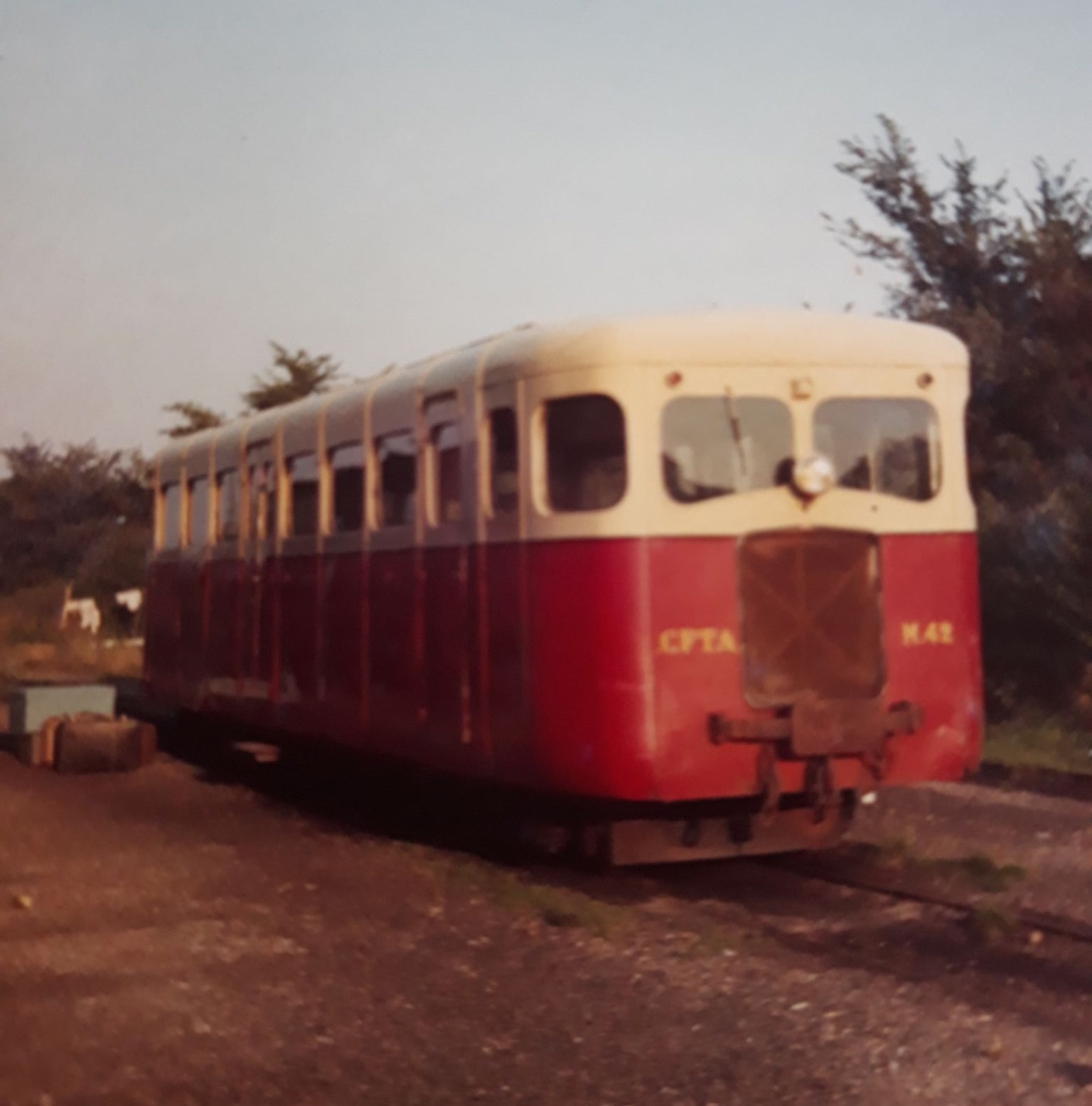 Last run of the season to Dieppe for 231 G 558

Pacific Vapeur Club's 231 G 558 season is almost over, following a very successful year. It is seen right on the 16th November leaving Sotteville with it's penultimate train of the season to the annual Herring Festival at Dieppe.


Following a successful visit to Paris in October, a further trip for the Christmas lights is scheduled for 21st December. Details from the
PVC website.
Photo Christophe Masse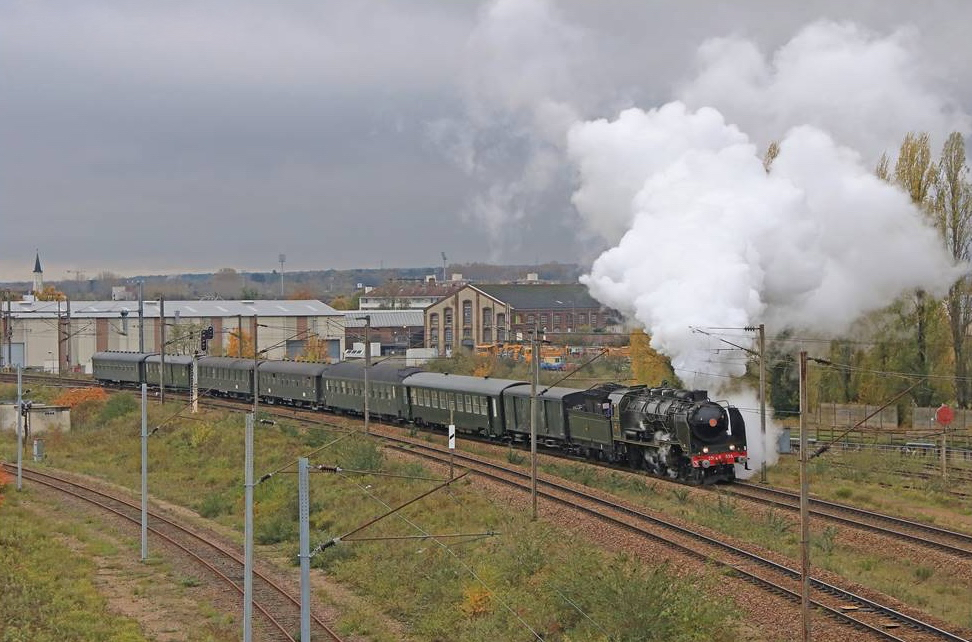 Additions to FRS Photographic Archive during November 2019
- Geoffrey Nickson - SNCF Regions 1 thru 5 ( 5 galleries) - Colour
- Geoffrey Nickson - CdF de Provence - Colour
- Geoffrey Nickson - CdF du Vivarais - Colour
- Geoffrey Nickson - CdF du Corse - Colour
- Geoffrey Nickson - Blanc Argent - Colour
- Geoffrey Nickson - Secondaires Misc - Colour
- Geoffrey Nickson - Steam Specials - Colour
- Geoffrey Nickson - AJECTA - Colour Updated
- Geoffrey Nickson - SNCF Regions 1 thru 5 - Black & White (5 galleries)
Indexes for the Geoffrey Nickson colour galleries and updated photographic indexes for the Geoffrey Nickson SNCF B&W galleries are available, and can be downloaded in Excel format, from the Public Folder linked to the website. These files are being moved from the Yahoo Group following the decision by Yahoo to reduce the fuctionality of Yahoo Group sites. The Public folder is available from the Members Page and the Photo Archive Page.
News Pages
The number of News Pages available using the drop down menu from the News and Events icon above has been reduced. Old News Pages can be downloaded in web archive format from the Public Folder accessable from the Members Page
Inauguration of the extension to Line 3, Tramway de St Etienne
At St Etienne, Loire(42), Saturday November 16th was sunny after heavy snowfall overnight. This was the day that the new extension of Tramway T3 was opened. The double track line runs northwards from Gare SNCF Chateaucreux for 4.3 km with six new stops including halls and the stadium.
The tramway network at St Etienne is metre gauge, unusually for France. The first line opened in 1881 and it has never closed. It is the oldest urban tramway operating in France.

The new line has cost 73 million euros and will carry 11,000 passengers daily in the beginning. The mayor confidently rebuffed criticism from the National Audit Office which arrived at the same time. The NAO alleged that the decision to choose to extend the tramway had been taken without all the information about alternatives. But the mayor responded saying that it was the right decision to develop this transport system into an area due to expand in the next few years.
The Public transport system at St Etienne is operated by TRANSDEV. It carries 46.6 million passengers annually of which 48% on board the trams.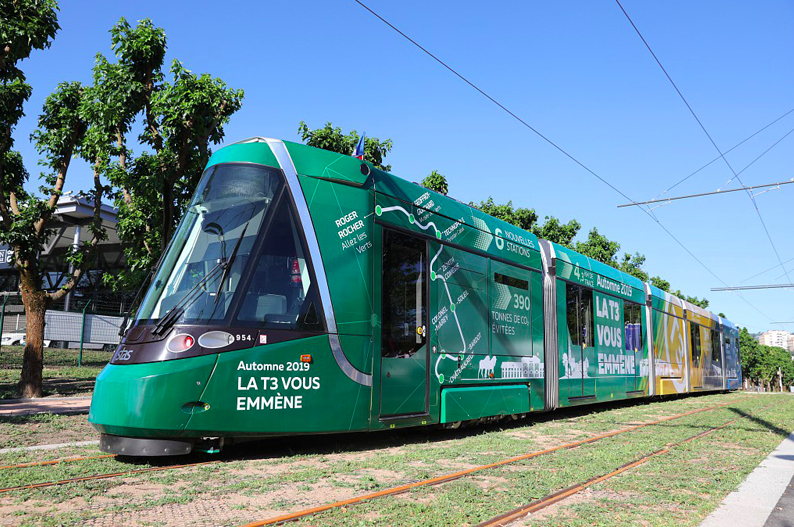 © Peter Lovell & Graham Skinner. The French Railways Society 2019. Photos by authors unless credited. Thanks to Erwan Quintin, Christophe Masse, D Michel Costes and Charles-Edouard Girode.