April 2020 News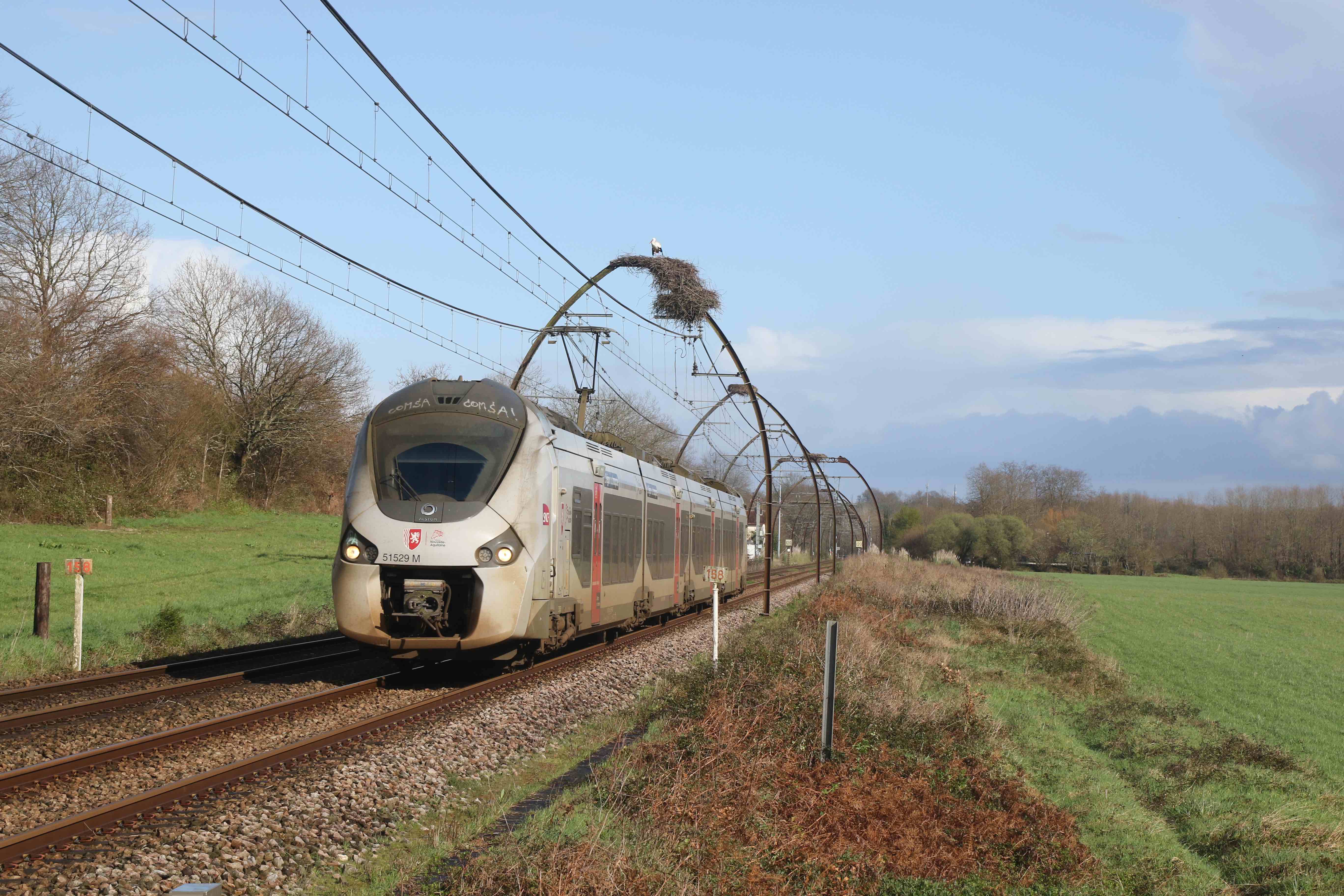 Spring migrants create difficulties in the Landes.
On March 2nd, Regiolis Z 51529 was photographed at Rivière (PK 158) between Dax and Bayonne in the Adour valley with TER 866429 (Bordeaux - Hendaye). In this area, White Storks (a protected species) have chosen to nest on the electric catenary hoops. The migratory pairs of storks return each year to the same nest.
In the early 1990's, there were just 4 couples in the valley but by 2014, numbers of couples had grown to 209. Up to 51 nests have been built by the storks on the catenary along a 9 km stretch of the railway south of Dax. This is a problem for SNCF as the company planned to replace the ageing Midi catenary with new poles in 2020.
An attempt was apparently made by SNCF to remove 10 nests and place them on new structures nearby. The results are not known. However, on March 2nd, our correspondent found one couple at PK 158 engaged in spring cleaning. Photos: Georges Turpin.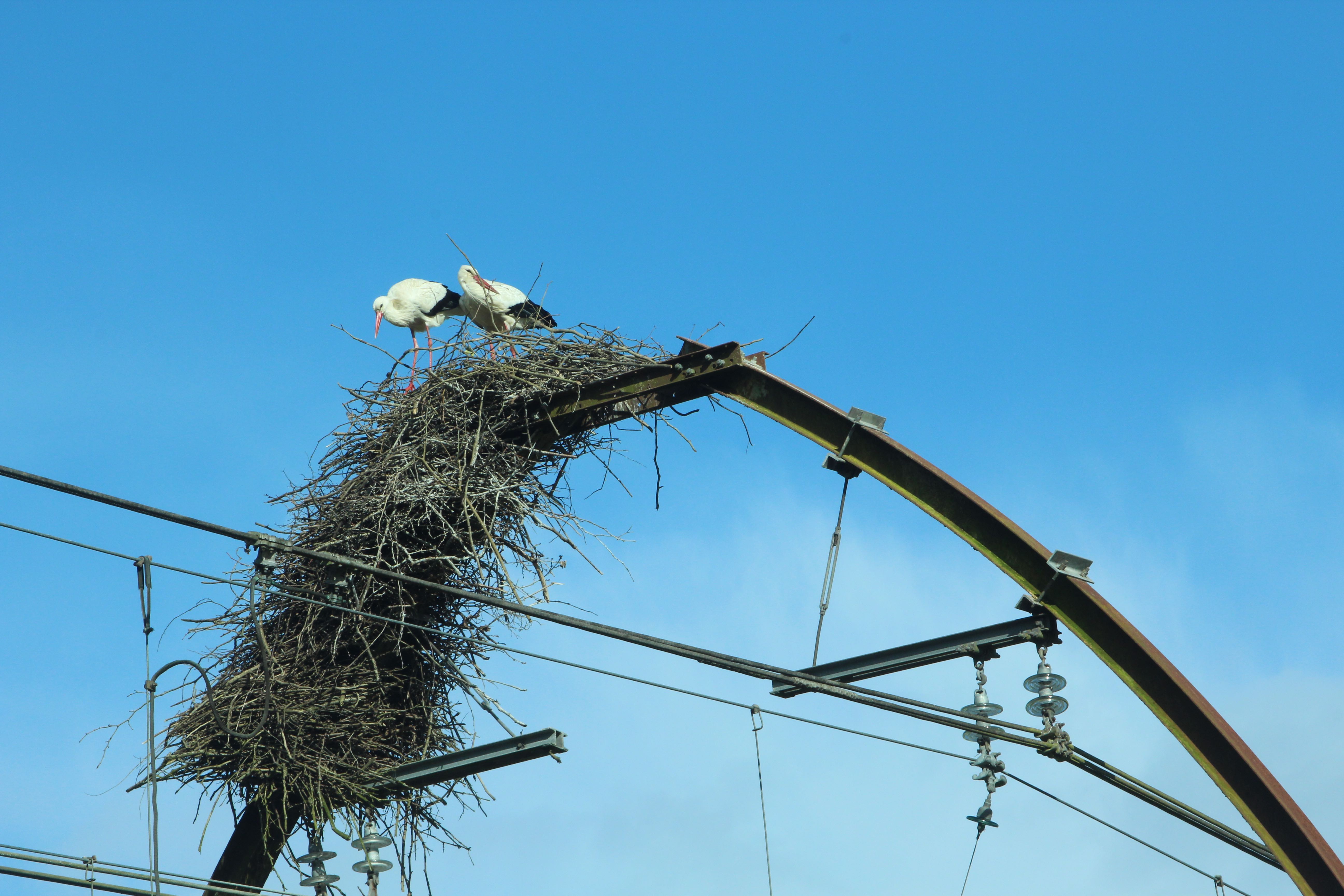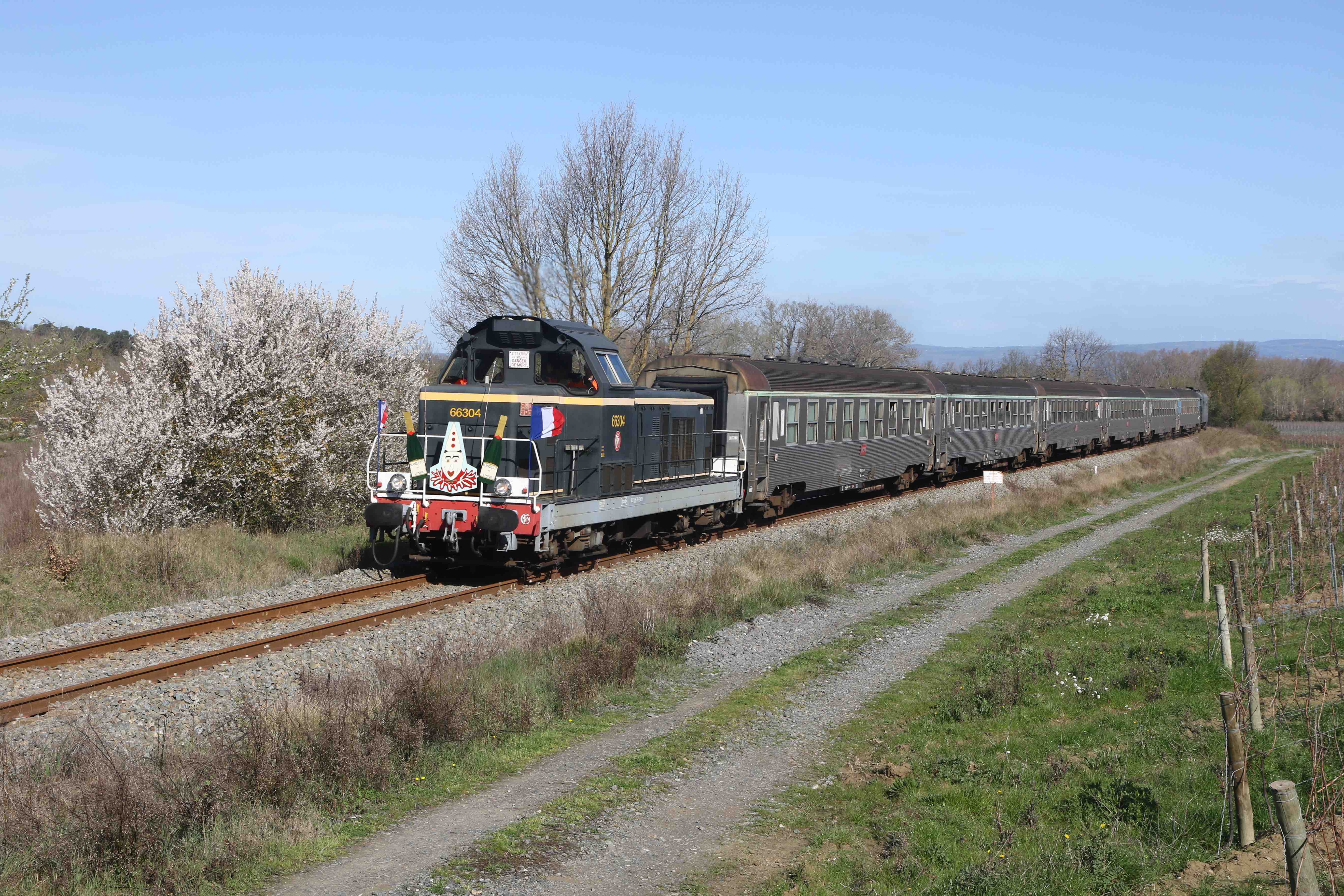 Coronavirus decimates French rail services.
The Coronavirus pandemic has brought French rail services to a virtual standstill. SNCF announced on the 13th March that services would be reduced to 80% of normal levels from the 16th March to take account of reduced passenger numbers and staff who would be unable to work following the closure of schools. With the country going into lockdown from the 16th March services were then reduced much further with about 15% of TGVs operating as only essential journeys were allowed with paperwork required such as an attestation from an employer. The available TGVs are only operating at 50% capacity to allow social distancing.
No revised timetables have been published and Information on available services has only been available by searching SNCF journey planners after 17:00 the previous day. Most TER services have been cancelled with some replaced by buses. In the Paris area passenger numbers have fallen by 90% with a consequent reduction in services. Over the weekend of the 27th - 29th March only 7% of TGV Inoui services (40 trains) ran with no TGV Ouigo services. On the principal Intercité routes (Paris Bercy - Clermont-Ferrand, Paris Austerlitz - Toulouse (via Brive), Bordeaux - Toulouse - Narbonne - Montpellier St Roch - Marseilles) there was just one train a day with none on the lesser Intercité routes (Nantes - Bordeaux, Nantes - Moulins - Lyon Perrache, Toulouse - Hendaye, Clermont-Ferrand - Beziers). Police were on hand at Paris termini and other major stations to ensure intending passengers had a valid reason to travel.
SNCF has created a hospital TGV that has been modified to carry patients with beds installed above the seats. It will be used to disperse recovering patients to areas where Covid - 19 infection is less intense. It was first used on the 26th March to convey patients from Alsace to the Pays de Loire Region. Each duplex trainset can carry 25 patients. The transport minister has also said that SNCF would consider using overnight stock if the demand increased.
On Saturday 29th March, the last two TGV Lyria trains that were still operating to Switzerland (Bâle and Geneva) were suspended. All Lyria trains have now been suspended until the end of lockdown in France and Switzerland.
The Leman Express service between Annemasse and Geneva has also been stopped.
Thalys: Just one return service, daily, Paris Nord - Bruxelles Midi until 30th April (Normally 1 or 2 trains an hour!).
Eurostar: On Sat 29th March there were 2 return services between Paris Nord and London St Pancras (Normally about 15 ) Intermediate stops at Lille Europe, Calais Frethun, Ashford International and Ebbsfleet are suspended.
Thello: All services Marseilles - Nice - Milan and Venice - Paris Gare de Lyon are cancelled until 15th April.

Preservation.
Preserved lines have initially cancelled services until the end of April. AAATV's Festival Vapeur de l'Aa on the Arques - Lumbres line has been postponed from 24th - 26th April to the 2nd - 4th October, while railtours in April and May have been cancelled or deferred until later in the year.
Probably the last railtour to operate was on Sunday March 1st, when Train Historique de Toulouse returned to the annual carnaval at Limoux. The train is seen above with BB 66304 between Carcassonne and Limoux at Conffoulons-Leuc next to the vineyards which produce a well known sparkling wine "Blanquette de Limoux". Photo Georges Turpin.
The end of February saw a number of Infra and Fret locomotives hired in to work Intercité services between Paris and Clermont Ferrand. On the evening of 20th February 2020 yellow liveried BB 22379 waits to leave Clermont Ferrand with the 19:30 to Paris Bercy. Photo Erwan Quintin
Liberalisation of TER services underway
EU law requires public transport services that require public subsidy be put out to competitive tender from December 2023. Until now France has been a reluctant participant, not wanting to add to the tension with the trades unions caused already by pension reforms and other organisational changes.
On February 24th PACA (Provence-Alpes-Côte d'Azur) invited operaters to bid for two groups of local services for a period of ten years. The first group is for the 'intermetropole' services linking Marseille, Toulon and Nice. Scheduled to start in 2025 the operator would need to supply new rolling stock and a site for maintenance would be made available at Nice Ville along with facilities at Marseille. The second group is for local services around Nice covering Nice to Les Arcs-Draguignan and Ventimiglia, the branch from Cannes to Grasse and the Nice – Breil-sur-Roya – Tende line. With takeover scheduled for December 2024 rolling stock will be provided along with a site for a depot at Nice St Roch and existing facilities at Cannes-la Bocca. The contracts both provide for an increase in annual train-km and are expected to be awarded in the summer of 2021.
Elsewhere Hauts-de-France Region has already announced that it plans to put three groups of services covering about 20% of services out to tender, and Grand Est, Auvergne-Rhône-Alpes, Nouvelle-Aquitaine and Pays de la Loire are expected to follow suit.
Cevenol - The new order
In February News we reported on the introduction of three new four car Regiolis units for the Clermont Ferrand - Nimes 'Cevenol'. On February 29th Regiolis B84695 highlights the contrast between modern rolling stock and original infrastructure as it passes through Boucoiran station (30) with the southbound TER 877957. Its next stop will be at Saint-Geniès- de-Malgoirès.
Photo Christophe Masse
SNCF Réseau to rebuild the Bourges - Montluçon line in 2023 - 2026.
On Feb 20th 2020, Centre Region Val de Loire signed an agreement with the French State concerning the future of certain railway lines. Among those, full responsibility for the line from Bourges to Montluçon was transferred to SNCF Réseau. The 101 km line is to be rebuilt between 2023 - 2026 at a cost of approximately 100 million euros, 100% financed by SNCF Réseau.
The un-electrified double track line is constructed along the valley of the Cher river. It is connected to Bourges and Vierzon by a triangular junction. Montluçon is actually in Auvergne. Since 2019, new Regiolis intercité trains have replaced the loco-hauled Corail express trains to Paris, But the Regiolis sets only operate between Montluçon and Bourges. The line was opened in 1861 by Cie de Chemins de fer Paris - Orléans (P.O.). It is in poor condition. It is kept open by a multitude of short term, urgent, but limited, repairs. There has been some doubt regarding the future of the line. However logic has prevailed.
Montluçon is a sous-préfecture of 80,000 résidents and the line provides an important rail link to Paris. There is also some freight business and a thriving carriage and wagon company at Orval, Saint Armand-Montrond, that was created in 1920. A preliminary study to determine the work to be done has been started at a cost of 3 million euros.
Photos below: In May 2004 a diesel hauled Corail express train to Montluçon is seen crossing the Cher river. Later a Paris-bound 7 coach Corail express hauled by BB 67546 is seen near Vallon.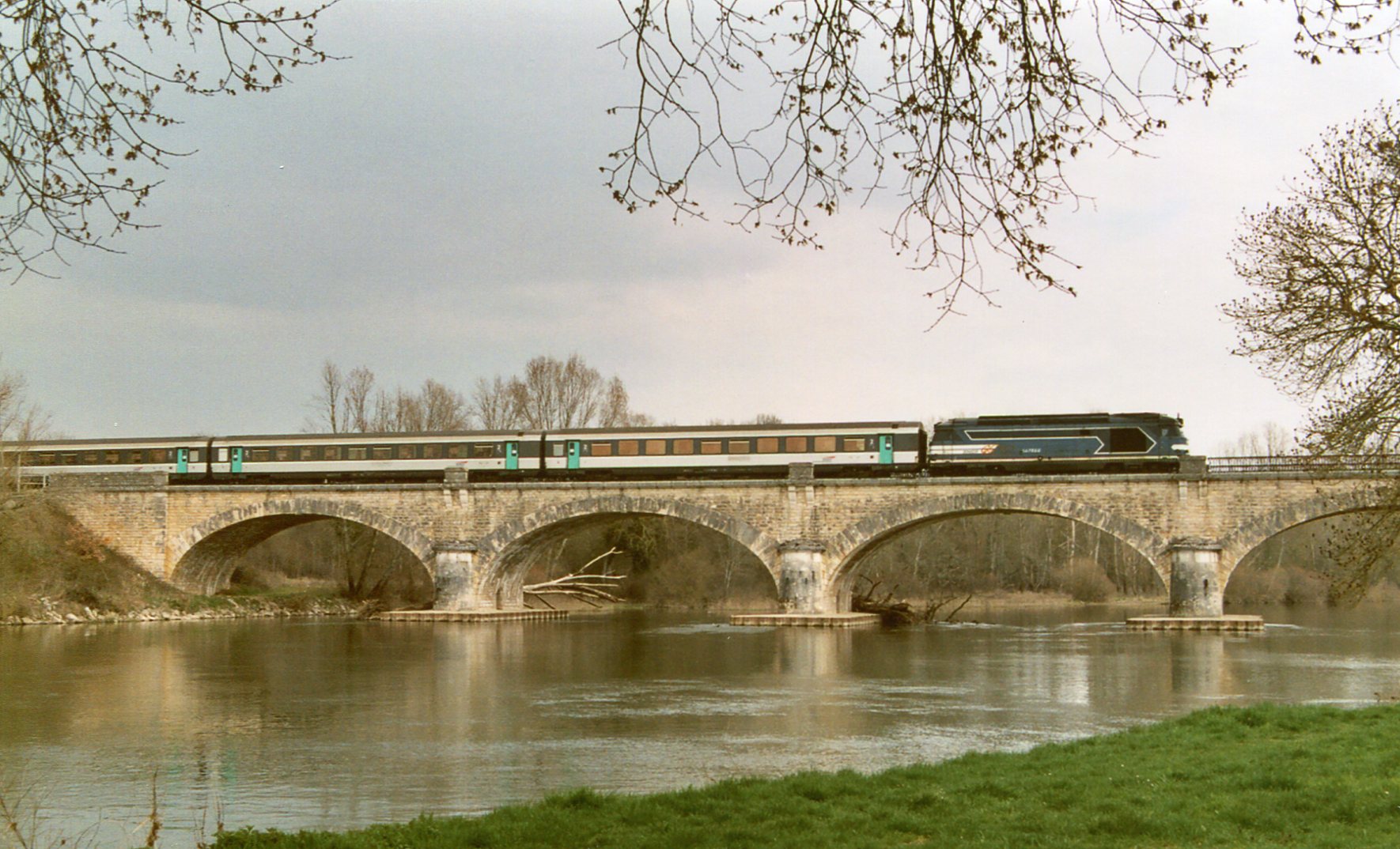 CC 72000 returns to Gare de L'Est
The sound of a CC72000 returned to Paris on the 14th March when CC 72074 hauled TGV 808 from Belfort to Paris Ourcq. The special travelled via Paris Est, where CC 72074 ran around as Ourcq Depot only has a westward facing entrance.
The TGV had visited Alstom at Belfort to undergo modifications to operate services to Spain.
Photos: Above Christophe Masse. Opposite Erwan Quintin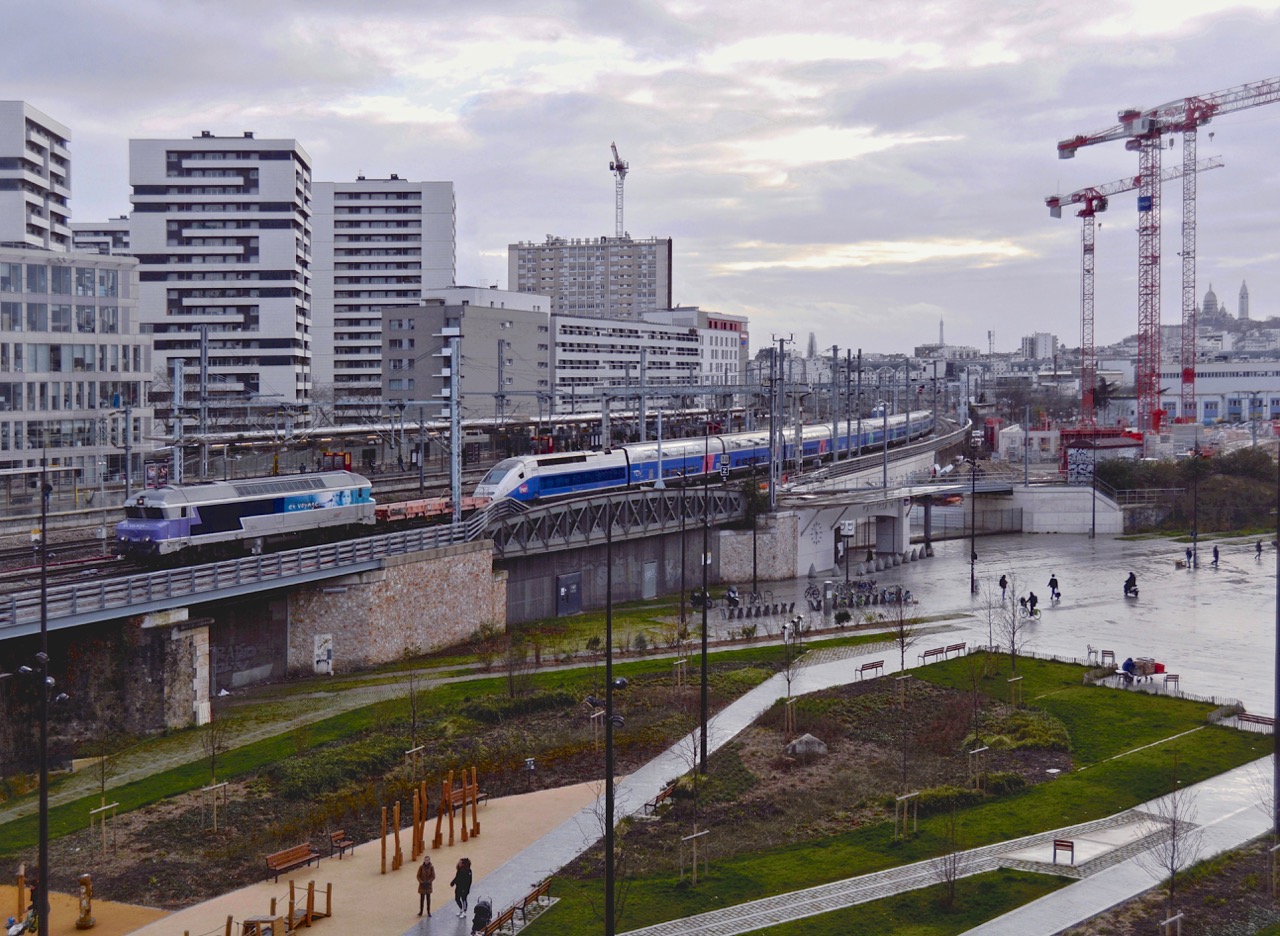 Engineering work updates
The line to Morez (Jura) is scheduled to close all summer for maintenance
The Andelot - Morez - Saint Claude line, deep in the Jura mountains, is called the "LIgne des Hirondelles". It is 123 km long with 36 tunnels and 18 viaducts. Nearly every summer part of the line is closed for maintenance. In 2020, the line is scheduled to close between Champagnole and Saint Claude from July 6th - Sept 25th. This is precisely the period when the tourist office plans to.promote trips on this spectacular railway. (see photos below)
Once again summer visitors will be deprived of the chance to travel over the 4 viaducts at Morez which compose one of the rail wonders of France. The cost of the work this year will be 5.3 million euros, 88% paid for by Bourgogne-Franche-Comté Region.

Haute Vienne: Nexon - Saint-Yrieix-sur-Perche
At Nexon junction, the single track line to Brive-la-Gaillarde leaves the Limoges - Périgueux line. Since Dec 15, 2019 the section of 21 km from Nexon to Saint Yrieix-sur-Perche has been closed for urgent repairs. A section of 6.3 km is being completely renewed (long welded rails, sleepers, ballast) to reinstate the speed limit of 75 kph. In 2023, the remainder of this part of the line will be renewed. At present 2,500 sleepers are being replaced. The Nexon - Saint Yrieix section is scheduled to re-open April 27th.
At the other end of the line the section from Brive to Objat remains open and will be renewed in 2023. The railway line from Objat via Pompadour to Saint Yrieix has been closed for 2 years due to a landslip between Objet and Pompadour. No solution has been found so far to repair this part of the line.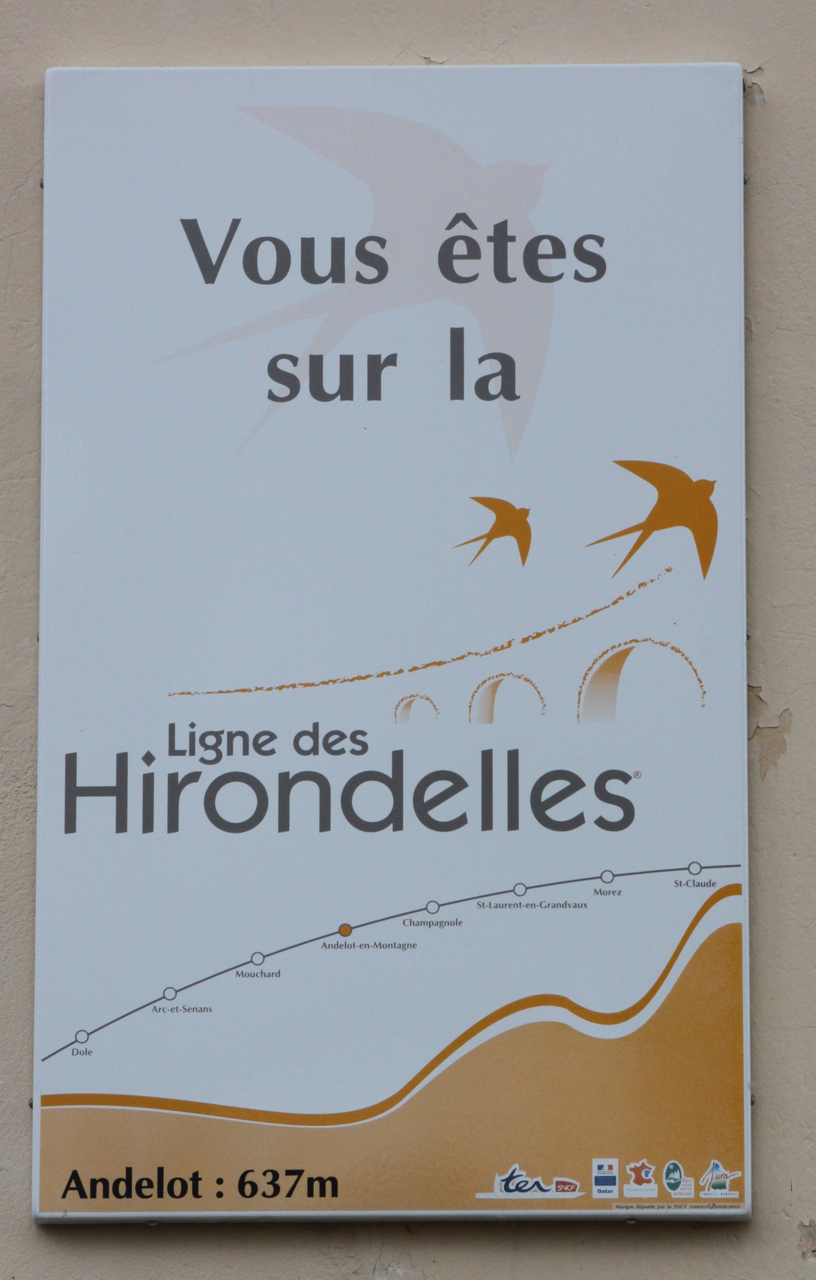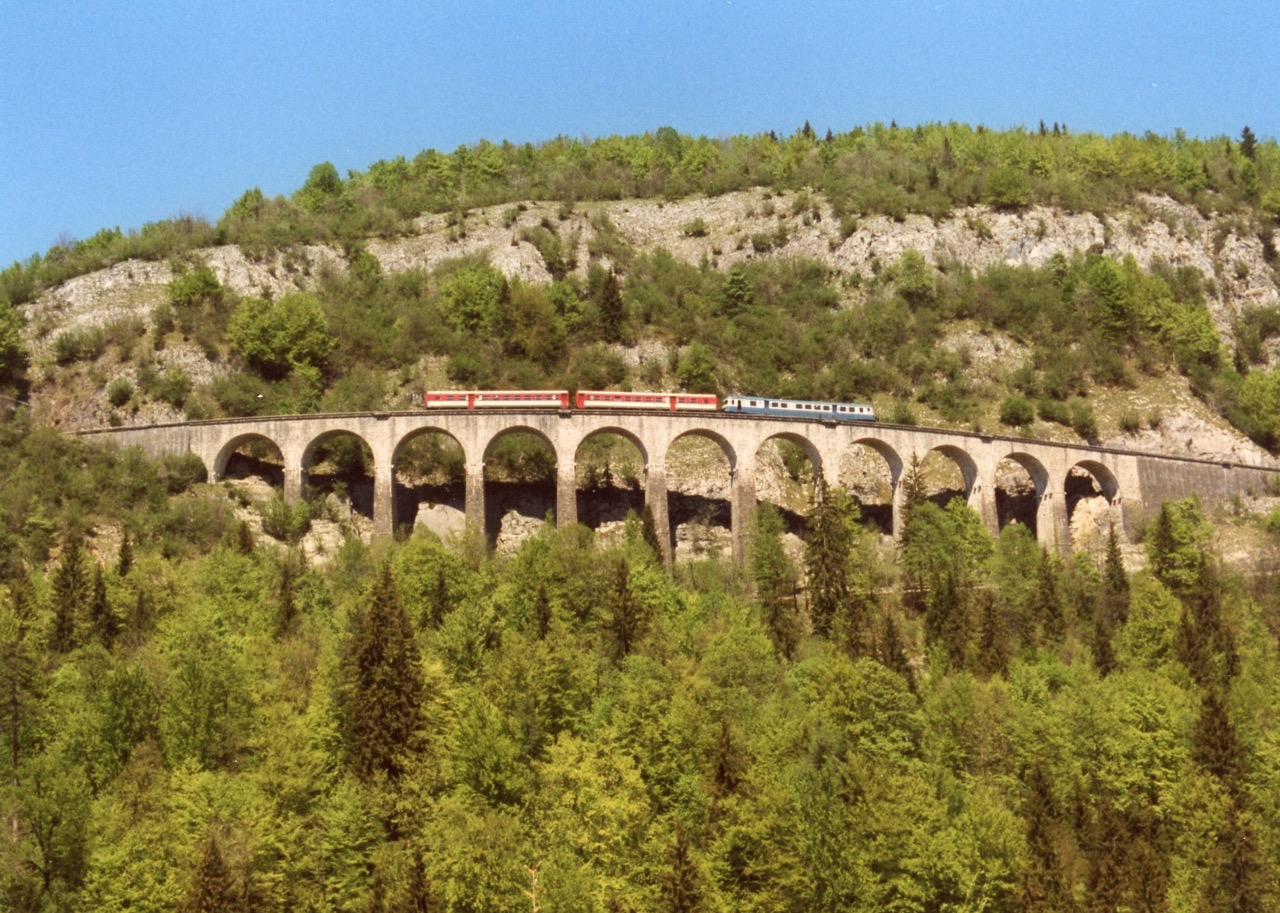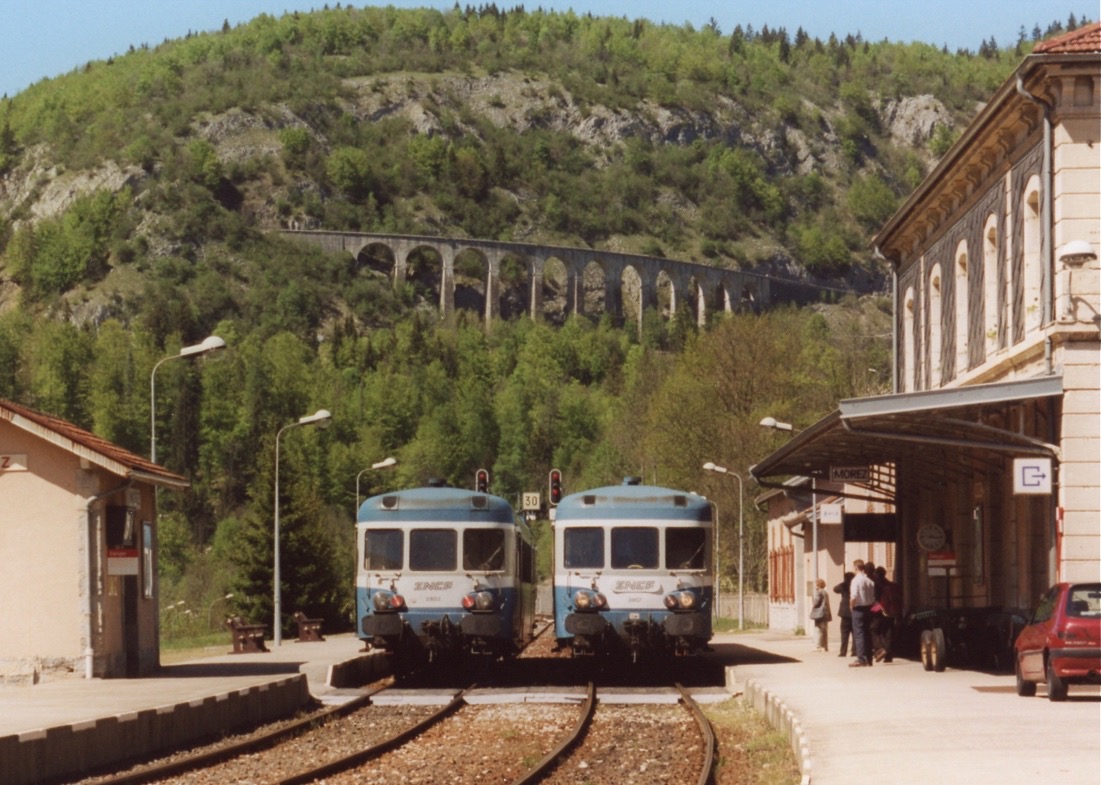 Progress on Etaples - St Pol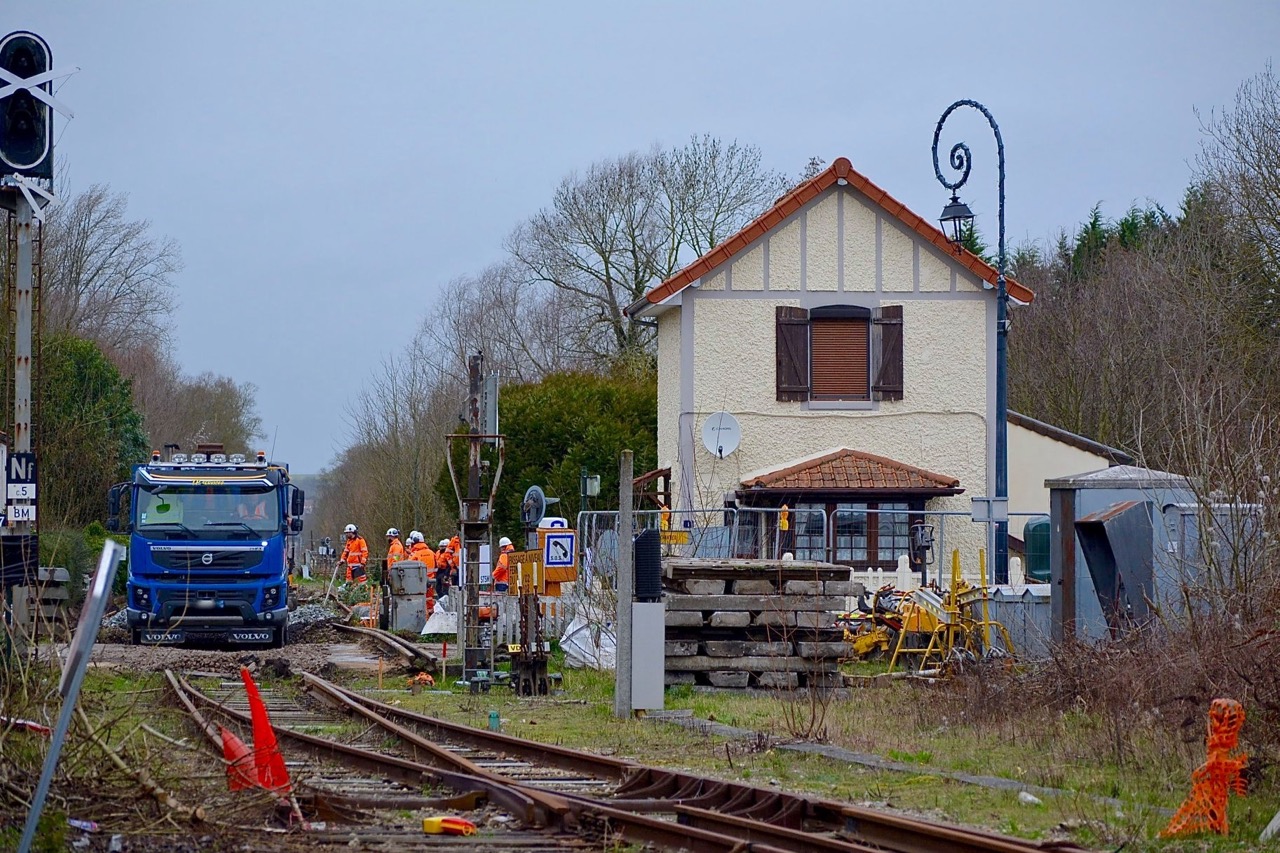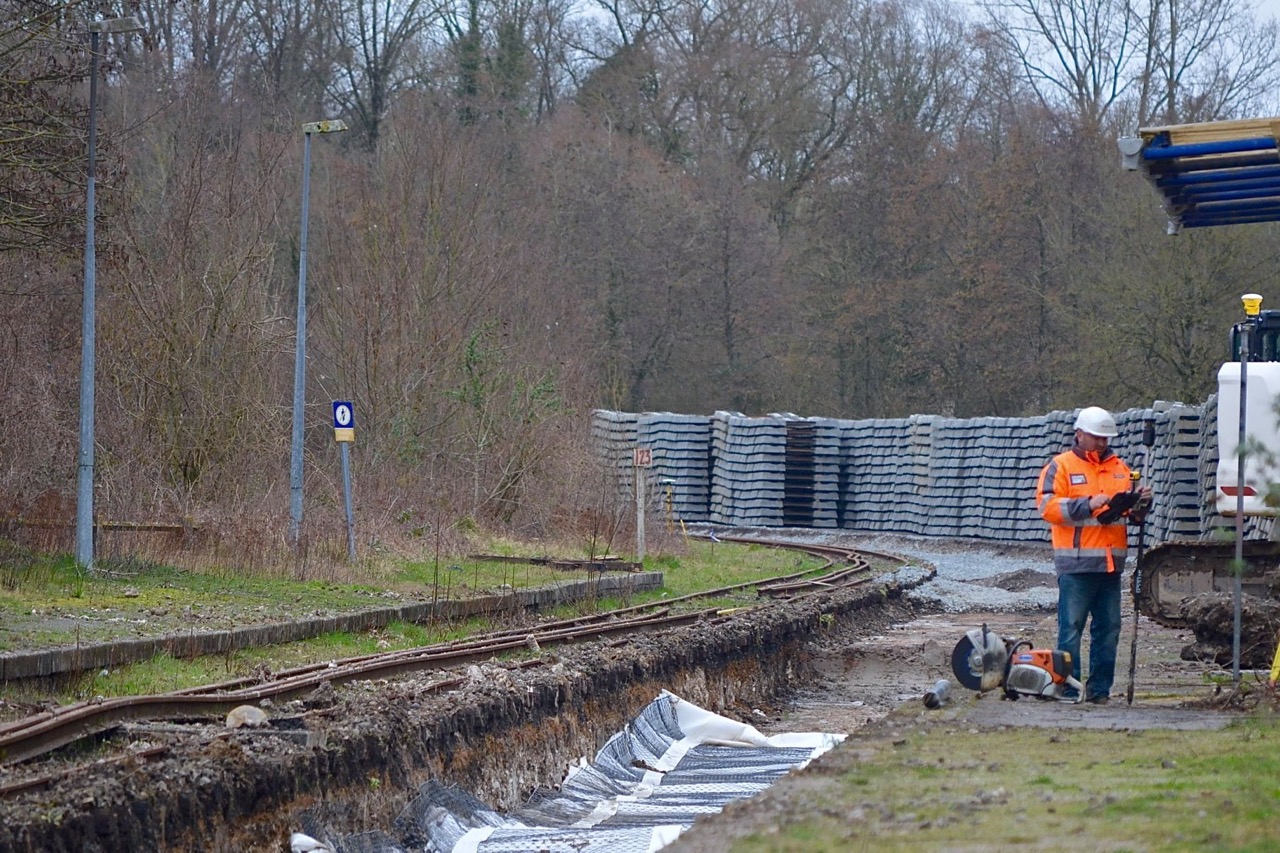 Work on re-building the Etaples - St Pol line had been making steady progress until work was halted in mid March due to Coronavirus. Services were suspended in 2017 and had been anticipated to return in December 2020, although this is now unlikely. Photos: Top Meccoli BB 66610 "Karine" et 66611 "Nicolas", in charge of the track relaying train at Brimeux on the 13 March 2020. By the following day the track had been relaid to Montreuil. Earlier in the month renovation work underway at Montreuil (above) and Hesdin (below).
Photos Philippe Armand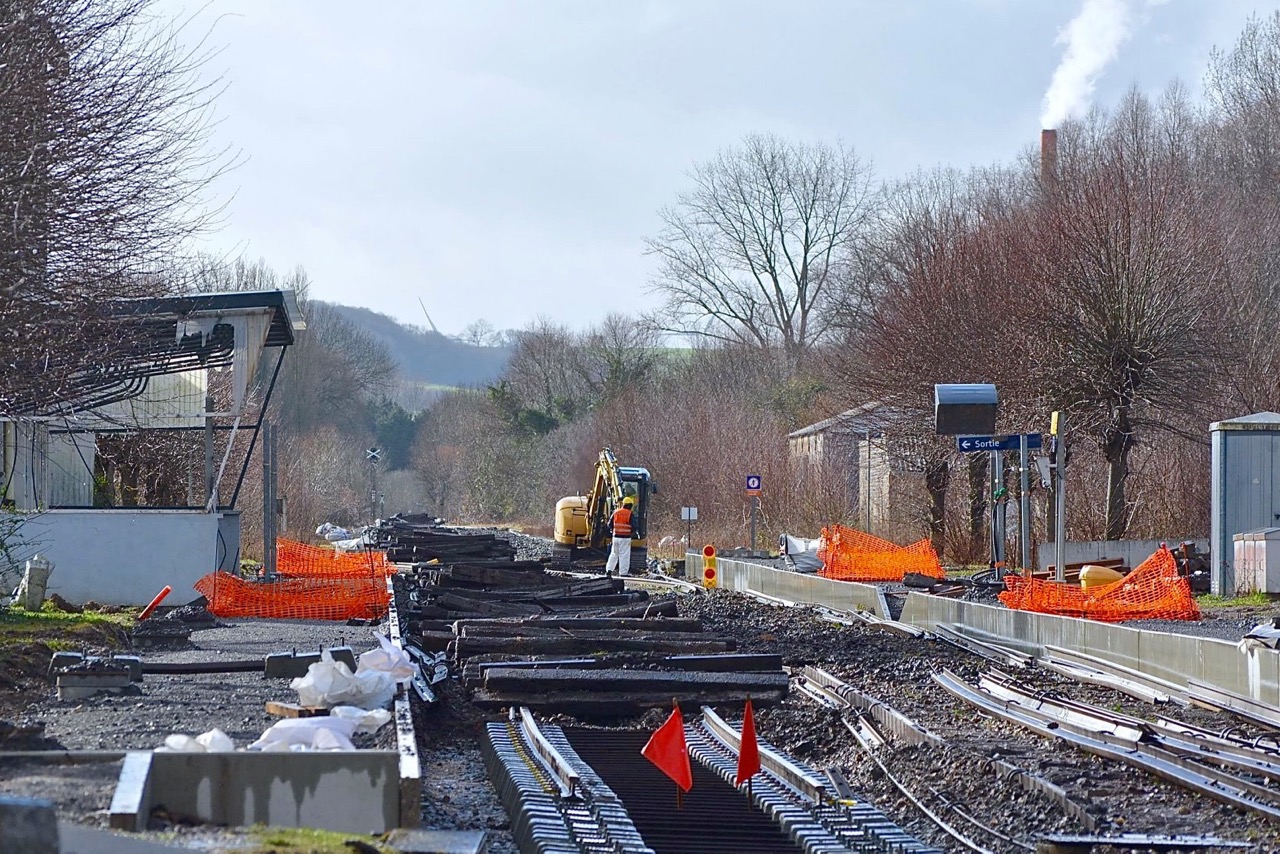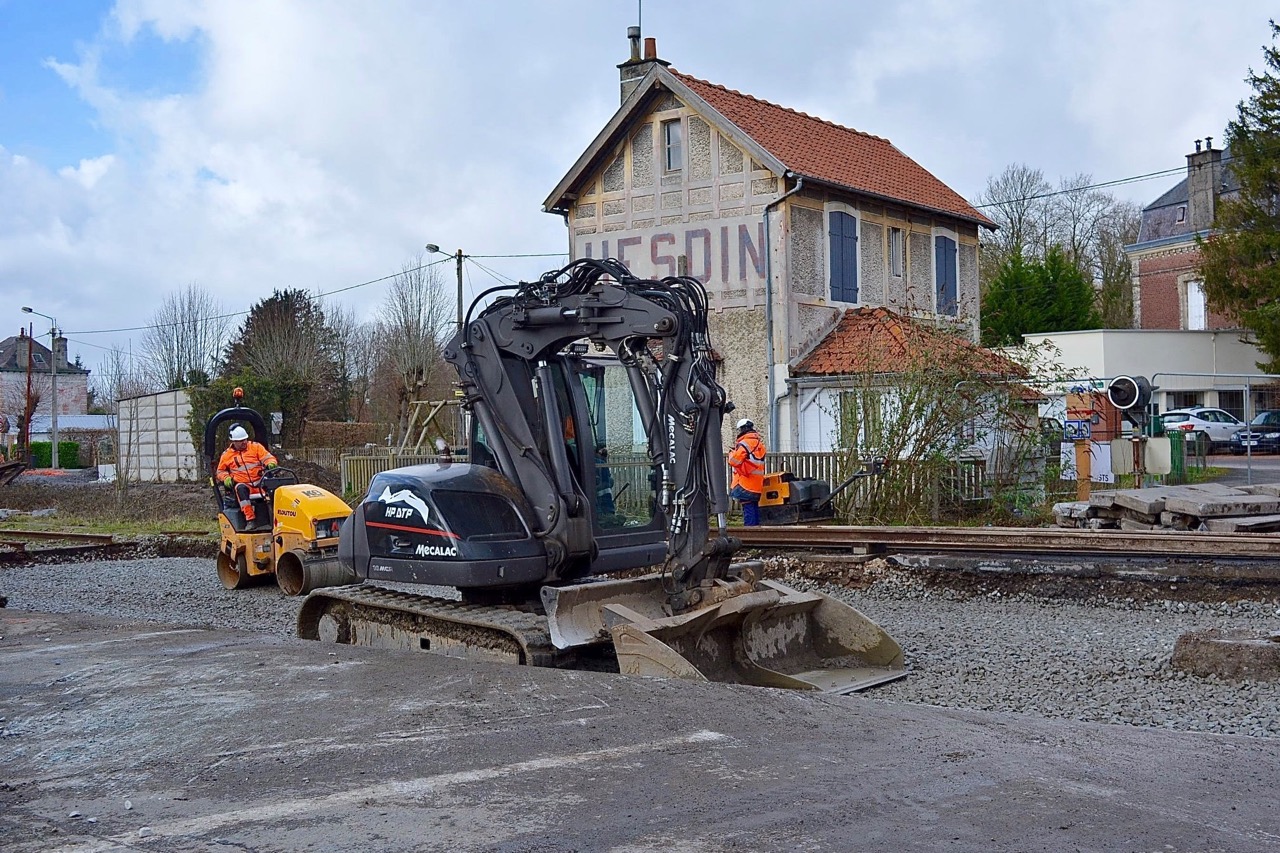 Turning back the clock to 1978


In MARCH NEWS we reported on SE TGV 01 'Patrick' now withdrawn from service.
The second TGV Sud Est 02 was named 'Sophie', both the children of Henry DEJEUX the first TGV driver.
Forty two years ago in 1978 Maurice Testu, now president of the CFBS, was working for SNCF in Alsace and captured these photos of the first SE TGVs on test between Strasbourg and Colmar.
Top: A test train waits to depart from Strasbourg alongside an RTG unit.
Opposite: A test train passes through Erstein. Below left: Set 02 'Sophie' at Strasbourg. Below right. A test train heads north through Vendemheim. Photos Maurice Testu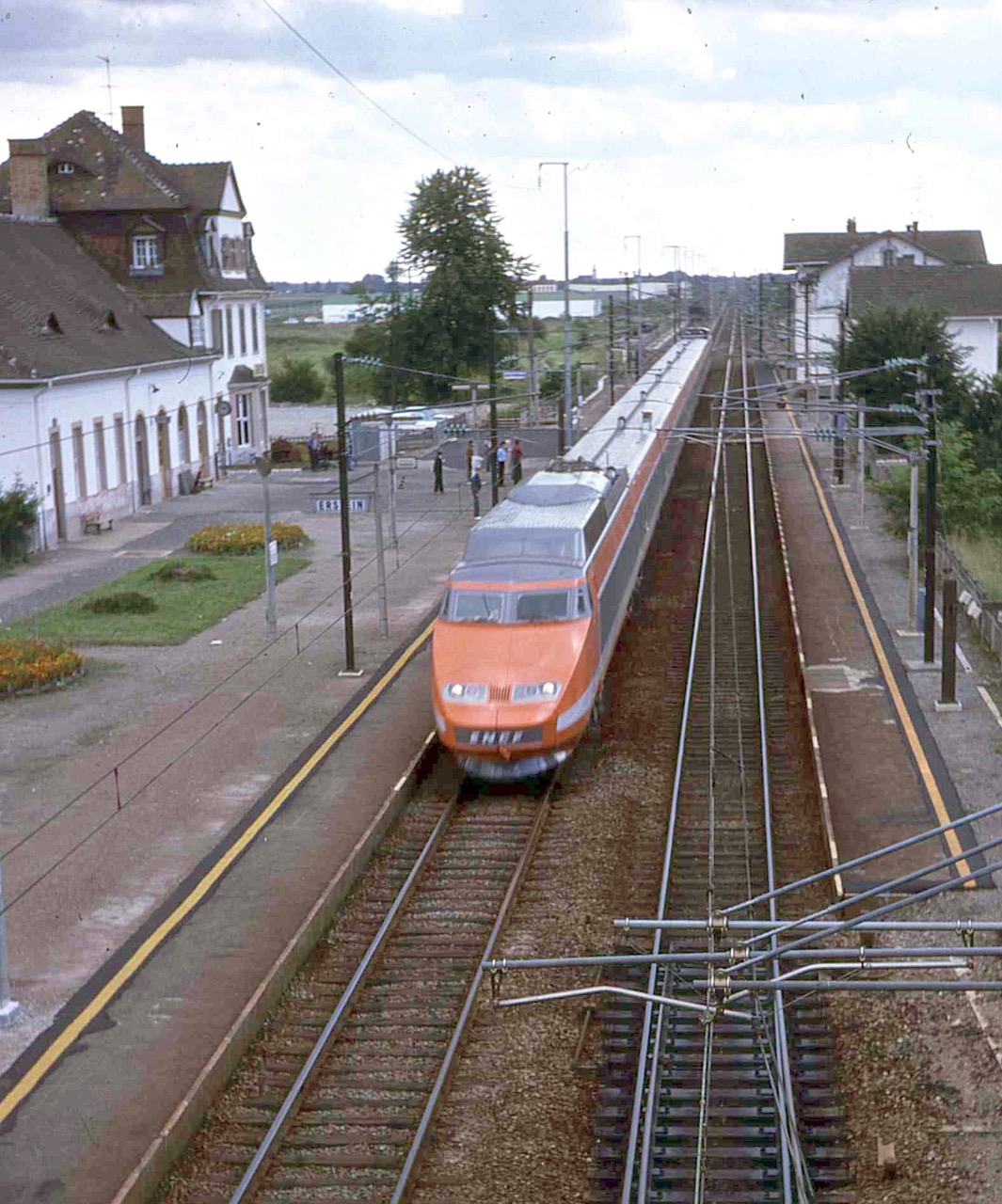 Additions to FRS Photographic Archive during March 2020
- Additional colour images added to Miscellaneous Colour 2 gallery (around 55 images)
- Additional colour images added to "LVDR & NM" gallery (96 images) covering, respectively, TGV Sud-Est, Mulhouse railway museum, Autorails and Modern Equipment (1960's)
- A new John Baker gallery, contains some 90 colour images of SNCF mainline in the 1970's
- A new gallery of Andy Hart colour postcards (425 images), uploaded to Folder 3

Indexes for the additional material have been added to the Public Folder in the members area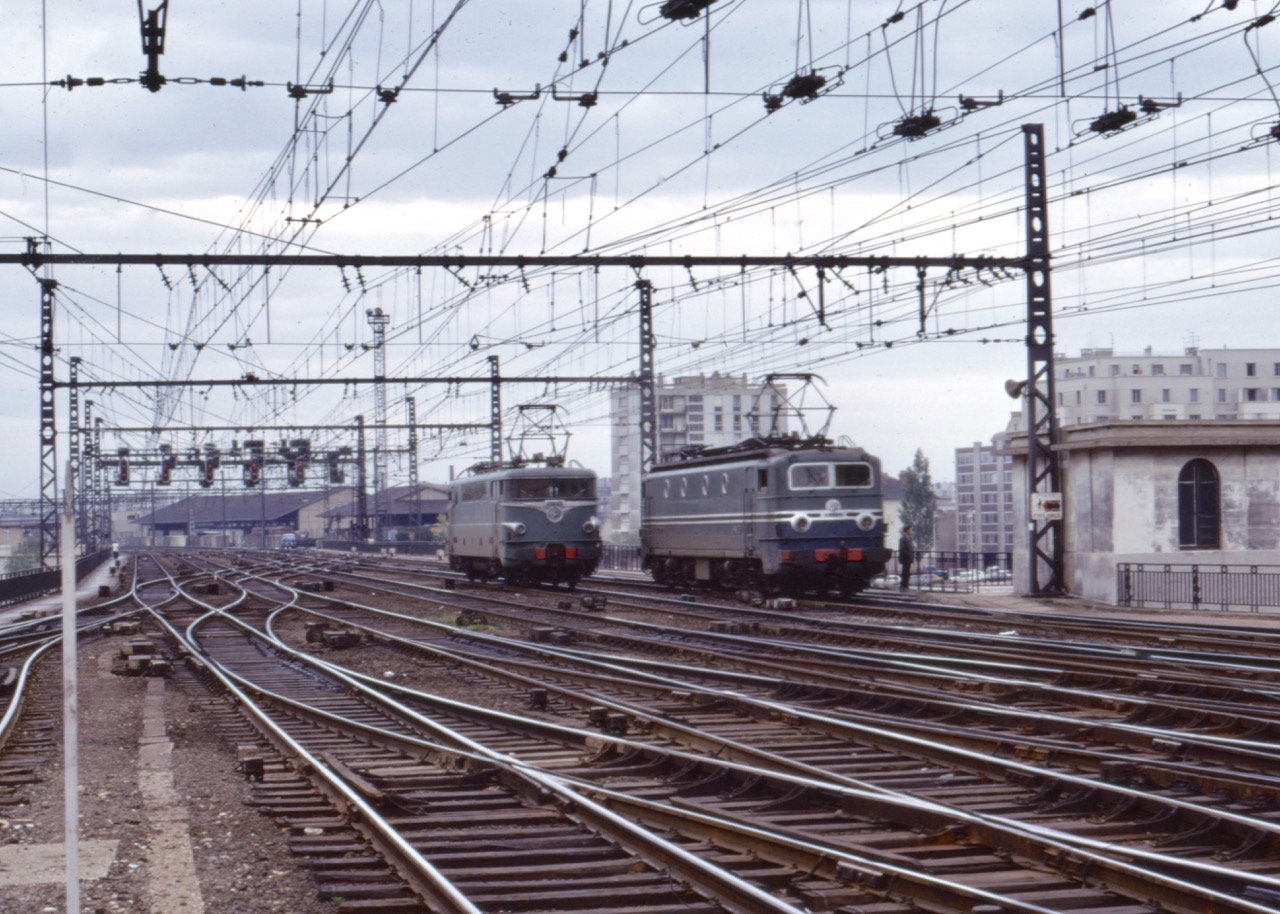 Tramway Update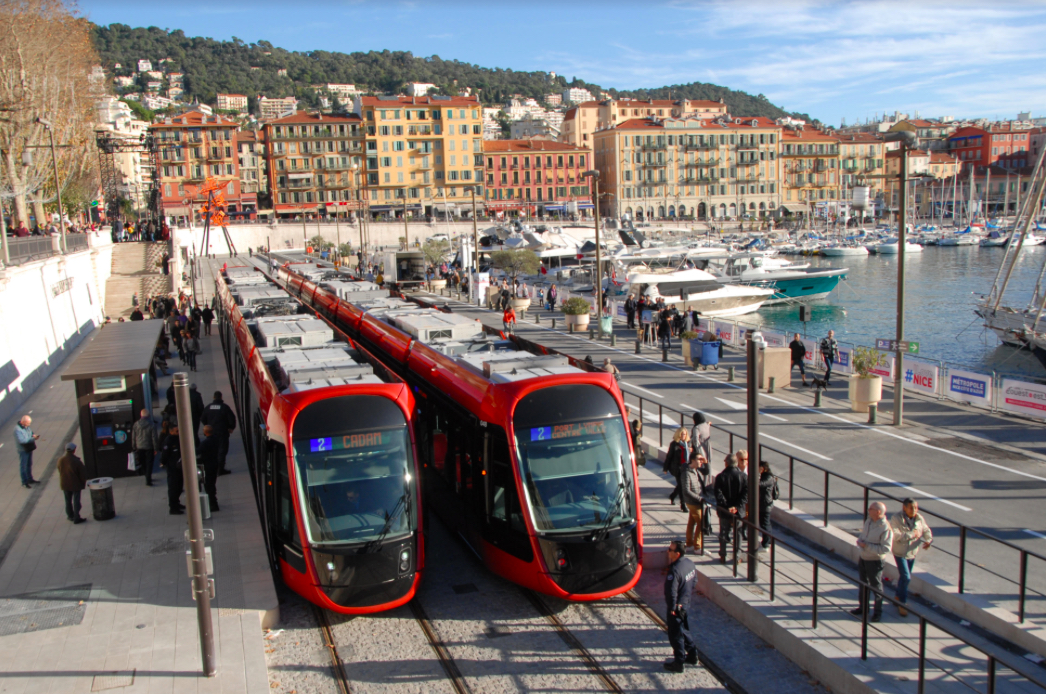 On 14th December 2019, the second tram line at Nice Côte d'Azur was completed and opened from the airport to the centre and Port.Lympia. On opening day, we see two of the new Alstom Citadis trams at the port.
Photo José Banaudo
One of the leading tramway networks in France is at Bordeaux. It is operated by Keolis which also operates the buses. The public transport system is named Transport Bordeaux Metropole ("TBM"). There are four tram lines labelled A to D that cross the city centre. Total length of the tram network is 77 km. On February 11th, 2020, Bordeaux received its 130th new Alstom tram creating the largest tram fleet in France.107 trams operate daily to carry 300,000 passengers.
Bordeaux is situated on the banks of the Garonne river. The metropole has a population of nearly 800,000. There is an airport to the west and the SNCF station Bordeaux St Jean is located on the west bank. TGV Inoui services to Paris take just 2 hours. Tram line A connects the east bank suburbs across the Garonne to the western suburbs. Tram line B connects the northern suburbs on the west bank with the south west suburbs towards the airport. Line C on the west bank connects the north west to the south east.
In December 2019 and February 2020, a new Line D was opened from the edge of the western suburbs to the south east. In the centre, line C and D use the same tracks. These two lines also serve SNCF St Jean station. A diagram of the Bordeaux tram and bus network can be consulted here:
TBM
Bordeaux was the first to use the Alstom contactless ground level current collection system in 2003. This system (APS*) avoids using overhead wires. All the tram lines at Bordeaux are equipped with APS along their central sections The Alstom trams at Bordeaux are 2.4 m wide and have the same appearance and dark grey livery. Most are 44 m long and the remainder are 33 m long. In the illustration above, we see a tram on the new line D at the changeover point between the overhead catenary and the APS central rail. Photo by Georges Turpin.
* APS = Alimentation par sol
In March 2020, Strasbourg ordered 17 extra Citadis 403 trams for 52 million euros. Their delivery will provoke the withdrawal of the remaining 25, short, Eurotrams after a little less than 30 years in service. Strasbourg with its suburban area has a population of 850,000. Since 1994, it has developed a busy tram network that currently has 6 lines including an international line across the Rhine into Germany at Kehl.
The fleet of trams totals 105 at present. The first new trams for Strasbourg were designed in Italy, but were constructed by Adtranz/Bombardier, and 26 units were delivered in 1994-95. They were designated Eurotram and they have a distinctive sloping glass nose. The first versions are 33 m long, they have a capacity of 210. 10 additional trams were delivered in 1998 and 17 Eurotrams extended to 43 m were delivered in 1999-2000.
In 2005 - 2007 Alstom delivered 41 Citadis 403 trams. These are visually similar to the Eurotrams, but technically different. 45 m long, they carry 270 passengers. In 2016 -2017 a second version of the Citadis 403 was produced. 22 units were delivered by Alstom. They carry 288 passengers. The latest version is certified to operate both in France and Germany due to the extension of Line D into Kehl. 11 of the first Eurotrams were withdrawn in 2018 after 24 years service. They were judged to have insufficient capacity to justify a mid life renovation. There were no options to add segments and there were problems with the doors.
© Peter Lovell & Graham Skinner. The French Railways Society 2020. Photos by authors unless credited. Thanks to Philippe Armand, José Banaudo, Christophe Masse, Maurice Testu, Erwan Quintin and Georges Turpin