Despite the introduction of Omneo Premium units earlier this year Class BB 15000s still dominate long distance Normandie TER services. See report below. Above. On 25th June BB 15030 passes Gilles with an Évreux - Mantes-la-Jolie service formed of VO2N stock. Photo Erwan Quintin.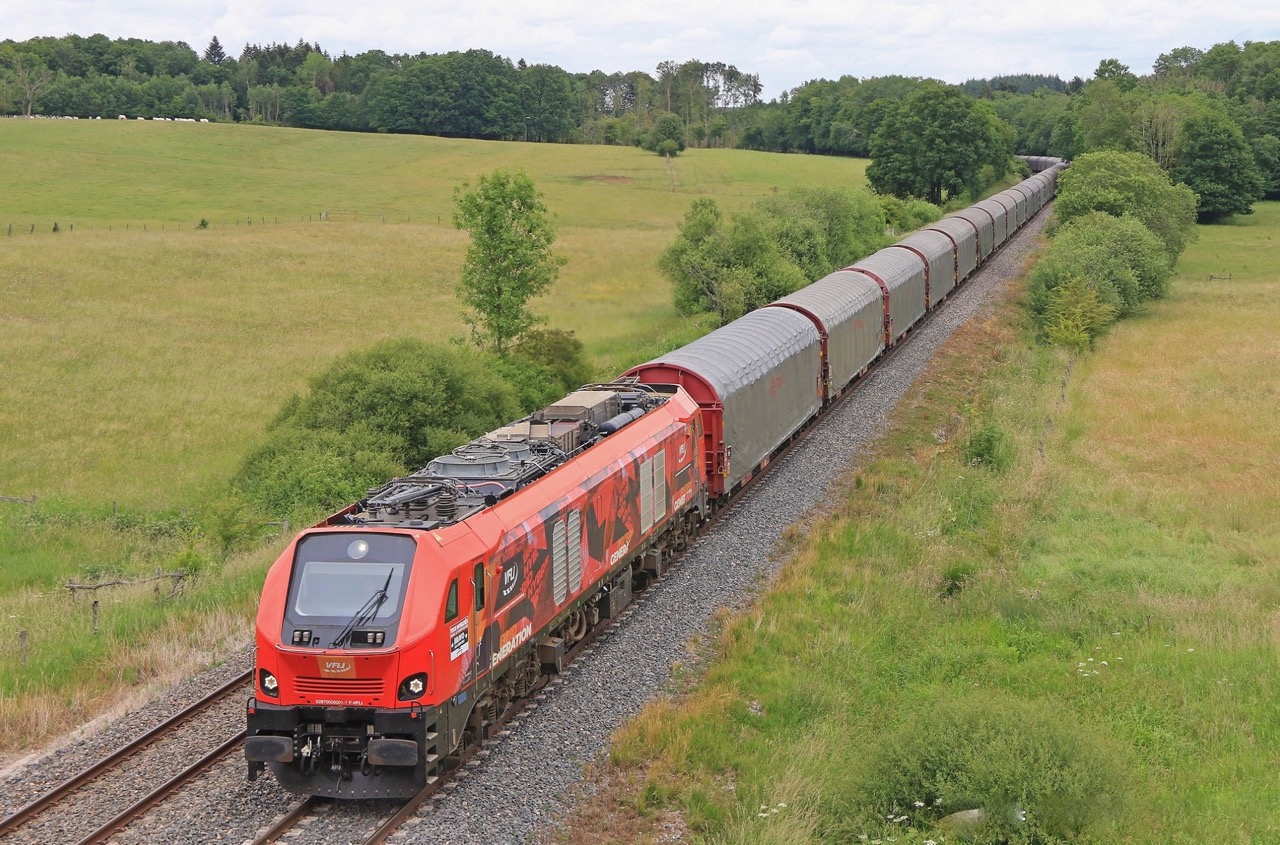 VFLI

EURODUAL

enters service.

Freight operator VFLI is operating the prototype Stadler Eurodual hybrid locomotive CC 6001. With a top speed of 160km/h (although limited to 120 km/h for VFLI) the EURODUAL will deliver 6,175 kW under 25 kV 50 Hz catenary, 4,110 kW 1.5 kV and has a CAT 175 2,800 kW (4,200 bhp) diesel engine. The EURODUAL has been assigned to operate the Nestlé Waters trains between Vittel and Arles.

It has been acquired by VFLI as part of a deal that includes 12 Euro4001 diesel locomotives. Funding has come from Alpha Trains rather than Akiem. The Euro4001 is a development of the (Vossloh) Euro4000 with a diesel engine rated at 2,800 kW that meets Stage IIIB and Stage V emission levels

Above On 14th June CC6001 is seen at Damblain (88) on the L14 at the head of its Vittel water train consisting of 33 covered wagons bound for Arles. Below Following a stop of less than 10 minutes at Merrey to lift the 25 kV pantograph it passes the old water tower at the abandoned station of Andilly-en-Bassigny (52) on the L15. Both photos Christophe Masse
The increase in services has seen the re-introduction of the 18:05 Paris Est - La Ferte Milon, the only regular diesel hauled train from Paris. On the 22nd June BB 67599 is seen at Ocquerre as it heads towards its destination (The re-introduction could be short-lived as it is likely to be suspended for the summer break). Photo Erwan Quintin.
Services increase as
déconfinement
continues
As Coronavirus restrictions have been slowly lifted during June services are beginning to return to near normality. Wearing a face mask on trains and railway premises remains in force although social distancing on trains has been relaxed. TGVs are now being booked to full capacity while the need to pre-book on TER services was abandoned from 8th June, and the need to have an

attestation

to travel in

Ile de France

during rush hour was lifted from the 21st June.
TER services will largely return to normal from the 4th July including the re-opening of Beauvais - Le Tréport which will see a service of six trains each way from Monday to Saturday. TGV services have yet to return to normal due to the low level of bookings. To encourage travellers back onto the trains (and restore the income streams) SNCF and the TER's have created what they describe as an unprecedented campaign of discounted tickets, passes and wider benefits for season ticket holders. Between 19th June and 5th July Hauts de France TER is offering 200,000 tickets at 50% discount, during July and August their 'My TER' card will be available for €10 instead of €30 and will provide a 70% instead of 50% discount.
Preserved railways continue to open up. The CFBS carried 640 passengers on its first day of commercial services, while MTVS at Crevecouer sold 147 of the 150 tickets available when they re-opened.
The Belmond VSOE is scheduled to resume on the 5th August but will only carry 88 passengers instead of the normal 164. As part of the check in procedure passengers will be temperature screened.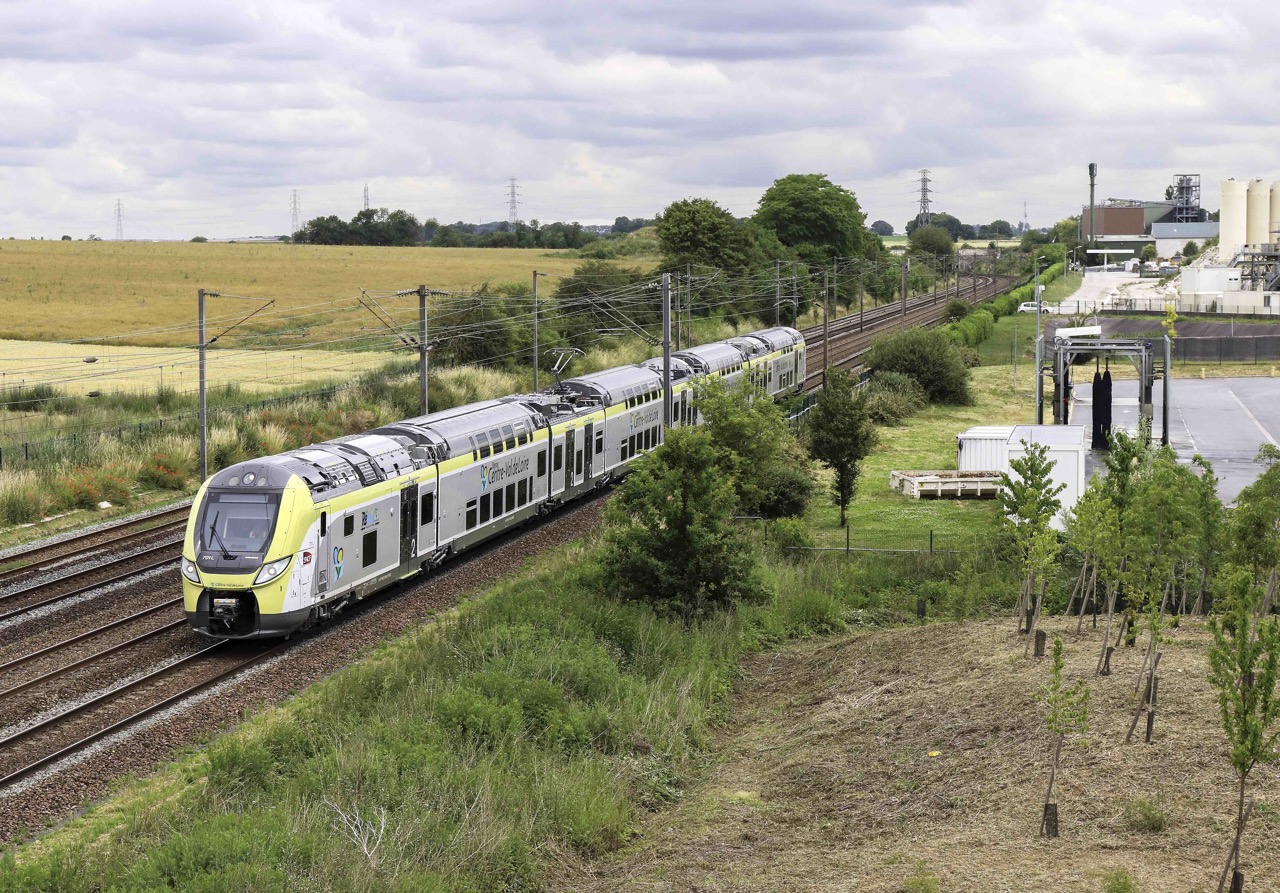 A new train for Rémi Land
I
n mid June, the first Omneo Premium train (Z 56701, 701L) for Centre Val de Loire Region was delivered to Les Aubrais-Orléans.
This is the first of 32 Omneo train-sets ordered by the Region from Bombardier. They are similar to the Normandy trains, but shorter, see description below. The top speed is 200 kph. Delivery of the first unit was planned for the end of March but delayed by the COFID 19 pandemic.
It is probable that the first passenger services will operate from October. The Centre Region Omneo Premium trains will be marketed with a new brand, "Rémi Express" *. It will take two years to deliver the full order. The "Rémi Express" trains will be used on Paris-Austerlitz - Orléans - Tours, Paris - Bourges and Paris-Bercy - Montargis - Nevers.
Above. Z 56701 is seen at Louvres (95) on its journey from the Bombardier factory at Crespin. It is fully decorated in "Rémi Express" colours. Photo by Romain Vergnères.
* Centre Val de Loire created its logo "Rémi" ( Réseau de mobilité intérurbaine ) which is applied to regional trains, buses, trams. "Rémi Express" will apply just to the 3 routes indicated.
The new Omneo Premium units are up-market versions of the Bombardier Regio 2N units in service elsewhere. They will replace the Class BB7200/BB22200 BB26000 and corail stock currently used.
The Centre Val de Loire units (Class Z 56700) are L units with eight coaches, 110 metres long. Three units can be coupled together.
A new €66 million depot is being built at Les Aubrais.
By comparison the Normandy units (Z 56600) are XL with 10 coaches, 135 metres long and can only be coupled in pairs. Centre Region has chosen 2+2 in 1st class whereas Normandy has 2+1. (see report below)
Below. On May 26th Normandy Z56609/10 (605XL) is seen at Bréval (78 Yvelines) pk 71with 3377 Paris St Lazare - Trouville-Deauville This unit was the first to enter service (January 2020). Photo Romain Vergnères.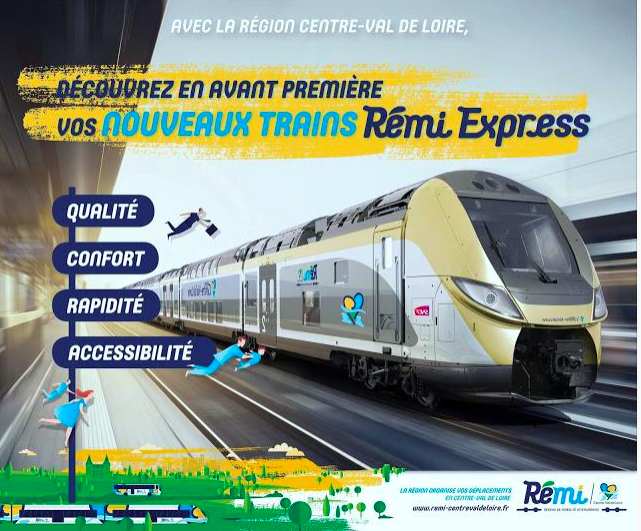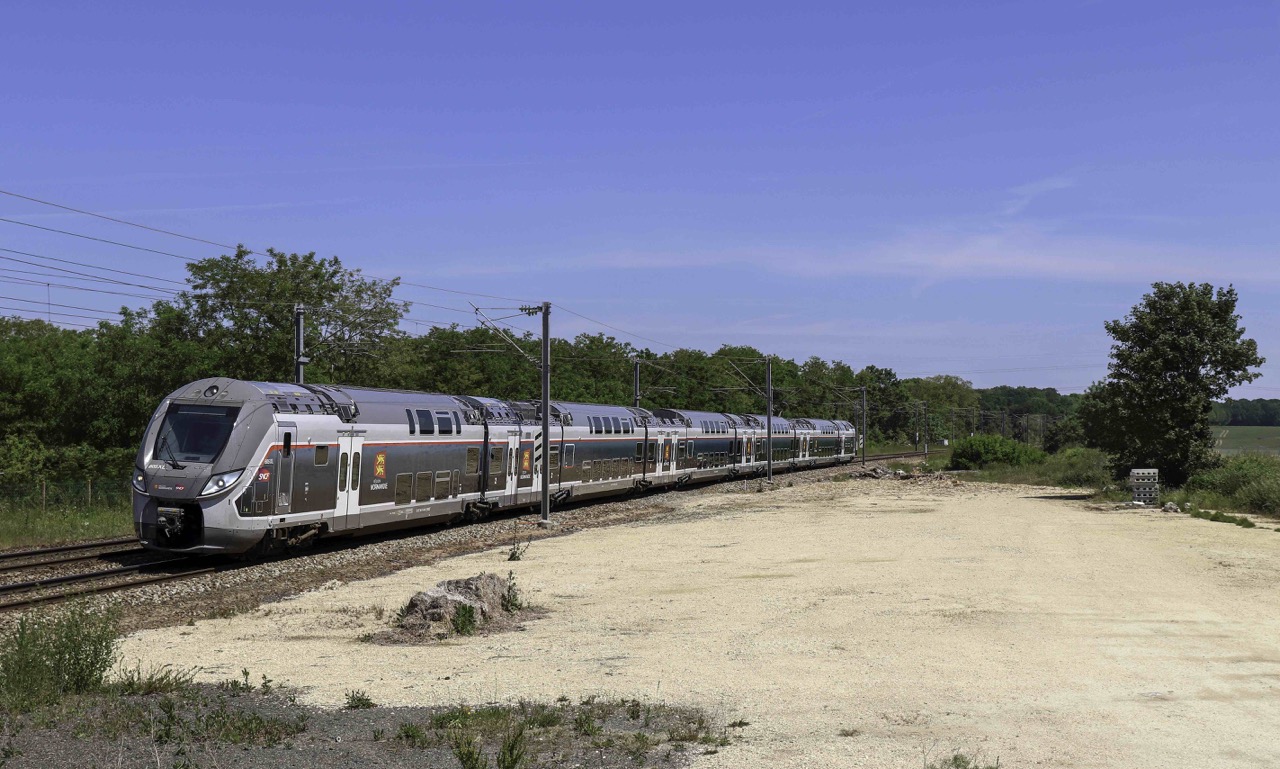 Normandy Region orders a further 27 Omneo Premiums
Normandy Region has ordered a further 27 Bombardier Omneo Premium XL units. A €245m order for 16 units was finalised on May 16th, followed by a €162m order for 11 more units on June 23rd. Although ordered under the SNCF framework agreement with Bombarider all of the cost is being met by Normandy Region.
The units will be delivered from 2023 following completion of the existing order for 40 units currently being delivered to replace locomotive hauled stock on the long distance Normandy services. (see photo above)
The additional 27 units will be used on Paris - Vernon - Rouen and Paris - Evreux - Serquigny semi fast services. Each 10 coach XL unit can seat 550 passengers and carry 12 bicycles.
Cevenol 150 celebrations deferred until 2021
In view of the Coronavirus pandemic the events planned for this summer to celebrate the 150th anniversary of the Ligne de Cevennes have been deferred until 2021.

The online booking service will open on 1st July. Trains will run Sunday - Wednesday 13th July - 20th August. More information
via this link
RER Line B is expected to be disrupted until the beginning of July following a derailment of an empty train leaving the sidings at Denfert Rochereau. Under normal conditions Line B carries one million passengers a day.

Toulouse - La Tour-de-Carol closed until August 30th
In order to prepare for new Regio 2N train sets in UM2, this line will be closed from June 15th - August 30th, with replacement bus services. Two new electric sub-stations will be constructed at Saverdun (pk 49) and Venerque-le-Vernet (pk 23) between Toulouse and Foix. The 1500 volts catenary will be renewed in part, platforms will be lengthened between Toulouse and Ax-les-Thermes. Some level crossings will be renewed. The total cost will be 30 million euros.
The timetable from Sept 1st - an overview
This line is very busy between Toulouse and Foix (pk 83) with 17 - 20 return services, Mondays to Fridays. Approximately 8 - 10 of those services continue to Ax-les-Thermes ( alt 701m, pk 123). The final 40 km of steeply graded track up to the frontier at La Tour-de-Carol ( 1231m pk 163) carries about 5-6 trains a day each way including the overnight train to and from Paris-Austerlitz.

Above. A La Tour-de-Carol - Toulouse TER service of Midi-Pyrénées on Oct 12th 2013 at Sinsat (Ariège) between Ussat-les-Bains and Cabannes. This was before the merger of Midi-Pyrénées with Languedoc-Roussillon to create the super Region, Occitanie. Photo; Georges Turpin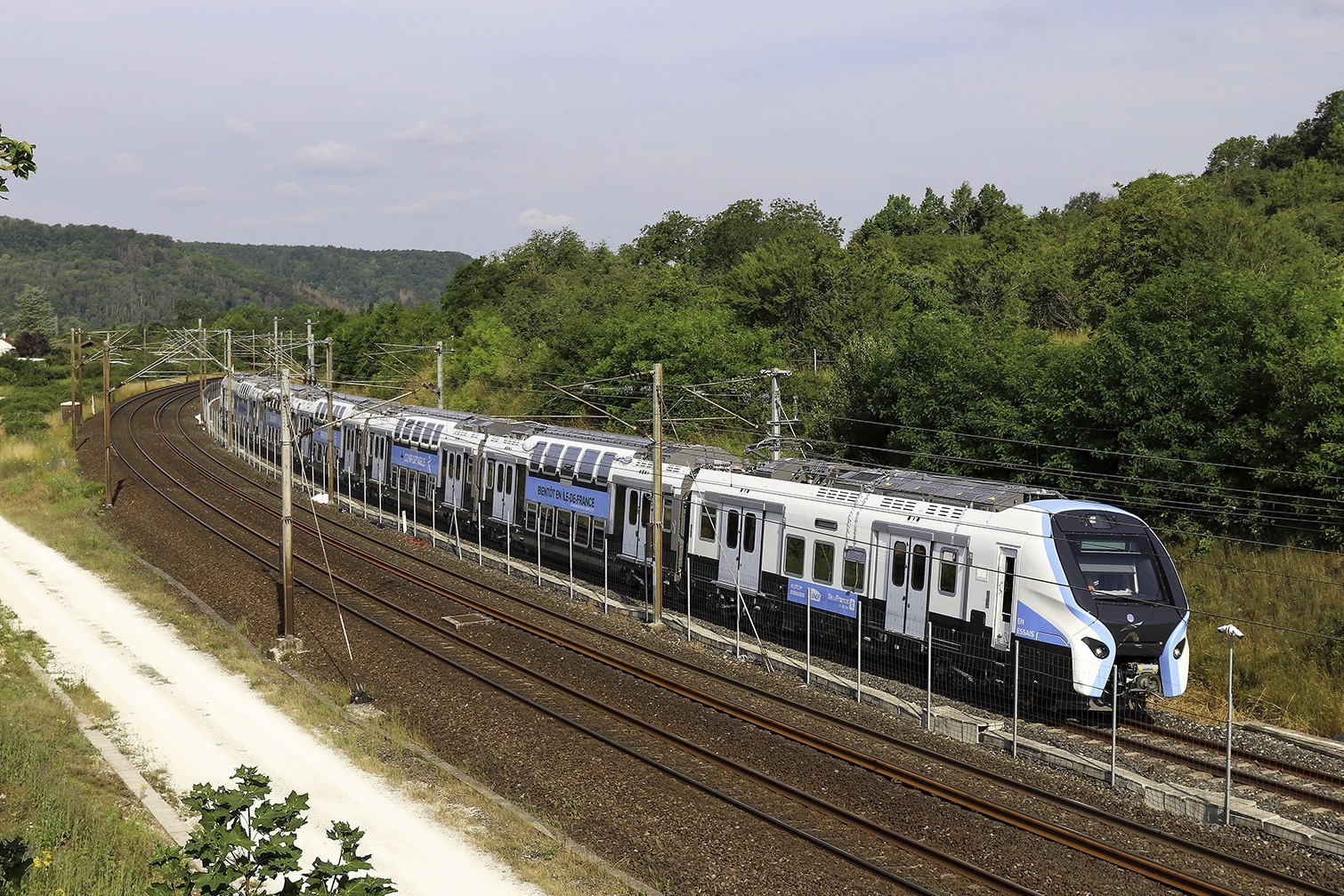 RER NG prototype begins testing
Testing has begun of the Class Z 58000 RER NG (RER New Generation) suburban train. The prototype Z 58001in
Ile de France Mobilities
livery is seen under test on Friday 26th June at the Nançois - Tronville test track that runs parallel to the mainline near Bar-le-Duc.
Photo Romain Vergnères.
The RER NG is being jointly developed by Alstom and Bombardier for RER D and RER E in Ile de France. This entirely new double-deck train will replace the Z 20500 5 car sets on RER D and will operate on RER E when the western extension is opened.
Z58001 arrived at Nançois - Tronville at the end of May. Testing is expected to last 12 -18 months before the production can begin. First trains into service on RER D are expected at the end of 2021 (at the earliest).
View a short video of the RER NG prototype opposite
First TGV modified for Spanish domestic market
SNCF has completed the modification of the first of nine Euroduplex 2N2 TGV's for use by its Spanish subsidiary Rielsfera on low cost services in Spain. Branded as Falbala they will operate services over two routes on the Spanish highspeed network between Madrid, Barcelona and Perpignan, and between Valencia, Seville and Malaga. Services are expected to start in December offering a low cost no-frills service similar to Ouigo. The units are being modified by Alstom at Belfort and equipped with ETCS and Spanish signalling systems.
Above. On 6th June Euroduplex 807 hauled by BB 22317 is seen passing Valenton en-route from Technicentre Est-Européen at Ourcq to Perpignan for testing over the Spanish network. Although the SNCF branding has been removed it has yet to receive its Falbala livery. Photo Christophe Masse.
Railcoop planning to restore Bordeaux - Lyon service
Railcoop "the first cooperative company of collective interest in France dedicated to railways" is planning to re-introduce direct Bordeaux - Lyon rail services from the summer of 2022. The move comes as part of the liberalisation of domestic rail services in France from the end of the year. Railcoop plan to obtain certification as an independant operator in January 2021
Railcoop plan to lease six Alstom Coradia (Regiolis) units to provide three services each way daily. The anticipated time for the complete journey is 6hrs 47minutes, more than travelling via Paris, but avoiding a change of termini. Market research has indicated a market of 69,000 passengers a year, although this could increase if the proposed ban on domestic flights comes into force.
Despite the attractiveness of its ambitous plan Railcoop appear to face some major challenges in getting the new service off the ground. Aquitaine TER have been trying to extend their daily Bordeaux -
Montluçon service to Lyon but have been unable to get the co-operation of Auvergne Rhone Alpes TER who say there are no suitable paths available into Lyon. With the production run of Alstom Coradia/Regiolis units only just finishing it seems unlikely that six will be available for hire by 2022. So far no one has taken on the overnight services offered to the open market sector and Flixtrain is the latest operator to abandon plans to operate domestic services in France.
Proposed route
SNCF withdrew its direct service between Lyon and Bordeaux (France's second and fifth largest cities) in 2012. The southern route via Clermont Ferrand and Brive is no longer possible following closure of the section between Ussel and Clermont Ferrand. Railcoop's proposed service would take the northern route via Montlucon also linking a number of towns in Limousin and Auvergne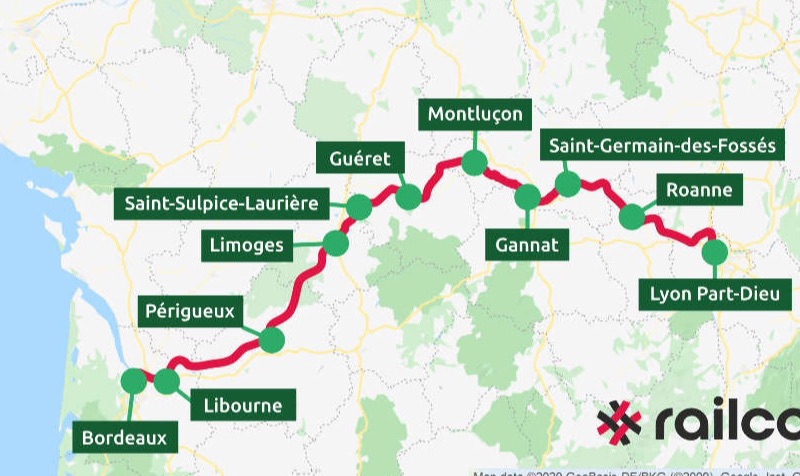 Withdrawn locomotives on the move for breaking up
The run down of the former triage yard at Sotteville for storing withdrawn locomotives continues, with more trainloads of withdrawn locomotives being moved to Baroncourt for breaking up.
Above. On May 26th, a train of 5 BB 7200 locomotives from Sotteville to Baroncourt was hauled by CMR locos BB 67615 and BB 67574. The train is seen crossing the Oise at Conflans.
Below. On the morning of June 9th another train of locomotives for breaking up was observed from the Ravens's Nest at Meulan Churchyard travelling from Sotteville to Baroncourt. Hauled by BB 67574, the train included 67468/67467 72091/72035/72036. Note the CMR liveried coaches at the rear, presumably for additional braking capacity. Both Photos Romain Vergnères.
Class BB 15000 fleet on the job
The fleet of 65 mono-voltage (25 Kv) BB 15000 locomotives dates from 1972 - 1979. 18 units have been withdrawn including 5 due to accidents. The remaining locos are currently allocated 36 to Achères for Normandy lines and 11 to Landy for Picardy services. All but seven locos are adapted for reversible operation. Those seven not adapted are 15004, 09, 10, 13, 14, 22 and 15051.
15001 has been withdrawn and transferred to the reserves of the Railway Museum at Mulhouse for future display. Some locos withdrawn have run approximately 10 million km, a respectable achievement over more than 40 years. The 15000 fleet is being replaced by new double deck emu trains from Bombardier, but deliveries are delayed and it is likely that the 15000's will continue to operate for a few more years.
Above. On May 27th at Gilles Guanville ( 28 Eure-et-Loire) pk 75, a Paris - Trouville express hauled by BB 15014 passes at the end of a sunny afternoon. Below left. On May 30th, we are at Conflans Fin d'Oise as the diverted 08h20 from Caen heads slowly towards Paris St Lazare behind a Transilien service. BB 15014 is again in charge. Below right. The following day, Sunday May 31st the line from Evreux to Caen was closed for "travaux". Passengers to/from Normandy were taken by train between Paris St Lazare and Evreux where a connection to autocar was available. In this photo we see reversible set VO2N + BB 15027 travelling to Evreux and passing Juziers pk 47. Bottom. On Sunday June 7th en voyage liveried BB 15065 passes Juziers with the 18.08 St Lazare-Le Havre. All photos D. Michel Costes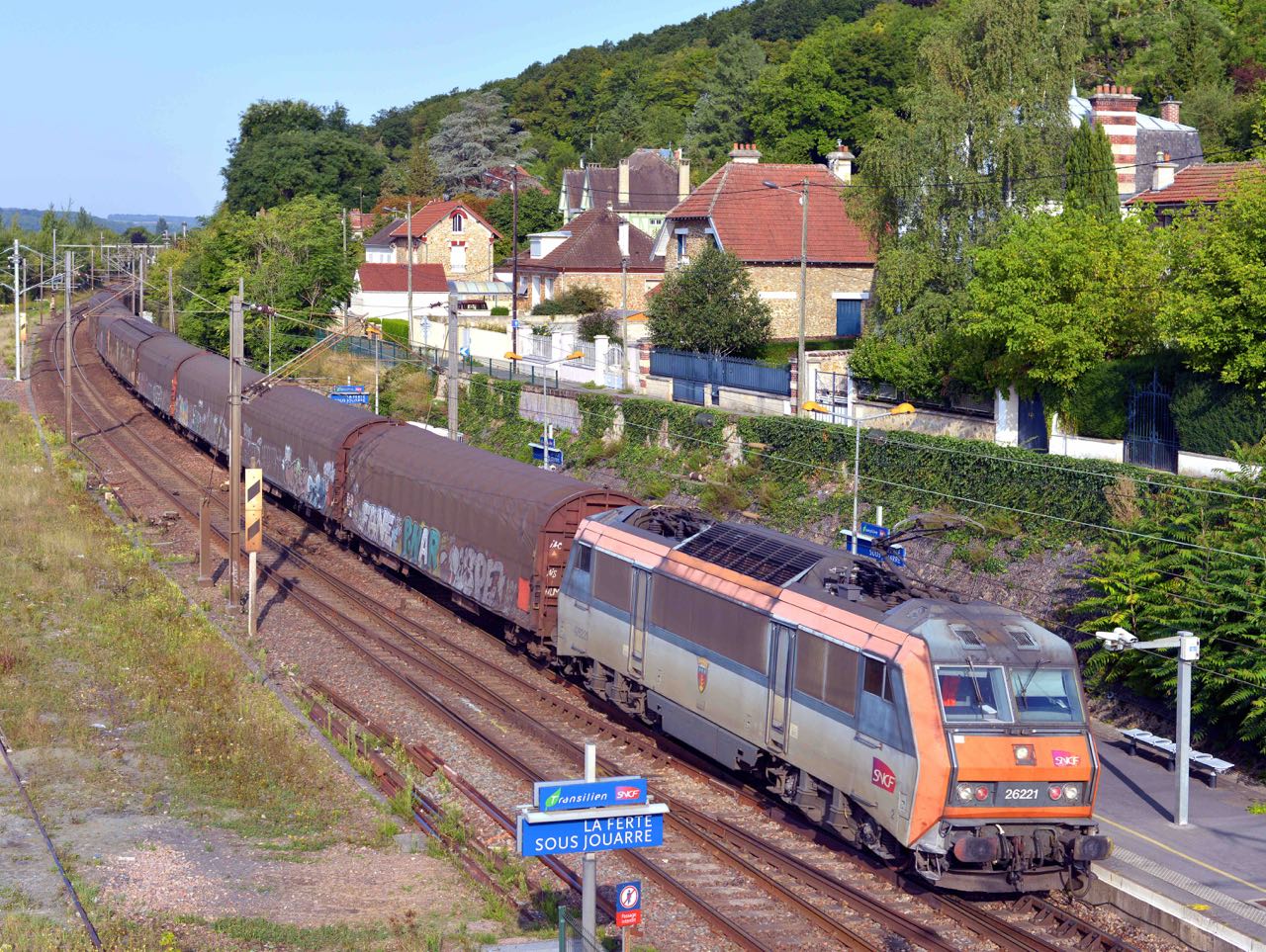 SNCF FRET; Sybic fleet update
234 Sybic bi-voltage locomotives were built between 1991 - 1998 and numbered 26001 - 26234. 133 Sybics were allocated to SNCF FRET in two groups;
- a group of 70 locos, with so-called "little numbers" between 26058 and 26137.
- a group of 63 locos, with so-called "large numbers" between 26169 and 26232.
Out of the first group of 70, a total of 30 locos has been withdrawn ( between 2015 and 2017). Out of the second group, a total of 25 locos has been withdrawn, including 6 locos in March and April 2020 and the last one, No 26221, on May 18th 2020.
These modern locomotives are being withdrawn after barely 25 years service, Kilometres covered by each Frêt Sybic loco withdrawn average 3 - 4 million km. Just 5 Sybics have been decorated in FRET green livery and only one of those remains in service, It is No 26063 built in Oct 1991. The other FRET locomotives are in orange (beton) or grey. Thus they cannot be distinguished easily from passenger Sybics which also appear in Carmillon, multiservice and Grand Est liveries.
Above BB 26221, withdrawn in May 2020, was photographed on Aug 20th 2017 at La Ferté-sous-Jouarre. It entered service in April 1997, 23 years ago. Photo D Michel Costes. Lower left. BB 26063 passes Trilport in June 2019 with a Le Bourget - Woippy freight. Photo D Michel Costes. Lower right. BB 26192 in FRET livery on the Rhône left bank line at Courthézon with a Miramas - Sibelin train in July 2019, 26192 was withdrawn on March 12th 2020. Photo; Romain Vergnères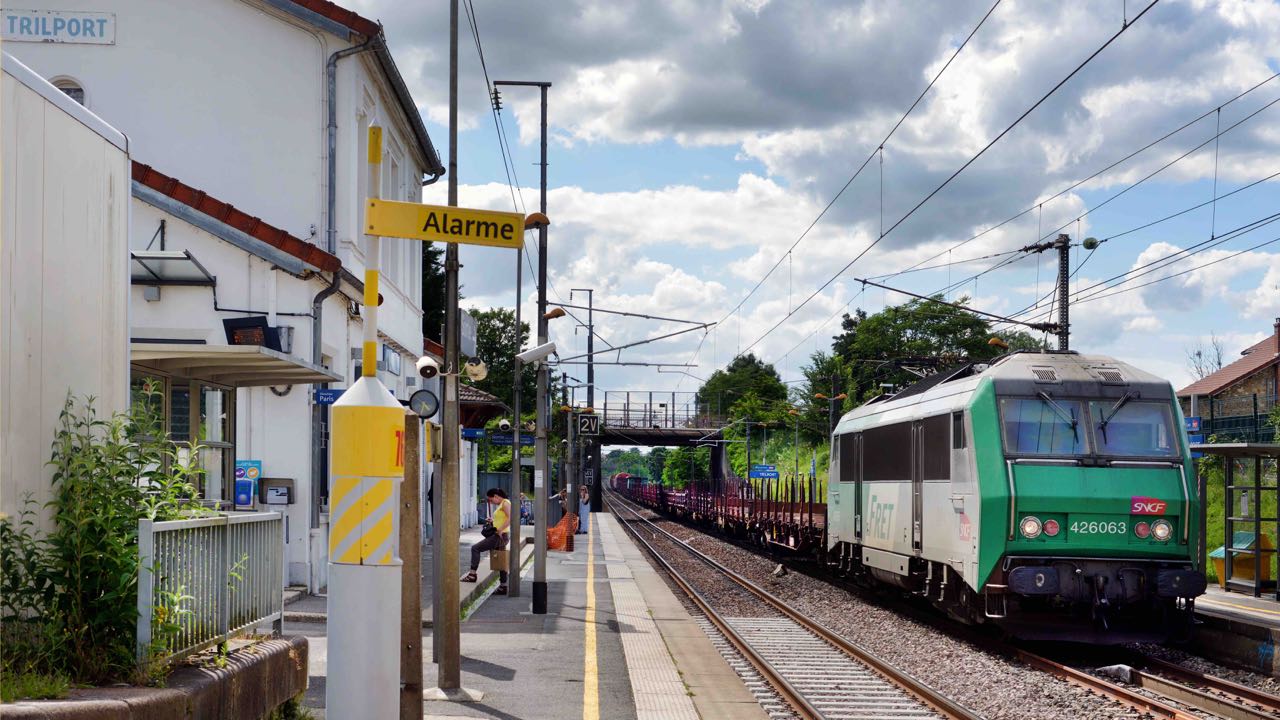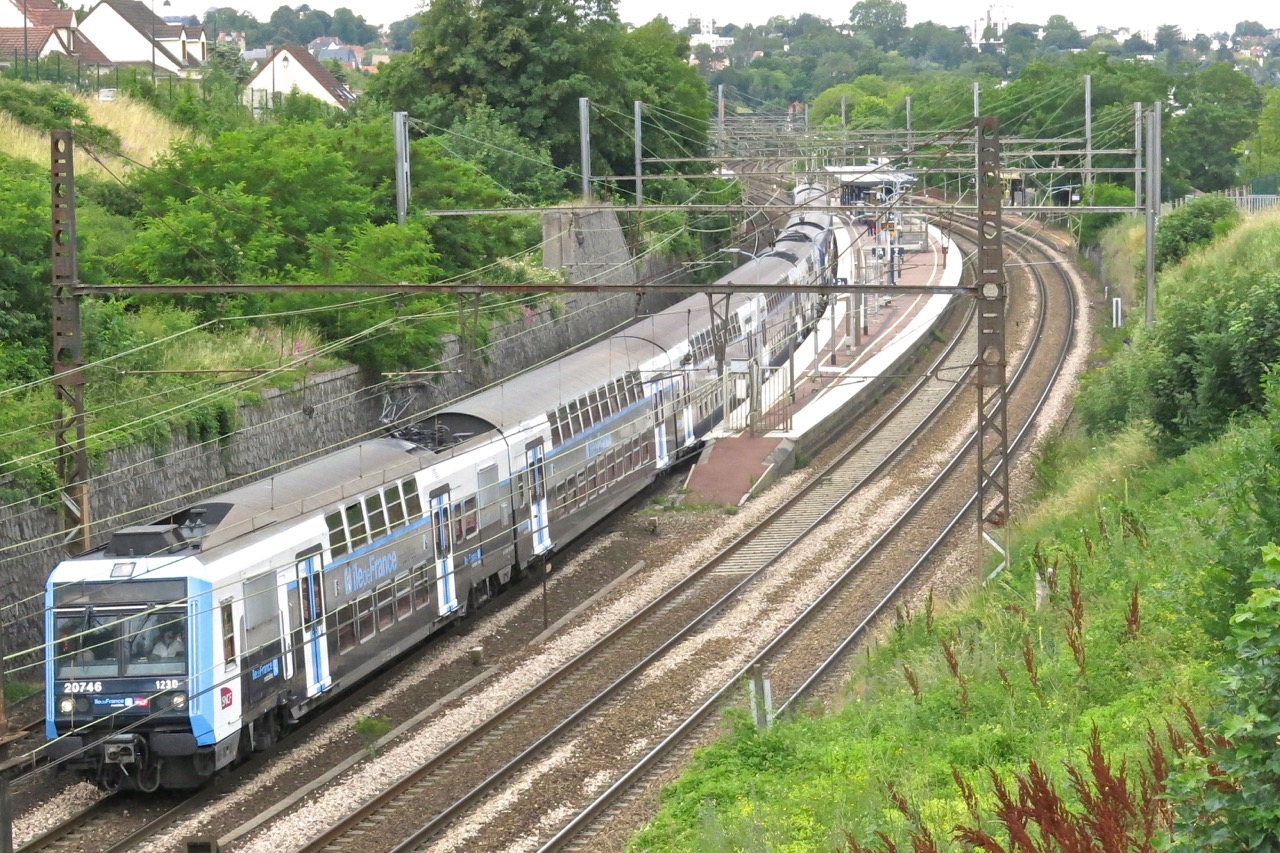 Final years for Z 20500 on RER D (Ile de France).
During their last years on RER D, the 5 coach double deck emu units designated Z 20500 are receiving a final renovation with replacement of the seat covers, repainting, provision of USB plugs and the Ile de France Mobility silver and blue livery in the place of the Transilien "blobs".
As mentioned above, a new generation of suburban trains will be introduced, gradually, from the end of 2021 (RER NG). The 125 new trains(*) will have air-conditioning, extra doors (but fewer seats). They will have better acceleration than the Z 20500 units and will be compatible with a planned new signalling system (Nexteo). The Z 20500 units (aged then approx. 30 years) will be transferred gradually to RER C as the new RER NG sets arrive on D.
* Additionally 130 new RER NG trains will be delivered to RER E for the opening of the new western extension.
Above

, an RER D service to Melun leaves Yerres with Z 20746 (123D) leading the double emu train, on June 19th. The unit entered service in July 1994. The suburban station at Yerres was opened in 1951.

Below left

, Z 20636 (68D) rolls towards Montgeron-Crosne with a service from Melun to Goussainville. 68D entered service in March 1992. The station at Montgeron opened in 1849 and the tracks were quadrupled in 1908. Electrification was in 1950.

Below right

. shows the Transilien livery with blobs which is being replaced by IDF Mobility, the Regional Authority.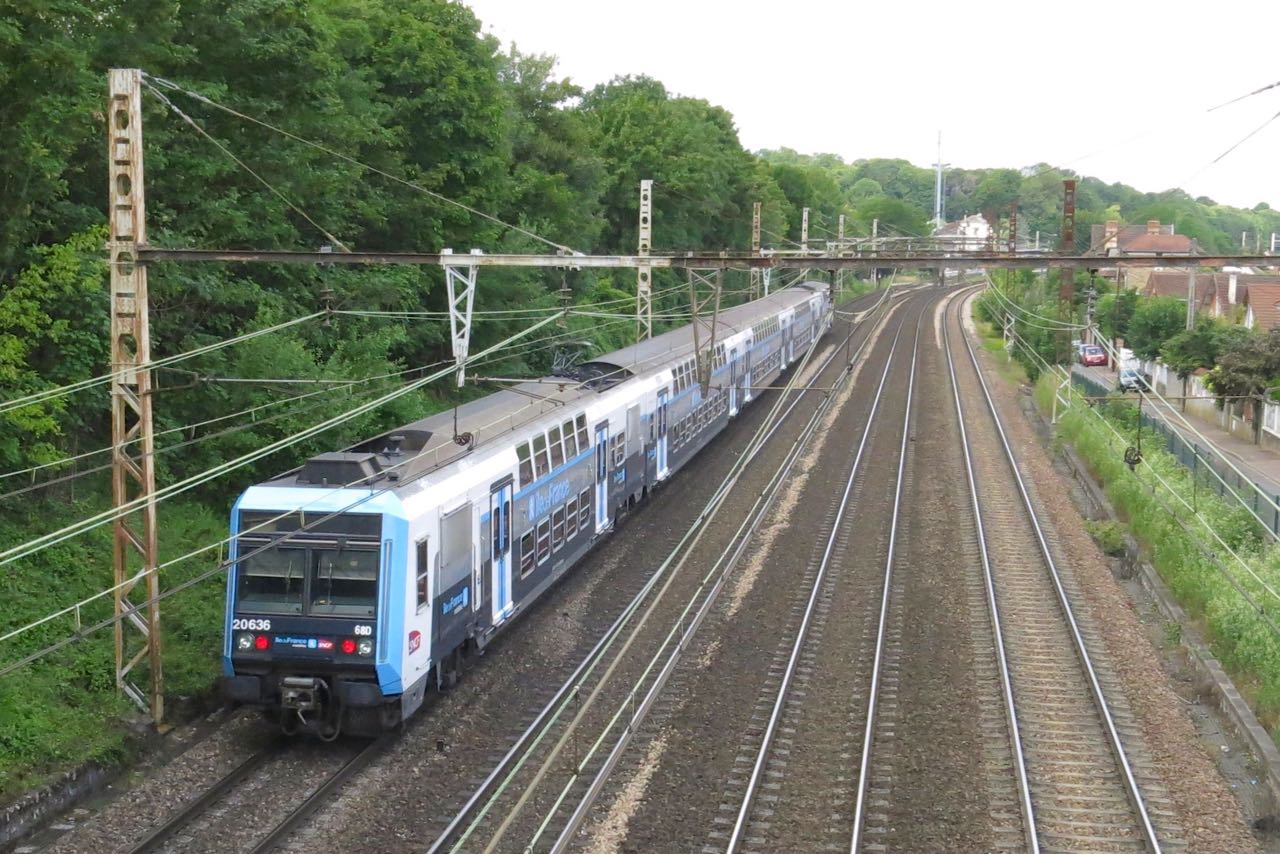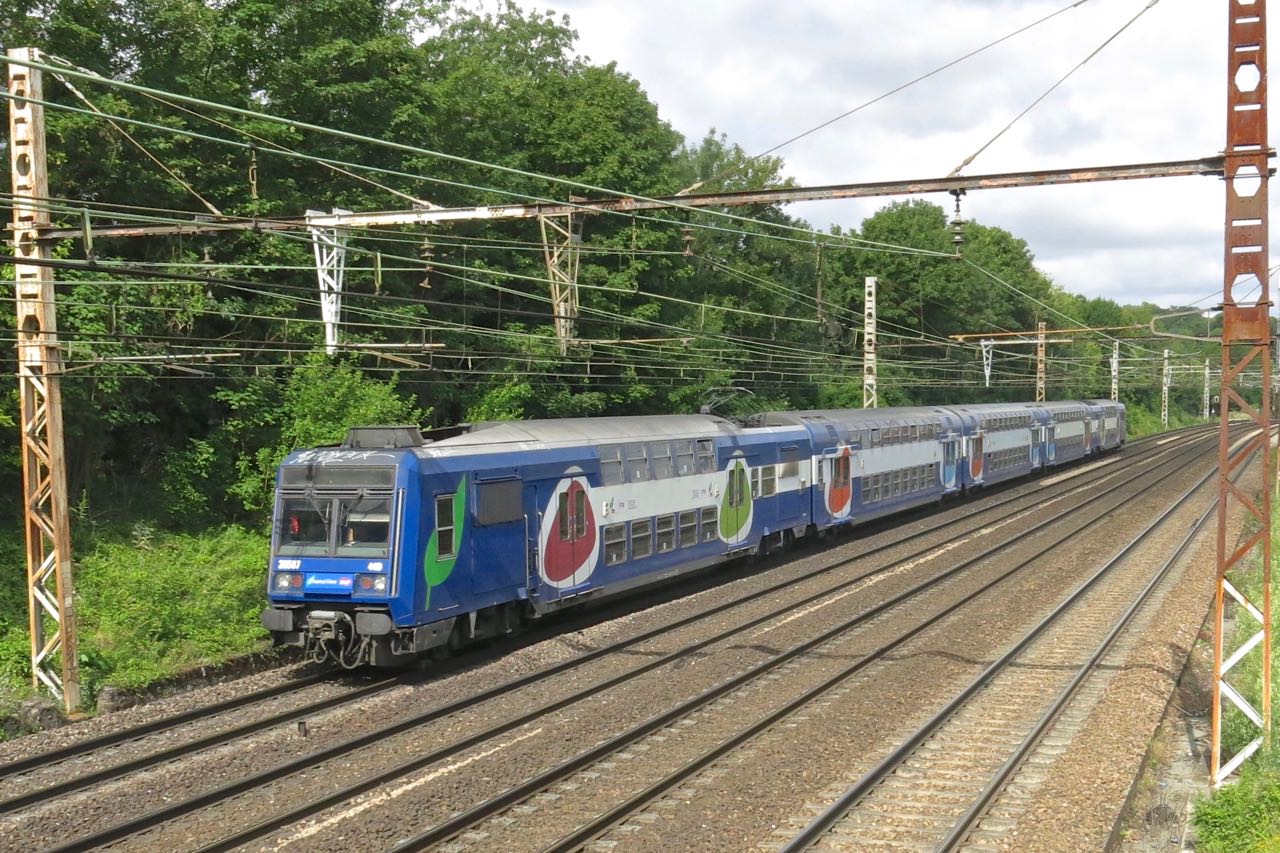 Against the modern Paris skyline of La Défense BB 69498 heads through Courbevoie towards Versailles Rive Droite on 24th June with a CRIS 196 measurement test vehicle. Photo Erwan Quintin.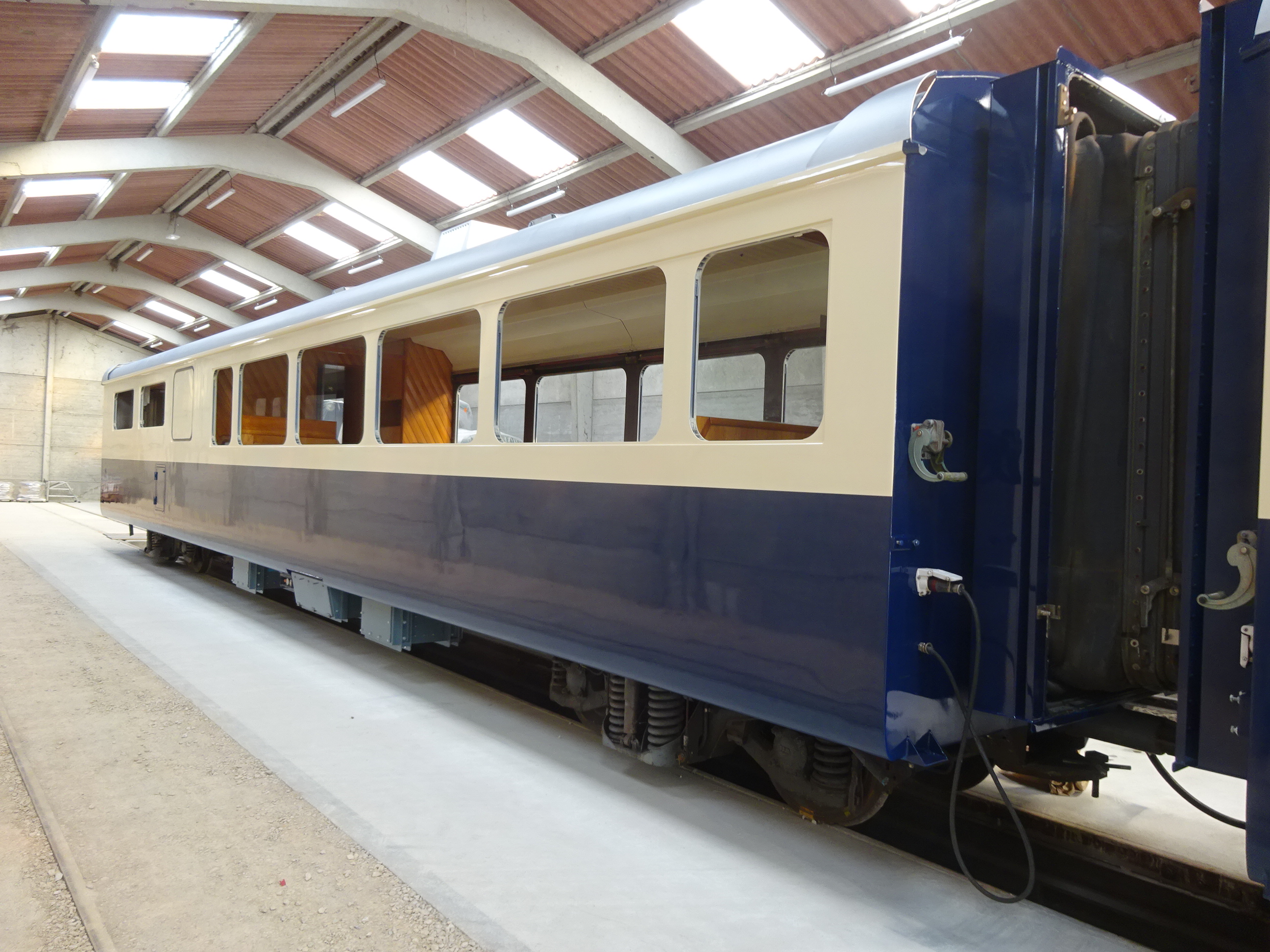 CFBS's new restaurant train nearing completion
The first stage of the CFBS project to create a four season restaurant train is nearing completion. The main element of the project has been the conversion of a pair of former Rhatische Bahn dining/kitchen vehicles (WR 3816/3817) and fourgon (D4218) to operate on the Baie de Somme network. Considerable work has been undertaken including changing the electrical system from the RhB's 11 kV AC 16.7 Hz pantograph source to a supply from a diesel generator installed in the fourgon, replacing all of the double glazed windows, alterations to deal with the higher air brake pressure (8 bar) and a general refurbishment of the interior fabric.
The two vehicles will provide dining facilities for 64 in a 4 +2 configuration, a galley kitchen and bar/servery with on board refrigeration and freezer facilities. The vehicles will be finished in a CIWL type livery (Photo above - Alain Paillard) with
Société Générale des Chemins de fer Economiques lettering and logo in gold. The next stage will be the refurbishment of former RhB WR3822 as an additional dining car providing an additional 36 places. Further stages will see the refurbishment of former RhB saloons B2212/2214 to enable the train to be used for conferences, seminars and other events.

Although the current CFBS 'diner a bord' set has been successful it has a number of shortcomings. The 1920 built Somme coaches are rather cramped with wooden seats, sash windows and limited heating on chilly evenings. They offer a historic rather than luxury experience.
With food served from a converted BOB fourgon located at one end of the train service is not easy, during windy or wet weather tarpaulins have to be erected over the open balconies to protect the food.
Opposite. On a stormy 29th September 2019 CFBS Haine St Pierre 2-6-0T No.15 heads a lunchtime dining special to observe the autumn high tides.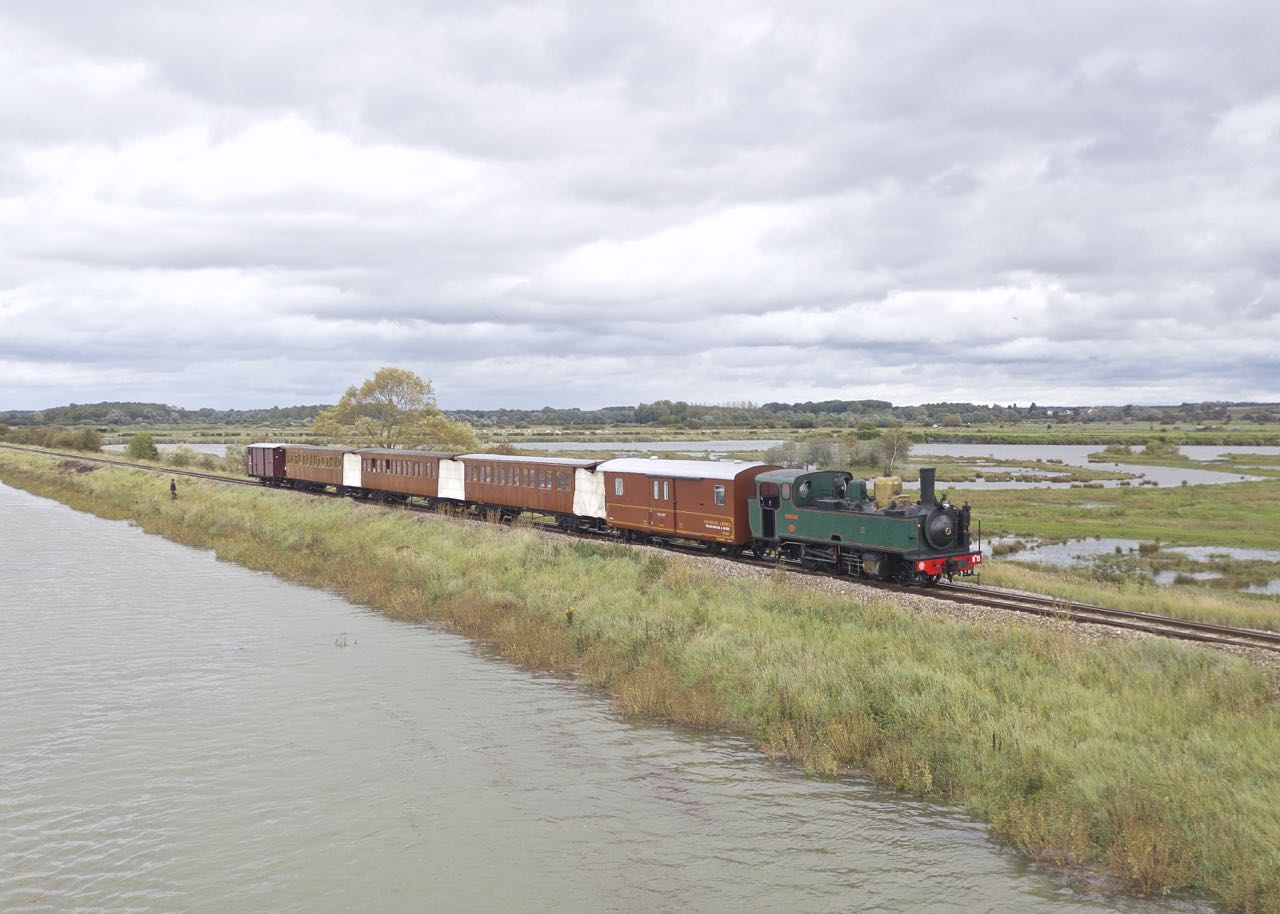 FRS Photographic Archive Additions during June 2020
- Forty-four new images in B&W to the "Miscellaneous" gallery after a donation by our member Jean Willig
- A new gallery of colour images by our member Michael Hooker, containing some 160 photographs of different railway scenes in France during the period 1979 through to 2007, including many station buildings now redundant
- Thirty new images in colour from Geoff Skelskey (non-member) depicting some mountain railways in France have been added to the "Miscellaneous Colour 2" gallery
Additions to the FRS public folder during June 2020

- Amended photographic index for "Miscellaneous" gallery
- Instructions for Mecaniciens/Conducteurs dated 1850
- Photographic index for "Michael Hooker" gallery
- Photographic index for "Miscellaneous Colour 2" has been updated .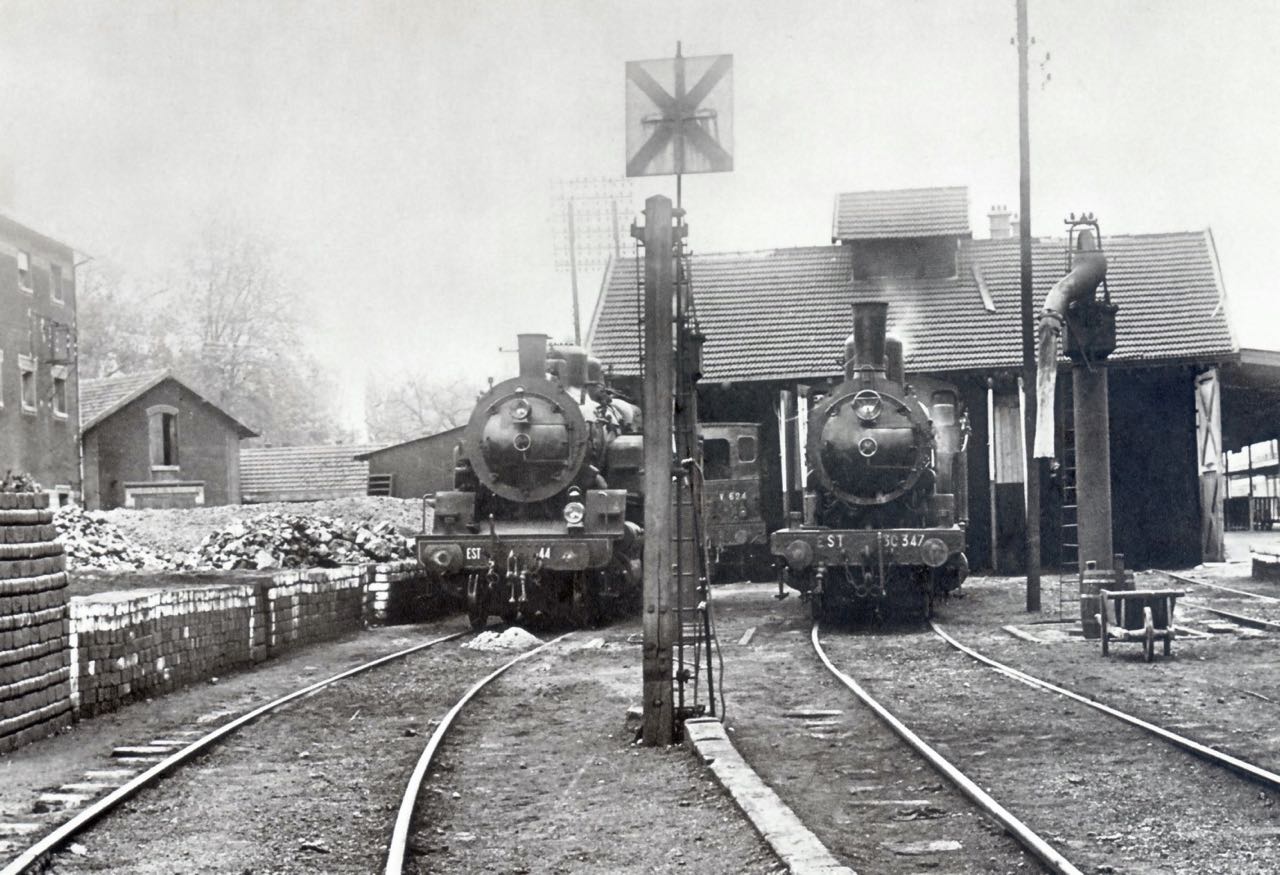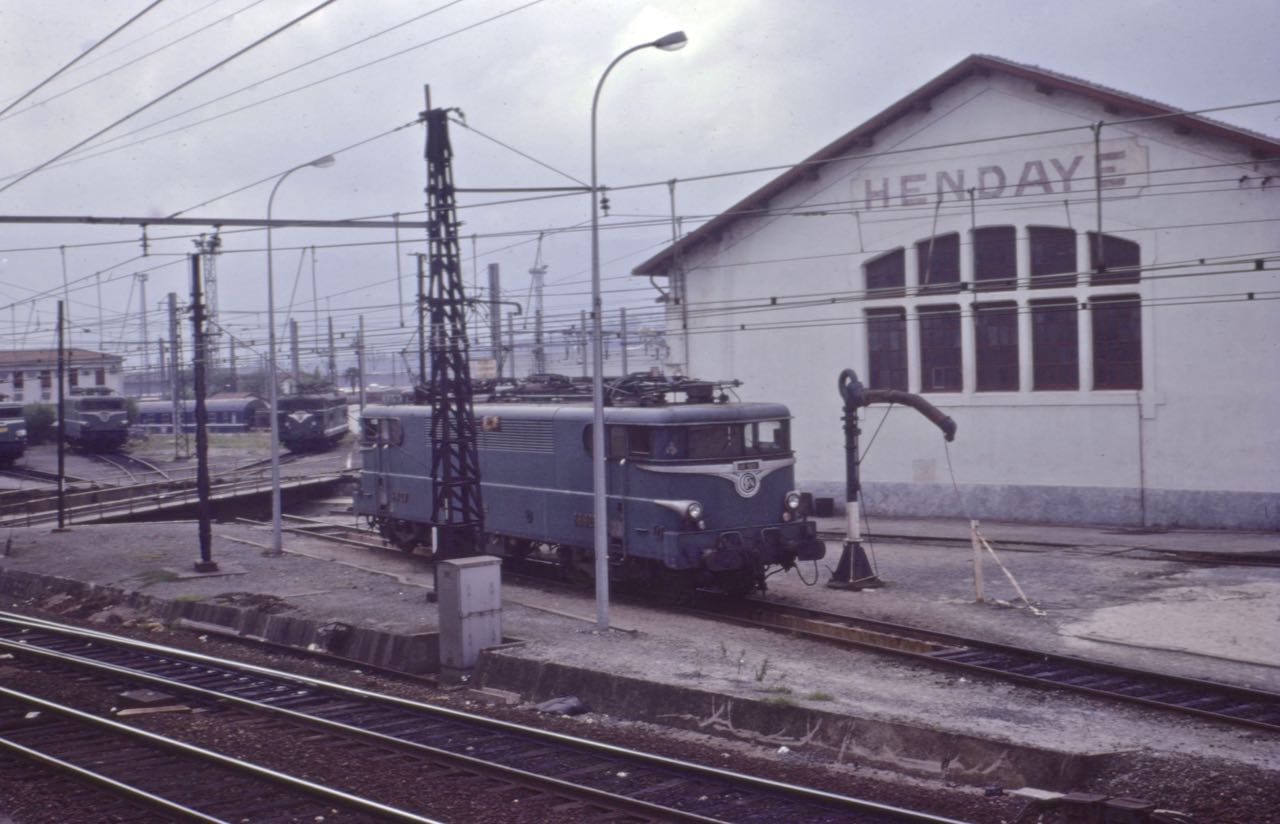 © Peter Lovell & Graham Skinner. The French Railways Society 2020. Photos by authors unless credited. Thanks to Romain Vergnères, Michel Costes, Christophe Masse, Erwan Quintin, Georges Turpin, John Shelley and Alain Paillard