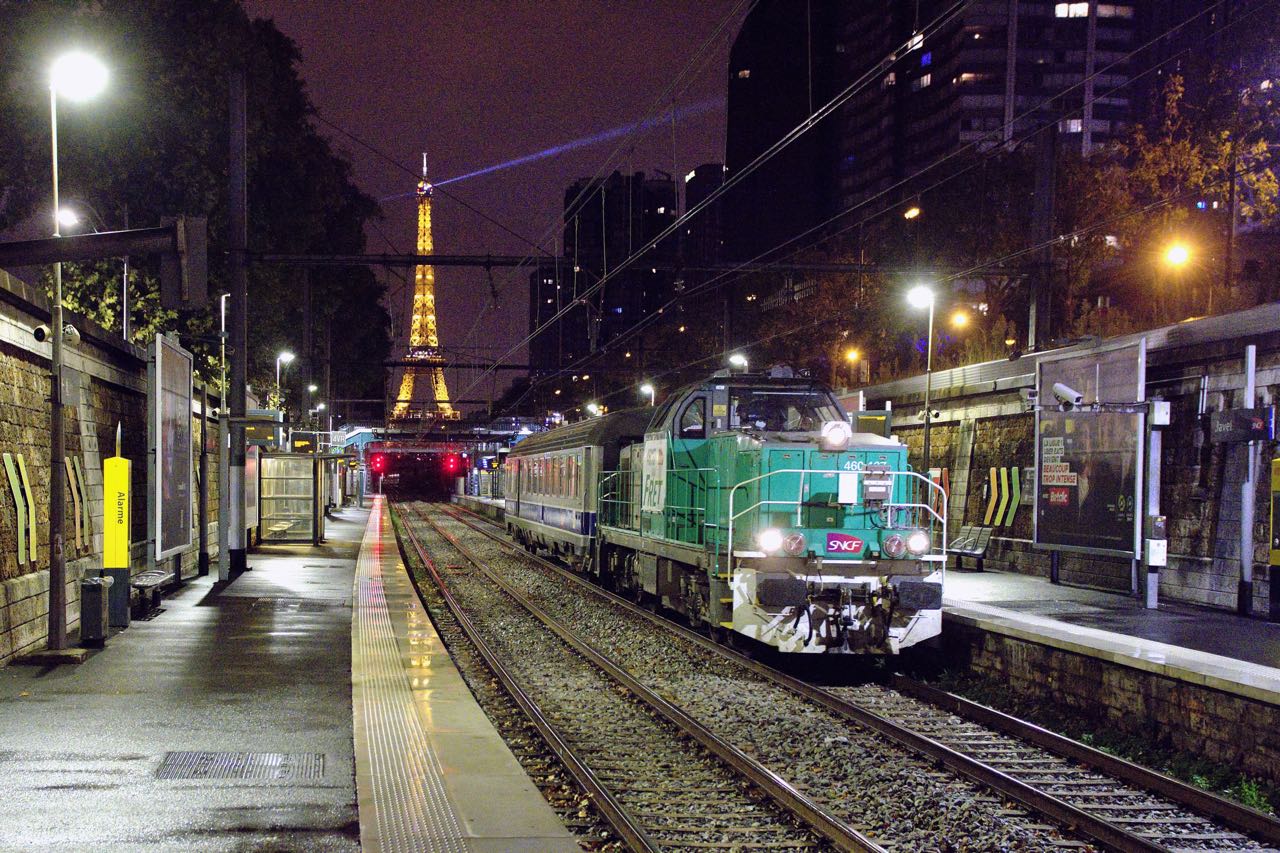 At just after midnight on 27th September 2020 BB 60137 passes through Javel with the train autonome an inspection coach from the AEF (Agence d'Essais Ferroviaire) making the first of a series of inspections of Paris railway tunnels.
Photo Erwan Quintin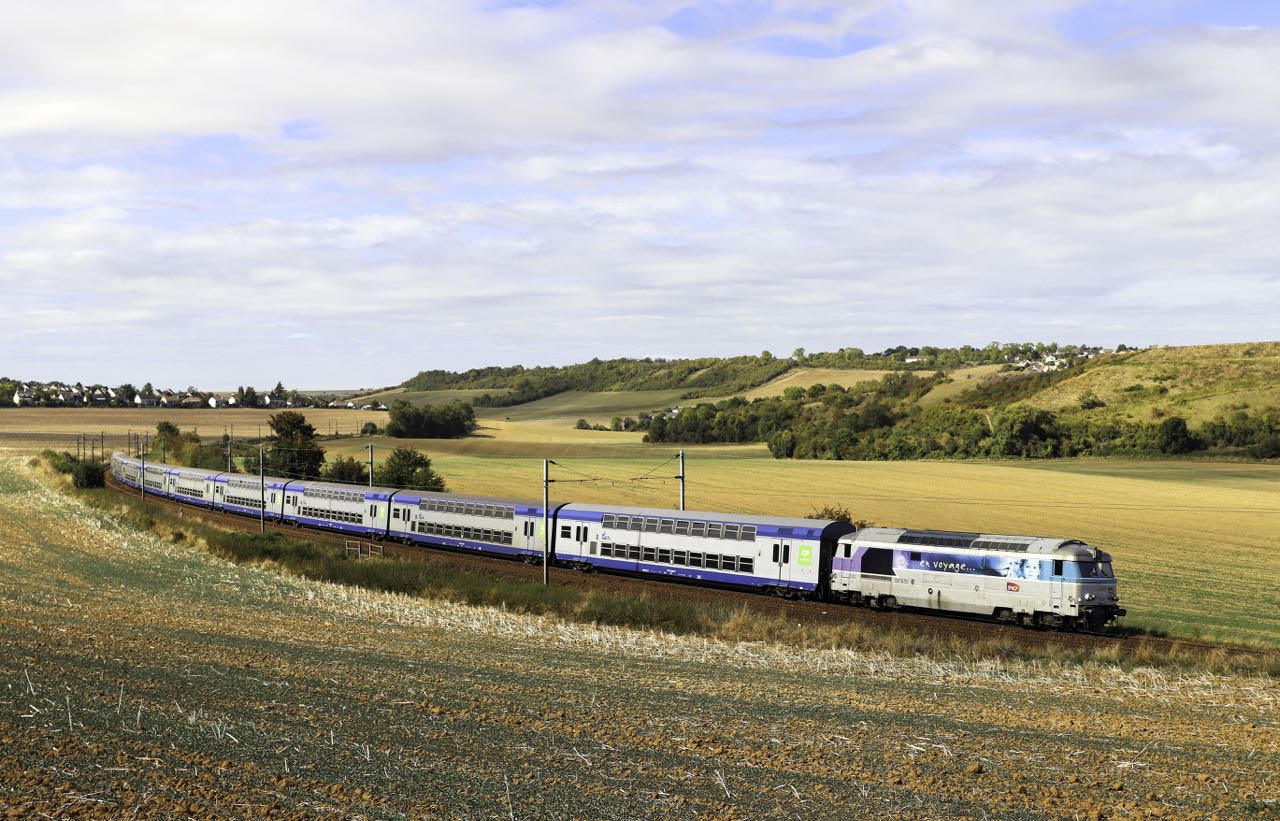 September has unusually seen a number of workings with BB 67400 on movements of V2n stock. On September 9th BB 67450 is seen at Beynes on the line from Epônes Mézières to Plaisir Grignon with a rake of former Picardie vehicles heading to Le Mans for breaking up. Replaced by Regio 2N units on outer suburban services from Gare du Nord the V2n stock is no more than 30 years old and quite capacious but lacks air conditioning. By contrast BB 67450 celebrated its 50th birthday earlier this year. Photo Romain Vergnères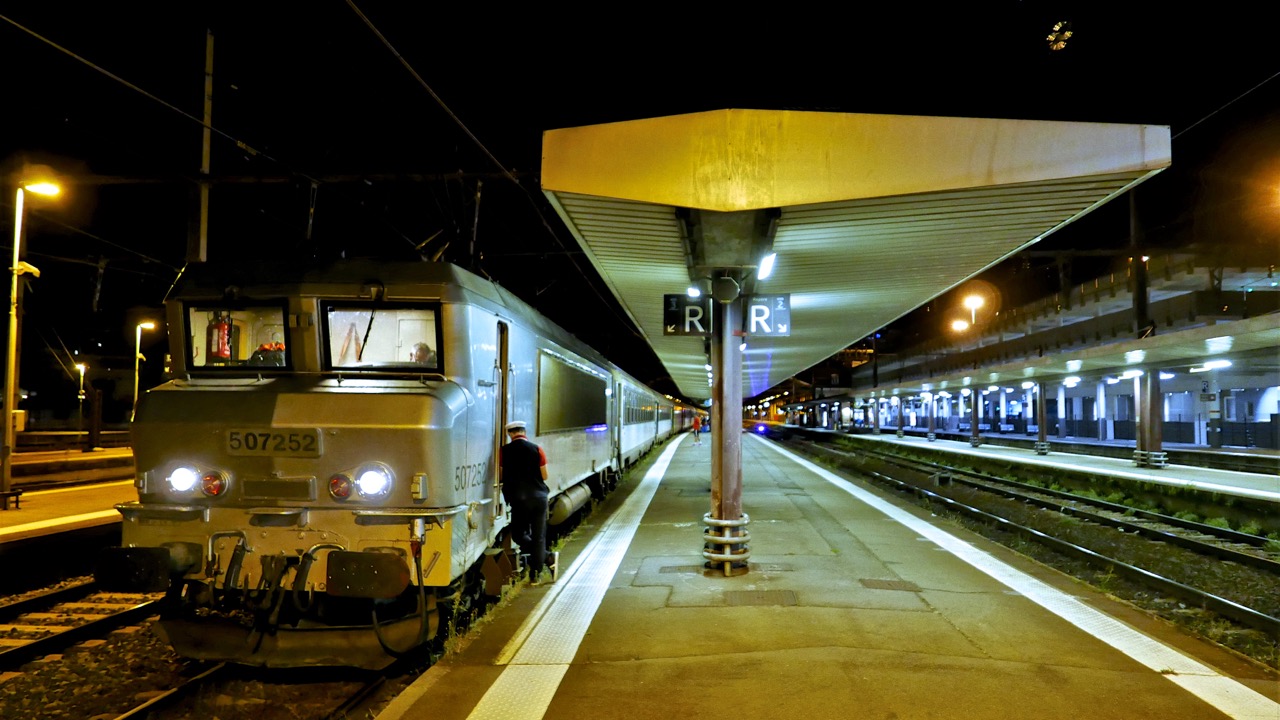 The new rail investment package will include investment on overnight services. On 12th September BB 7252 waits to leave Toulouse with the overnight service to Paris Austerlitz. At Brive it will pick up the Rodez portion. Photo Maurice Testu.
French Government announces €4.7 billion rail investment package
At the beginning of September the French Transport minister announced a €4.7 billion investment package as part of a wider post pandemic recovery plan termed France Relance. The announcement did not provide a lot of specific detail but priorities appear to be renewal of the conventional network, increasing freight and support for secondary and rural lines. The investment will also focus on climate change and environmental issues such as alternatives to glyphosate for weed-killing.
Specifically €2.3 billion will be spent on points, crossing and trackwork and £1.5 billion on bridges and structures. The announcement also stated that they expect other Regions to follow the lead of Grand Est and Hauts de France in offering services and routes for competitive tendering. Although there still has been no formal announcement on the Philizot report into rural lines this appears to be the emerging theme.
The announcement also confirmed that €100 million would be available for new rolling stock for overnight services and plans to introduce services to Nice and Tarbes. The SNCF president recently stated that they were talking to Austrian railways about acquiring stock.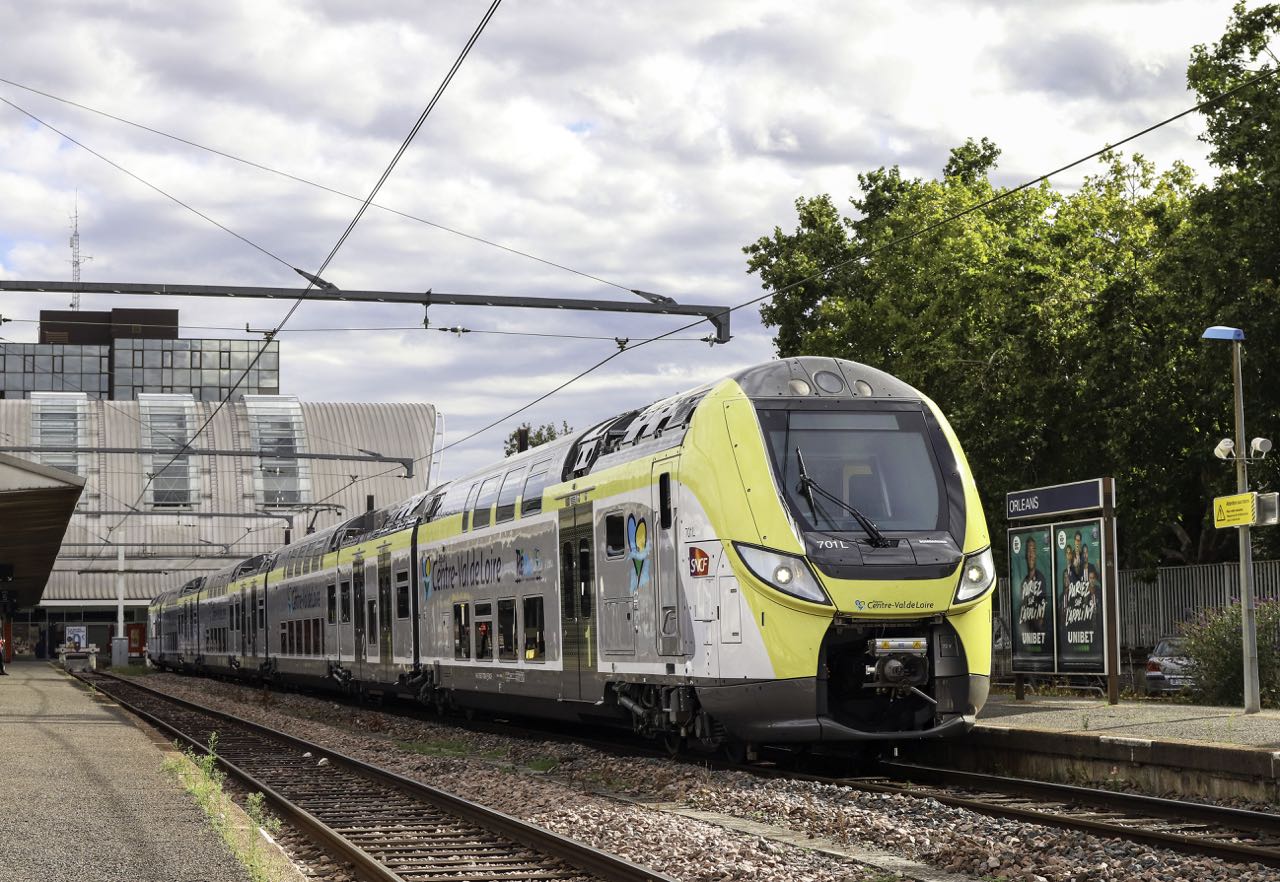 Inaugural run of Centre Val de Loire Omneo Premium


The inaugural run of Centre - Val de Loire TER's first Omneo Premium unit took place on the 25th August when set 701L (Z 56701/5607702) operated from Orleans to Blois.
32 eight car versions of the Bombardier Regio 2N are on order to replace BB 7200/BB26000 on services from Paris Austerlitz to Tours, Orleans and Bourges.
Above 701L in Centre - Val de Loire Remi livery at Orleans and opposite at Blois. Both photos: Romain Vergnères,

On 5th September CFTSA's Modified Caravelle X4719 formed the first railtour to visit the newly rebuilt line to Le Treport. Seen above after arrival at Le Treport with the town's latest attraction, a large Ferris Wheel adjacent to the station. Demand exceeded capacity and CFTSA ran a repeat on the 26th September. Photo: Philippe Armand
CAF unveil new POLT Intercités trains
At an event at Limoges on 7th September rolling stock constructor CAF unveiled the outlines for the new rolling stock for POLT (Paris-Orleans-Limoges-Toulouse) and Paris - Clermont Ferrand Intercité services and engaged elected officials in discussions on the detailed interior design.
28 of the new trainsets have been ordered and should be delivered in 2023, entering commercisl service the following year. With a top speed of 200km/h they are expected to reduce journey times between Paris and Limoges to 2hr 40m - 2hr 50m with one stop. All photos and video CAF
CMR's 25236 to the rescue
On the 18th September BB15064 failed while hauling 766900 Le Havre-Paris Batignolles ECS. CMR's BB 25236 was in the Rouen area for display at Sotteville as part of Pacific Vapeur Club's Journées Européennes du Patrimoine exhibition and provided assistance, seen above passing Rosny sur Seine.
Photo Erwan Quintin
CMR - Cellule Matériel Radiées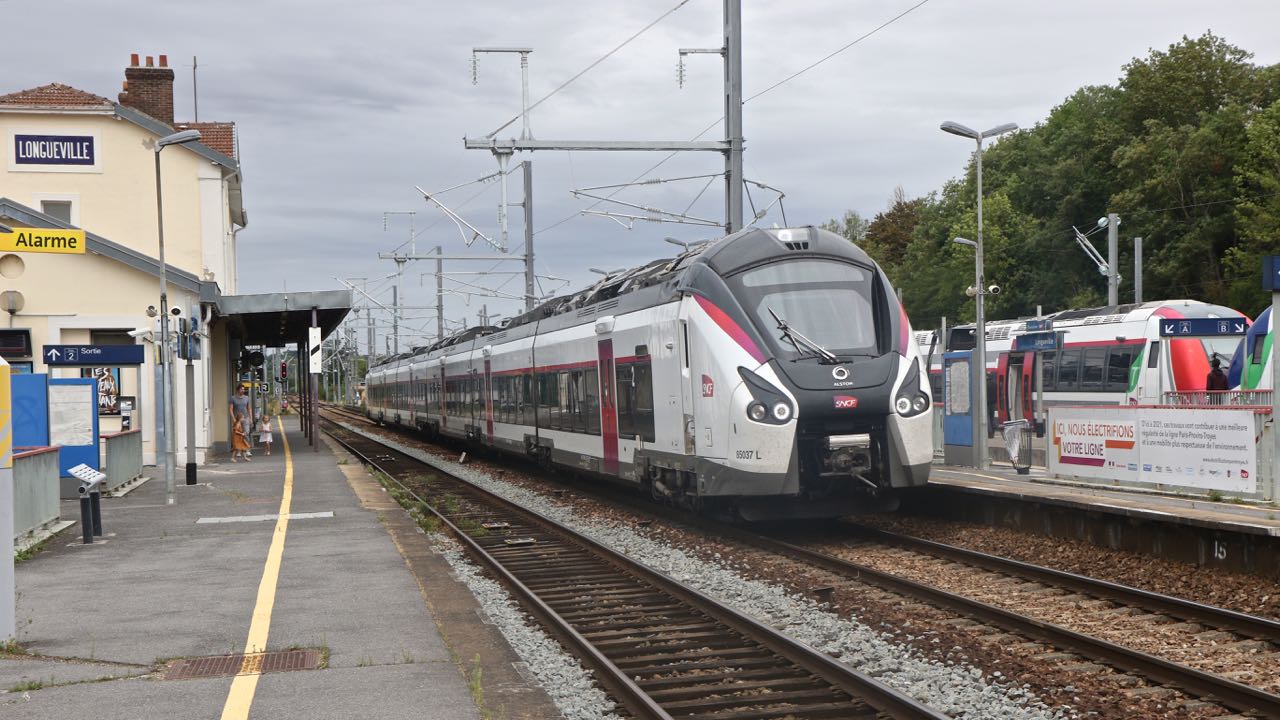 Line 4 electrification reaches Longueville
The electrification of Ligne 4 has now reached Longueville where masts and catenary have been erected over the down side island platform. Above, a bi-mode Coradia Liner with train 839407 Paris – Troyes stops at Longueville on August 19th. On the right is a pair of bi-mode AGC units with a Paris – Provins service. Note also on the island platform the advertisment explaining the purpose of the electrification.
Photo: Georges TURPIN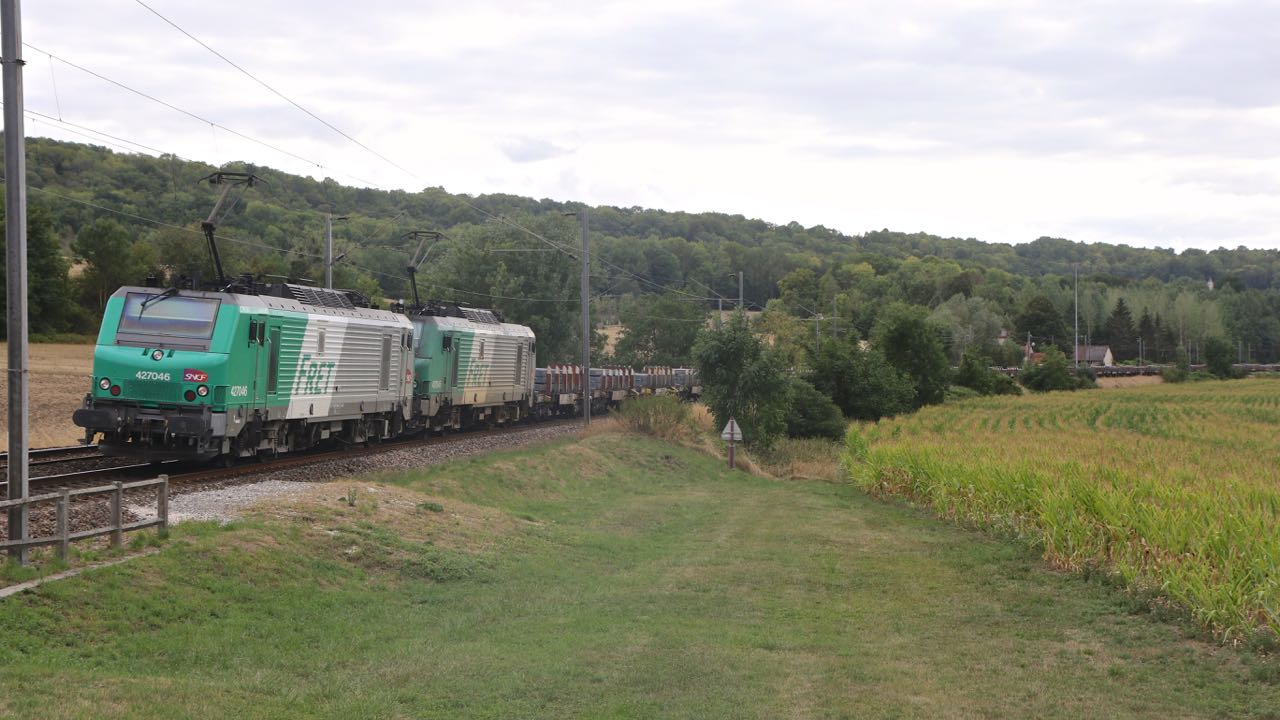 Dunkerque - Ebange slab trains diverted via Paris
This summer major engineering work has taken place on the track and tunnels of the North-Eastern line between Valenciennes – Thionville with some sections being closed to traffic. This has seen the Dunkerque Grande Synthe- Ebange metal slab trains diverted via Paris. These normally load with up to 50 wagons with loaded trains hauled by pairs of BB 27000. Above BB 27046 + 27045 are seen in charge of train 72189 Dunkerque-Grande-Synthe – Ebange, here passing Fossoy (Aisne) between Château-Thierry and Epernay on August 23.
Photo: Georges TURPIN
SNCF to sponsor 2023 Rugby World Cup
SNCF is the official sponsor for the 2023 Rugby World Cup and will be providing low carbon transport between the venues for participants and officials during the event. During September the SNCF exhibition train has been visiting 24 locations from Lille to Perpignan with the
WE LOVE 2023 TOUR,
raising awareness of the event
.
After visiting Amiens BB 22318 is seen en route to Chalon-sur-Saône on the evening of 13th September.
Photo Erwan Quintin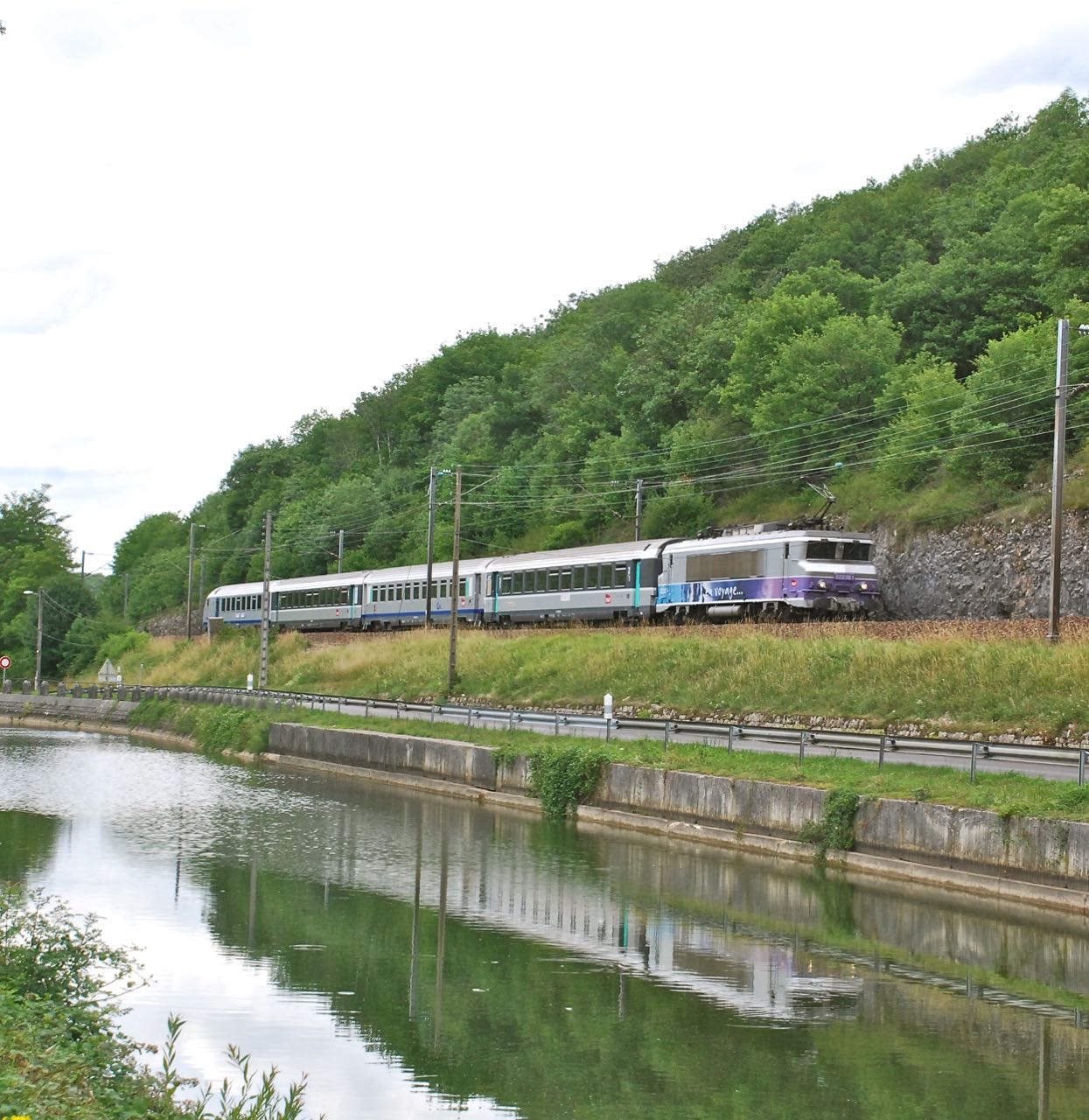 Franche-Comté BB 22200 Farewell
On the 19th September Bourgogne Franche-Comté TER bid farewell to Class BB 22200 after 40 years of service in Franche-Comté with BB22356 covering the following trains:
06:04 Dijon - Besançon
07:32 Besançon - Belfort
09:36 Belfort - Besançon
10:51 Besançon - Lons Le Saunier
13:01 Lons Le Saunier - Bourge en Bresse
14:23 Bourg en Bresse - Besançon
On board entertainment was provided by a local theatre group. The TER also offered €5 TER passes to the first 16 who applied (presumably limited to maintain social distancing).
Opposite. On 10th June 2011 BB 22336 passes the Rhin-Rhone canal at Duluz with the 13:38 Besançon - Belfort
BB 67400s return to Belgium
Seasonal ballast traffic has seen BB 67400s working into Belgium from Somain to the quarry at Quenast with three BB 67400s outstationed at Somain (67471/67579/67629) to cover the traffic. Above: On 1st September BB 67629/67579 head through Masnuy St Pierre on the outward journey to Quenast. Below: Later in the day the pair are seen passing an SNCB AM78 unit at Quévy as they return to Somain with the return working. On this occasion the eventual destination was Boulogne sur Mer with a BB 27000 taking over at Somain.
Both photos Erwan Quintin
.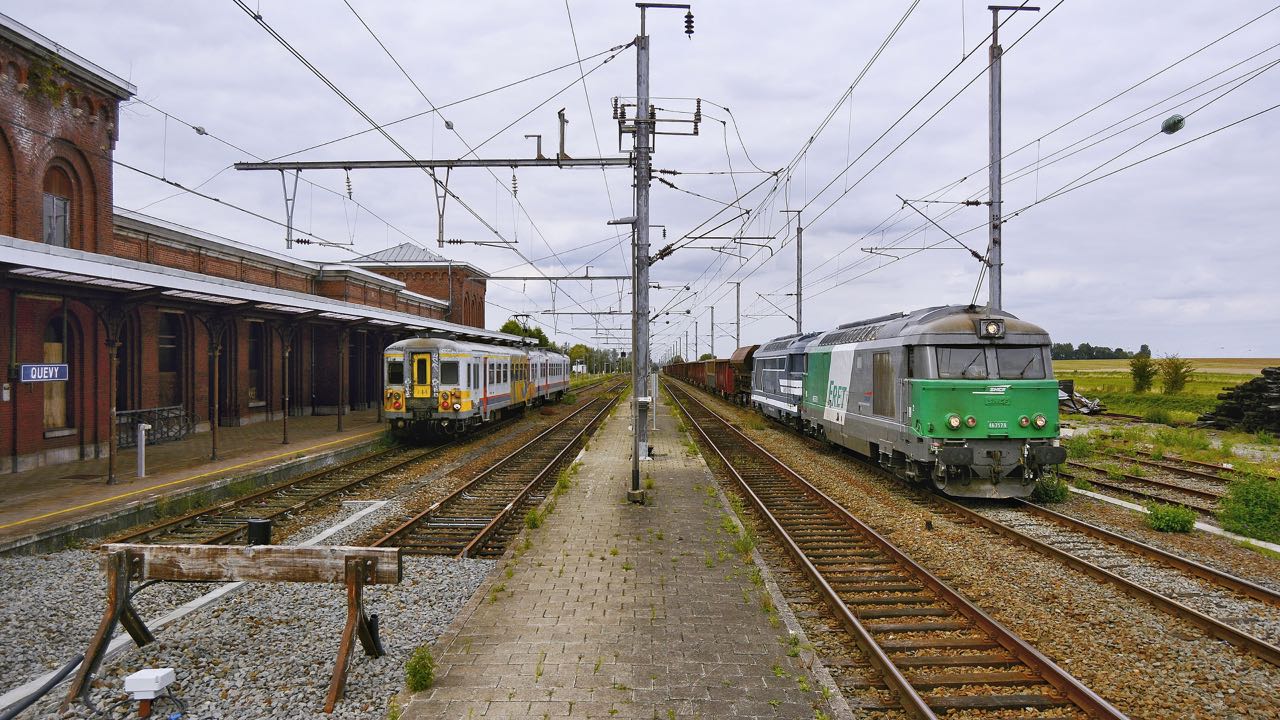 Journées Européennes du Patrimoine
The annual Journées Européennes du Patrimoine took place over the weekend of 19/20th September. Despite some cancellations due to Coronavirus numerous events took place at both preservation venues and with special trains. Above. On 20th September APMFS preserved CC 6549 returned the ambiance of the early 2000s to the Maurienne Valley when it operated between Chambery and Modane and is seen at Saint-Michel - Valloire. Photo Christophe Masse Below. Ajecta's 140 C 231 is seen at Lechelle on 19th September operating between Longueville and Villiers-Saint-Georges. Photo. Erwan Quintin.


The first mainline steam special of the year ran on 29th August when PVC's 231 G 558 ran to Dieppe and back.
The outward journey was tender first and the return working is seen emerging from the 1065 m Tunnel de Saint-Maur before running non-stop through Rouen Rive Droite station. 231 G 558 does not look out of place as it runs under the work stained concrete bridge and past the elderly signal gantry. Photo Eric Martin
231 G 558's last run of the season will be on 24th October from Rouen via Elbeuf, Serquigny and Evreux to Mantes with return via Vernon and Sotteville.
Further details
This is expected to be its last run before the boiler certificate expires and 231 G 558 receives an overhaul. It is expected to return in 2022, in time for its 100th birthday.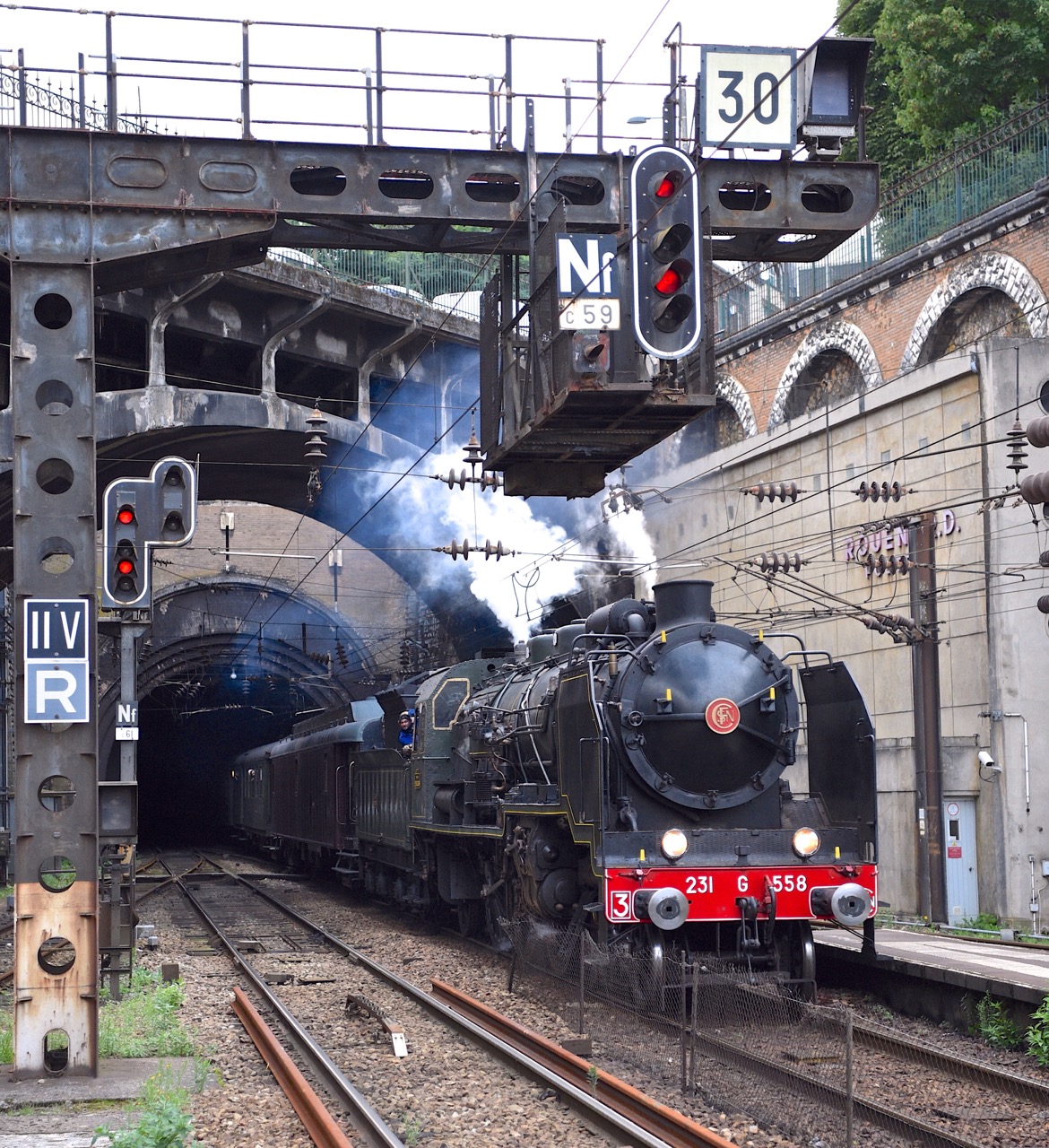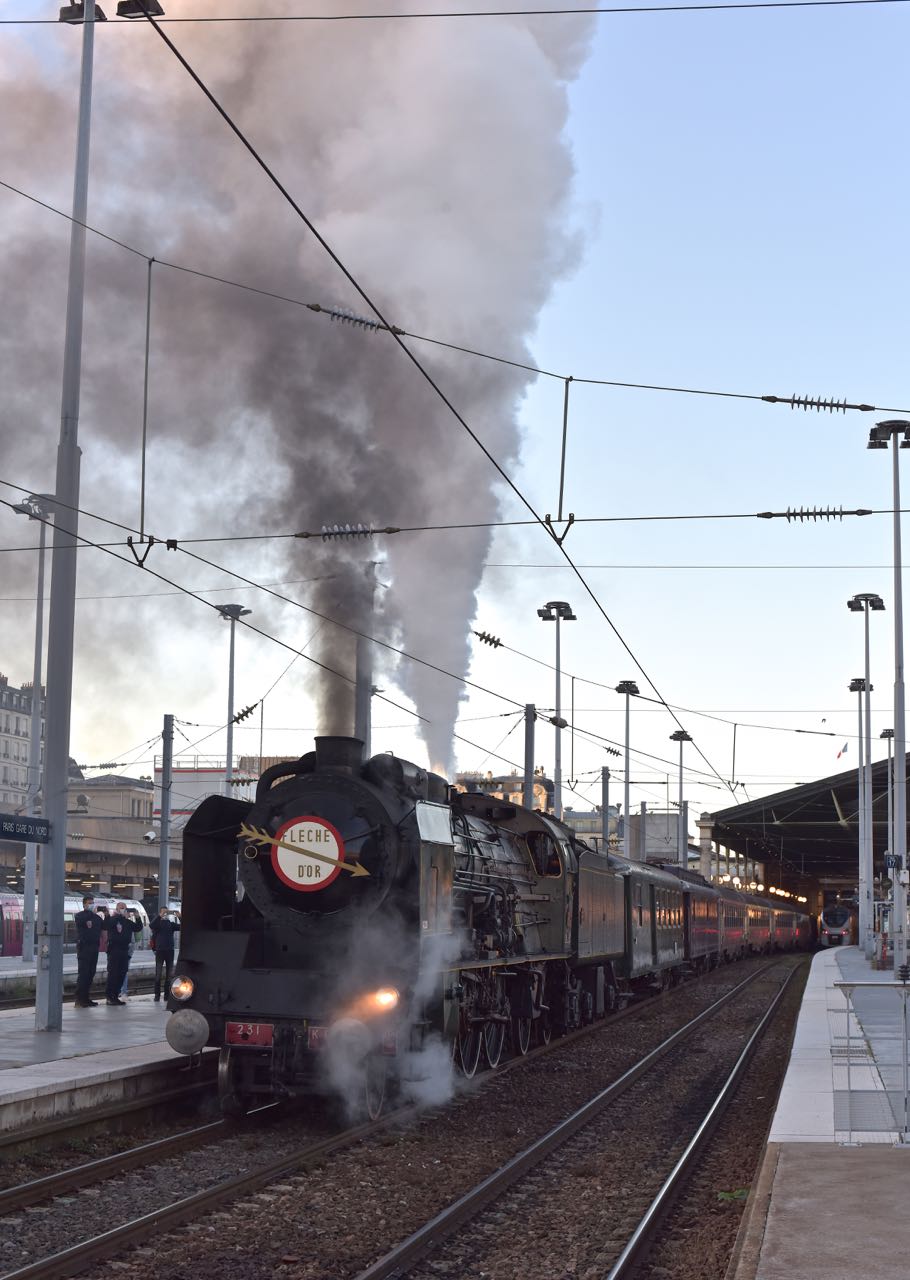 231 K 8 returns to Calais
On Saturday 26th September MFPN's
231 K 8 operated a charter from Gare du Nord to Noyelles (for the CFBS). It then ran empty to Calais for turning and servicing. Unusually an open wagon was attached to the rear of the train carrying coal for the return journey, although this did not enhance the aesthetic effect.
Opposite. With an 08:16 start 231 K 8 prepares to depart from Gare du Nord as day breaks over Paris. Photo Eric Martin.
Above. By the time 231 K 8 was passing Louvres (95) in the northern outskirts of Paris the sun was just rising, bathing the special in an early morning orange glow. Photo Christophe Masse. Below. By the evening the weather had closed in as 231 K 8 is seen making steady progress on the climb to the summit at Caffiers with the ECS for Noyelles. For the return journey the open wagon was located at the front of the train. Photo Philippe Armand.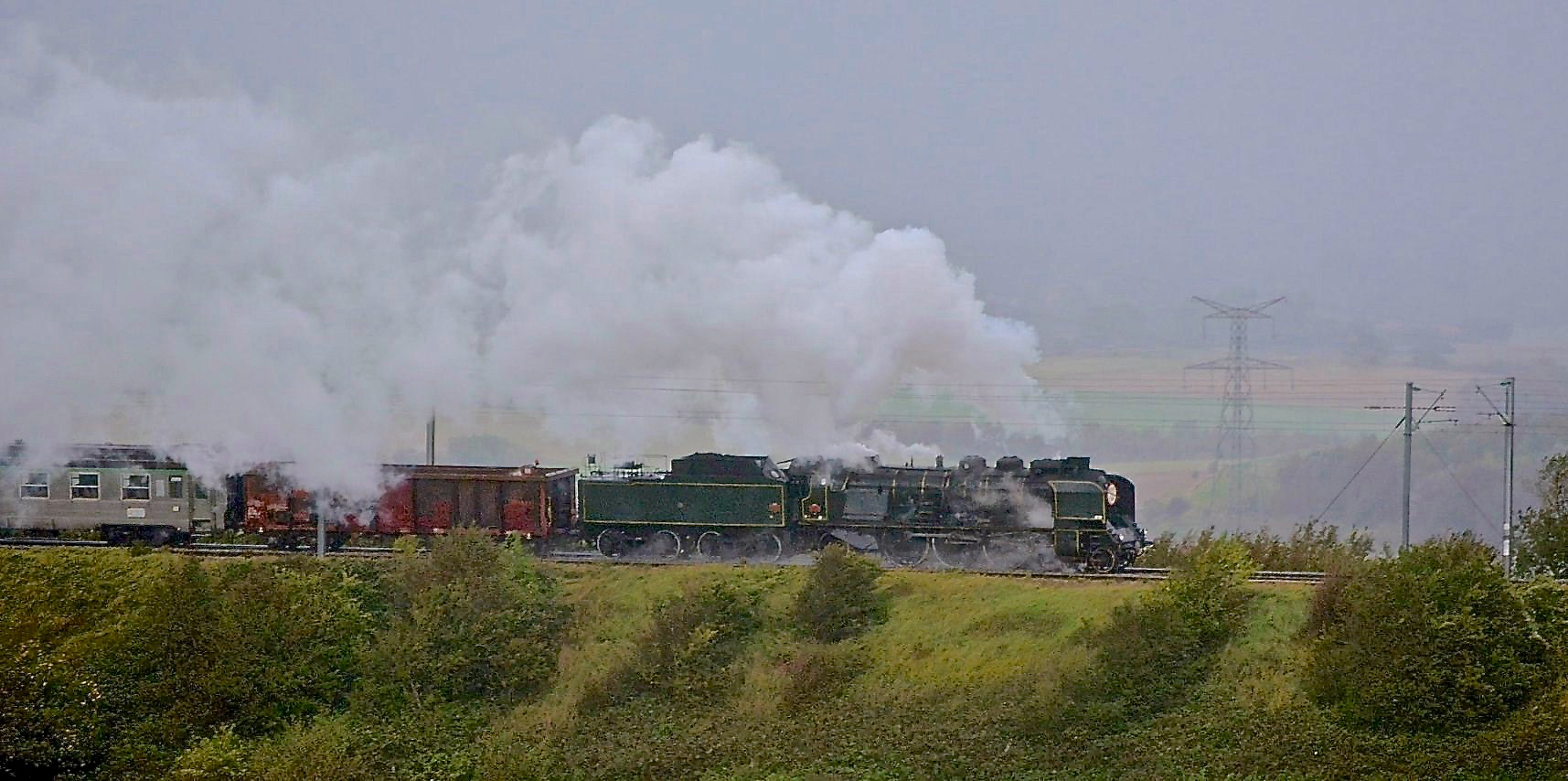 Additions to FRS Photographic Archive during September 2020
- Creation of a predictable search function for Folder 1 in the FRS photographic archive
- "From PLM to TGV" - a collection of AFAC articles on railway development - Folder 4
- "CdF Industriel de la Plaine-St Denis et d'Aubervilliers"
- an AFAC article on an important transhipment centre in the Paris Nord Banlieu - Folder 4
- Study of "Nord - Belge" by Albert Jacquet - Folder 4
- Collection of drawings by Maurice de Roux (Ing. EIM) of PLM/SNCF Region 5/6 steam locomotives (86) and tenders (37) - Folder 2 .
Additions to the FRS public folder during September 2020
- CIWL journey Paris/Constantinople 1887
Technicentre Hellemes
Opposite is a short SNCF publicity video looking at the work undertaken at the Hellemes Technicentre dealing with TGV's providing services in Northern France
Although made in 2016 it gives an insight into the extent of work undertaken at the depot
© Peter Lovell. The French Railways Society 2020. With thanks to Michel Costes, Erwan Quintin, Christophe Masse, Romain Vergnères, Georges Turpin, Eric Martin, Philippe Armand and Maurice Testu.