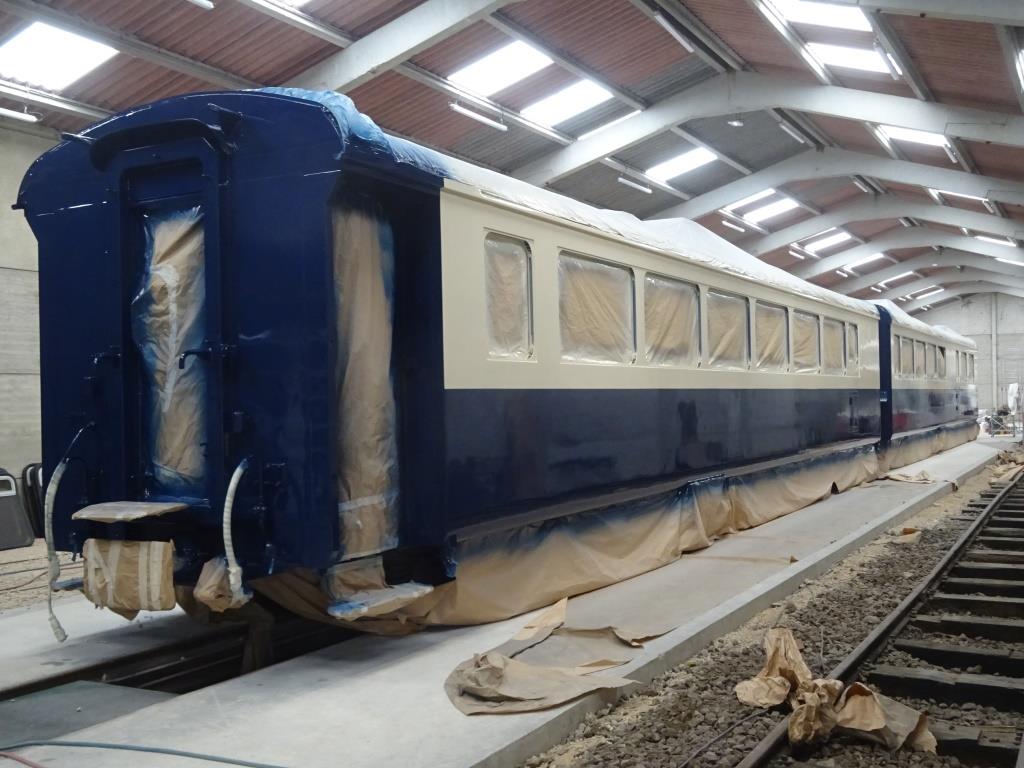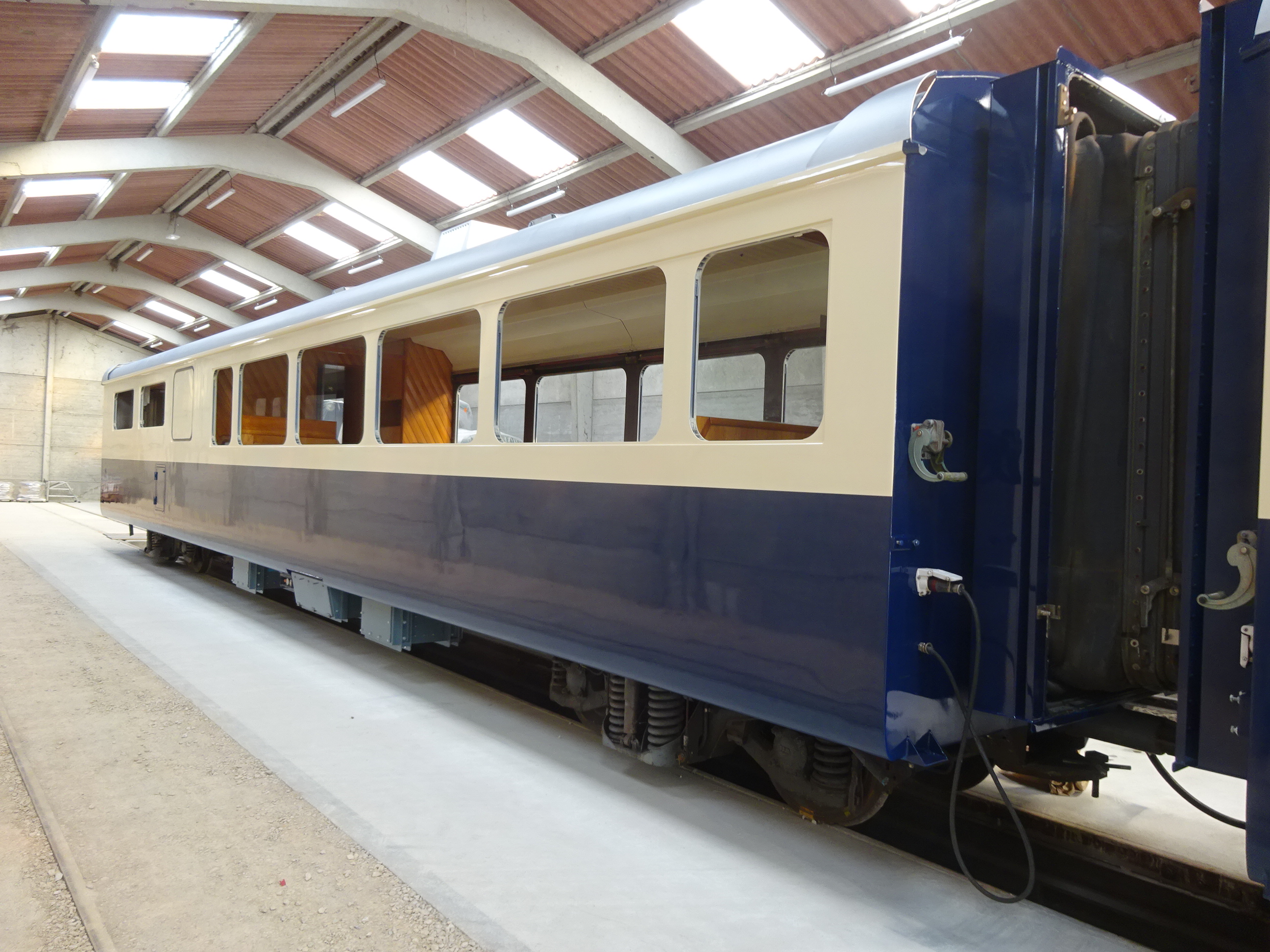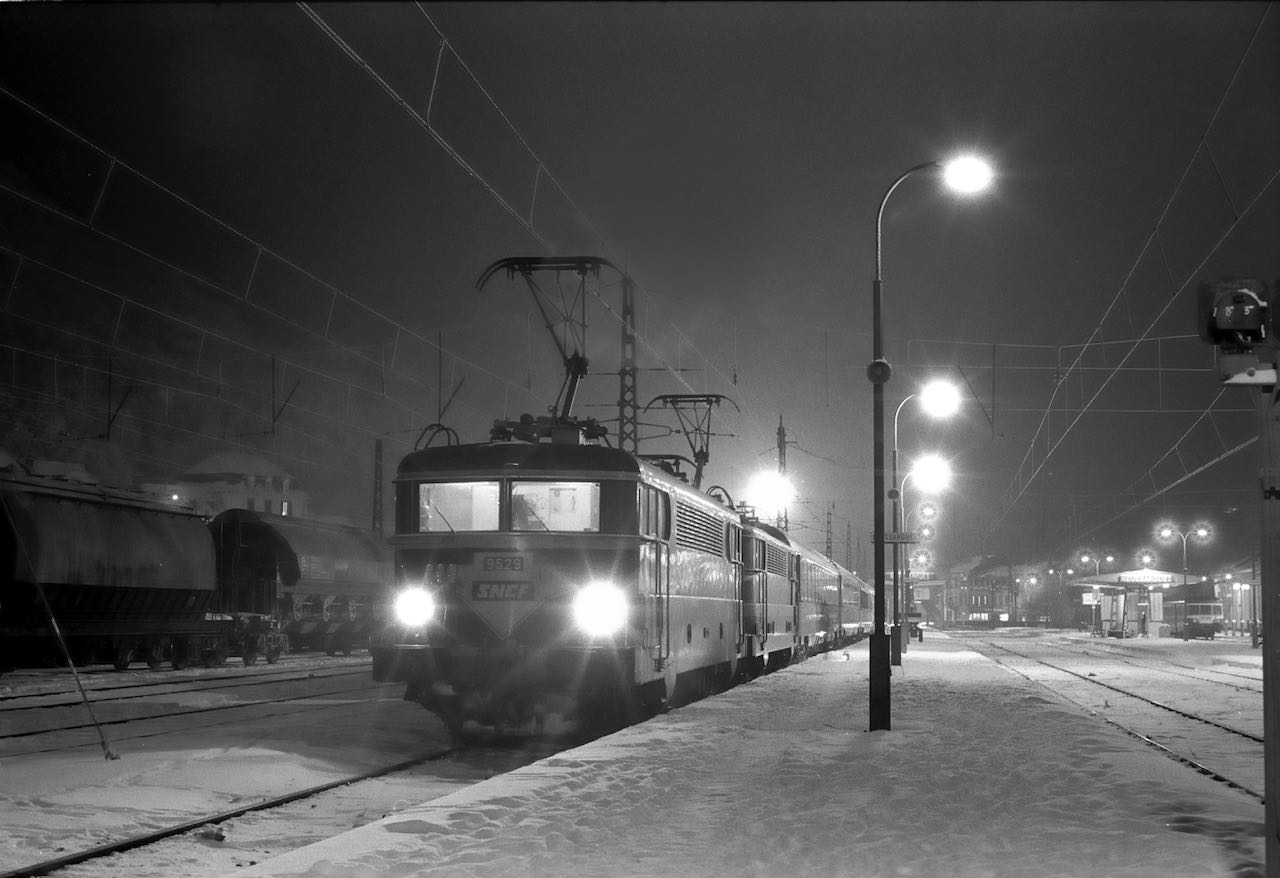 Aubrac route suspended
SNCF suspended traffic between Neussargues and Saint-Chély d'Apcher on the 3rd December due to the condition of the track. An inspection train had passed over the route at the end of November and detected a number of faults. Traffic had already been suspended further south between Bédarieux and Marvejols the previous week, again due to condition of the track. The only regular traffic over the Neussargues - Saint-Chély d'Apcher section is the daily Clermont Ferrand - Beziers "Aubrac Express" and the train of steel coils (3 times a week) to the Arcelor Mittel works at Saint-Chély (
see May News
).It is unclear, at present, what efforts will be made to repair the line.
Just before Christmas Storm Bella dumped vast quantities of snow on the Massif Central. Since Christmas Day the train service between Clermont-Ferrand and Aurillac has been suspended due to obstructions from fallen trees and snow drifts. Initially, road coaches were also not authorised to run. As of Dec 29th, it has been reported that the line from Neussargues to Le Lioran (1,152 m, 4,300 ft ) and Aurillac is still blocked in places. Exceptionally, three snow plough trains are being used to clear this line (one of the snow ploughs has been transferred from Chambéry).
Above. In February 1987, the 'Aubrac' provided a through service from Paris to Beziers, the southbound train waits to leave a snowy Neussargues led by BB 9529. Photo Michel Costes. Below. On the 2nd October 2014, BB 67530 and BB 67579 haul empty steel coil wagons over the Garabit viaduct, returning from Saint-Chély-d'Apcher to Clermont-Ferrand. Photo Duncan McEvoy.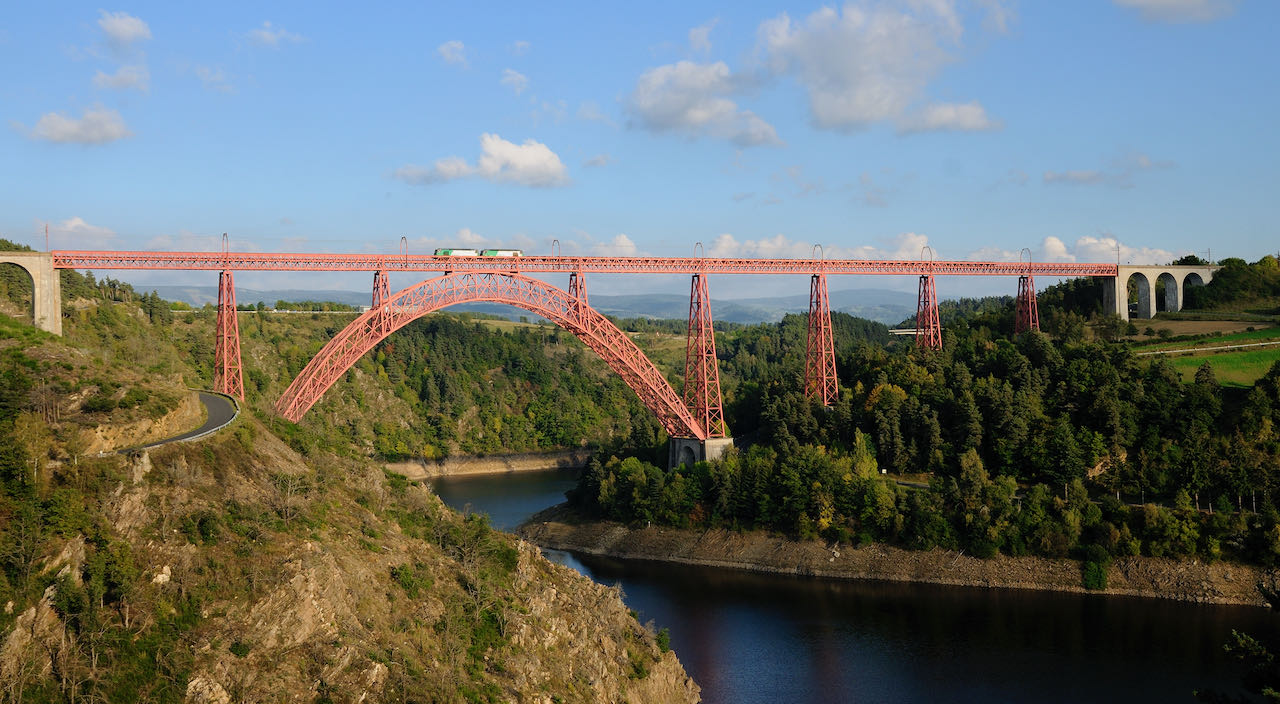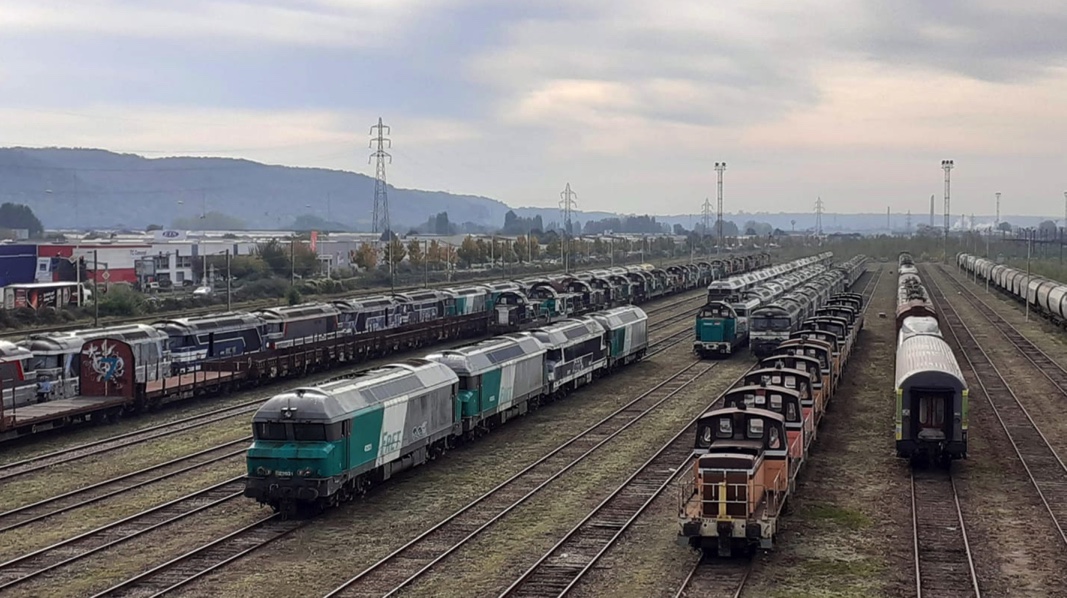 Sotteville Yard - loco storage coming to an end
Since 2010 the former Triage Yard at Sotteville les Rouen has been used to store withdrawn locomotives. Initially these were 1960 and 1970 designs, displaced by the introduction of BB 27000 and BB 75000 on freight services and AGCs, Regio 2Ns and Francilien units on TER passenger services. In recent years arrivals have included BB 26000s and TGV SE powercars. Locomotives were originally broken up at the adjacent Quatres Mares works but are now being towed to Baroncourt for breaking up, while Quatres Mares concentrates on increasing volumes of VB2N stock and Z6400 units from Paris.
In 2014 there were over 400 locomotives awaiting disposal, but by the summer of 2020 this had fallen to below 200. An article in the November edition of "Le Train" 391, reported that in August a total of 169 locomotives and locotracters were present made up of: BB 7200 = 3, BB 8500 = 5, BB 9200 = 1, BB 9300 = 1, BB 15000 = 1, BB 16000 = 1, BB 17000 = 1, BB 25200 = 1, BB 25500 = 9, BB 63000 = 4, BB 63500 = 9, BB 64700 = 3, BB 64800 = 1, BB 66000 = 11, BB 66400 = 1, BB 66700 = 4, BB 67300 = 23, BB 67400 = 32, A1A A1A 68500 = 10, BB 69000 = 2, CC 72000 = 9, CC 72100 = 11, Locma = 7, Y 7100 = 2, Y 7400 = 8, Y 8400 = 9.
Above. The scene at Sotteville in late November. Photo Kenny Basse.
Building disaster closes Gare de Austerlitz
Gare de Austerlitz was closed from 1st to the 14 December after a 370 ton concrete beam collapsed onto the tracks. The hollow beam was one of three being positioned across the tracks to support a new hotel and youth hostel next to Bibilothèque François Mitterand on the approach to Austerlitz. Once in position it would have been filled with concrete and steel. In all,12 beams have to be installed (after review of causes of the accident).
At 01:30 in the morning with rail traffic stopped, the 45 metre beam was being manoeuvred into position when it was dropped, breaking into four sections blocking all of the running lines. It could only be removed by breaking up into small pieces. It took until the 11th December to remove the beam with teams of 150 men working around the clock and the deployment of France's two largest rail cranes. Once the track had been cleared the overhead catenary and signalling could be repaired. Trains started operating on RER C on the 14th December and Austerlitz re-opened to normal traffic on the 15th.
Long distance trains were diverted to Bercy, while RER C was suspended between Austerlitz and Juvisy and Massy Palaiseau. With passenger traffic at about half of normal levels the impact was less acute than it might have been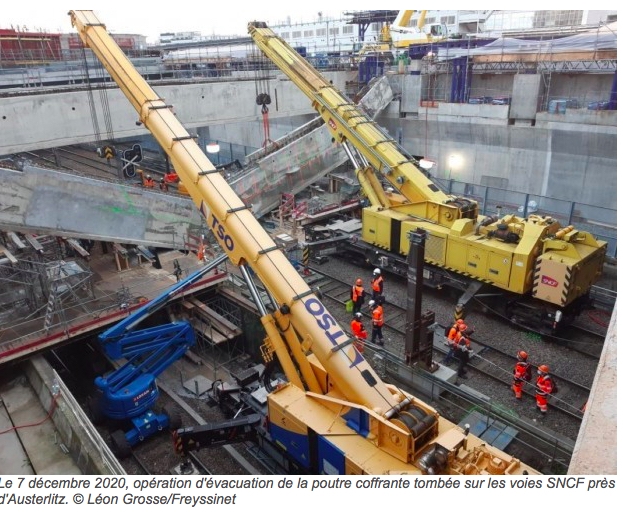 The leaf -fall season is now over for another year, on November 12th 2020 a railhead treatment train flanked by BB 64613 and BB 64607, has just passed Mantes la Jolie, heading towards Bueil. Photo Romain Vergnères
Return of the sleeper train
After years of decline overnight sleepers are coming back into fashion. At a meeting in Berlin on 8th December the French, German, Swiss and Austrian networks announced new overnight services to be introduced between December 2021 and December 2024. (see map opposite)
The renaissance is being led by OBB who have introduced new rolling stock on their NightJet services that includes sleeper compartments with en-suite facilities. The French government has already committed SNCF to re-introducing overnight services from Paris to Nice and Tarbes, initally using re-furbished rolling stock pending the acquisition of new stock, likely to be based on that used by OBB on their NightJet services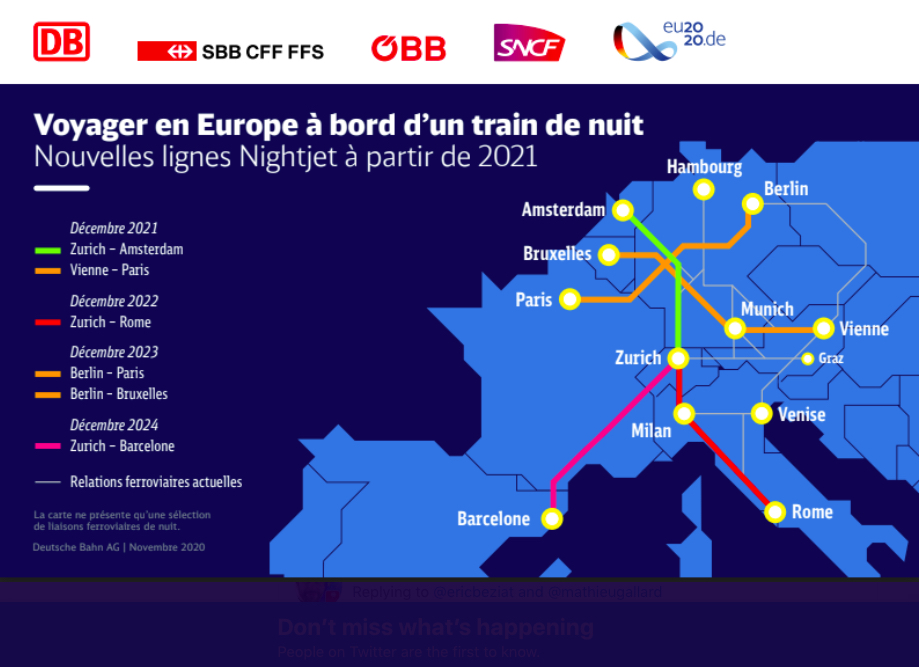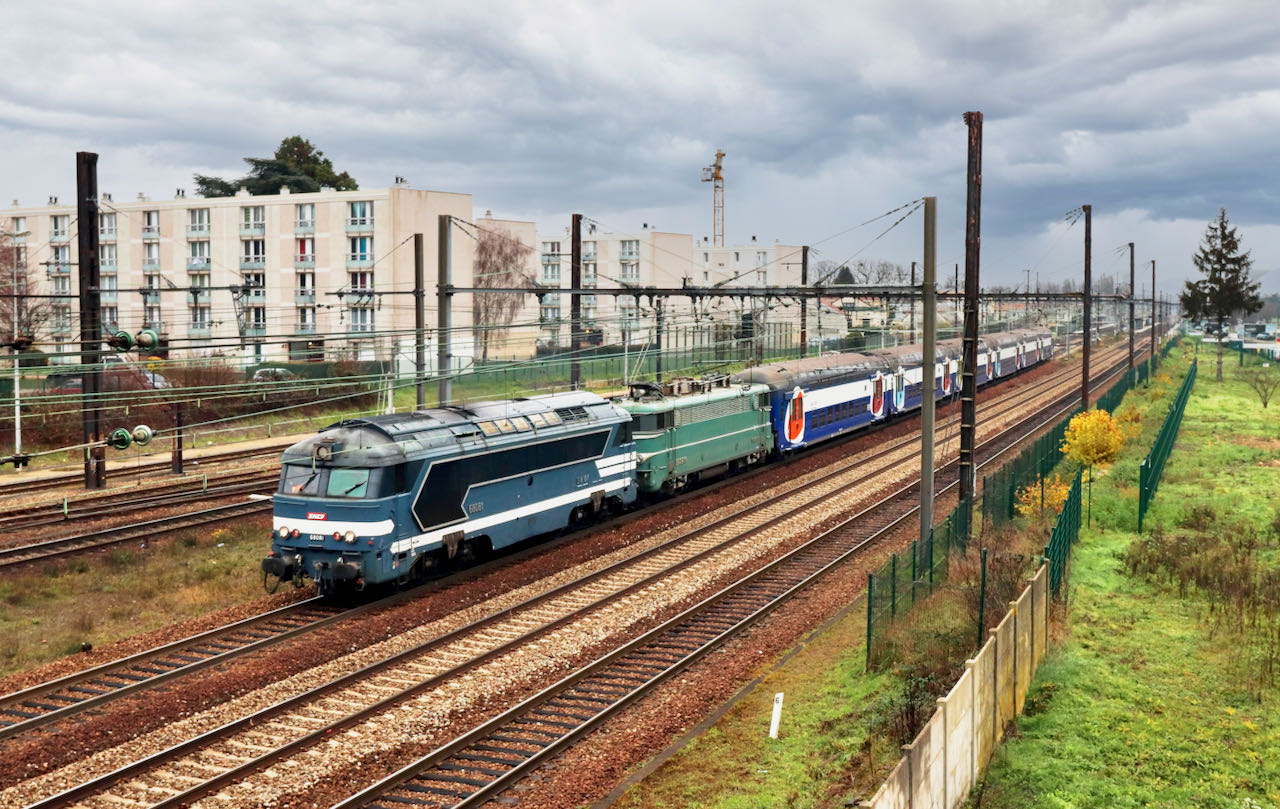 Withdrawn stock moves
Movements of redundant rolling stock continue to provide interesting workings.
Above
: The movement of recently withdrawn VB2N 252 from Sotteville to Le Mans was entrusted to CMR's heritage duo of A1A 68081 and BB 25236 seen passing Trappes on the 16th December.
Below:
The last two yellow E300 Eurostar sets have been moved to Le Havre for storage before formal withdrawal. On the 4th December, BB 26019 is seen approaching Motteville at Auzouville-l'Esneval with Eurostar 3223/14 forming train 757823 from Le Landy to Le Havre via Longueau - Serqueux - Montérolier-Buchy - Motteville - Bréauté.
Both photos
:
Romain Vergnères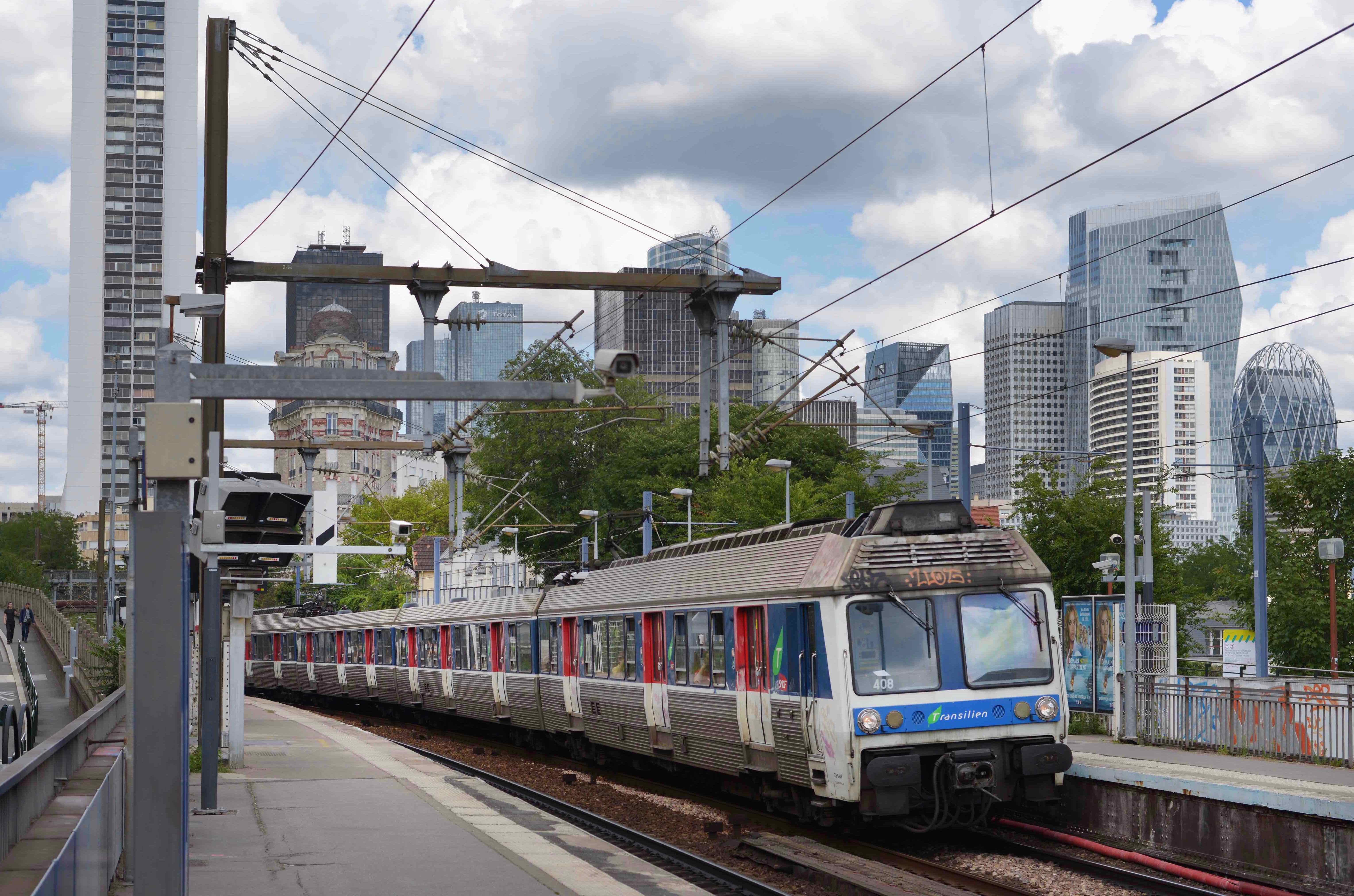 December 2020 - Farewell small electric's and Z6400 emu's
Friday 11th December saw the final regular operations of the Strasbourg BB 25500's, the last of the family of small electric locomotives (BB 8500, BB 16500, BB 17000, BB 25500). Often referred to as "danseuses" on account of their oscillations at speed, they were once a common sight all over France. The push-pull Alsace workings have now been taken over by BB 22200's transferred from PACA. In recent months, these have been working some of the Paris Est - Strasbourg semi-fasts but have been replaced on these turns by BB 26000's. Of the final six BB 25500s at Strasbourg four have since been withdrawn, with BB 25673 and BB 25679 still remaining.
As reported last month BB 17053/17071 were towed to Sotteville on the 13th November. BB 17055 had been retained at Acheres to donate its bogies to BB 17016 (preserved by AAPSL) as they were in better condition. All three (last in service) were formally withdrawn on the 7th December.

After a career spanning up to forty-four years, during which they have become a permanant feature from the suburban platforms at St Lazare the Class Z 6400 became extinct at the end of 2020. 75 of the four car units were introduced between 1976-78, the last of the stainless steel units. All of have now been withdrawn with the exception of unit Z6401/02 that is subject to a preservation bid.
Above Z6408 runs into Puteaux in front of the towers of La Défense in July 2017.
Opposite A ten minute video of BB 25500 activity at Strasbourg

Below BB 25664 eases out of the bay at Saverne on the 2nd June 2017 with the 18:23 to Strasbourg

Future of Roya Valley line secured
After years of closure threats and disputes between France and Italy over funding, the future of the Roya Valley lines from Nice / Vintimille to Tende and Cuneo appears to be secure.
As reported in
November News
the transport infrastruture of the Roya Valley was devastated by Storm Alex in October with much of the road network destroyed, although relatively little damage to the railway.
At an intergovernmantal meeting at the end of November it was agreed that the 1970 convention charging Italy with maintaining the line will be replaced by a new convention in 2022 sharing the cost between Italy and France either on a 50/50 or traffic basis.
The new convention will come into effect in 2022 after ratification by both parliaments. The lines will be managed by the local regions in France and Italy. In the short term €20 million will be available to re-open the line after the flood damage with investment of €220 million in the medium term to upgrade the line. Rail will become the main transport artery including freight traffic.

New Périgueux station opens
On Sunday 13th December Boulazac-Isle-Manoire on the eastern side of Périgueux opened. It is part of a plan to improve mobility in the heavily congested Perigueux agglomeration. The new €4 million station was jointly funded by Nouvelle-Aquitaine Region and the Périgueux Community. A further €950,000 is being spent on car-parking, covered cycle storage, bus interchange facilities and a cycle track to the nearby training centre.
Twenty two trains will call daily on the Périgueux-Brive and Périgueux-Le Buisson routes. With a journey time of six minutes to Périgueux it will cut journey times by up to two-thirds. Fares are €2 daily or €15.50 for a monthly season. Services should improve further in 2022 with the introduction of the Mussidan-Niversac rail shuttle linking communities either side of Périgueux in the Isle Valley.
Geodis opens new Dourges hub
At the beginning of November transport operator Geodis replaced its northern rail distribution hub at Compiègne with a new purpose built facility at Dourges. Moving 120km further north brings the hub closer to where the majority of its customers are located.
Covering an area of ​​35,000 m2 including a secure warehouse of 10,000 m2 the Dourges site has 21 truck-side docks as well as a hall 370 m long and 30 m wide allowing the simultaneous loading of 16 wagons. Each night, GEODIS road transport teams load a train of 31 wagons bound for the Avignon hub.
Geodis is the seventh largest transport and logistics operator in the world. Its activities include SNCF Fret. The majority shareholder is the SNCF Group.
Minister outlines plans for rail freight
At the 10th Operateur Ferroviaire de Proximité seminar on November 19th Transport Minister Jean-Baptiste Djebbari outlined the support the government will give the railfreight industry. The Government met freight operators rail access charges in 2020 and will meet 70% of charges in 2021. Over the next four years €1 billion will be spent on infrastructure improvements to extend loops, increase the loading gauge and improve yard facilities. A further €200,000 will be available to SNCF Reseau to re-programme engineering work to reduce the impact on freight operations and improve reliability.
Class BB 79000 to enter service
The Vossloh DE 18s, designated SNCF Class 79000 are finally entering service. Equipped with TVM and ERTMS signalling they will replace the elderly BB67200s retained by Infra for use on LGVs, and can be adapted to haul TGVs if required.
Delivery of the 44 class 79000s started in 2019 and will be completed by October 2021. Entry into service has been delayed over safety concerns relating to the proximity of overhead cables to thewalkway on the running plate of the locomotive. This has now been addressed in driver training.
Testing of diesel/battery hybrid Regiolis to begin
Testing of an Occitanie Alstom electro-diesel Régiolis unit converted to operate as a diesel/battery hybrid will begin shortly. The Regiolis unit has had two of its four diesel engines removed and replaced by lithium-ion batteries. These will recover and store energy produced during braking. It is estimated that fuel and emissions will be reduced by 20%, and enable the diesel engines to be switched off during extended station stops.

The €16·6m hybrid train project was launched by Alstom in 2018 in partnership with SNCF and the regions of Centre-Val de Loire, Grand Est, Nouvelle-Aquitaine and Occitanie. If successful more units will be retro-fitted and enter passenger service in 2022.

No competition for Intercité routes
Only SNCF has tendered to operate the Nantes - Bordeaux and Nantes - Lyon Intercité routes from 2022. Although Arriva (Deutsche Bahn group), EuroRail and Transdev had expressed interest the Coronavirus pandemic has drained companies of cash for expensive tendering exercises and highlighted the risks if passenger numbers suddenly fall.
It is expected that the private operators will be more interested in the TER contracts where routes will be subsidised by the Regions
The rail unions who are vehemently opposed to the liberalisation of of domestic rail services have described the exercise as a government flop. They say it demonstrates that private operators are only interested in making a financial profit and are not suitable to operate a public service or take account of environmental issues.
New rolling stock for RER B
On 9th December Ile de France Mobilites approved a budget of 2.5 billion euros to finance 146 new double deck trains denoted MI20 for RER B. A second invitation to bid produced offers from Alstom and a consortium Bombardier / CAF. Alstom has filed a legal objection regarding the price which they claim is too low despite the fact that they will merge with Bombardier shortly.
The order has not yet been placed. It will be placed by joint operators SNCF and RATP.
New rolling stock is long overdue. RER B carries 900,000 passengers a day, is overcrowded and has old stock. It is the only IDF line that has not received new stock. The line presents difficulties due to many sharply curved platforms which make it complicated to design double deck stock. The platforms are also high. The new MI20 double deck train sets are expected from 2025 or 2026 RER B has no double deck stock at present.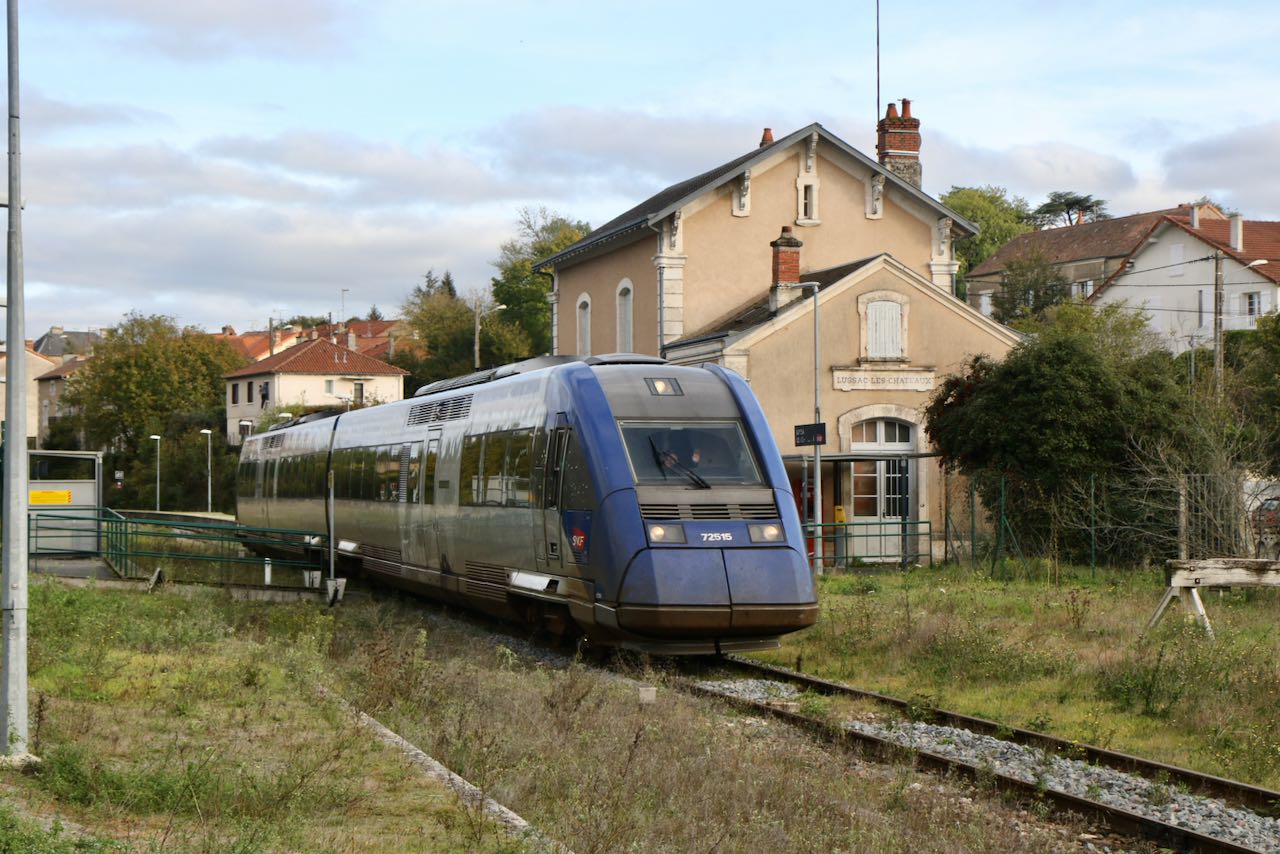 Limoges - Poitiers - a line in decline
Like many rural lines Limoges - Poitiers is suffering from a lack of maintenance. For many years there was a project to create a single track
Ligne Grande Vitesse
between the two cities, a vanity project supported by local politician and one time president François Hollande. With a price tag of €1.5 billion the return on the investment would never justify the project, but while the concept was alive maintenance on the existing route was forgotten.
The impact on reliability is now taking its toll with the situation described as catastrophic by the president of the Comité de lignes TER .In 2019 speed restrictions had caused timekeeping to fall to 88.5% with 2.4% of trains cancelled. By the first half of this year timekeeping was down to 70% with 3.6% of trains cancelled. Studies are now underway to regenerate the line although it is likely to be some time before major work takes place. Although the Nouvelle-Aquitaine Region is committed to halting further closures they cannot stop SNCF from doing so on safety grounds. The Region is committed to spending one billion euros on maintaining its rural lines by 2027, but has numerous demands that outstrip the available funds.

Above. On 25th October 2019 X72515/6 pulls away from Lussac-les-Châteaux along some dilapidated track while working TER 868010 from Limoges to Poitiers. Photo Georges Turpin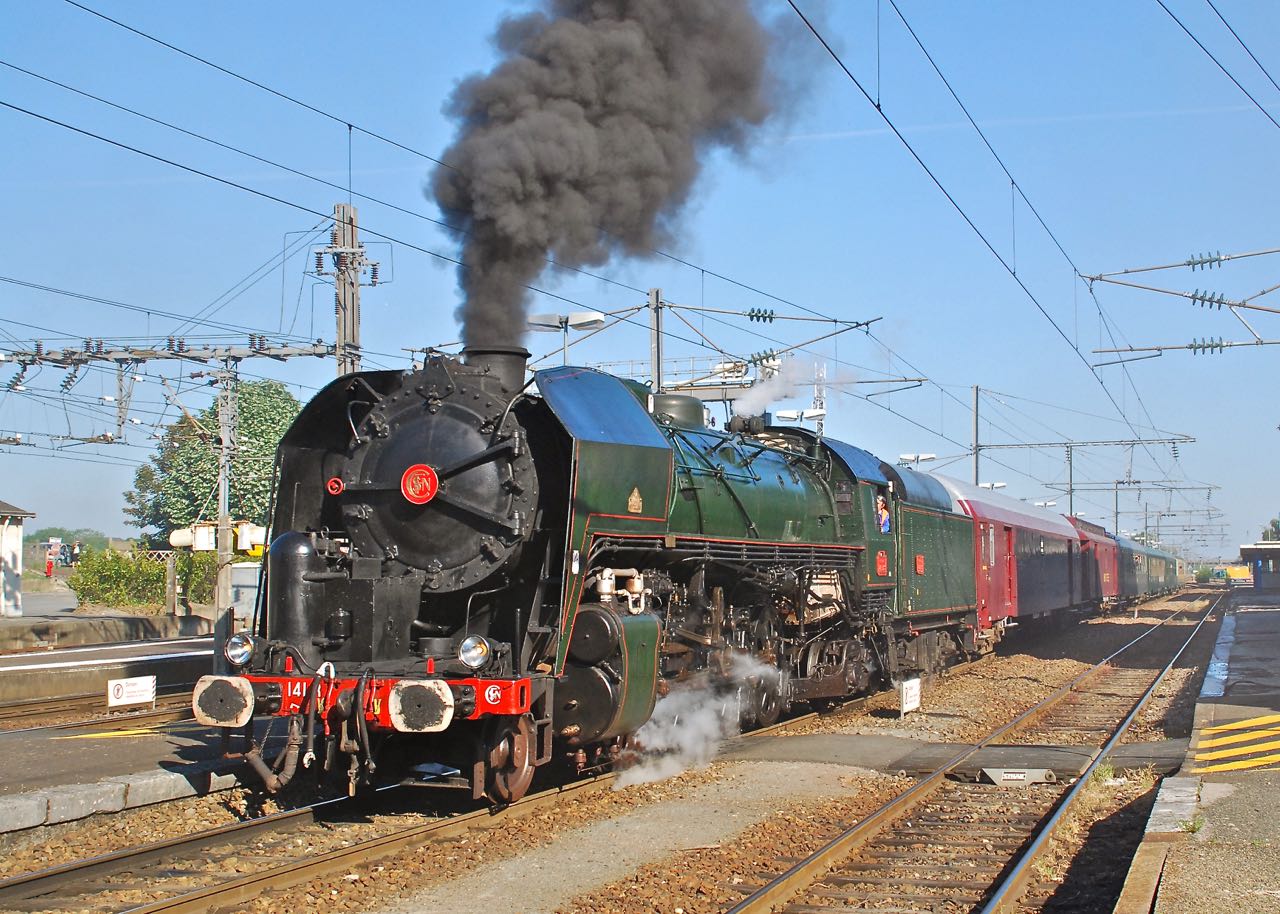 Review of main-line steam fleet
2020 was a poor year for rail-tour operators. While the preserved lines were able to salvage an operating season from June until November the longer lead in times and meeting the Coronavirus travel restrictions caused much more difficulty for both steam and diesel/electric hauled rail-tours on the national network. Of the thirteen tours planned by ACPR 1126 (Le Train Historique de Toulouse) only four actually ran, MFPN planned five trips with 231 K 8 but only managed a Paris – Noyelles – Calais charter in September. At Limoges, CFTLP (Chemin de Fer Touristique Limousin-Périgord ) cancelled all of their summer programme with 140 C 38 as they were unable to meet the Coronavirus restrictions. The
deuxieme confinem
ent at the end of 2020 resulted in the cancellation of Santa Special programmes.
Coronavirus restrictions have also reduced planned maintenance operations. At present only teams of five or six may work on a project/site. Preservation associations also now have a greater responsibility for maintenance and ensuring that regulatory checks have been carried out. Since 2017 SNCF has no longer been responsible for monitoring the condition of preserved rolling stock. Associations have to prepare and maintain a
CUU - Contrat Uniforme D'utilisation
which prescribes the maintenance and periodic monitoring regimes of each item of rolling stock. Alongside this is the
ECE - Entité en Charge de l'Entretien
the formal record certifying that maintenance and all regulatory checks have been carried out.
The prospects for 2021 do not look great. Hopefully, availability of a Covid vaccine will be widespread by the spring, and allow some return to normality, but the health of France's mainline steam fleet is in decline with more locomotives stopped for major overhauls. The following sets out the position as we believe it to be, but any updates would be welcome.
Above. In happier days when 141 R 1199 was operating from Nantes it is seen leaving Saumur in 2010 with a Nantes - Blois excursion after stopping for water
141 TB 407 The locomotive has been out of action since 2015. The boiler was sent to CITEV for repairs. It was returned to AJECTA Longueville in June 2020 after replacement of all the tubes, the smokebox door and 54 boiler stays. Further work is being carried out at Longueville. It is believed that the wheels and axles have been sent away for attention. We have no date for return to service of 407 but there is progress.

141 TB 424
Preserved by a small association based in Mulhouse although it has not been in Eastern France for some years. Enjoyed a short 2020 season on the Vapeur du Trieux returning to Carhaix at the end of August. Expected to operate Vapeur de Trieux again in 2021.
141 TD 740 Stopped since 2013 at Limoges for overhaul including work on the axles.

140 C 38
Operational. Expected to haul CFTLP's summer programme from Limoges.
140 C 231 Operational. Most of its 2020 season of AJECTA trips to Villiers St Georges was cancelled. Likely to operate from Longueville to Villiers St Georges

140 C 314 Following a major overhaul travelled from CFTV (St Quentin) to Longeau and was one of the stars at the Fete du Rail in October 2016 (photo opposite). Since then a number of defects to both the locomotive and tender have emerged. Will not operate in 2021.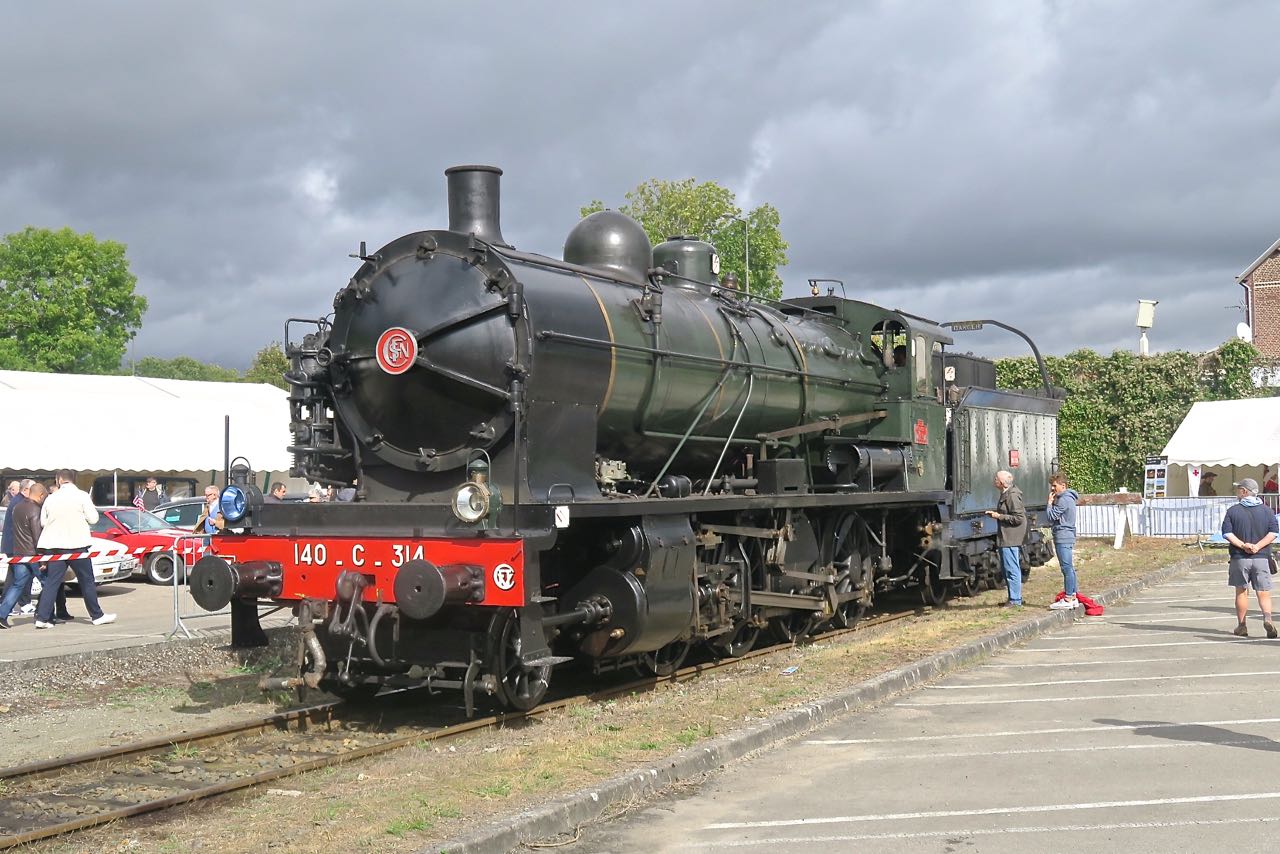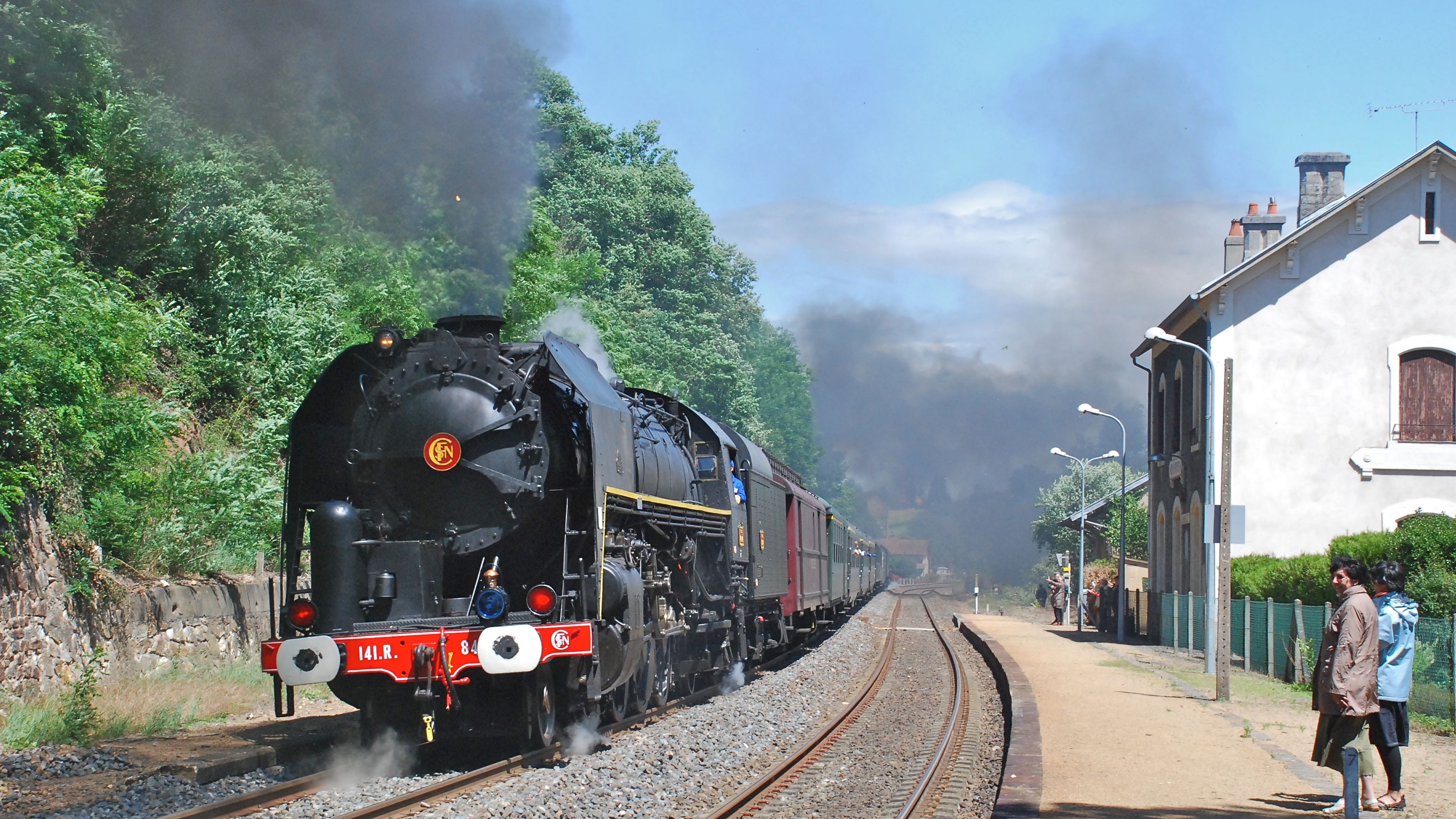 The 18th June 2011 was Festirail weekend at Montlucon. In the afternoon 141 R 840 brings up the rear of the shuttle to Commentry as it climbs through Chamblin with 141 R 420 at the front. Steam hauled shuttles were once a regular feature of Montlucon Festirails but in recent years preserved autorails have undertaken this role.
141 R 420
Major overhaul largely complete. Was running around depot in steam at Clermont Ferrand at end of 2019. Driving wheels need re-tyring before it can return to the mainline. As previously reported the Train Vapeur D'Auvergne rake of historic coaches also needs remedial work before it can be authorised for the main line. The association is likely to operate tours in 2021 with BB 67400 and an RRR set.
See Video below
141 R 840
Boiler repairs delayed by COVID. Due to reduced income during 2020 work on coaching stock has been deferred and boiler prioritised with some work being outsourced. May be operational by end of 2021. AAATV-CVL likely to run trips from Orleans with A1A A1A 68540 if possible.
141 R 1126 The long standing problem with a valve gear bearing that has dogged the locomotive since completing a major overhaul has been resolved. When being steamed for a test run one of the small tubes started to leak due to corrosion. The decision was made to replace all 175 small tubes. Originally expected to be completed by the spring of 2021 the work has been delayed by Covid restrictions. Le Train Historique de Toulouse likely to run tours this year with BB7338/7398 and BB 66304
141 R 1199 The locomotive was returned to SNCF after the completion of a major overhaul when the agreement with the association at Nantes was rescinded, following a row over the storage of the rake of historic coaches. It has since been moved to Le Mans where it has appeared on static display and available for visits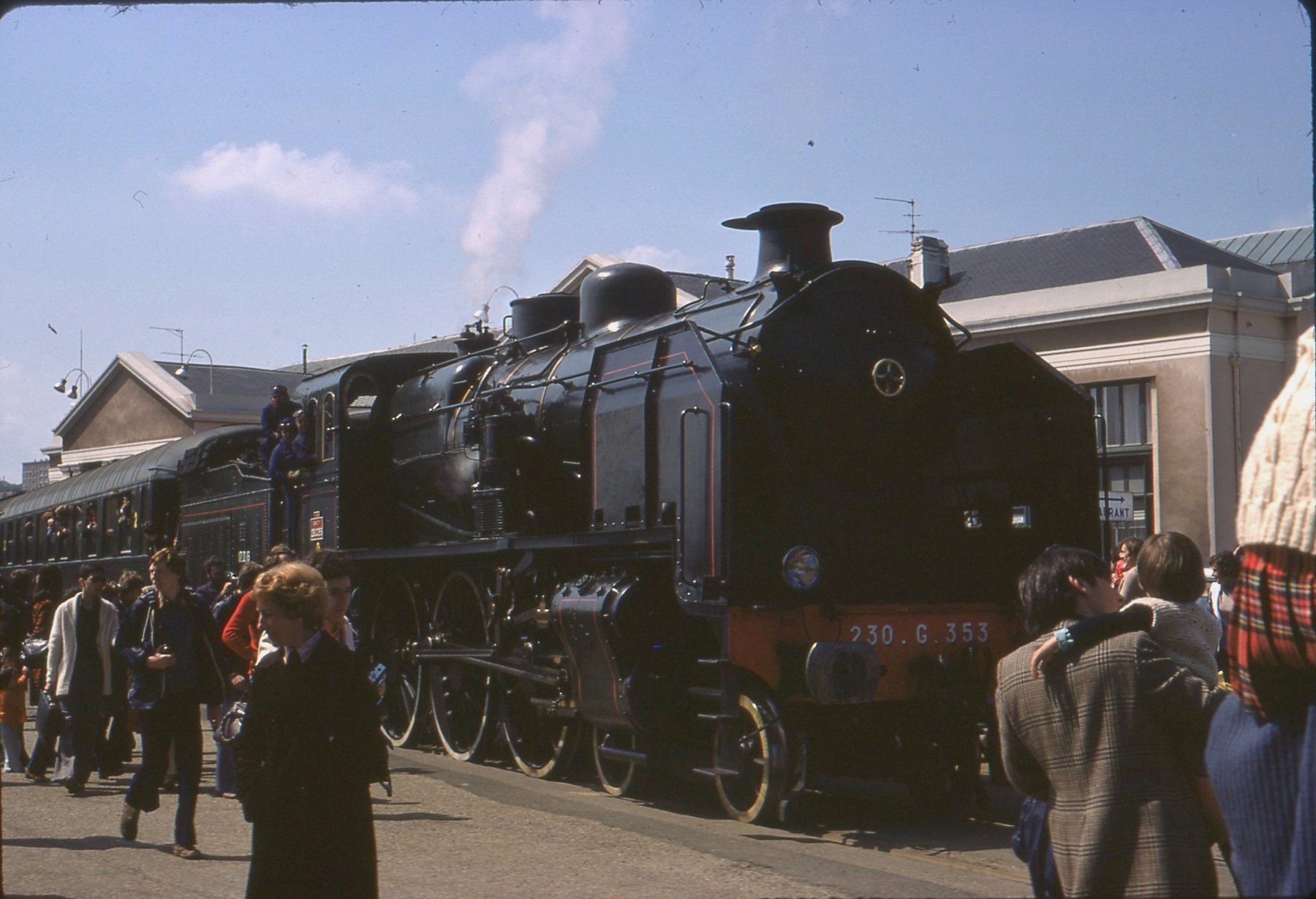 Above. In 1976 230 G 353 has arrived at Dieppe Ville having taken the, now closed, direct route from Paris. After a short pause it will ease forward onto the Quay
230 G 353
Under restoration Gievres (Sologne). Major step forward when boiler was returned from overhaul in Italy in October 2020 after three year overhaul to boiler, tubes and firebox.
231 E 41 Undergoing long term restoration at St Pierre des Corpes by AAATV SPDC. Working parties suspended in October 2020 due to Covid restrictions.

241 P 9
Undergoing overhaul at Toulouse. Over 35,000 hours of volunteer time have now been accumulated, with support from industry and engineering students in Decazeville
241 P 17 Awaiting a boiler inspection. Expected to return to service in 2022
231 G 558 Had a short season in 2020 with trips from Sotteville to Dieppe. The boiler certificate expired at the end of October. The boiler is in quite good condition, some stays have been replaced locally, and the boiler will be sent to CITEV at Ales for reconditioning. Whilst the boiler is separated from the frames the opportunity will be taken to overhaul the wheels and running gear at Quatre Mares works. Expect to return to service for 100th anniversary in 2022.
231 K 8 Managed to operate only one trip out in 2020. The boiler certificate is about to expire. One more trip was promised before withdrawal, but a run to Reims in October was cancelled due to engineering work. Unclear whether a final run will take place in 2021.

Winter work on the Baie de Somme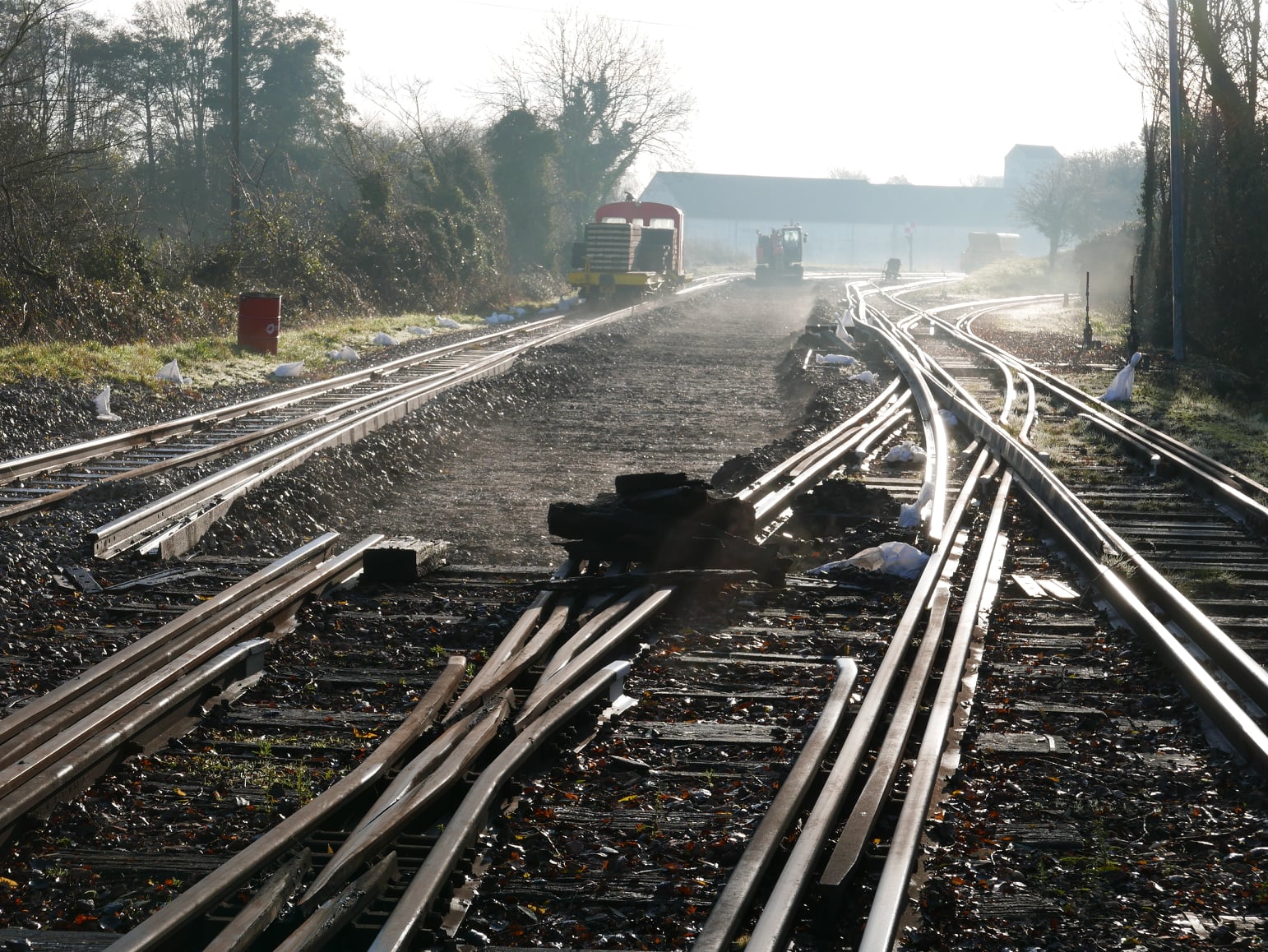 The winter break provides an opportunity to undertake some track renewal work on the Baie de Somme network. This year the pointwork on the the approach to Noyelles is being relaid. Being dual gauge it is a more complex task than single gauge pointwork.

A new Matissa tamper arrived at St Valery in November for testing. The tamper was initially used to conduct a dimensional survey of the track between St Valery and Cayeux to identify the most critical areas. It was then used to re-level the track on the section between St Valery and Lancheres, particularly over the track joints. Both photos. Maurice Testu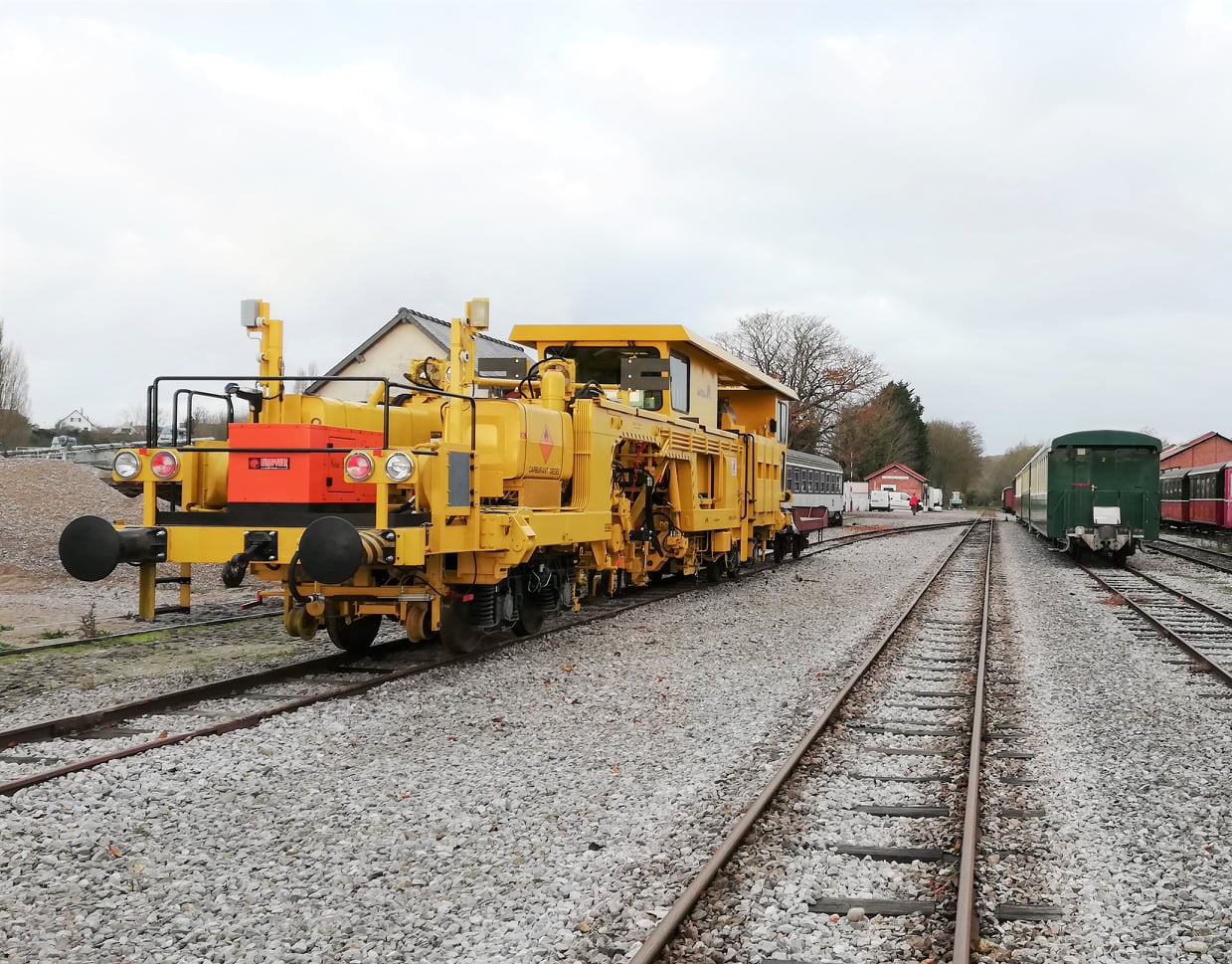 Besançon - Morteau - Le Locle (CH)
Part 2 - The Past, Present, and Future
Last month, we described the Watchmakers' Line from Besançon to Le Locle-Col des Roches in the Swiss Jura, Canton de Neuchâtel. This is, officially, line 872000 of the French National Rail Network. In fact, French regional trains penetrate 10 km into Switzerland and terminate at La Chaux-des-Fonds (994m), an important rail hub. There are connections here in five directions with lines that are all electrified. Two lines are metre gauge and three are standard gauge.
The standard gauge SBB/CFF lines go from La Chaux de Fonds to Neuchâtel, to Biel/Bienne and to Le Locle / ( Morteau.) The narrow gauge lines go from La Chaux- de-Fonds to Le Noirmont / Glovelier (Chemins de fer du Jura - CJ) and to Les-Ponts-de-Martel via La Sagne.(Les Transports régionaux Neuchâtelois - TRN)
At Le Locle station (946m), a short 4 km line (metre gauge) leads to Les Brenets, situated on the north facing slope of the Jura ridge overlooking the Doubs which is the frontier at this site. The short branch line is electrified. It has been decided to close this line in 2022 and replace it with an electric bus service.
Below Left - Arrival at Le Locle of the train from Besançon in July 2002. Right - Les Brenets gare. 4 km from Le Locle, the train waits at the terminus of Les Brenets. Behind the station on the right the wooded terrain is French.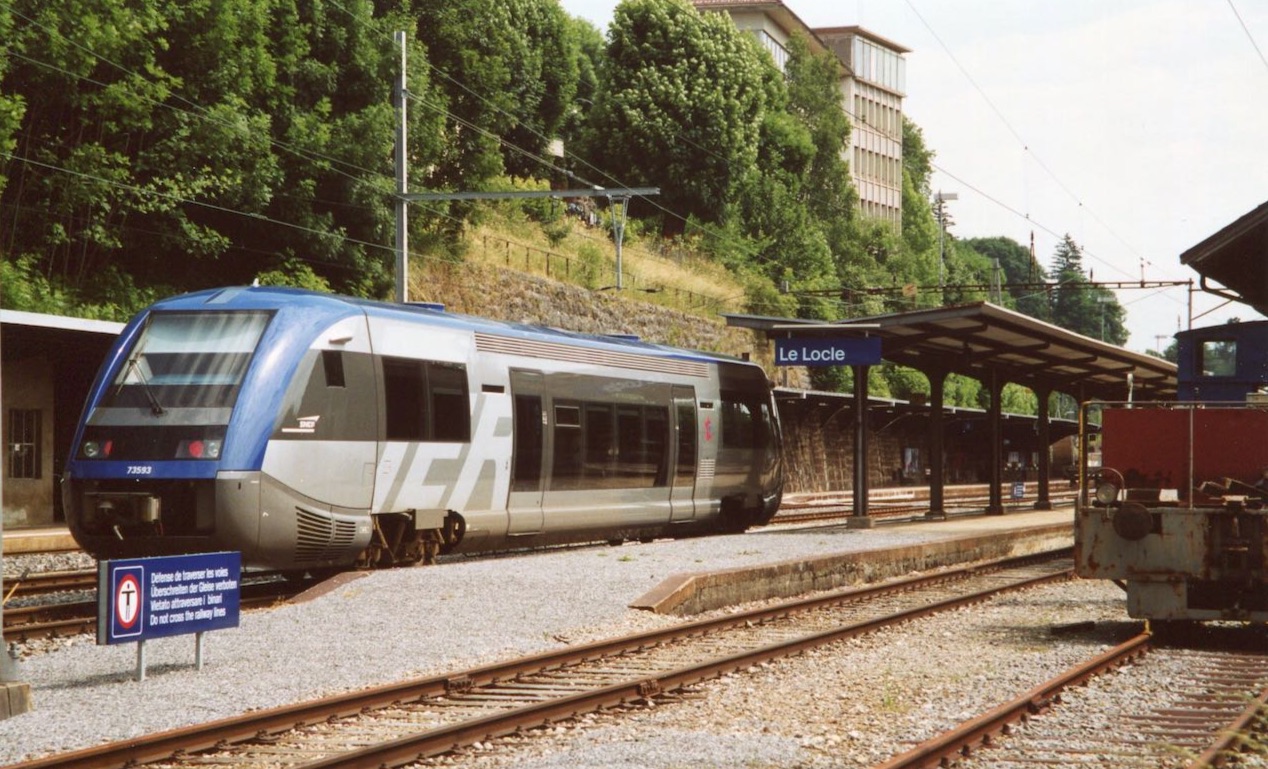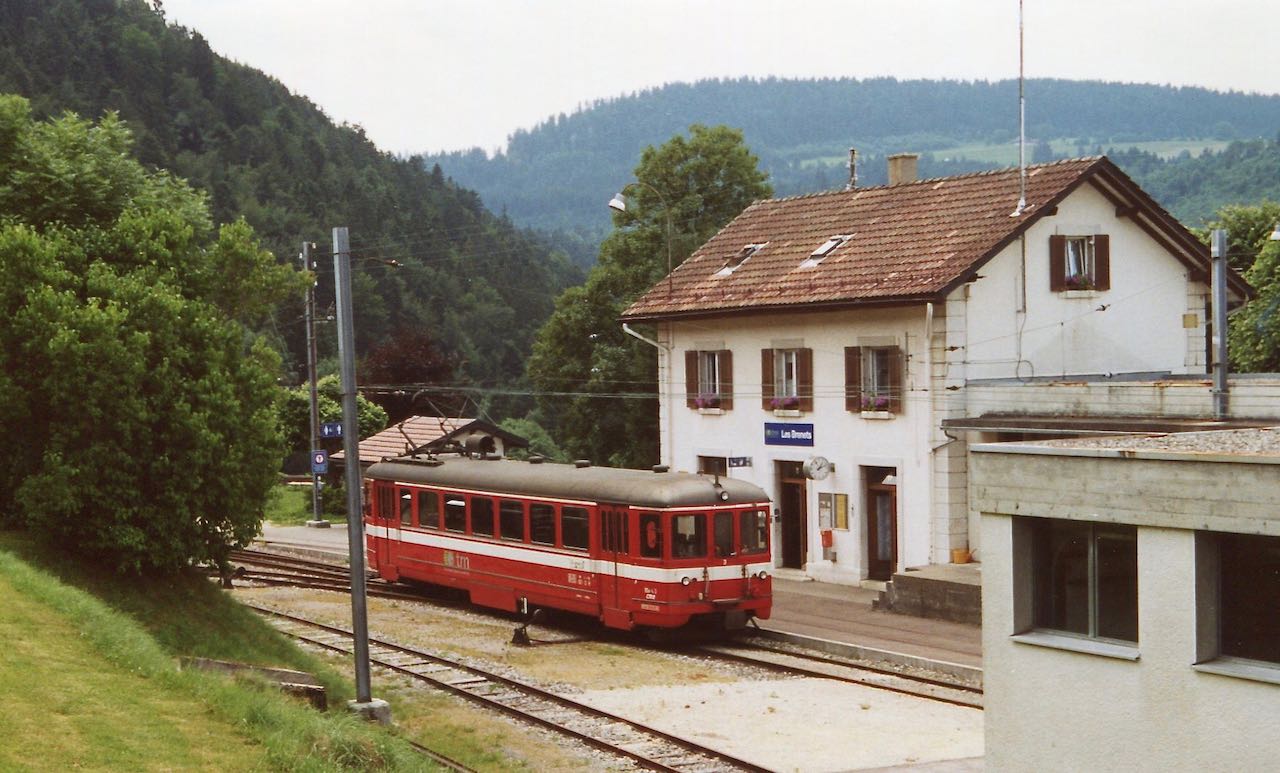 As reported last month, the Besançon - Le Locle Col des Roches line will close for 8 months from March 1st 2021 for renewal of the track. In coordination, the Swiss line from La Chaux-de-Fonds to Neuchâtel will also close during the same period for repairs to tunnels and heavy maintenance. Also, La Chaux-de-Fonds - La Sagne will close from March 1st until August 2021 for repairs to a bridge. The CJ lines will remain open. Replacement bus services will apply during closures. The rail services from Biel/Bienne to La Chaux-de-Fonds will be extended to terminate at Le Locle.
Since the 1950's, the international services across the border at Col-des-Roches have been operated principally with autorails, initially by ABJ units (types 1 &, 2 and 3) and Picasso railcars, then from 1977 by X 2800 railcars, and, finally, by modern X 73500 diesel railcars. There has been a train shed at Col des Roches for overnight stays by the French railcars (and occasional steam engines in the distant past).
Below. Left - Between Morteau and the border tunnel at Le Locle Col des Roches, an X 73500 of Franche Comté crosses the river Doubs in 2002. Right - The narrow gauge electric railcar to Les Ponts-de-Martel waits to depart from La Chaux-de-Fonds.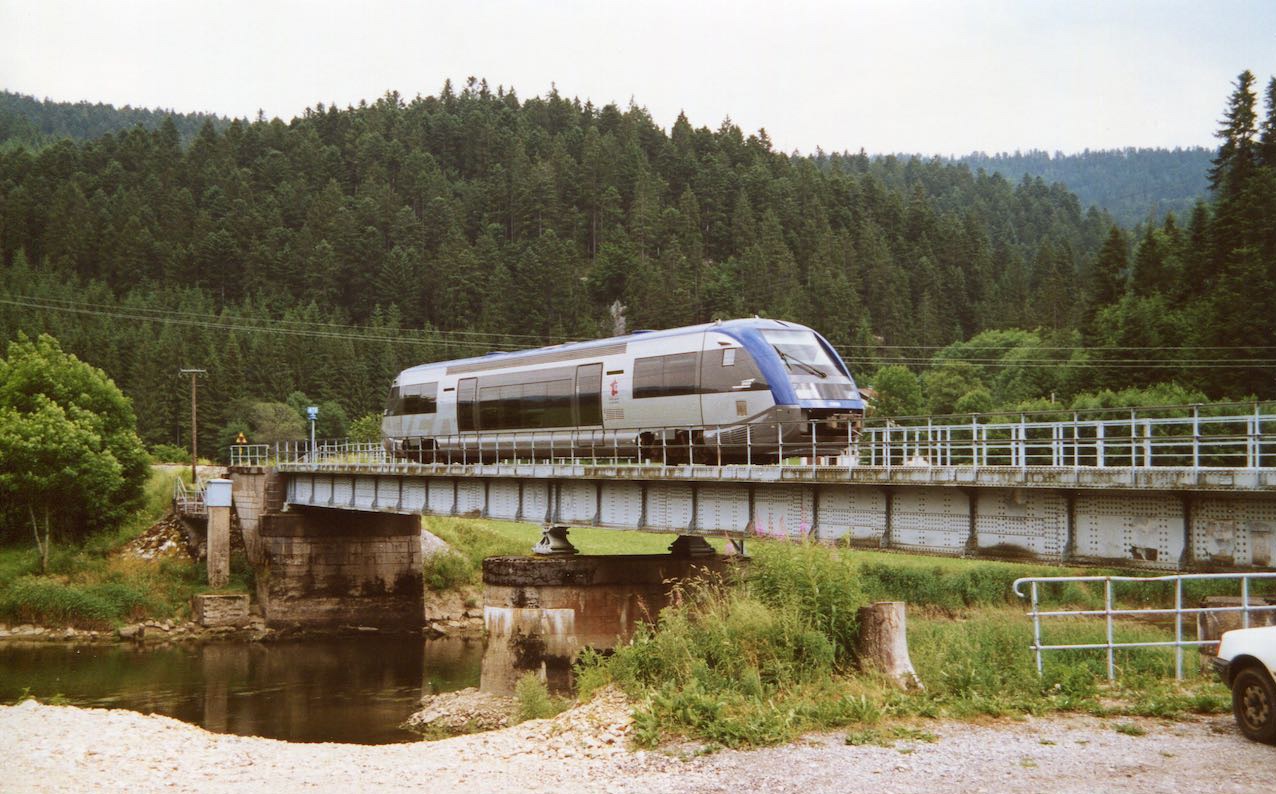 Returning north from Morteau, we pause at Gilley (55 km from Besançon). Here, the station was once a junction for a short line to Pontarlier opened in 1889. This was a strategic line above the Doubs valley and was intended to provide a rail link from Besançon to Pontarlier but no such direct and regular service was ever established. The line closed for passengers in 1939 and for goods traffic in 1988. It is now a voie verte (cycle track).
The film "Murder on the Orient Express" (1974) features the train stuck in snow in the Balkans. In fact, the exterior scenes were shot on the Gilley - Pontarlier line with French locomotive 230 G 353 and a lot of artifical snow.
Below. Left - All traces of the former junction have disappeared at Gilley where the station has become a simple halt on the single line. Right - The Hotel de la Gare at Gilley waits for customers one summer afternoon in 2006.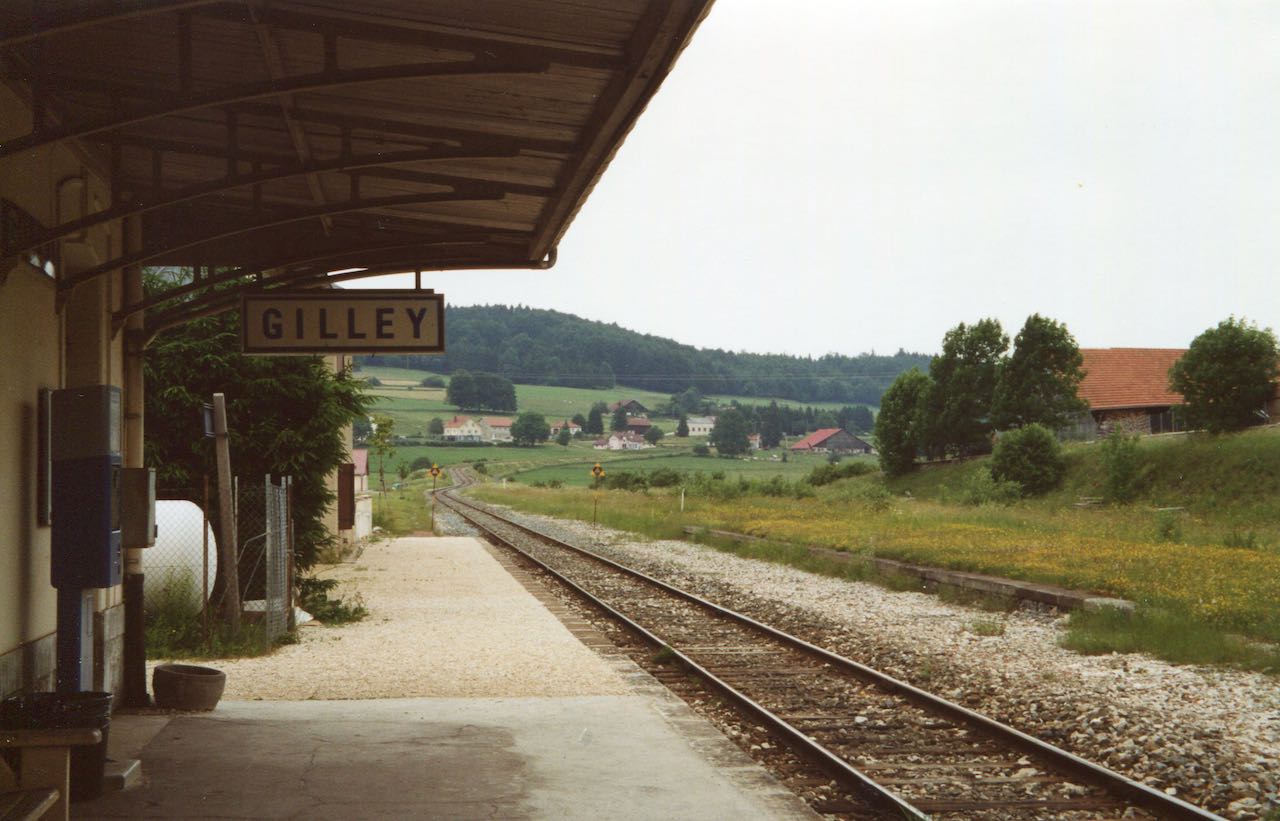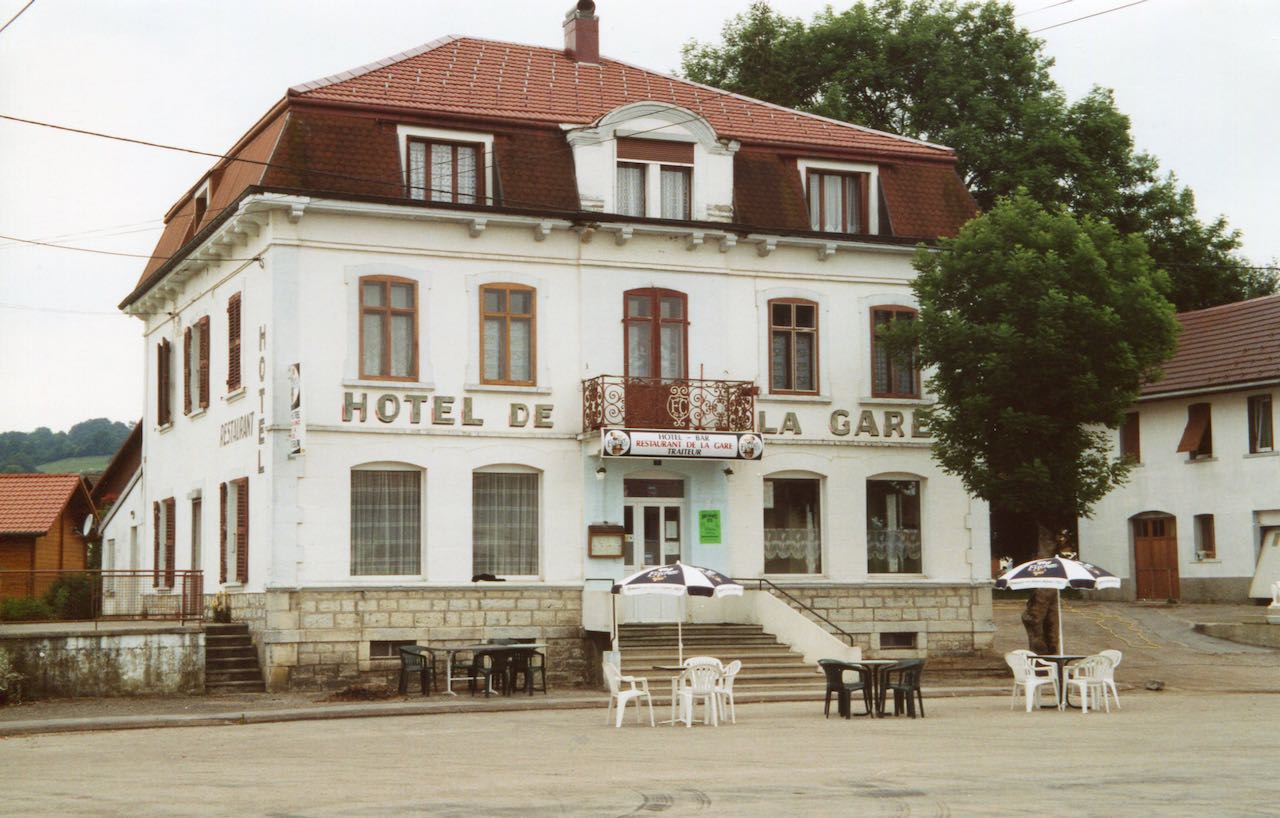 The last X 2800 service in France, April 6th 2009
During 32 years, the legendary X 2800 railcar was used between Besançon and Le Locle. 119 of these powerful autorails were delivered to SNCF between 1957 and 1962. By the beginning of 2005, 77 of these railcars had been withdrawn. The final period in service of the X 2800 was somewhat longer than expected. However, by the beginning of 2009, just a few remained at Besançon depot, the last ones in service in France.
Franche-Comté Region and SNCF organised a "final X 2800 train" on April 6th 2009 from Besançon to Valdahon. It was formed with X 2900 + trailor + X 2830. Officials, including the Presidente of the Region, Mme Marie-Guite Dufay, occupied X 2900 and the rest of the train was full of members of the public. Mme Dufay expressed enthusiasm for the turnout that day of several hundred participants and promised to develop the railway line in the future. Eleven and a half years later, promise kept, and it was Mme Dufay, now Presidente of Bourgogne Franche-Comté who signed the convention to finance the planned regeneration of the line in 2021.
X 2900, built in 1961, has been preserved and is currently based at Montluçon rotonde. X 2830, built in 1958, has been preserved and is currently based at Loudeac, Bretagne.
Below - The last X 2800 train for SNCF passes L'Hôpital-du-Grosbois in April 2009.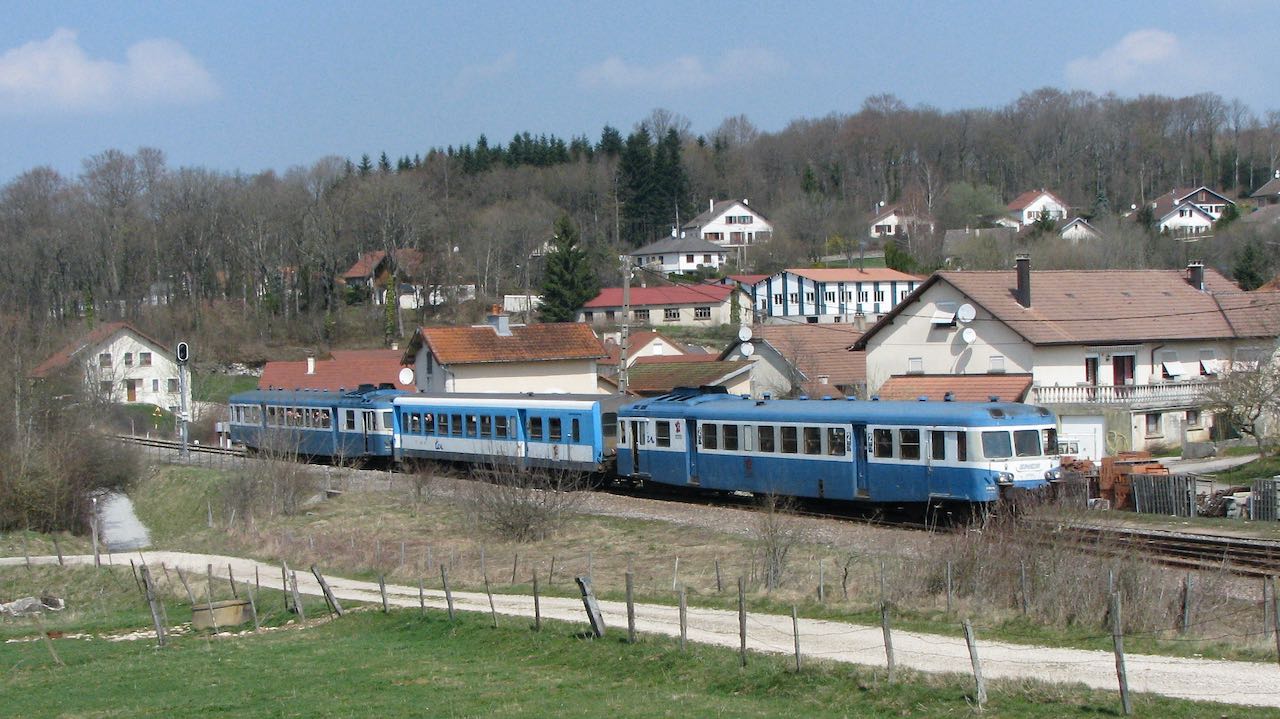 This rural village of 600 inhabitants has no shops. It is situated 19 km from Besançon by road on the nearby dual carriageway or by train from the railway station. This was once a junction, with a branch line to Ornans and Lods in the valley of La Loue, a tributary of the River Doubs. It was opened in 1885.
The branch line was notable for a fine curved viaduct with 12 (some say 13) arches at Maizières over the river Loue. The valley contained many industrial sites. Today, there is a large Alstom factory at Ornans (originally it was Swiss, the group Oerlikon). All the electric motors for the Alstom trains and trams are made here. But they have to be delivered by road, for the branch line is long closed (1956 at Ornans for passengers) After a celebration of the centenary of the opening of the line in 1985, the track was removed three years later in 1988.
At L'Hôpital-du-Gros-Bois, there is no trace of the former junction and tracks, buildings and turntable. The goods shed remains with several sidings. Also, travellers passing by may be surprised to find railcar X 2816 parked there. A small group of local enthusiasts was inspired by the event of April 6th 2009 to form an association* to preserve an X 2800 railcar. After many formalities, described on the website to be found on this link
Preservation X 2816
, they were successful and on 4th October 2012, one of the last X 2800 railcars to be preserved, No 2816, was towed into L'Hôpital-du-Grosbois and positioned on the siding constructed for it.
Thereafter, seven years of hard work ensued for the small group which learned everything about the railcar, including how to drive it, so that they could obtain certification to operate on SNCF lines. In the spring of 2019, they achieved their goals with a first successful excursion from Besançon to Morteau. The pandemic has temporarily interrupted their plans for future excursions of X 2816.
* L'Autorail X 2800 du Haut-Doubs
Below. Left - Once a junction with engine shed and turntable, L'Hôpital-du-Grosbois (seen in 2002) has kept its charming passenger building and goods shed, but nothing else. Right - In 2013 the preserved blue autorail X 2816 is seen at L'Hôpital du Grosbois, Doubs, its permanent base.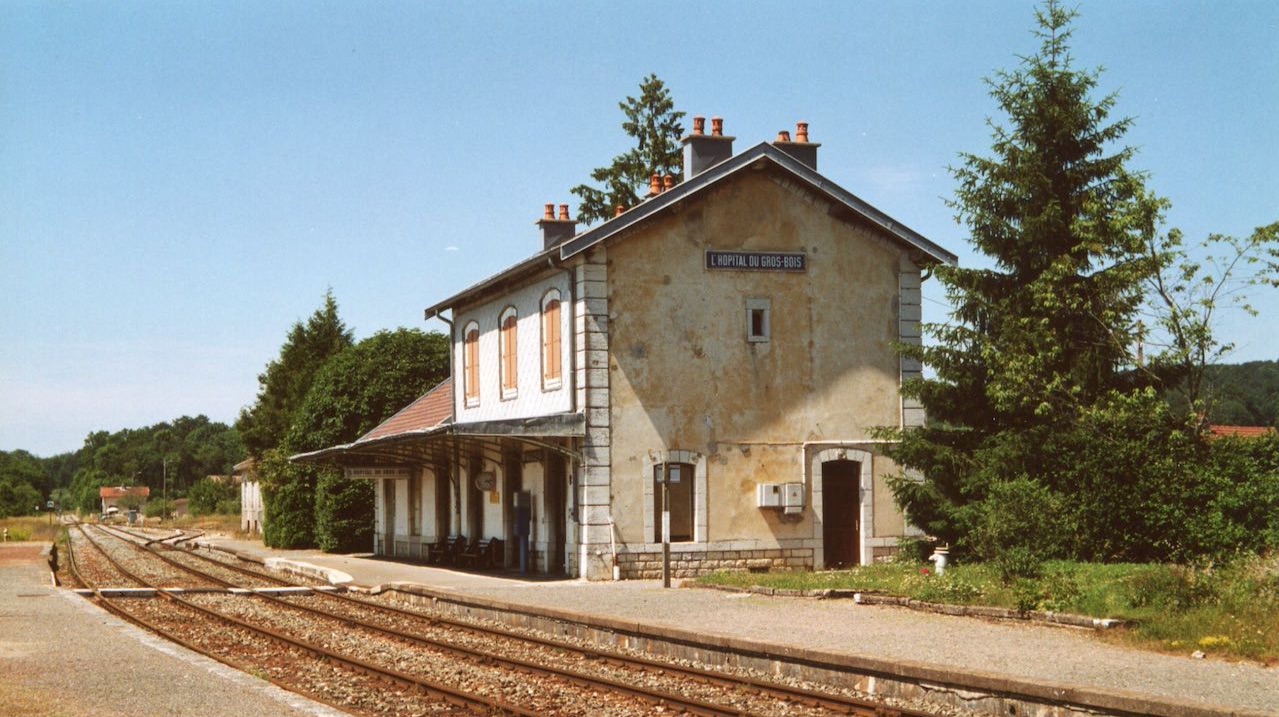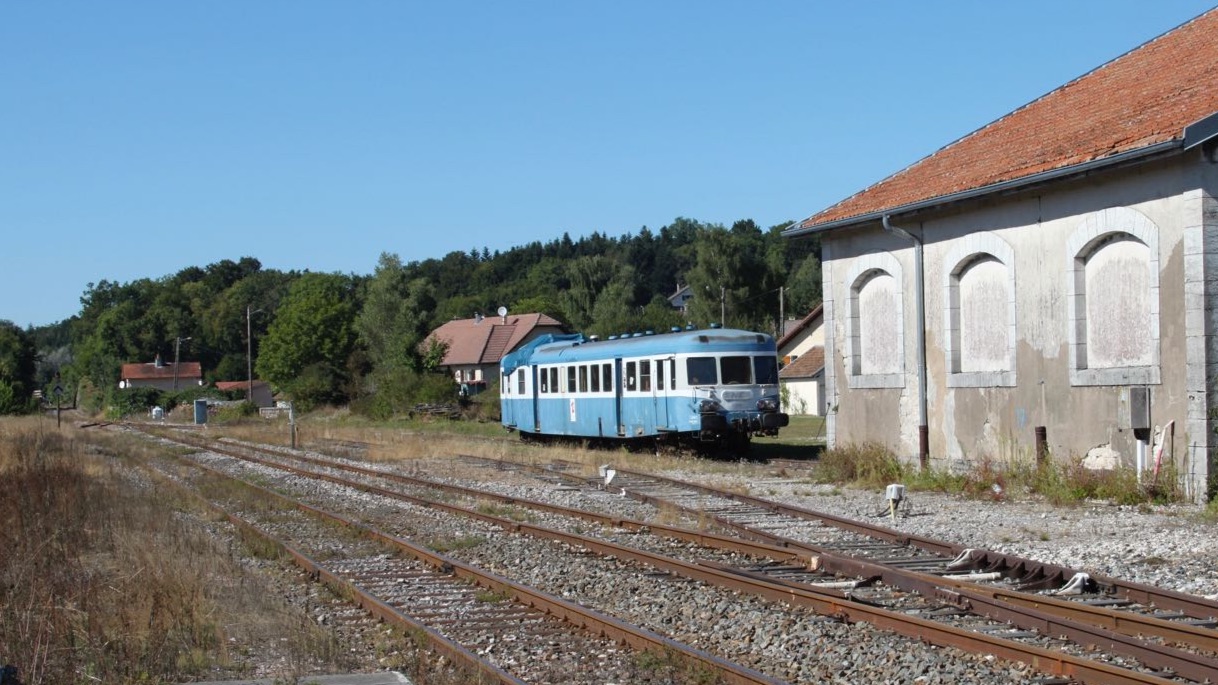 Turning back the clock
Latest additions to the Society Archive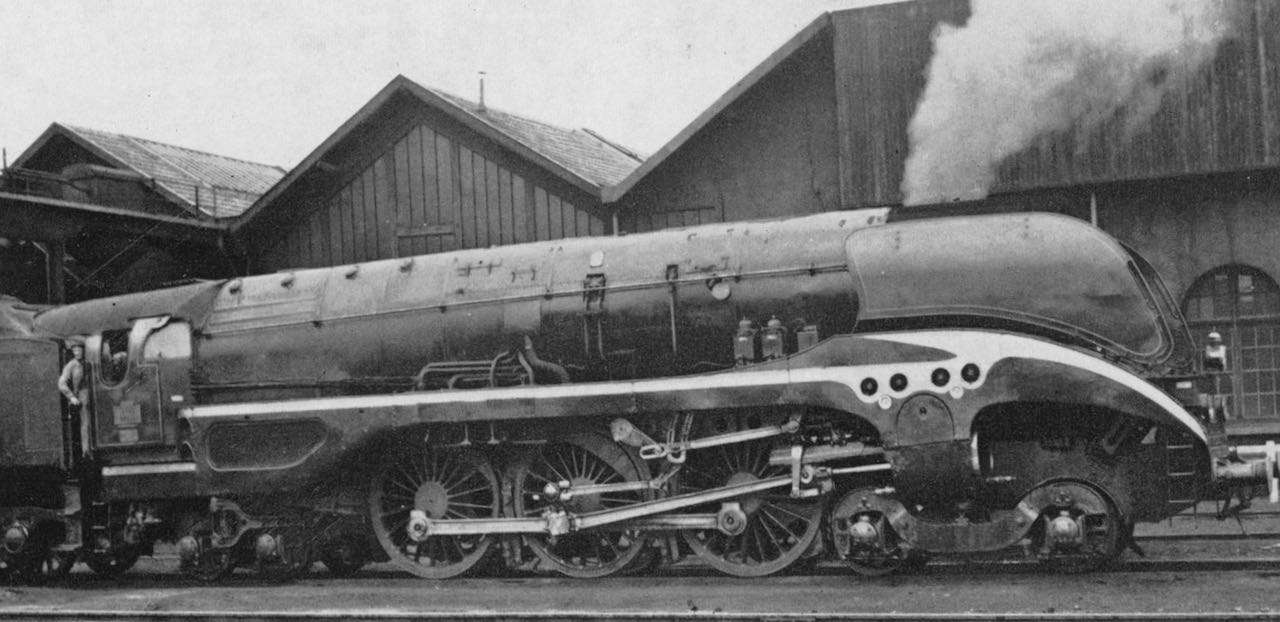 Additions to FRS Photographic Archive during December 2020 - All placed in Folder 4
Selection of information on "Wagons a Marchandises", including SNCF publications, AFAC magazines & Loco Revue Hors Serie April 1999
Centenaire "CdF du Nord" - AFAC 141/1946
"CIWL @ 75 years" - AFAC 172 &173/1952
"50 years of 1,500V DC electric traction" - AFAC 1970's, issues 295/296/299/301/302/303/309/312/316/317/320n Folder 4
"RIB" (Rames Inox Banlieu), AFAC 332/1978 & 357/1982
History of the Pte Ceinture, AFAC 242/1963 & Plan of Petite Ceinture in 1914 and its Gares des Marchandises
Track plans Nord (for "Courses de Chantilly") in June 1927
"VB 2N" (Voitures Banlieu Deux Niveaux) - AFAC 360/1983
"Turbo Trains" - AFAC 270/1968, 278/1969 & 369/1984
"Autorails & Remorques" - AFAC 366/1984
"Automotrices électriques & Remorques" - AFAC 363/1983
"Automoteurs électriques" - AFAC 362/1983
"Trains sanitaires 1857/1990" - AFAC 402/1990
"Hudsons" (mostly) of SNCF Region 2 Nord - AFAC 163/1950 & 292/1972
"Draisines" - Loco Revue/Hors Serie Parts 1 & 2
"TEE @ 15 years" - AFAC 297/1972 & 300/1973
"RER (Reseau Express Regional)" - AFAC 284 & 285/1970 & 286/1971
CIWL "Simplon-Orient Express" brochure 1930/1931 season
Venissieux depot - AFAC 278/1969
Brief history of electric traction - AFAC 281/1970
Locomotives of SACM - AFAC 242/1963
"Les Orphelines" (Hudson/Baltic Nord 3.1101 & 3.1102) - AFAC 235/1962 "Le Mistral" - AFAC 273/1968
Paris Charolais depot - AFAC 169/1951
Diesel locomotives 1980's - AFAC 348/1981
Voitures Voyageurs 1929/`979 - AFAC 341/1980
Voitures Voyageurs 1980 - AFAC 346-348-349-350/1981,
Pacific locomotive - AFAC 231/1961, 232/1962, 205-207/1957 & 262/1967
Postal vans - AFAC 200/1956,
141R Mikado - AFAC 174/1952
Autorails SNCF 1950's - AFAC 176/1952
Cote du Nord St Brieuc/Paimpol - AFAC 182/1953
Voie métrique en Bretagne - AFAC 162/1950
Additions to the FRS public folder during December 2020
"George Nagelmackers" by Roger Commault, published 1966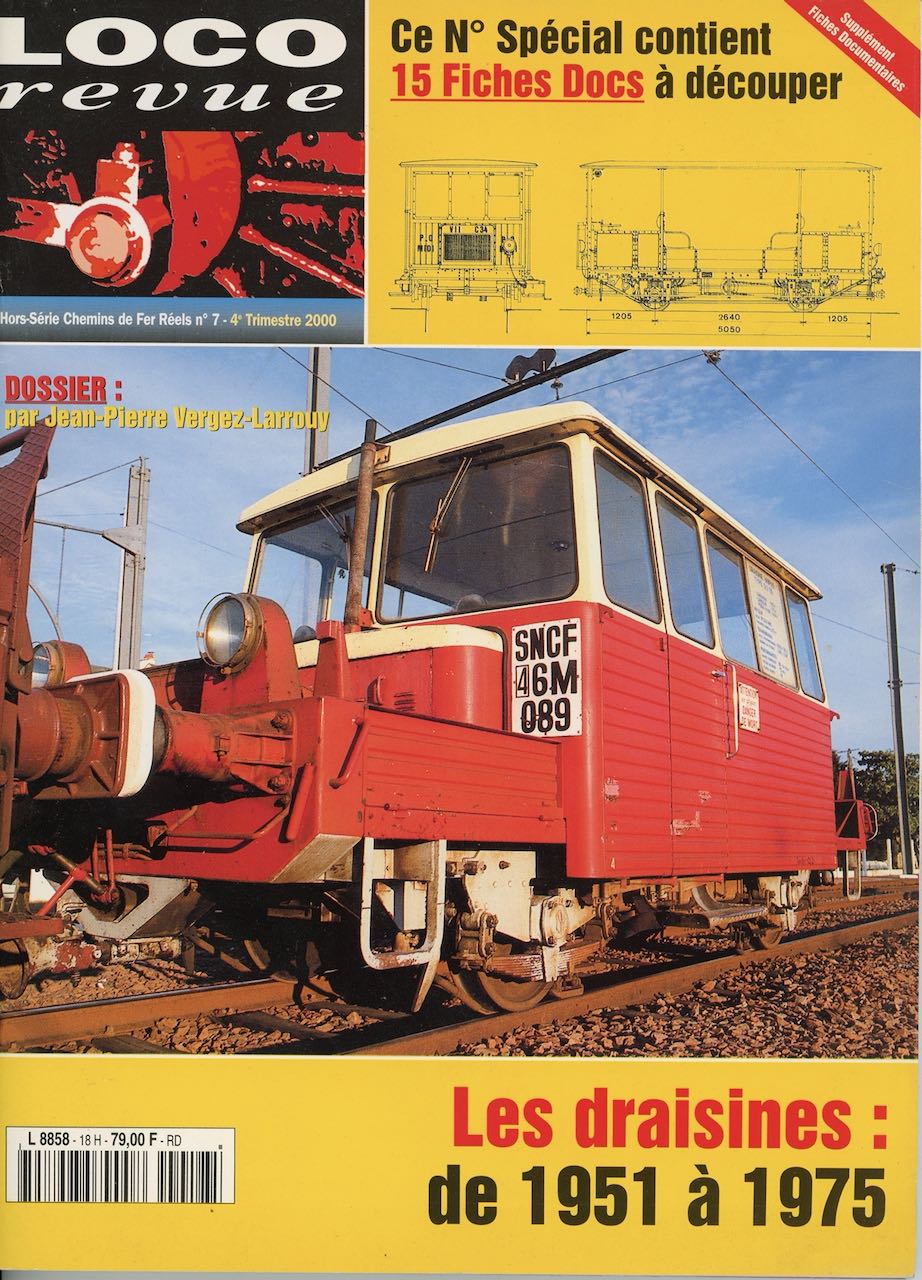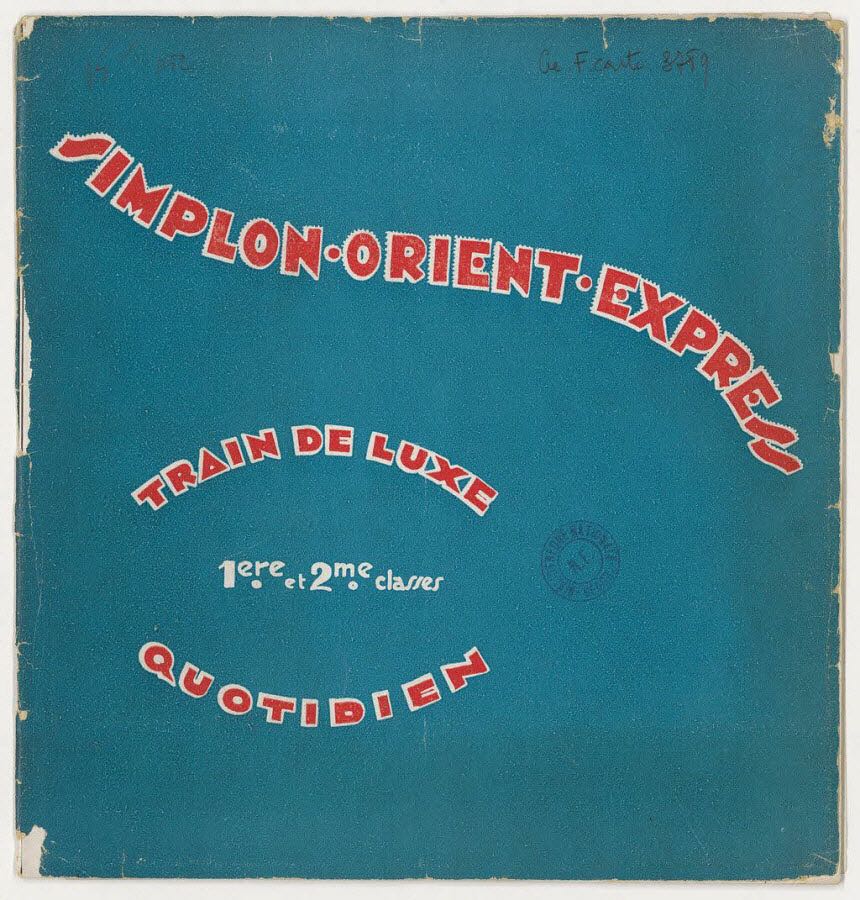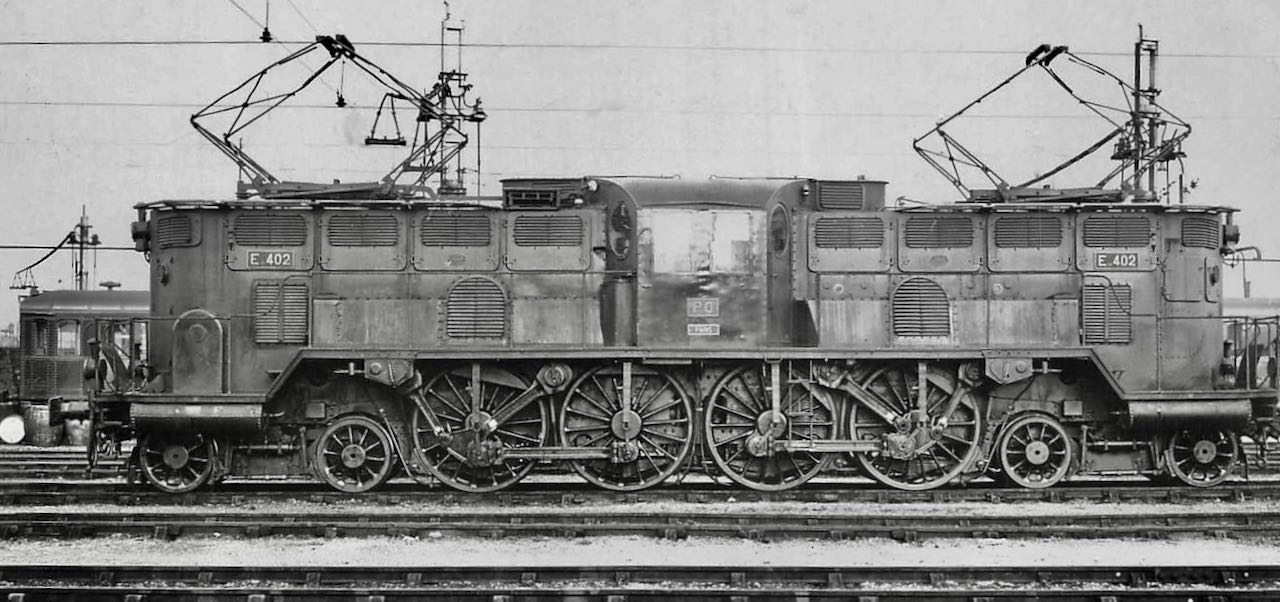 © Peter Lovell & Graham Skinner. The French Railways Society 2021. With thanks to Michel Costes, Romain Vergnères, Georges Turpin, Duncan McEvoy, Kenny Basse and Maurice Testu.