Seasons Greetings to all our readers
Above. Nearly ten years ago on 9th February 2012 67604 approaches Rue with the 07:04 Paris - Boulogne
Intercité
service. In the intervening ten years much has changed on France's railways, the majority of locomotive hauled services have been replaced by new Alstom Coradia (Regiolis), Bombardier Omneo (Regio 2N) and in Paris, Francilien units, that have also replaced older electric units. The telegraph poles in the photograph had recently been made redundant when the Lartigue signalling had given way to automatic block control. Most
Intercité
routes have been transferred to the enlarged regions who are now also taking over control of rural lines from SNCF, and are beginning to open up their TER services to competition. Even the weather has changed, with global warming producing fewer cold mornings. The engineering staff in the lower right hand corner were in the process of removing the telegraph poles but at minus 14c their petrol chainsaw wouldn't start.
What will the next ten years bring? The current administration plans new LGV routes, re-introduction of overnight trains and doubling of railfreight as part of their sustainability agenda, but with elections looming for next spring we will need to wait to see whether the new administration is prepared to make the financial investment to deliver these plans.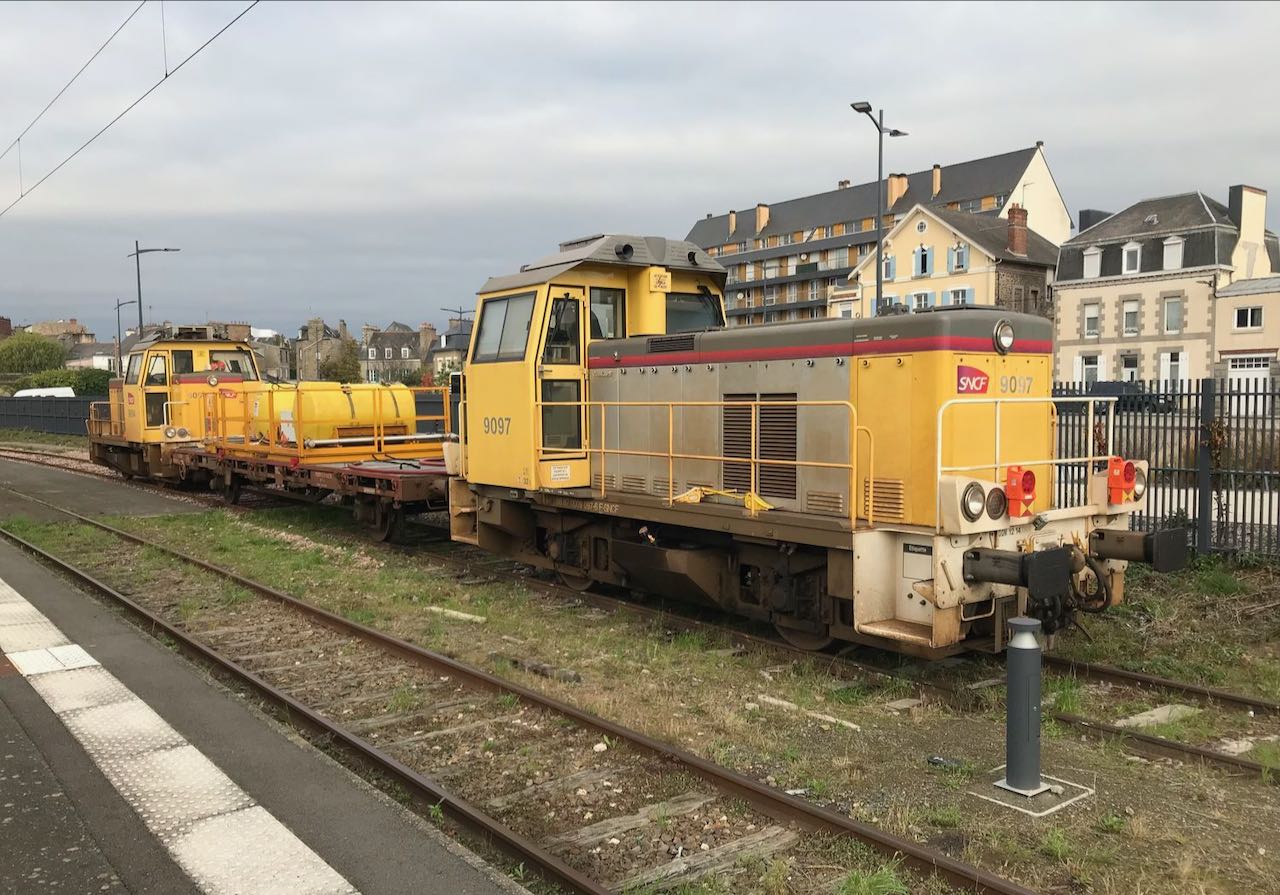 The leaf clearing season is now over for another year, on the 10th November Y9097 and Y9094 pause at St Brieuc with a railhead treatment service. Photo Michel Joindot
Renaissance of overnight services begins
New sleeper services started on Sunday, December 12th with four trains leaving Paris Gare d'Austerlitz to seven destinations. The Briançon sleeper returned to the route via Valence and Gap, and a new service to Lourdes was included (as far as Toulouse) in one train with the Latour de Carol and the Cerbère services. A stop at Narbonne has now been created on the Toulouse - Cerbère route.

Below is an analysis of the departures, that Sunday evening Dec 12th, watched by the Transport minister under the scaffolding that permanently occupies the Great Hall at Austerlitz as the modernisation work staggers on, years late. A group of 4 intercités de nuit departed to 7 destinations in a new era for overnight trains in 2022.

Here are the details by departure times and destinations:

20.52 Briançon, No 5789. via Valence and Gap. arrival Monday 08.22
21.22 Nice-Ville, No 5771 via Marseille. arrival Monday 09.08
21.51 Lourdes + Latour-de-Carol + Cerbère, Nos 3741 + 3971 + 3737, via Toulouse; arrivals Monday 07.43, 09.12 and 009.17 respectively.
22.12 Rodez + Toulouse via Brive, Nos 3755 + 3751, arrivals Monday at 06.07 and 07.05,

The above timetable will apply Saturdays and Sundays. On Mondays - Fridays departure times change from the above. No overnight trains will operate on Dec 24th or Dec 31st.
All trains propose 1st + 2nd class couchettes, and newly renovated coaches are included as available.
On the 7 routes, a total of 56 intermediate stops are made to pick up or set down, excluding the termini. Further details by train are listed next:

No 5789 Briançon. It is reported the train will be composed of 10 renovated coaches. The first stop to set down is at Crest at 04.37 and there are 8 more stops before the terminus at 08.22. The service via Valence restarted after suspension for a year due to engineering work between Livron and Veynes. In December 2021, the train was not scheduled to run on 17th, 18th, 24th, 30th, 31st.

No 5771 Nice-Ville. The train operates independantly from the Briançon sleeper. The first commercial stop to set down is at Marseille at 06.29. The train stops to set down at Toulon, Les Arcs, St Raphael, Cannes, Antibes and arrives at Nice at 09.08.

No 3741 Lourdes. This is a new service, every night. The coaches to Lourdes are included in the train to Latour-de-Carol and detached at Toulouse. There is a stop to pick-up at Aubrais Orléans. There are no more commercial stops before Tarbes and then the terminus.

No 3971 Latour-de-Carol. After Aubrais-Orléans, the train is non-stop to Toulouse where the Lourdes and Cerbère sections are detached. The first commercial stop since Orléans is at Auterive (06.40) and there are 10 more stops before Latour-de-Carol (09.12).

No 3755 Rodez. On Sats + Suns, the Rodez coaches are included on the Toulouse train, No 3751, and detached at Brive. The first commercial stop is at St Denis près Martel at 03.54. There are 9 more intermediate stops before arrival at Rodez at 06.07. On weekdays, Mons - Fris, the couchette coaches to Rodez are included on the last" intercité de jour" from Austerlitz departing at 19.39. Arrival at Rodez is at the same time as week-ends.

No 3751 Toulouse. On Sats + Suns, the train includes the Rodez coaches that are detached at Brive. The train stops to pick up at Les Aubrais-Orléans and the first stop to set down is at Souillac at 04.01. Further stops are made at Gourdon, Cahors, Caussade, and Montauban. Toulouse is the terminus at 07.05.

No 3737 Cerbère. The coaches for Cerbère are detached at Toulouse from the 21.51 train (week-ends) and there are stops to set down at Castelnaudary, Carcassonne, Lézignan, Narbonne (for the first time), Perpignan and 5 other stops before the terminus at Cerbère. This service will be operated at week ends and on certain week days. It is subsidized in part by Occitanie Region.


The above details were researched on Deutsche Bahn travel planner. On the various SNCF and Oui SNCF sites it is impossible to find all the information, in particular, about
- intermediate stops (not available on Oui SNCF)
- validity of timetable (not available on Oui SNCF which only deals with an enquiry for one destination on one date)
The French Government has announced an investment programme valued at €800m to lease 300 new coaches and 30 locomotives. A procurement competition will be launched in 2022 with the intention of introducing new rolling stock between 2025 and 2030. In the meantime Corail stock from the 1970s is being re-furbished at Périgueuex and more recently at Tergnier, that normally specialises in wagon repairs.
Article researched and written by Graham Skinner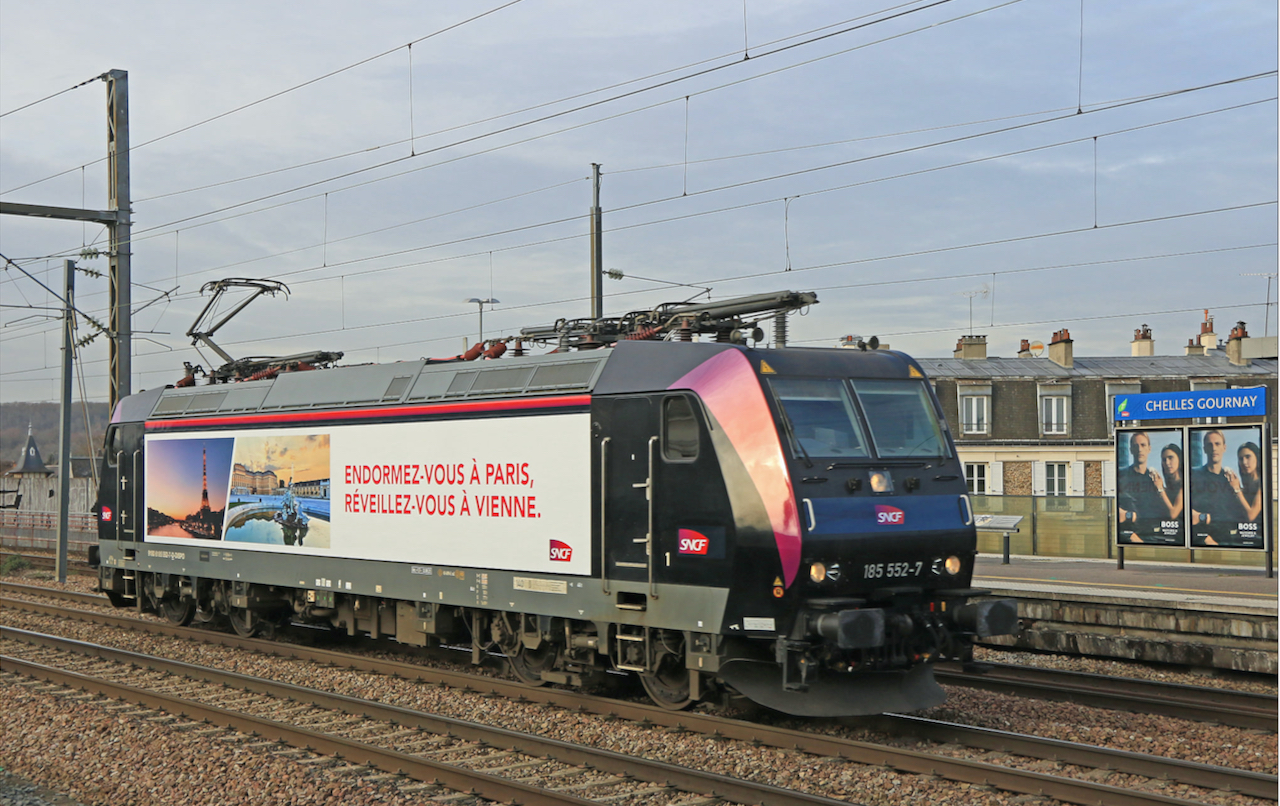 SNCF hire TRAXX 140s for Paris - Vienna sleeper
To operate the new Paris - Vienna Nightjet service (a collaboration between OBB, DB and SNCF) SNCF have hired three Bombardier TRAXX F140 AC1 series 185-5 type locomotives for the Paris to Karlsruhe leg. Interoperable in both Germany and France the locomotives are on hire from Mitsui Rail Capital Europe (MRCE). For the launch of the new service 185 - 552 has been painted with carmillon edging and adorned with advertising vinyls at the Technicentre Est-Européen at Pantin. It is seen here passing through Chelles-Gournay on Saturday 11th December returning to Germany to haul the inaugural train into Paris on the 14th December. Photo Christophe Masse

Videos
Below are two Simply Railways videos. The left hand link was taken at Austerlitz on the evening of 12th December showing the renovation work, the speeches by the Transport Minister and SNCF's CEO, and then takes the Lourdes train with the refurbished rolling stock. The right hand link is of the Frecciarossa 1000 on the Trenitalia Paris - Milan service
Trenitalia Paris - Milan service off to good start
Bookings for Trenitalia's new Paris - Milan service.got off to a good start following full page newspaper advertisements
and SNCF staff in the south east threatening strike action, although the dispute was subsequently resolved with a bonus payment
Operated by Bombardier/Hitachi Zefiro V300
ETR400 - Frecciarossa 1000
(Red Arrow) units the new service calls at Lyon (Part Dieu), Chambery, Modane and Turin and features luxury executive seating and meeting rooms (see photos below) in addition to conventional first and second class. Unlike the TGVs on SNCF 's Paris - Milan service the Zefiro V300s can use the high speed line between Turin and Milan giving a 20-30 minute advantage. Two return services operate daily with plans to introduce a third.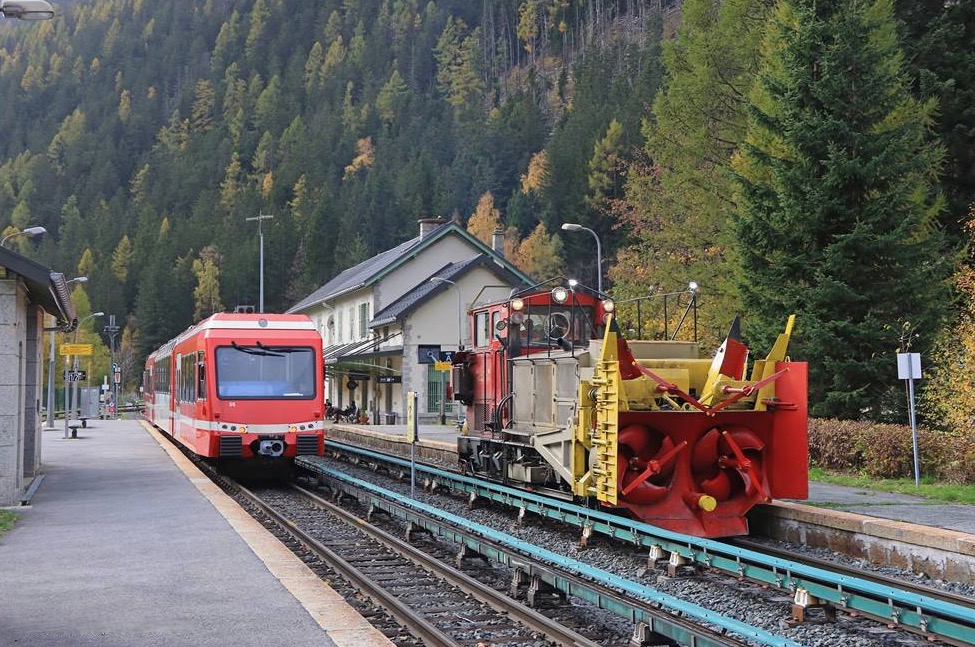 Alstom agrees to sell Reichshoffen plant to CAF
Alstom has agreed to sell its Reichshoffen plant along with its current Coradia (Regiolis) and Bombardier Talent ranges to Spanish manufacturer CAF to meet EU competition requirements for its merger with Bombardier Transportation. Alstom had originally been negotiating with Skoda but this ceased when Skoda's chief executive was killed in a crash last summer.
The sale to CAF is a little surprising given the reluctant stance Alstom took in fulfilling the order for 146 units for RER Line B that Bombardier and CAF had contracted to build as a consortium, although in reality there may have been little option. CAF already has a factory in France at Bagnères-de-Bigorre in Hautes-Pyrénées where they are building replacements train-sets for the remaining SNCF
Intercité services.
Reichshoffen currently employs over 700 staff and CAF have given commitments that there will be no redundancies. The current order book will keep the factory occupied until 2026.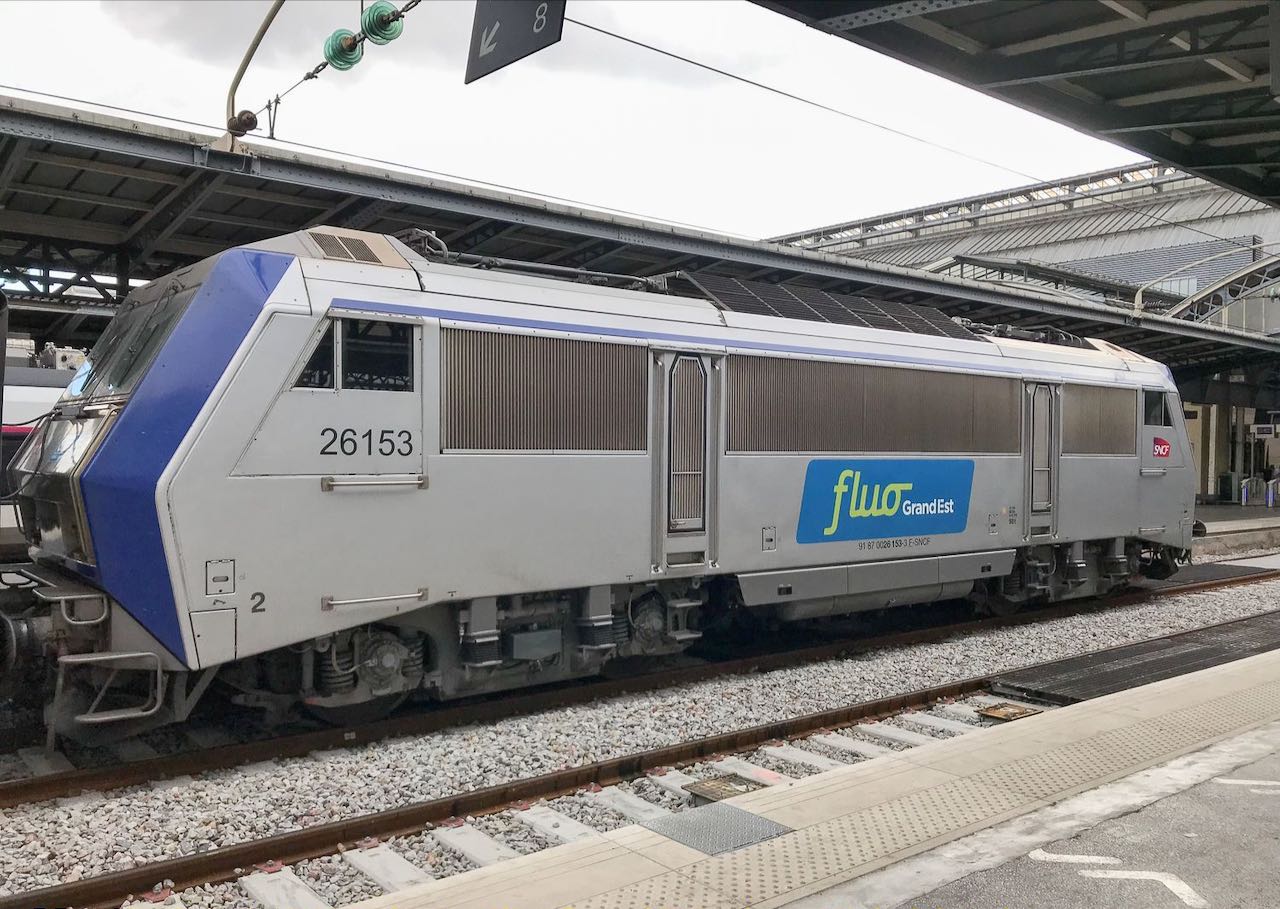 Staff absences through Covid disrupting services
Difficulties in maintaining and operating rolling stock due to staff absences with Covid has resulted in Occitaine Region replacing some rail services with buses. From the start of the new timetable on December 13 there are no TER trains between Nîmes - Le Grau-du-Roi and Carcassonne - Limoux . Between Toulouse - Auch and Toulouse - Mazamet only half of services were operated by rail. From December 22 to 31, rail services were also replaced between Marvejols, Mende and La Bastide. While the new sleeper services have been lauded in Paris the reality has been that the Latour de Carol and Lourdes portions have yet to travel regularly beyond Toulouse, with passengers having to take TER
autocar
or rail services to/from the regional capital.
The problems do not seem to be confined to Occitaine Region as cancellations, reduced compositions and late-running have also been reported on Grand Est
Vall
é
e de la Marne
services. During October and
November
100 hundred service were
cancelled and 150 suffered delays totalling more than 3,000 minutes.
Above Grand Est services are branded Fluo, BB 26153 is seen at Gare de l'Est in Fluo livery after arrival on 23rd October 2021. Photo Michel Joindot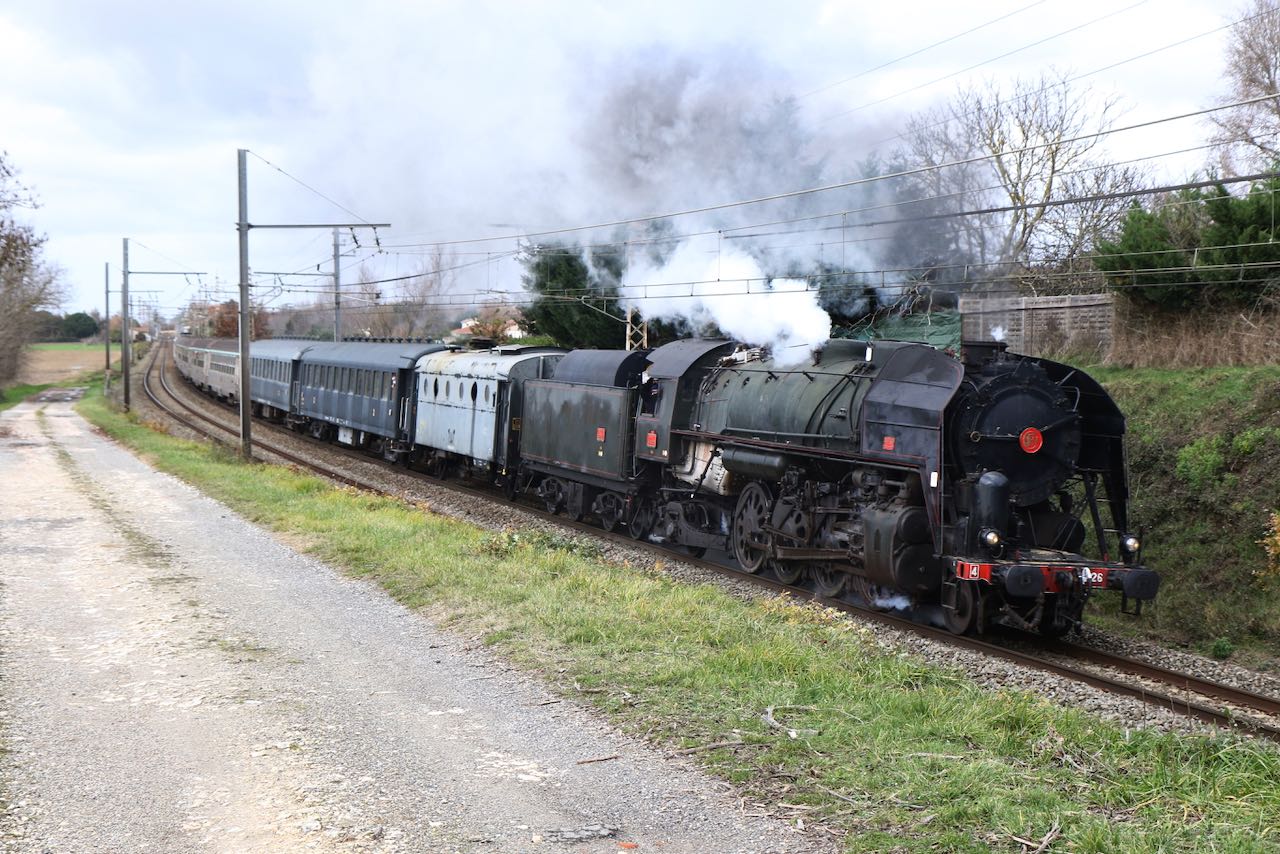 141 R 1126 returns to service
Toulouse based 141 R 1126 operated its first train this year on Saturday 11th December when it hauled a "Santa Special" from Toulouse to Carcassone and return. Seen above passing Montlaur on the outward journey and opposite at Toulouse. Below On 18th December the destination of the Santa Special was Ax Les Thermes and BB 7398/7338 are photographed between Cintegabelle and Saverdun. The bright sunshine belies the extreme cold in the Pyrenees that had disrupted traffic in South West France All photos Georges Turpin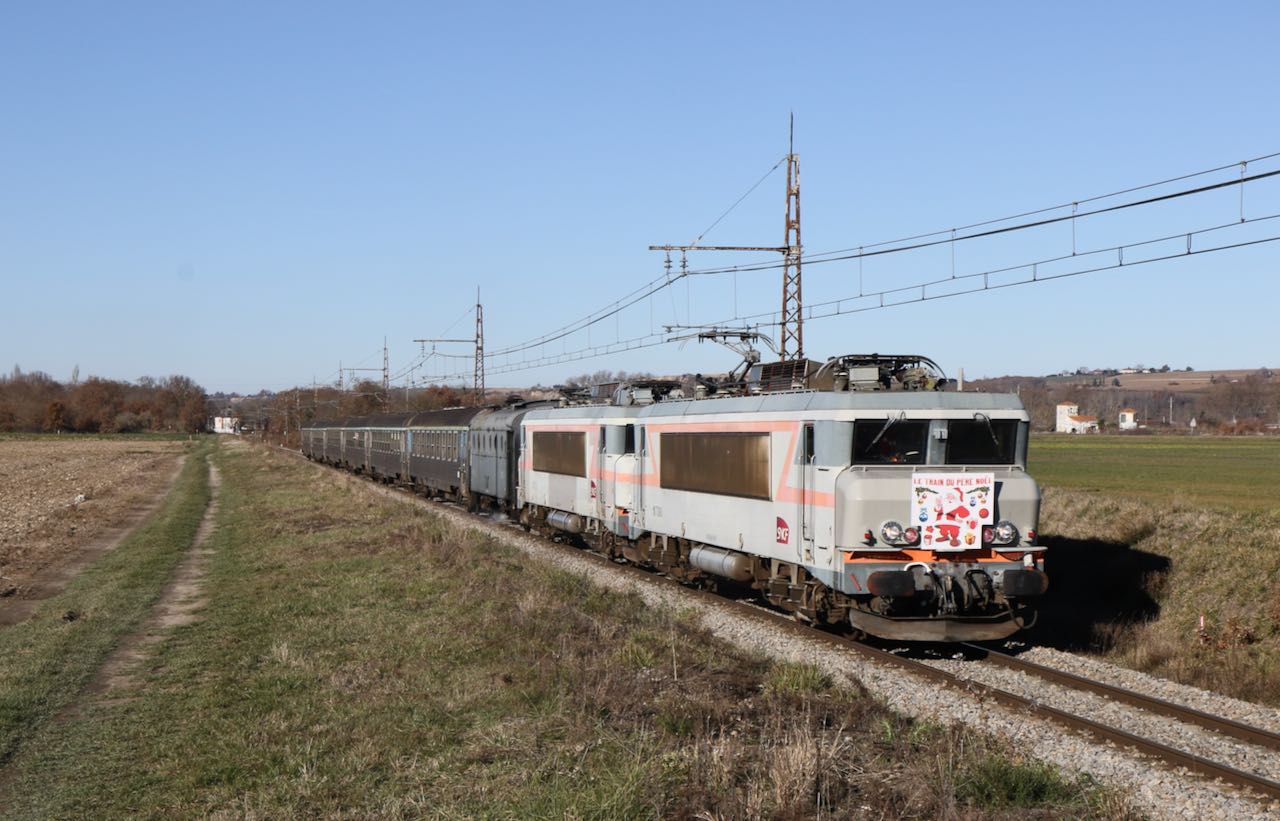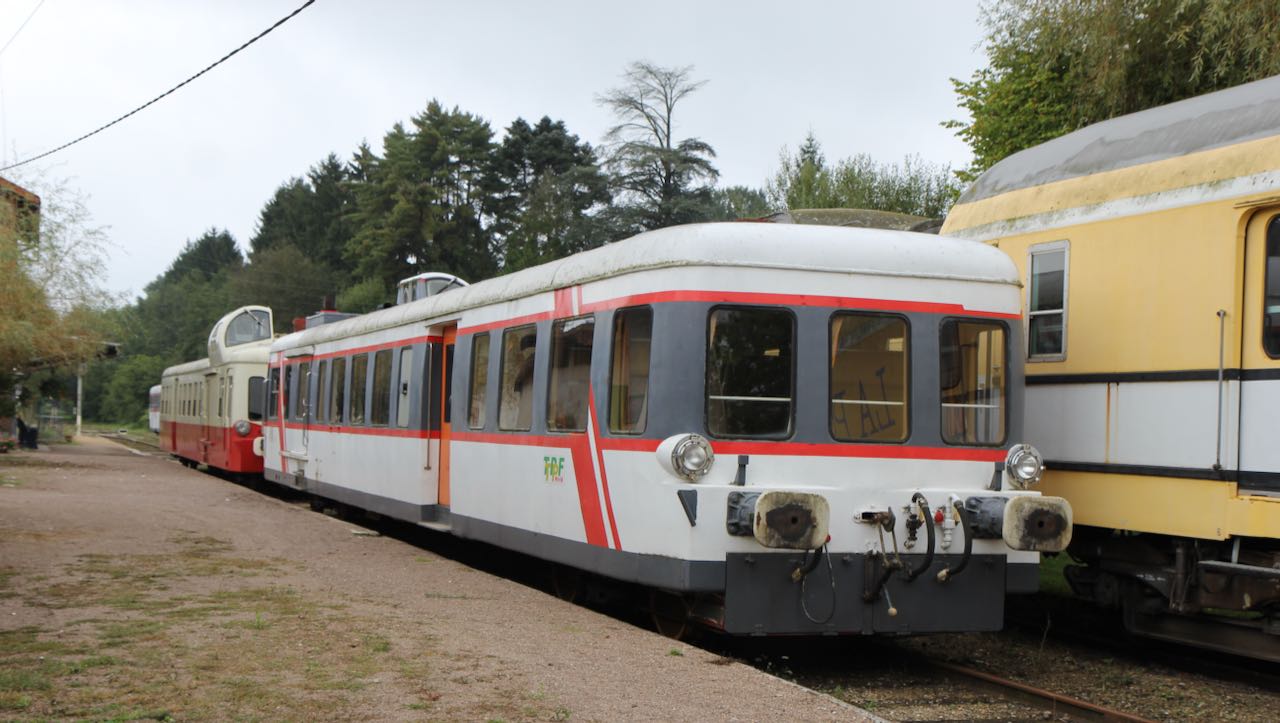 Picassos reach 70 years in service
Introduced in 1950, the main production series of class X 3800 from X3802 onwards entered service from August 1951. There are 13 preserved examples that are now celebrating their 70th birthdays. On the 6th December it was the turn of X3814 seen above at Toucy-Ville in 2013. X3814 entered service at Nantes and retired from service on 31 May 1987 at Mohon. Behind it in red and cream livery is X3835 that will need to wait until 27th May 1952. The pair operate between Toucy and Villiers-Saint Benoit in the Yonne on the old PLM line from Toucy to Montargis.
Photo Georges Turpin
.
What next for CC 65005?
Above. On a wintry 1st December 2021 CC 65005 faces an uncertain future at Ambert in the Auvergne. With little opportunity to work at Agrivap it had been proposed earlier last year, within UNECTO, that CC65005 should be transferred to the Train des Mouettes at Saujon, but this has yet to come to fruition. Photo Gill Allen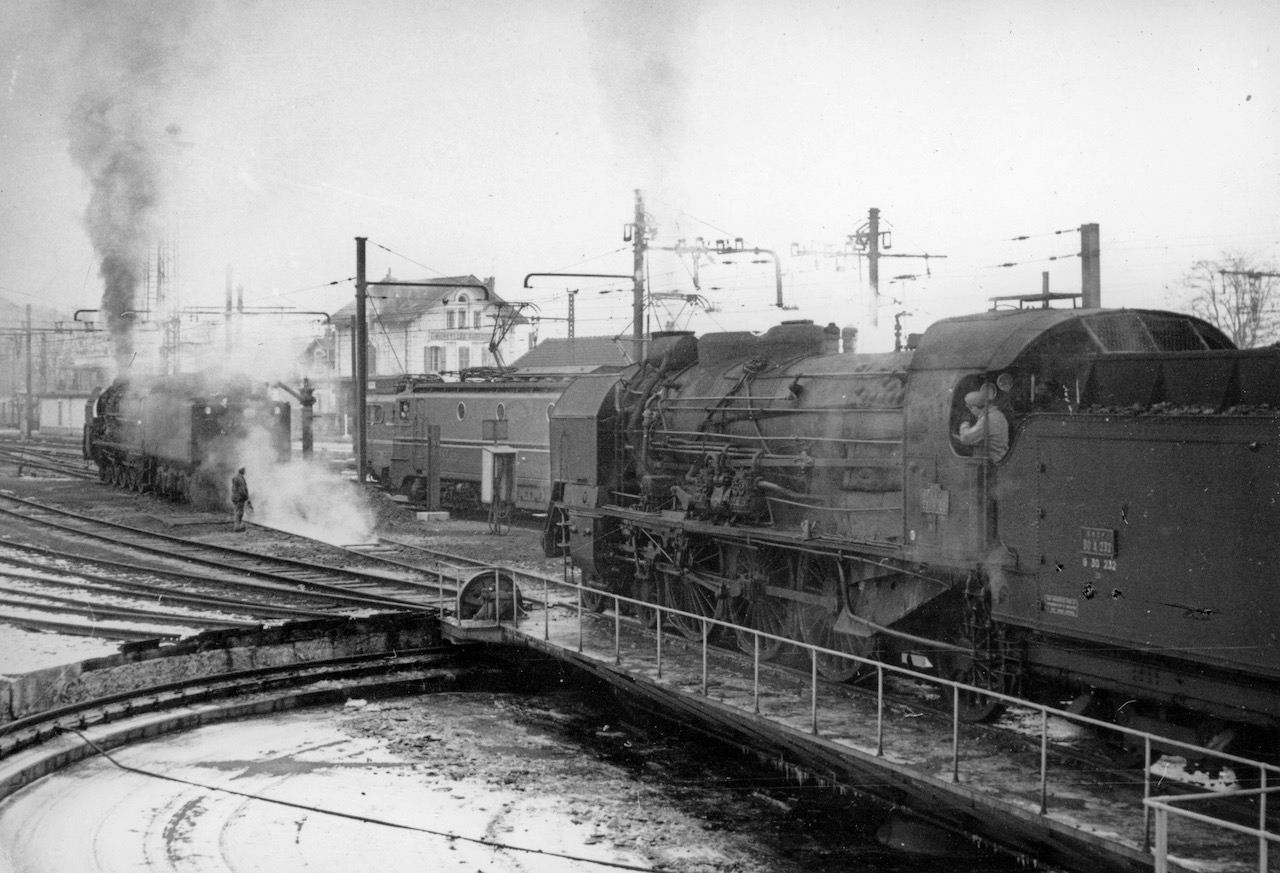 Turning back the clock - Moret in the 1960s
Situated 68 km southeast of Paris, at the junction between the Bourgogne and Bourbonnais lines to Nevers and Clermont Ferrand, during the 1960s Moret les Sablons was the changeover point from electric to steam traction. Trains would arrive from Paris Gare de Lyon hauled by classes BB 8100, BB 9400, CC 7100, 2D2 9100, BB 9200 or 9300 and change to 241 P, 231 G, and 141 Rs. The photos above and below are from scans by Daniel Baglin of photographs taken by the late Marc Dahlström and Dieudonné Michel Costes taken between 1965 and 1971
By the end of 1965 the last Nevers 231 G's and 231 H's were withdrawn and Clermont Ferrand BB 67000s were making an appearance, and would share the express passenger traffic with 241 P's and 141 R's, until CC 72000s appeared in january 1969. The 241Ps were allocated to Nevers Depot from 1958 until withdrawn in September 1969, and often changed at Nevers despite the fact they were able to cover Moret to Clermont Ferrand without changing (In Brittany the 241Ps would cover the 411 km from

Brest

to Le Mans)
By September 1966, BB 67000s had taken over most of the expresses including 1114 (8h00 Nîmes Paris - Austerlitz), 1115 (11h15 pm Paris - Nîmes) and the overnight 2019 Paris - Beziers and 2022 (16h30 Beziers - Paris). But the 241 P's continued to haul some of the "

rapides

" being rostered for 1109 (18:55 Paris - Clermont) and 1110 (08:30 Clermont - Paris) and in the summer, the seasonal expresses 1113 (1:05 p.m. Paris - Clermont) and its counterpart 1112 (12.05 Clermont - Paris)

.

Also in the summer of 1967, the Nevers 241Ps hauled the Thermal Express "

rapides

" 1103. (12:15 Paris Austerlitz - Le Mont Dore) and 1104, (09h54 Le Mont Dore - Paris Austerlitz) and also 1111 (8:55 Paris - Nîmes) between Vierzon and Clermont Ferrand. These were routed via Saincaize avoiding Nevers. From the following year these were hauled by BB 67000 with heating

van, nicknamed "

cocottes minutes

'" to Clermont Ferrand where a Limoges A1A A1A 68000 would take over for the run to Le Mont Dore.

Nevers coal fired 141 Rs were also in abundance, handling freight traffic, still frequent on the Clermont Ferrand line in the 1960s, scarce stopping services not covered by autorails and reliefs. At the same time they also hauled the Paris - Montargis via Moret and from Corbeil, the Paris - Montargis stopping services via Malsherbes and the only express still passing through this route - 1019 (6:02 p.m. Paris - Montargis via Malesherbes) The Malsherbes - Montargis section closed in September 1971and if not steam hauled by then, would have only enjoyed diesel traction for a short period.

The Nevers coal fired 141 Rs, mostly the Montréal buit 1201 to 1220 batch, dubbed as "

les Canadiennes

" handled the overnight Lyon - Nantes (and seasonal Le Croisic - Lyon) and Bordeaux - Genève services between Lyon and St Germain des Fossés until the late 1960s.

With thanks to Michel Costes for providing the original text and photographs for this article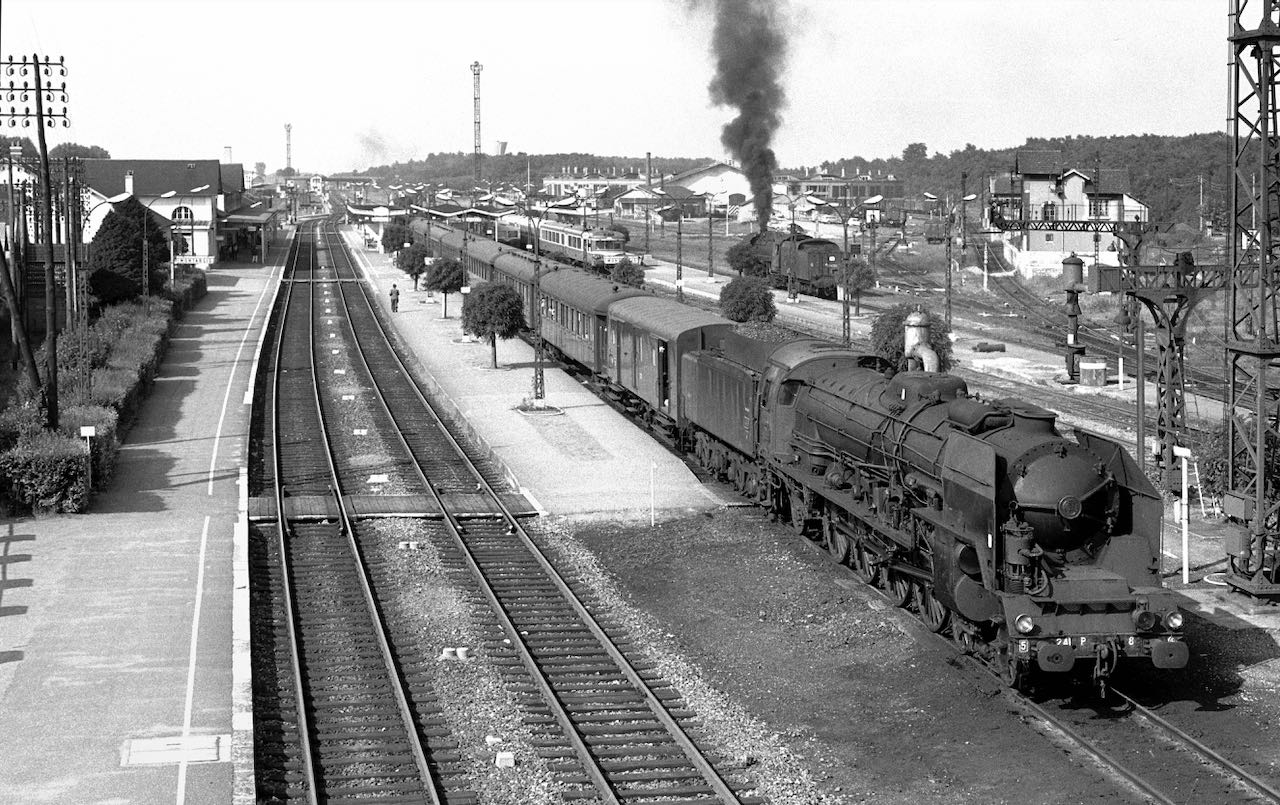 Some 40km south of Moret, 241 P 8 pauses at Montargis in September 1968 with rapide 1113 (13.05 Paris - Clermont Ferrand) Photo Michel Costes
A final look at Moret. Above: On a freezing evening in December 1968, about a month before regular steam traction finished, CC 7146 has arrived at Moret with rapide 1109 the 6:55 p.m. Paris - Clermont Ferrand. Below: A few minutes later CC 7146 has been uncoupled for 241 P 8 that will take the train to Nevers, where another 241 P will take over. The journey would take about 5hrs 30 minutes. Regular steam working on the rapides lasted until 11th January 1969 when 241 P 7 took over rapide 1109. The 241 Ps lingered on at Nevers during the summer of 1969 working reliefs and freights until withdrawn in September, along with the remaining 241 Ps at Le Mans. Both photos Michel Costes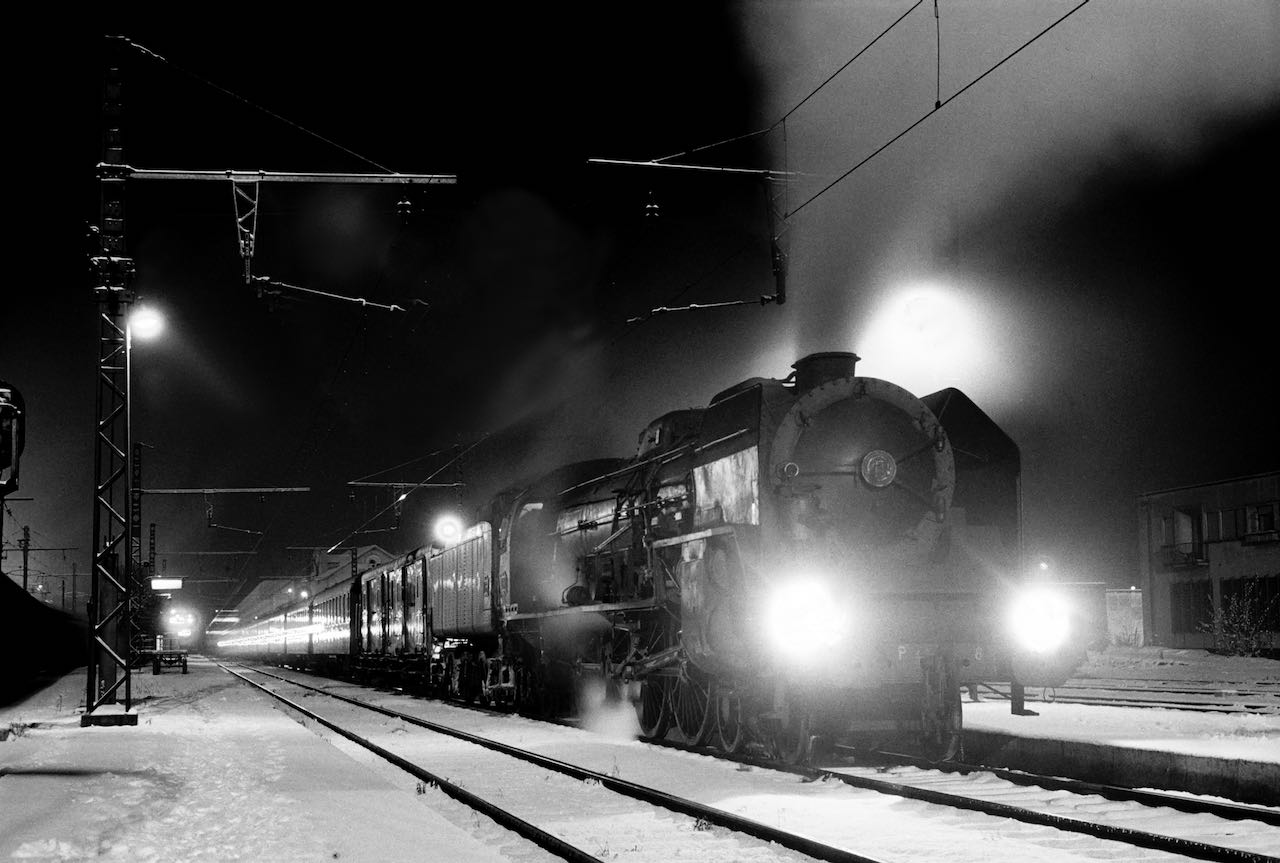 Additions to FRS Photographic Archive during December 2021

To Photographic section
Additions to Folder 11 "French railway stations" (approx. 250 images)
A new gallery "Earle & David Boyd" comprising images in France, Belgium and Germany at the end of WW2, plus some SNCF images from the 1980's.

Additions to the FRS public folder during December 2021
1. CNAM - PO E.703 prototype
2. CNAM - Schneider catalogue 1920
3. CNAM - Schneider catalogue 1929
4. CNAM - SKF bearings for railway equipment
5. CNAM - Fifty years of Winterthur locomotives
6. CNAM - Paris Expo 1889 - PLM equipment
7. CNAM - Cours de CdF Dautry & others 1924
8. CNAM - Mecanicien de CdF - Guedon 1908
9. CNAM - PLM voiture L2S6yfi - Turin Expo 1911
10. CNAM - PLM voiture A5c5yfi - Turin Expo 1911
11. CNAM - PLM voiture A3c2L3g - Turin Expo 1911
12. CNAM - Catalogue CNAM "Transports sur Rails" - 1952
13. Photo Index for the "Earle & David Boyd" gallery

All CNAM publications have COPYRIGHT RESTRICTIONS and are published here for members' private enjoyment.

© Peter Lovell . The French Railways Society 2022. With thanks to Michel Costes, Graham Skinner, Christophe Masse, Georges Turpin, Michel Joindot, Daniel Baglin and Gill Allen