P'tit train de la Haute Somme celebrates 50th anniversary.
The extended Ascension weekend at the end of May saw APPEVA celebrate their 50th anniversary with a special steam gala, the event having been deferred a year due to Covid restrictions. Special guests from Pithiviers AMPT were their 1938 260T 9 la Meuse, and 1917 Henschel 080T 1551. Above the latter is seen at sunset on the evening of 28th May on the plateau beside the D164 near the old WW1 front line, and below near Cappy with APPEVA's 1916 Decauville 060T 1652. Both photos Jocelyne Bourneuf
Picasso X4039 visits Northern France
Over the weekend of 21st/22nd May Picasso X4039, preserved by ABFC at Dijon visited CFTVA (Chemin de Fer Touristique de la Vallée de l'Aa), operating between Arques and Lumbres, both on its own and with CFTVA's Picasso X3853. It is seen above after arrival at Lumbres (Photo
Philippe Armand
).
Now celebrating 30 years in preservation and the only mainline authorised Picasso, on the 28th May X4039 undertook a circular Hauts-de-France tour organised by CFTVA and the Saint-Omer Tourist Office in conjunction with the
Confrérie du Chou-Fleur de Saint-Omer et la Confrérie de l'Endive
.
Starting at Arques the tour travelled via Saint-Omer, Bethune, Lens, Arras, Amiens, Calais, returning to Saint-Omer and Arques. Seen opposite at Saint-Omer (photo

Phillipe Armand

) and with the Confréries at Amiens.
On Saturday 18th June X4039 travelled from St Omer via St Pol to Noyelles, its first visit since 2006. Here it transferred to the CFBS and on to St Valery Canal. Following some greasing of the curve after the depot it ventured onto the bridge over the Somme Canal for photographs. Below - Photo Christophe Masse
X4039 will remain at the CFTVA until 7th July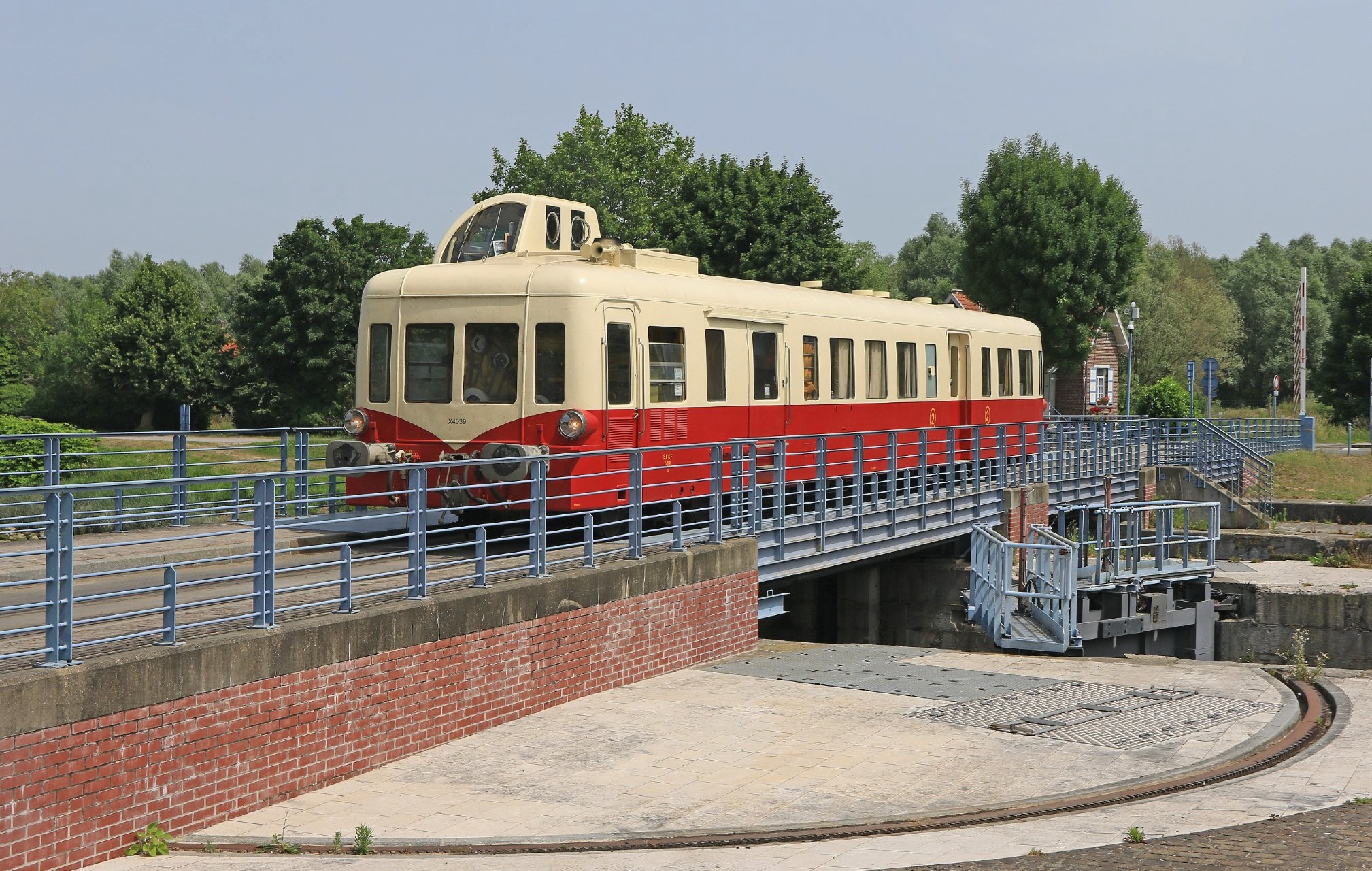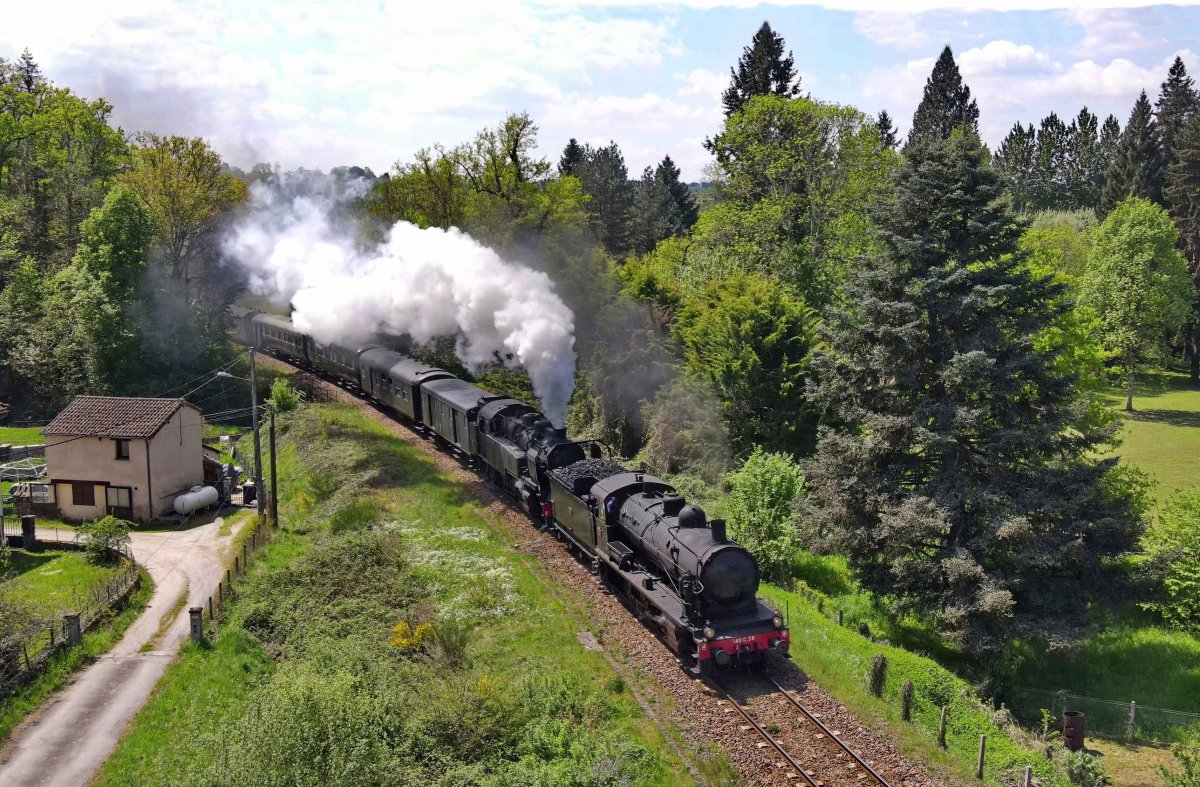 The first steam double traction took place on 1st May when Train à Vapeur en Limousin 140 C 38 piloted141 TD 740 seen above at Aixe-sur-Vienne. Photo Daniel Baglin
Over the weekend of 10/11th June 140 C 27 moved from Nimes to Le Creusot where it will deputise for 241 P 17. Owned by CITEV (St Jean du Gard) it is being operated on the mainline by GADEFT (Groupement d'Aide au Développement des Exploitations Ferroviaires Touristiques). Following an overnight stop at Lyon Perrache it is seen above in Beaujolais country at Romanèche-Thorins. Photo Christophe Masse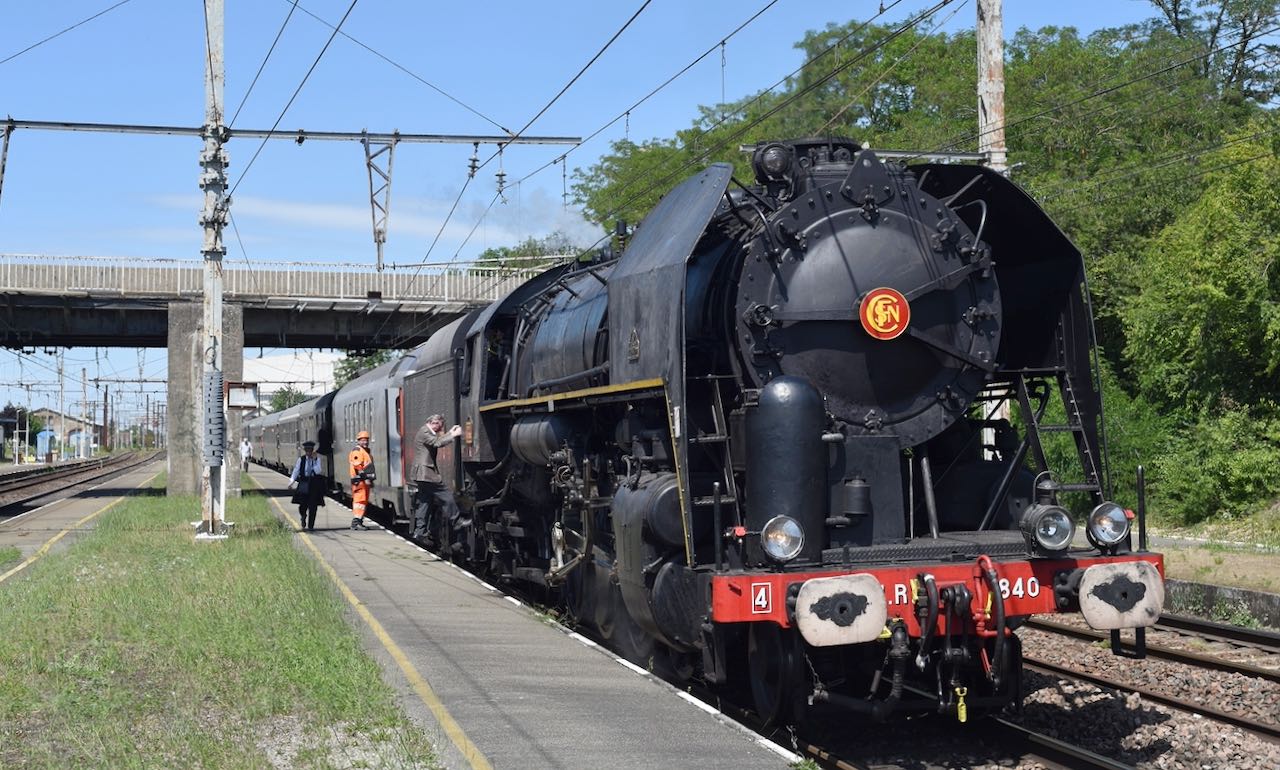 141 R 1199 moves to Orleans - 141 R 840 back in traffic
The future of 141 R 1199 now appears to be settled. On Saturday 21st May it was moved from Le Mans to Les Aubrais where it will come into the custody of AAATV, joining recently overhauled 141 R 840.
141 R 1199 was previously based at Nantes but returned to SNCF when the association there fell into dispute with SNCF and the loan agreement cancelled. It was initially suggested that it would go to Mulhouse, although since then it has been stored at Le Mans where it has made a few appearances as a static exhibit. 141 R 1199 is believed to be in good condition having been overhauled prior to its return to SNCF. AAATV's objective will be to have at least one of the two locomotives operational at any time.
On 2nd June 141 R 840 undertook a loaded steam test obtaining its mainline running certificate and is scheduled to operate an excursion from Les Aubrais to Paris on 2nd July. Above 141 R 840 at Toury on 2nd June during its loaded test run. Photo
Alain Demarez.
Below 141 Rs 840 and 1199 at Les Aubrais.
Photos
Pascal Bouché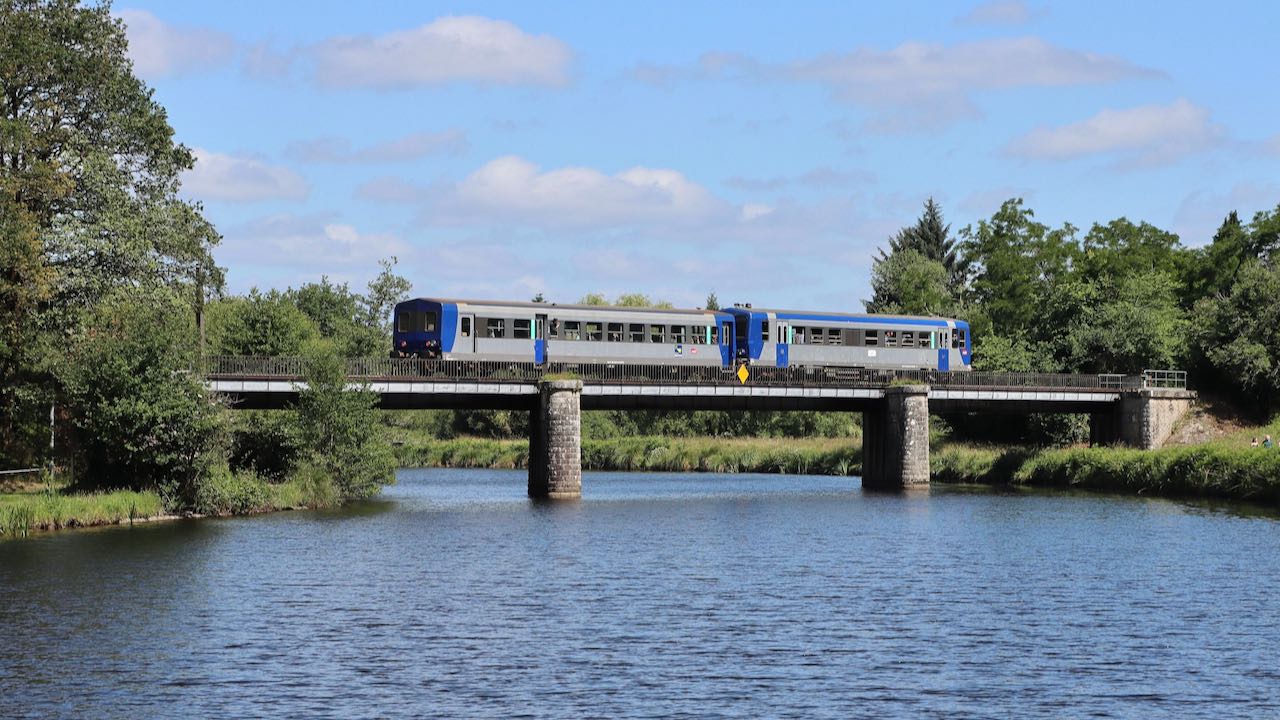 Five day tour of Brittany
Between the 4th and 12th June Vierzon based CFTST (
Cercle Ferroviaire des Territoires de Sologne et de Touraine
) operated five excursions touring the lines of Brittany with their preserved
autorail
X2141 and trailer XR6167. Details are shown on the chart below.
On the 12th June they operated the first train from Rennes to Pontivy for forty years. At Lambel-Camors, on the branch from Auray to Pontivy CFCB
(
Chemins de Fer du Centre-Bretagne
)
X2830 was attached to X2141 for the journey to Pontivy and return
Above: Train 903 Auray - Pontivy passing St Adrien Viaduct on June 12th north of Baud station.Below: Train 402 Pontivy - Lambel Camors passes Rimaison south of Pontivy. X 2141 (CFTST) is in leading position and will continue towards Auray. X 2830 (CFCB) at the rear will be detached at Lambel Cahors and return back to Pontivy. Both photos Alain Troadec
This summer the line between Pontivy and Loudéac, where CFCB have their main base remains closed.
CFCB
will operate their
Napoleon
Express between Pontivy and Lambel-Camors
and have borrowed two X 2100 autorails from Train des Mouttes at Saujon. Charente Maritime. Services begin on 3rd July
,details via this link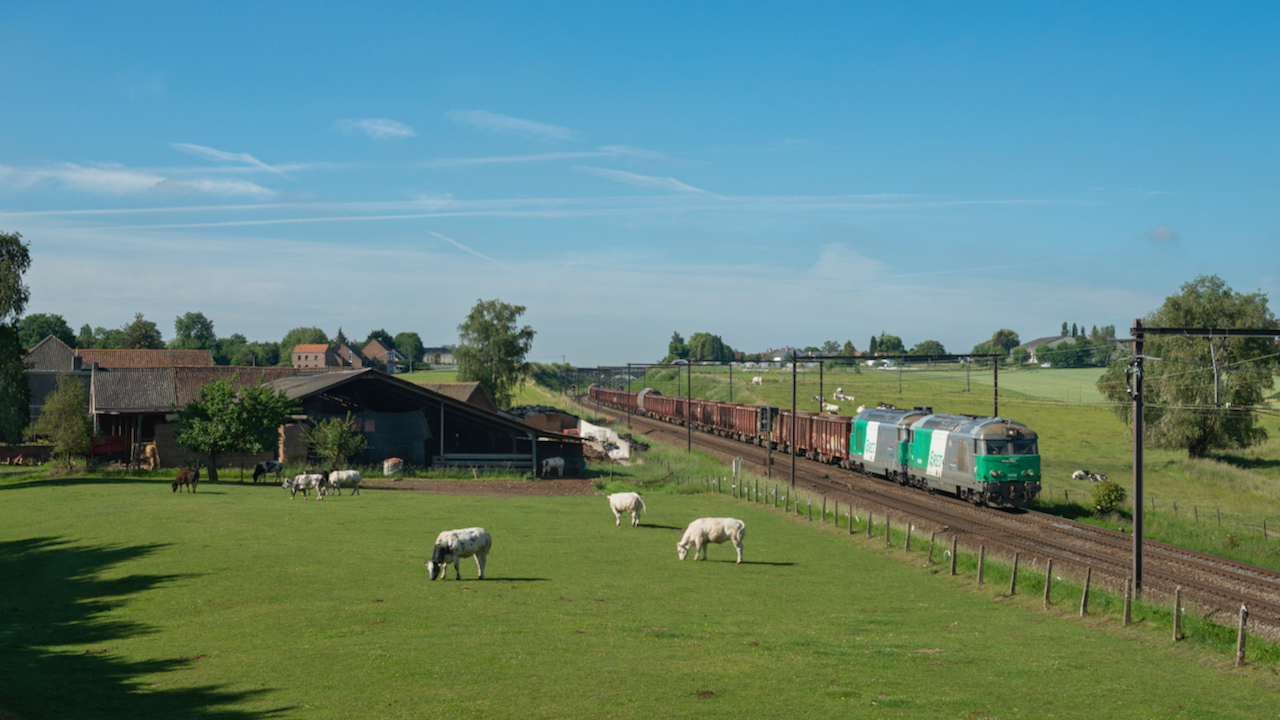 BB 67400 return to Belgium
Between Braine-le-Compte and Hennuyeres, Wallonia, Belgium at 09:45 on the 2nd of June 2022 a pair of SNCF BB67400 locos led by 67579, working in multiple with 67460, hauls train 47877 07:17 from Somain, France to Quenast Quarry, located at the end of a five kilometre south facing branch line from Tubize. The train was part of the final SNCF two week campaign lasting from 30th May until 10th June to move track ballast from Quencast to France using these quinquagenarians. Twenty four wagons make up the empty load which will be exchanged at Quenast for an identical loaded formation, bought in the day before, for the afternoon return trip to Lens.
Photo Duncan Mcevoy
Greenspeed Approved
The plan to merge Eurostar and Thalys international train services was launched in 2019. These trains operate on routes in five European countries, with a total population of 245 million. The plan was dubbed "Green Speed", but it was delayed by the Covid pandemic.

On March 29th, 2022, the Brussels Commission approved the final stage of the merger. The two train operating companies will become owned by a new holding company; Eurostar Group, based in Brussels. The stakeholders in the Group will be SNCF 55.75%, SNCB 18.5%, Caisse de dépots Quebec 19.3%, Hermes 6.4%. The operating companies, currently Eurostar in London and Thalys in Brussels, will remain separate but Thalys will later be rebranded to Eurostar (the better known brand). The merger will become effective in 2024.

Eurostar operates trains from London St Pancras to Paris-Nord, Brussels-Midi and Amsterdam. In 2019, Eurostar carried 11 million passengers, but in the following two years numbers slumped to 2.5 million on 2020 and 2.7 million in 2021. Thalys operates trains from Paris-Nord to Brussels, Antwerp and Liege, and destinations in the Netherlands and Germany. In 2019, Thalys carried 7.85 million passengers but in the following two years numbers slumped to 2.5 million. The drastic reductions were obviously due to Covid. The objective of the Green Speed merger is to attain 30 million passengers annually by 2030 - 2033, compared with 19 million in 2019.
Thalys abandons Izy low cost service.

Thalys will formally abandon its low cost Paris - Brussels service from July 10. Introduced in 2016 the service used the traditional route from Paris to Arras via Longueau before taking the LGV line to Brussels. The service initially used a specially liveried TGV before a former Eurostar set was utilised. The service was suspended due to the Covid pandemic and partially reintroduced last July using a normal Thalys set. Thalys will introduce a range of low cost fares for under 26s who were the main market for Izy.
New intermodal services from Cologne and Calais to Sète
Danish shipping company DFDS has been expanding its activities with the creation of two new rail services and the acquisition of German freight operator Primerail.
At the beginning of March a twice weekly service was introduced between Cologne and Sète using Cargobeamer loading technology. Each service can carry up to 38 semi-trailers, swap bodies or containers loaded onto type T3000 wagons. The service is operated exclusively for DFDS by Primerail with traction provided by Europorte. At Sète the trains will connect with the DFDS ferry to Yalova in Turkey
On the 10th May DFDS and Primerail announced that they were merging, enabling them to offer customers a combined maritime and rail logistics service.
The following week they launched a twice weekly Calais - Sète service, linking with the ferry to Yalova, and offering a seven day journey time from London to Istanbul.
Railcoop begins X72500 Overhaul
Following the announcement that Railcoop was deferring the introduction of its Lyon - Bordeaux service (
see May News
), initial work will begin on overhauling the nine former Rhone Alpes TER X72500 units being acquired by Railcoop
A two and three car unit are being despatched to ACC M at Clermont Ferrand for detailed examination to determine the specification for a mid-life refurbishment. This will enable a realistic timeframe for the refurbishment of the whole fleet to be established along with the level of funding required
Le Train planning 2023 services
While Railcoop is providing something of a case study on the challenges facing new start up passenger operators,
Le Train
has announced that it is planning services in Western France from 2023. The Charente based company plans to offer high speed regional services linking Bordeaux, La Rochelle, Angouleme and Poitiers with Nantes, Rennes and Tours using the Paris - Bordeaux LGV.
The company is currently seeking to purchase and renovate second hand TGVs. As far as we are aware they have no operators licence, safety certificate or TGV operators licence.
IdF selling 11 AGCs to Regions
Île-de-France Mobilités is selling 11 bi-mode AGCs to the regions. Currently used on Line P from Gare de l'Est to Provins they will be replaced by Franciliens when Gretz - Provins is electrified as part of the Gretz - Longueville - Nogent sur Seine electrification. The most recent date for completion is October 2022, although there has been little sign of testing or driver training.
The distribution of the AGCs is expected to be
Bretagne (2),
Hauts-de-France (2), Sud-Paca (2)
Auvergne-Rhône-Alpes (1), Centre-Val-de-Loire (3) Normandie (1). Had the AGCs been more widely available they may have been more suitable for Railcoop than the X72500s they plan to use.
Digital automatic coupling displayed at Strasbourg
A demonstration of
D
igital
A
utomatic
C
oupling (DAC) took place at Strasbourg on 7th June to members of the European Commission. The DAC4EU project is led by DB and will speed up the flow of wagons through marshalling yards and improve the efficiency of wagonload freight. Trials are scheduled to take place in Hausbergen Yard, Strasbourg in October. Video available
via this link.
Photo courtesy DB
Bumper weekend for CFBS
The four day Ascension weekend saw exceptional levels of passengers travelling on the CFBS, with nearly 9,400 passengers over the period. On Friday 27th May 3,350 passengers were carried, followed by 3,250 the following day. Despite operating the new "Violette " timetable with six departures from both St Valery and Le Crotoy additional trains had to be laid on to carry the crowds.
Gorges d'Allier 2022 season
The tourist train through the Gorges d"Allier on the Ligne des Cévennes to Langogne will run on Wednesdays from 13th July to 24th August the year. They will use
Train à vapeur d'Auvergne's
push-pull RRR sets and a BB 67400 locomotive. Passengers may also join at Clermont Ferrand and Brioude this year in addition to Langeac .
Details via this link
L'Autorail Creusois 2022
L'Autorail Creusois
from Gueret across the Creuse Viaduct to Aubusson and Felletin will run on Friday 15th July and then Thursdays until 1st September. This year CFTST's X2100 will be used as both of
l'Autorail Limousin
's X2800s are awaiting bogie inspections. The timings of the TER services from Limoges are being adjusted to provide a connection at Gueret.
Details via this lin
k
No Vapeur du Trieux this year
There will be no Vapeur du Trieux between Paimpol and Pontrieux again this year. Transdev Rail Bretagne, who operate the service, state that this is due to a change in tourist train regulations. The service last operated in 2020 with a short season due to Covid restrictions
Compulsory reservations for Normandy services
From the 1st July compulsory reservations are being introduced from and to Paris on Krono & Krono+ services on the following Normandy TER routes:
• Paris <> Caen <> Cherbourg
• Paris <> Trouville/Deauville
• Paris <> Argentan <> Granville
• Paris <> Rouen <> Le Havre
• Paris <> Dieppe

The move is somewhat surprising, as when these services were operated by SNCF as Intercité services the proposed introduction was abandoned after strong opposition from the Region. SNCF have argued that it will improve comfort by guaranteeing all passengers a seat, and will enable them to offer reduced prices where the level of reservations indicate that loadings are low.
Akiem creates regional passenger leasing arm.
Leasing company Akiem is creating a passenger arm aimed at regional services. In conjunction with Banque des Territoires they have create TerriTrains, that will offer leasing and fleet management to regional transport authorities.
The move follows changes in legislation that have passed more control to regions for passenger services including selecting operators. Territrains will offer regions an end to end service from overseeing calls for tenders from manufacturers to day‑to‑day management of passenger vehicles.
Whether they will be prepared to extend their services to non blue chip organisations such as Railcoop remains to be seen!
Bayonne to Saint-Jean-Pied-de-Port re-opens
Suspended due to bad weather and flooding on December 11th 2021 the line from Bayonne to Saint-Jean-Pied-de-Port was partially re-opened as far as Cambo on 3rd January. After a number of postponements services to Saint-Jean-Pied-de-Port finally resumed on the 11th June, although the diesel autorail trapped at Saint-Jean-Pied-de-Port had been removed by road the previous month
The new summer timetable from 2nd July will see the re-opening of Itxassou. Since it was closed the town has grown considerably and is popular with tourists and hikers. Opposite: Itxassou in 1985, since then the catenary installed in 1931 has been removed and the line now operated by diesel autorails. Photo Georges Turpin
ILE DE FRANCE NEWS
136 new and reconditioned emu trains ordered in 2017 and 2019 are being delivered several years late. Here are the details.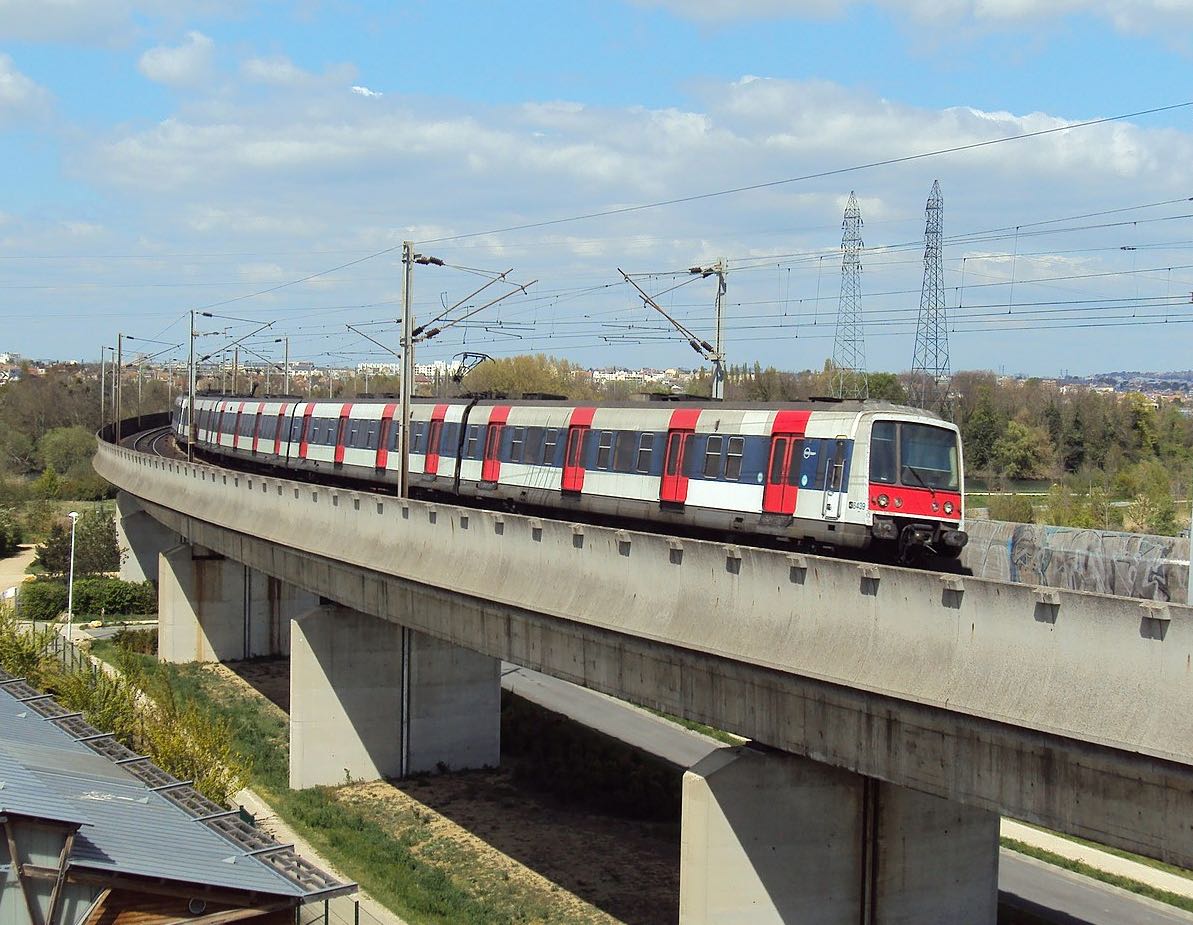 Late deliveries for RER B

On June 6th, "Le Parisien" reported the status of deliveries of reconditioned stock for RER B. In 2017, an order was placed with Alstom for renovation of 31 MI84 train sets. These sets were 33 years old and correspond to 30% of the fleet. The order comprised;
renewal of the seats and increased capacity from 216 seats to 312




reinforced ventilation




new lighting



The first reconditioned MI84 train should have been delivered at the end of 2018. But the first two train sets were only delivered (2 years late) at the end of 2020, due to production difficulties (believed to be the presence of asbestos) and administrative and certification delays. Currently, Alstom has delivered 9 reconditioned MI84 trains (8 in service). The forecast is for 2 train sets delivered every 3 months. The last ones are now expected at the beginning of 2025, 3 years late.
The reconditioning is being carried out at Reichshoffen in Alsace. In accordance with the conditions imposed by EU for the merger of Bombardier Transportation with Alstom, the Reichshoffen plant has been sold to CAF, closing of the deal taking place this summer after the approval of Brussels was received. CAF will thus be responsible for delivering the remainder of the MI84 order for RATP. CAF will also take over the backlog of other orders at this plant, notably, also for the Coradia Polyvalent platform ("Regiolis" in France).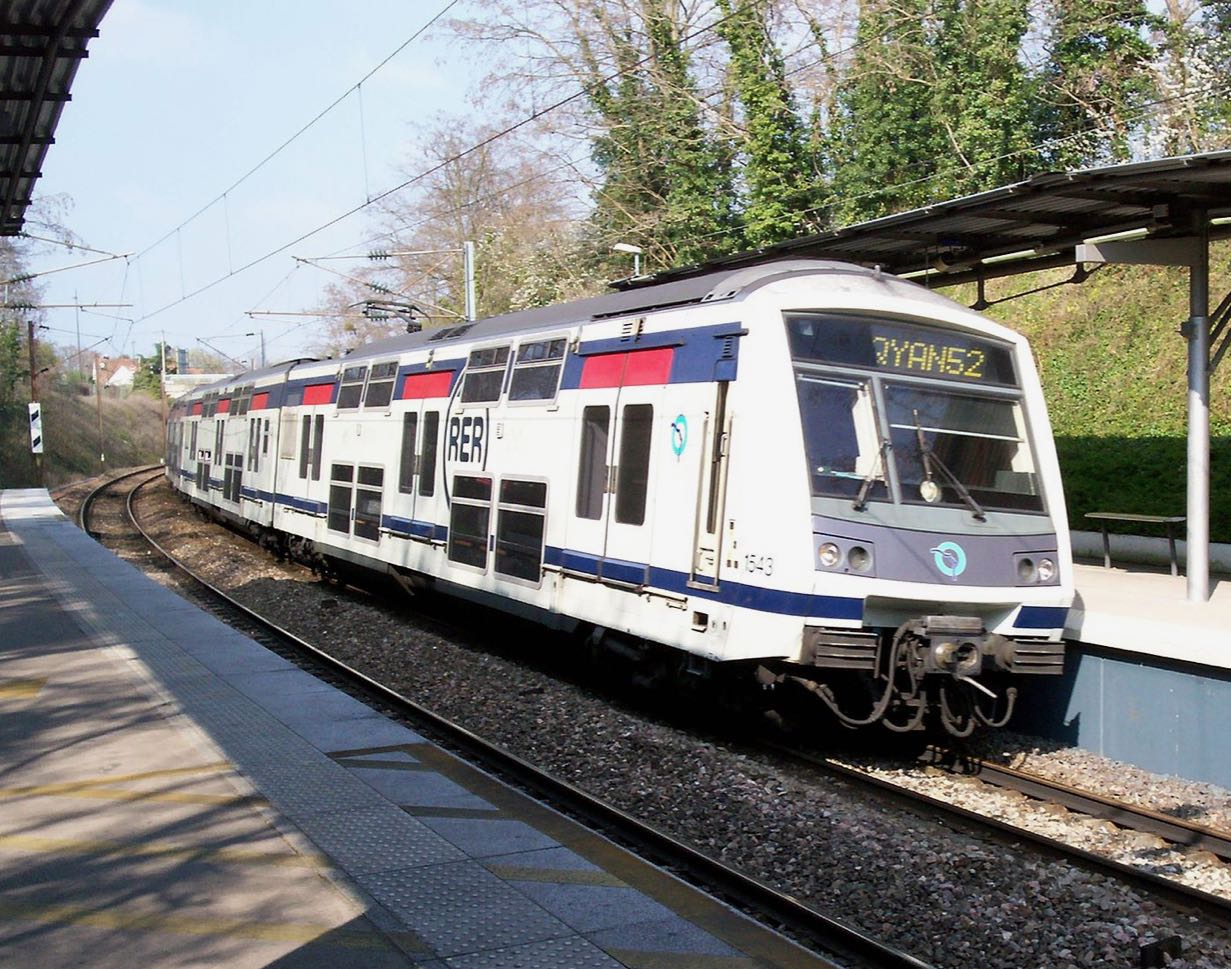 Late deliveries for RER A
Ile-de-France Mobilities attributed an order (121 million euros) to CAF in January 2019 for the refurbishment of 43 MI2N double deck train sets of the first generation (1995 - 2005) on RER A. The first refurbished units were expected in 2020, but none has been received yet.RATP now expects the first refurbished MI2N in the autumn of 2022 with a possible entry in service in early 2023.
The refurbishment of 6 MI2N sets (out of 43) is underway at the CAF plant at Bagnère-de-Bigorre, Hautes Pyrénées. FNAUT IDF visited the factory in May 2021 and was given a new delivery timetable of 2 trains in service beginning 2022, followed by 2 trains per month. This programme has not been respected. Thus, deliveries are 2 - 3 years late. It is believed that part of the order will now be delivered from CAF plants in Spain There is no public explanation for the delay, though the obvious one is the Covid epidemic which has upset all production lines and business activities around the world.


The refurbishment comprises renovation of the interior, new LED lighting, new seats, video security, passenger information screens. The train sets will be redecorated with the current Ile-de-France Mobilities livery in blue and white.


Based on the latest information and assuming a delivery of 2 trains a month, the order may be fully delivered by the end of 2024 or early 2025.

Late deliveries to RER D & E
Since 2017, after a public invitation to bid organised by SNCF, Ile-de-France Mobilitiés placed an order with Alstom/Bombardier Transportation for 255 new generation suburban train sets designated RER NG for RER D (125 units) and RER E (130 units). The global contract amounted to 3.75 billion euros. The first firm tranche was for 71 trains. The first RER NG emu should have been delivered in mid 2021.
It became clear a year ago that the programme was severely delayed and, currently, the first trains are expected to enter service only in mid 2023, two years late. At present 5 or 6 pre-production units are being tested prior to certification. (
See photo May News
) The RER NG is a completely new train, mixed single/double deck, with a new Siemens cab signalling system, Nexteo.

In October 2021, AFP viewed the report of an audit by SNCF during the summer of 2021 that concluded a lack of control over the production process. Ile-de-France Mobilities has so far claimed 64 million euros of penalties for late delivery.
No details of a revised roll out timetable have yet been released.

These delays are very unfortunate as Paris Ile de France will host the Olympic Games in the summer of 2024. It had been planned to have many more modern trains than will be the case. Next month we will review current expectations for the IDF rail network in two years time.
Graham Skinner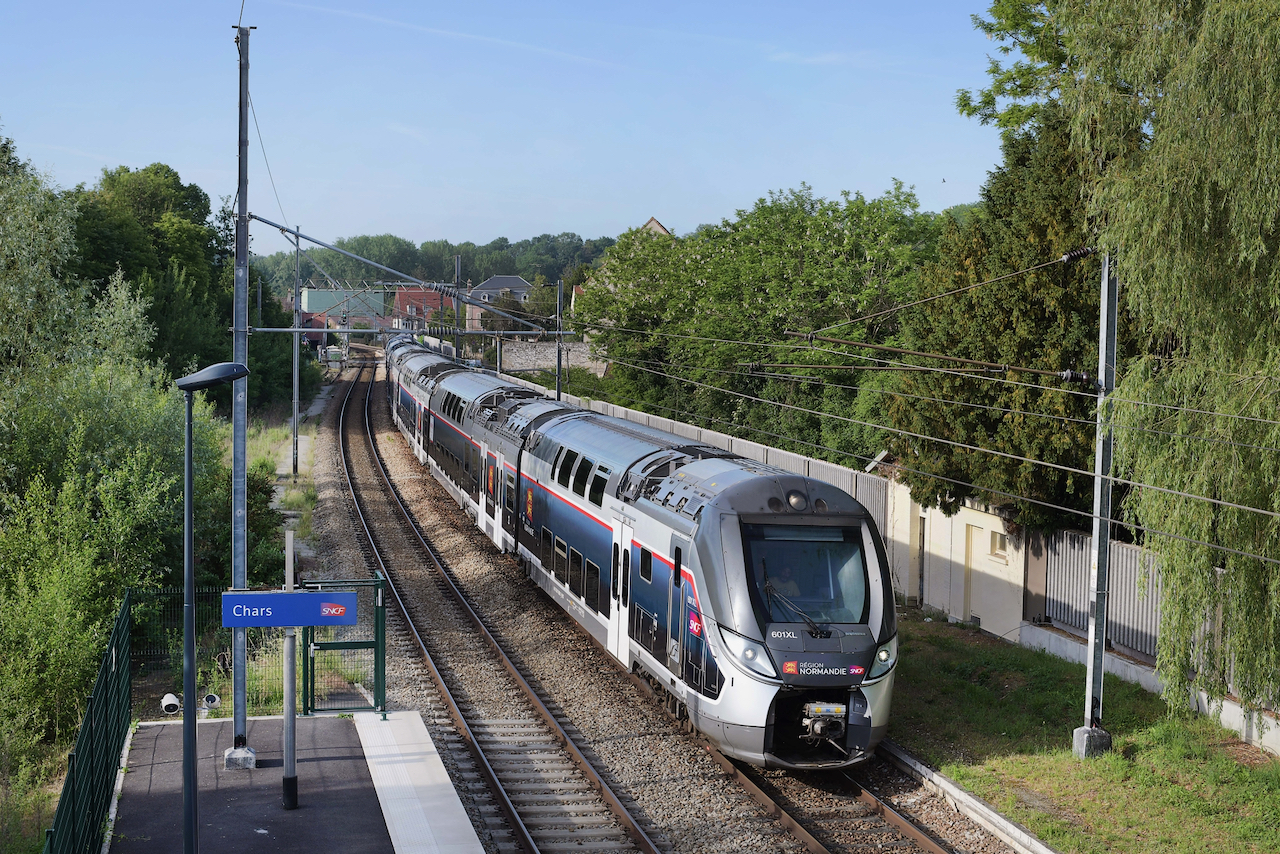 Normandy diversions - 21st century rolling stock, 19th century timings
Engineering work between Paris and Mantes-les-Jolie in connection with
Grand Paris Express
has seen weekend Le Havre services diverted via Serqueux with extended timings as they trundle through the Paris suburbs amidst the omnibus services. On Saturday 28th May the 07:37 St Lazare - Le Havre was scheduled to arrive at Rouen at 10:20 (2hrs 43m) and Le Havre 11:10 (3hrs 33 mins). It is seen above surprisingly formed partly of Omneo Premium XL 601at the front, and XL 608 at the rear as it passes Chars, between Pontoise and Gisors, at 08:32 having covered 47 km in 55 minutes. Only four services ran between Paris and Le Havre that day, others having been cancelled. Passengers also had the option of travelling via Amiens or Bernay with a journey time of over four hours. Alternatively there was Flixbus or Blablacar.
Photo Michel Costes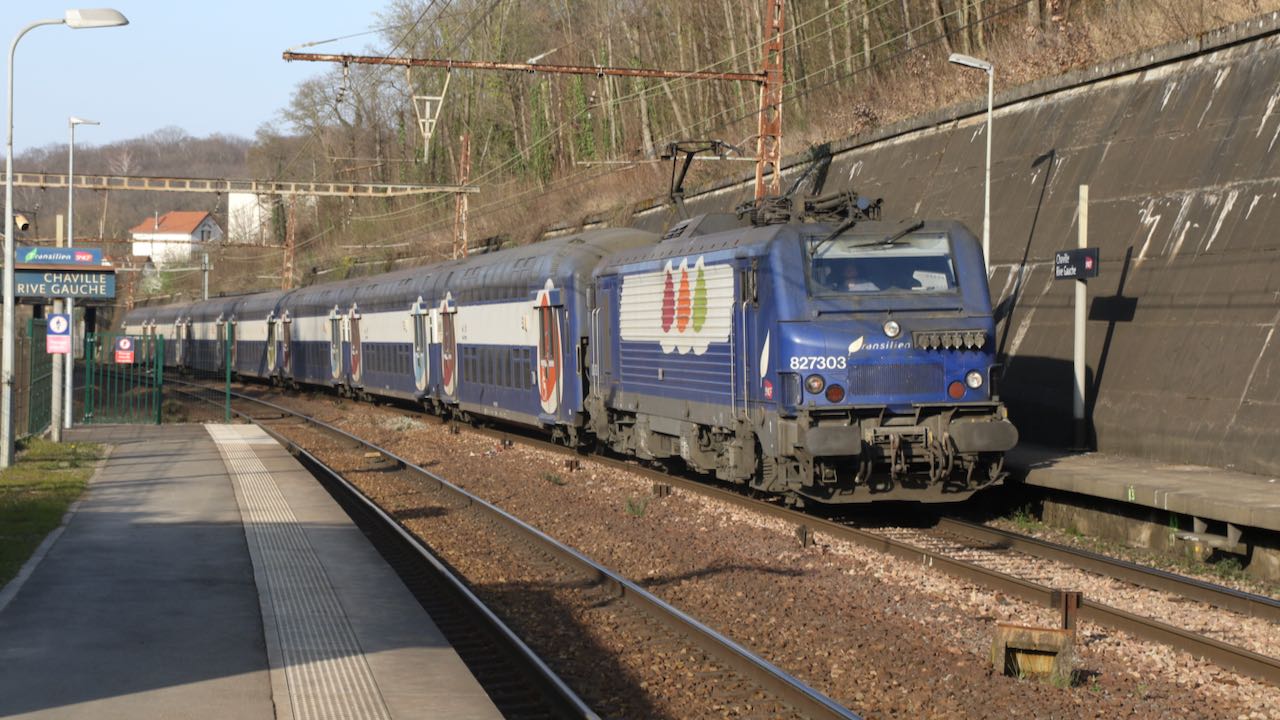 VB2N stock in decline
A familiar sight around Paris for nearly 50 years, time is now running out for the remaining VB2N (
Voiture de Banlieue 2 Nivaux
) sets. A total of 589 vehicles were introduced between 1974 and 1984. Unpowered push-pull sets with a driving cab at one end they were initially hauled by BB 17000 locomotives on AC lines and BB 8500/BB25500 on the DC lines from Montparnasse. In recent years, with the withdrawal of the small electrics traction has been provided by BB 27300s and until last December the BB 7600 sub-class on the Montparnasse DC routes.
Replacements have come in the form of Z50000
Francilien
and Z57000
Regiolis
units. First introduced in 2009, 347
Franciliens
are now in service with 13 on order. The first Regiolis units arrived in the
Île-de-France
in late 2017; as at the end of May 111 units had been delivered, 22 this year, with 23 still on order. Currently there are about 25 VB2N sets a day still working from Paris Montparnasse and Saint Lazare. A small number of short VB2N sets are to be created and are being transferred to Grand Est along with BB
27327/334 /336/339
to operate in the Lorraine and Strasbourg areas while the mid-life
refurbishment of
Z24500 units takes place
.
On the locomotive front the last three BB 7600s (7602/04/08) were withdrawn in March although the class has not worked this year. Of the BB 27300s none have been withdrawn but many are stored or used in rotation. With a top speed of 140 mph and not fitted for multiple working or cross-border work there is no demand for them elsewhere in France. Earlier this year SNCF placed 12 of the class up for auction (27301/04/05/08/12/14/16/18/20/23/24/25)
on a web site
with starting prices of between €1.3 - 1.4 million.
Above
. On 22 March 2022 at Chaville-Rive-Gauche, 27303 heads past with train 165441 Paris-Montparnasse - Rambouillet.
Photo Georges Turpin
Opposite. On 21st October 2021 BB 7610 with VB2N stock passes through Meudon with train 165445 from Paris Montparnasse to Rambouillet. Photo Michel Joindot.


Below. Versailles Matelots on the 10th May. BB 22324 passes with the "fraises tagada"Ouigo Classique 4089 from Paris Austerlitz to Nantes while down in the yard a pair of CMR BB 67400s wait to leave with a set of VB2N stock for breaking up. Photo Jean-Louis Poggi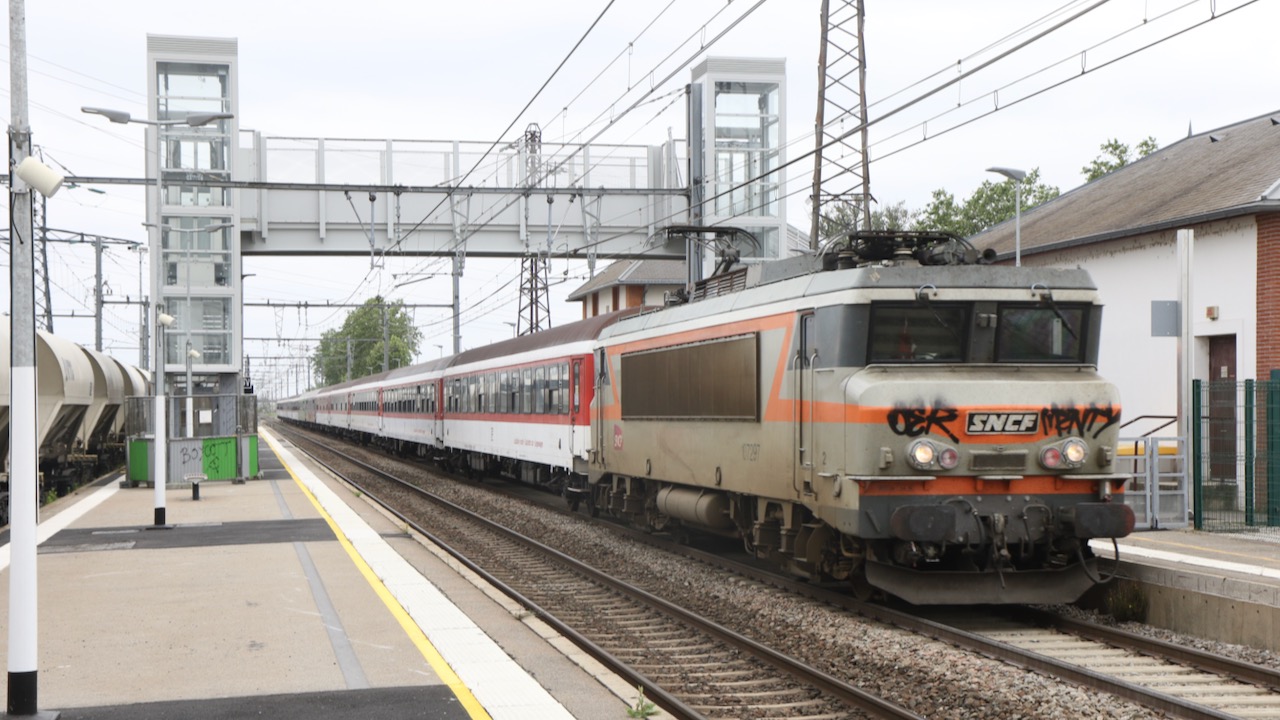 First locomotive hauled pilgrims train to Lourdes since 2019
The first locomotive hauled train for nearly three years ran to Lourdes on the 12th May on the occasion of the 62nd International Military Pilgrimage. Made up of two sections originating in Hamburg and Munich it is seen below passing through Portet-Saint-Simon between Toulouse and Lourdes hauled by a grubby BB7297. Made up of twelve vehicles the red and green coaches seen below are registered in Germany and the remainder, branded "Optima Express" are Slovakian registered. All photos Georges Turpin.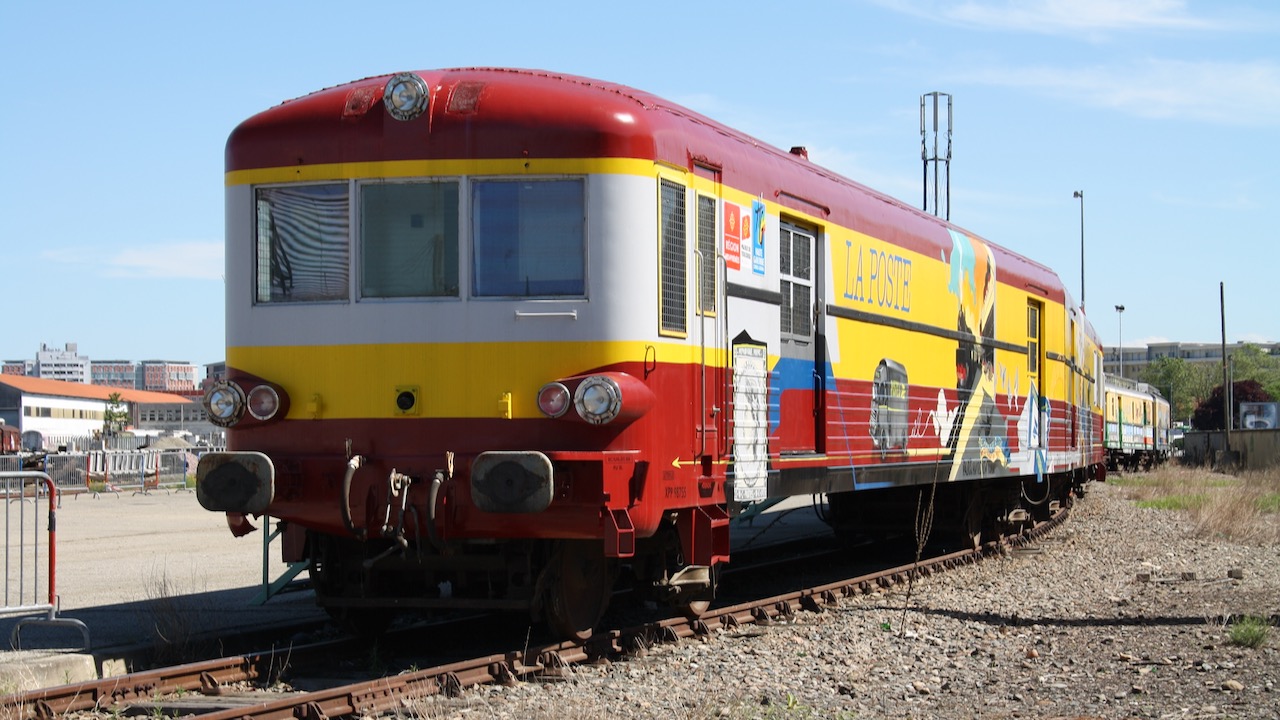 Toulouse Travelling Post Office Museum to move
The little known Musée Postal des anciens Ambulants de Toulouse that covers postal trains and those who worked on them has been closed since the end of last year. Located at Toulouse Raynal it is having to re-locate as a result of the redevelopment work around Toulouse Matabiau. Like 241 P 9 it has been looking for a new home and will relocate to Cahors Station, where it has twinned with the nearby Musée ferroviaire de Saint-Géry More information at
http://www.ambulants.fr
Above. RAP (
Rame automotrice postale
) XP 94755. These units were used from 1979 to 1994 for conveying
containers
of mail between Paris and Lille, Caen and Sotteville. Below Restored in 2018 to late 1920s livery this vehicle has been on display at Montaudran.
Both Photos: Georges Turpin
.
Additions to FRS Photographic Archive during May & June 2022

To Photographic section
Additions to Folder 1 ("Photographs - Miscellaneous")
Railway scenes in Region 2 Nord & Jacques Pore photos



Additions to Folder 4 ("AFAC magazine articles")
CdF du Midi (Part 4 - Materiel remorque) - AFAC 433/1995

Nouvelle Michelin pour Corse - AFAC 436/1996

Locomotives a 3 cylinder simple expansion - AFAC 440/1996




Grands Viaducs - AFAC 435/1995




Automotrices Z2N - AFAC 437/1996




Passages a niveau/Pte Ceinture - AFAC 431/1995




Voitures Buffet - AFAC 437/1996




TGV Duplex - AFAC 433/1995




Vitesses PLM 1904/1937 - AFAC 444/1997




Rotondes SNCF - AFAC 443/1997




Martigny/St Gervais Le Fayet - AFAC 443/1997




Oullins Ateliers - AFAC 444/1997




Signalisation en France - AFAC 445-446/1997




Fulgence Bienvenue ("La Pere du Metro") - AFAC 447/1997

Paris/Cologne - AFAC 448/1998




TER 2N - Z.23500 - AFAC 448/1998




RATP MF.2000 - AFAC 448/1998




Trains Sanitaires - AFAC 448/1998




Voitures conversion - AFAC 449/1998




Trains d'Arthur Rimbaud - AFAC 449/1998




Infrastructures Ferroviaires Souterraines - AFAC 452/1998

Conversion d'electrification en France - AFAC 450/1998




Les Freres "Pereire" - AFAC 451 & 453/1998




Autorail X.73500 - AFAC 460/2000




EOLE/RER - AFAC 455/1999




Est - Les Trains des Eaux - AFAC 456/1999




RATP/ METEOR - AFAC 461/2000




Service Grandes Ligne Paris Montparnasse - 459/199

Services Grandes Lignes Paris Nord - AFAC 461/2000




Trains Rapides Paris/Bordeaux 1900/1914 - AFAC 454/1999

Tram d'Orleans - AFAC 461/2000




Paris Lyon developments - AFAC 462/2000

Paris Metro Materiel Ancien - AFAC 465/2000
© Peter Lovell. The French Railways Society 2022. With thanks to Graham Skinner, Christophe Masse, Georges Turpin, Jocelyne Bourneuf , Michel Costes, Philippe Armand, Duncan Mcevoy, Michel Joindot, Jean-Louis Poggi, Chris Bushell,
Pascal Bouché,
Alain Troadec and

Daniel Baglin