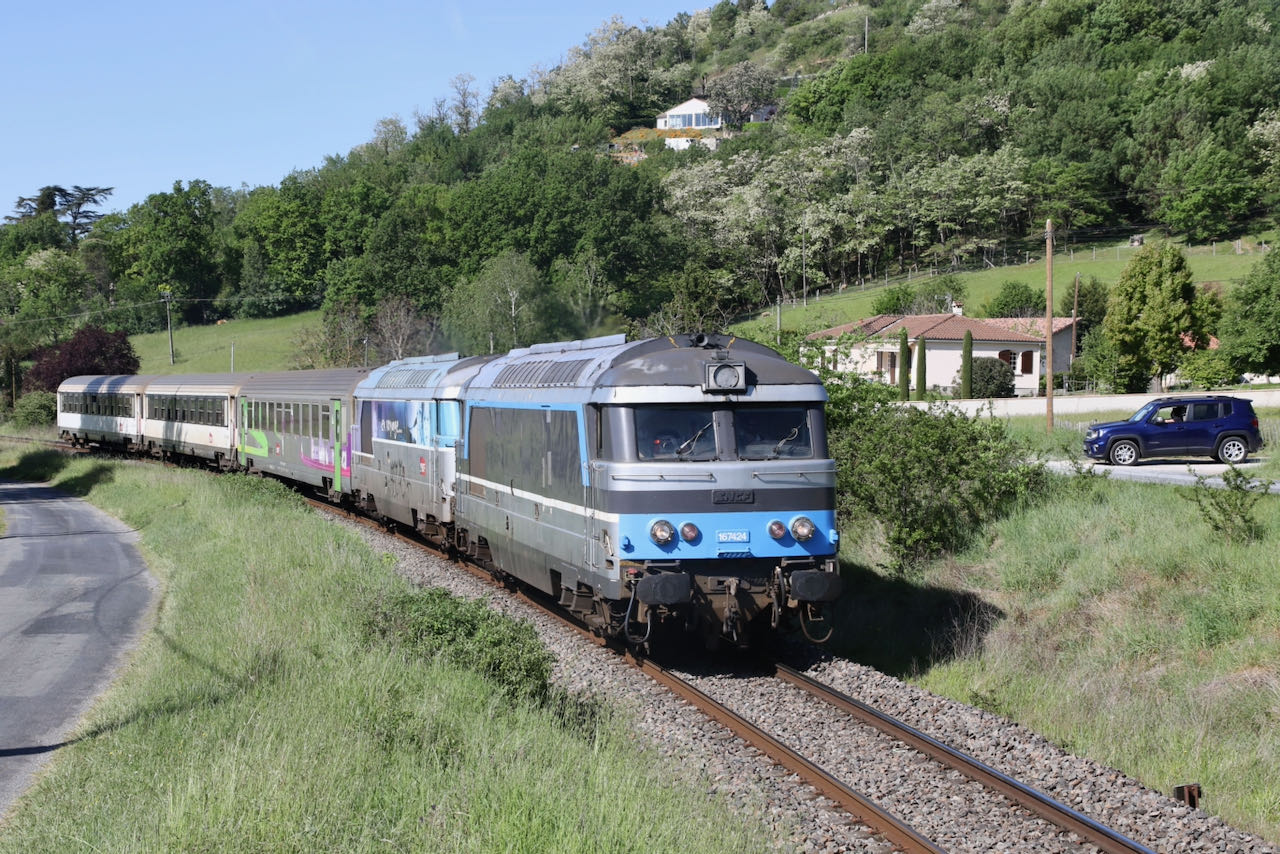 BB 67424 entered service on 6th May 1970. To mark its 51st anniversary and the forthcoming demise of BB 67400's on the overnight Paris - Rodez/Albi sleeper, where they operate the diesel hauled section south of Brive, apprentices at Bordeaux Depot applied vinyls to 67424 creating a blue and grey "Isabelle" livery. Seen above on 8th May 2021 with 67481 at PK419 east of Albi-Madeleine, returning with the empty stock from Albi to Rodez. Photo Georges Turpin.

Overnight travel by train in France - The U turn
On 14th July 2020, President Macron, in the course of references to global warming and reducing carbon emissions, surprised his administration by vaunting the advantages of overnight trains which his ministers and previous governments and SNCF had systematically withdrawn, citing unacceptable losses and a declining market. The U turn on "trains de nuit", together with interventions by President Macron to save branch lines closed by SNCF in defiance of his instructions, has caused his government and SNCF to scramble to change tune on rail services. The "all TGV" policy has definitively collapsed as business travellors switch to télétravail, and Zoom. The priority now is a return to traditional trains along traditional routes serving medium size towns that had lost their rail services.
In the spring of 2021, more media attention was given to the subject of overnight trains, fuelled by EU plans announced in Berlin to expand routes across Europe, currently operated by Austrian Railways, which has successfully exploited this niche market.
In France, overnight trains are now "cool"; transport minister Jean-Baptiste Djebbari dreams of a network of cross-country night trains in 2030. He visited Périgueux to check the work beginning there to modernise 77 old Corail couchette carriages.
Joining the two surviving overnight routes, the legendary Paris - Nice was re-started on Thursday 20th May. To make sure everyone noticed, Prime Minister Castex, a rare pro-rail fan, boarded the first night train with its 200 passengers at Gare d'Austerlitz for the 12 hour journey to Nice. He brought along J-B Djebbari and SNCF president Farandou. They all emerged beaming at Nice-Ville (Côte d'Azur) although, frankly, the comfort did not approach that of the original Train Bleu with real sleeping cars and bar restaurant cars.
Night train to Albi, 7th - 8th May 2021
During the last 12 months, the confinements have resulted in suspension of the night trains which depart from Gare d'Austerlitz (Paris) to Briançon, La Tour de Carol, Cerbère, Rodez/Albi. In addition, from 1st February to 30th April 2021, the line between Capdenac and Rodez was closed due to a landslip near Aubin. The second weekend in May saw a return of the night train on the Rodez branch, but with a strange timetable.
On Friday 7th May, the service to Rodez and Albi was scheduled to depart from Austerlitz at 18.41, extremely early for a night train. In fact, SNCF had decided to add the 3 coaches (2 with couchettes, 1 with reclining seats) to the last intercité de jour to Brive-la-Gaillarde. After stops at Vierzon, Issoudun, Chateauroux, La Souterraine, Limoges Bénédictins, Uzerche, the intercité train arrived at its terminus at Brive at 23.08. The coaches for Rodez and Albi would stay at Brive station for the following 4 1/2 hours. Time to set up the berths, presumably. Only 4 out 6 berths in each compartment are used in 2nd class at present.
The line to Rodez (161 km) is not electrified. Bordeaux depot has 5 BB 67400 diesel locomotives allocated for the Rodez trains. On 8th May, these were 67424, 67437, 67441, 67445, 67481. All were built 1970/71. A few modern BB 75000 diesels have been modified for use on passenger trains and re-numbered BB 75300. These locos were assigned to Brive in March for crew training. It is expected that they will replace the 67400 locos at the end of June.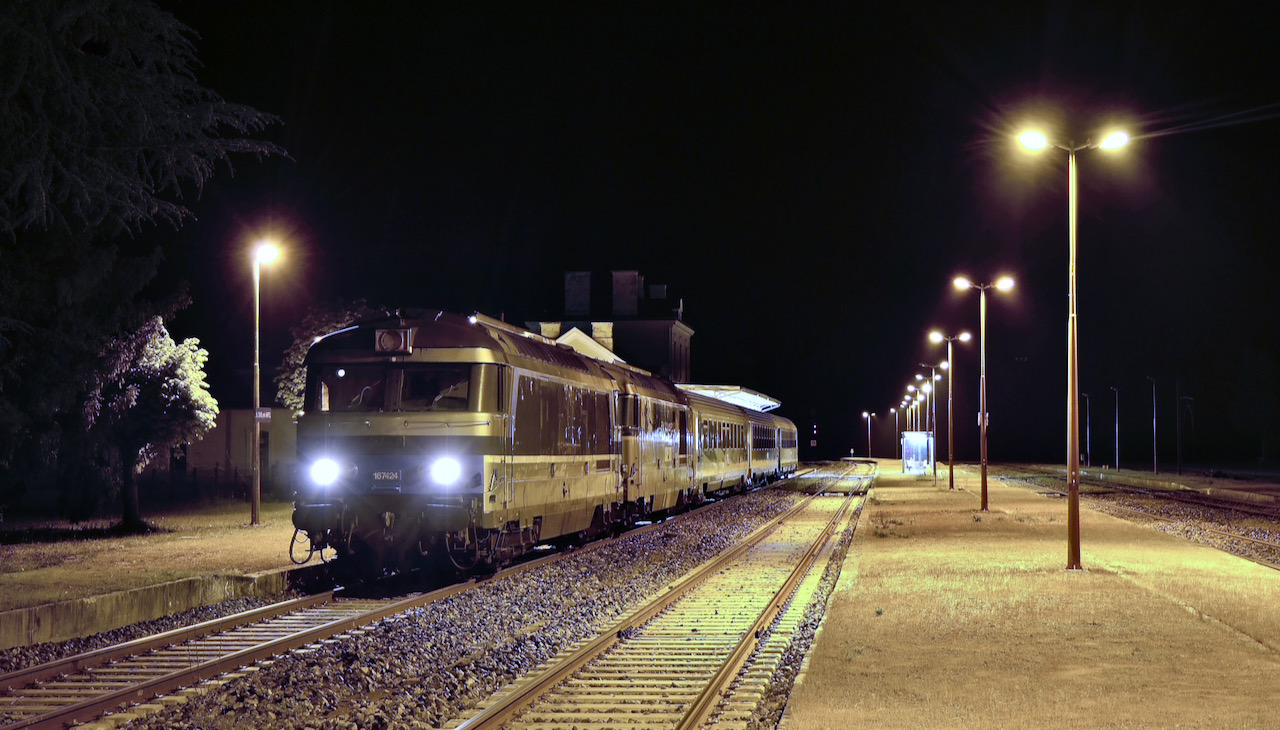 67424 + 67481 were allocated to ICN 3755 on 8th May. It departed from Brive at 03.37. The train was scheduled to stop at 10 stations during the night to set down any passengers. At Saint-Denis-près-Martel above, at 4 am, only the driver and our correspondent were apparently awake (
photo Erwan Quintin
) . At 04.55, a quick stop at Figeac, and a few minutes later at Capdenac.
Early in the morning, the intercité rumbled into Rodez at 06.07, terminus for most of the passengers after a journey from Paris of 11h25. Dawn was breaking on a sunny morning. The two diesels, sticking together, reversed on to the rear of the 3 coach train and departed at 06.34 along the 83 km to Albi, stopping at Carmaux and Albi-Madeleine. At 07.48, ICN 3755 reached its terminus at Albi-Ville. It is seen below crossing the River Tarn at Albi Photo Erwan Quintin. Any weary passengers left on board could disembark and search for breakfast after their 13 hour journey.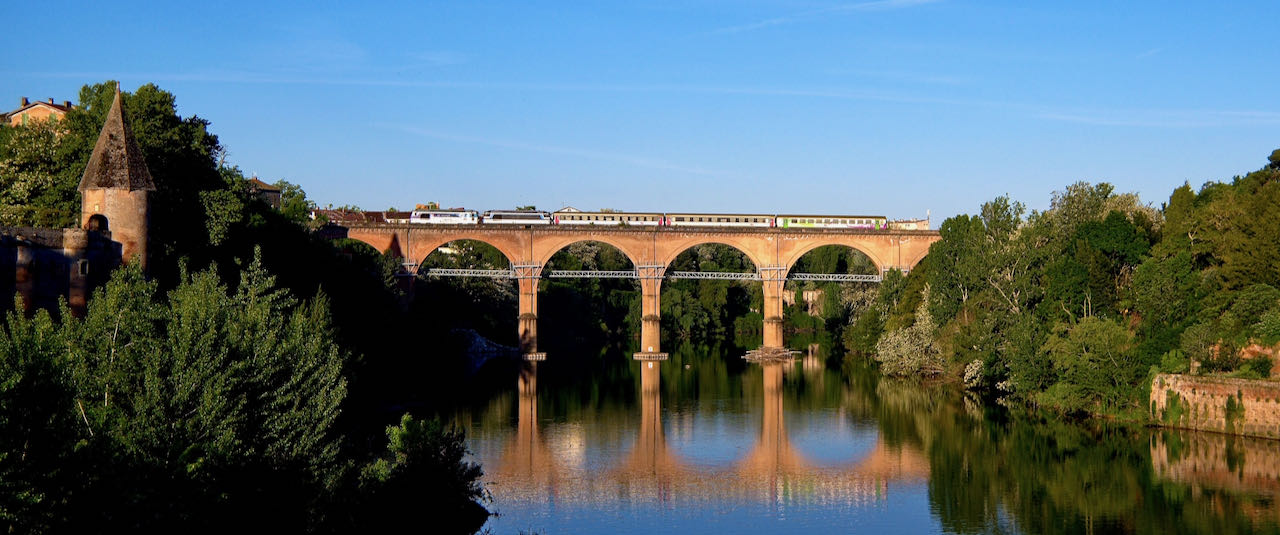 Now the coaches had to be cleaned and this is done at Rodez. So after 2 hours or so at Albi, the train returned to Rodez empty. It was photographed (top) by our correspondent Georges Turpin, leaving the Albi district, 3 km from Albi-Madeleine station. The overnight schedules on the Paris - Rodez - Albi train in May and June are difficult to understand. Without explanation, the night train is cancelled on numerous dates and replaced by a variety of solutions and substitutions, sometimes via Toulouse, sometimes by road. We encourage the prime minister to test this route on his next visit to the south west !
Thanks to our correspondents, Georges Turpin and Erwan Quintin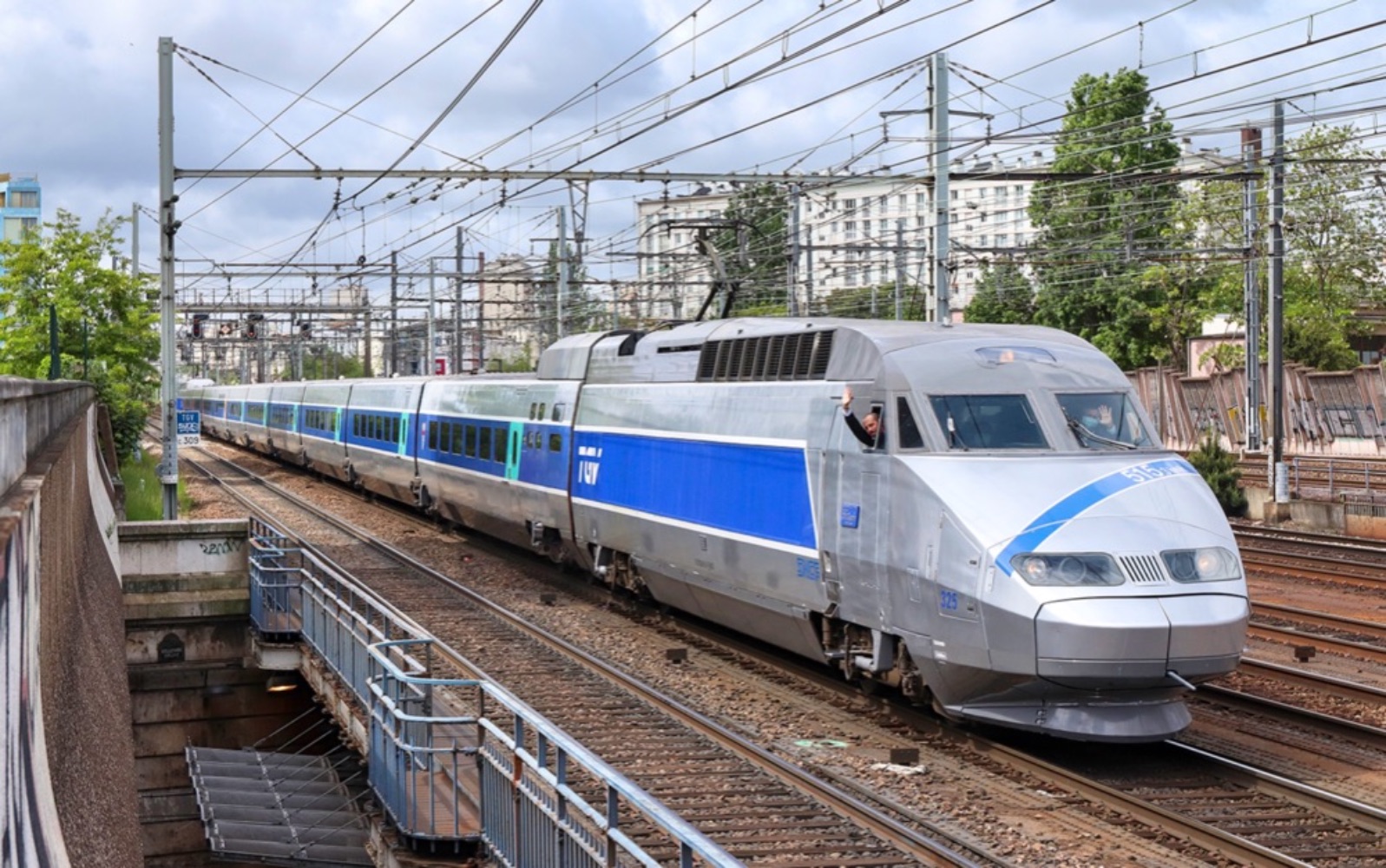 To celebrate the 31st anniversary of its 515.3 km/h speed record TGV Atlantique 325 was repainted at Technicentre Atlantique Châtillon in its original 1990s livery. Seen above en route from Châtillon to Montparnasse on the 18th May. Photo Romain Vergneres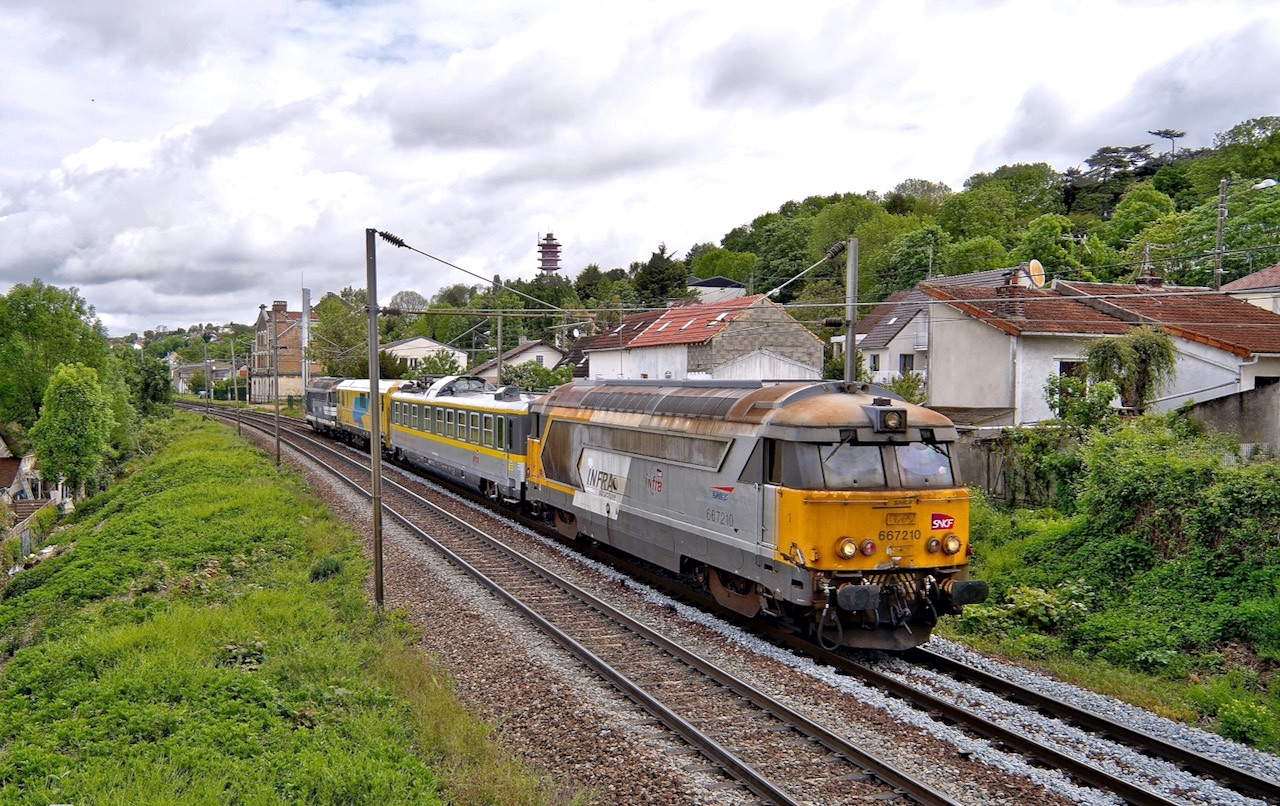 On 13th May scruffy BB 67210 and BB 67214 (at the rear) were in charge of test vehicles VZC152 and the US15 between Le Bourget and Villeneuve-Triage seen passing Chennevières-sur-Marne. Photo Erwan Quintin
Bethune - St Pol - Etaples
In May News we reported the re-opening of St Pol to Etaples at the end of April but omitted to mention that the line from St Pol to Bethune had also opened.
At present the line from St Pol to Etaples see seven services each way on weekdays, while St Pol to Bethune sees ten services each way. The section from St Pol to Arras is still closed with a replacement bus service.
Opposite. On the 19th May AGC 82745/46 enters the rebuilt Hesdin staion with a service for Etaples. Photo Philippe Armand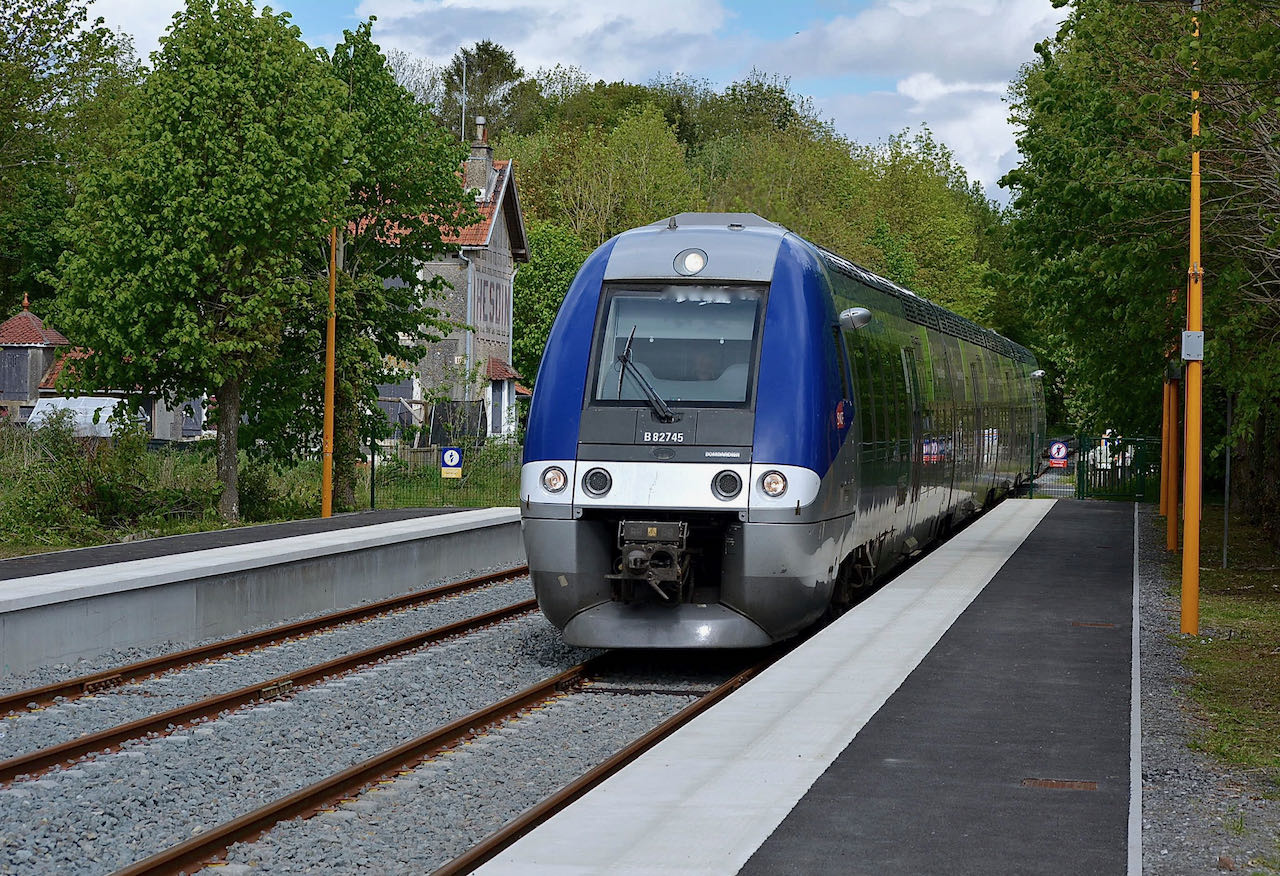 The Aubrac line to re-open in November 2021
As we previously reported, the line between Neussargues (Auvergne) and Saint-Chèly (Occitanie) is closed since December 2020 due to faulty track geometry. This closure caused the suspension of the intercité express "Aubrac" (Clerment-Ferrand - Béziers) and the transport by rail of steel coils to the Mittal factory at Saint Chèly.
On 11th May, Auvergne Rhône-Alpes Region (ARA) issued a statement which confirmed that the problem concerned the bullhead rails which are still used on parts of this section of the line. The Region reported an agreement with the State for a jointly funded emergency package of 11.47 million euros to repair the line (in ARA). 3 million euros will be released immediately to fund repairs this summer;
- to replace 6,000 wooden sleepers
- to correct the track geometry
- to conduct heavy tamping of the ballast
It is expected the line will re-open to all traffic in November (11 months of closure). During 2021, studies will be completed to plan for the replacement of the oldest rails on the section, to be carried out in 2023. A long term plan for both the Aubrac and the Cevenol lines will be elaborated.
A commentary
On 25th February 2006, the 3 coach Aubrac express derailed near Saint Flour causing minor injuries to two passengers. The cause of the accident was determined to be a broken bullhead rail and incorrect maintenance procedures. It was recommended to replace all bullhead rails with Vignole rails (flat bottom) as soon as possible. 15 years later there are still bullhead rails in the same zone. The current closure of the line is thus not unexpected.
Nice - Tende restored
Services between Nice and Tende were finally restored on the 3rd May after being suspended north of Breil-sur-Roya for seven months.
Following the storms last year that caused devastation in the Roya Valley services were restored between Nice and a temporary station at Saint-Dalmas-de-Tende in October. This only offered a short respite to the inhabitants of the Upper Roya Valley as the service had to be suspended the following month due to the instability of the bridge arch at Fontan. To celebrate the re-opening travel will be free until September.
Open access operator proposes TGV services
International Rail Journal recently reported that a new open access operator "Le Train" is proposing to introduce services between Arcachon – Bordeaux – Angoulême – Poitiers – La Rochelle. At week ends, Bordeaux - St Pierre des Corps Nantes - Rennes from the end of next year. The new services would start in December 2022 and use TGVs and the LGV between Bordeaux and St Pierre des Corps .

Based in Angoulême, the new company currently has neither operator status nor rolling stock nor staff. It says it plans to acquire about 12 single level TGV sets (350 seats) equivalent to TGV Réseau. It estimates a financing need of 100 million euros.
It would seem essential that the promoter of these ideas finds a qualified independent operator to meet his objectives.

Although SNCF has been withdrawing their first generation TGV sets, and have a number in store, they have always been scrapped and not made available to other operators
A freight line across the Beauce saves 5,000 camions a year on the roads
On 10th May, a convention for 7.55 million euros was signed at Orléans to finance repairs to a freight line from Les Aubrais to Orgères-en-Beauce (30 km). This single track line serves 3 grain silos and the military airfield at Orléans-Bricy. The line carries 160,000 tons a year on 122 trains ( 12 for the military and 110 for the silos). Parts of the track have components dating back to 1965.
The 7.55 million euros financial package has been shared by the State (4.4), Centre Val-de Loire Region (2.15), the grain cooperatives (1). The line will be closed for 5 months from October 2022. The work includes replacement of 4,900 sleepers, renewal of the rails and ballast along 8.2 km and repairs to 12 level crossings.
Les Aubrais - Orgères is part of the line from Orléans to Chartres (75 km) that was opened in 1872. The line crosses the Bretigny - Chateaudun - Tours line at Voves. Passenger services ceased in 1942, but freight remained strong across the plains of Beauce. In 1976, Centre Region proposed to reinstate passenger trains from Chartres to Orléans, but nothing came of that idea. At the beginning of the 21st century, the idea returned and in 2016 the freight line from Chartres to Voves (25 km) was opened to passengers with just 3 trains a day each way. One plan was to operate TER services from Chartres to Tours via Voves but it was discovered that the signalling at Voves did not allow traffic to join the line towards Tours. It was 3 or 4 years before that was corrected.
A second stage in the project was to open the line from Voves to Orléans for passengers. That was planned for 2020 and the journey from Chartres to Orléans would be 65 minutes. But obstacles remain and no approval has been given to upgrade Voves - Orléans for passenger trains. The 10 km section between Orgères and Fains-la-Folie (silo) has been neutralized for a number of years. It is a "gap". Closing a "gap" is infinitely more complex than upgrading an existing line.
Below. Berchères-les-Pierres, 11 km from Chartres towards Voves taken in 2017.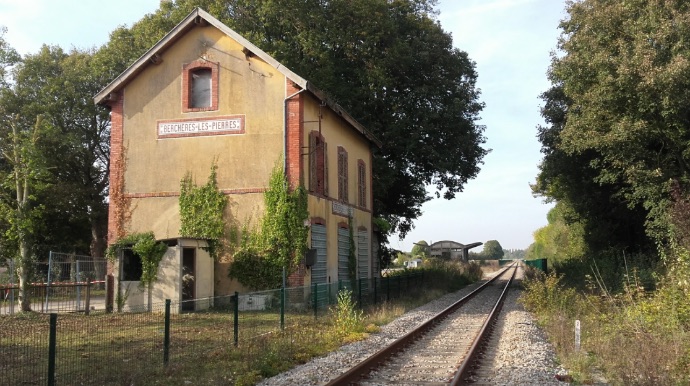 Eurostar secures €290 million funding
Eurostar's precarious financial position that threatened its future appears to have been temporarily secured with a €290 million rescue package. It comprises new equity (58 million euros) and a package of lines of credit from a syndicat of banks that has been guaranteed by Eurostar's majority shareholder, SNCF (55%) and other shareholders (Caisse de depot et placement du Quebec (30%), Hermes Infrastructure 10% (consortium Patina Rail), and SNCB 5%).
But Eurostar barely functions at present and has laid off the maximum numbers of staff. There is just 1 return London - Paris compared with 15 to 18 return services in normal times. 1 return service to Brussels compared with 9 in normal times. A second service to Paris and to Brussels was scheduled to start 27th May and a third service at the end of June.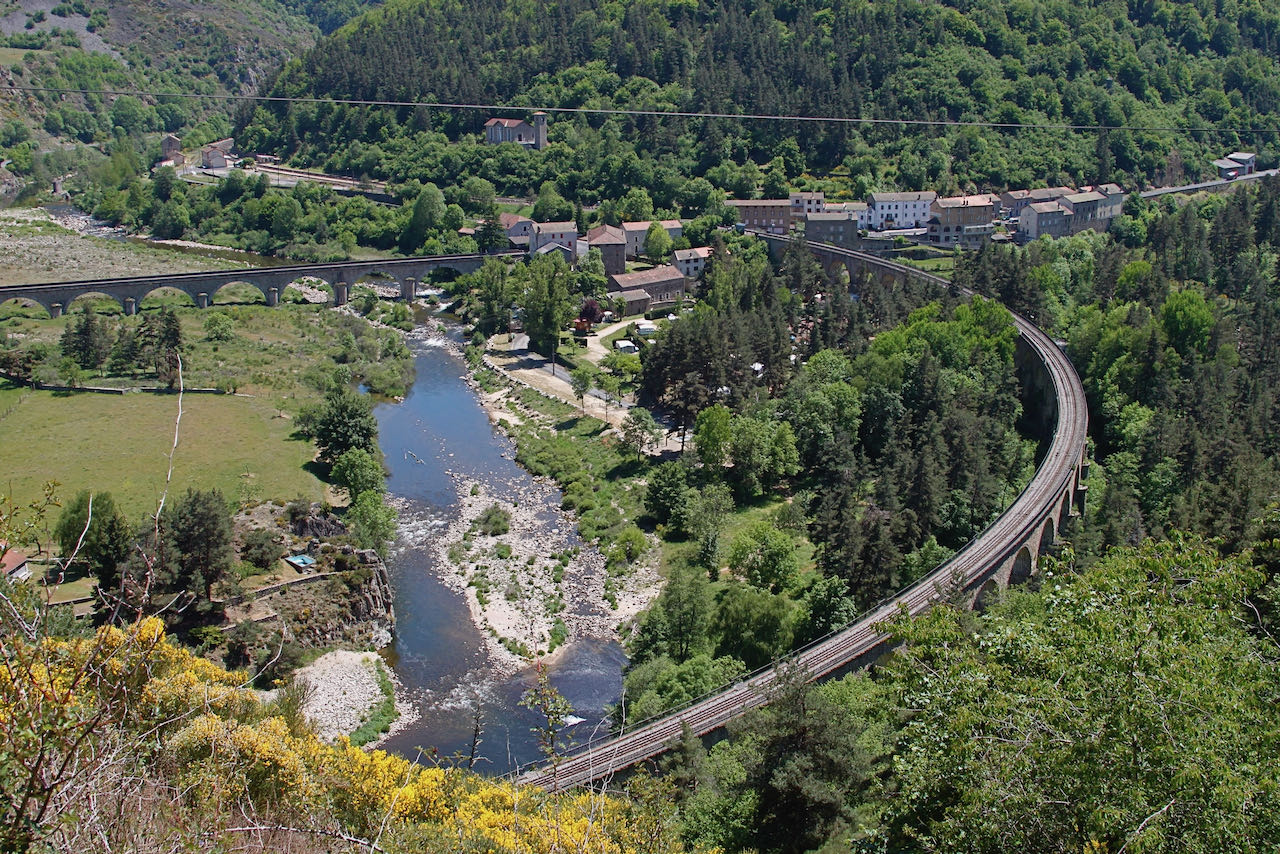 Ligne des Cevennes - 150th anniversary
The northern section of the Cevenol line is located in Auvergne Rhône-Alpes, between Langogne and Clermont-Ferrand. Each year, part of the line is closed in the springtime for 3 months to carry out checks and maintenance. It is not normal for a railway line to be closed 25% of the time for maintenance. A simple explanation is that the single track line through the gorges of the Allier is old and way overdue for regeneration. The work done has no other purpose than to keep the trains running, but not to improve the line to eliminate speed limits, according to SNCF.
In 2021, the section of 75 km from St Georges d'Aurac to Langogne is closed from 23rd March until 2nd July. In addition to checks on the line, tunnels, retaining walls, the big job is to renew the track along the Chapeauroux viaduct (see photo above). In 1971, the Cevenol train (operated with X 2800 railcars built at the end of the 1950's) was scheduled from St Georges d'Aurac to Langogne in 1h04 mins with one stop. In 2021, fifty years later, the midday Cevenol express operated with a brand new Alstom Regiolis railcar unit takes 1h32 mins to cover the same section with 4 stops.
This summer there will be local celebrations along the line for the 150th anniversary, postponed from 2020.
On Saturday 8th May new preservation group Chemin de Fer Touristique Sud Touraine (CFTST) operated their first train (for members only) from Vierzon to St-Pierre-des-Corpes with former Breton X2141, where they visited Pacific 231E41 under restoration by AAATV-SPDC. Photo Christophe Masse
CFBS - Fête de la Vapeur 2021
Planning and preparations for the CFBS Fête de la Vapeur and 50th anniversary celebrations over the weekend of 3rd/4th July 2021 continue. There is still a degree of uncertainty over the extent of the event and whether all of the visiting locomotives will make it. The Coronavirus situation, which although currently improving could see either national or local restrictions imposed, or conditions imposed on the event by the
pr
é
fet.
For UK residents the latest
entry restrictions
to France introduced on 31st May also make visiting the event more uncertain. Locomotives from other organisations that are expected to attend include:
ASVI Vicinal Tram loco that visited the CFBS in 2018 following it's restoration.
Brohltal- Schmalspureisenbahn Mallet No.11

Velay Express Corpet Louvet 0-8-0T
MTVS Corpet Louvet 0-6-0T No.75 that also featured in the 2016 Fête
Train des Mouettes Schneider 0-6-0T N°3 Progrès (standard gauge) with rolling stock.

TRANSVAP Bagnall 0-4-0T Alice (standard gauge)

Photos. Recent developments have included repainting the Corpet-Louvet 0-6-0T No.1 in a brighter shade of red, and the former Morbihan Pinguely 0-6-0T 101 from blue into lined green.
A Lartigue signal recovered during the modernisation of Beauvais - Le Treport has been erected at Noyelles on the St Valery line. Although it will not be used to create a block for normal operations there are plans to equip it so that it will indicate if the road barriers are not working and to control access from some of the sidings only used during major events. Both photos Philippe Armand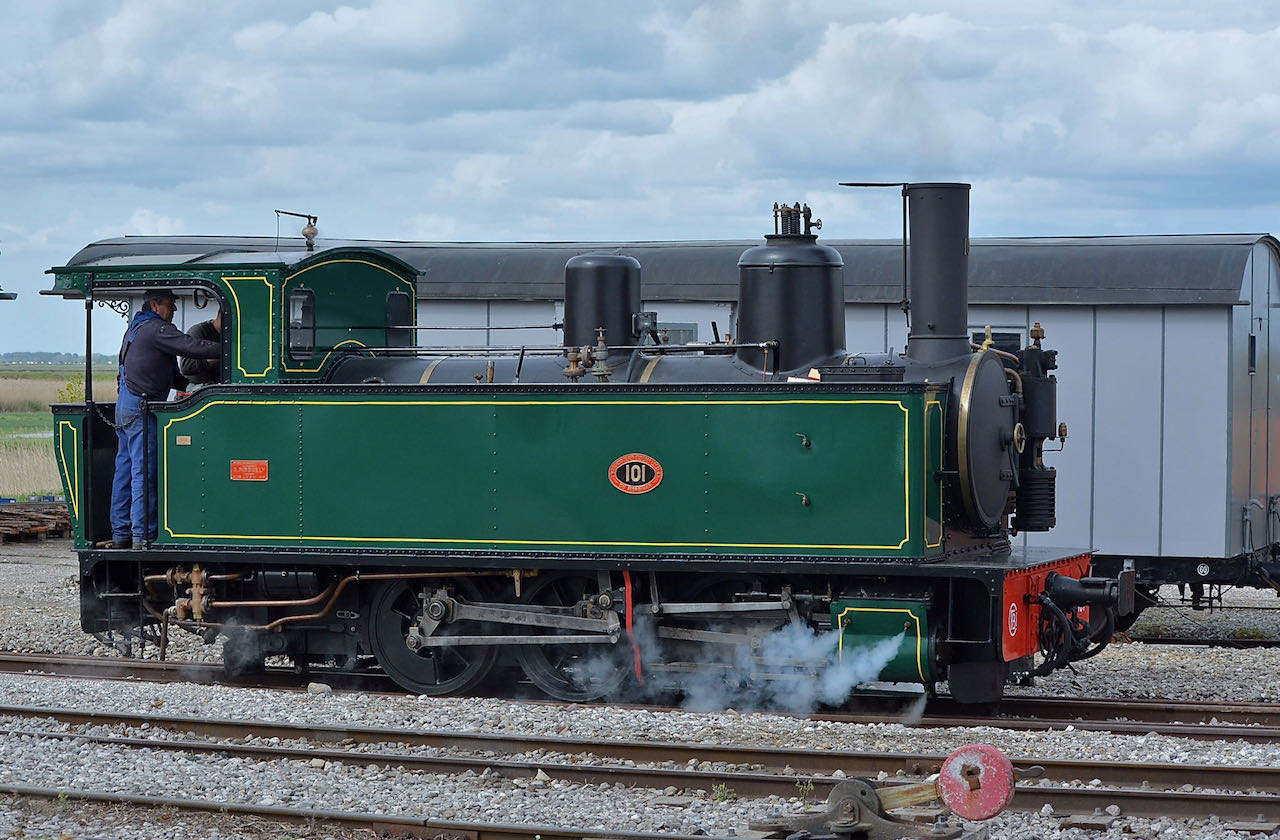 Le Train à vapeur du Beauvaisis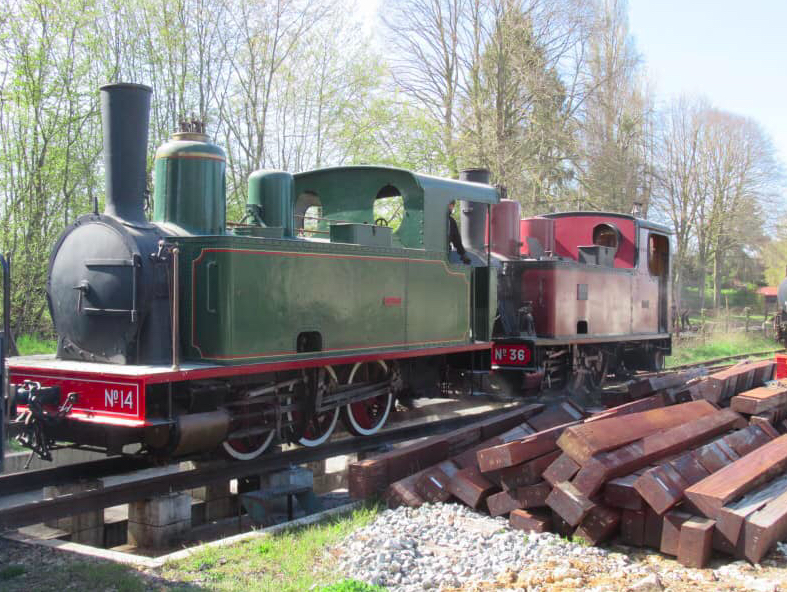 MTVS opened its museum line at Crèvecoeur-le-Grand, 20 km north of Beauvais (Oise) on Sunday 30th May for the 2021 season. Three return services, steam-hauled, to the village of Rotangy, a round trip of 8 km. Reservations are recommended on the museum web site. Two steam locomotives are available again this season:
- Blanc-Misseron 030T No 60 (1898),
- Corpet-Louvet 030T No 75 (1909)
As reported last month, a third steam locomotive (Decauville 130T - 1913) is being restored for service. Work is well advanced on this project. Donations are invited to finance the return to service of Corpet-Louvet 030T No 36 (1925) for its centenary in 1925. The Côtes-du-Nord tank loco ( "Lulu" ) was previously in service at the museum for 20 years from 1997.
The Corpet-Louvet 030T No 14 ( 1897) originally built for the Chemin de fer de la Drôme was acquired for the museum in 2018. It is the only known example of its type preserved. It is the 5th Corpet-Louvet at MTVS. In good condition, it has been decided to begin restoration of No 14 for service. Work started in May to dismantle the locomotive and remove the boiler for certification at CITEV (Gard).
The museum line at Crèvecoeur-le-Grand will be open on the following Sundays this summer with the steam train;
6th + 20th June, 4th + 18th July, 1st + 15th + 29th August, 5th September.
In addition, the museum will be open with diesel haulage of the historic train on 17th + 31st July, 14th August.
A new tourist train at Pontivy, ex Napoléonville
The small town of Pontivy in the centre of Britanny was named Napoléonville from 1802 - 1815 and later from 1848 - 1871. The town is situated on the cross country line from St Brieuc to Auray.
Parts of the line are closed, notably from St Brieuc to Pontivy. But from Pontivy to Auray the line is open for freight.
From 28th June, a tourist train christened "Napoléon Express", of course, will operate on Wednesdays and Sundays along 35 km in the valley of the Blavet to Lambel-Camers. The Pontivy council has launched this attraction and it is CFCB, a rail preservation association at Loudéac, which has contracted to operate the train for 5 years with two railcars from its collection, X 2830 and a Picasso. On 17th May the two railcars were transported by road to Pontivy, a distance of 23 km, another example of a "gap" which prevents logical utilisation of the rail infrastructure.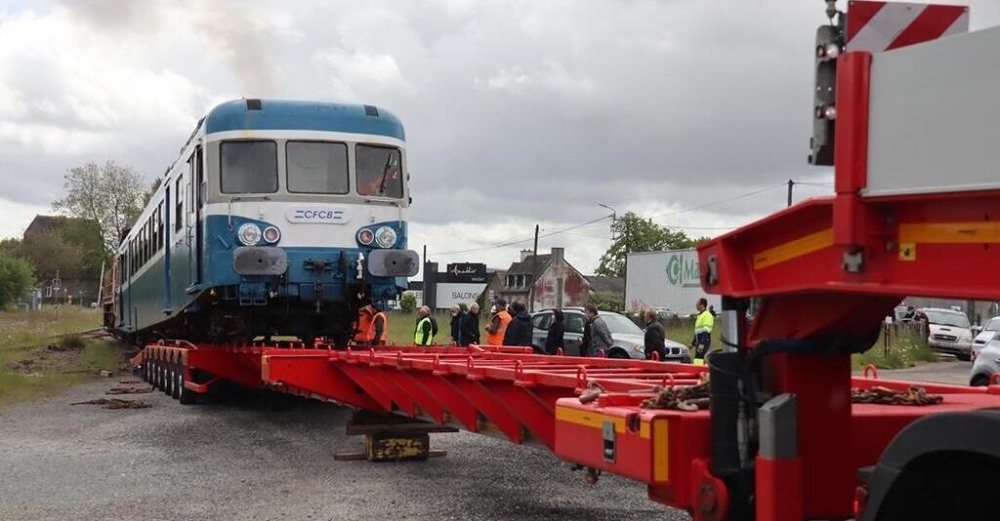 At Pontivy, the station building has been renovated and rebuilt inside to create 4 appartments on the 1st floor. At ground level, the station hall has been renovated.
Train à Vapeur en Limousin
CFTLP have announced their programme for 2021 when they expect to have both 140 C 38 and 141 TD 740 operational. This is subject to the newly restored 141 TD 740 completing a successful mainline steam test at the end of May. Operating dates are:
Limoges - Eymoutiers: June 20th, July 14th/21th/28th,
August 4th/11th/18th/22nd/25th
Eymoutiers – Châteauneuf-Bujaleuf: July 21st/28th
August 4th/11/th/18th/25th
Eymoutiers – Bugeat: June 20th, July 14th, August 22nd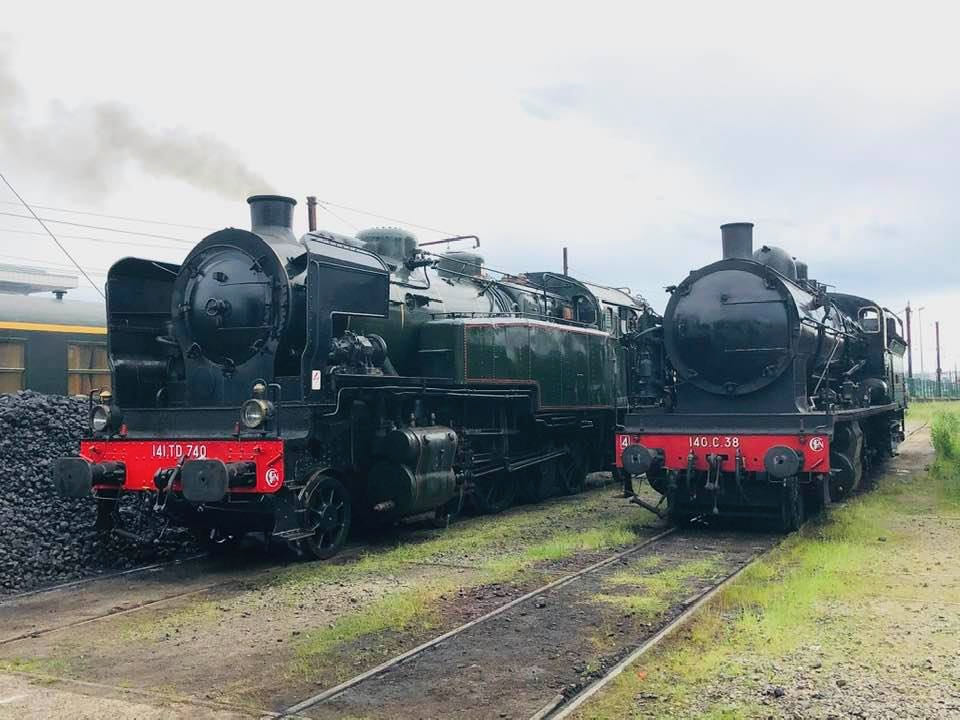 141TD 740 raises steam at Limoges on 29th May in readiness for a main line steam test. It has completed an eight year restoration, having last operated in 2012. Photo Christophe Masse
Chemin de fer de Bon Repos, Gouarec, Britanny
In September 1967, the Réseau Breton metre gauge network closed. On 23rd May 2021, the former RB station at Gouarec, in the centre of Britanny, re-opened to train services, 109 years after it was originally built (1902) and 54 years after closure.

Members of the "Chemin de fer de Bon Repos" have created a 4.3 km line along part of the former Réseau Breton track bed with the assistance of the local council which adapted a local 2+2 dual carriageway to a 1+1 configuration to provide space for the line. The track is dual gauge, one metre and 0.60 m. In an unusual arrangement, the line will see vélo-rails sharing the track with the metre gauge trains, presumably not at the same time !
The line links Gouarec with the Abbaye of Bon Repos, a recognised tourist attraction. Three open wagons have been built and traction is by diesel tractor including a smart red loco from the Swiss Appenzellerbahn.
An earlier venture had started at the nearby former RB station at Bon Repos, but the destination of the Abbaye has been deemed preferable as a destination.
The only source of information is to be found on the Facebook page of the association. We have not seen any timetables yet. In a tourist "hot spot" this new line will no doubt have a certain success. The authentic original station buildings at Gouarec and at Bon Repos are a "plus".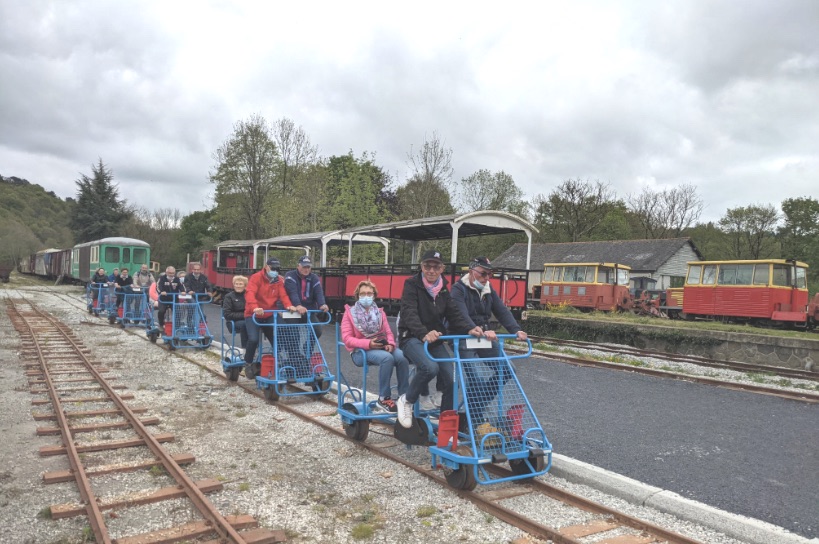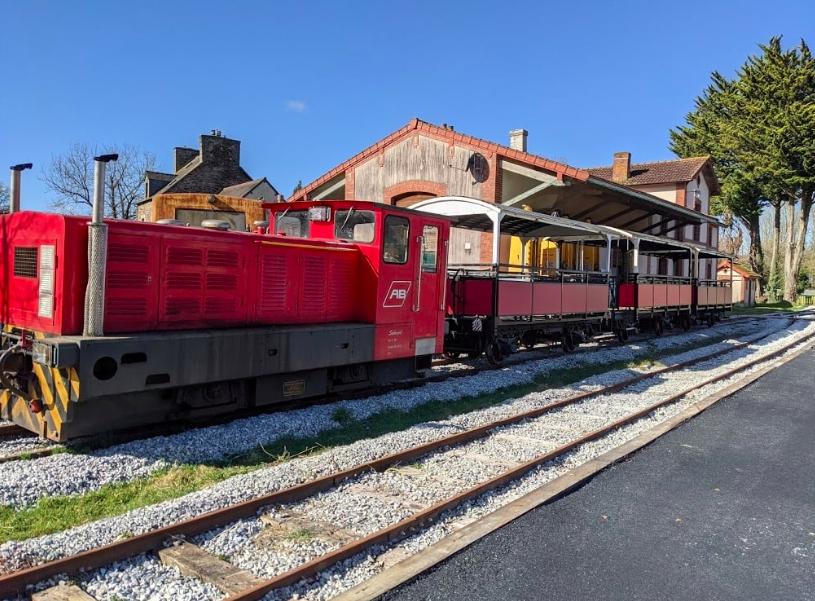 Le Petit Train de La Mure to re-open in June 2021
Early in the morning of October 26th 2010, the side of a cliff collapsed on to the track of a tourist railway line near Grenoble, Isère. A pile of rubble blocked the line on a short viaduct between two tunnels and it has been judged too dangerous to attempt to clear it. The cliff is very unstable.
This tourist line is the "Chemin de fer de la Mure", created from a railway built to transport anthracite from mines near La Mure to Grenoble. It was originally opened in 1888 and the last coal train ran 100 years later. The line is 30 km long. It follows a sinuous route up the valley of the Drac from Saint-Georges-de-Commiers (316 m) to La Mure (882 m). The mountainous terrain required 18 tunnels and 9 bridges/viaducts in order to obtain an acceptable gradient. The track gauge is one metre and the line was electrified at 2,400 volts in 1912.
From 1978, tourist trains were operated along the line for passengers to experience dramatic views along the valley of the Drac and the EDF dam at Monteynard. The line was transferred to the département of Isère in 1997. During 32 years, 4 different companies operated the tourist trains. They departed from Saint-Georges-de-Commiers, next to the SNCF station. The journey time to La Mure was 1h 40 mins and a commentary was provided on board. In 2010, there were 4 - 6 return services in the high season.
A considerable number of carriages, wagons, electric locomotives and electric railcars could be found at Saint-Georges. Many came from various Swiss secondary railways.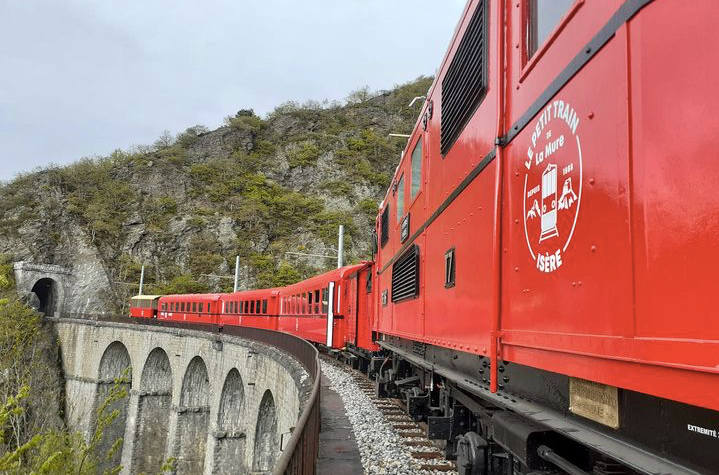 The re-opening, as the Petit Train de la Mure
I
sère (38)
decided to re-open the upper section of the line, but took 7 years to find a suitable partner. The search was concluded in 2017 by a partnership with Edeis, a consultancy firm. The plan was to rebuild the line for 15 km from La Mure (*) to a terminus on the side of the valley that would allow passengers to view the Monteynard barrage and lake. There would be a panoramic restaurant at the viewing site. The initial budget was 26 million euros, of which Isère would finance 15,6 million, and Edeis 6,6 million. In the end, it has been reported in May 2021 that there will be a significant overrun, but no-one seems to mind. The final cost is estimated at 34.7 million euros ( including 21.7 millon for Isère payable over 30 years). For that investment, they hope to reach 100,000 - 120,000 visitors a year, after 5 years.
Construction began in 2018 and the line will open in June 2021. So what can visitors expect ?
At La Mure, a modern hangar in steel and glass has been erected opposite the former PLM batiment voyageurs. The new structure will contain the locomotives and rolling stock, and the visitor centre. The ex PLM BV is being renovated, we are not sure what its future function will be. A new car park for 200 vehicles has been created at the station.
The track and overhead wires have been replaced. 5 tunnels and 3 viaducts have been checked and repaired. At the new terminus (called Quai des Grands Balcons, or Belvedère), passengers will walk through a tunnel and, after 200 m, will reach Le Panoramique, a snack bar/restaurant in a modern style building in wood and glass sheltered against the cliff, surrounded by trees. A further walk along the former track bed for 400m will bring visitors to the view point balcony. On the return journey, there will be an option to visit the Mine Image museum at La Motte d'Aveillans with the underground galleries. An new platform is being built adjacent to the museum.
Photos: Above Locotractuer T7 and train on the Viaduc du Loula Below. The locomotives and rolling stock in their new hangar at La Mure (both photos Michel Pin)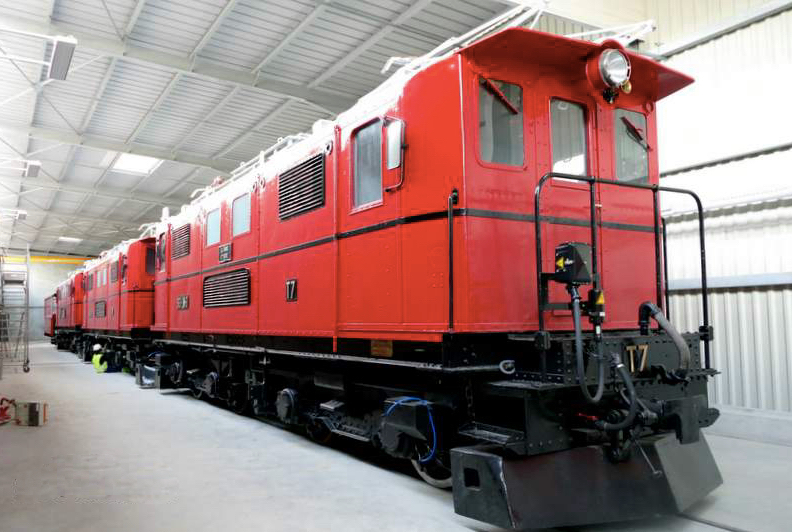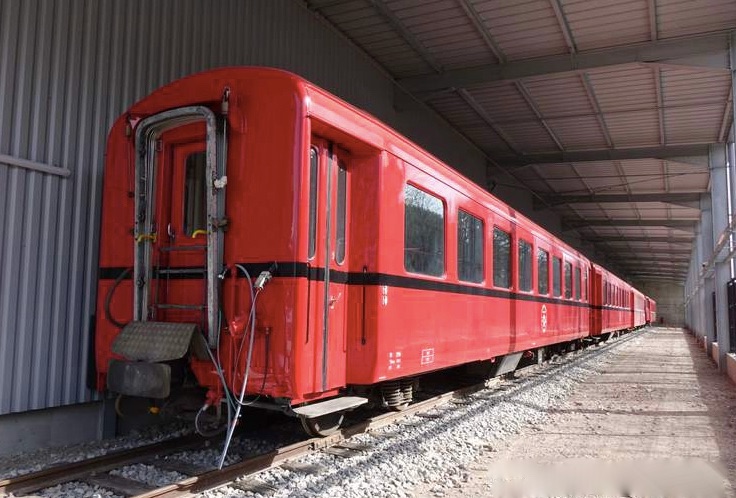 The trains
The two new train sets of the Petit Train are bright red and modern. The electric locomotives are old, originally designed for the line in 1932 by AMG Secheron. They have been renovated in Spain and re-painted red. They are numbered T7, T8, T9. (T6 requires heavy repairs and is not in service). T10 is available as a source of parts. The two train sets are each formed with 3 renovated carriages (ex Swiss company MOB) plus 1 open wagon and one van. The capacity of each train is 200.
There will be ten trains a day in high season (5 in low season). Departures will be every hour from La Mure. The journey to Grands Balcons will take 40 minutes (15 km). At the terminus, the incoming train will depart again after 10 mins. The next departure will be 60 mins later. The return journey to La Mure will take 55 minutes with the stop at La Motte d'Aveillans. The two trains cross here.
The round trip without visiting the mine museum will last 2hrs 45mins (including 95 mins on the train and approx 30 mins walk) and cost 25 euros per adult and 82 euros a family of 4. Including the visit to the museum will add 2 hours to the trip and the cost will become 29,50 euros per adult and 99 euros for a family of 4.
The web site of the railway
is here
.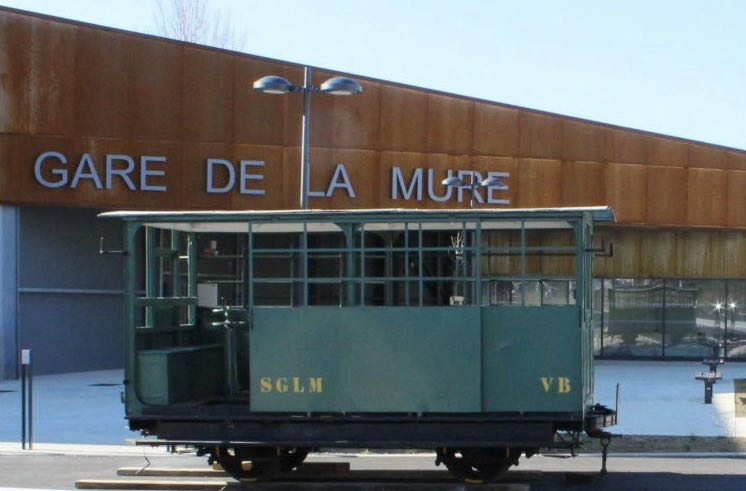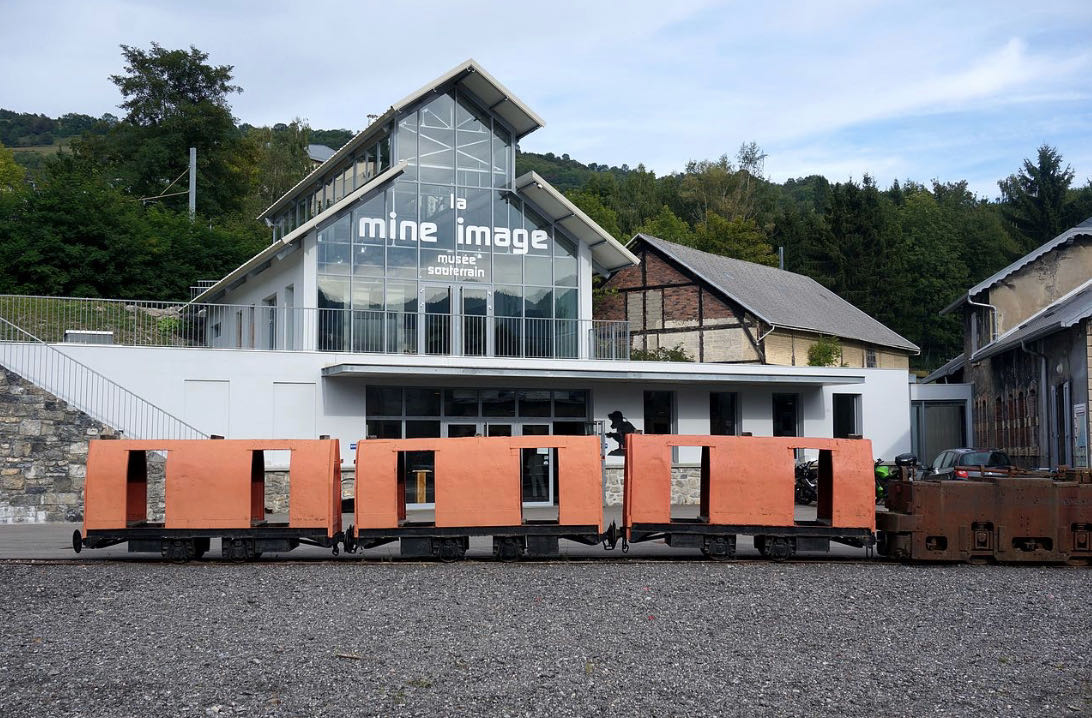 The lower section
The
département
chose to favour the upper section of the line for the benefit of the town of La Mure. The historic narrow gauge station at St Georges-de-Commiers, with its workshops, sheds and dozens of items of rolling stock were abandonned and left unprotected. During 10 years, the site has become derelict and only a few vehicles stored under cover can possibly be saved. The municipality of Saint Georges has (according to reports) been more interested in redeveloping the site for residency or parking than for restarting the railway along the lower, most picturesque, section. As for protection of valuable heritage transport items, this has been ignored by all the public authorities involved. Actions by those in the preservation world have been taken too late and with little effect. Here is a short video made some years ago showing some of the original rolling stock in better condition;
CDF de la Mure.
It is regrettable considering the sums committed to this project that more was not done to protect the site and stock at St Georges pending a decision regarding disposal or renovation.
It is difficult to assess the prospects for this project. It is apparently a 21st century version of the former tourist experience along the line which carried 70,000 passengers annually in 2010. But the two are not really comparable. In 2010, the sense of history was apparent, you sat in the noisy, rattling old carriages, listened to the commentary and marvelled at the views. In 2021, the view is the objective, at the end of the journey, the views from the train are unspectacular, for you are on the plateau. The excursion will be deemed pricey by some.
(*) La Mure is a commune with a population of 6 500, 35 km south of Grenoble on the N85, Route Napoleon. It is a "Village Etape" with 120 shops and an important market on Mondays.
Additions to FRS Photographic Archive during May 2021
I have added a new Folder (9) to the photographic archive which contains the 14 editions of Cahiers de la Cite du Train, published between 2005 and 2011. As is the case with the content of Folders 4, 5, 6 & 8, there are copyright issues and, consequently, any use of these materials implies acceptance of the restriction that these materials are for reference purposes by our members only.
To Folder 1
Additional photographs of mainline and colliery steam locomotives, donated by Michael Simpson, placed in "Miscellaneous B&W" gallery
To Folder 2
A fleet inventory of the Chemin de Fer du Nord as at 1 January 1936, complete with a small scale drawing for each of the carriages, luggage vans and postal vans in the GV & PV regimes (2 separate galleries for GV & PV)
To Folder 4
A selection of articles from various AFAC magazine on the subject of the French Pacific locomotive
A selection of articles from various AFAC magazines in the history of tramways in & around Paris
A selection of articles on a variety of subjects (mostly PO and Midi)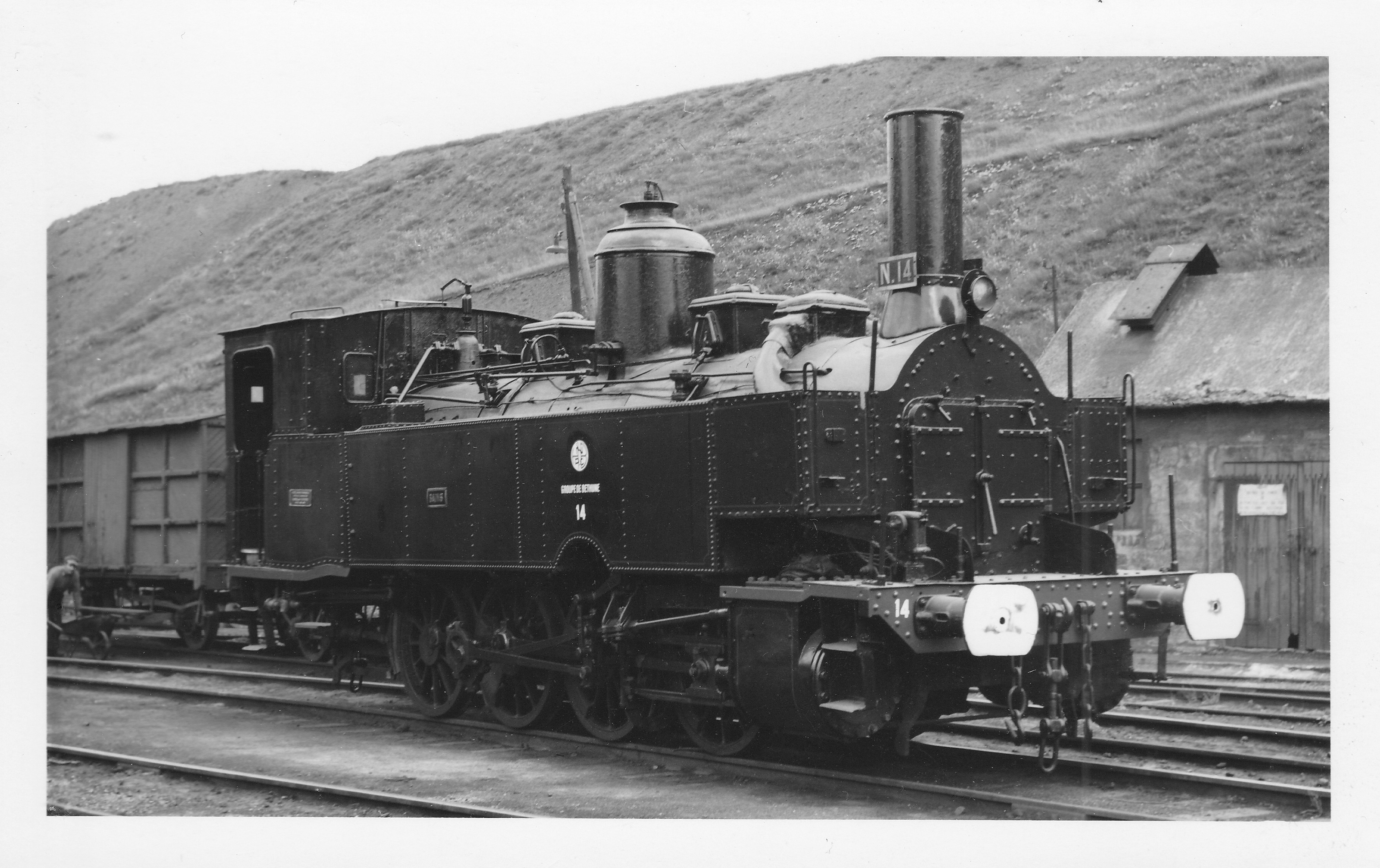 © Peter Lovell & Graham Skinner. The French Railways Society 2021. With thanks to Erwan Quintin, Christophe Masse, Philippe Armand, Michel Costes.Georges Turpin, Romain Vergneres and Mike Swinn