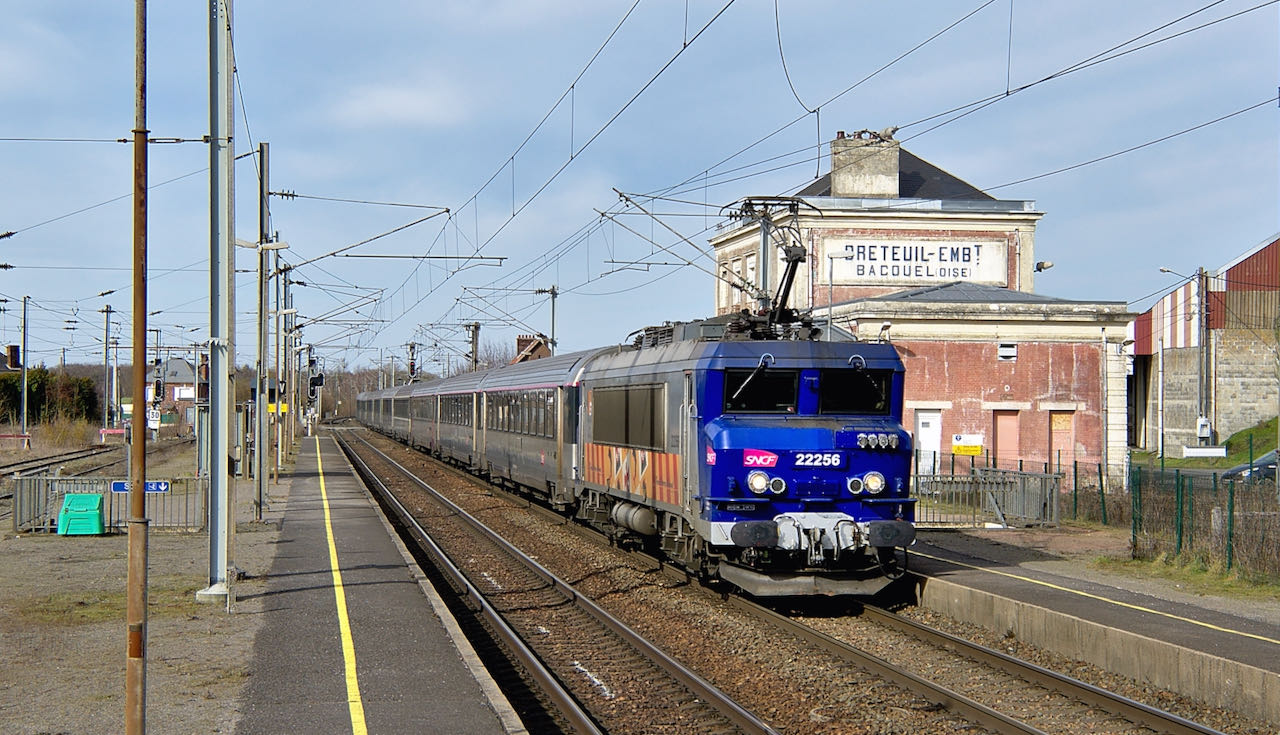 BB 22256 in PACA TER livery passes through Breteuil Embranchement at the head of TER n°848562 13:22 Amiens - Paris-Nord on the afternoon of 20th February . Photo Erwan Quintin.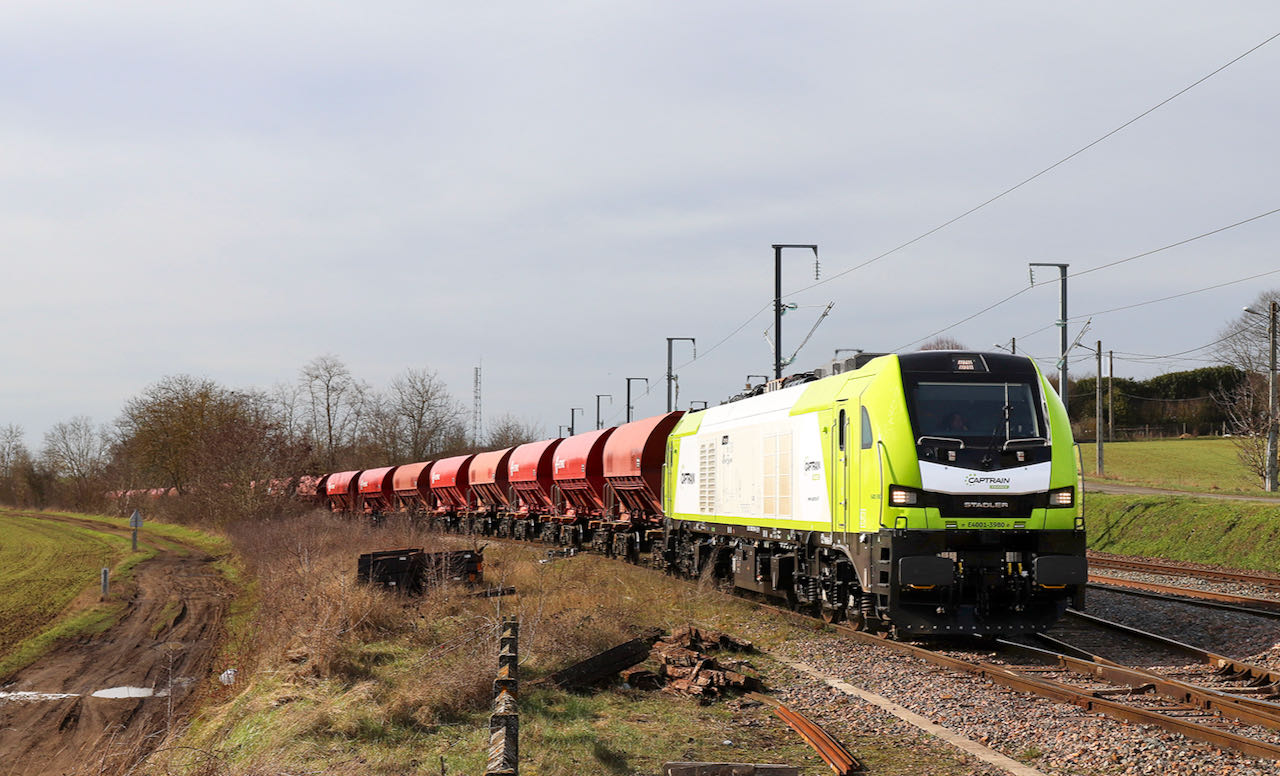 Captrain E4001 enters service
Captrain France (formerly VFLI) Stadler E4001s entered commercial service on 16th February on Gudmont - Courcelles-en-Bassée, (near Montereau) Cemex traffic. Based on the former Vossloh E4000, the E4001 employs a Caterpillar 3,000 kw power unit, instead of the EMD unit used in the E4000s, to meet the latest emission standards. Twelve units are on order 3979 - 3990. Three are outright purchases and nine leased through Angel Trains. Originally ordered by VFLI and expected to be painted red they have been delivered in Captrain lime green
Above 3980 arriving at Flamboin from Montereau on 16th February and alongside Europorte E4000 4035 at Montereau Cemex. Both photos Romain Vergnères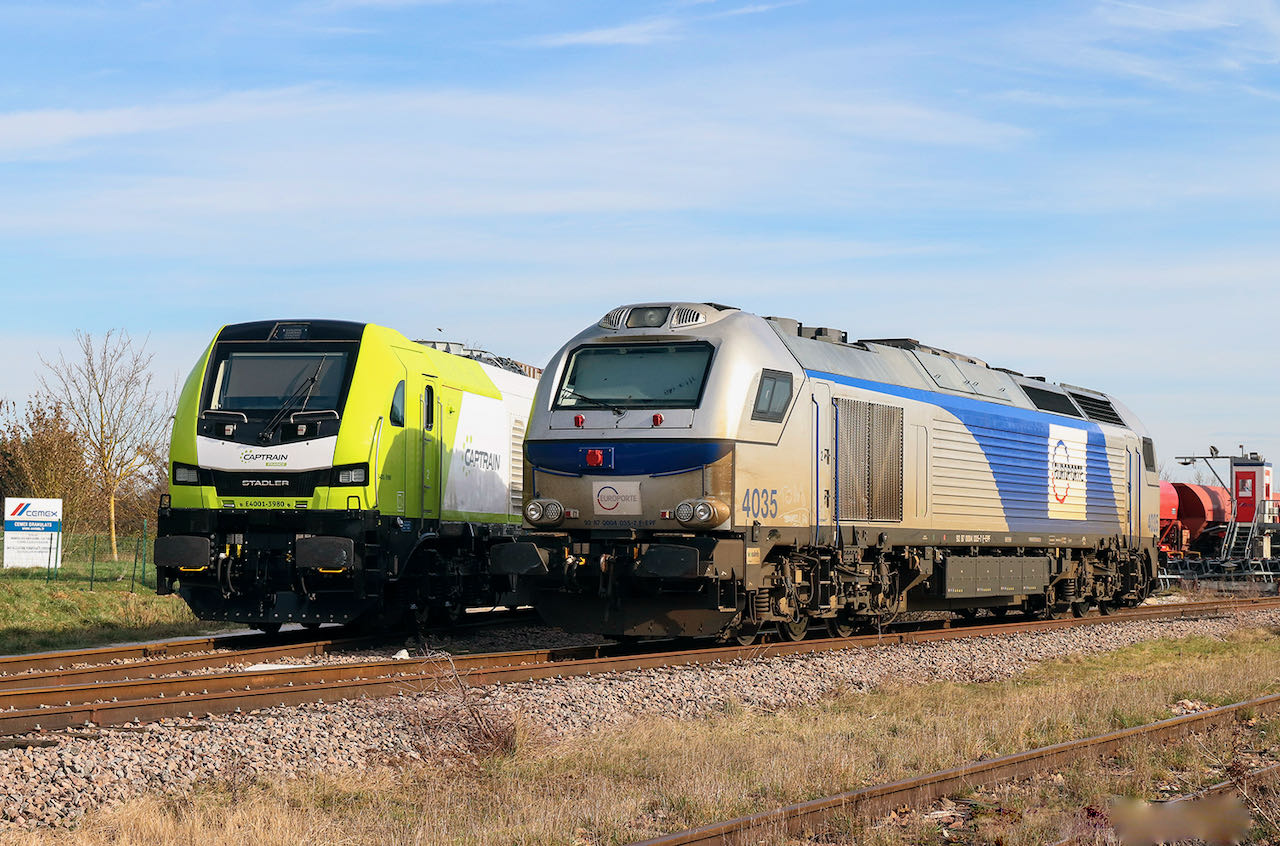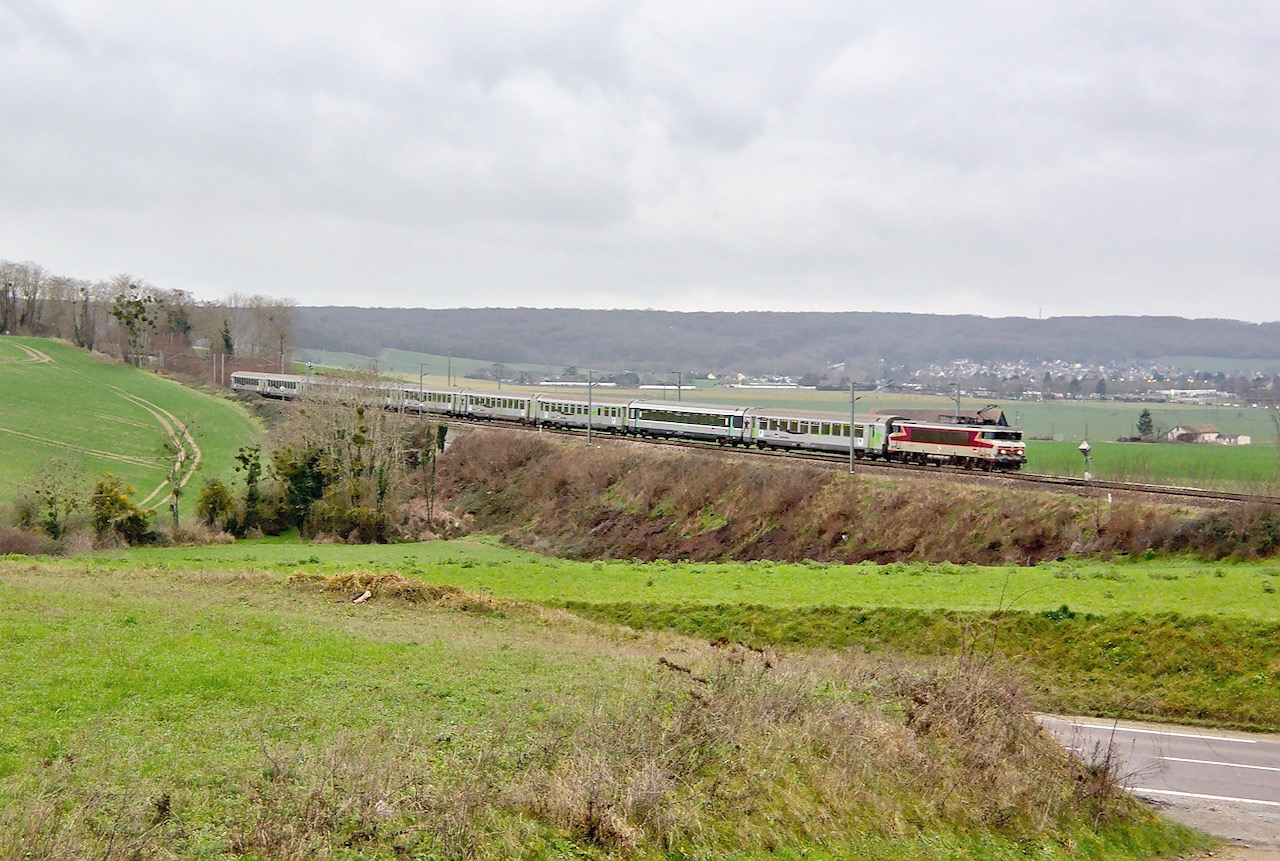 On a dull Sunday 7th February BB 15010 approaches Buchelay with TER 3360 the 14:18 Caen - Paris St Lazare. There are now only six non push pull BB 15000s left in service. With 23 Omneo Premium units in operation and further deliveries scheduled, the remaining work for the non reversible BB 15000s is steadily diminishing and they are unlikely to last beyond the summer. Photo Erwan Quintin.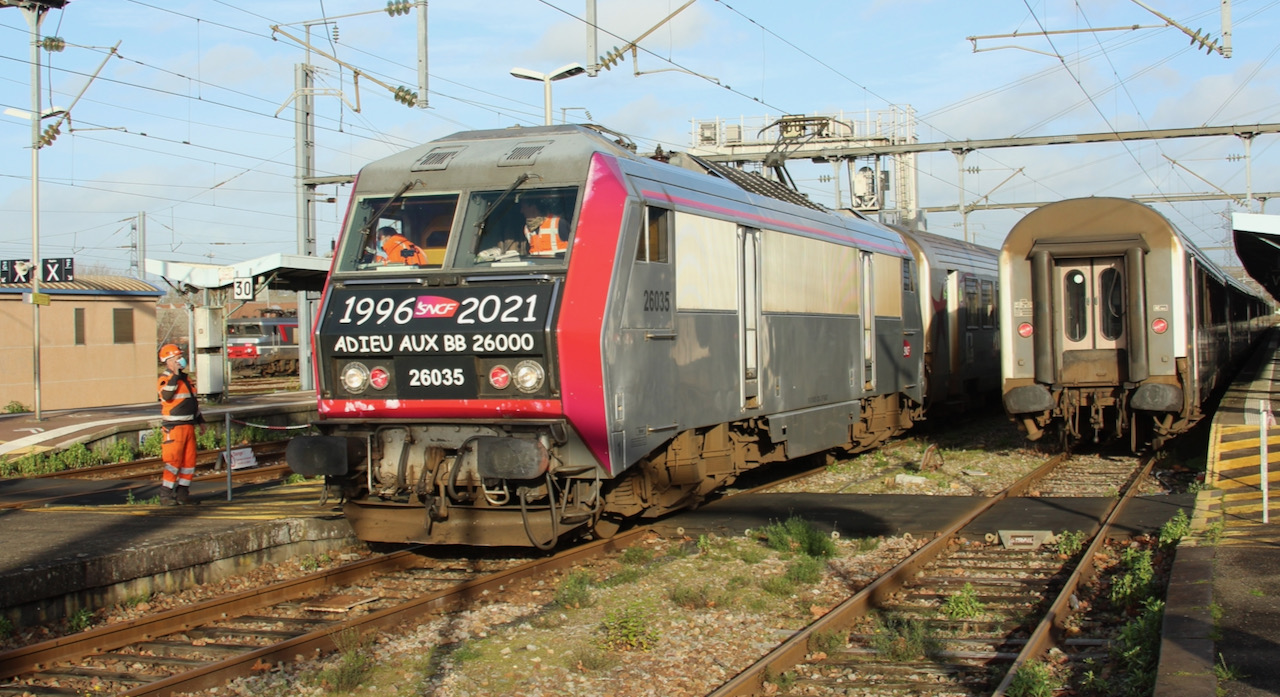 BB 26000 Normandy Farewell
On the 2nd February BB 26035, with the front of the locomotive suitably inscribed worked the final BB 26000 hauled train in Normandy 3357 13:56 St Lazare - Caen, seen above after arrival at Caen (
Photo Damien Clémendot
). As reported last month the remaining Normandy locomotive hauled services are in the hands of BB 15000's and the BB 26000's are being transferred south where they will replace BB 7200 and BB 22200 on Bordeaux - Marseille services from June. On the 10th February a convoy of BB 26000's hauled by BB 26035 made the first leg of the journey south from Achères to Dijon, seen below passing Vauboyen in the snow.
Photo Romain Vergnères
.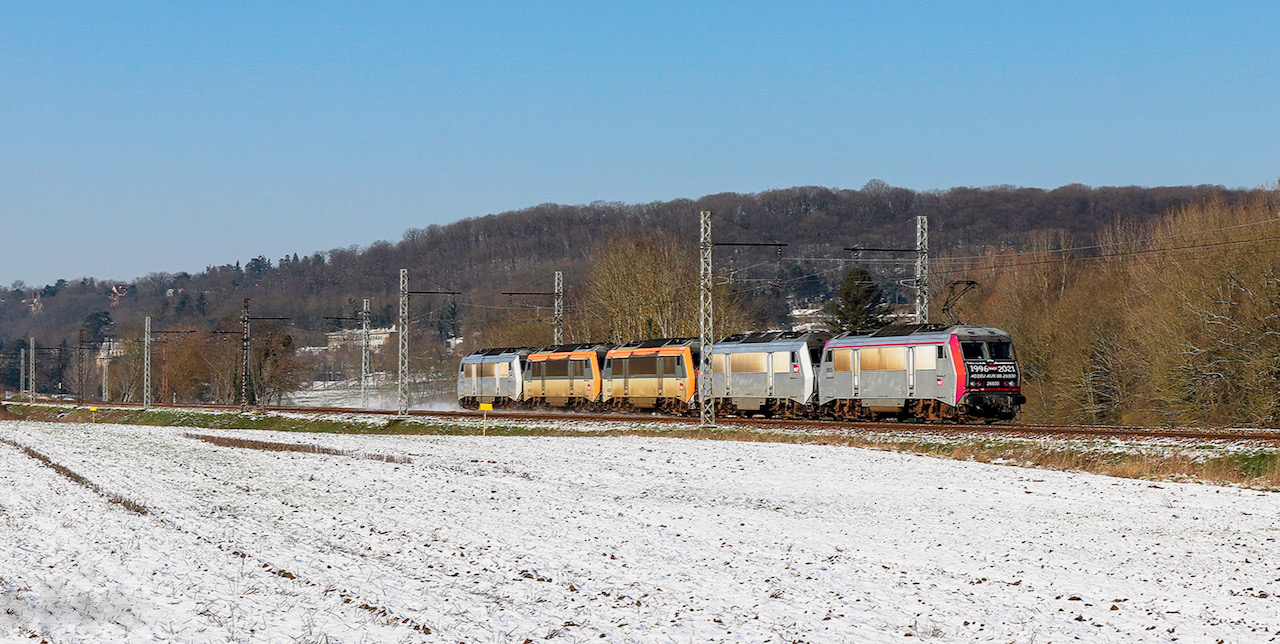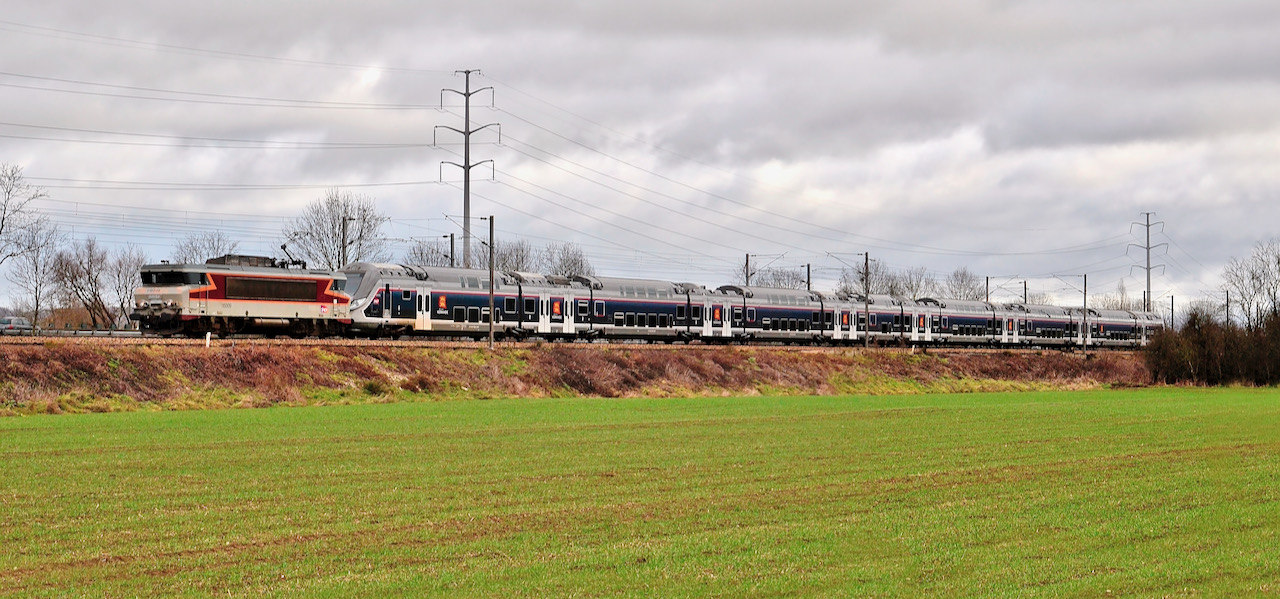 Above, on the 28th January BB 15009 was called upon to haul a failed Omneo Premium to Sotteville for maintenance, seen above between Epône and Porcheville Photo Jean-Louis Poggi. Sadly the nose of BB 15000 has now been painted in grey. Below On 9th March 2019 the cab front still retained its Grand Confort livery seen passing through Meulan with a diverted train for St Lazare Photo Michel Costes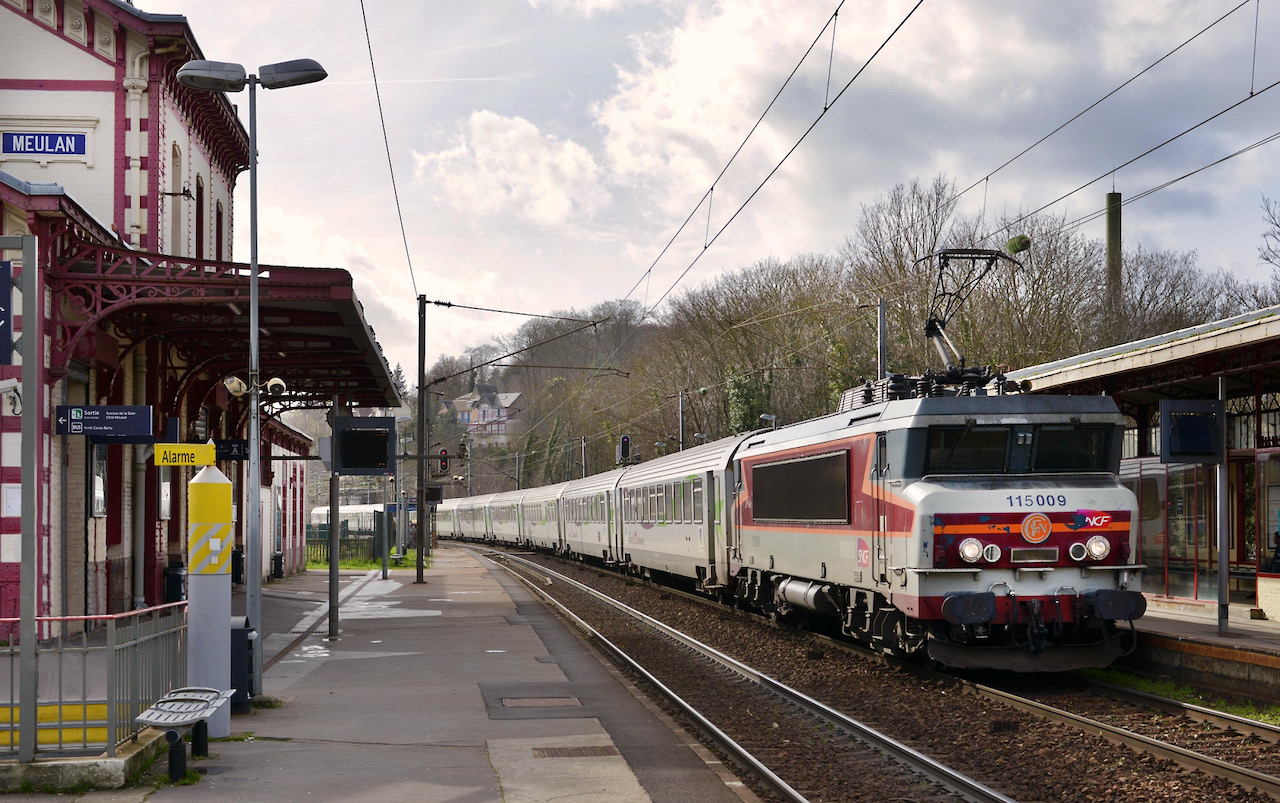 RER B contract - ALSTOM confronts all parties in battle to keep its perceived monopoly position in France
As we predicted last month, and shortly after the takeover of Bombardier Transportation, Alstom withdrew the firm and definitive bid that Bombardier/CAF consortium had made in 2020 to supply 146 new trains for the RER B suburban rail network in the Ile de France. RATP / SNCF chose the Bombardier / CAF consortium over Alstom apparently on a significant price differential.
In December 2020 and January 2021, Alstom delayed the process of confirmation with law suits, but, early in February, after consulting the details of the dossier, they withdrew the lawsuits and the firm offer made by the consortium. RATP / SNCF have quickly signed the order for 2.5 billion euros and invited the consortium to a meeting to begin planning execution. Alstom informed the press that the consortium offer contained technical anomalies that should have disqualified it and that the price was too low. Alstom attacked Spanish constructor CAF concerning the quality of their products.*
The general manager of CAF France responded by denying any anomalies in their offer which had been verified by RATP / SNCF and independant experts. The CAF director accused ALSTOM of trying to prevent any competition in France in the rail sector. The Spanish press has supported this point of view, evoking the "arrogance" of the French multinational.
On the matter of the Alstom factory in Alsace at Reichshoffen (which assembles the Regiolis range), one of the conditions that Brussels set when approving the takeover of Bombardier Transportaion by Alstom was that this factory was to be sold (together with the orders). Alstom has refused to accept an offer from CAF France and currently it is believed that the factory will be sold to SKODA.
At the first meeting called by RATP / SNCF to begin to work on the order, CAF France attended and indicated that they were ready to work on the order. Representatives of ALSTOM turned up, but apparently no-one from Bombardier was allowed to attend. The ALSTOM representatives did not state that they would fulfil the order, but requested a delay of some weeks to further study the dossier. Is this a step back from the edge of the cliff ?
On Feb 20th, "Le Parisien" returned to the subject. It was confirmed that the next meeting is expected on March 4th. Sources indicate that RATP/SNCF are in contact with the French "Autorité de la Concurrence". No action has been filed so far. No details have been published concerning the different technical solutions proposed by Bombardier/CAF and Alstom alone. Sources say that the Alstom technical solution was more costly which would explain part of the price differential.
* CAF is a major Spanish group which exports to 40 countries. In recent years they have delivered rolling stock, and trams to operators in Europe, the UK, Latin America and the Middle East.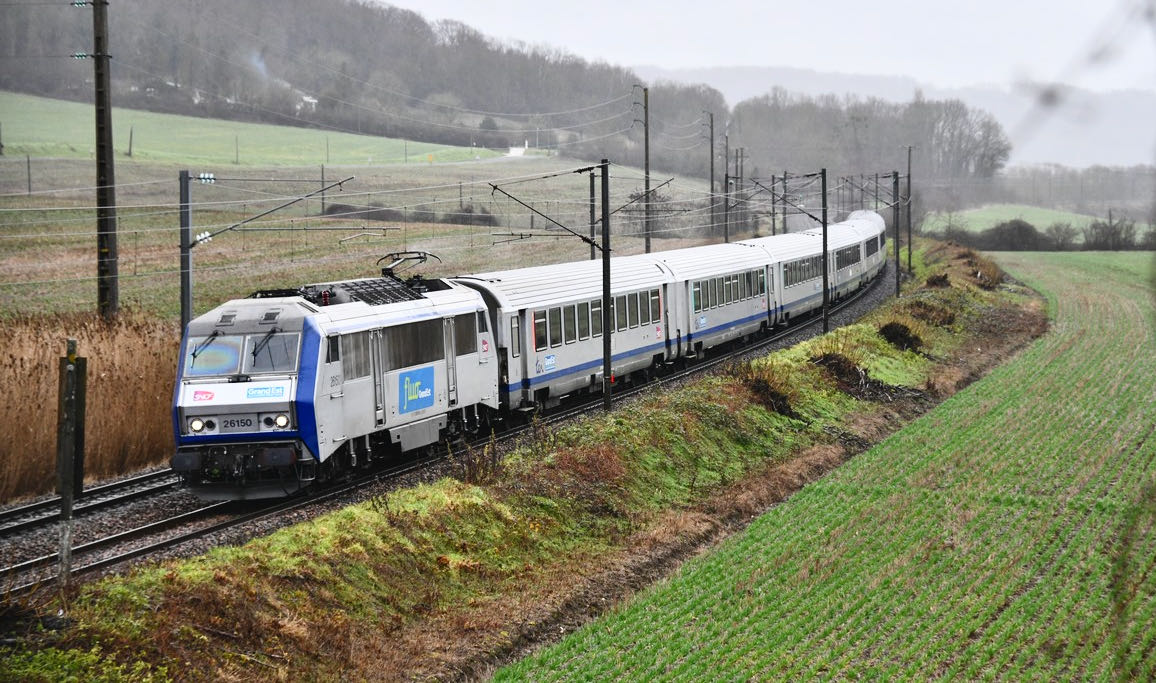 Carrying the Grand Est TER fluo livery BB26150 passes Chamigny with TER 839164 08:15 Strasbourg - Paris Est on a miserable 23rd January . Photo Didier Delattre
Paris - Nice overnight to return in April
Such is the enthusiasm in France for the return of overnight services that the Paris - Nice service will be re-introduced from April 16th rather than in December as previously announced. (*) Having previously stated that no stock was available for this summer, SNCF are able to provide suitable stock from the Paris - Briançon overnight train that is suspended for 9 months due to engineering work between Valence and Veynes. ( The Briançon sleeper could have been kept in service via Grenoble, but SNCF and Auvergne Rhone Alpes have succeeded in closing both Grenoble - Veynes and Valence - Veynes simultaneously for repairs despite being told not to do so by user groups. We will return to this subject later.)
At present, 60 former Lunea couchette coaches are being refurbished at Périgueux Technicentre, and will be followed by a further batch of 33. These will be allocated; 35 couchette and seating coaches for Paris – Briançon, 36 coaches for Paris – Latour de Carol/Rodez and 22 coaches for the Paris – Nice and Paris – Tarbes services. All refurbished coaches for the Briançon and Latour de Carol routes should be delivered by June 2023. The refurbished coaches will be an interim measure pending the procurement of new vehicles with modern facilities including double beds and en-suite toilets based on the success of the Austrian Nightrider services.
Government ministers are already considering a report on the future of both day and night-time TET services that was due to be delivered in June. The report puts forward proposals for a network of overnight trains centred on four core routes: Marseille – Dijon, Marseille – Bordeaux, Tours – Lyon and Paris – Toulouse. Examples of overnight services that would be based on these corridors include: Nice – Marseille – Avignon – Lyon – Orléans – Nantes – Quimper, paired with Nice – Marseille – Toulouse – Bordeaux; Nice – Marseille – Avignon – Lyon – Strasbourg – Metz, paired with Nice – Barcelona and Nice – Genève – Zürich; Paris – Perpignan – Barcelona. Another proposal is for a Marseille – Paris service via Montpellier, Bordeaux and Tours with portions to and from Bayonne and Latour de Carol. In addition there are proposals for a number of cross-border routes.
Were all these initiatives to go ahead, around 345 coaches for domestic services and 255 for international routes would be needed, potentially costing around €900m. It is envisaged that funding could be made available under the European Union's Green Deal scheme. It is uncertain when these possible new orders could be delivered as production lines in Europe for new generation sleeping coaches are full right now, mostly for OBB.

(*) At the end of February, Nice Côte d'Azur was locked down indefinitely with the highest intensity of Covid cases in France. The planned timetable of the resurrected overnight TET is Paris-Austerlitz 20.52, Marseilles Blancarde 06.30, Nice-Ville 09.11. The up train will depart from Nice at 19.16 and reach Paris-Austerlitz at 07.55. There will be stops at the principal stations between Toulon and Nice.

Ile de France, transport by rail
Lines open to competition
In mid December 2020, Ile de France Mobilités annouced dates for opening parts of the IDF transport system to competition, as required by law. Here are the dates from which it is planned that the new regimes will operate;
RER A, RER B - after December 2039
RER C - December 2033
RER D - December 2032
RER E - December 2027
Transilien (SNCF)
Lines H + K - December 2028
Line P - December 2027
Line R - December 2026 or 2027
Lines N + U (Montparnasse suburban) - December 2026
Lines J + L ( St Lazare suburban) - December 2025
Trams
RATP will continue to operate Tram lines 1, 2, 3a, 3b, 5, 6, 7, 8 until December 2029.
RATP will continue to operate the metro underground network until December 2039. They will continue to operate RER A and B with SNCF until December 2039.
Tram 4, Tram 11, Line P - Esbly - Crècy (all operated by SNCF or subsidiaries thereof) - December 2023. (invitations to bid for this group issued in 2021, selection of winner in 2022)
Tram 12 Express, Tram 13 Express - December 2024 (invitations to bid for this group will be issued at the beginning of 2022, selection of the winner in 2023. These two lines are currently under construction (see below). It is apparent that neither line will be open when bids have to be presented. Tram 12 is expected to open in 2023 and Tram 13 will open in June 2022.)
Tram 9 will be opened in April 2021 and will be operated by Keolis, selected in a previous public bidding process.
Current operators including SNCF and RATP can participate in future selection processes. RATP announced in February that it had formed a subisdiary, RATP CAP Ile de France, to respond to future invitations to bid in Ile de France.
The stated objectives of introducing competition are to improve quality of service, redynamise certain lines and reduce costs. It remains to be seen if these objectives are mutually compatible.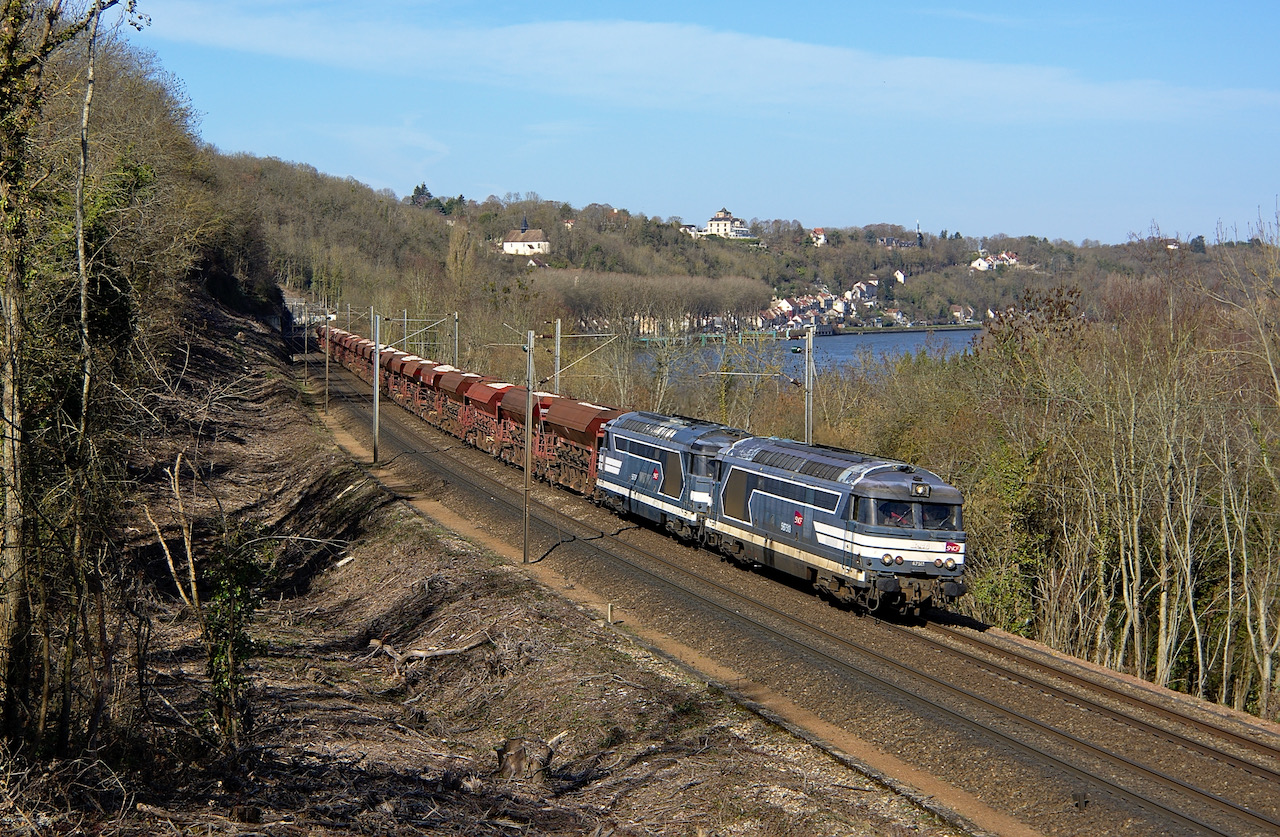 INFRA BB 67400s in action
The Infra Division now employ the majority of the remaining BB 67400s. On the 24th February Erwan Quintin captured them operating two ballast trains. Above In the afternoon BB 67513 and BB 67510 are seen beside the River Seine at the exit of the Rolleboise tunnel at the head of a ballast train from Sotteville to Villeneuve-St-Georges. Earlier in the day Yellow Infra liveried BB 67567 is seen passing Orsonville with empty hoppers from the LGV base at Auneau and Villeneuve-St-Georges. Both photos Erwan Quintin.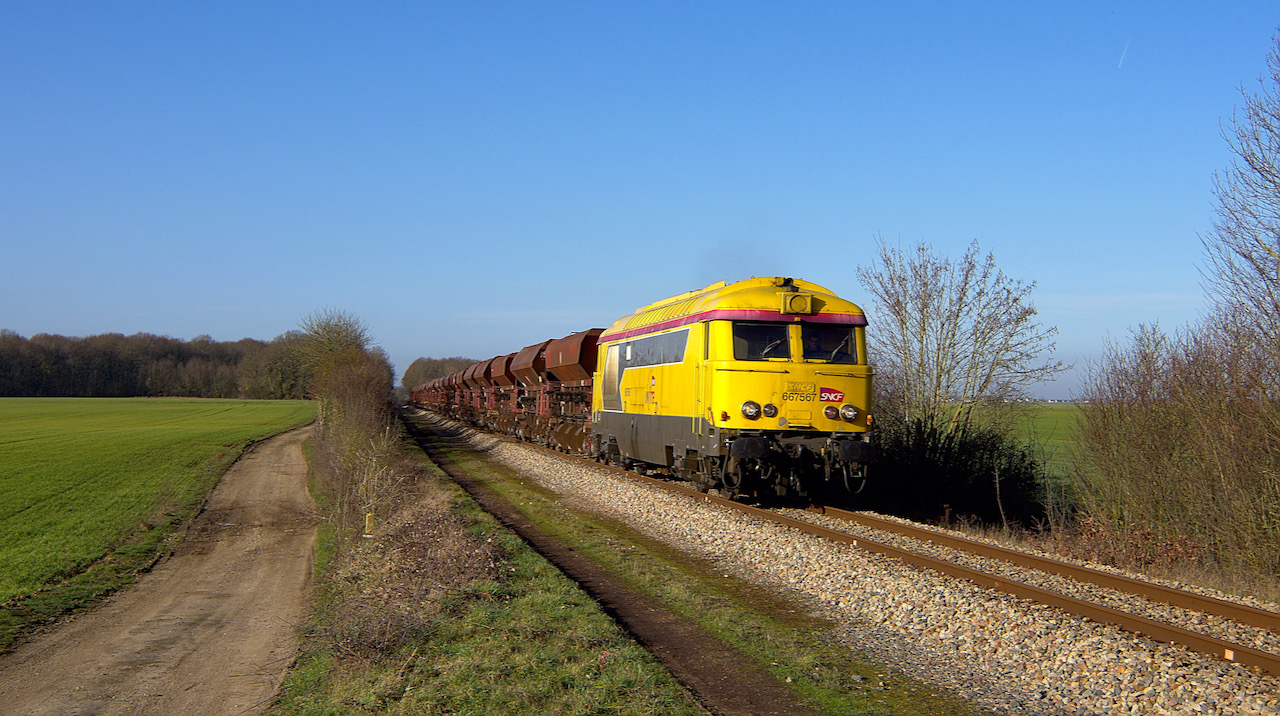 Suburban Tramways, 2021 - News update
Tram 12 Express (under construction)
This new "tram-train" line in the département of Essonne-91, will be 20 km long. It will link Evry with Massy-Palaiseau, the two largest towns in the département. The line will be operated, partly, with a new suburban tramway (for 10 km from Evry-Courcouronnes to Epinay-sur-Orge), and, partly, along 10 km of existing tracks belonging to a branch of RER C between Epinay and Massy-Palaiseau. Construction work began on the new tramway in 2018 after preparation of the site in 2017. The route passes through the towns of Evry-Courcouronnes, Ris-Orangis, Grigny, and Viry-Chatillon. The tramway crosses 3 times over the A6 Autoroute du Sud on 3 new bridges. These were recently installed as described
here
. In November 2020, track laying began on the tramway at Evry Coucouronnes. A new depot/workshop is being built at Massy for the servicing of 23 Alstom Dualis bi-voltage tram-train sets on order.
In May 2020, at Epinay-sur-Orge, a new prefabricated underbridge was inserted under the Paris - Orléans main line to allow the tramway from Evry to join the branch of the RER C to Massy-Palaiseau. The stations along this branch have to be modified for the Dualis tram-train by lowering the platforms and adapting the station buildings. The tramway will be electrified at 750 volts. The section along the former RER C is electrified at 1500 volts. The Dualis sets will be compatible 1500 volts/750 volts. Their wheels will have a profile compatible with both standard rail track and tramway track.
The line has had a lengthy gestation. It was first discussed in 2009. It received a Declaration d'Utilité Publique (DUP) in 2013. There followed 3 years of planning. Preparation of the route started in 2016 and construction of the infrastructure in 2017.

The current planning is to open Tram 12 during 2023. The line is forecast to carry 40,000 passengers daily with a 15 minute service off peak and every 10 minutes at the peak. The journey between Evry and Massy will take 38 minutes with 16 stops. The new tram-train service will replace the RER C trains between Epinay and Massy-Palaiseau.

In a second phase, Tram 12 Express will be extended along the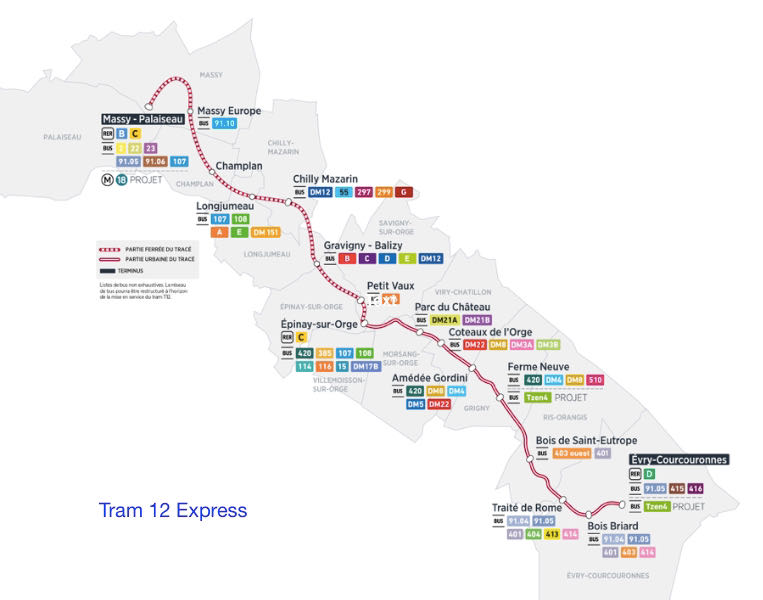 Grande Ceinture Sud for 15 km from Massy to Versailles-Chantiers. If this happens, the tram-train will share the line with freight trains and the occasional cross country TGV ! There are no dates for this second phase yet.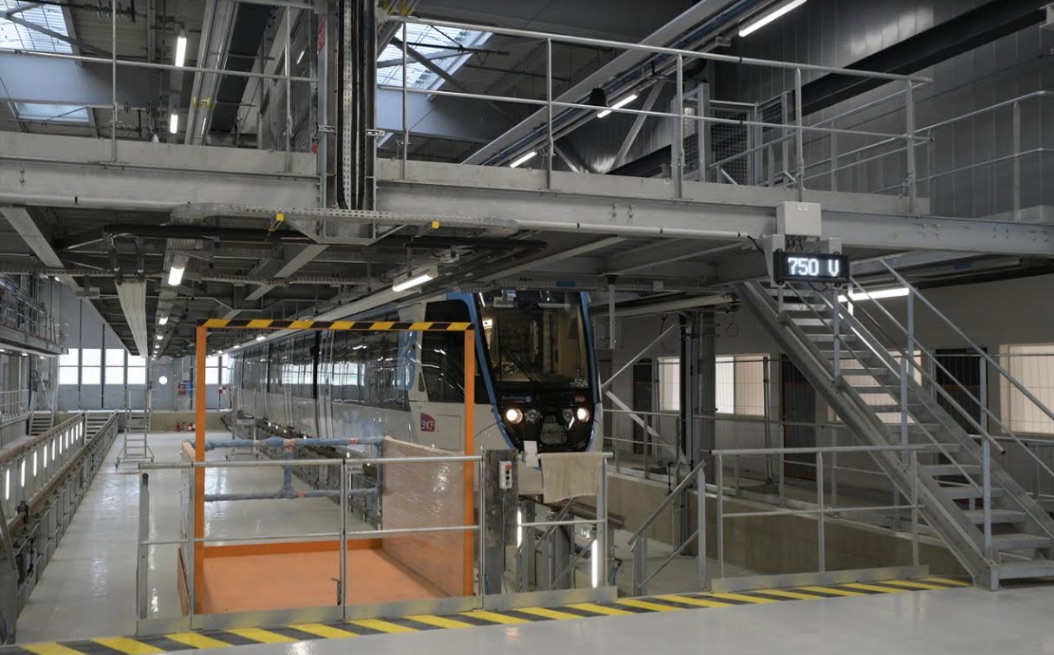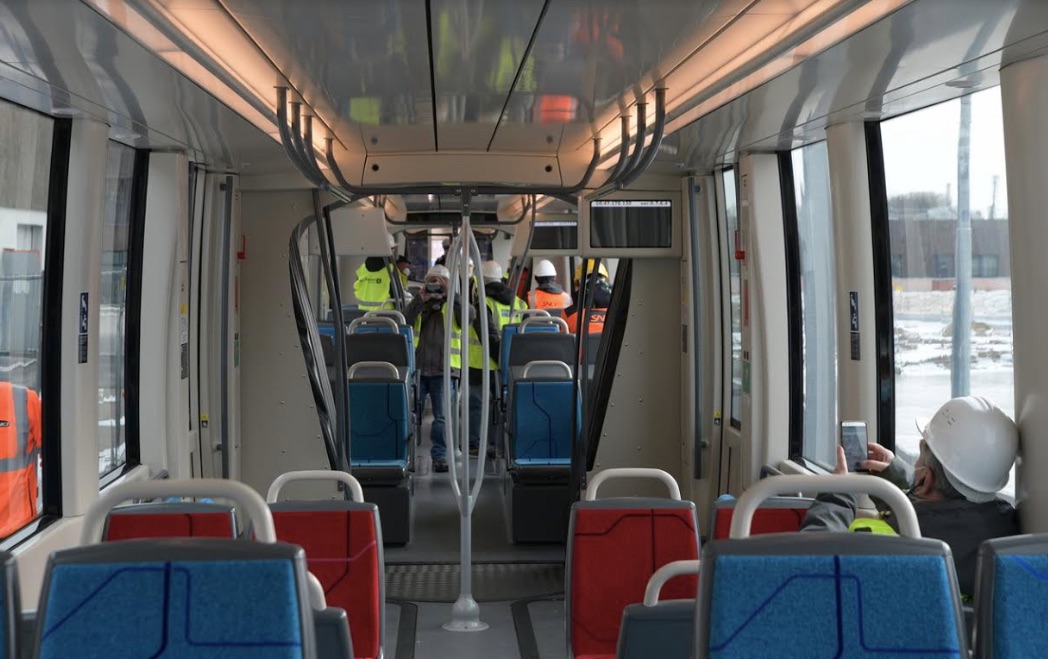 Tram 13 Express (under construction)
This new "tram-train" line has been under construction since 2019 between Saint-Cyr-l'Ecole and Saint-Germain-en-Laye along the former Grande Ceinture Ouest freight railway line in the département of Yvelines-78. Freight ceased in 1990. The new line (Phase 1) will be 18.8 km long. At Saint-Cyr, the future Tram 13 terminus will be at the RER station (Lines: RER C + N + U). At Saint-Germain-en-Laye, the terminus of the Tram 13 Express will be linked to the RER A terminus by a pedestrian tunnel.
The central section of the new line was previously renewed, and operated between December 2004 and July 2019 as part of Transilien Line L. This section stretched from Saint-Germain-Grande Ceinture to Noisy-le-Roi. It was modernised and electrified at 25 Kv.
Above. On February 12th 2021, a correspondent joined an organised visit to the Tram 13 depot at Versailles Matelots. Visitors were shown the depot, future control room and the first two Alstom Dualis tram-train units. Photos by Laurent Radice.

The six stations originally modernised 15 years ago are being rebuilt; their platforms are being reduced in height to near ground level. Five new stations are being created. The stop at Saint-Germain-Grande-Ceinture has been renamed "Lisière Pereire" (an adjacent housing development). ( The historical BV, opened in 1862, will no longer be associated with the railway line. We consider that is regrettable). One of the conditions for the construction of Tram 13 is to retain the possibility for freight trains to use the line in the future, though there are no current plans in that respect. In Phase 2, the former Grande Ceinture Ouest line will be re-opened from Lisière Pereire to Achères Ville RER via Poissy.
Tram 13 Express, Phase 1, will be operated mostly as a standard SNCF double track line, electrified at 25 Kv The new depot is located at Versailles-Matelots about 1 km from Saint-Cyr. Extensive measures have been taken to conceal the new line, and depot, from the gaze of visitors on the terraces of the nearby Chateau de Versailles. Saint-Cyr RER will be reached by a short 700 m, sharply curved and steeply graded (6%) stub line from the Grande Ceinture. It is called a virgule in French. To reach St Germain-en-Laye RER terminus, a 3.6 km line in tramway mode, electrified at 750 volts, is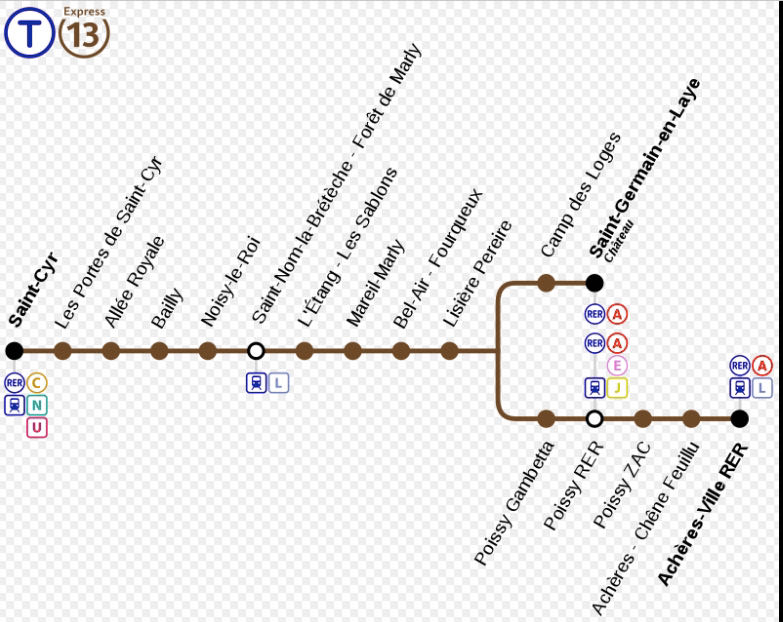 constructed through the forest from the Grande Ceinture station now named Lisière Pereire. This stub is also called a "virgule".

Eleven Alstom Dualis tram-trains have been ordered for Phase 1. The first was delivered in November 2020. The journey time will be 30 minutes. The frequency of the services will be every 10 minutes at peak periods and every 20 minutes, off peak. 21,000 passengers daily are forecast. The line will be open every day from 6 am to midnight (6.30 - 22.00 on Sundays). The line will be operated by Transkeo (the Tram 11 operator).
Phase 1 is currently expected to open in June 2022. In a Phase 2 starting in 2021, a further extension (10 km) along the former Grande Ceinture from Lisière Pereire to Achères via Poissy has been authorised. This will change the line into a "Y" configuration. It is expected that this extension will be completed by 2026.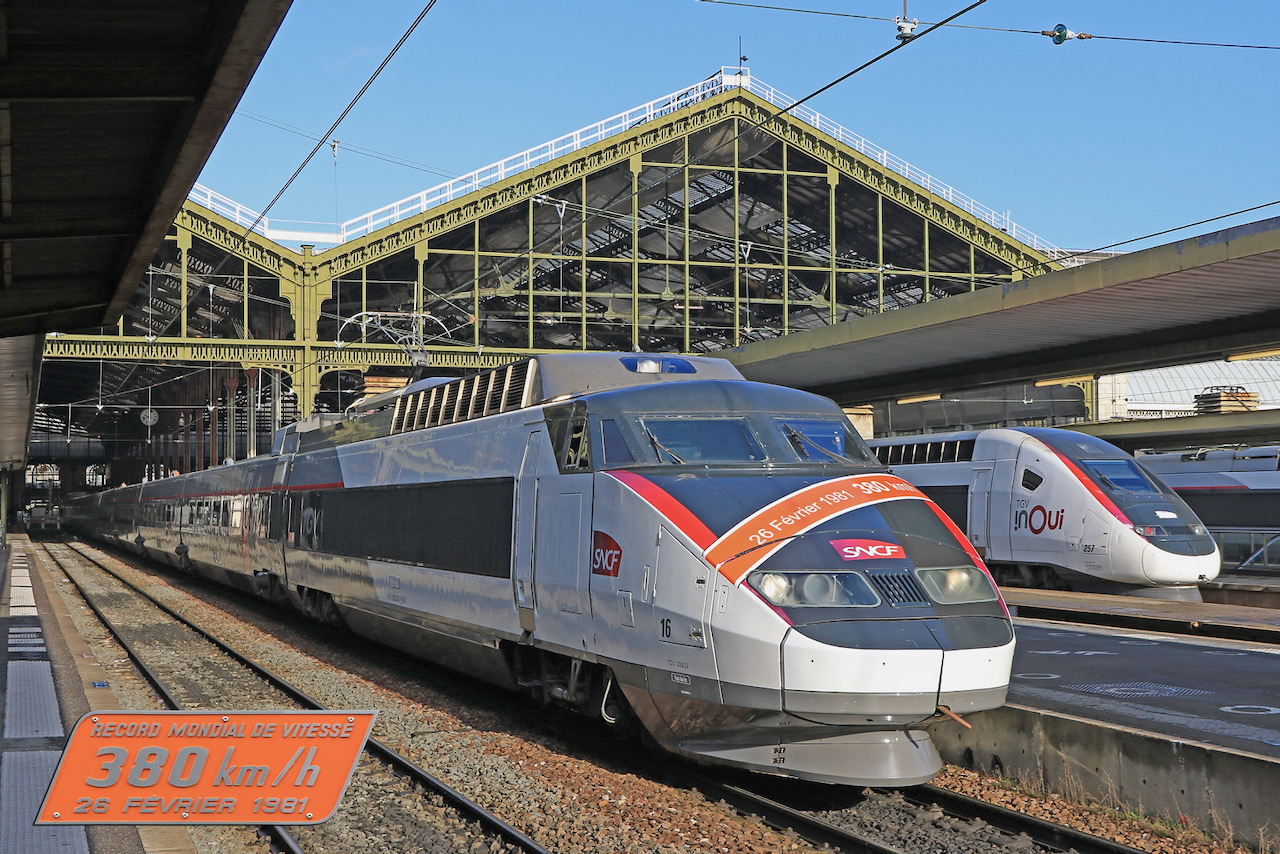 40th anniversary of a world speed record
On February 26th 1981, orange liveried TGV SE No 16 travelled into history at 380 kph. 40 years later, TGV No 16, withdrawn from service but restored by a group of SNCF drivers at Villeneuve St Georges, is authorised to operate again on the rail network. With no advance notice, the record breaking train could be seen on the morning of February 26th 2021 at platform H, Paris Gare de Lyon.
Photos Above - Christophe Masse. Right - Didier Delattre
It is reported that the restored TGV will be on display at Villeneuve St Georges next September (Patrimone days) and will make a tour of France later. Below 40 years separate the two views of 16 at Villeneuve St Georges (Photos Jean-Marc Frybourg)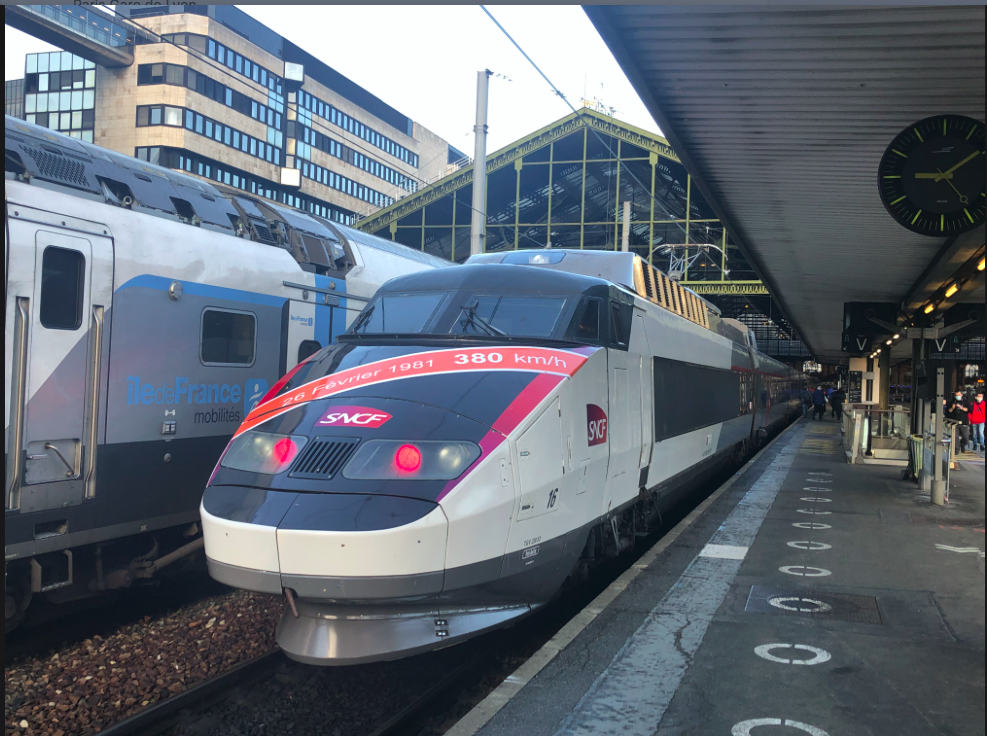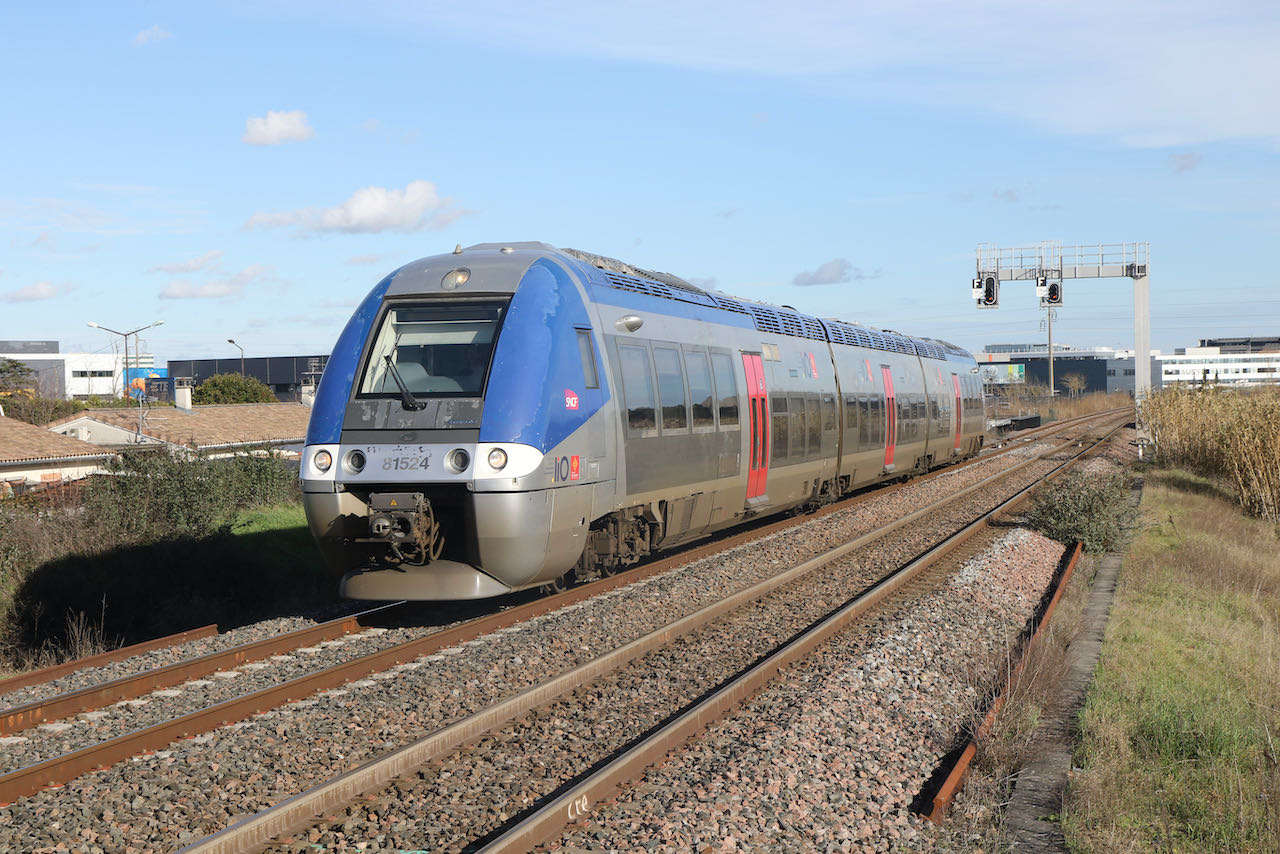 Occitanie Livery changes
Since the
Fusion de Regions
in 2016, the enlarged TER systems have created their individual identities with new liveries and a re-branding of their transport services. In Grand Est we now have
fluo
while Centre-Val de Loire has
Rémi.
In the Occitanie Region, we have liO, the new regional transport system. There will be two (or three) versions of the lio livery; a full version applied to new stock delivered from 2020 and to renovated stock (see below) and a partial version of the livery with red noses, yellow doors and vinyls and logos. This partial livery is to be applied by the Technicentre. There is also a "minimalist" livery with red doors and discreet liO markings with the region's logo (with a symbolized Languedoc cross) affixed on the driver's cabin above the fairing. See 81524 above, an ex Midi Pyrénées unit.

In January 2020 a contract was awarded to Albi based Safra to provide a "Confort and Esthétiques" renovation to 19 most dilapidated AGC's (option for +10 additional units). The renovation includes the full lio livery and complete refurbishment of the interior This includes removal of First Class, revised seating, new ceilings and improved facilities.
The prototype unit, B81847/848, was released on the 16th February in the full lio livery, overall red, with yellow doors and vinyls. It is seen below at Montastruc-la-Conseillère while returning from Albi to Toulouse Reynal.
.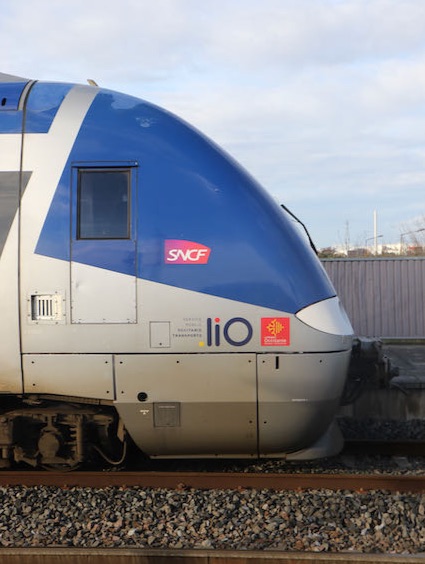 Above. on the 2nd February AGC B 81523/524 runs between Toulouse-Saint Cyprien-Arènes and Colomiers and will soon arrive at the next stop "Les Ramassiers. Note that the train is traveling on the right hand track at this end of the line in the Toulouse metropolitan area, called "line C". But the two tracks are bi-directional with BAL type signalling. Beyond Colomiers, the line becomes single track to Auch. All photos Georges Turpin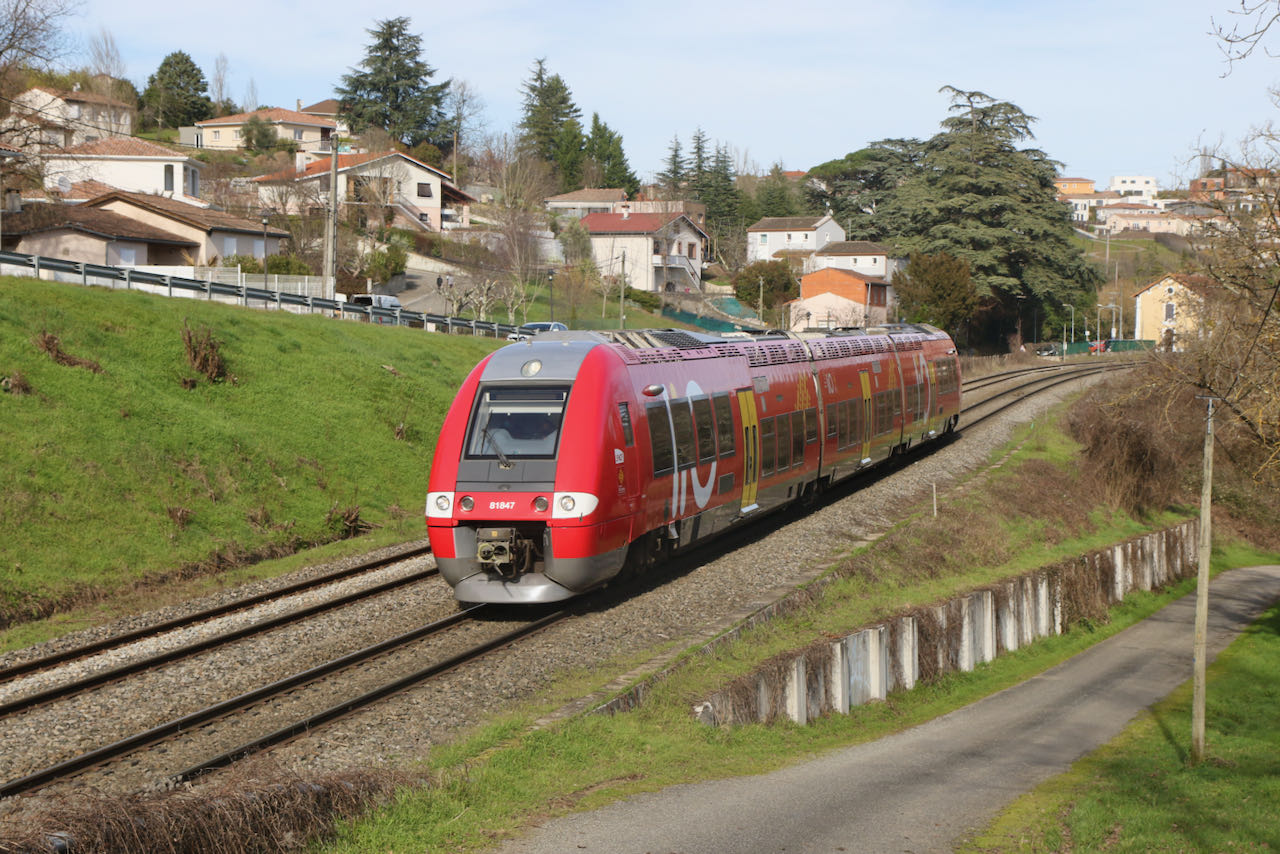 Railcoop gains momentum
Despite much scepticism in some quarters, the Railcoop cooperative society (formed in November 2019) continues to gather momentum. Railcoop plans to reintroduce a through service between Bordeaux and Lyon from June 2022. During 2020, they applied to the Rail Regulator to operate three passenger and one freight route on an open-access basis:
A local freight service Capdenac - Saint Joly yard, Toulouse at the end of 2021.

Bordeaux - Limoges - Lyon in June 2022,
Lyon - Thionville via Dijon, Nancy in 2023,
Toulouse - Rennes via Tours in 2023,
As there were no objections, Railcoop can now apply (in the spring of the year preceding the year of service) for timetable paths. So far, so good, but Railcoop also needs an Operator's licence and safety certificate (or a strategic partnership with a licensed operator), and rolling stock. One of the requirements for an Operator's Licence is a paid up share capital of €1.5 million.
In January, France 2 TV channel featured an extended report on Railcoop in their regular Tuesday evening investigative programme, "Envoyé Special"(see video right below). Following the broadcast, interest in Railcoop was so great that their website crashed (see
https://www.railcoop.fr
), but membership nearly doubled in a few days from 3,000 to nearly 5,400.
As a result, capital now exceeds €1.5 million and the départment of Creuse has donated €60,000. Other municipaliies along the route including Montlucon are now looking to support the project
On the rolling stock front Railcoop would ideally like 14 Alstom Regiolis units to operate the three proposed passenger routes. At €8-11 million a unit depending on whether 4 or 6 cars, Railcoop would need to find a financier prepared to buy them and then lease them to Railcoop. But none is available for mid June 2022. The choice is not yet made and discussions are also taking place with Stadler, Siemens and Italian constructor Titagarh Firema. The only realistic option is to start with second hand stock refurbished and overhauled, like SNCF X72500 units. This diesel railcar type was used on the last Bordeaux - Lyon services.
As shown in the TV report, Railcoop has been viewing withdrawn and abandoned couchette carriages in Eastern Europe but has apparently abandoned that idea. At the beginning of February, Railcoop was still communicating on 3 trains a day on the Bordeaux - Lyon route, one of which would be overnight. But it is quite unclear how that overnight service would work in terms of stock, traction and timetable slots, parts of the route being closed overnight.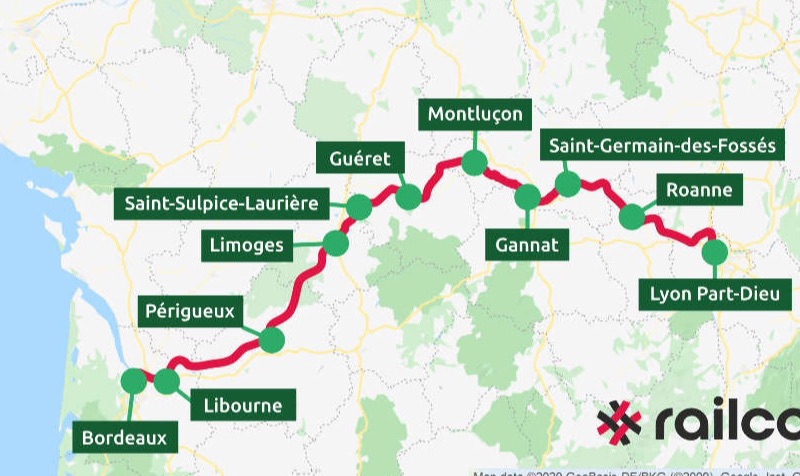 Whether or not we will observe Railcoop trains rumbling across the viaduct at Busseau-sur-Creuse next year remains to be seen

Last BB 25500s withdrawn
BB 25673 and BB 25679 the last two of the class were formally withdrawn on the 14th January. They had been retained at Strasbourg since their remaining duties were taken over by BB 22200 in December.
AS 25500
( Association de Sauvegarde d'une BB-25500) formed in 2019 by a group of Dijon Perrigny drivers hope to obtain both locomotives for preservation. 25679 would be preserved for future operations with 25673 for spares. 25609 is preserved at Mulhouse and 25639/25660 are preserved at Avignon.
Of the three classes of small electric locomotives (BB 8500, BB17000, BB 25500) only BB 8553 and BB 8556 now remain in service, and are retained at Toulouse for snow-clearing.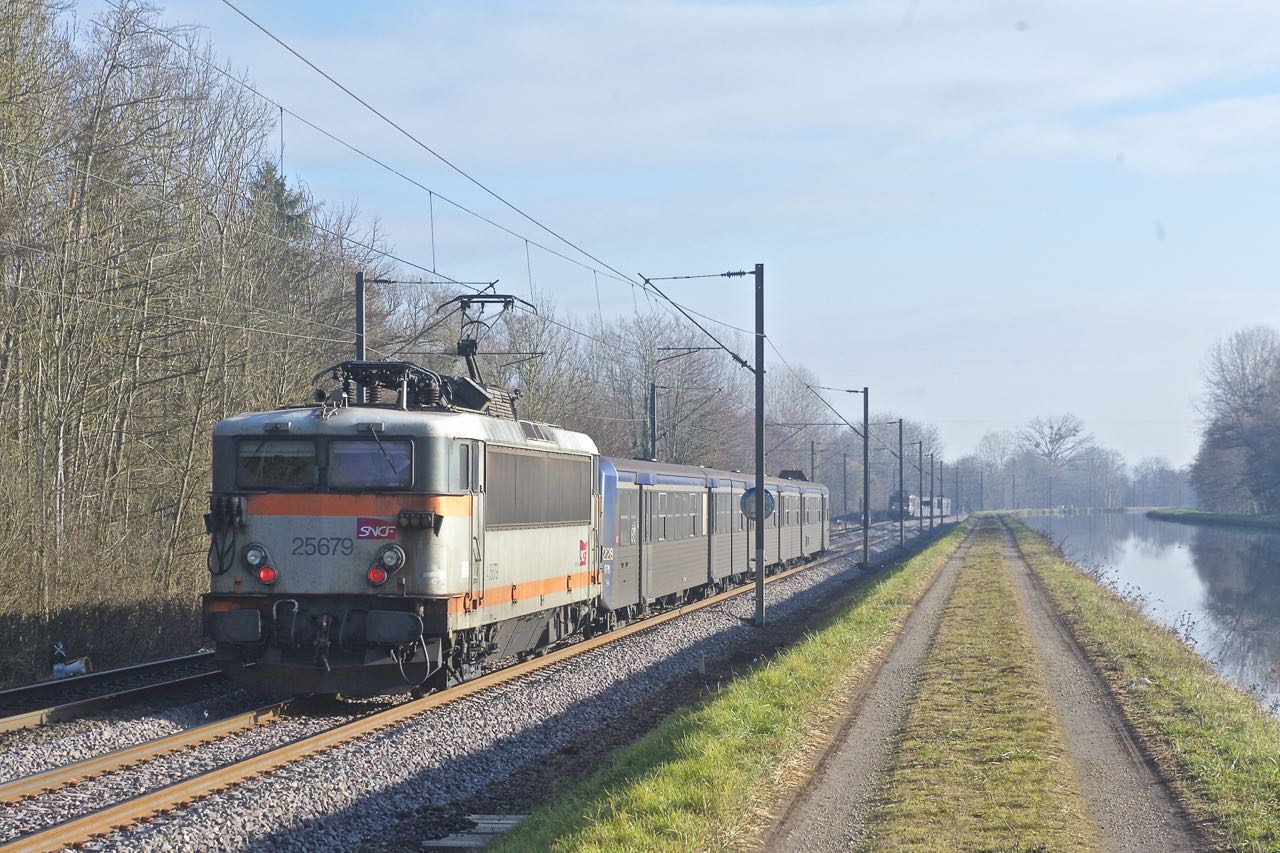 Above 25679 runs beside the Rhine-Marne Canal at Steinbourg on 14th December 2014 with the 11:23 Saverne - Strasbourg

Périgueux - Agen cut by landslide
A landslide has caused a retaining wall to collapse at Condezaygues (47), south of Monsempron-Libos, on the 1st February. This has caused rail services between Périgueux and Agen to be replaced by buses between Monsempron-Libos and Agen.
Work is expected to take some weeks and re-opening not envisaged until mid-March. A particular problem is the difference in height between the track and the adjacent road that will complicate extraction of the excavated material. Photo SNCF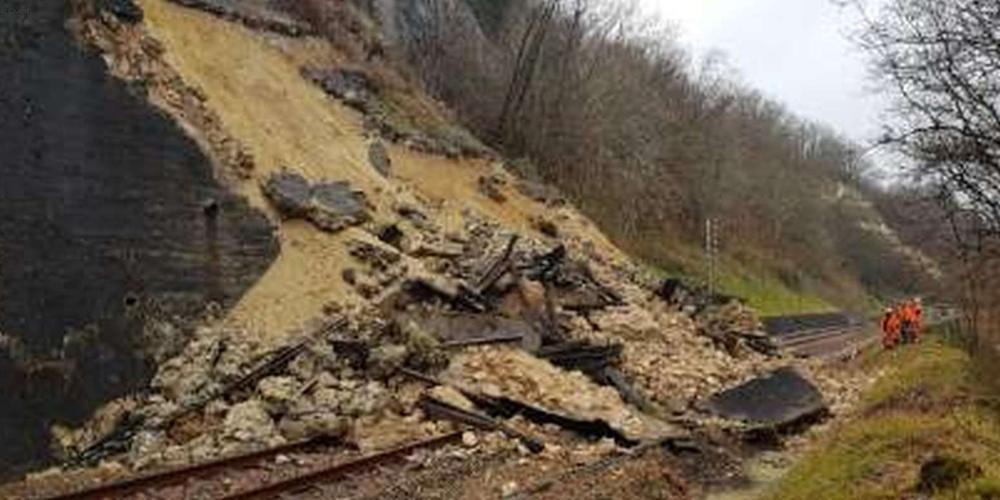 NANCY - new tramway network delayed by 5 - 8 years
On Thursday February 11th, the Nancy metropole council met and decided to suspend the project to build a new tramway on rails network that had been approved by a previous administration. This was essentially due to the precarious financial state of the metropole and the cost of the new tramway that exceeds 500 million euros, for which no financial arrangements have yet been made.
Use of the existing TVR guided trolley bus system will be extended only to the end of 2022. Thereafter, a restructuring of the public transport system will be implemented with new bus lines.
A future tramway network is envisaged after a thorough review with construction to begin after 2026.
Eskotrain developments
Four new four car units have been ordered from CAF by Eskotrain the Basque cross-border metro gauge line linking Hendaye with San Sebastián and Lasarte.
In a deal worth €32 million, the four units will be similar to the existing 3 car Class 950 units. Each of the new 4 car units will have capacity for 385 passengers, 30% with seats. Delivery is in two years time and will provide additional capacity for sporting and other events and help meet longer term plans for an enhanced service over the route.
A new tunnel is also being built under Central San Sebastián and will open in 2022 to eliminate the need for trains to reverse at Amara
FIGEAC station fire
- the consequences
During the night of November 22nd 2018, an accidental fire destroyed the roof and interior of Figeac station building in the département of Lot. The station building (BV) is situated inside the junction formed by the lines from Brive and Aurillac to Capdenac, Rodez and Toulouse. The signal box inside the BV was destroyed. The signalling technology used is obsolete.
In June 2019, train services were resumed between Brive and Rodez. In October 2019 train services were resumed from Aurillac but only to a terminus at Figeac. Occitanie Region has requested that SNCF Réseau re-establish a signalling system to permit trains to operate between Aurillac and Capdenac, but the new installation will only be finished at the end of 2023.
None of the various departments of SNCF, ( Réseau, Voyageurs and Gares et Connexions), wished to occupy the BV. Consequently Occitanie Region acquired the BV, of which only the walls remained, for 100,000 euros. A temporary roof was installed. Between Oct 2019 and March 2020, discussions took place and the following plans were made:
- reconstruction of the BV with the historic facade
- an SNCF guichet
- a waiting room with Wifi -
a Maison de la Region with offices, work spaces, meeting rooms
- outside, two shelters for bicycles and parking for regional buses
The total cost for the Region will be 1.6 million euros. Work is expected to start mid 2021 and be completed during 2022. The historical BV at Figeac was built by the Compagnie Paris - Orléans (PO) and opened in 1862.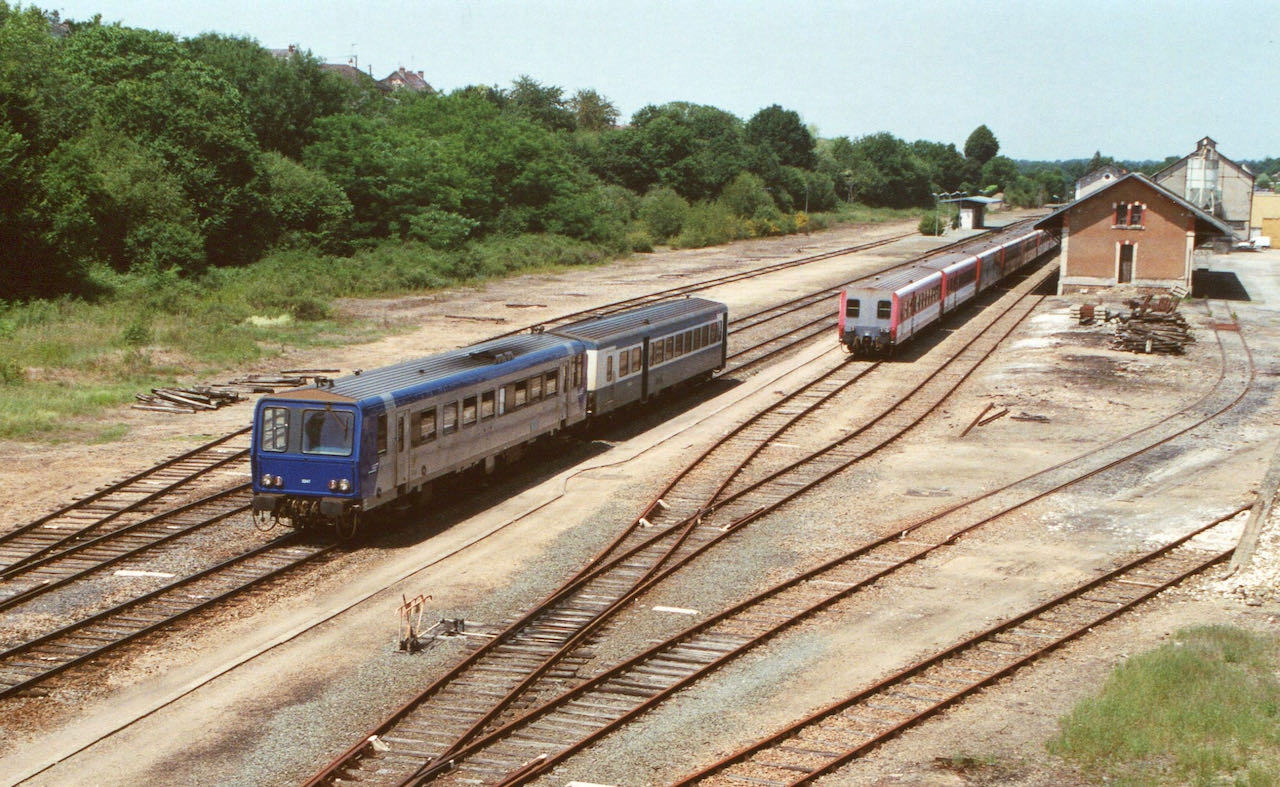 Vierzon Specials
A new association,
CFTST
- Autorails de Touraine (Chemin de fer touristique Sud Touraine), based at Vierzon, has announced its first special excursions on board a diesel railcar from the 1980's. This is X 2141, preserved, with X 2124 and a trailer, at Vierzon depot SNCF since May 2018. The association has completed the repairs and formalities required to operate X 2141 and later will complete the work to be able to operate X 2124 and the XR trailor.
These two railcars are the only ones of the type (2100) to be preserved for operation on the mainline network. They represent the last version of the 'traditional' single diesel railcar produced between 1958 and 1982. Compatible with the X 2800 and X 2200 and associated with the ubiquitous XR traile, these railcar trains could be seen along the majority of rural secondary lines in France for 30 - 35 years from 1982.
The special trains are planned for the spring of 2021 subject to any restrictions due to Covid
Sunday April 4th. Vierzon - Tours. visit town centre
Saturday April 24th Vierzon - Montluçon. Visit Rotonde, AAATV depot
Saturday May 8th. Vierzon - Saint Pierre des Corps. Visit restoration Chapelon Pacific Nord
The single X 2141 railcar has just 48 seats. When the full train, 2124 + XR + 2141, becomes available there will be 175 seats.
Photos. Le Dorat (opened by the PO in 1867), June 2002. Above A service Poitiers - Limoges. X 2100 + XR. Below eight trailors waiting for disposal and the stylish waiting room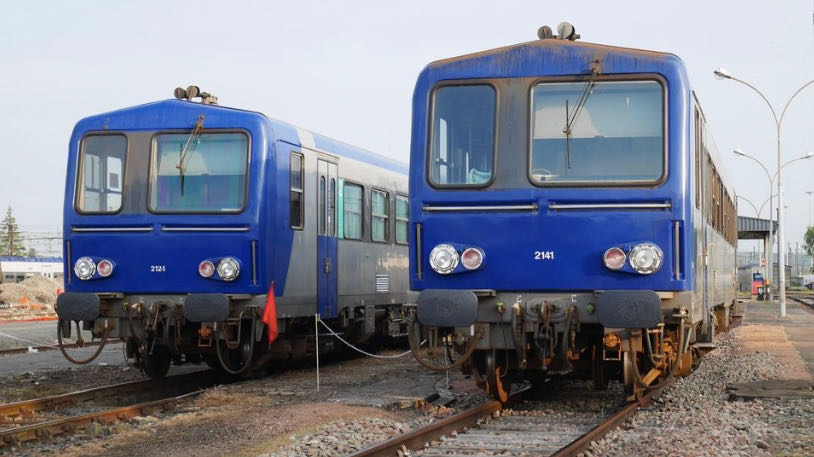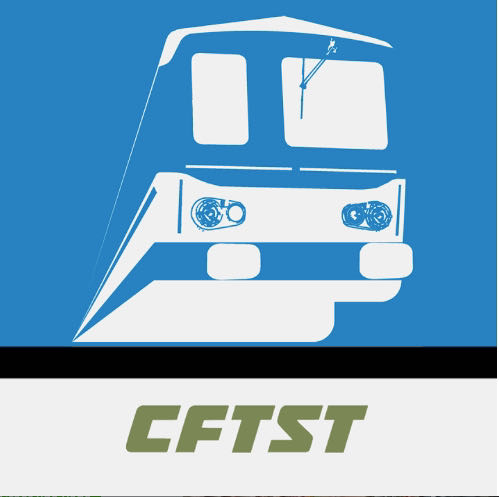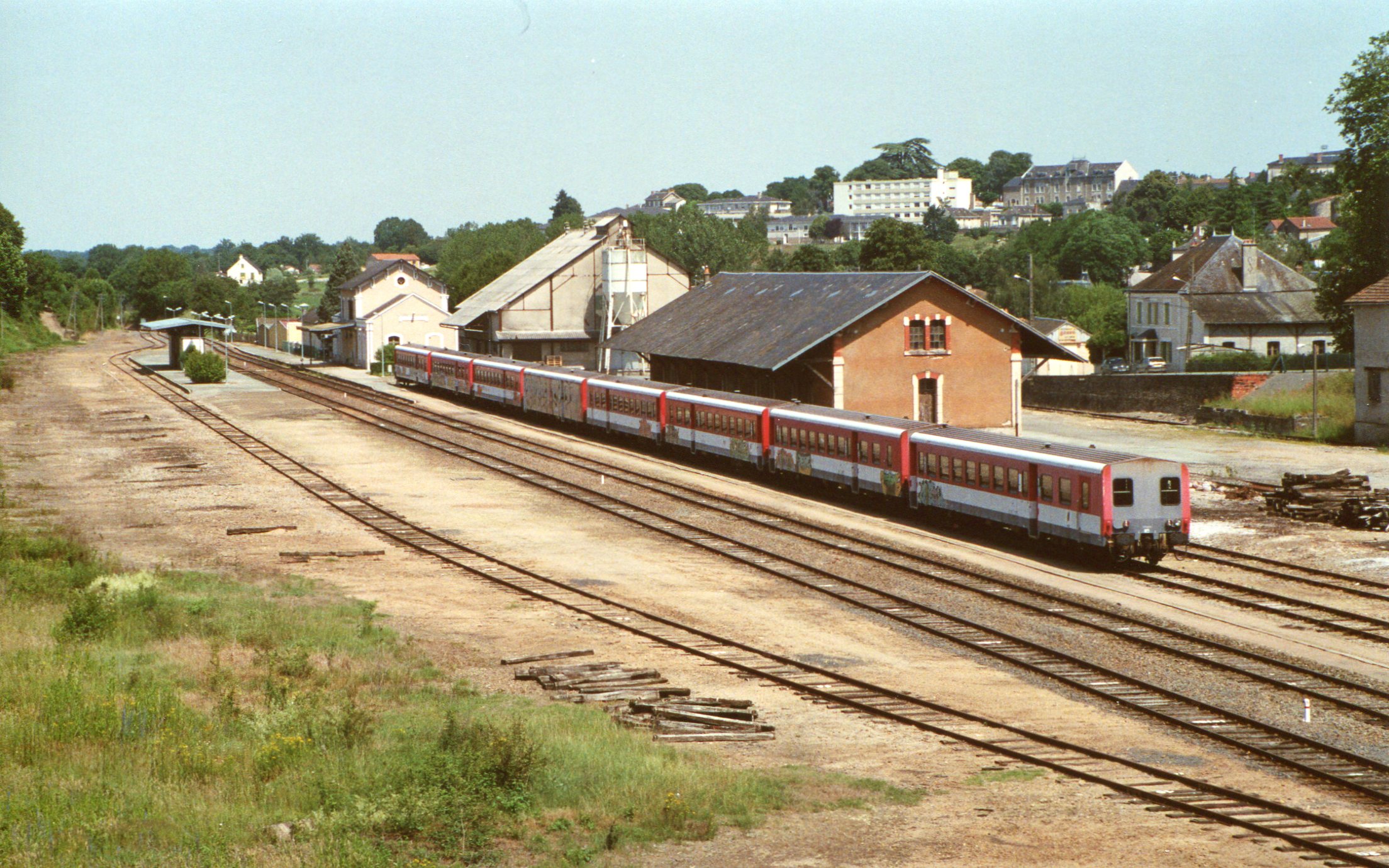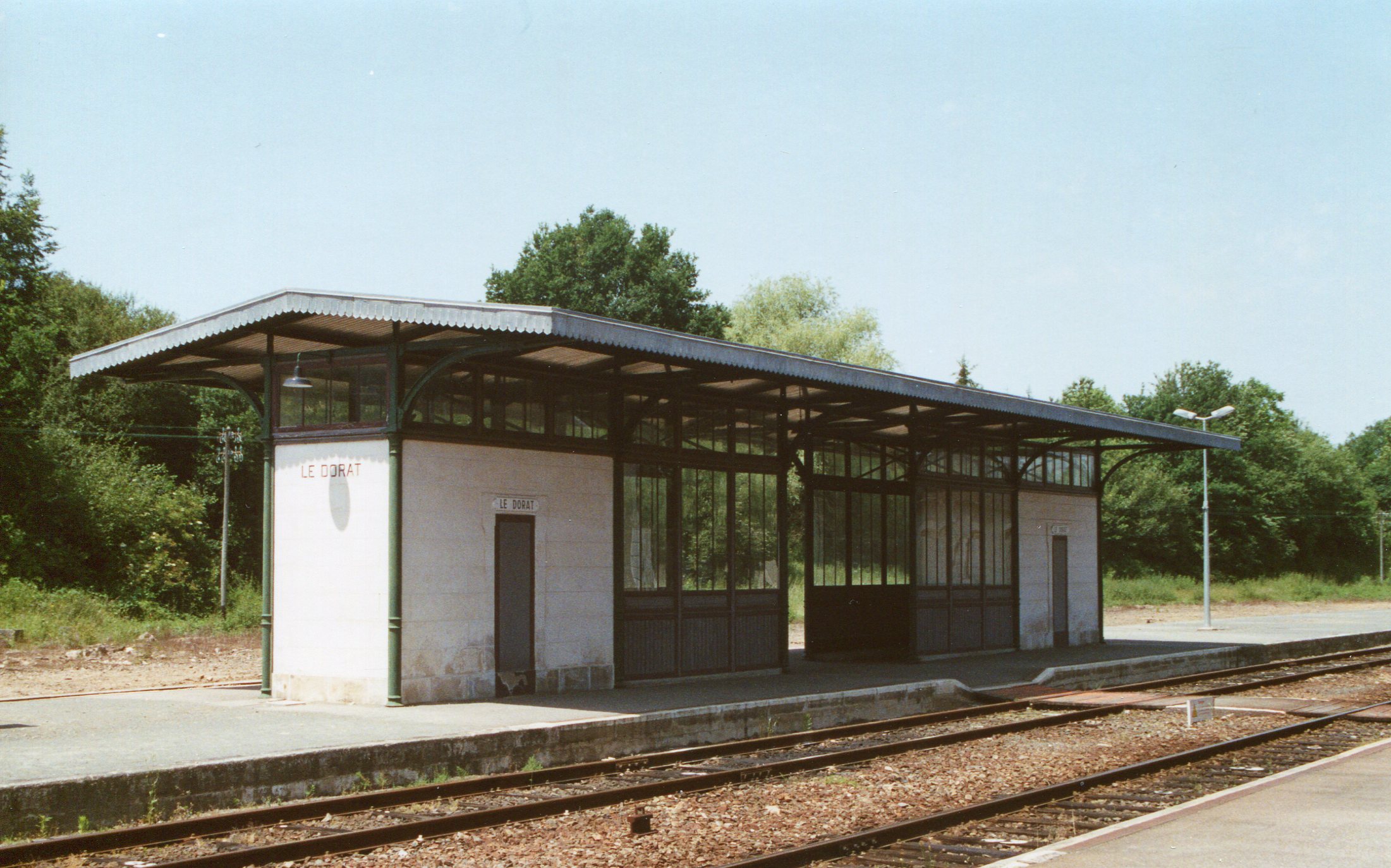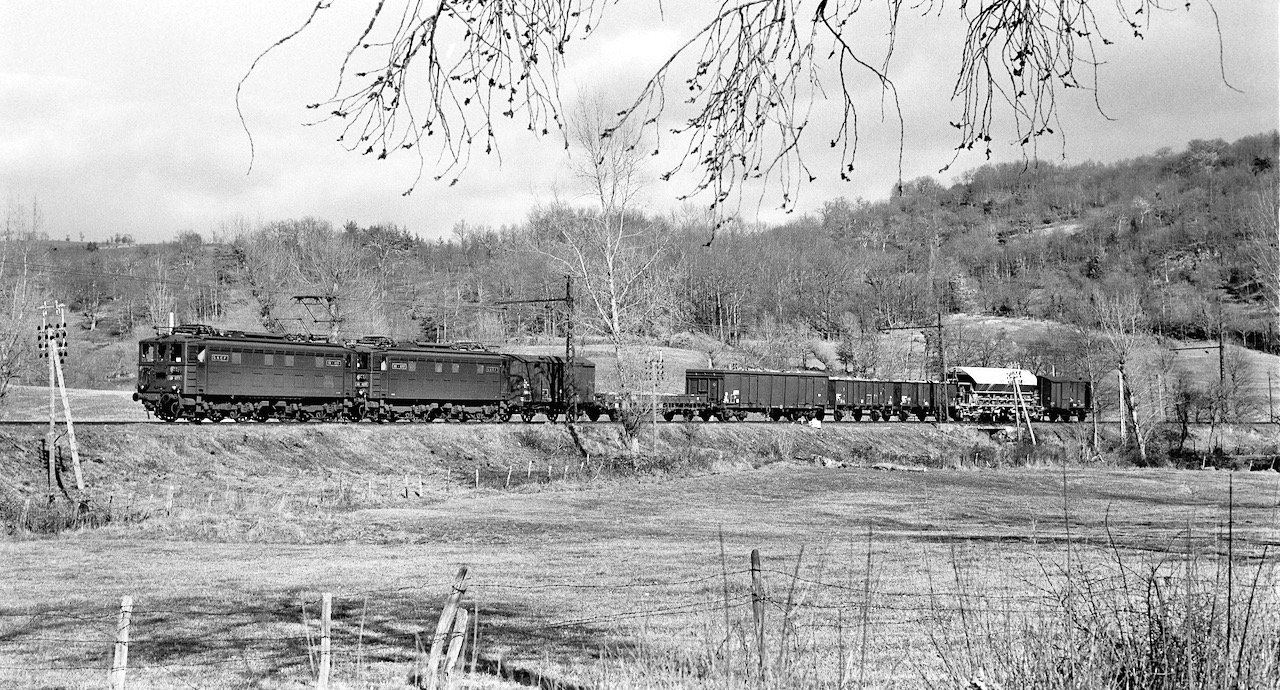 Turning back the clock on the Aubrac
With services suspended between Neussargues and St Chely we turn back the clock 48 years to February 1973, the final days of BB 4200 on the line. At the time the sub-stations were being rebuilt and the rotary switches were replaced by static rectifiers. As a result the regenerative braking on the BB 4200s could no longer be used and they were replaced by older BB 4100s equipped with rheostatic braking. Above A double headed BB 4200 freight at Ajustons, below at Banassac la Canourgue and finally shunting at Marvejols. All photos Michel Costes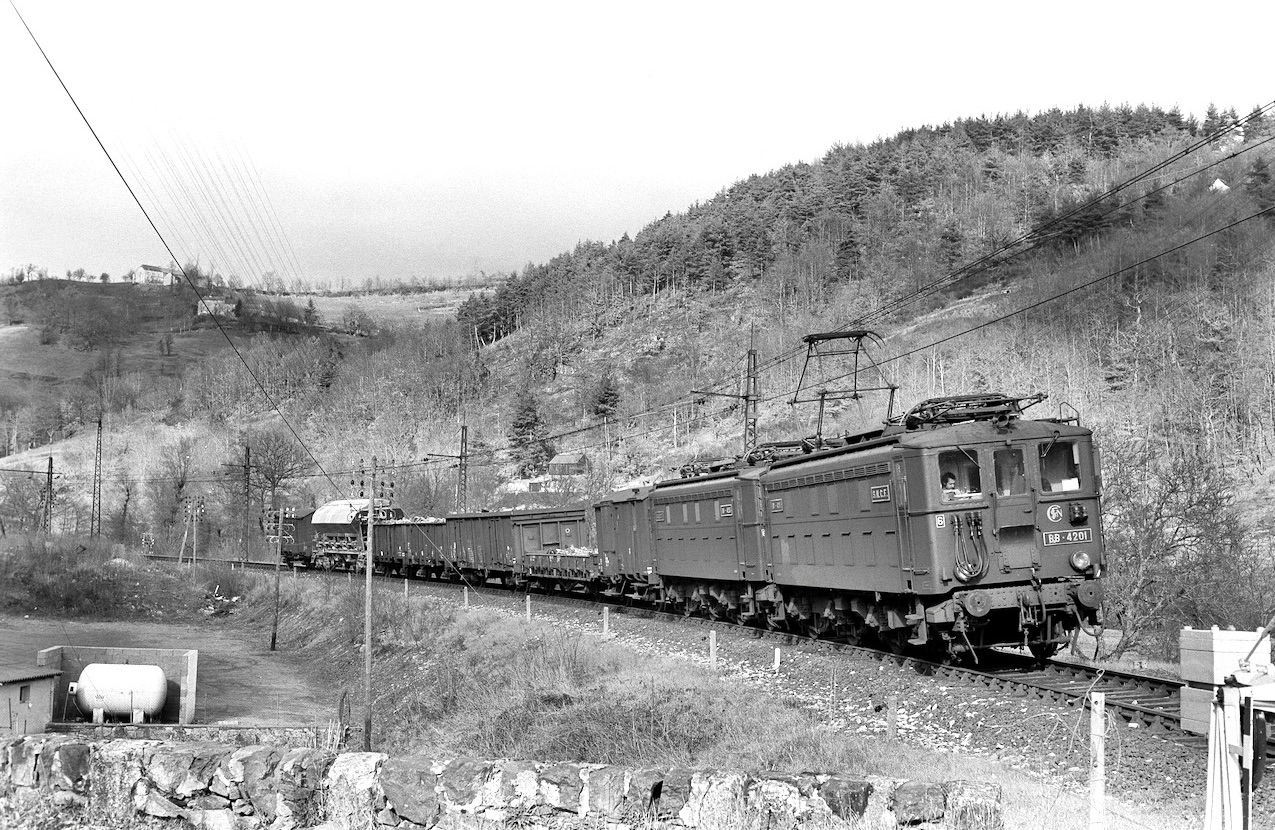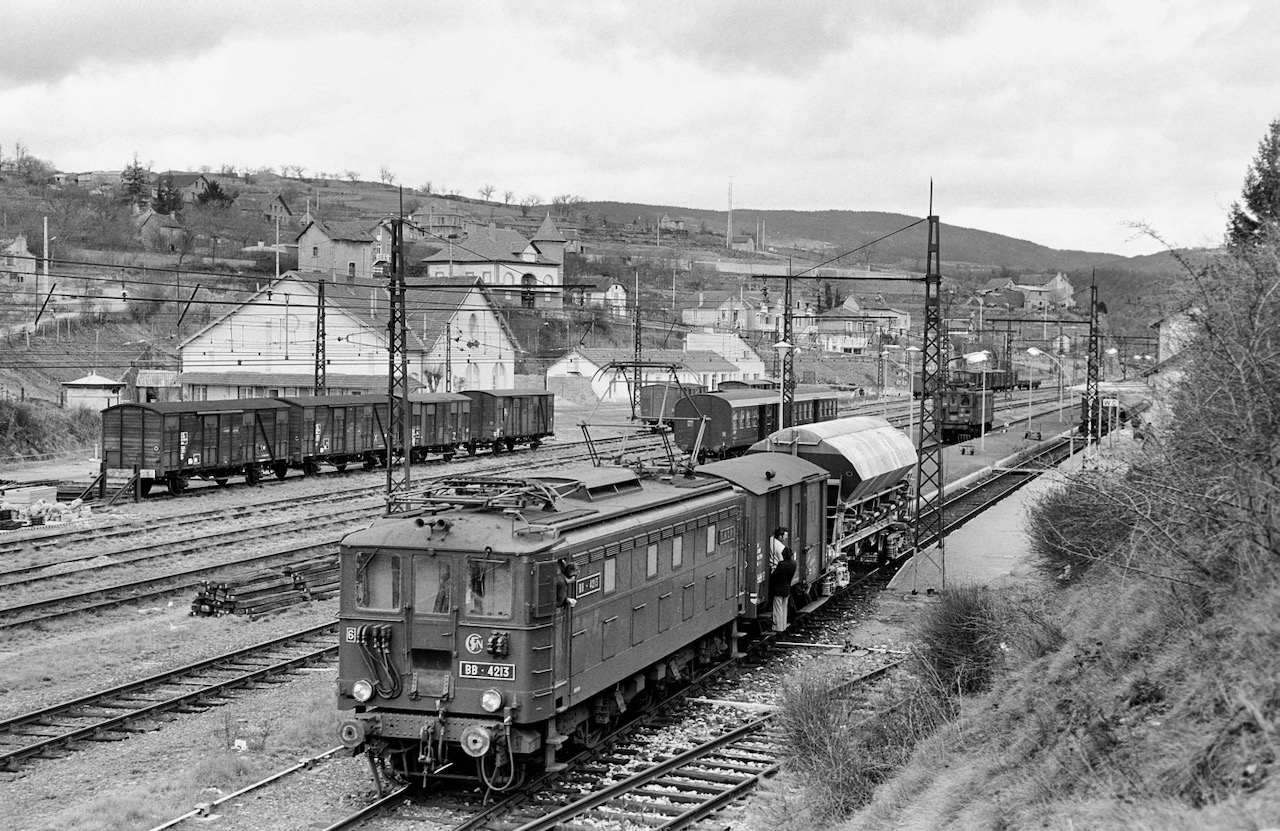 Additions to FRS Photographic Archive during February 2021
All Folder 4 unless noted
- Extract from Rail Magazine - "Surnoms de la Vapeur" ( steam locomotive nicknames)
- Inventory of SNCF electric motive power in 1948
- CdF du Midi
- RATP - Materiel Sprague-Thomson, MF77 & MF 88
- Automotrices Z.3800, Z.9500, Z.8800, Z.7100 & MI.79
- Au service de la Manoeuvres
- Voitures VB2N, V2N, Corail VTU & VU
- TGV Sud-Est & Atlantique - design & development
- RER Ligne C
- Additional pages to existing gallery "Locomotives built at SACM"
- Performances on Ligne 4 (Paris/Mulhouse)
- Gare du Nord renovation 1992/1993
- Autorail X.4200 Panoramique
- Nord Atlantics (type 221)
- Metro Lyon
- Diesel locomotives 040DG & 060GA
- Evolution Parc Voyageurs Remorques July 1993 (update on "Encyclopaedia des Voitures SNCF - publ. LVDR 1990)
- Voies Ferrées @ Renault works Billancourt
- SNCF - Freight wagons loading guide, placed in "Wagons a Marchandises"
- French Railway Suppliers Group - brochure 1951, placed in "Locomotive & rolling stock builders"
- Electric locomotives BB.16500, BB.9400, CC.21003/21004, BB.7200, BB.22200, BB.10004, BB.10003 & BB.20011/20012
- Gas Turbine Locomotive 040GA1
- CIWL - 75 years of CIWL & Pullman carriages by Roger Commault
- Drawings of Alsace Lorraine buildings & AL voitures, donated by our member Jean Willig, placed in Folder 2
- Jean Gillot galleries - Overview of steam locomotives regions "Nord" & "Est" - placed in Folder 1
No Additions to the FRS public folder during February 2021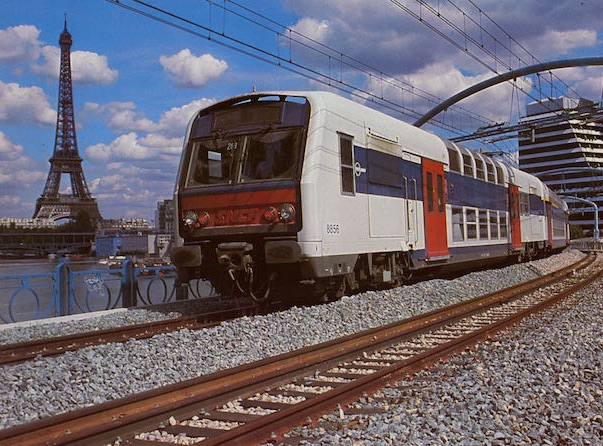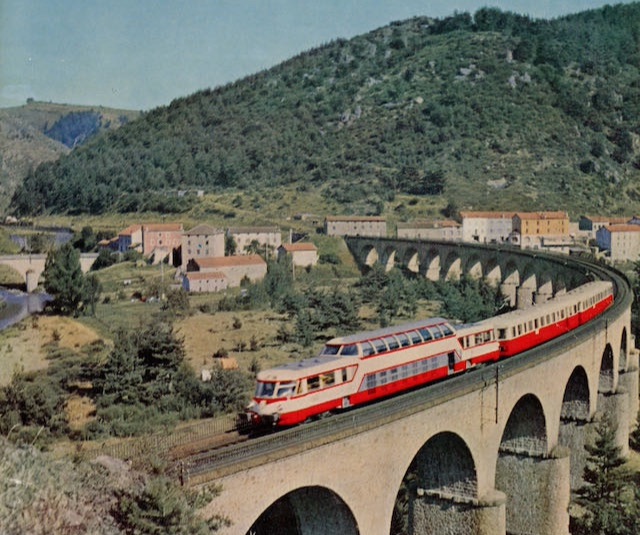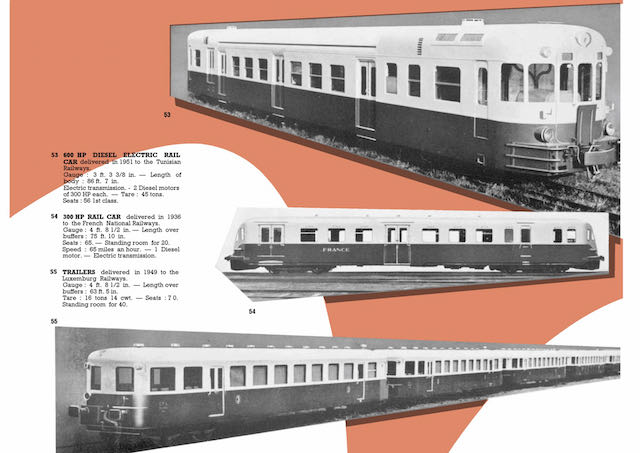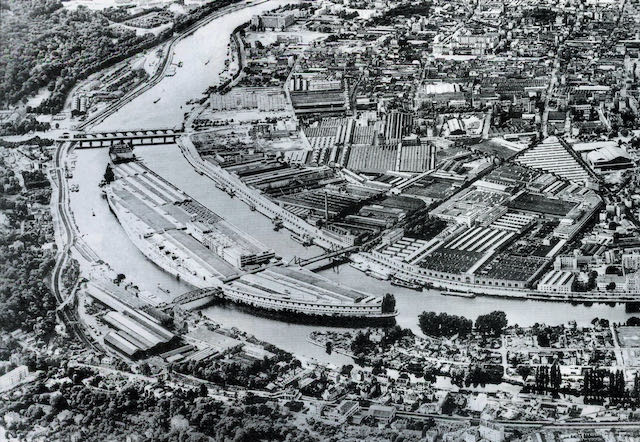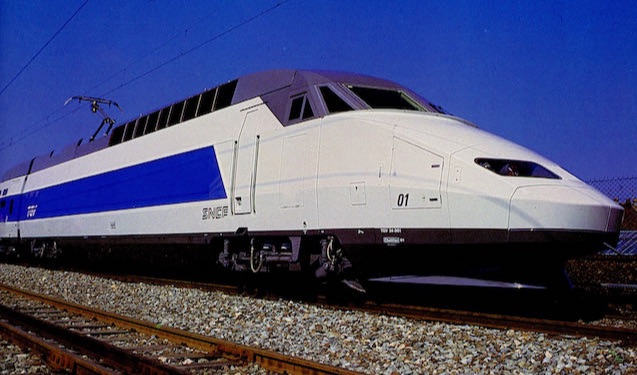 © Peter Lovell & Graham Skinner. The French Railways Society 2021. With thanks to Michel Costes, Romain Vergnères, Erwan Quintin, Georges Turpin, Jean Louis Poggi, Didier Delattre, Jean-Marc Frybourg, Christophe Masse, Damien Clémendot & Laurent Radice.