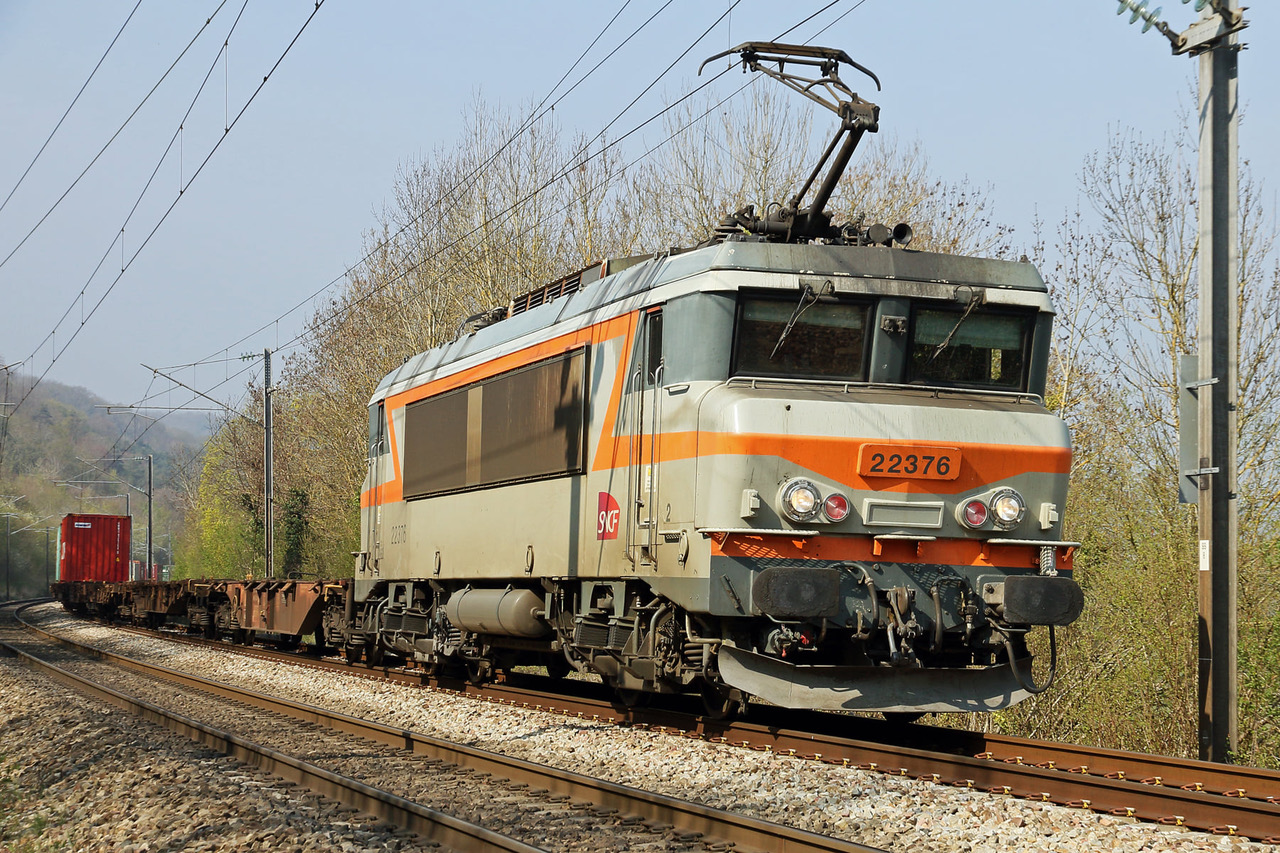 The spring sunshine highlights the béton and orange livery of BB 22376 as it passes through the Seine Valley near St.Pierre du Vauvray on the 21st April 2021 with a Naviland container service from Le Havre to Bordeaux Hourcade. Photo Jocelyne Bourneuf
Coronavirus upsurge creates summer uncertainty
An increase in the level of Coronavirus infections at the end of March saw the introduction of restrictions across France from 3rd April with schools and non-essential shops closed and travel limited to 10kms without a valid reason. As a result, many TER operators introduced revised timetables with reduced services to reflect the fall in passenger numbers. On a positive note the rebuilt line from St Pol to Etaples re-opened on Monday 26th April with half price fares until the end of June for those able to travel. The renovation of this line is part of the overall renovation project of the three lines of the star of St Pol at a cost of nearly 93 million euros. Nearly 80% funded by the Region, 10% by the State and 8.5% by SNCF Réseau. The St Pol - Etaples line represents 51.6million of the total budget.
For the preservation movement, who had to cancel operations over the Easter holiday, hopes of a good season to recoup some of the financial losses sustained last year remain uncertain. On Thursday 24th April Prime Minister Jean Castex announced that the restrictions would be eased during May, with the 10km travel restriction lifted from the 3rd May, although the nightime curfew from 7pm to 6 am will remain. The restrictions on restaurants and cafes are expected to be eased from mid May.
CFBS now plan to commence operations on Thursday 13th May, P'tit train de la Haute Somme will start operating trains on the 8th May but the museum and catering will remain closed until later in the month. Further south Le Train historique de Toulouse cancelled their trip to Sete on the 17th April but plan to operate their trip to Limoges visiting Oradour sur Glane on the 8th May with each eight seat compartment restricted to four occupants.

Looking further ahead, plans for the next CFBS Fete de Vapeur on 3/4th July are shaping up (see poster opposite) although at the time of writing there is little specific detail available. MFPN have also announced a series of tours with preserved tri-voltage electric CC 40110 as follows:
July 14 Paris - Amiens, August 14th Paris - LIsieux - Deauville, September 18 Paris - Reims, December 4 Paris - Amiens.
Train à Vapeur d'Auvergne have announced that they will be providing the rolling stock for the Gorges d'Allier tourist trains again this year (presumably their RRR sets) and they plan to operate on 14th/21st/28th July, 4th/11th/18th/25th August and 1st September running from Clermont Ferrand to Langogne. They have also announced a tour from Clermont Ferrand to Cosne sur Loire on the 26th June using coaches from their historic train that have been recently overhauled. 141 R 420 still needs attention to its axles and will not return to service until 2022 at the earliest.
Hopefully these plans will come to fruition but will be dependant on Coronavirus infections falling, and for UK residents, reasonable restrictions in terms of testing and isolation upon return.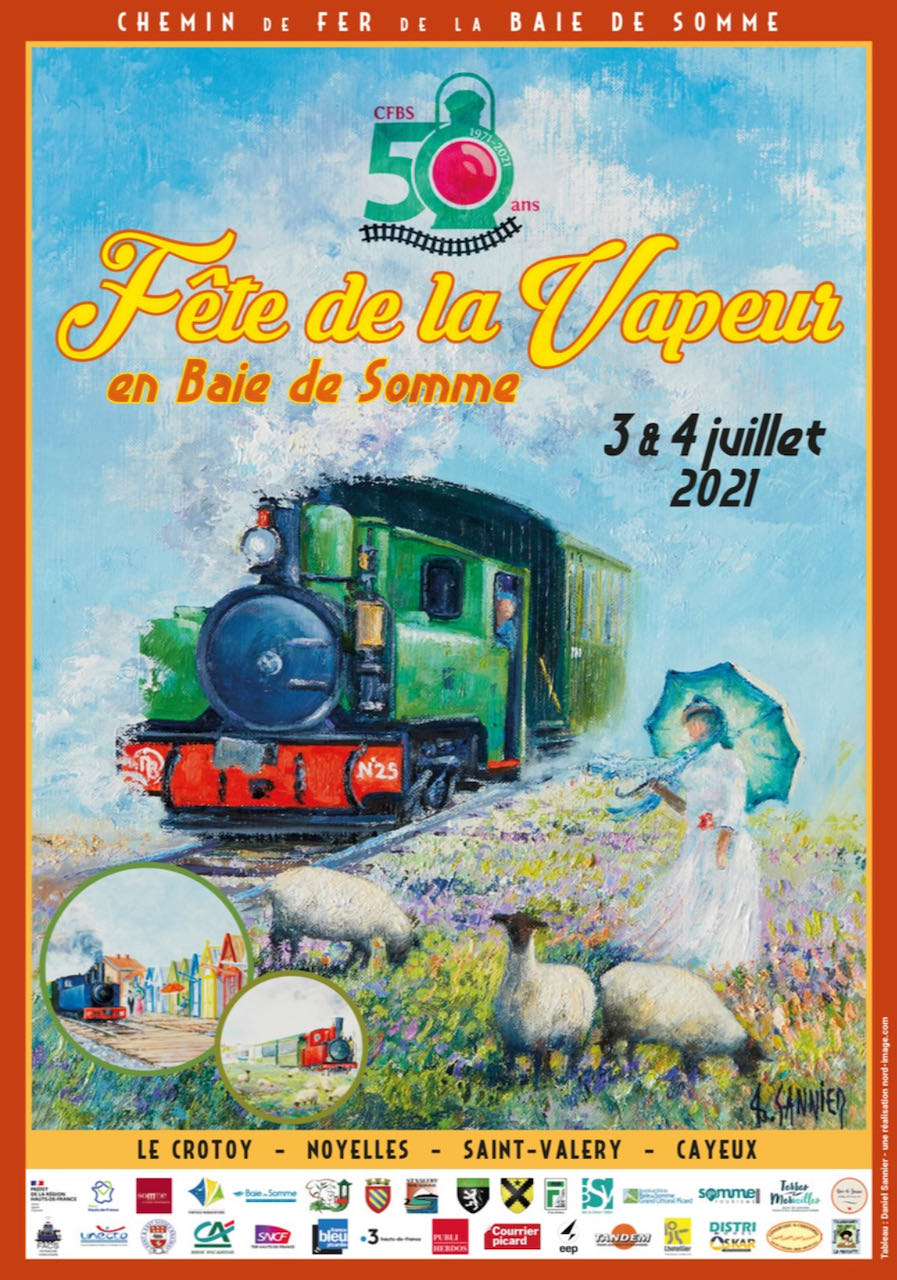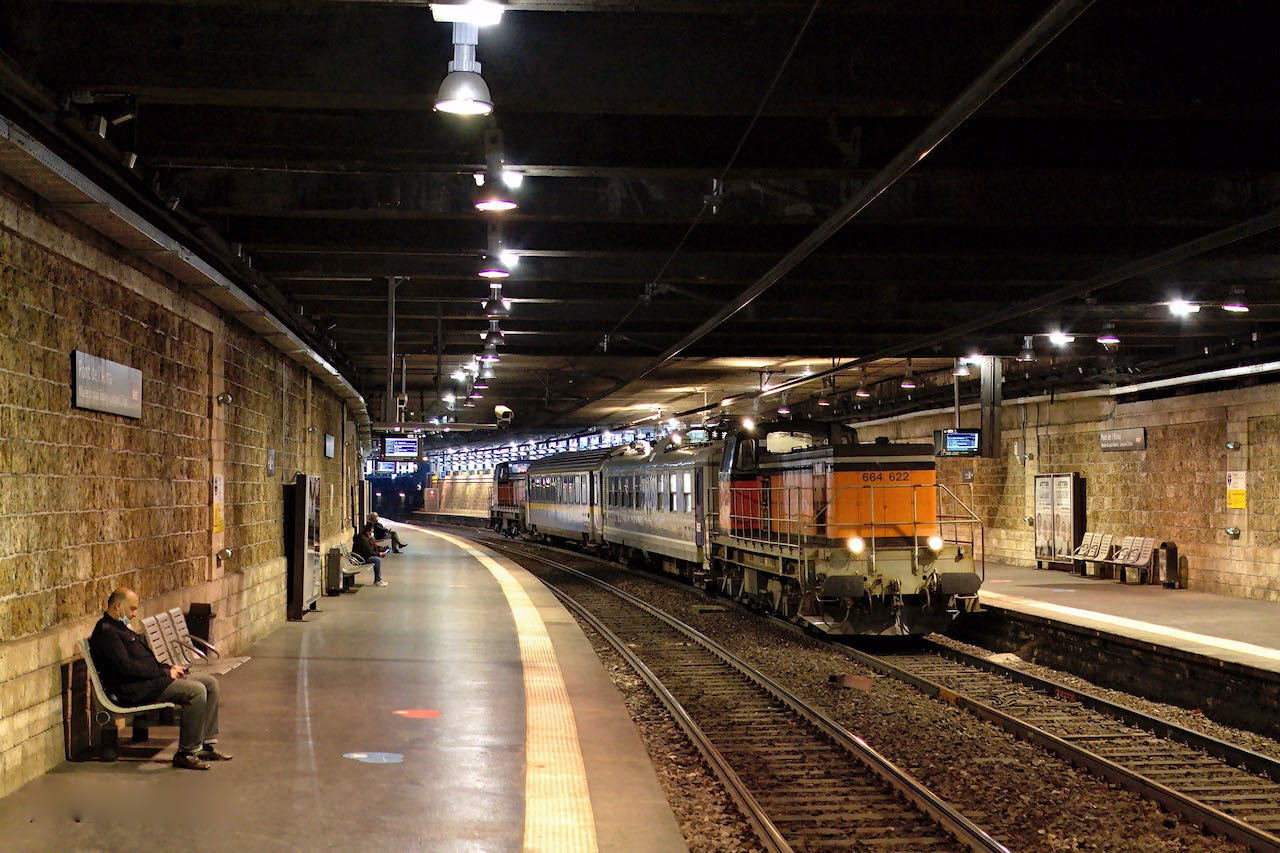 Afternoon in Paris. BB 64622 leads the VZC172 inspection train through Pont-de-l'Alma on the afternoon of 27th April during an inspection tour of the catenary on RER Line C between Ermont-Eaubonne and Invalides. Photo Erwan Quintin.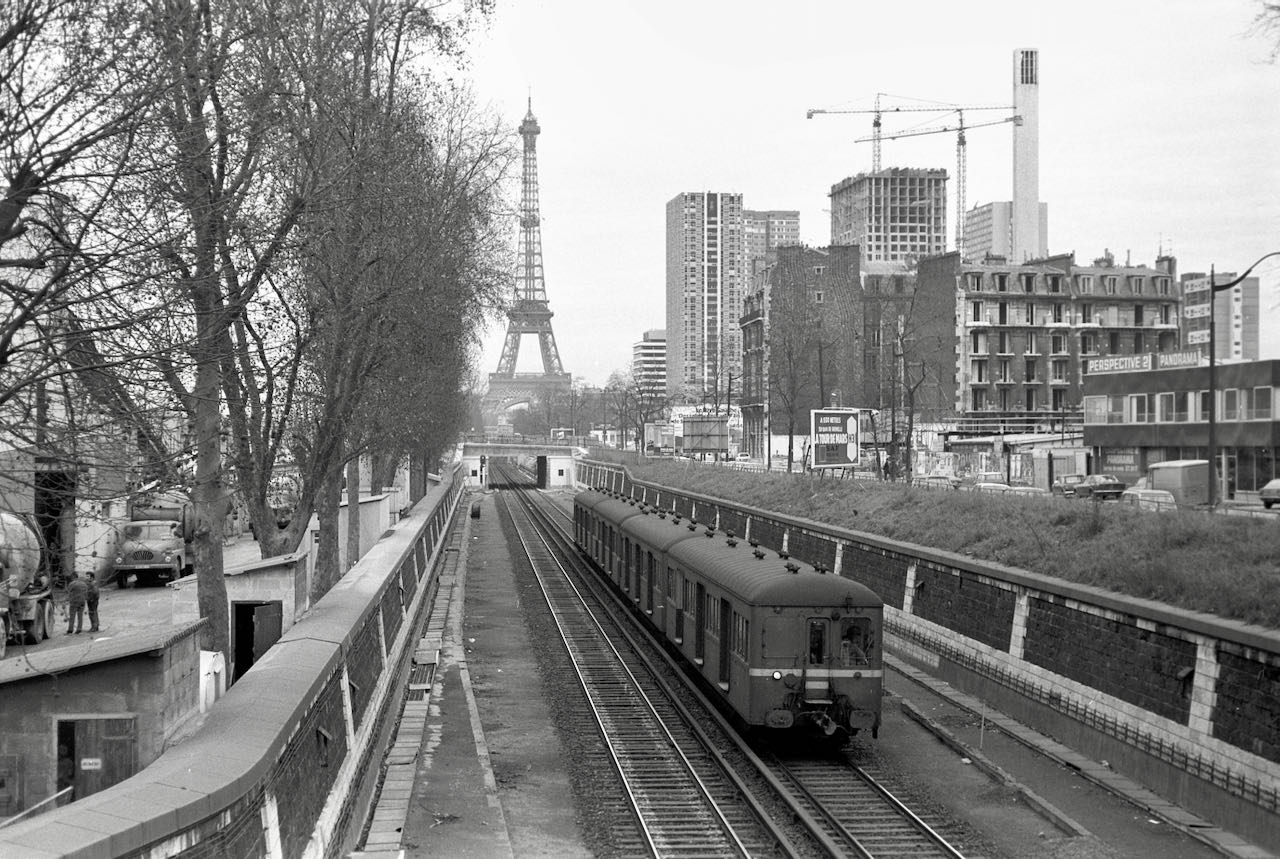 Turning back the clock
The line from Invalides to Versailles Rive-Gauche was originally opened in 1900 - 1902 and it was electrified at 750 volts 3rd rail. A "rame Standard" dating from 1930 is seen operating a service from Invalides to Versailles in 1974. On the right a vast programme of residential redevelopment was underway. It was called "Front de Seine". The photo was taken at Javel, two stations down stream from Pont de l'Alma. The Seine is on the left hand side.
In 1979 everything changed. The line to Versailles was modernised and re-electrified at 1500 volts DC with overhead wires. The "rames Standard" were replaced by Z 5300 emu's. The gap between Invalides and Orsay was filled by a new tunnel and through services from Austerlitz were started as Transversale Rive Gauche, later RER C.
The attractive Pagoda passenger building over the tracks at Javel has survived, surprisingly, since 1974. Numerous French automobiles of that epoque can be seen on the left. The Seine is out of sight on the right. Both B&W photos by D Michel Costes.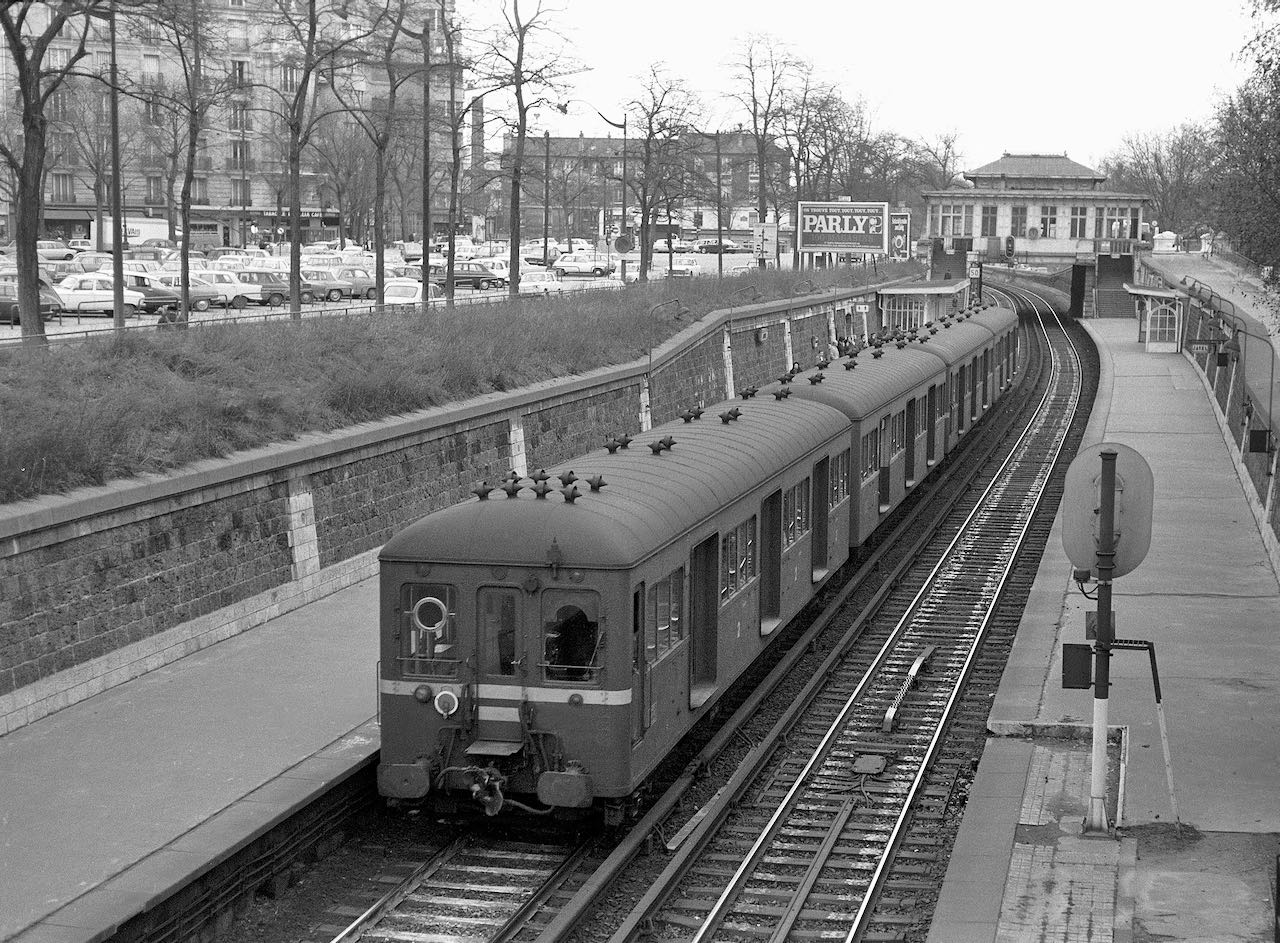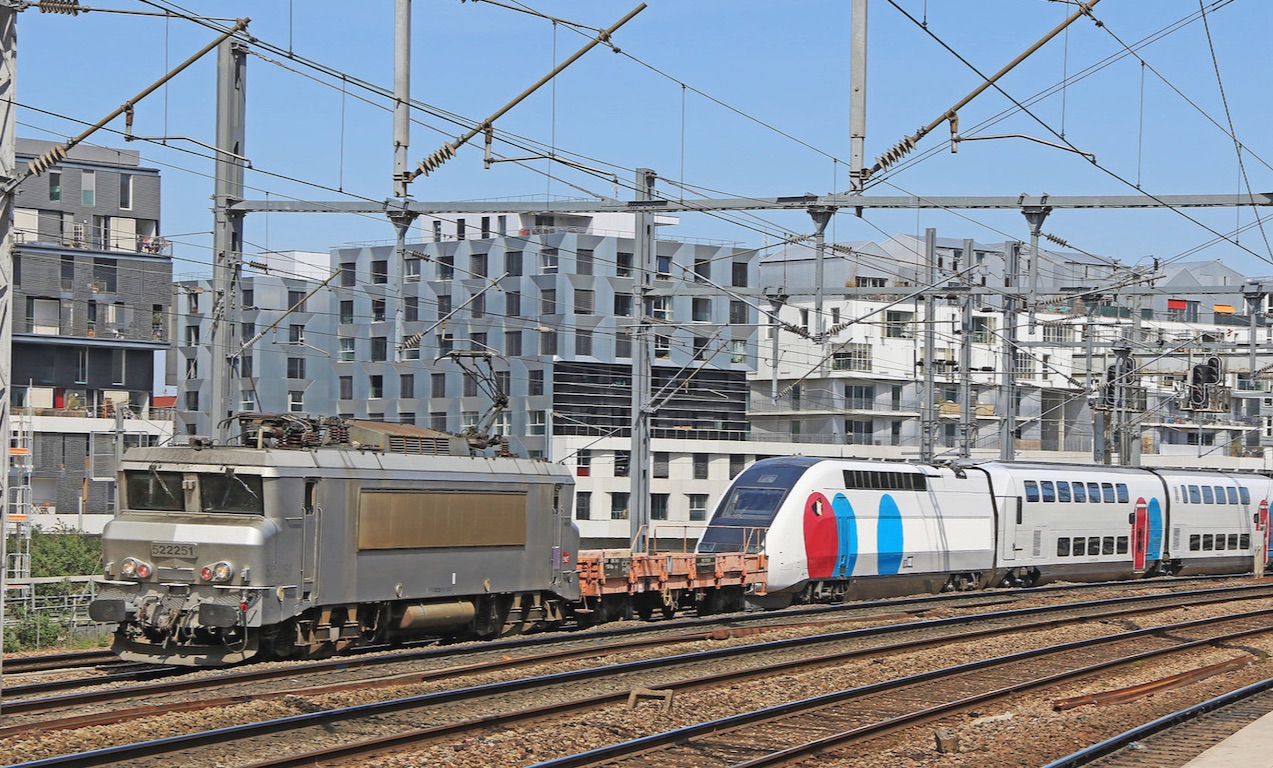 TGV 811 has been adapted and repainted for the Ouigo Spanish service. On Saturday 24th April it is seen heading into Gare de l"Est hauled by BB 22251 during testing before entering commercial service. Photo Christophe Masse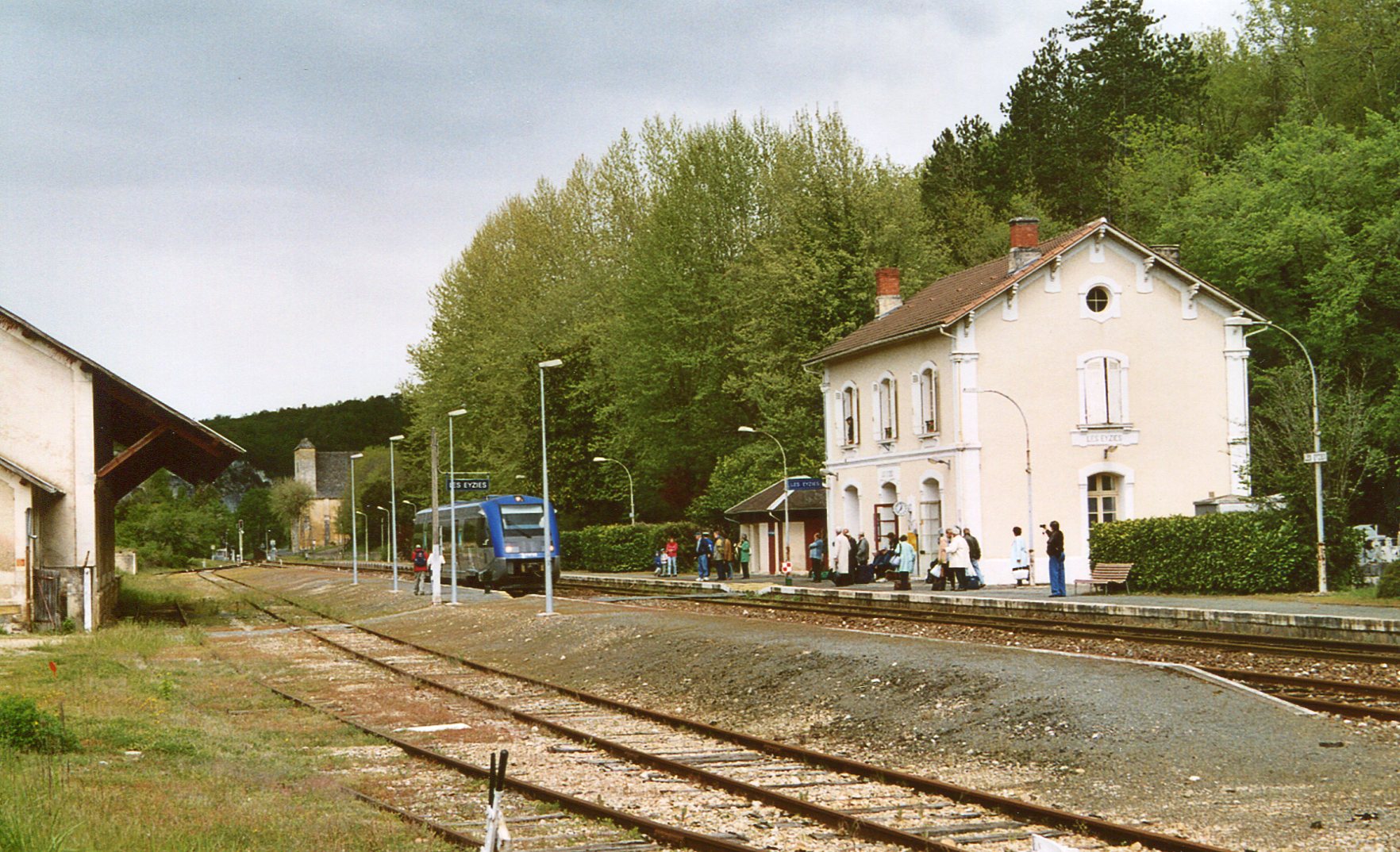 SPOTLIGHT ON NOUVELLE AQUITAINE - 2021
At 84,000 sq km,
Nouvelle Aquitaine Region
is the largest in area of all the 13 regions in France. The Atlantic coast stretches for 720 km from La Rochelle to Hendaye forming the western boundary of this Region. The inland regional borders touch Pays de la Loire, Centre Val-de-Loire, Auvergne Rhône Alpes, Occitanie and the international frontier with Spain. Nouvelle Aquitaine has a population of 6 million. It was formed by the merger of Aquitaine, Limousin and Poitou-Charente in 2016. The capital is Bordeaux which is just 2 hours from Paris by the TGV Inoui. The region includes 12 départements, listed below.
The rail network in Nouvelle Aquitaine (including 250 km of LGV) totals 3,410 km of which 1,856 km (54%) of the lines are classified as "lignes de desserte fine". It is the largest group of such lines in any Region of France. Many are in poor condition and several lines are temporarily closed, awaiting regeneration.
Above. A classic scene at Les Eyzies, Dordogne. A TER Périgueux - Agen formed of a single X73500 unit waits to cross a well patronised up service. (Who is the photographer on the far right!)
TER Train fleet
The TER Nouvelle Aquitaine rail network carries 63,000 passengers on 700 trains daily. There are 34 routes, currently, and a fleet of 203 modern train sets. (
See the route diagram
)
The fleet is divided into the following types;
Bi-mode units - diesel + electric (1500 volts) -
B 81500 - 52 3 car units (12 ex LImousin, 13 ex Poitou-Charente, 27 ex Aquitaine)
B 82500 - 10 4 car units (ex Poitou-Charente) B 84500 (Regiolis) - 20 4 car units (5 ex Limousin, 10 ex Poitou-Charente, 5 intercité )
Diesel railcars
X 72500 - 24 2 car units
X 73500 - 51 mono units
Bi-mode dual voltage Regiolis units ( diesel + 1500 v / 25 kV)
Z 51500 - 22 4 car units
Bombardier Regio 2N dual voltage double deck units
Z 56300 - 24 6 car units short version (81m)
Opposite. A Z72500 waits at Felletin in 2001, a terminus since closure of the line to Ussel in 1992. The goods yard was busy with transfer of logs to the railway. A few years later the freight traffic ended on the line.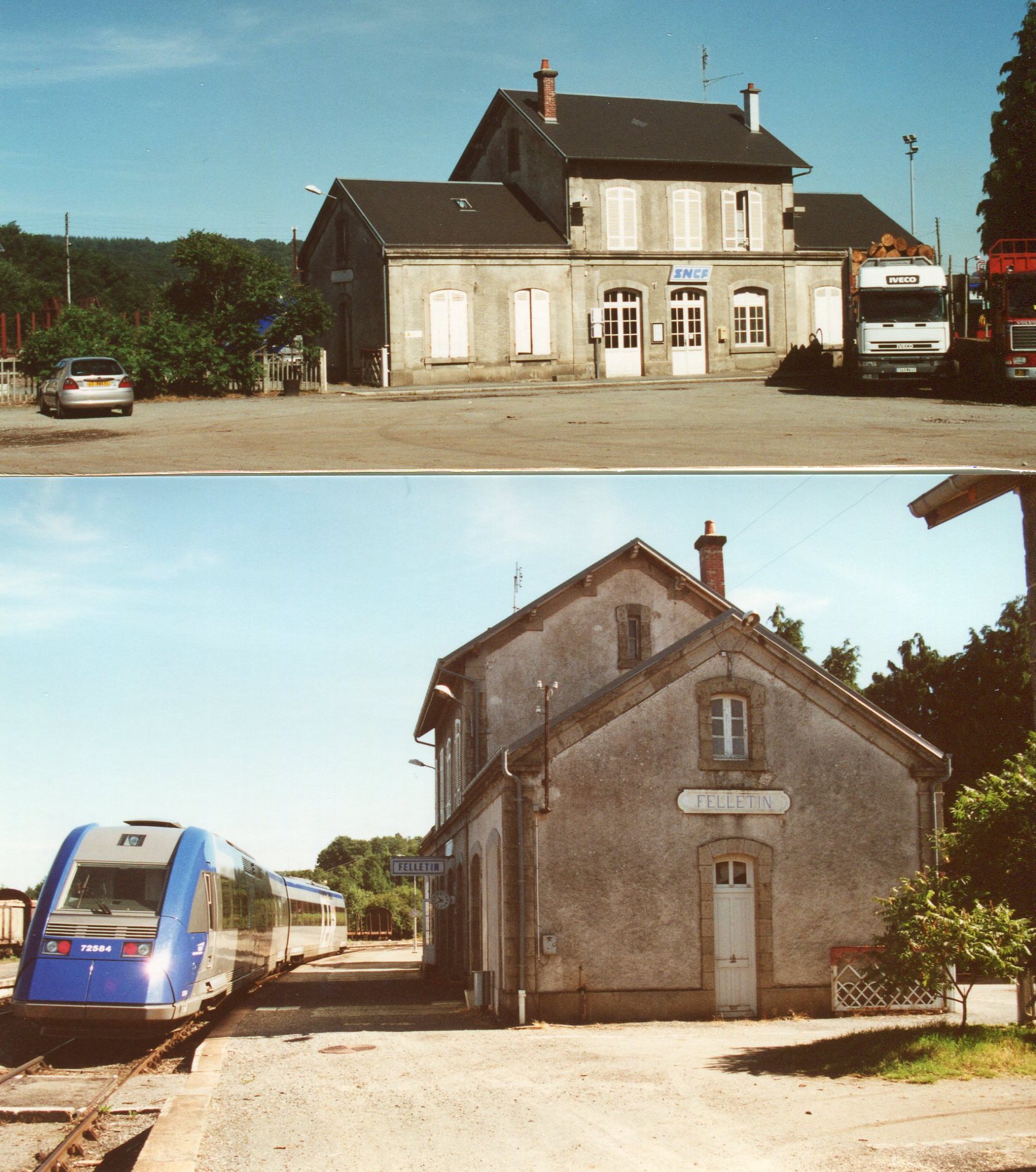 Investment plans approved for "les petites lignes".
On April 2nd, the regional council of Nouvelle Aquitaine discussed and approved the protocol of investment to maintain the "petites lignes" between 2020 and 2032. The total budget is 1.54 billion euros of which the State and SNCF Réseau will contribute 38%. In 2021, 395 million euros is budgeted for maintenance of the Nouvelle Aquitaine rail network, including 160 million euros for the "desserte fine".
- 21 million to complete La Roche-sur-Yon - La Rochelle
- 30 million for Angoulême - Beillant
- 8.6 million for Périgueux - Agen, Périgueux - Brive, Brive - Ussel, Brive - Objat
Studies and plans are underway in 2021 to specify future work on the following lines;
- Angoulême - Limoges (currently closed)
- Poitiers - Limoges (+ in 2022 ) (work on the ground to start in 2023)
- Niort - Saintes ( + in 2022)
Below Left At Agonac, Dordogne. in May 2006 a Bordeaux - Limoges TER service is operated by an X 72500. The telegraph poles still stand but have lost their wires. Right At La Coquille, Dordognea train of empty wagons returns to the quarry at Thiviers for more ballast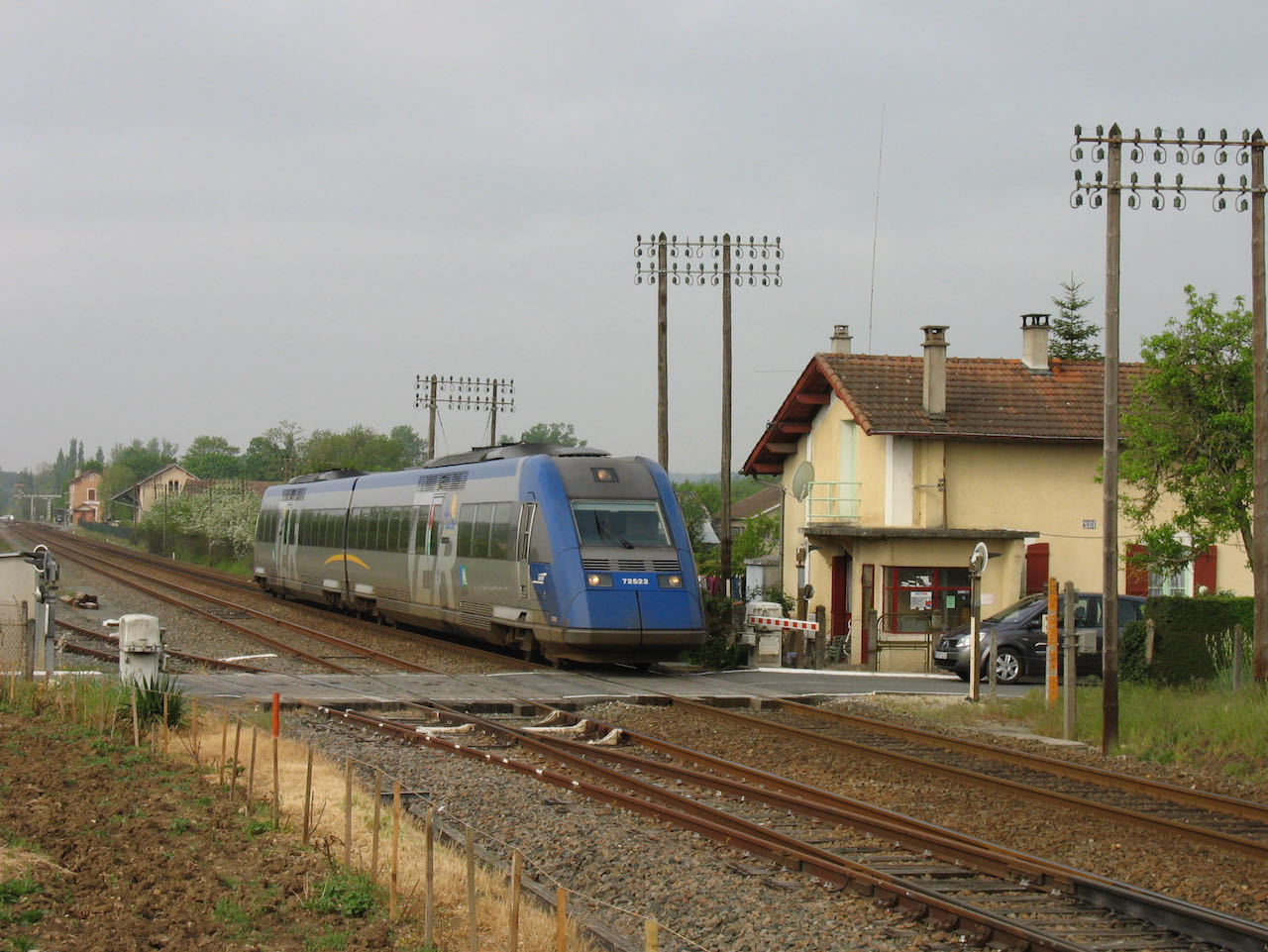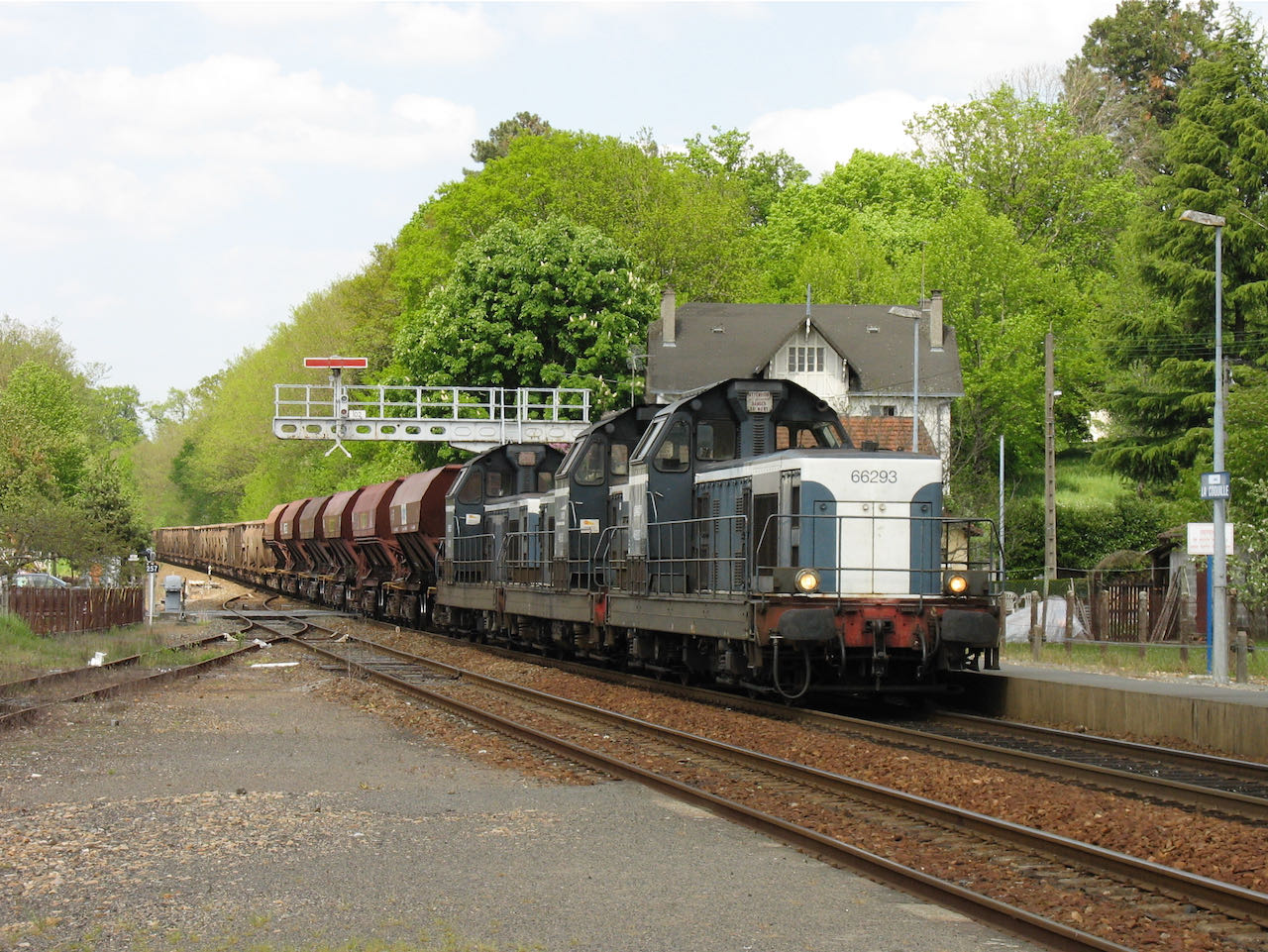 "Les petites lignes de desserte fine" in Nouvelle Aquitaine 2021 - 2032
The protocol of agreement between Nouvelle Aquitaine, the French State and SNCF Réseau concerning maintenance of "les petites lignes" was signed by transport minister Jean-Baptiste Djebarri on April 22nd. The following details are based on press reports, and our analysis.
Intercité and strategic routes
(maintenance to be financed 100% by SNCF Réseau)
Châtellerault - Poitiers - Angoulême - Bordeaux - Dax - Bayonne - Hendaye
Bordeaux - Agen (Montauban, Toulouse)
Dax - Pau (Tarbes, Toulouse)
Poitiers - Niort - La Rochelle
Châteauroux - Limoges - Brive (POLT)
Bordeaux - Saintes - La Rochelle - Marans (transferred from "petites lignes")
Coutras - Périgueux - Bussière-Galant (transferred from "petites lignes")
Limoges - Bussière-Galant
Photos below: At Vignols-St Solve, Dordogne in June 2017. A TER LImoges - Brive is seen with 73786 + 73787 + 73555 at the station.. In the vicinity of this station a landslip has closed the line since February 2018. Right Cambo-les-Bains, Pyrénées-Atlantiques. Modernisation work on the Bayonne - St Jean-Pied-de-Port line in March 2010. The overhead electric catenary was permanently removed and diesel railcars operate services now. Both Georges Turpin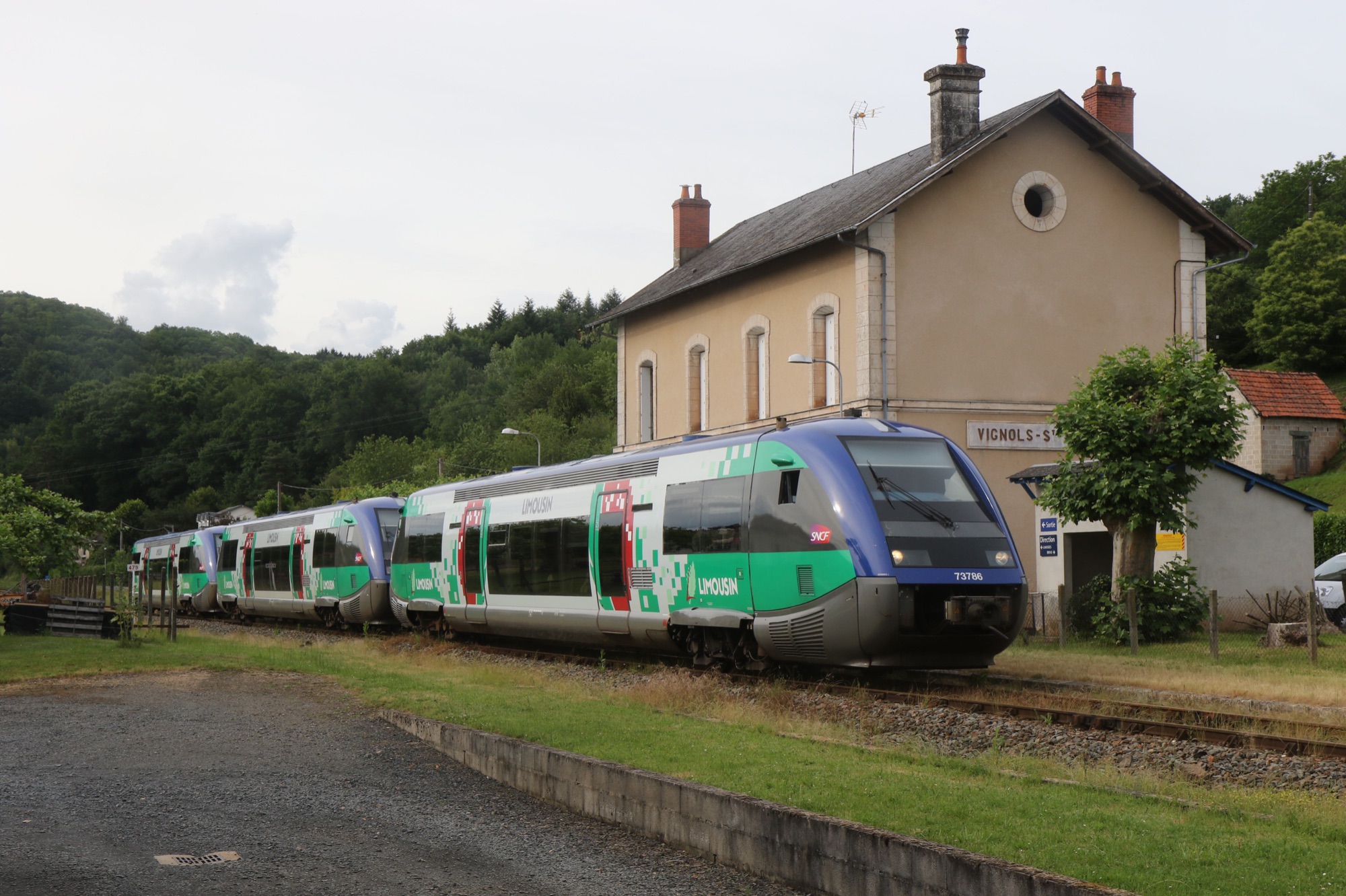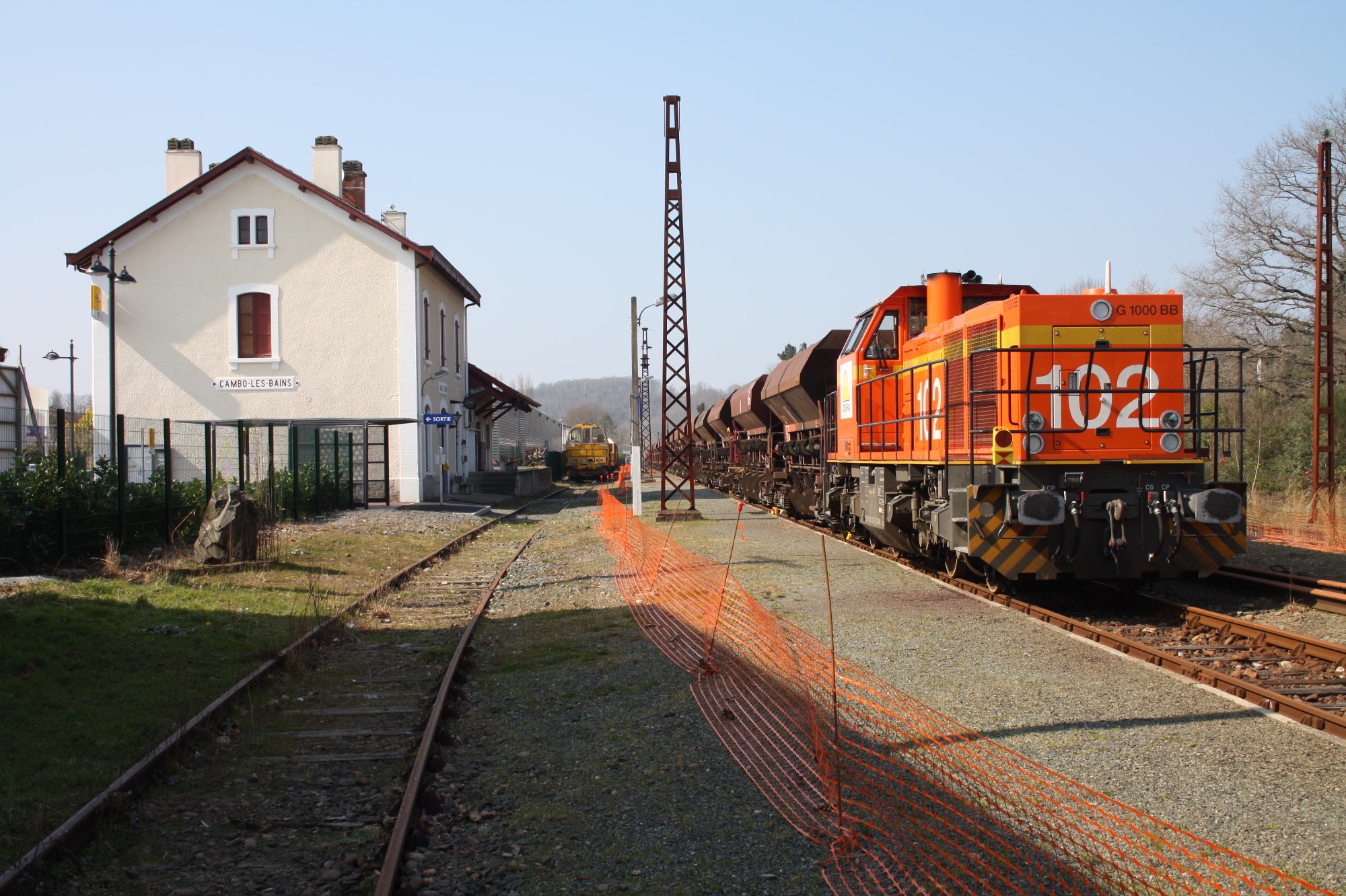 (maintenance costs shared between State, SNCF Réseau, Region, case by case)
(All these lines are single track, un-electrified unless otherwise noted).
Angoulême - Limoges (closed, awaiting regeneration)
Angoulême - Saintes (closed for modernisation, to be completed July 2021)
Saintes - Royan (modernisation completed 2019)
Saintes - Niort (regeneration planned in 2023)
Limoges - Poitiers (regeneration 2023 - 2024)
St-Sulpice-Laurières - Gueret - Busseau - Lavaufranche (Montluçon) (Limoges) Le Palais - Eymoutiers - Ussel (signaling to be replaced in 2023. 330 passengers daily)
Périgueux - Brive-la-Gaillarde (4.5km repaired urgently in 2020, regeneration planned for 2027)
Libourne - Bergerac - Sarlat (modernised in 2019) (Périgueux)
Niversac - Le Buisson - Agen ( The line is closed between Montsempron and Agen due to a landslip)
Bordeaux - Le Verdon - Pointe-de-Grave (electrified) Biganos - Archachon (electrified, double track)
Bayonne - Cambo - St-Jean-Pied-de-Port (modernised in 2010 and 2015)
Pau - Bedous (line re-opened in anticipation of an extension to Canfranc which has been neither approved nor financed at present)
Photos below Left At

Chatelaillon-Plage, a few kilomètres south of La Rochelle in Charente-Maritime, Regiolis 84695 M operates a TER La Rochelle - Bordeaux service in April 2018. Photo Georges Turpin.

Right

Soulac sur Mer, terminus of the Verdun, Gironde line Photo transportrail blog.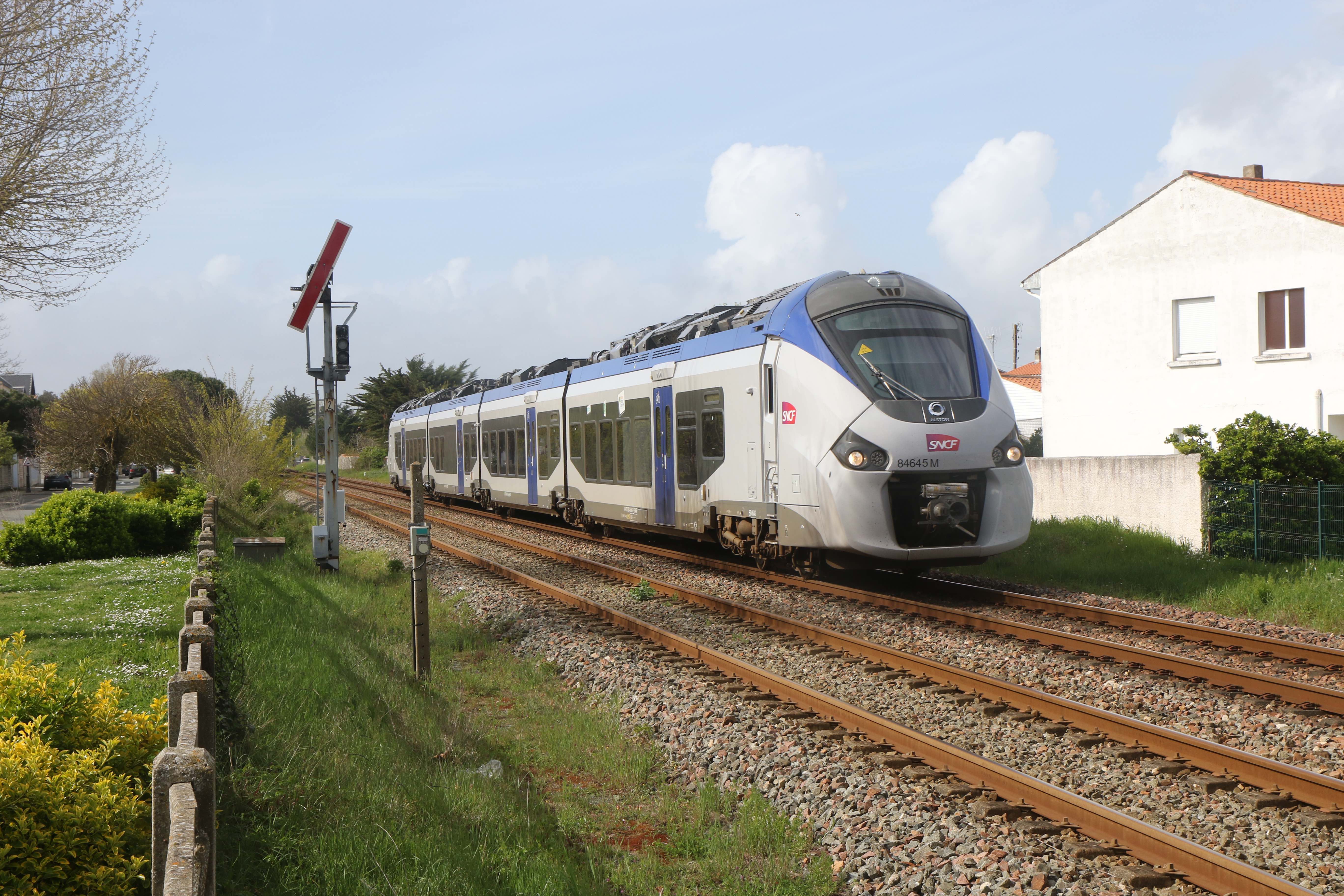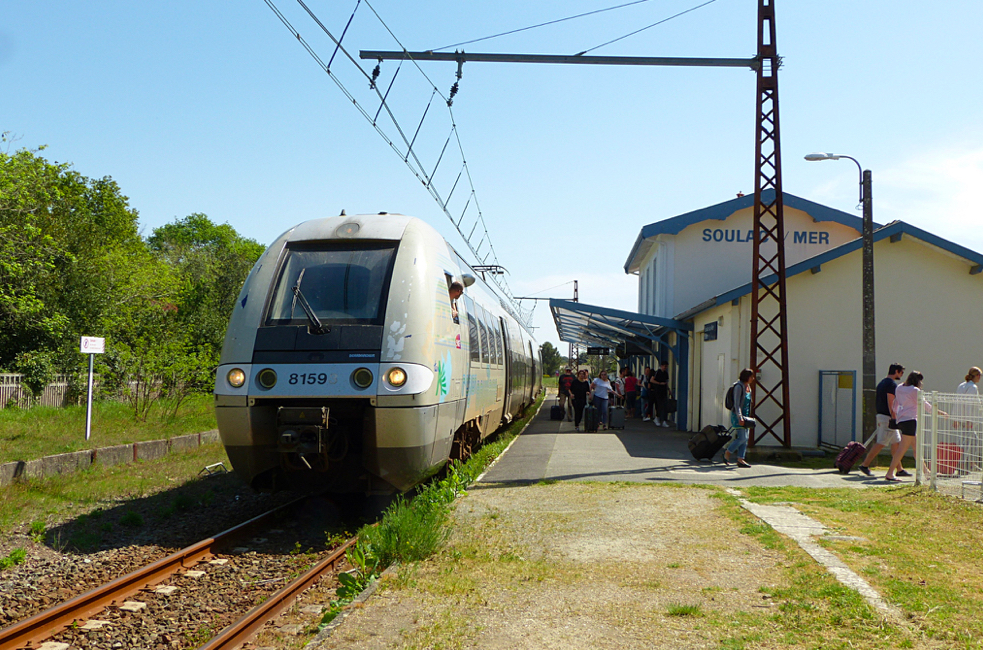 "Petites lignes" (to be transferred to the Region)
Thouars - Bressuire (a section of the line Saumur - La Roche-sur-Yon, mostly in Pays-de-la-Loire Region).
Busseau - Felletin (The future of this remote line is uncertain)
Nexon - St Yrieux - Pompadour - Brive (currently closed St Yrieux - Objat, due to damage from landslip at Vignols, studies in progress for re-opening)
Départements in Nouvelle Aquitaine; Charente(16), Charente-Maritime(17), Corrèze(19), Creuse(23), Dordogne(24), Gironde(33), Landes(40), Lot-et-Garonne(47), Pyrénées-Atlantiques(64), Deux-Sèvres(79), Vienne(86), Haute-Vienne(87).
Below. The 15:13 Sarlat - Bordeaux crosses the Dordogne at Beynac en Cazenac in September 2016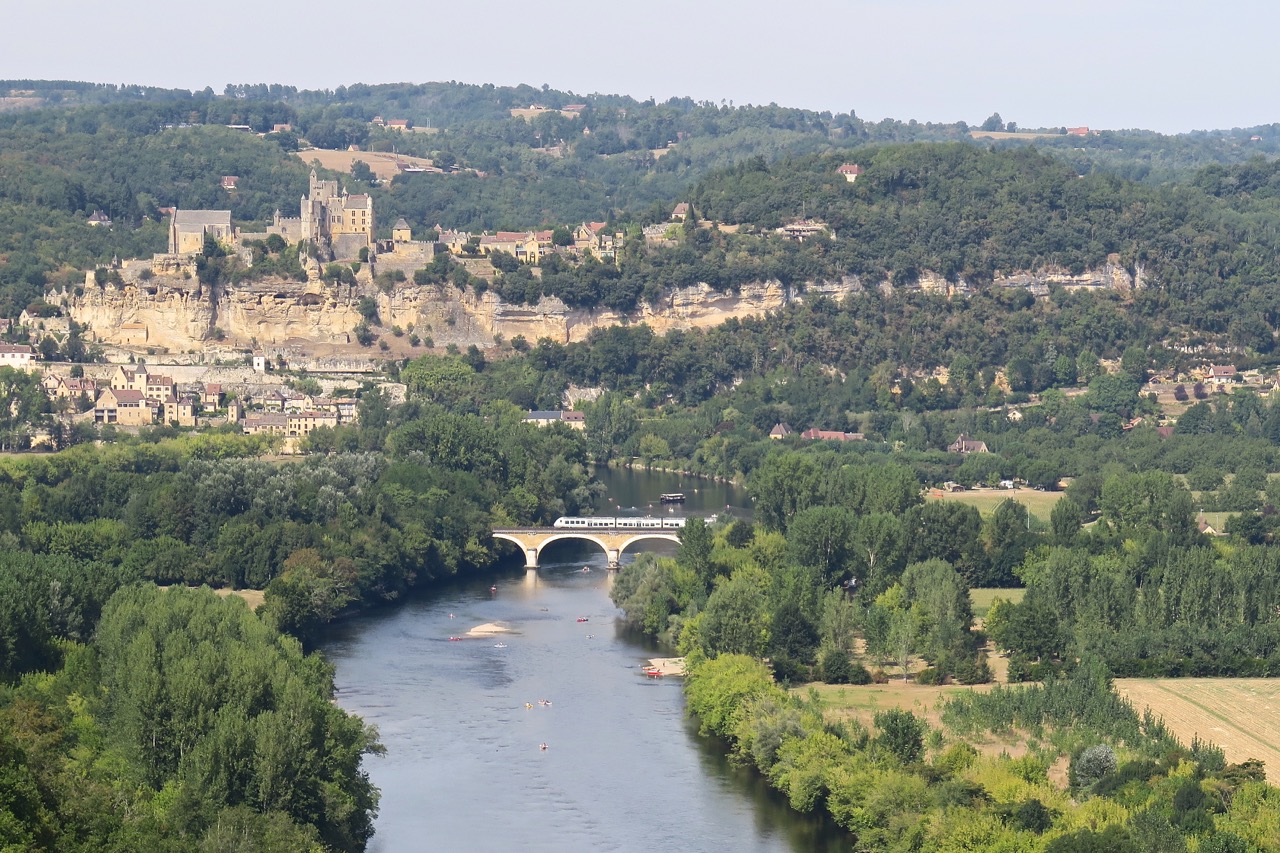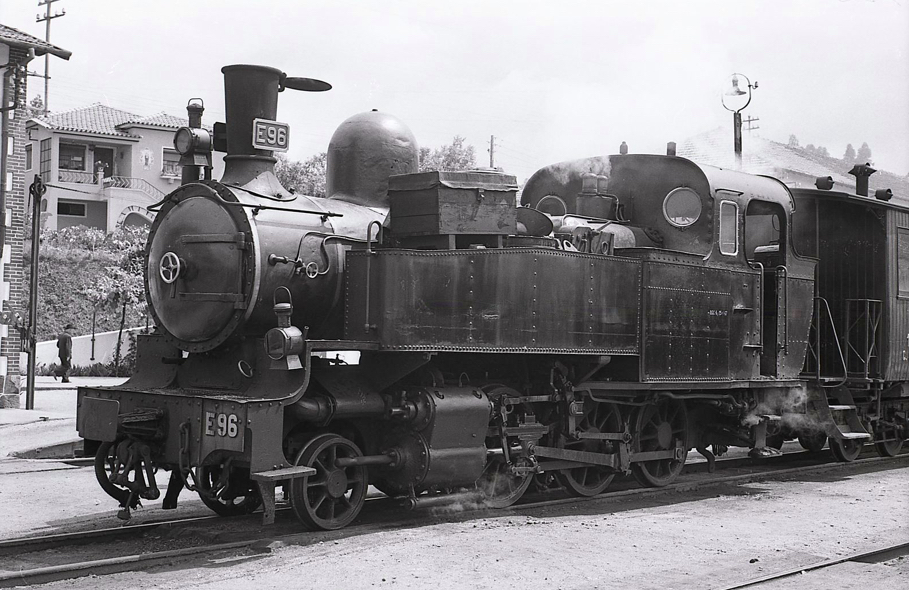 MTVS - progress with the restauration of Decauville 130T E.96 (1913)
In the winter of 2016/2017, MTVS began the work to return E.96 Decauville 130T to service. The museum acquired the steam loco in 1981 from Val de Vouga railway in Portugal. The locomotive had operated on that line since 1913 until withdrawal in 1976. E.96 was one of a group of 12 similar locomotives produced by Decauville, Corbeil between 1908 and 1913. Some were delivered to Chemins de fer du Centre (C.F.C) and to C.F.D.Charente. The last locos were delivered in kit to Orenstein & Koppel in Germany where they were assembled and sold to the Portugese railway at Vouga. E.96 is the only Decauville metre gauge steam locomotive preserved.
On March 2nd 2017, the boiler and fire box were despatched to Israël Newton in the UK for repairs and replacement. The boiler was returned in September 2019 with a new steel firebox, new smoke tube, a new support for the boiler tubes, some new tubes. The boiler was certified following the work.
During 2017-2018, the locomotive was completely disassembled, and all parts were examined and cleaned. The chassis was cleaned and painted black and red. The buffer beam had been lengthened in Portugal. MTVS has corrected that to reposition the buffer as in the original design as seen in the black & white photo above.
New water tanks identical to the originals have been ordered. The original tanks have been sent to the contractor in January 2021.to be copied.
Six new axle box bearings were ordered and at the end of 2020 they were fitted and the six driving wheels, three axles and connecting rods were assembled on the chassis and balanced. In April 2021, a thorough test along all the tracks at Butry confirmed that all was good with the "movement". (see photos below, both Olivier Janneau)
An appeal for donations has been opened at the
Foundation de Patrimoine
to fund the water tanks and other parts to complete the restoration.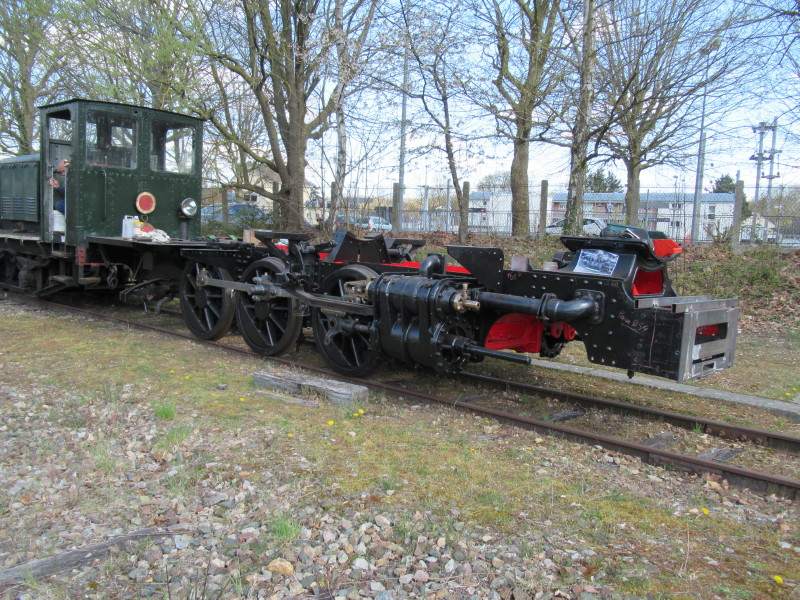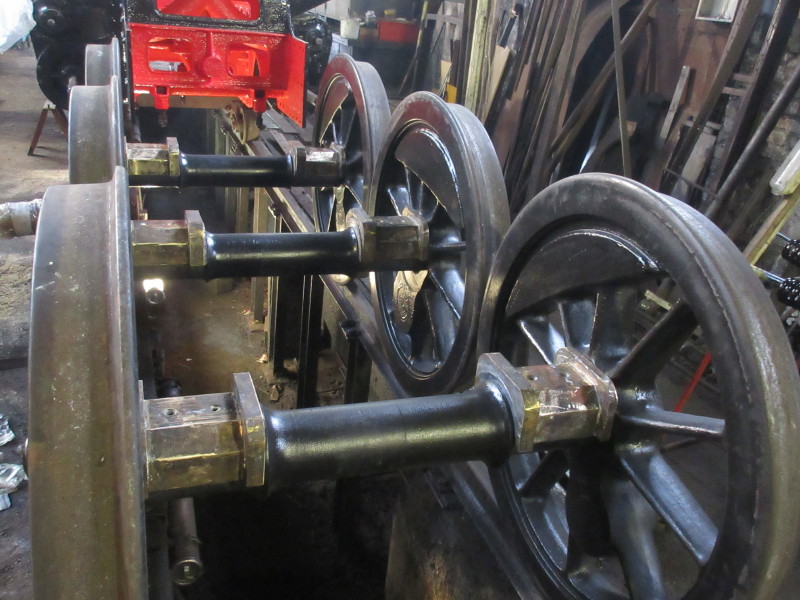 Tramway News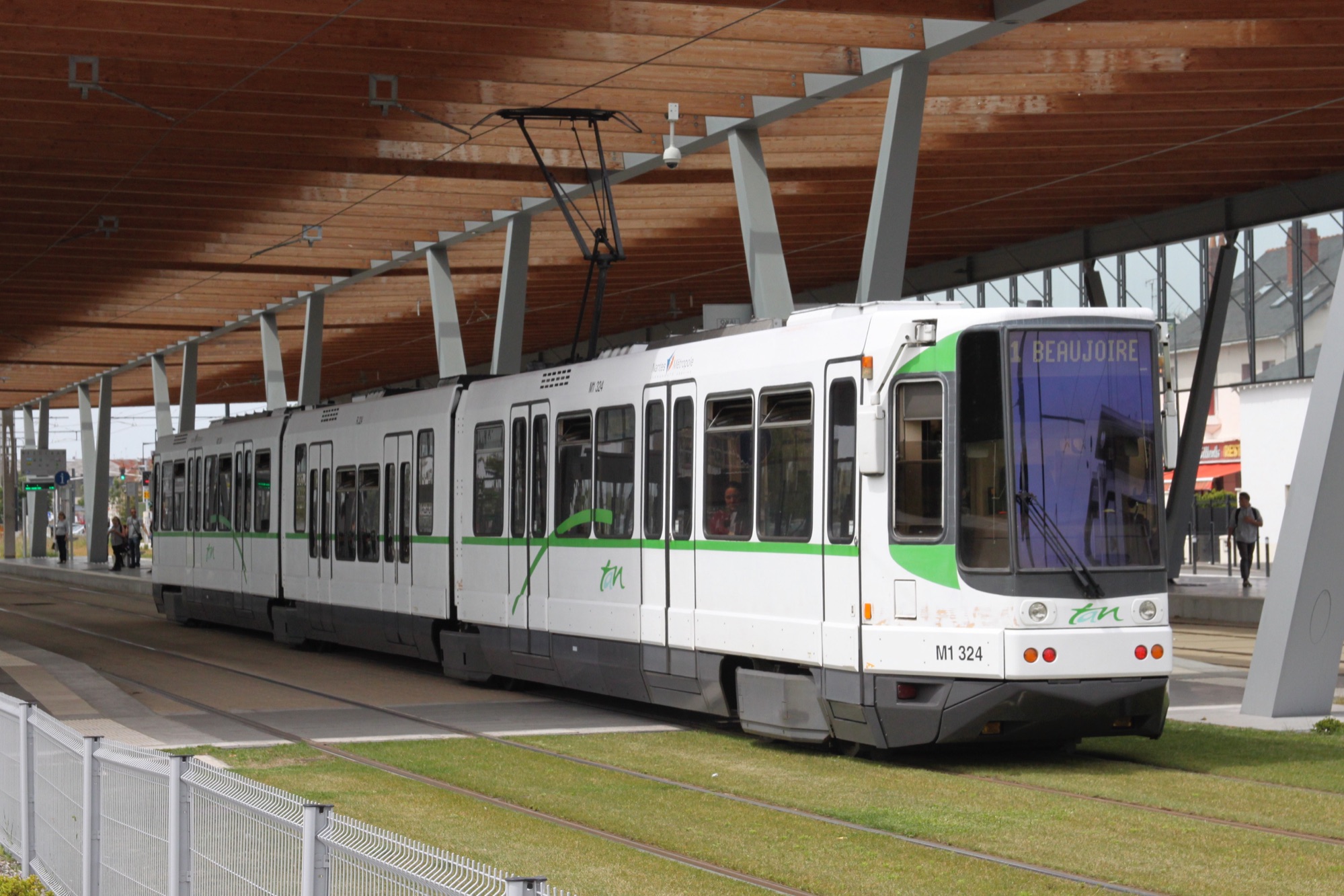 Nantes places mega order with Alstom
Last October 2020, Nantes, a pioneer city for the modern tramway, placed an order of 219 million euros with Alstom for 49 new trams. There are options for 27 additional trams. The first 14 new trams will be delivered in 2023 and the remainder in 2025/2026.
Functionally, these trams will be 46 mètres long with a capacity of 300. 8 double doors, large windows, air conditioning and other modern features. Visually, these new trams are the most boring we have ever seen, in shades of grey, judging by the artist's impresssion published by Alstom in January 2021. How is it possible to choose such a livery ?
The Tram Français Standard (TFS), present at the beginning, in 1985, is approaching the end of a long career with several modernisations. 46 Alstom TFS trams are in the current fleet at Nantes, acquired between 1985 - 1994. They will be replaced starting in 2023. (see photo above)
Ile de France Mobilities opens Tram 9 Paris, Porte de Choisy - Orly-Ville
On a dull, wet Saturday morning, April 11th, operator KEOLIS started the ballet of new trams back and forth along the centre of an urban highway, past a modern art museum. The trams were well filled with travellors. Success is guaranteed as the tramway replaces the busiest bus route in the Paris region.
At Porte de Choisy, the terminus has two sidings (adjacent to T3a) from where trams reverse on to the departure track. At the terminus in Orly-Ville there is only one track from where the arriving tram will reverse to the departure track. There is one siding for emergency use that is not directly connected to the departure track.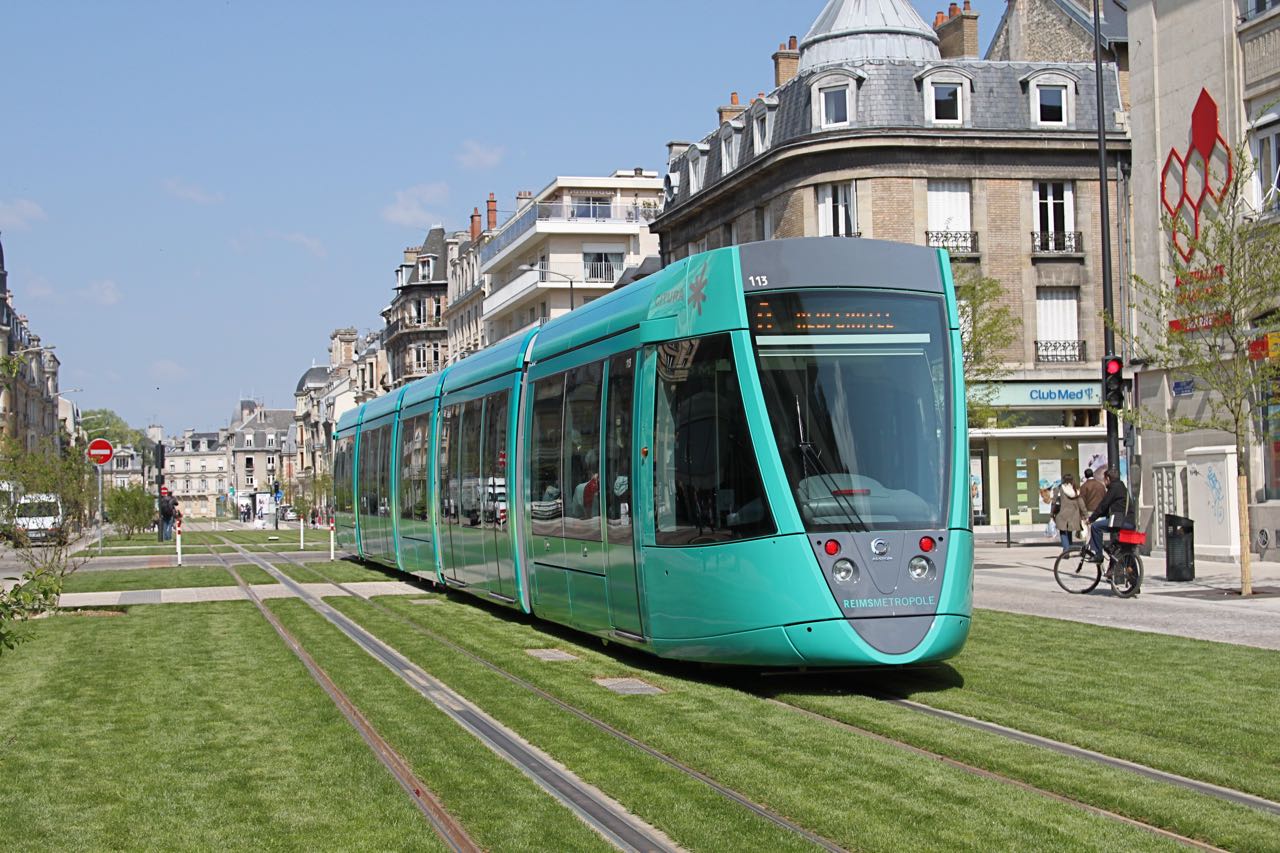 Reims, a quiet 10th anniversary of the tramway
On April 16th 2011, Reims launched a modern tramway across the city, 11 km long that serves both the central SNCF station and the TGV station. In the historic centre near the cathedral there is a section with ground level pick up (no wires). The 18 trams with unique champagne flute shaped cabins comprise 9 pairs with 8 different colours.
The inauguration was ambitious with tram parade, speeches and balloons.
Ten years later, we can say the tram line, with 35,000 passengers daily in 2019 is successful, but not overly so. A set of points embeded in the track near the cathedral has not been activated for a new branch; that project remains on a dusty shelf ?
Above A Reims Metropole tram passes over a well manicured lawn containing the tram tracks and ground level energy supply in the section near the cathedral. The supply rail is in small sections that are momentarily energised as the tram passes over.
Le Mans votes to lengthen its 34 trams.
Capital of the département of Sarthe(72), Le Mans has a successful modern tramway, opened in 2007, with an extension in 2014. The network of 19 km now has 4 branches, 2 routes, 35 stops and carries over 50,000 passengers daily (60% of the public transport system). There are 34 Alstom Citadis 302 trams. (see photo below)
Due to peak period saturation and traffic growth, the local council voted on March 25th to place an order with Alstom to lengthen all the trams from 32 mètres to 43 mètres, increasing the capacity of each tram from 211 passengers to 296 including 64 seats. The order totals 41 million euros. In addition, the depot must be extended and the tram stops lengthened. This will cost 14 million euros. Delivery is planned between 2024 and 2025.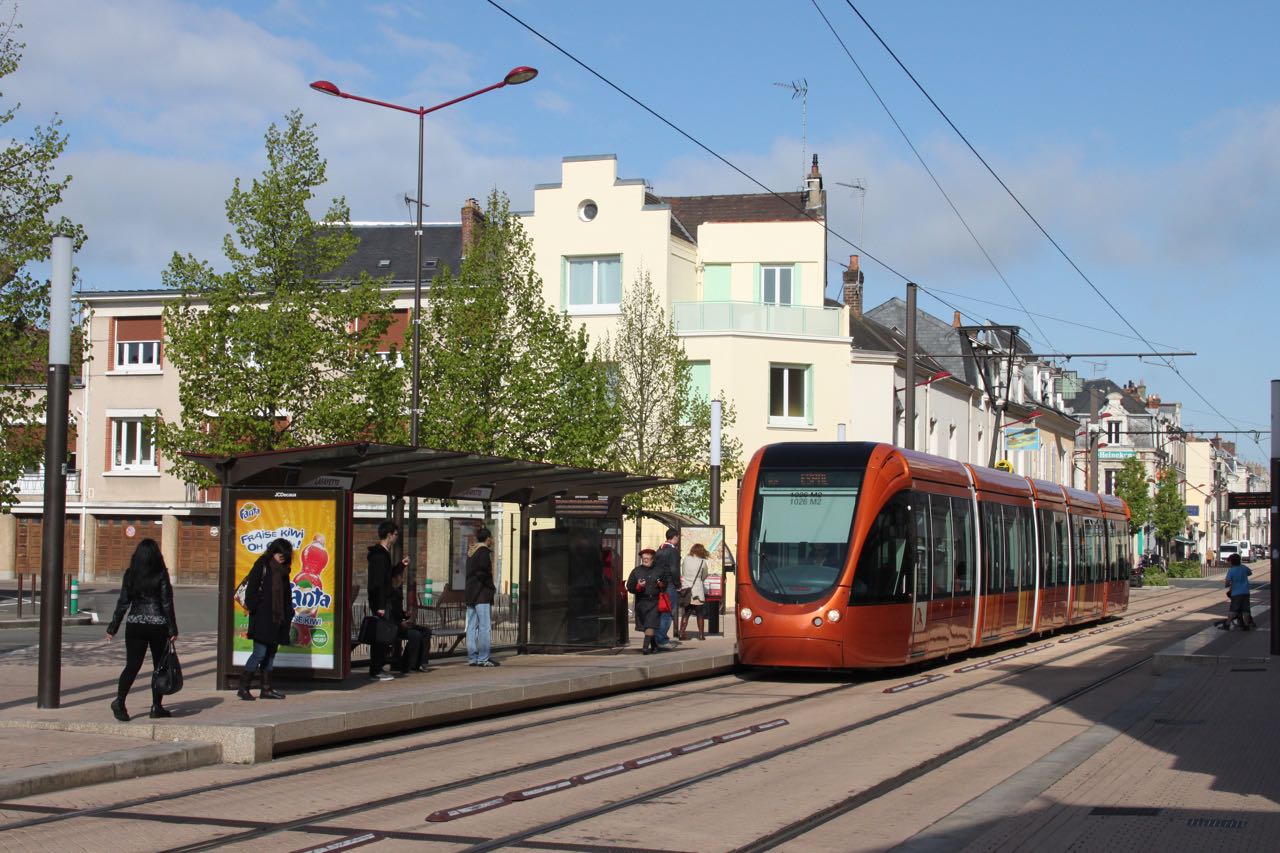 Photographic Archive Update
We have set up a new section in the archive, entitled "Locations", which over time will contain magazine articles and similar dealing with specific railway locations in France, such as stations, depots, marshalling yards, etc.
For the time being it contains the first six such articles from La Vie du Rail on, respectively, Blois, Creil, Le Mans, Saintes, Paris Austerlitz and Bordeaux/La Teste.
As with the newly-created Folder 8 in the Photographic section of the archive, covering the Loco-Revue Fiches Documentaires, any use of these materials in both the new section "Locations" and Folder 8 "Fiches Documentaires" implies acceptance of the restriction that these materials are for the use of our members only and are strictly for members' personal enjoyment as part of specific projects, such as research & modelling.
Additions to FRS Photographic Archive during April 2021
To Folder 2 Four (4) sets of BR Diagrams depicting French Ferry Wagons
To Folder 7:
- SNCF Ssmyfi.439 - Voiture pour le contrôle des voies Voiture
.
pour le contrôle des voies
- International Rail Connections
- Diesel traction on "Rames Reversibles" in Region Est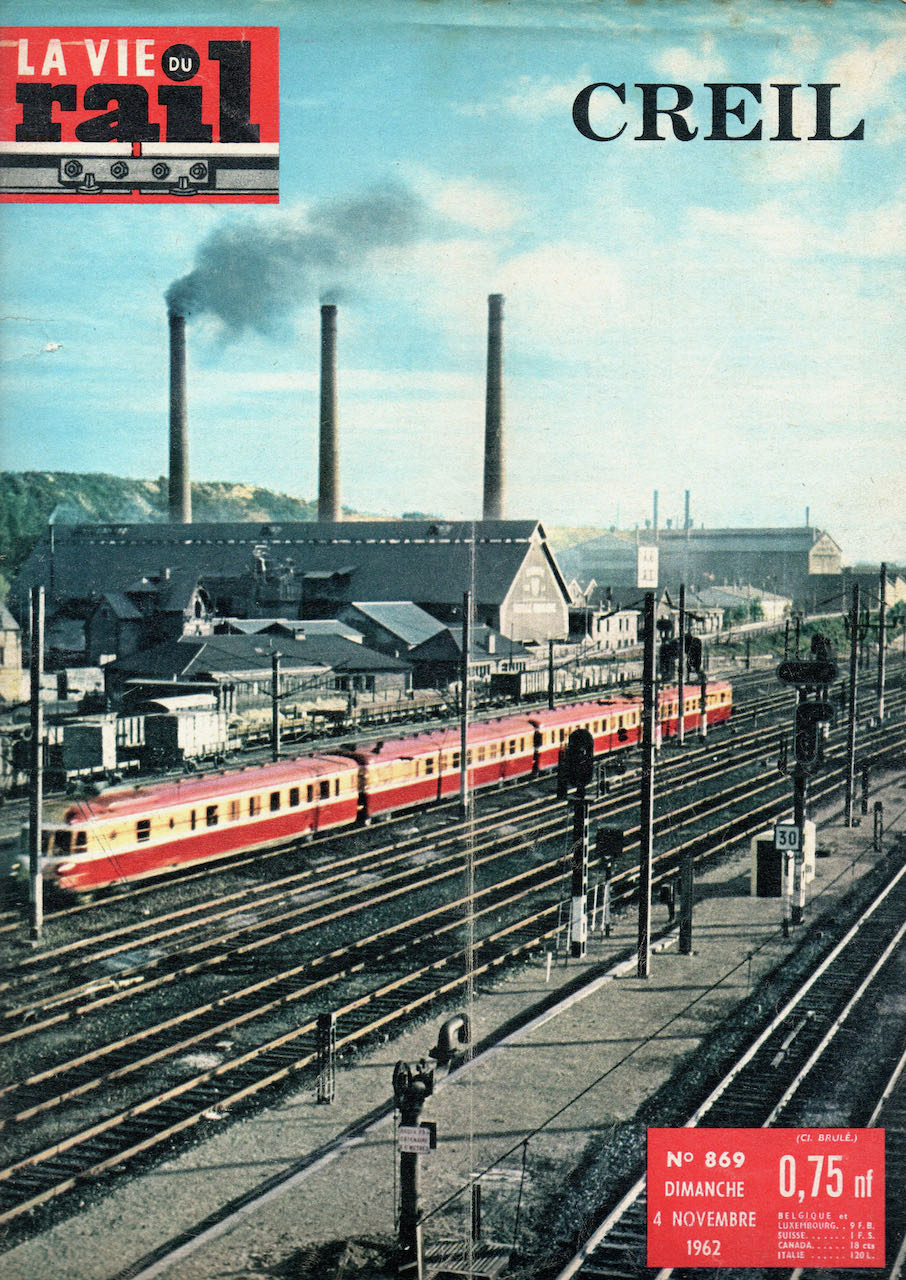 © Peter Lovell & Graham Skinner. The French Railways Society 2021. With thanks to Christophe Masse, Jocelyne Bourneuf, Erwan Quintin and Michel Costes.