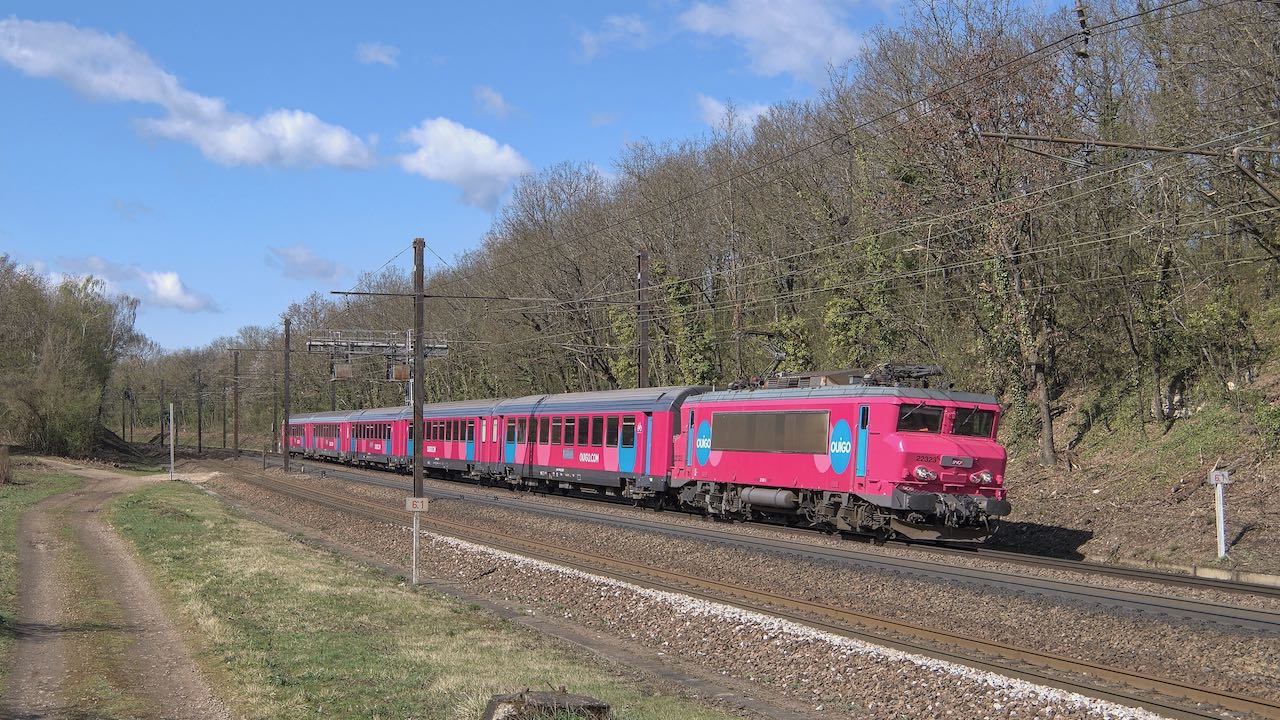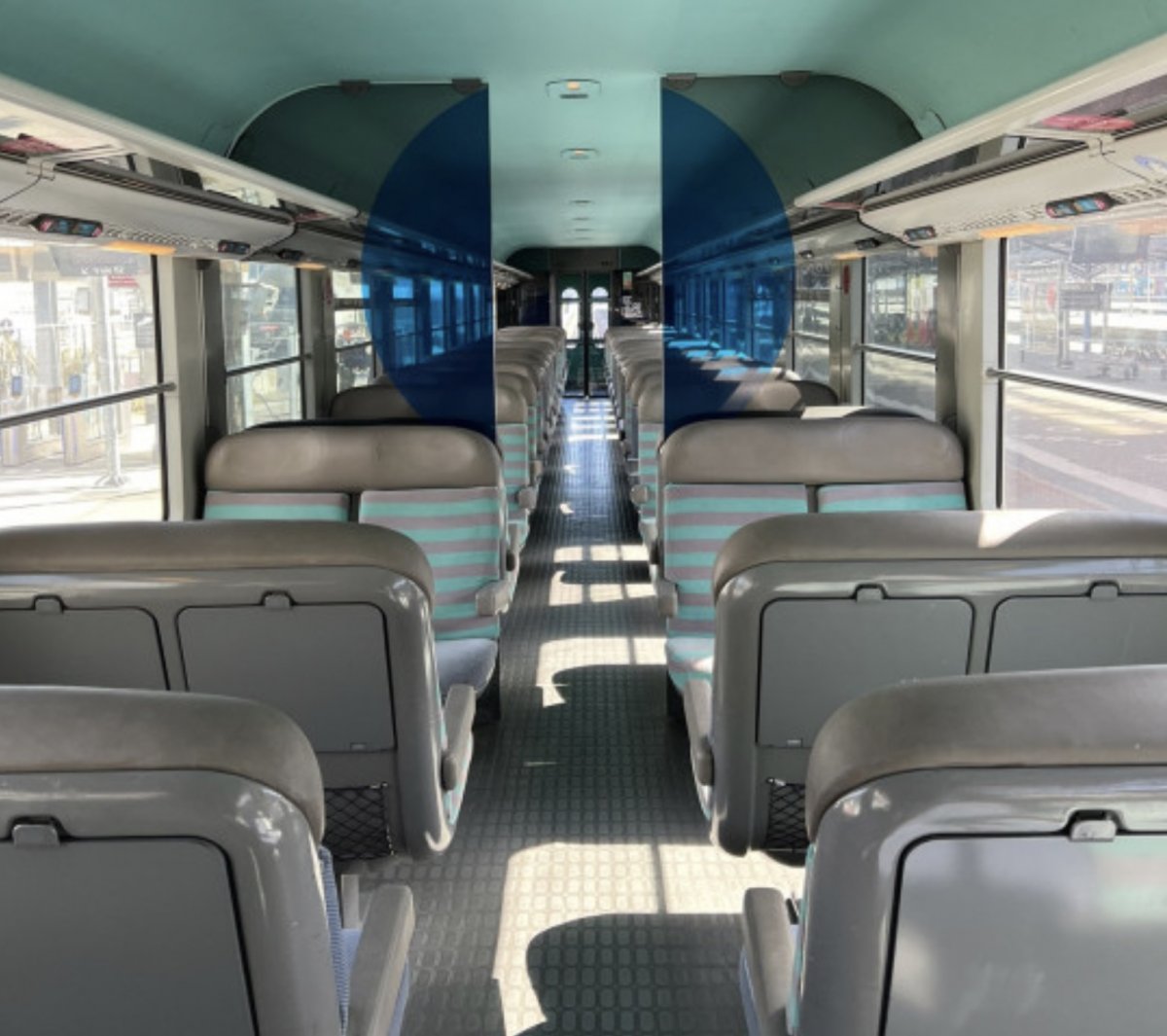 OUIGO Train classique begins operations

On Monday 11th April SNCF's latest venture Ouigo Train Classique began operations offering cheap travel from Paris to Nantes and Lyon using corail stock and BB 22200 locomotives. Operated by SNCF subsidiary OSLO (
O
ffre de
S
ervices
L
ibrement
O
rganisés) departures from Austerlitz on the first day were delayed due to protests from militant trade unionists, concerned that the terms offered by OSLO were a further erosion to traditional 'Cheminot" working conditions
Although the locomotives and coral stock have been repainted in a gaudy pink and blue livery, minimal refurbishment has been undertaken to the interior of the coaches, although some may prefer the shabby comfort of the corail stock to the hard seats of the Alstom and Bombardier units that have replaced them on other services. Of particular interest is the mid-day service from Nantes that terminates at Paris Bercy, where it forms an evening service to Lyon. Calling at Angers, Le Mans, Chartres, Versailles Chantiers and Massy it offers track enthusiasts a rare opportunity to travel the
Grande Ceinture
in loco hauled stock.
Above. On the 2nd April BB 22323 heads a test special to Nantes seen south of Etampes. Photo Erwan Quintin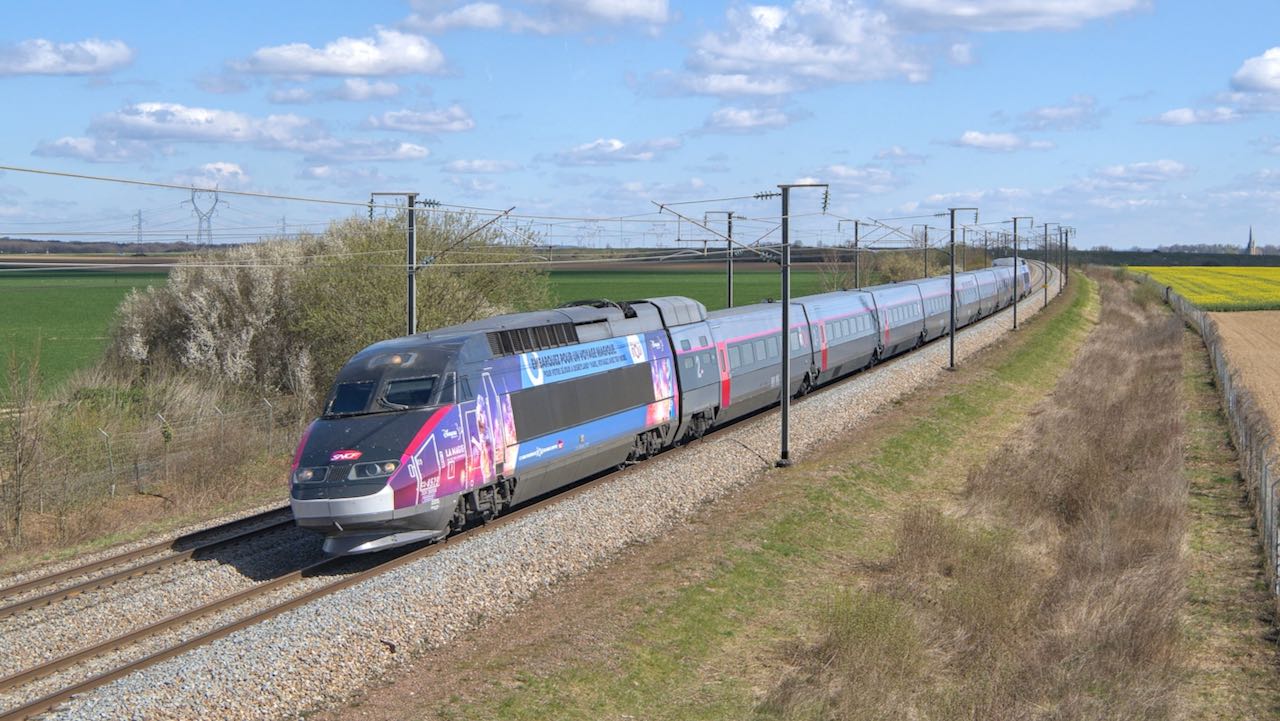 To celebrate 30 years of Disneyland Paris TGV Reseau 4529 has been adorned in a commemorative livery "Embarquez pour un voyage magique", seen at Ver-sur-Launette on the LGV Nord on the 3rd April . Photo. Erwan Quintin.
Brittany Ferries to operate Cherbourg - Bayonne multi-modal service.
Brittany Ferries have announced that they will introduce a multi-modal service between Cherbourg and the European Freight Centre at Mouguerre, near Bayonne, to connect Spain, Great Britain and Ireland via the French rail network from 2024.
The new service is being developed collaboratively with the Port of Cherbourg and the Normandy Region. Brittany Ferries will become a rail operator through the signing of a framework agreement with SNCF Réseau. Originally announced in 2020 for commencement in 2022, the project has been delayed by Covid, but work will now commence on developing the facilities at Cherbourg and Mouguerre.
Two rakes of 21 Modalohr wagons have been ordered that will each carry 42 semi-trailers, offering a service each way six or seven days a week.
Trains will initially run via Saintes and from 2026 via Poitiers-Angoulême-Bordeaux. The service is expected to remove 25,000 lorry journeys a year over the 920km route.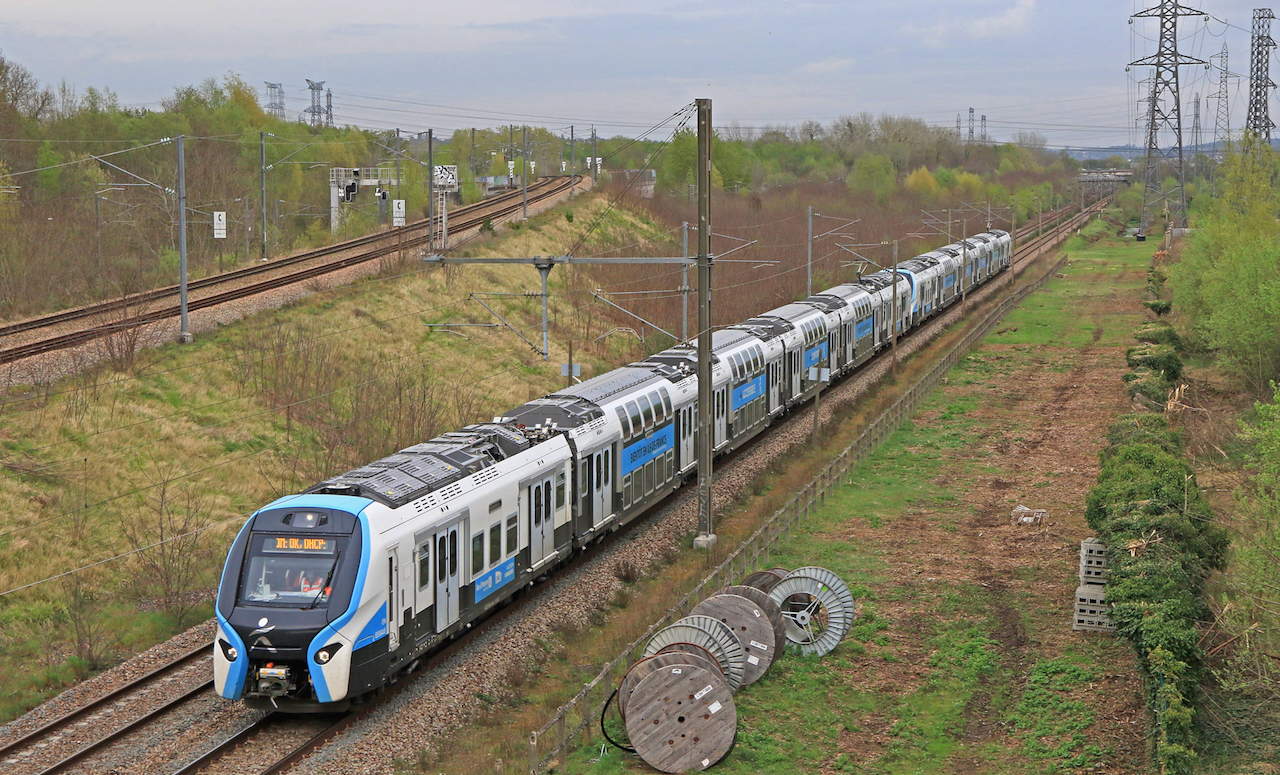 Testing of the new RER NG units continues. On the 13th of April a pair of units are seen passing Vaires en route to Les Aubrais for testing under DC voltage. This was the first occasion that a pair have operated in multiple.
Photo Christophe Masse
Railcoop defers Lyon - Bordeaux service
Embryonic open access operator Railcoop has deferred its proposed Lyon Bordeaux service for a second time. Initially it was planned to introduce the service in June, but this was deferred to December due to problems agreeing paths with SNCF Reseau.
Railcoop has now deferred the introduction indefinitely whilst it resolves problems with rolling stock. Railcoop has agreed to buy nine X 72500 units from Auvergne Rhône Alpes Region but they are in need of renovation. Railcoop has €7 million in working capital raised from its 12,000 members but needs to raise funds from financial institutions to fund the overhauls.
An added complication is that although they have identified a contractor to undertake the refurbishment of the interiors and repainting of the units, the engines and transmissions are also in need of a mid-life overhaul and a suitable contractor has yet to be identified.
Trenitalia commence Paris - Lyon service
Italian operator Trenitalia entered the French domestic market on April 5th with the introduction of its Paris - Lyon Perrache service. Initially only one service is running daily although this will increase to three from June. In addition Trenitalia are already operating two daily Paris - Lyon - Milan services.
Early departure for Paris - Rodez sleeper
Engineering work between Limoges and Brive is seeing the Paris - Rodez sleeper diverted via Périgueux. Travellers face an early departure from Paris Austerlitz at 19:36 arriving at Limoges at 22.56. Nearly an hour is allowed for the locomotive change before departing Limoges at 23:49 with stops at Périgueux (00:55 - 00:56) and Brive (01:40 - 01:45). Arrival at St Denis près Martel is at 02:07. Here the service pauses to avoid arriving at its destination stations too early. Departure is at 03:55 with arrival at Rocamadour-Padirac at 04:08, Figeac at 04:49 and Rodez at 06:07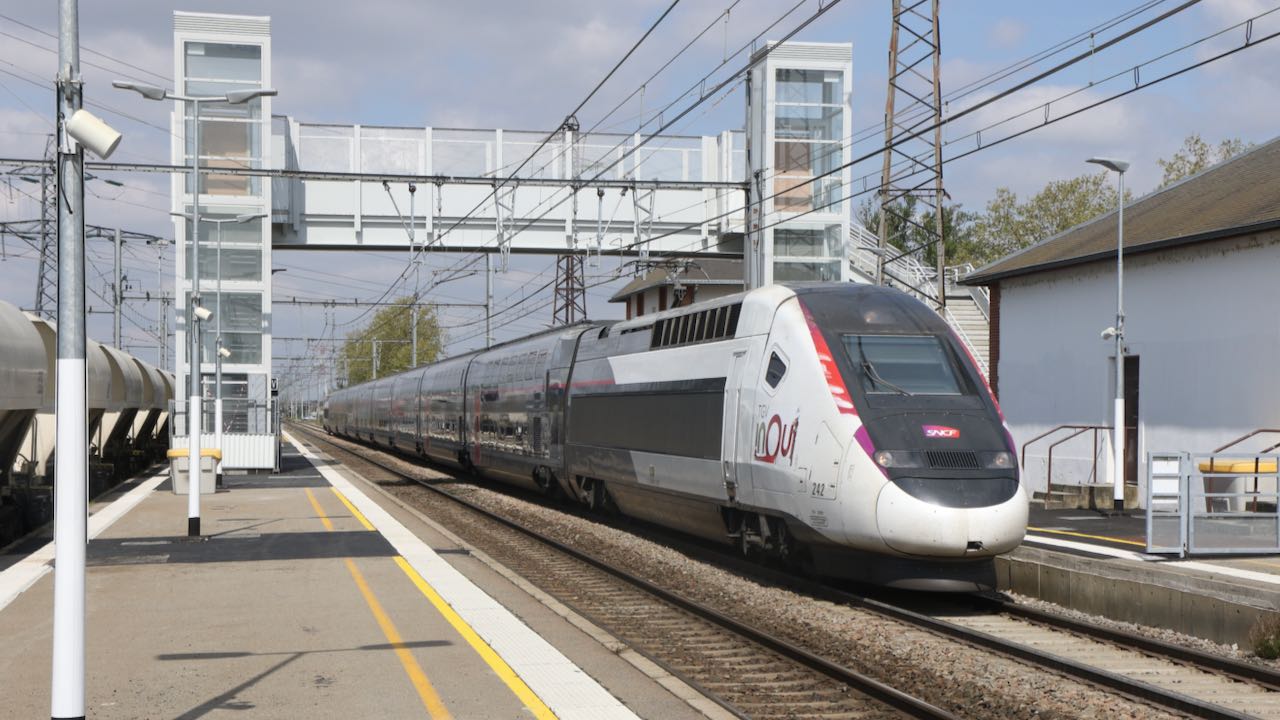 2022 Lourdes
Pèlerins

trains commence




With health restrictions linked to Covid now relaxed pilgrims trains to Lourdes are now being re-introduced. None ran in 2020 and only a handful in 2021. On April 18th the first trains of 2022 arrived at Lourdes, scheduled as below:

-5:45 p.m. from Lons-le-Saunier, via Toulouse,

-6:09 p.m. from Châlons-en-Champagne.




All French Pilgrim trains have been operated with TGVs for several years, although trains from abroad are still locomotive operated, The first foreign train from Reggio Calabria will operate at the beginning of June. Above. The first of the 2022 trains,

from Lons-le-Saunier,

is seen passing

through Porte-Saint Simon station, shortly after Toulouse formed of duplex TGV 242. Photo Georges

Turpin.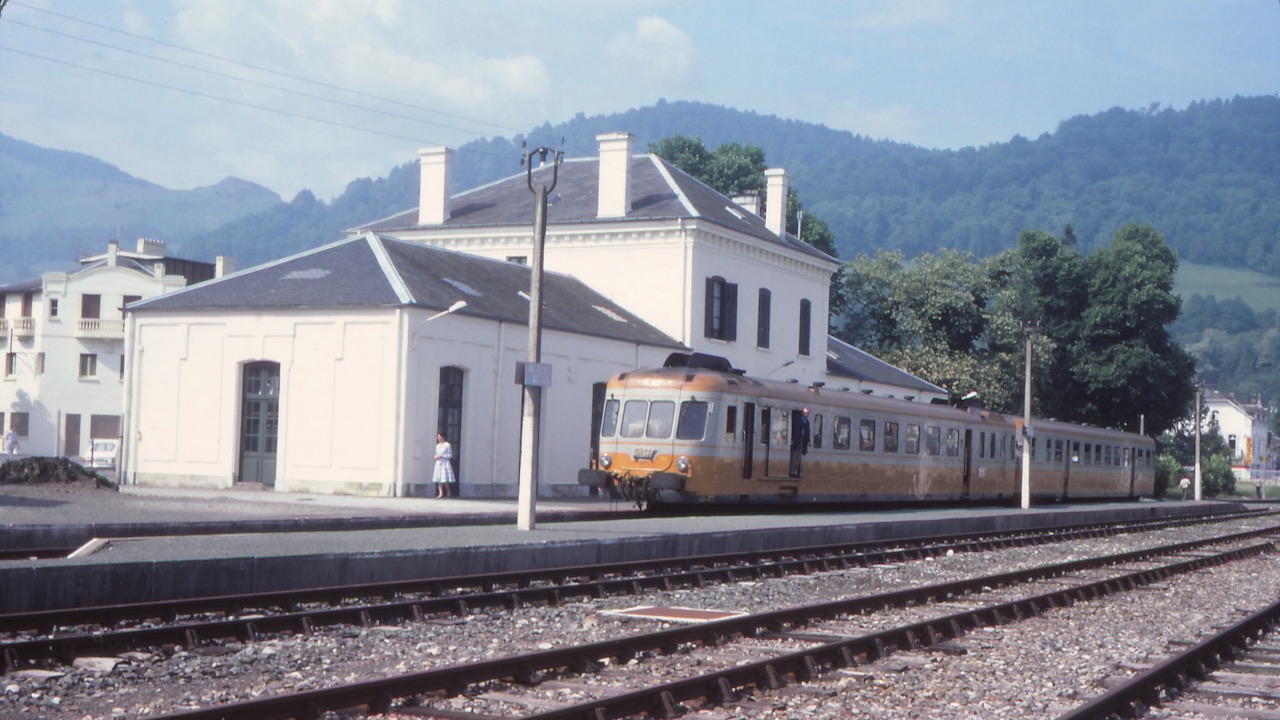 Hope for Tarbes to Bagnères-de-Bigorre?
Closed to regular passenger traffic in the early 1970s the Occitaine Region is now seeking to take over from SNCF the 22km line from Tarbes to Bagnères-de-Bigorre. The current impetus is traffic to the former Soulé factories at Bagnères, that became CFD Bagnères and today belong to Spanish manufacturer CAF. Currently they are renovating RER rolling stock for IdF Region that has to be loaded onto lorries at Tarbes for transfer to Bagnères. This factory is also involved in building the new build Intercités trains Paris – Toulouse and Paris – Clermont-Ferrand trains. The site is still rail connected although since freight traffic ceased some years ago the track has only been used for testing CFD products. Major track refurbishment would need to take place while the 300 metre section from the station to the factory has been tarmaced when the road was re-surfaced.
Above. One of the last passenger trains to visit at Bagnères-de-Bigorre a special train organised by COPEF with an RGP2 unit, in June 1982. Photo Georges Turpin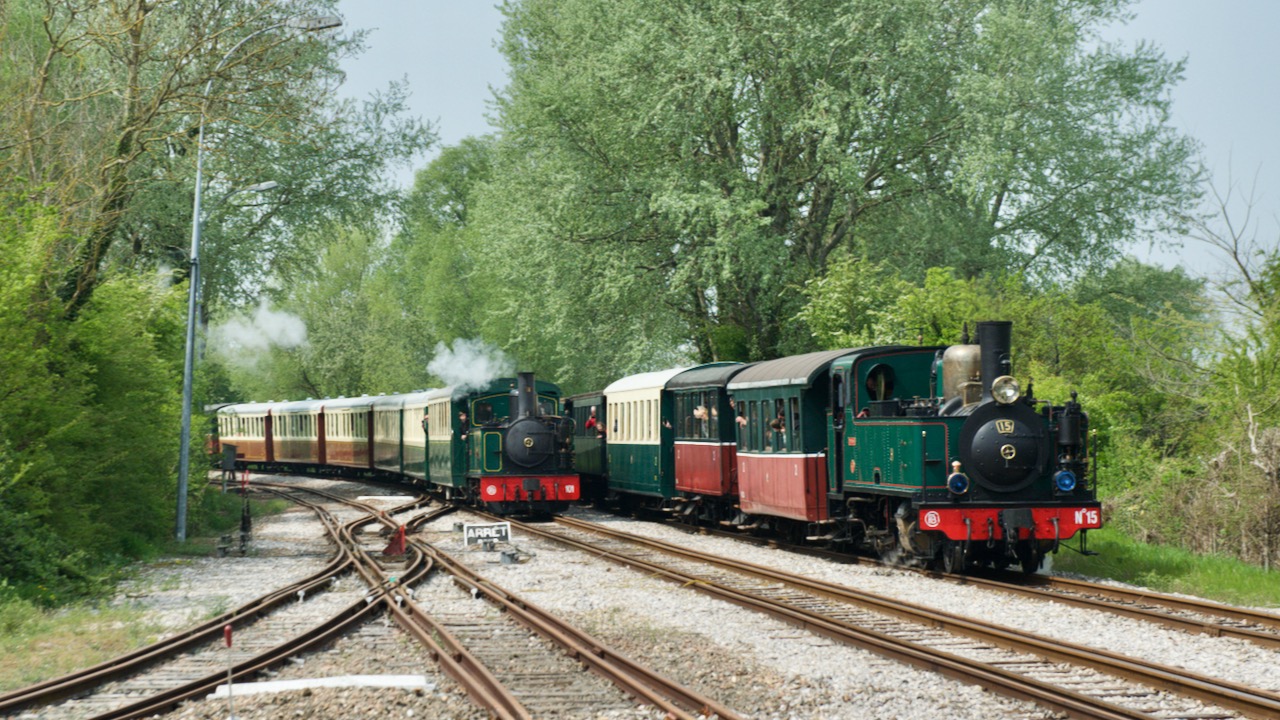 Busy start to season for CFBS
The CFBS (Chemin de Fer de la Baie de Somme) enjoyed a flying start to the 2022 season with passenger numbers reaching 2,000 a day over the Easter holiday. On Easter Sunday a new violet timetable operated with six departures each way from St Valery and Le Crotoy (10:00, 11:30, 13:30, 15:00, 16:30 and 18:00). This provides more capacity than running
supplementaries
to the normal four services with two rakes of scratch stock, and avoids the congestion of running around four trains at Noyelles in quick succession. The violet timetable is scheduled for bank holidays during May, June and July and on a number of days in August. (
link to further details
)
Above. On 23rd April Pinguely 101 and Haine St Pierre 15 arrive at Noyelles with departures from St Valery and Le Crotoy respectively.
Below. Pinguely 101 provides the motive power for the morning Le Crotoy - St Valery train seen between Morlay and Noyellles on the 26th April.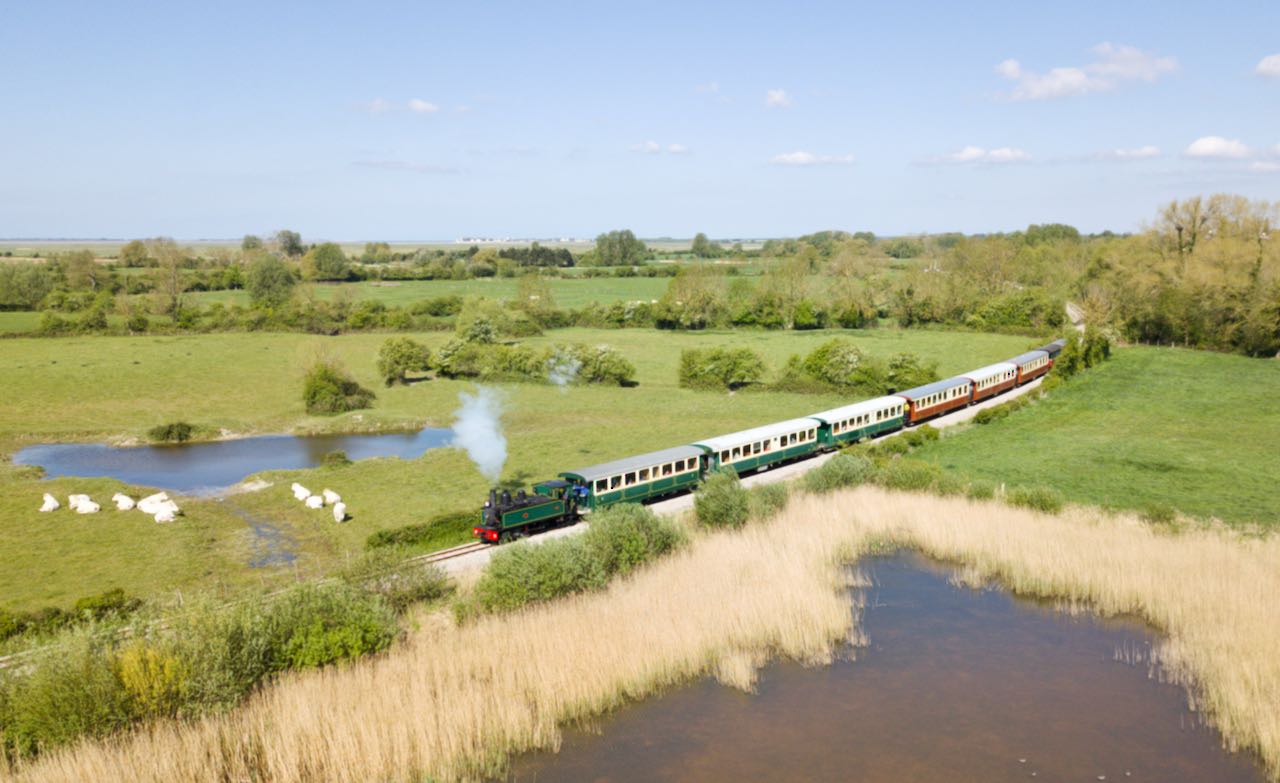 Additions to FRS Photographic Archive during April 2022

To Photographic section
Additions to Folder 4 ("AFAC magazine articles)
Development Electrification
CdF Francais
Locomotives a Turbine a Vapeur
Evolution des Bogies des Voitures
Tramways Electriques du Libournais
Perpignan/Toulouse par La Tour de Carol
Locomotives a Marchandises & Machines Tender 1924/938 Ligne Cahors/Montauban
Transfesa - AFAC 196/1956
Modernisation voitures C10ty - AFAC 196/1956 Locomotive Diesel-Electrique 060DB - AFAC 198/1956 Twenty years of SNCF development - AFAC 201/1956
PO Pacific Compound - AFAC 190/1955
Paris/Strasbourg Rapides 1-2-3-4 - AFAC 184/1954
Arrival of Z.5100 class - AFAC 184/1954
Electrification Valenciennes/Thionville - AFAC 187/1954 SNCF 2CC2.3401 @ Paris Charolais - AFAC 186/1954 Ligne de Sceaux - AFAC 180/1953
Electrification Lyon/Geneva - AFAC 182/1953
Paris-Ivry Service summer 1951 - AFAC 173/1952 Paris/Lyon 1952 - AFAC 175/1952
Traction Diesel Construction Francais - AFAC 230/1961 Automotrice Z.7100 series - AFAC 222/1960
Traction Marseille/Nice - AFAC 211/1958
Mise en Route TEE - AFAC 204/1957
Traction SNCF Region Ouest - AFAC 244/1964
Automatic Coupling - AFAC 259/1966
"Le Capitole" - AFAC 264/1967

Additions to Folder 11 ("French railway stations")

PS: The additions to Folder 4 & Folder 11 (latter originating from Wikipedia websites) have COPYRIGHT RESTRICTIONS and are intended for personal enjoyment by members only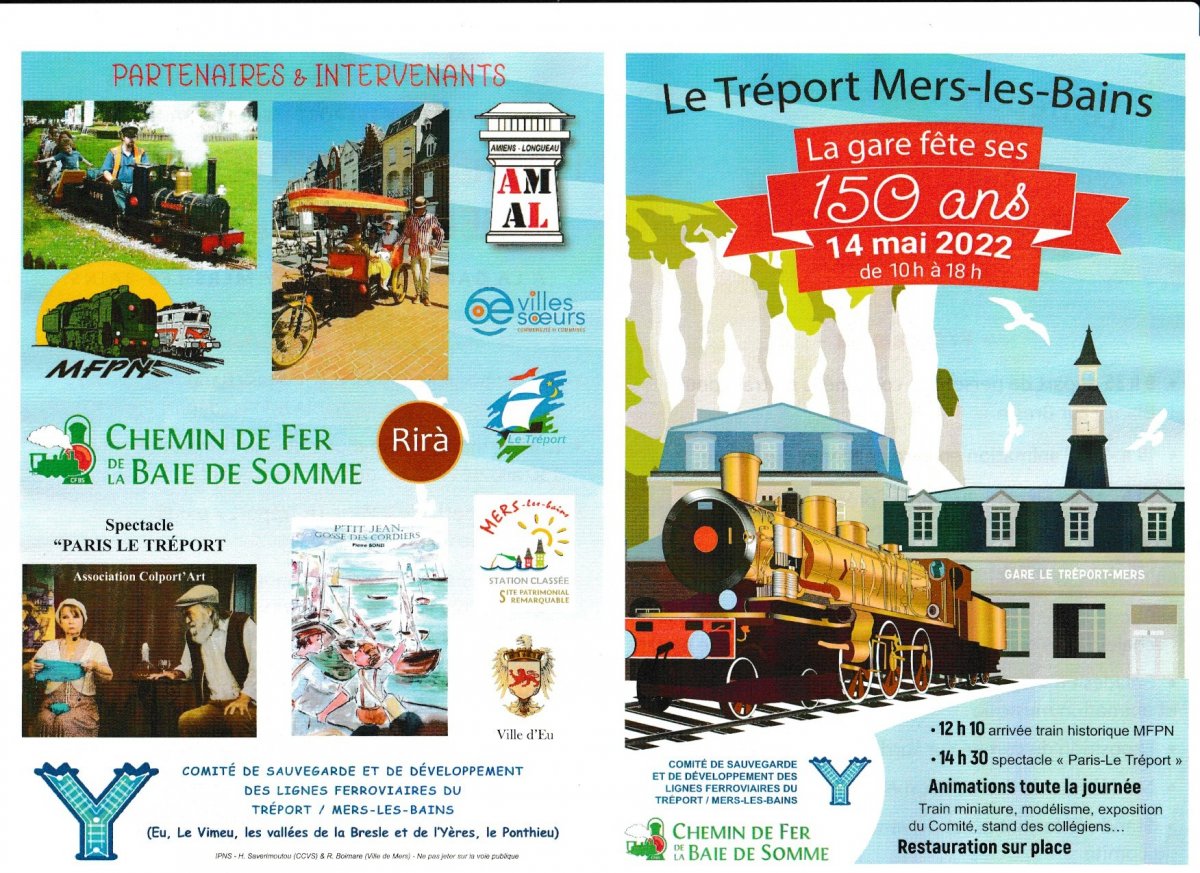 © Peter Lovell. The French Railways Society 2022. With thanks to Erwan Quintin, Christophe Masse and Georges Turpin