Autumn in the Bay de Somme
Above. On a cloudless 28th October the CFBS's former Morbihan Pinguely no.101 heads across the bay towards St Valery with a very well patronised morning train from Le Crotoy. Below left. Faur L45H BB 60002 now repainted from Colas Orange and christened Dracolas crosses the bay with the morning train from St Valery to Le Crotoy. Below right. Pinguely 101 approaches Noyelles with the first of the afternoon services from St Valery to Le Crotoy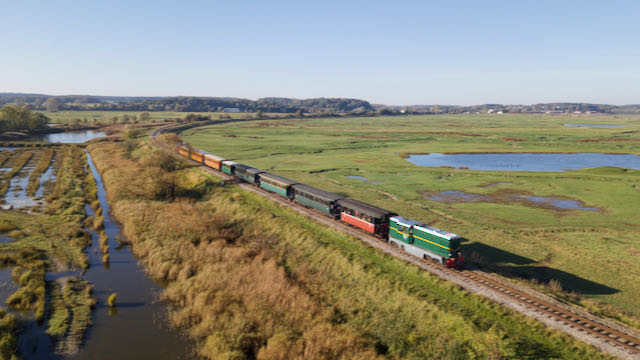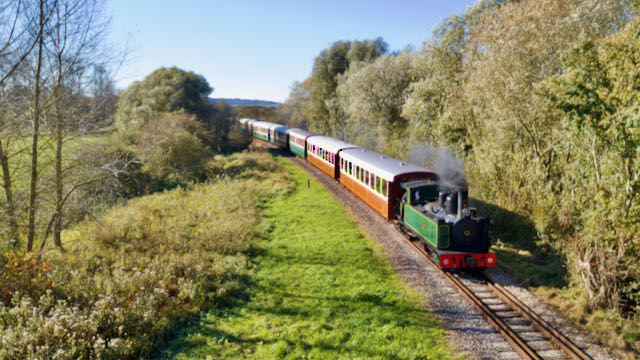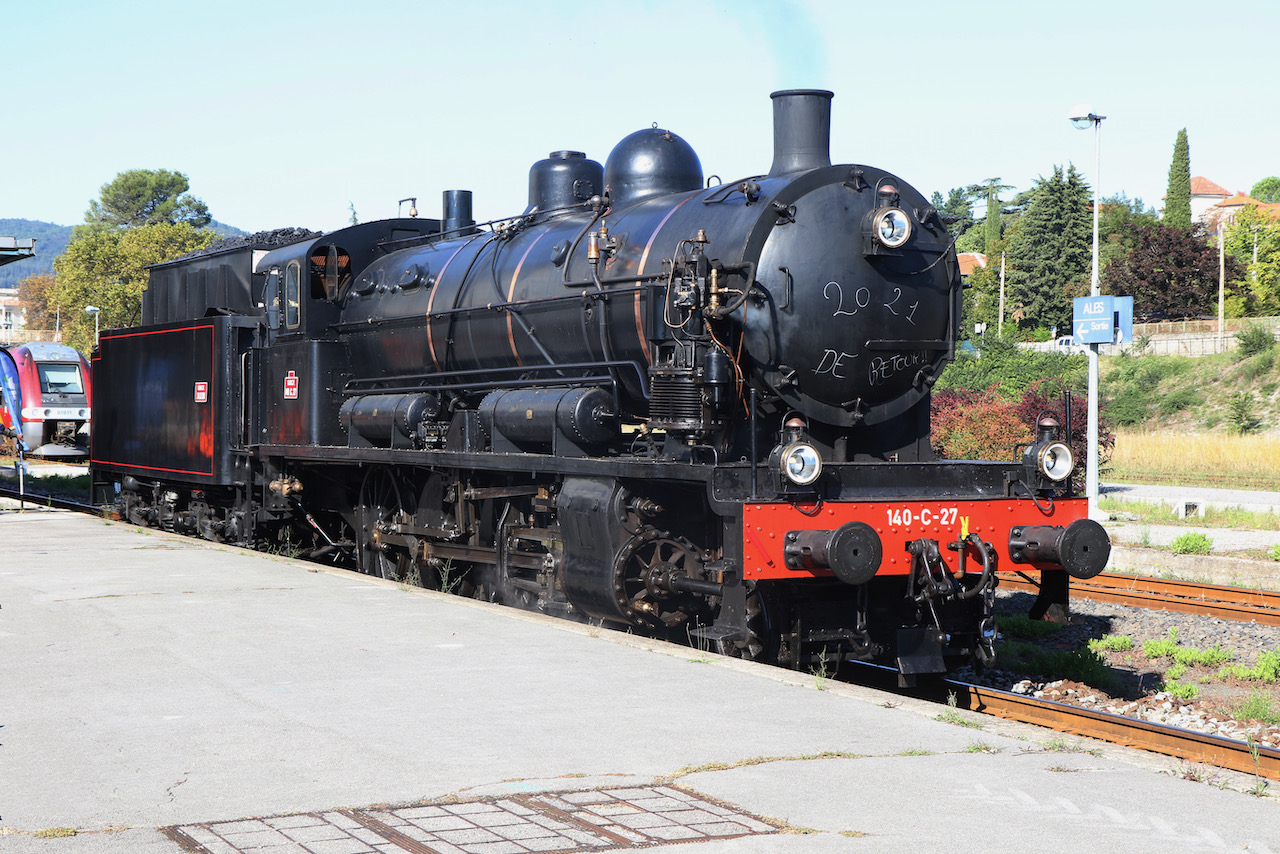 140 C 27 returns to mainline.
On Saturday 9th October 140 C 27 returned to the mainline. Since 1989 it has operated at the
Train à Vapeur des Cévennes
on the 13km between Anduze and Saint Jean-du-Gard. Following two years of negotiations, the
Groupement d'Aide au Développement des Exploitation Ferroviaires Touristiques
(GADEFT) obtained approval to operate 140 C 27 on the national network.
140 C 27 was conveyed by road to Alés where it was steamed for a test run to Nîmes to check its ability to run faster than the 30km/h it has been accustomed to between Anduze and Saint Jean-du-Gard. It is now housed at the Nîmes Railway Museum from where it is hoped it will operate specials over the Ligne des Cévennes in 2022.
Photos - Above 140 C 27 at Alés, and opposite passing the closed station at Ners - both Georges Turpin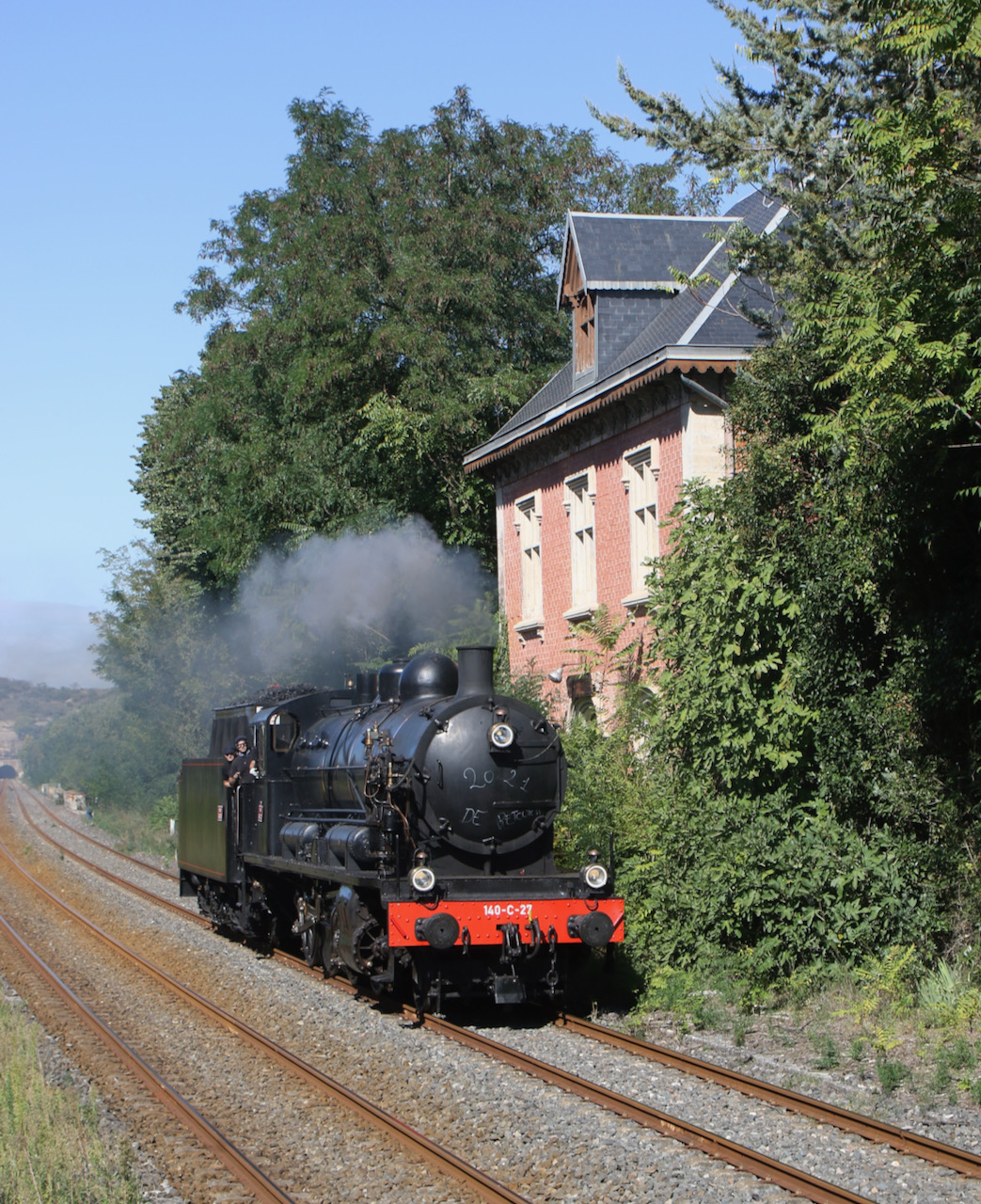 Railcoop defer Bordeaux - Lyon service until December 2022
New open access operator Railcoop have announced that they are deferring their inaugural Bordeaux - Lyon service by six months from June to December 2022. Poor quality paths offered by SNCF Reseau has been cited as the reason, with specific examples being a Lyon - Libourne path rather than Lyon - Bordeaux and a 4:30 start when after 5:00am was requested. SNCF Réseau's response has been that when a request could not be successful, they undertook to provide an "alternative proposal". Railcoop hope that the six month delay will enable it to engage in a constructive dialogue with SNCF Reseau to resolve the issue.
While some commentators have accused SNCF Reseau of being uncompetitive and dragging their feet the task of pathing between Lyon and Bordeaux is not entirely straightforward. The 637 km route crosses a number of mainlines heading towards Paris and requires four reversals. 238 km is on single track, with limited crosses places. The route also includes some lengthy block sections with mechanical signalling. While traffic is light on the middle section between St Sulpice Laurière - Gueret - Montluçon - Gannat,
the track is of poor quality and susceptible to closure at short notice for engineering work.
The section between Limoges and Perigeux (which is mainly single track) has 13 services each way on Monday-Fridays with little spare capacity for the two Railcoop services. At the eastern end of the route much of the Lyon area is at saturation point, as a result Railcoop services will terminate at Lyon Perrache rather than Part Dieu.
The deferral will give Railcoop more time to prepare for their passenger operations. They are currently negotiating the purchase of nine former Auvergne Rhone Alpes TER three car X72500 units. These were withdrawn 12-18 months ago and need to be overhauled and re-certified before re-entering service. We understand that the interiors are to be given a light renovation at Clermont Ferrand, although it is unclear whether this will include a mechanical overhaul. Technical advice has been provided by Romanian operator Regiotrans who have also acquired former SNCF X 72500s and improved their reliability through overhauls and some modifications. Staff will also need to be recruited and trained on the new route and to maintain the units.


Railcoop now has over 9,000 members and €3.5 million capital that is expected to soon increase to €5m. The Grand East Region recently contributed €500,000. Railcoop obtained their Operator's Licence in September and are expected to soon obtain the safety certificate for their freight operation between Decazeville/Capdenac and St Jory that is scheduled to start from November 15th. Former SNCF and Livradois-Forez Railway staff have ben recruited. To obtain the safety certificate to operate passenger services Railcoop have entered into an agreement with a professional railway training company.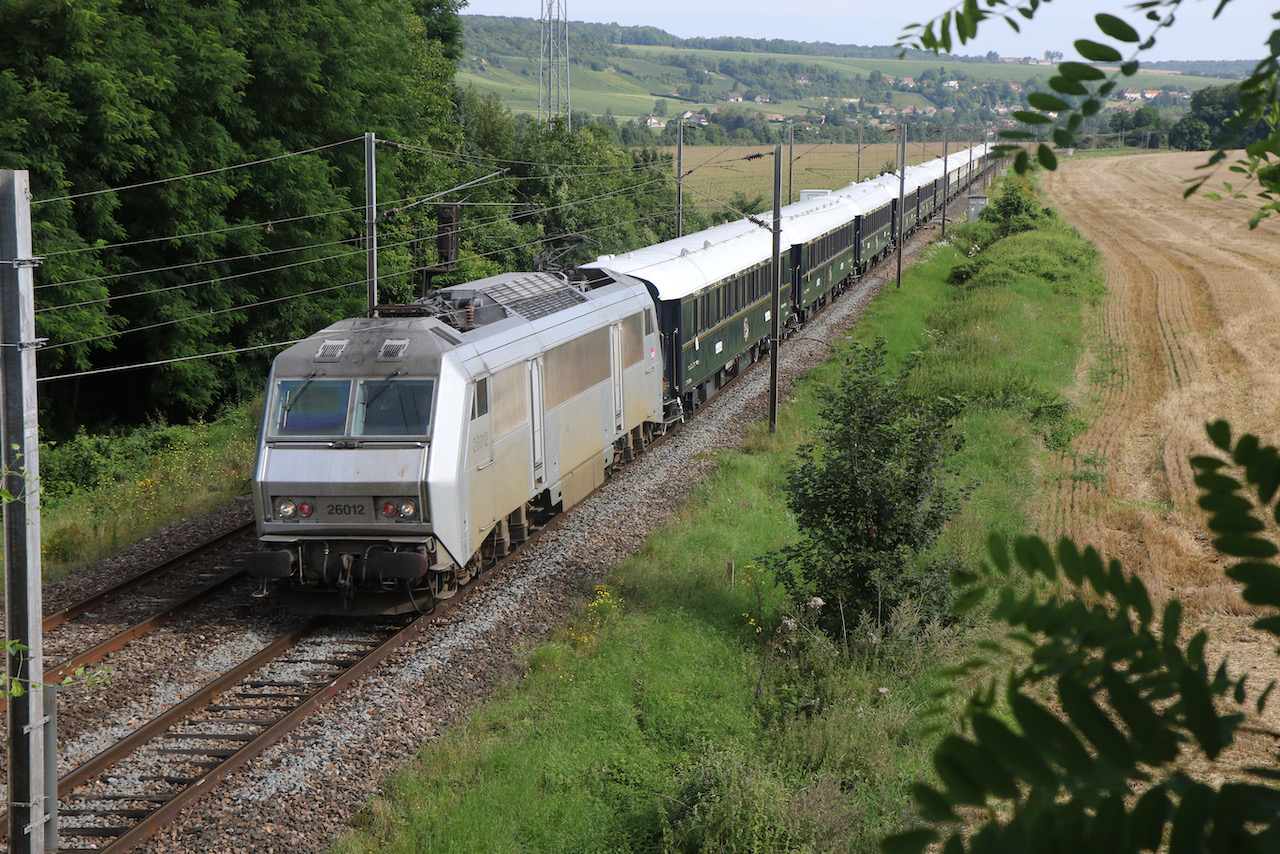 VSOE limited to Paris - Venice due to Covid
During the past summer VSOE operations have been restricted to Paris - Venice journeys because of Covid restrictions. Services to Calais and Eastern European destinations are planned again for 2022. On 12th August 2022 BB 26012 heads a Venice - Paris working, seen passing Fossoy (Aisne) a hundred kilometres before its arrival at Paris-Est. Photo Georges Turpin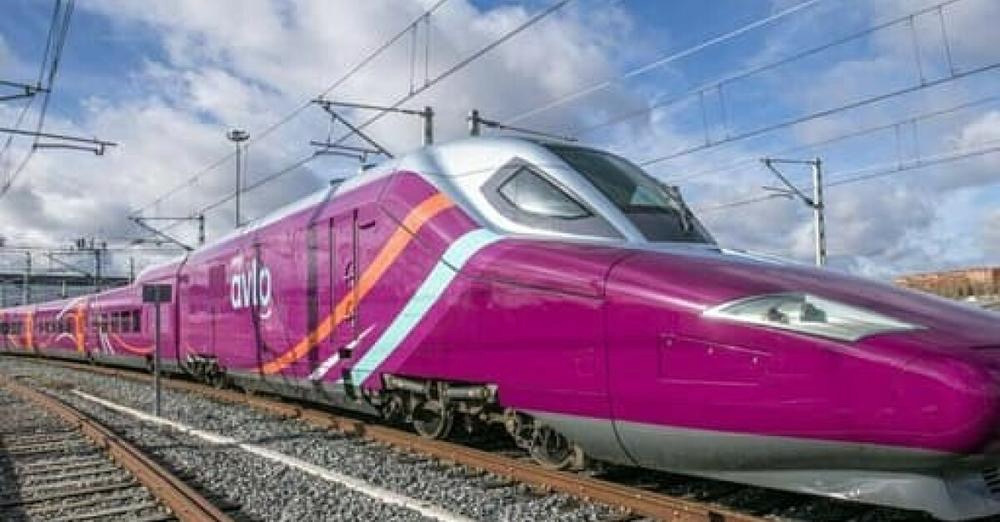 RENFE plan Paris - Lyon - Marseille service
Spanish national operator RENFE is planning to create a French operation and enter the French domestic rail market initially with high speed services from Paris to Lyon and Marseille. If successful other services from Paris to Bordeaux and Lille could follow and possibly TER services that are put out to tender. RENFE are also planning to enter the Paris - London market competing with Eurostar, but will need to acquire suitable rolling stock for the Channel Tunnel
RENFE will be following Trenitalia who will introduce their Paris - Lyon - Milan service in December. RENFE state that the French market is considered a priority for its international expansion. However, they will have to compete with SNCF's well established conventional TGV and low cost Ouigo services. It is unclear whether RENFE will opt for a conventional TGV service or a low cost option similar to its Avio service
Occitaine Region commits €800 million to "petites lignes"
An agreement was signed on Wednesday 29th September between Carole Delga, the president of the Occitaine Region and Jean-Pierre Farandou, the CEO of SNCF for the creation of an agency in Occitanie specially dedicated to re-opening lines where traffic is suspended or track work is in need of renewal. The aim is to increase the Region's 67,000 rail users to 100,000 by 2030, reducing reliance on autocars
The first lines to benefit from this work will be Montréjeau - Luchon, 36 km to serve the high valleys of Comminges in the Pyrenees, (closed since 2014 reopening in 2023) and Alès - Bessèges, 31 km in the Cévennes, (closed since 2012, reopening in 2024). Also, the right bank of the Rhône between Nîmes and Pont-Saint Esprit, 82 km which will gradually reopen in summer 2022.

Other projects will include
security, video surveillance will be further strengthened with all regional trains equipped with cameras by 2023.
The right bank of the Rhône line has been closed to passenger service since August 1973. The line is double-track
and electrified, but currently only used by diverted freight and passenger trains when the line on the left bank of the Rhône is closed for maintenance.

On Saturday September 25th a special train operated between Nîmes and Remoulins as part of an event to discover the Pont du Gard. It was the 4th occasion that it has operated this year. Passengers are seen above after arrival at Remoulins. The empty space between the platform and the passenger building was once occupied by the tracks of the line from Remoulins to Uzès. Photo Philippe Delaunay

Perpignan Rungis perishables returns
After two years the Perpignan - Rungis perishables was re-introduced the 21st October conveying fruit and vegetables to the market at Rungis. It will operate five days a week from November until July leaving Perpignan at 16:29 and arriving at Rungis at 03:06
34 of the original refrigerated wagons have been refurbished to create two trains of 12 wagons with 10 spare. This is seen as a short term solution until the end of 2024 when it is planned to incorporate the traffic into a Barcelona - Antwerp service calling at Perpignan and Rungis. Opposite. The inaugural train passing through Toulouse. Photo Georges Turpin.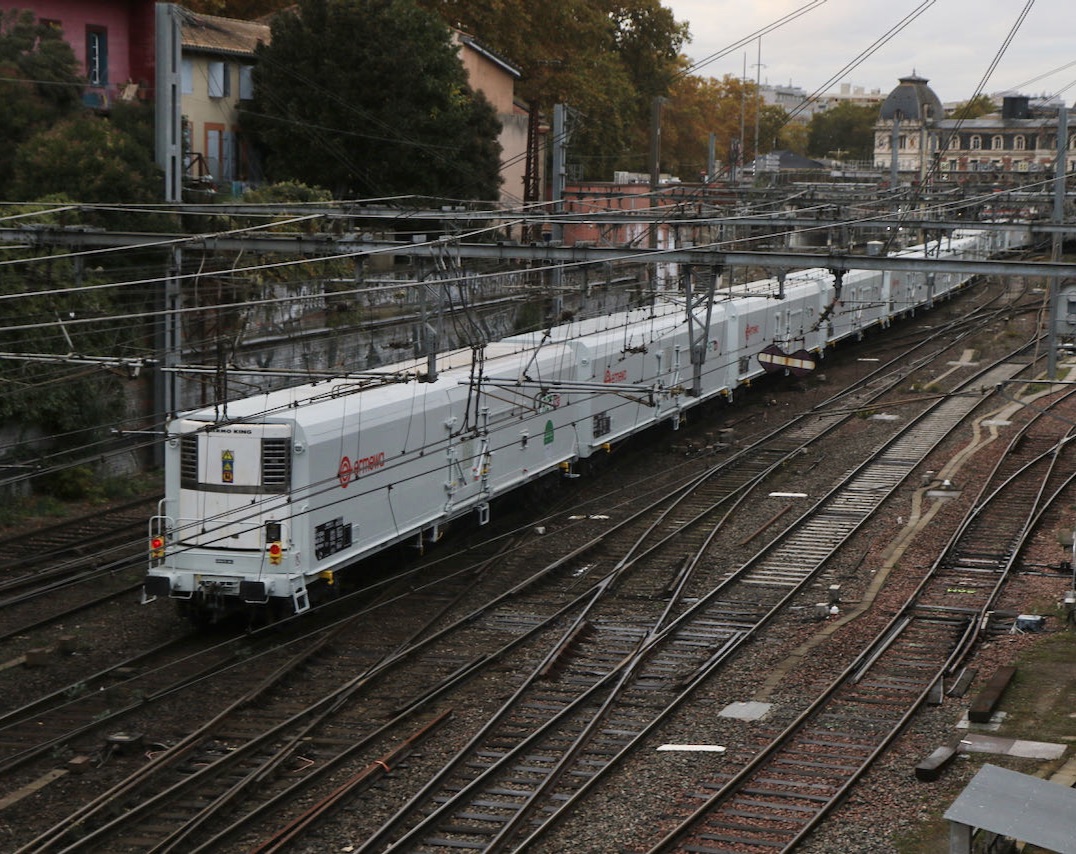 Gare du Nord development abandoned
The major plan to redevelop the Gare du Nord and surrounding area has been abandoned. First announced in 2015 the plan was to link the Gare du Nord, Gare de l'Est and Magenta to create a single transport hub as the main point of entry into France. The proposal was an integral part of France's bid for the 2024 Paris Olympics, and was expected to be the catalyst to rejuvenate the surrounding area.
The original 2018-2023 phase was to construct a new mainline departure hub on the eastern side of the station situated above ground level, on pillars with direct access to international services below via escalators, eliminating congestion between departures and arrivals.
However no work was undertaken and In 2020 a revised plan was developed between SNCF, the City of Paris and Auchan who would of managed the retail areas.
Details of this plan and a video are in the
August News
At the end of September with the project facing massive delays and way over budget it was officially abandoned.A new project will be developed later in the decade. A short term project will be created for delivery before the World Rugby Tournament and the Olympics essentially to improve the Eurostar terminus and improve the walkway between the two mainline terminals.
New RER NG trains running two years late
Originally scheduled to start entering commercial service in December 2021 the new RER NG (Next Generation) units for Ile de France are now expected to be two years late, with the delivery of the production series starting in the summer of 2023. So far five pre-production units were delivered earlier this year, but delivery of the production series for RER Lines D & E will not start until May 2023. In particular the units for RER E are needed to operate the western extension from Haussman - Nanterre and Mantes la Jolie. Without them the the RER E extension will not be able to open.
The president of the Ile-de-France region, Valérie Pécresse has accused Alstom of being an "industrial shipwreck" and is demanding €64 million euros in penalty payments on the firm order for 71 NG units (€1.04 billion ) out of the framework contract for 255 units for 3.75 billion euros.

Alstom have claimed a number of reasons for the delay ranging from Covid to the merger with Bombardier. It probably does not help that the units are built at two separate factories, one constructs the two single deck motorised driving cars and the other the double deck centre cars for each unit. Ultimately it seems the order book is beyond their capacity. For Ile-de-France alone Alstom are currently renovating 33 old trains for RER B, constructing 146 double deck units for RER B and 37 trams for T1 in addition to orders from other Regions and abroad.
Corail recycling centre opens at Chalindrey
At the end of September a new €12.2 million Corail dismantling plant was opened at Chalindrey.
The tender to design and build the Chalindrey plant was won by DI Environmental. Recycling of the coaches and removal of asbestos will be undertaken by robots.
The new plant can handle about three or four vehicles a week and is expected to dismantle 1,300 vehicles for recycling by 2028.
SNCF has a fleet of 12,000 Corail coaches to dispose of, of which 3,000 have been dismantled since 2018.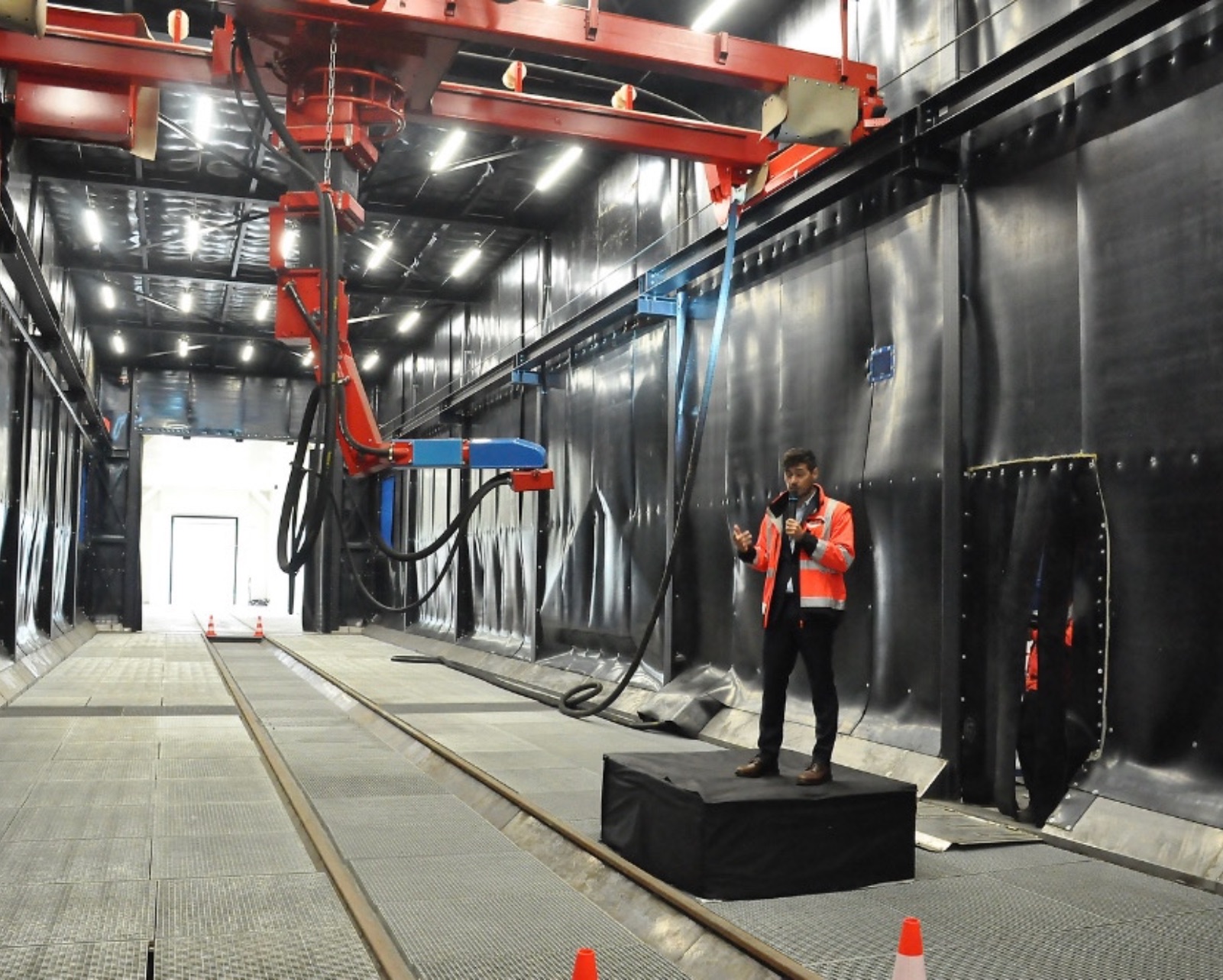 Normandy Diversions
Saturday 16th October saw the first of three weekends of diversions for Rouen - Paris traffic via Serqueux et Gisors due to repair work on the tunnel at Gaillon between Oissel and Mantes. Above train 20710 the 09:55 Le Havre - St Lazare is seen passing through Boissy L'Allerie between Gisors and Pontoise formed of new Normandie TER Bombardier Omnio Premium XL 614. Photo Jean-Louis Poggi
BB7200s in preservation
On Saturday 16th October Le Train Historique de Toulouse operated their eight excursion of the year to Villefranche-Vernet-les-Bains using their two preserved BB 7200s BB7398 and 7338 seen above at Escalquens (Haute-Garonne) with the steam heating van behind the locomotives. Photo Georges Turpin.
Le Train Historique de Toulouse now plan to use 141 R 1126 on their Santa Specials from Toulouse to Carcassone on 11th December and Toulouse to Carmaux on the 12th December
Entre d'Escalquens et Montlaur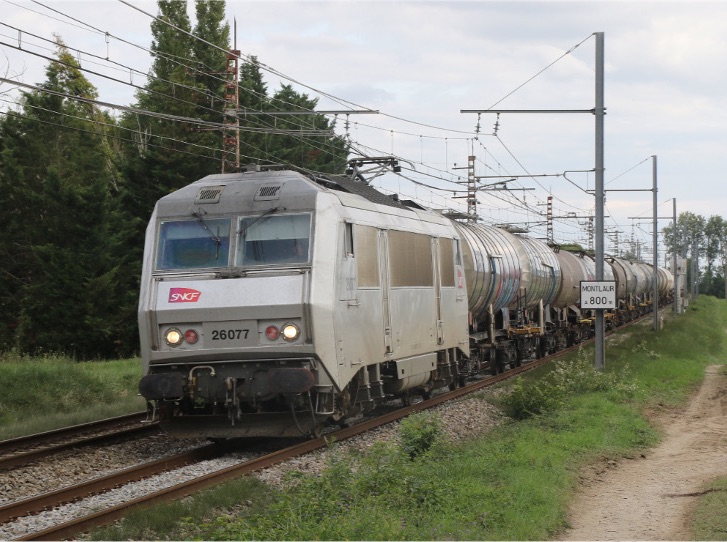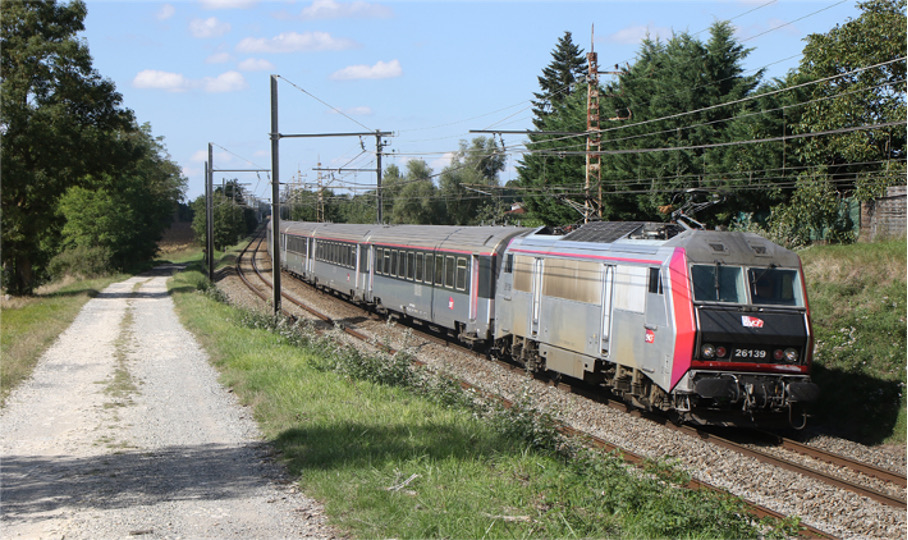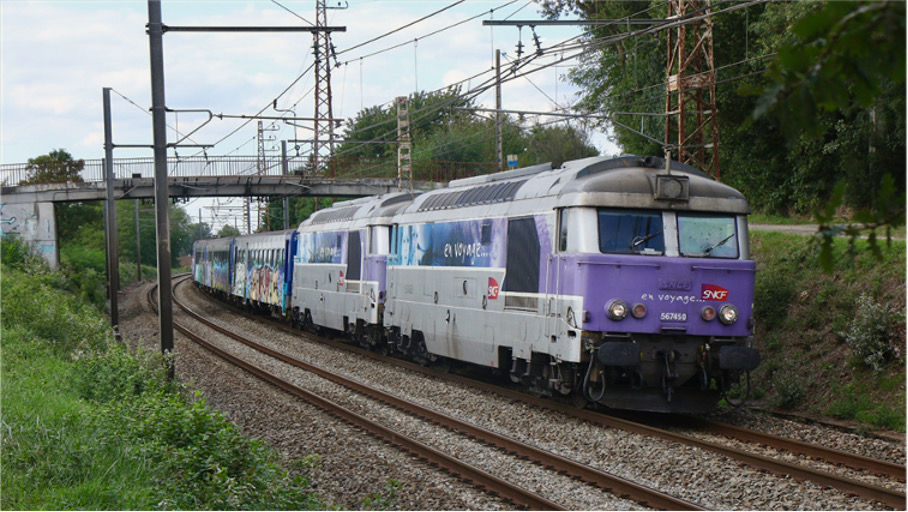 Above - Recently introduced on Bordeaux - Marseille services BB 26139 passes on Intercites 4661. Left - BB67450/67423 head towards Cerbere with withdrawn authorial trailers for scrapping. Far left - 26077 heads north with 489890 Sibelin – Hourcade. All photos Georges Turpin


En route from Toulouse to Marseille was 22317 at the head of the
France Relance
exhibition train.
This has been touring France in recent weeks setting out how the French Government plans to rebuild the country after Covid with massive investment including a particular emphasis on rail to meet environmental targets. Photo Georges Turpin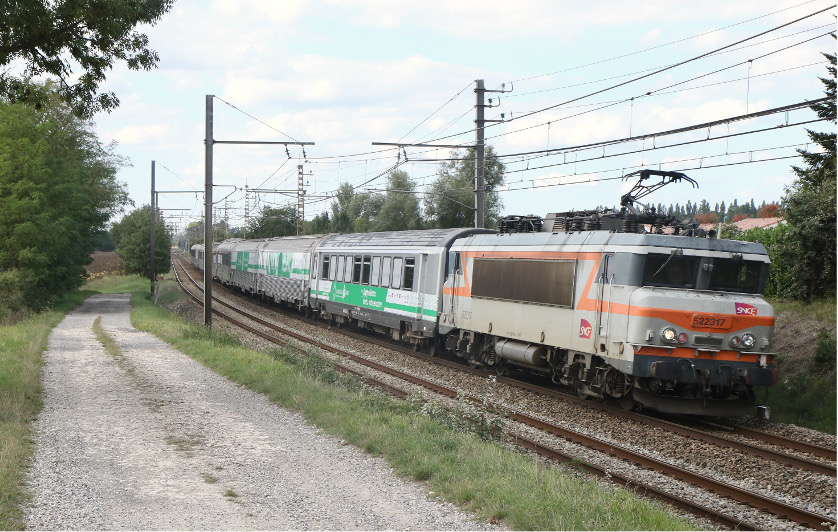 Connecting Europe Express
The Connecting Europe Express tour concluded in Paris on the 7th October. Sponsored by 40 railway, government and private organisations it had visited 26 countries over the previous 36 days, hosting conferences and other events to promote europe's railways. The train used three different formations with the final six vehicles to reach Paris each coming from different networks. Above - Headed by BB 22317 it passes Vaires on its final leg from Strasbourg to Paris. Photo Christophe Masse
First run in preservation for BB 17016
BB 17016 preserved by AAPSL (Amicale des Agents de Paris St Lazare) at Acheres will make it's first run in preservation on November 7th.
In conjunction with Sotteville based PVC (Pacific Vapeur Club) it will haul a rail tour from Val-de-Reueil to Le Havre and return to watch the start of the Jacques Vabre transatlantic race from Le Havre to Fort de France in Martinique.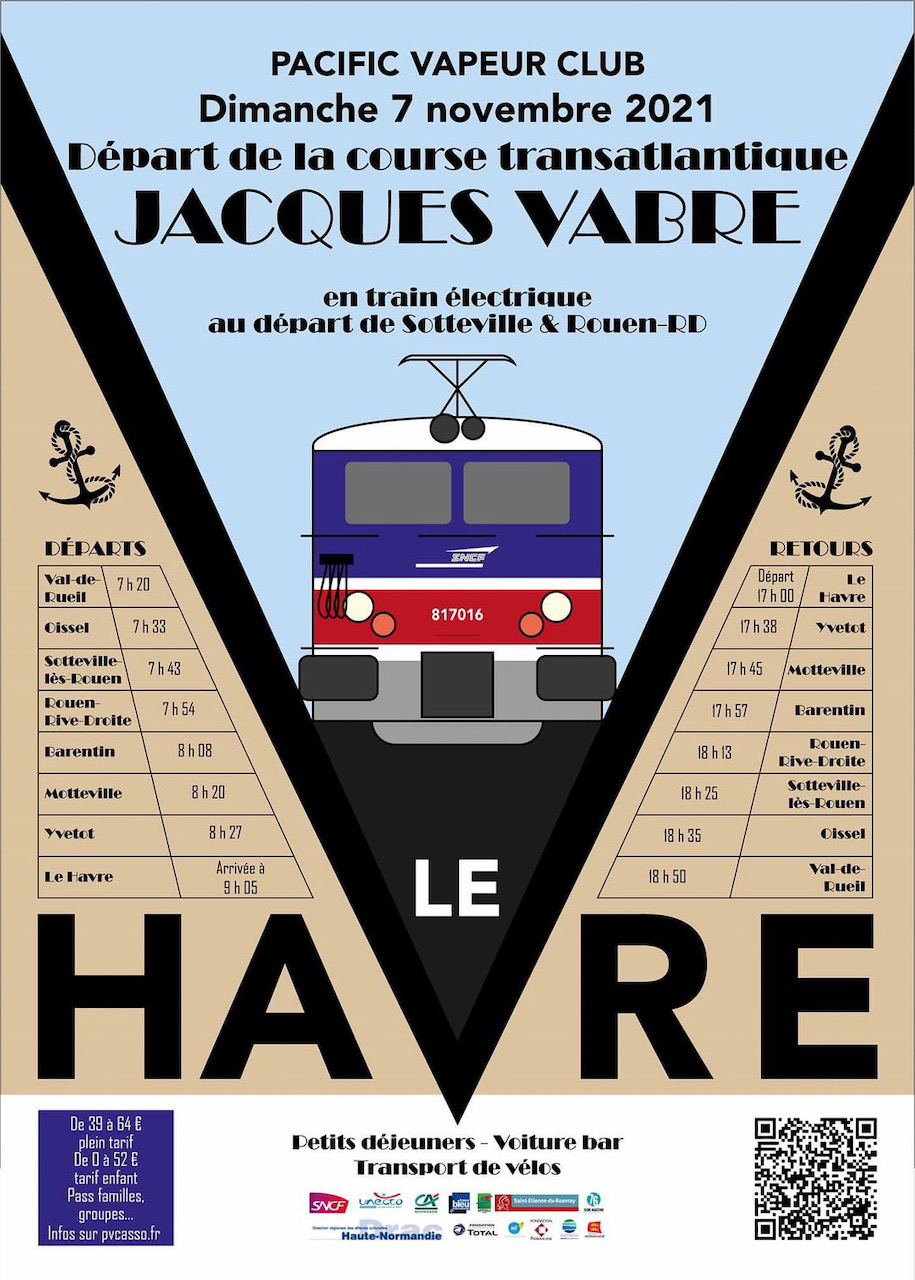 Additions to FRS Photographic Archive during October 2021

To Photographic section
- Additions to Folder 11 "French railway stations"
- A new gallery of Jacques Pore's videos & photographs of, respectively MTVS Crevecoeur and Petit Train de la Haute Somme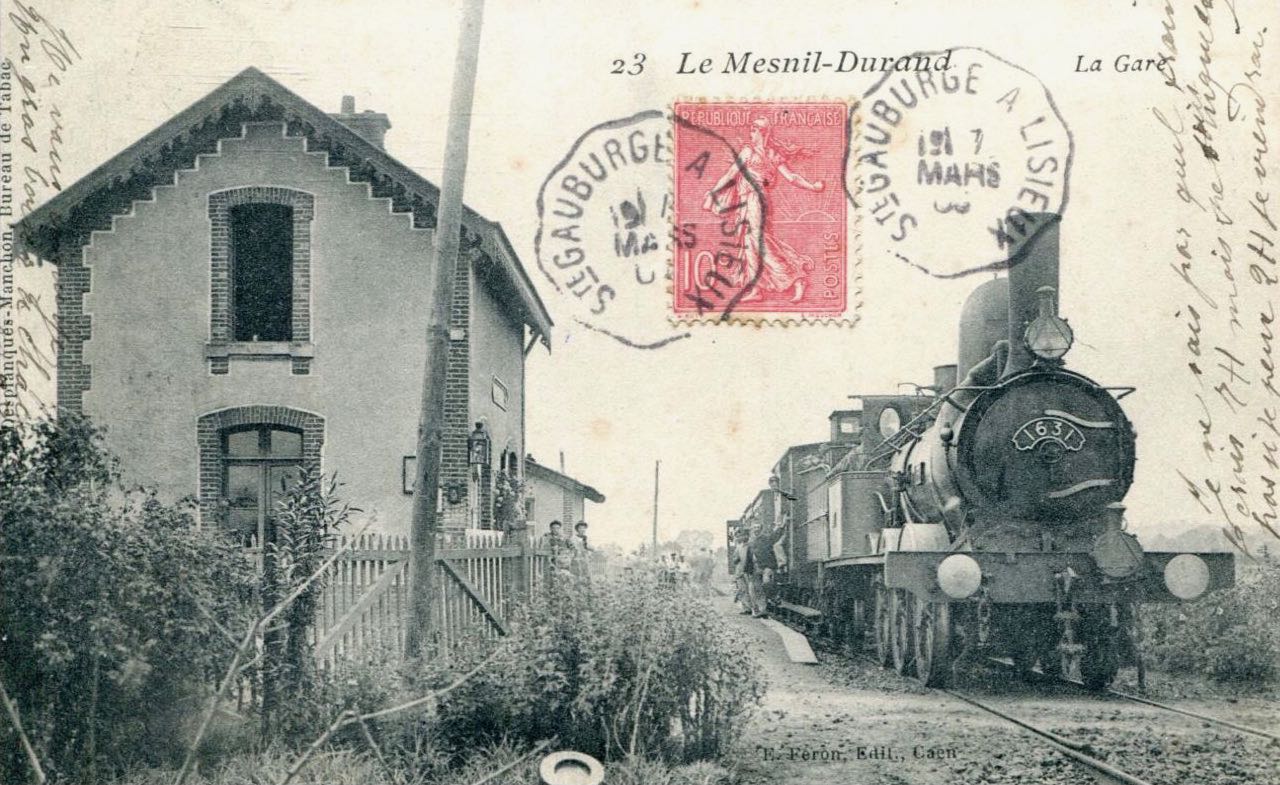 © Peter Lovell . The French Railways Society 2021. With thanks to Graham Skinner, Christophe Masse, Georges Turpin, Michel Costes, Jean-Louis Poggi, and Philippe Delaunay