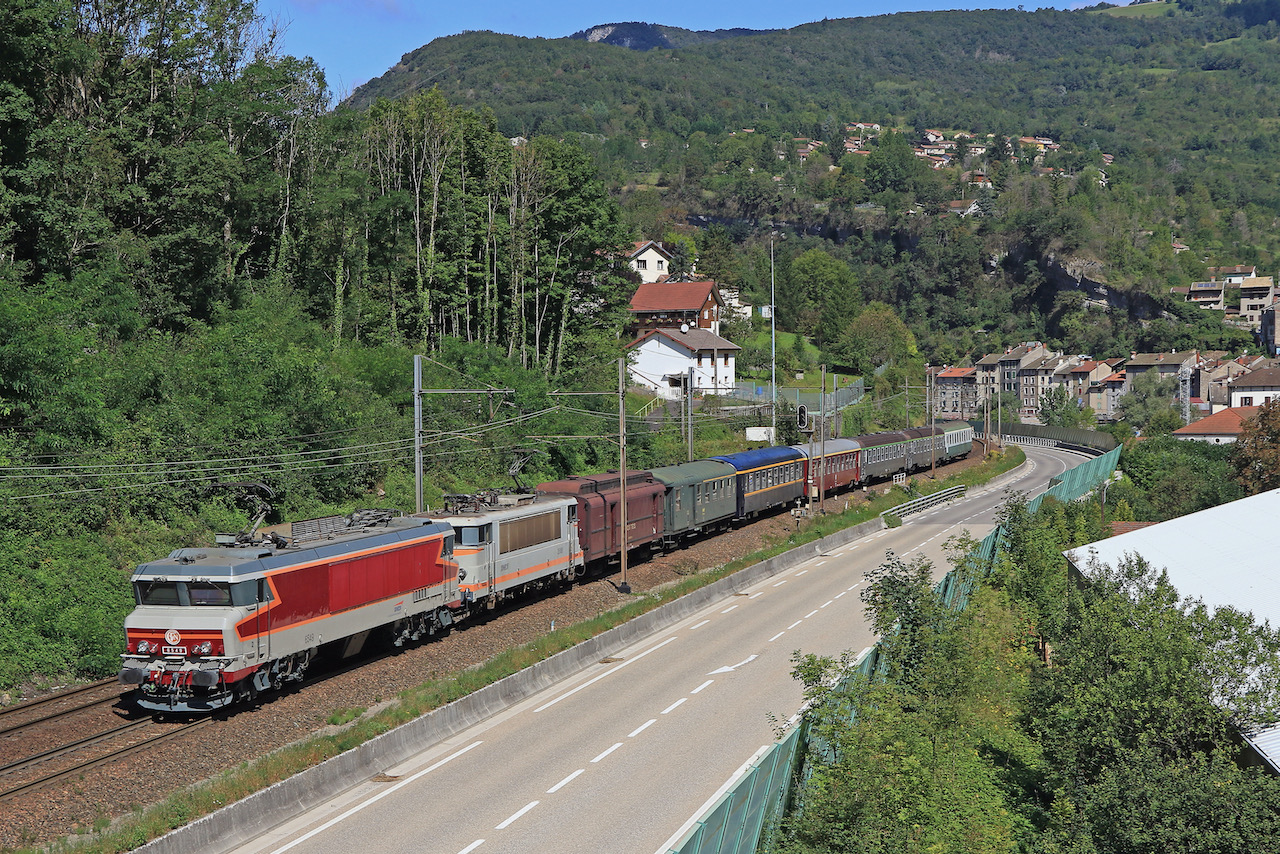 On Sunday August 29, the
Chemin de Fer du Creusot
ran it's traditional Savoie-Express to Aix-les-Bains and Chambéry, but with 241P17 currently undergoing major overhaul A1A-A1A 68540 of the AAATV-CVL operated from from Le Creusot to Ambérieu-en-Bugey. Here, the pairing of AMPFS CC 6549 and BB 25188 took over to Chambéry.
Above. With CC 6549 in the lead the outward train is seen just after passing Tenay-Hauteville . Opposite. 68540 is caught shortly before sunset as it crosses the Pont d'Ain at Ambérieu on the return. Below. On the return trip BB 25188 took the lead and is seen passing Lac du Bourget, fortunately with no road vehicles in the way. All photos Christophe Masse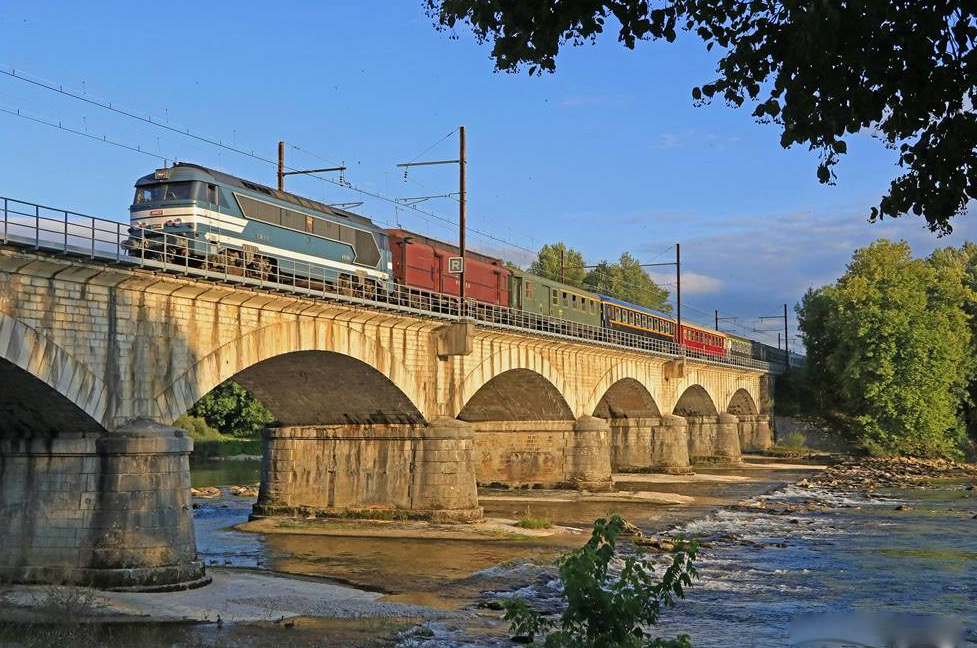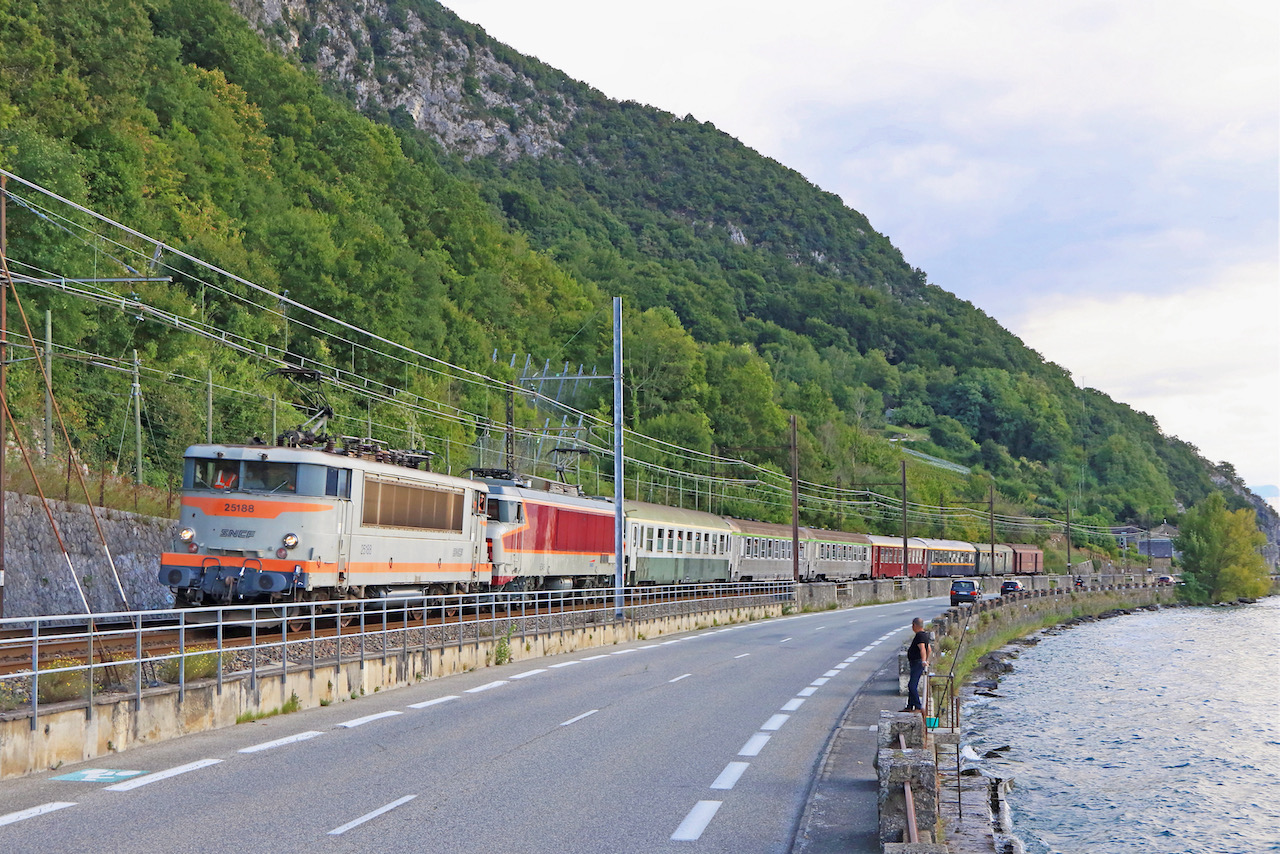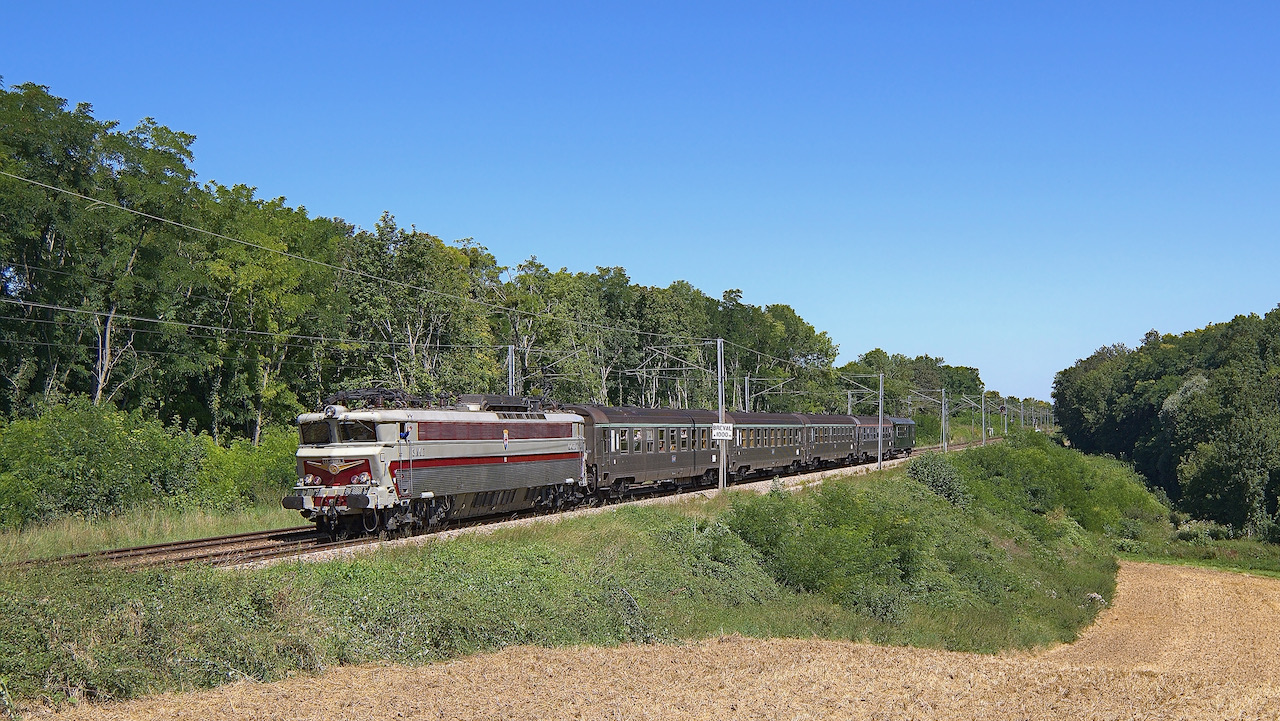 On Saturday 14th August preserved CC 40110 covered new ground when it ran from Paris St Lazare to Deauville. Problems moving the locomotive and stock around Paris resulted in a very late start from St Lazare, but CC 40110 again performed perfectly. It is seen above passing Bréval on the outward journey. CC 40110 also successfully visited Reims on the 18th September, a tribute to the MFPN preservation team after so many initial problems with the locomotive. Photo Erwan Quintin.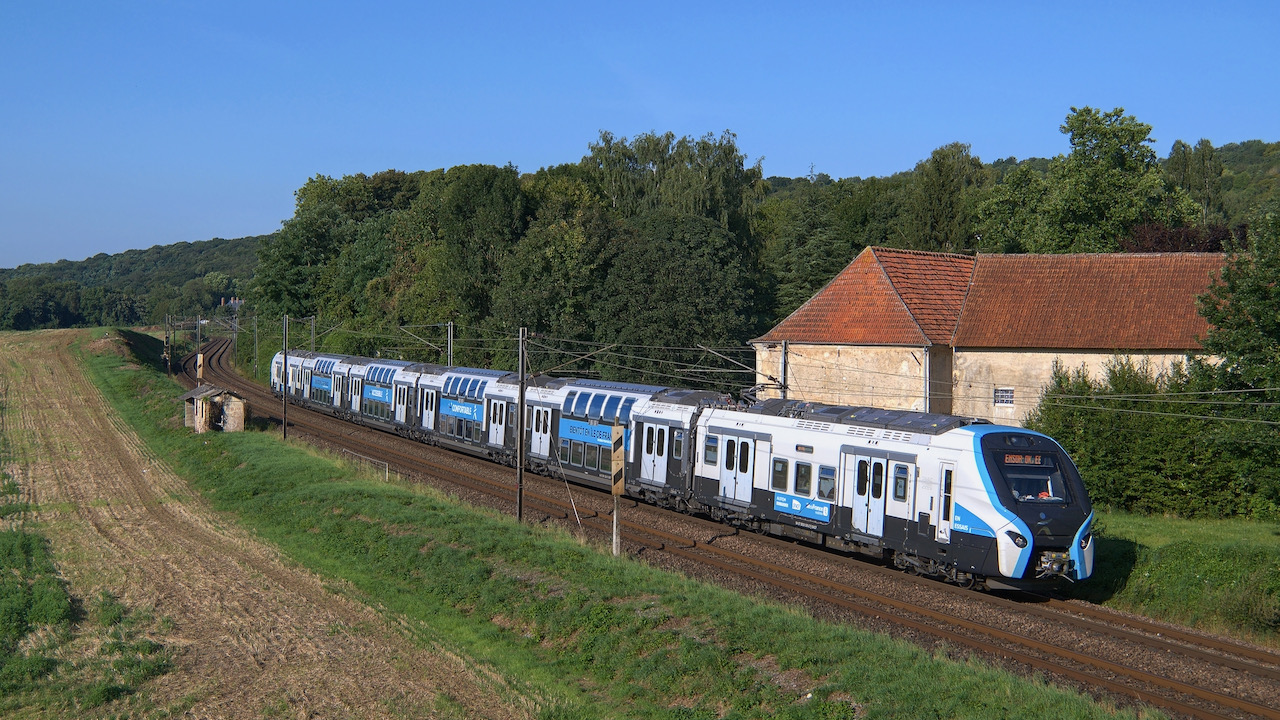 Ile de France RER NG units on the move
Dynamic testing of the new RER NG Z58500 units began in August. On the 25th August one of the new six car units is seen above passing Chamigny between Meaux and Chalons-en-Champagne. The units are all enblazoned. " Bientôt en Ile de France " The NG unit is 6 coaches with 12 doors. The 2 end coaches are single deck, the others are double deck. They will replace the Z 20500 class units which are 5 coaches long, all double deck with a total of 10 doors. The NG units have fewer seats than the older units but overall a larger capacity with 2 extra doors for quicker boarding. As with the Z 20500, the NG can operate in pairs.
Photo Erwan Quintin
255 NG (Next Generation) units have been ordered for RER lines D and E. Deliveries are scheduled to last until 2027, with the first units expected to be introduced on RER Line D from December of this year.The Z 20500 units will be transferred to RER C replacing older stock. Below BB 22251 is seen passing Reuilly-Sauvigny, between Château-Thierry et Dormans with a new unit (and corail coaches for braking capacity) on the 12th August. Photo Georges Turpin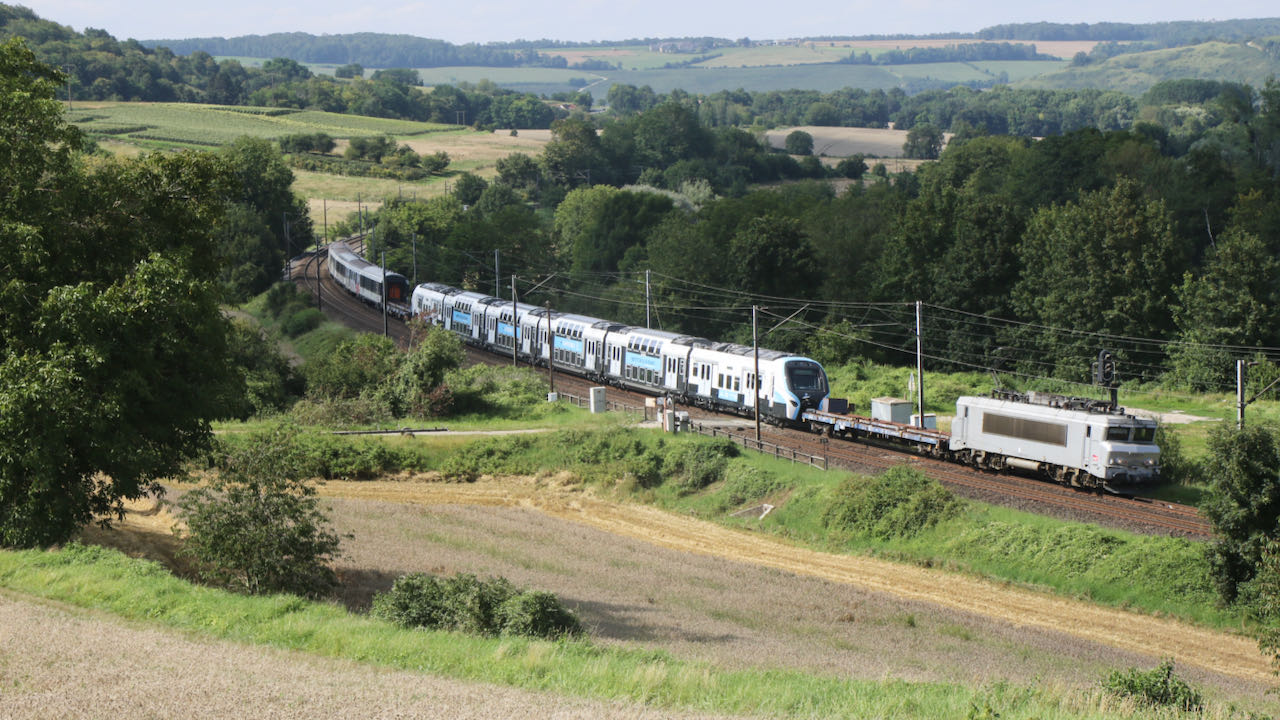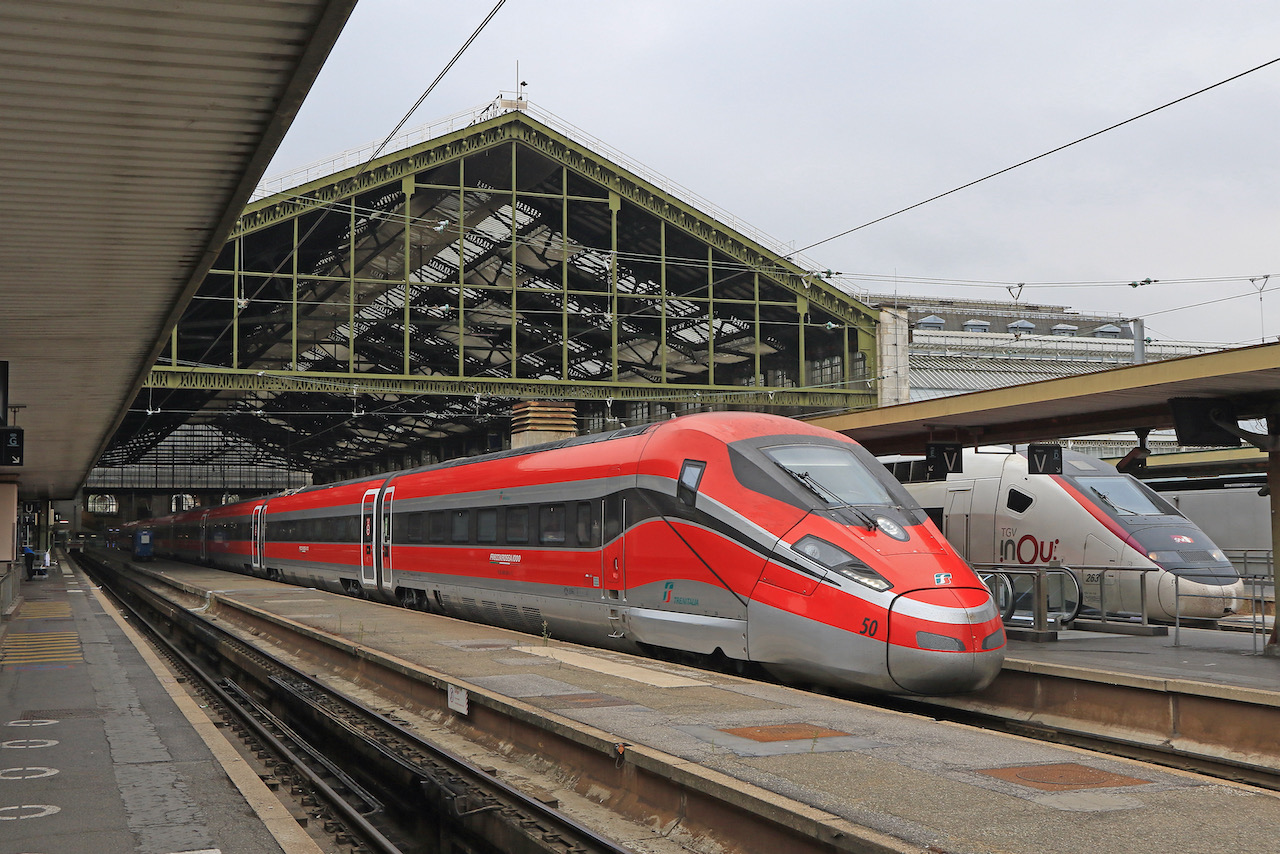 On Saturday August 29th the first Treinitalia's Frecciarossa 1000 arrived at Paris Gare-de-Lyon. The following day test running commenced between Paris and Lyon-Perrache in anticipation of Treinitalia's new Paris - Turin - Milan service that will be introduced in December. This will be the first occasion that SNCF have faced high speed competition in France. Photo Christophe Masse.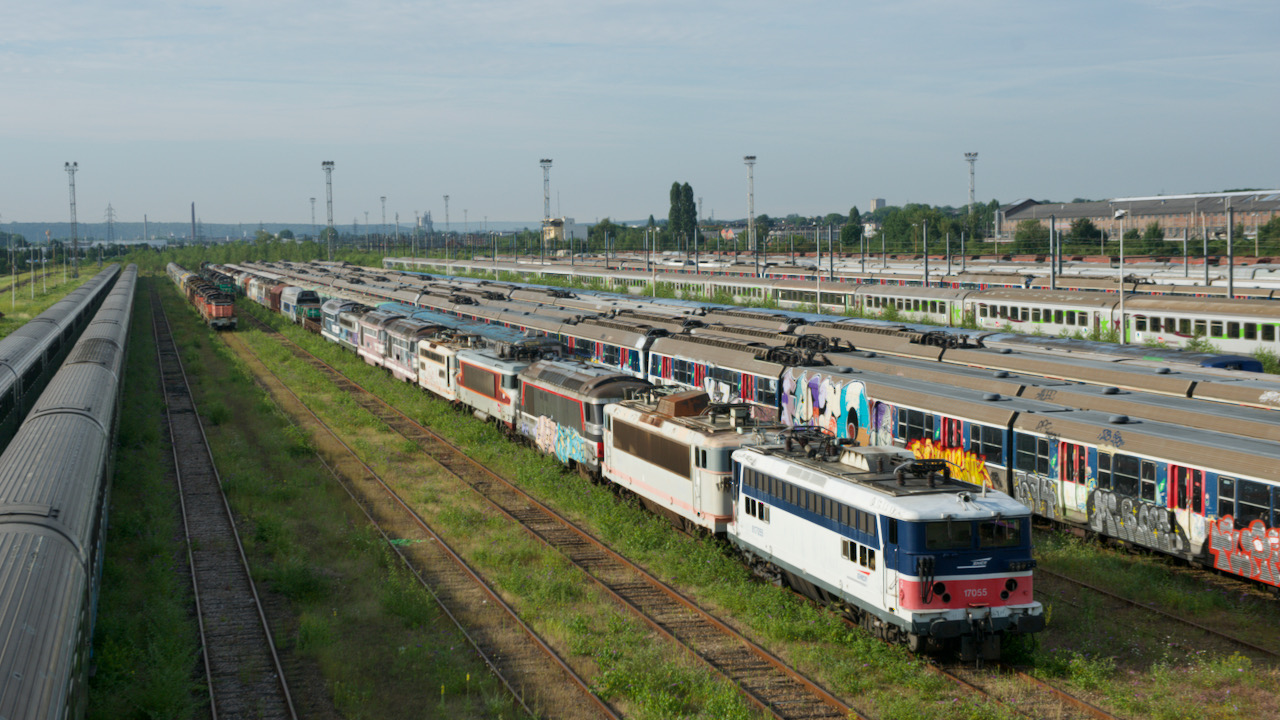 Changing times at Sotteville
Since 2010 the former Triage Yard at Sotteville has been used to store withdrawn locomotives. At one stage over 400 locomotives were awaiting breaking up at the adjacent Quatre Mares works. Over the last two years the work has been contracted out to a breakers in Nancy with convoys of locomotives moved from Sotteville.
On the 12th August only two small groups of locomotives remained, either side of the Pont de quatre Mares the yard now full of withdrawn Normandie Corail coaches, SE TGVs, X72500, X4900 and Z6400 units and RRR push-pull stock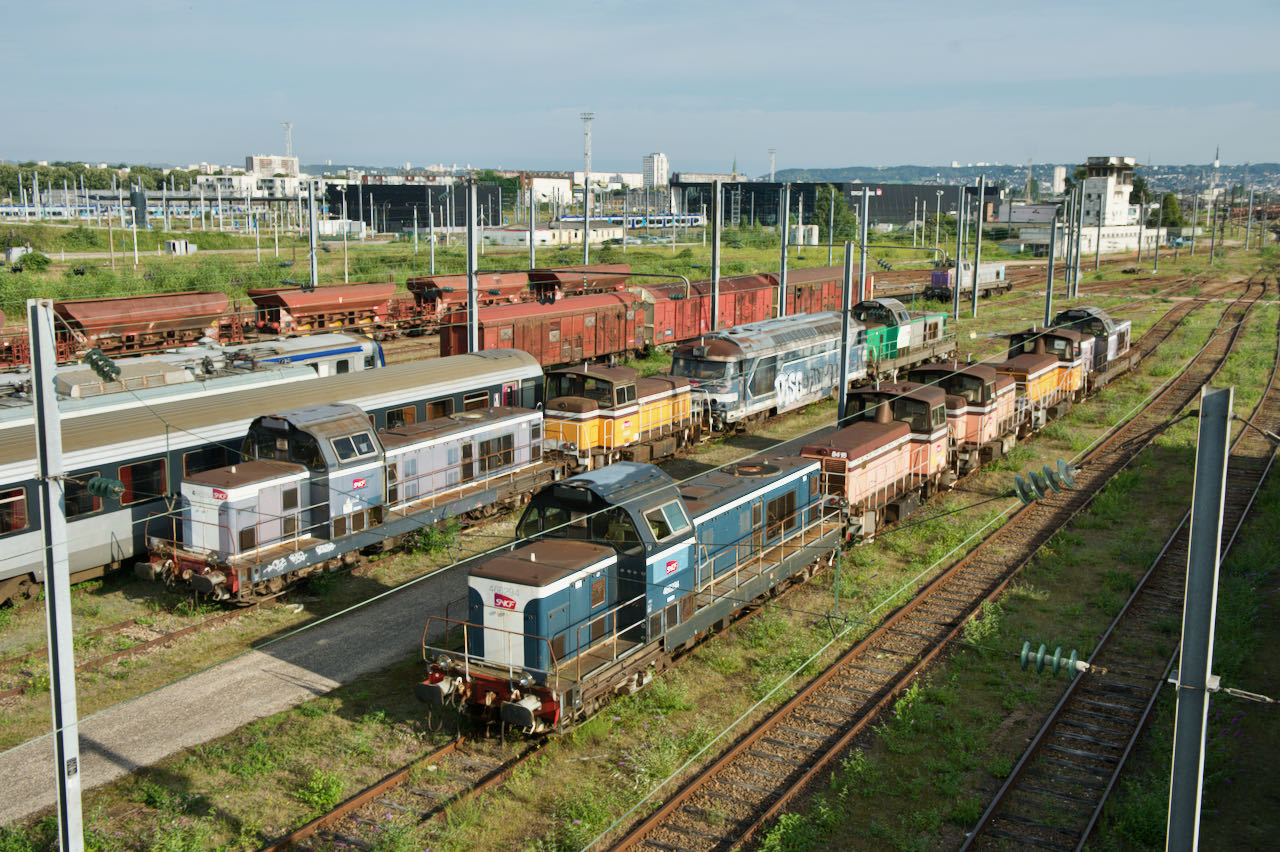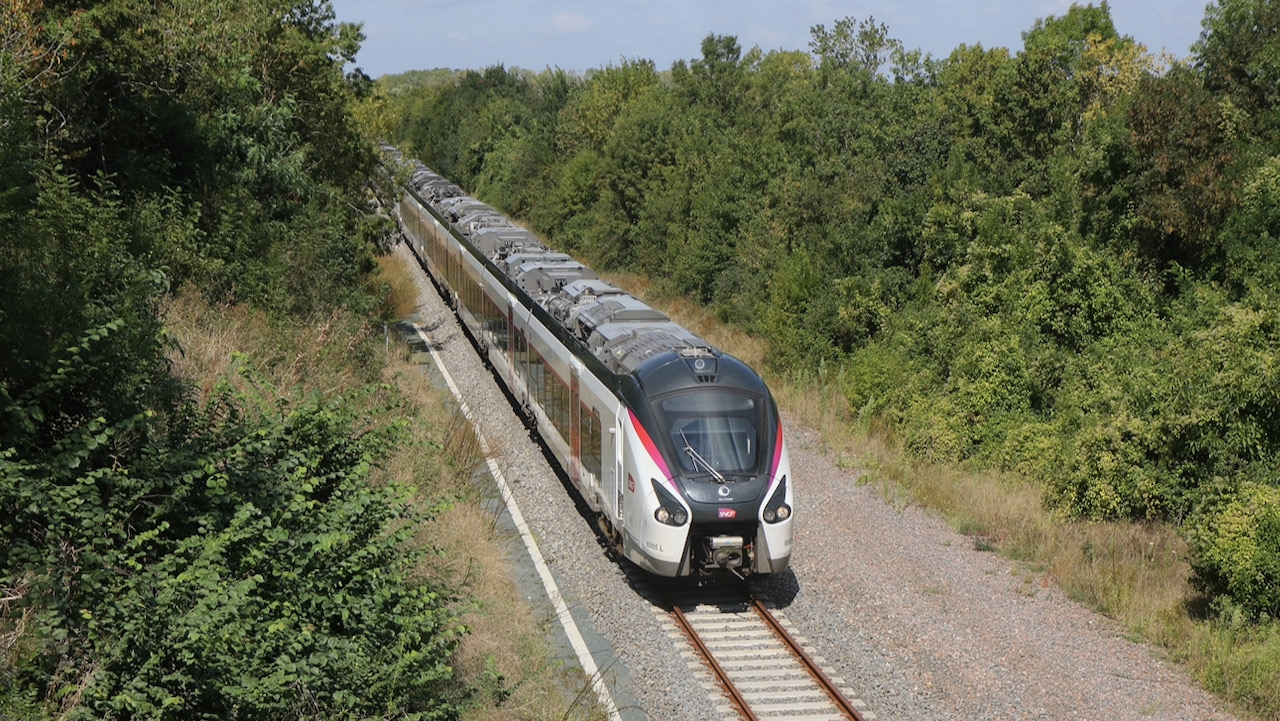 The new order on Nantes - Bordeaux
As reported in August News the 103km line between La Roche-sur Yon (Vendée) and La Rochelle (Charente-Maritime) re-opened on July 31st, after 19 months of closure, during which time the line was rebuilt as a single line section. On 29th August Intercité Coradia units 85055 and 85041 are seen passing La Claye with Intercités 3833 Nantes - Bordeaux on one of the rare straight sections between La Roche-sur-Yon and Luçon. On the right is the former trackbed of the southbound line.
Photo Georges Turpin
Railcoop receives Operator Licence and unveils future plans
On the 14th September fledgling operator Railcoop received it's operator's licence, enabling it to operate passenger, freight and traction services, a condition of which is to begin operating by the end of June 2023. Before they can begin operating they must also obtain a safety certificate from the
Etablissement Public de Sécurité Ferroviaire.
Earlier Railcoop had unveiled more plans to operate cross-country services, in addition to the Bordeaux - Lyon service that it had already announced. Plans lodged with the Rail Regulatory Authority include a Thionville - St Etienne/Grenoble service that will divide at Dijon.
Railcoop describe it's future plans as complementing those offered by SNCF rather than seeking to compete, and offering a different service by calling at intermediate stations that are by-passed by TGV services. We understand that Railccop are seeking to acquire a number of former Auvergne-Rhone-Alpes X72500 units that have been recently withdrawn.
In November Railcoop will commence a freight service carrying containers from the Decazeville/Figeac area to St Jory Yard at Toulouse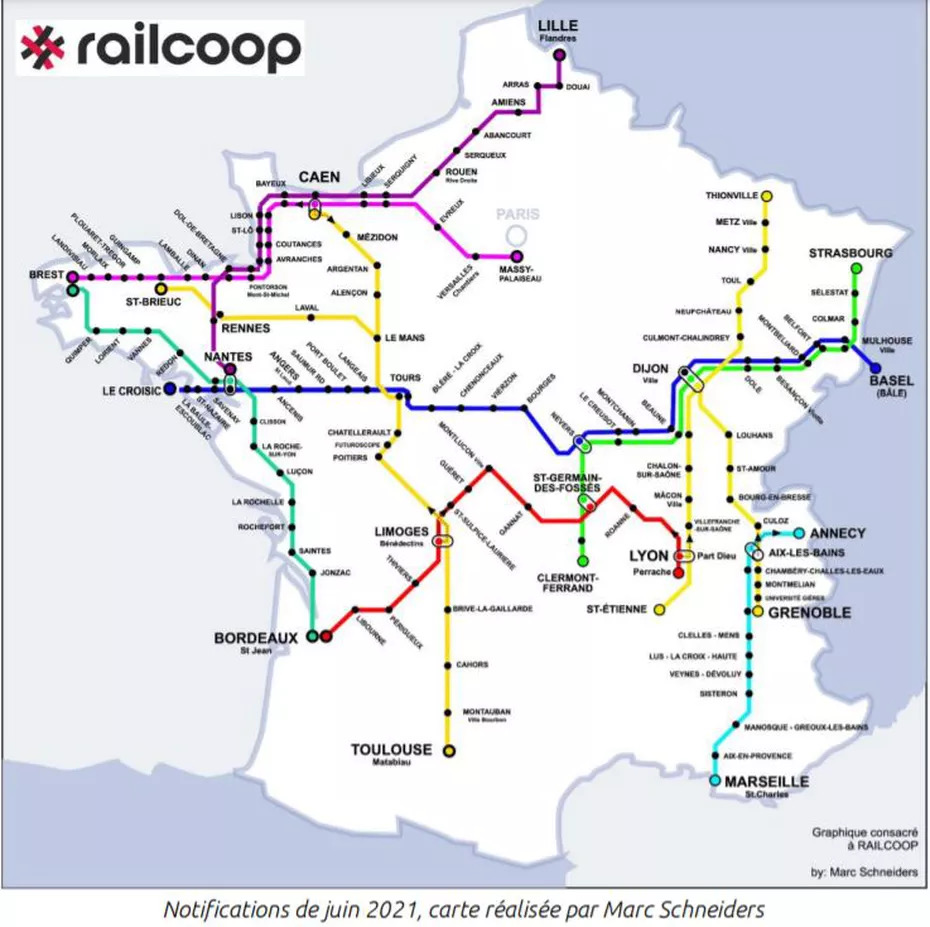 PACA chooses TRANSDEV
TER Sud ( Provence-Alpes-Côte d'Azur) has selected Transdev to operate The Nice - Toulon - Marseille service from July 2025 for a period of ten years. They will order 16 Omneo Premium train sets to replace the reversible BB 22200 Corail loco hauled sets currently operated by SNCF. Service frequency is expected to double from seven to 14 services each way daily. It is understood that SNCF and Thello also competed to operate service.
SNCF were the only bidder for a package of local services around Nice including the line to Breil-sur-Roya and Tende.

CFBS trials wood chip fuel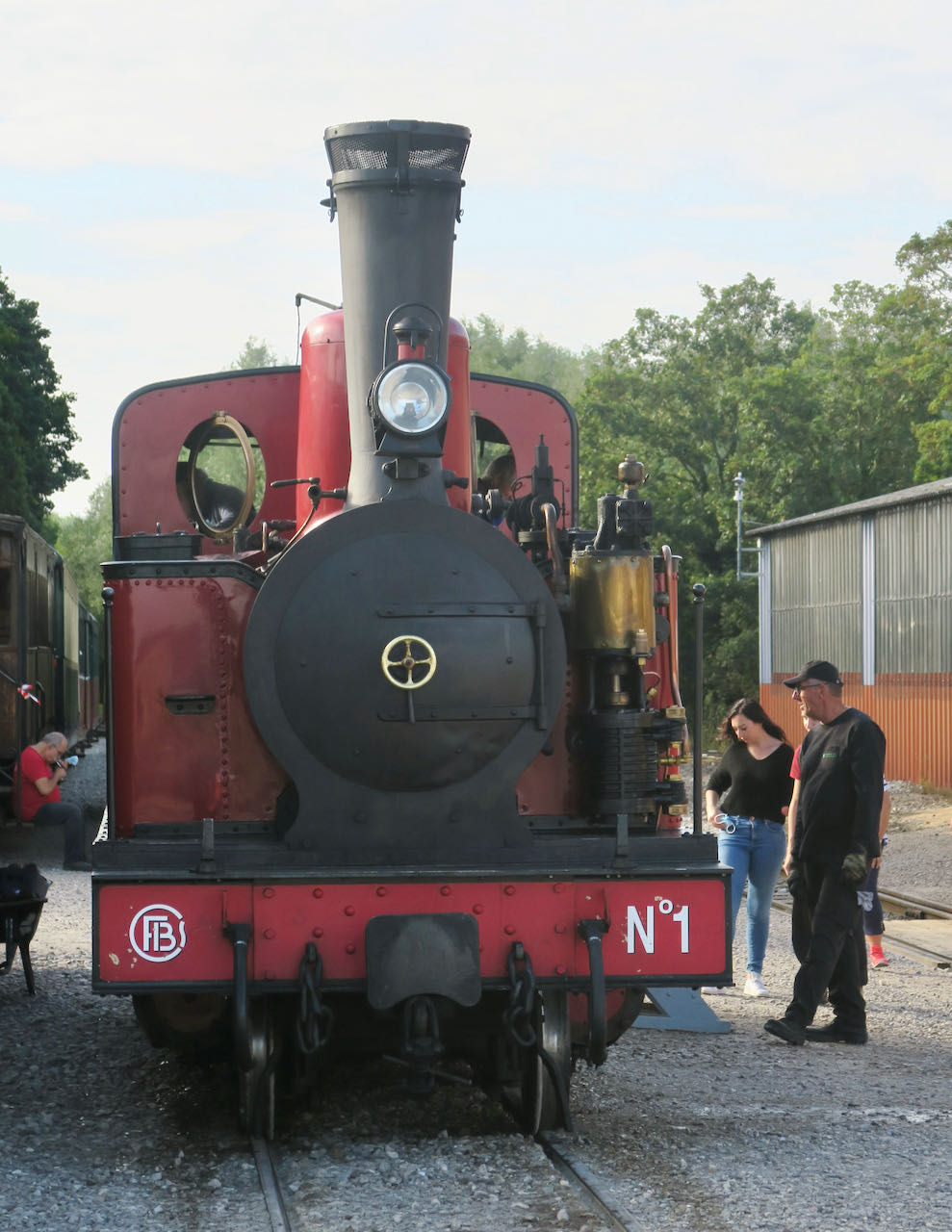 The CFBS are currently conducting a trial with their Corpet-Louvet 0-6-2T, that has been fitted with a spark arrester, to test the effectiveness of compresed wood chip pellets.
The aim is to reduce the amount of fossil fuel emissions, and reduce smoke in the St Valery Port area, the wood pellets burning with little or no smoke. If successful locomotives would operate using a mix of both coal and wood pellets.
Rejuvenation of lines in Indre-et-Loire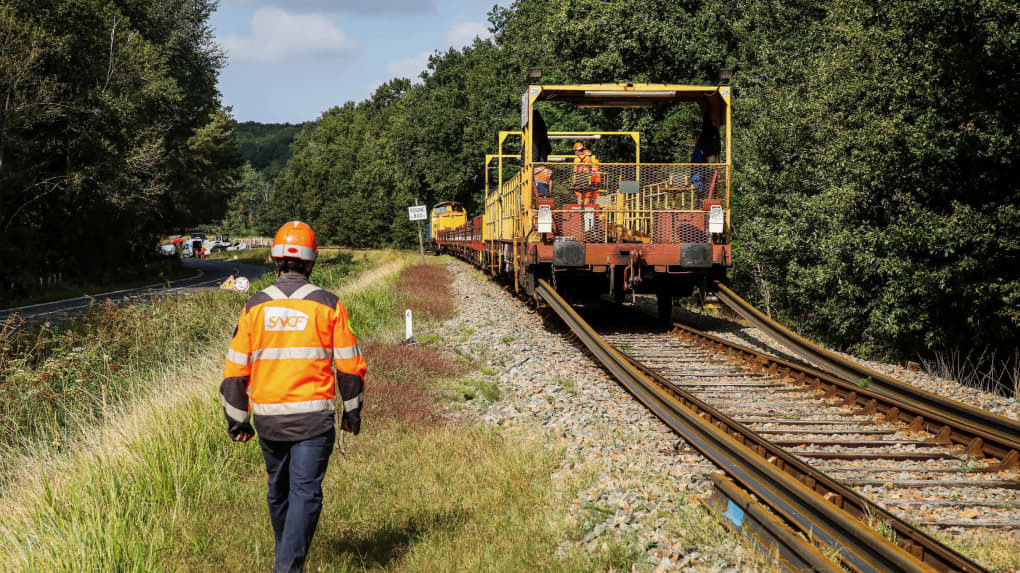 Three large-scale projects will take place in the coming months to modernize the Tours-Loches, Tours-Chinon and Tours-Vendôme lines. Center-Val de Loire Region is funding the work at a cost of €48 million with buses providing alternative services while the lines are closed
Tours-Châteaudun. Work began on August 28th and will initially concentrate on the section between La Membrolle-sur-Choisille and Vendôme. 50km of track and four sets of points will be renewed with work expected to take a year.

Tours-Loches. Replacement of 27 km of track between Joué-lès-Tours and Reignac, some dating back to 1901. Line speeds are currently down to 10km/h in places and without replacement closure would take place. Line speeds should be restored to 75/85km/h when the line re-opens in July 2022
Tours-Chinon Work will begin on October 4 and continue until January 28, 2022. They will consist of renewing or modernizing 9 km of tracks, 3 sets of points and 4 level crossings.
Nancy abandons light rail plans
The new municiapal administration in Nancy have abandoned plans to replace the existing TVR trolley bus line with a more extensive light rail tram system estimated to cost €500 million.
Instead the original TVR line will be replaced with new trolley buses at the end of 2023
Hydrogen fuel testing begins
The Alstom
iLint
hydrogen train began demonstrations on a test track near Valenciennes at the beginning of September with the two car set that has been running in Germany since 2018. A number of regions have ordered a larger more expensive bi-mode electric/hydrogen train from Alstom. Further testing will take place on the Tours - Loches line when it re-opens in 2022
"Ouigo Vitesse Classique" - SNCF's new low cost service
SNCF have announced details of their new low cost service
Ouigo Vitesse Classique
previously referred to as Project Oslo.
The new service suceeeds
100% Eco Intercités
offering low cost travel in locomotive hauled stock bookable only on the internet. Sixty former Normandie Intercités corail coaches are being overhauled and repainted in dark pink livery.
Two routes are planned from Spring 2022, with two daily services each way between Paris-Bercy and Lyon-Perrache in between 4:45hrs to 5:15hrs, calling at Villeneuve-Saint-Georges, Melun, Dijon, Chalon-sur-Saône and Mâcon and three services daily each way between Paris Austerlitz and Nantes via Juvisy, Massy-Palaiseau, Versailles, Chartres, Le Mans and Angers or Juvisy, Les Aubrais, Blois, Saint-Pierre-des-Corps, Saumur and Angers in between 3:30 hrs to 4:15hrs,
Tickets will be between €10 and €30 with children at €5 and are aimed at taking market share from the road, particularly Flixbus, BlaBlaCar and individual cars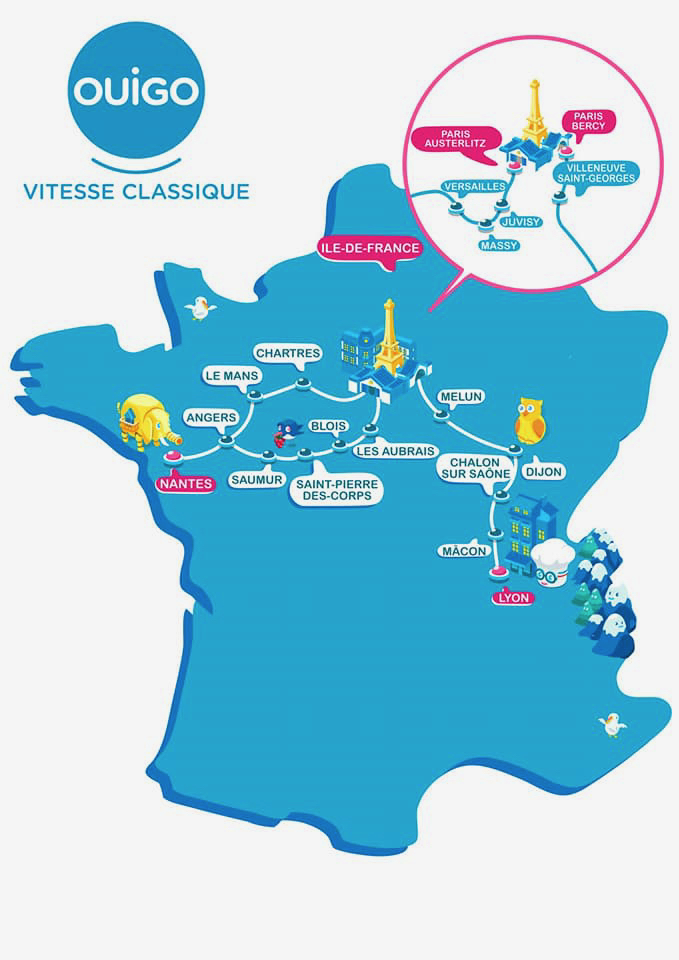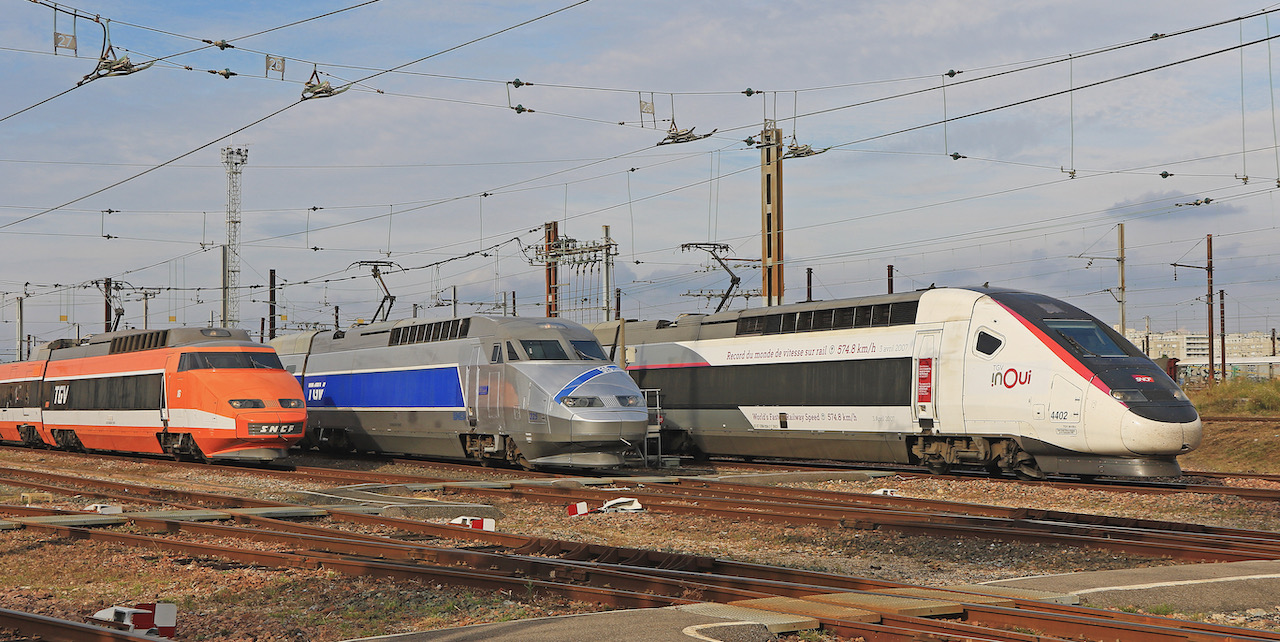 Journées Européennes du Patrimoine
The annual heritage weekend took place over the weekend of the 18th-19th September with SNCF holding events at over 100 sites across France while numerous preservation also societies held special events. The event co-incided with the celebrations of 40 years of the TGV with PSE set 16 in original orange livery on display at Gare de Lyon. From here a shuttle was available to visit the South-East European Technicentre at Villeneuve-Saint-Georges. Here the opportunity was taken to bring the three record breaking TGVs together - PSE-16 (380 km/h on February 26, 1981), ATL-325 (515.3 km/ h on May 18, 1990) and POS-4402 (574.8 km/h on April 3, 2007)
Photo Christophe Masse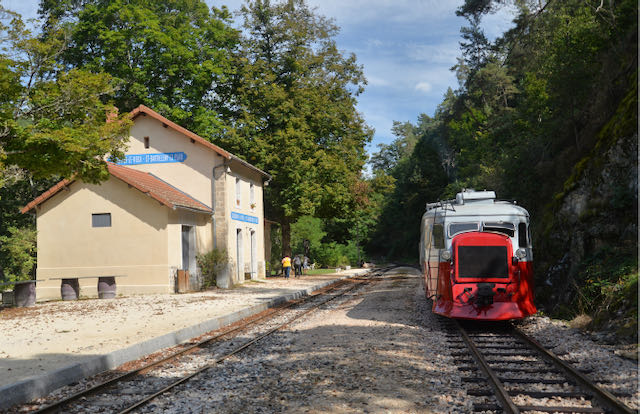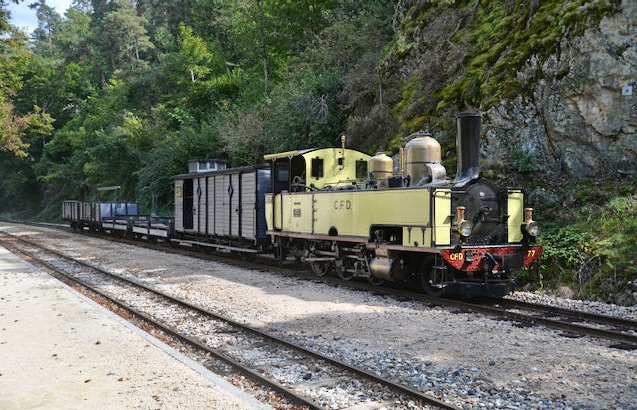 On Saturday 18th September 2021, the Chemin de Fer du Vivarais and the Association Sauvegarde et Gestion de Vehicules Ancien (SVGA) organised a photographers' special train to celebrate 130 years of the Mastrou (Le train de l'Ardeche). The special was formed of 1895 built Cail locomotive 130T77 and five ex Chemin de Fer Départmental freight wagons. As 130T77 is not in working condition, the special was propelled by CFV's 1948 built 030 ex CFD locotracteur with photographers travelling ahead of the train, in one of the Vivarais Billard railcars, to be dropped off at photographic locations. A video of the event is available
via this link
.
The Cail locomotive ended its career in industrial service, in 1951. It was then purchased by the Fédération des Amis des Chemins de Fer Secondaires and spent many years on display at the Musée des Transports Secondaires at Pithiviers in the Loiret département. Since 2017 the locomotive has been resident at the nearby Voies ferrées du Velay, it is classified as Monument Historique. Above Left The Billard railcar has just arrived at Colombier le Vieux - St Barthélémy le Plain, France's longest station name, with photographers on board. Above Right .At Colombier le Vieux - St Barthélémy le Plain the special, with locotracteur detached, is seen in the loop waiting for the service train to pass: Both photos Michael Bunn

At Pacy-sure-Eure the CFVE (Chemin de Fer de la Vallee de L'Eure) gave ABJ 4 X3601 (introduced December 1948) one of it's occasional outings, working trips to Hécourt - seen below left departing from Pacy-sue-Eure. On Saturday 18th September "Train Historique de Toulouse" ran a trip from Toulouse to Hendaye with preserved BB 7338. An early start at 06:40 saw it arriving (below right) at Portet-Saint Simon with the station lights not working.
Photo Georges Turpin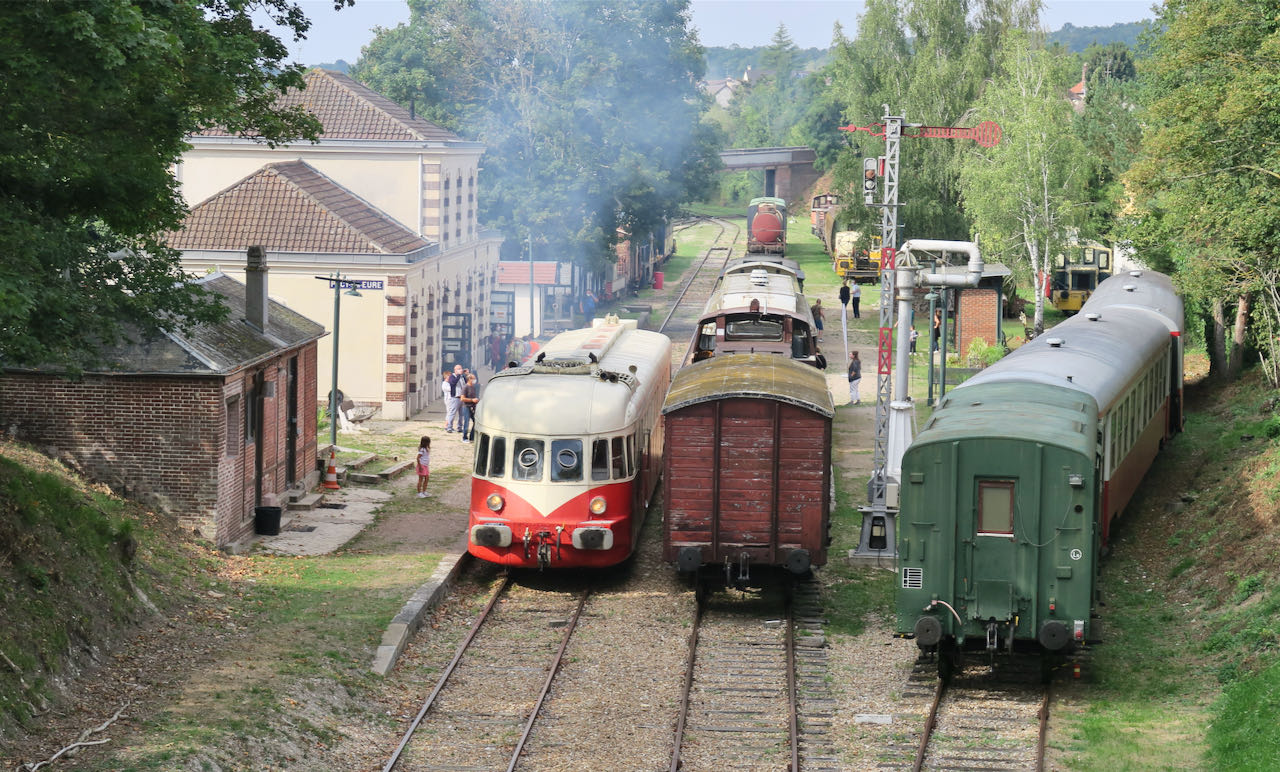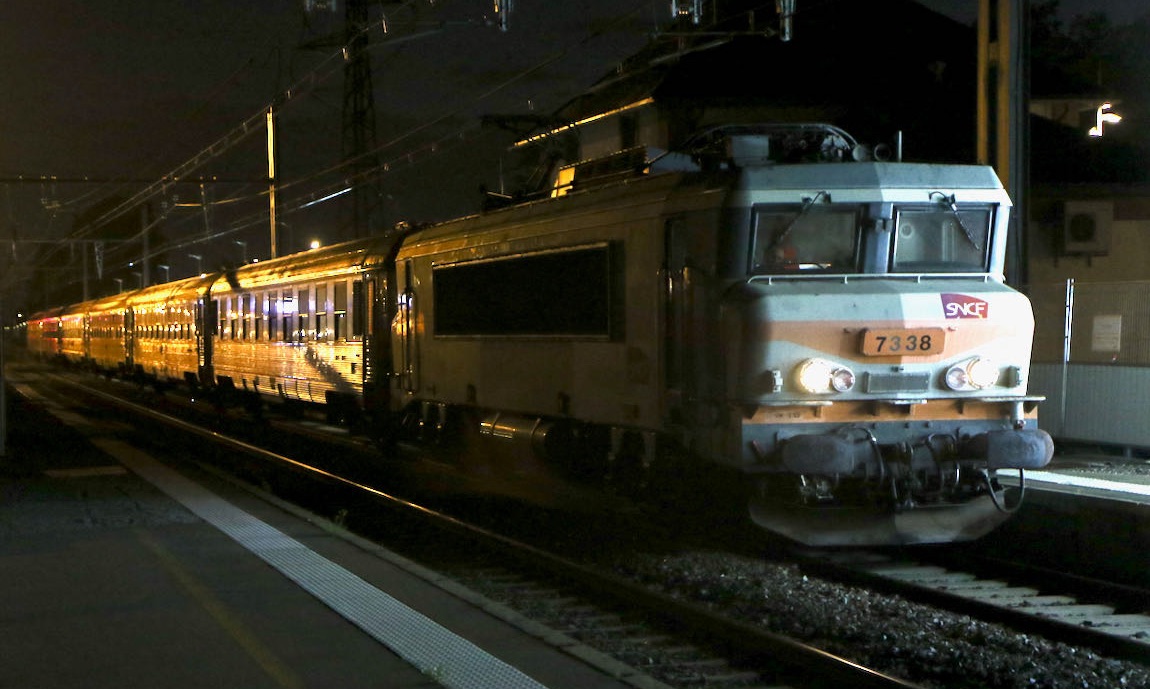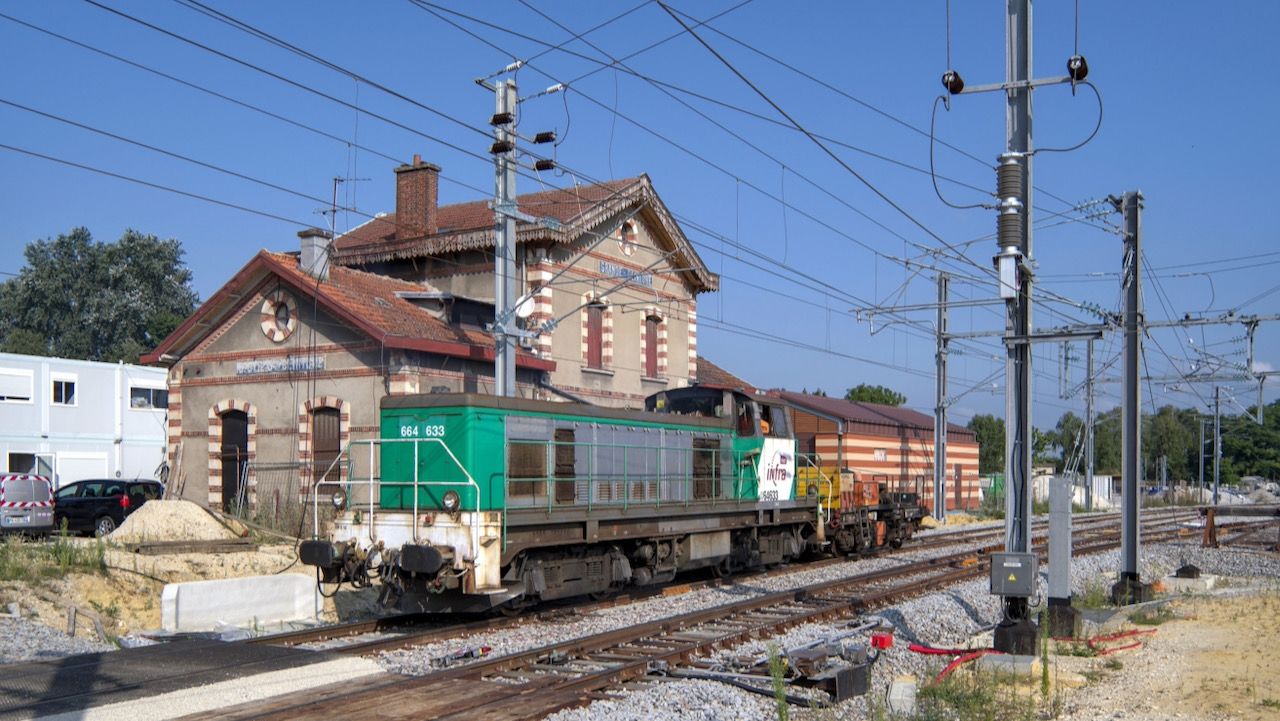 The 24th August saw the first movement over the new Grande Ceinture Ouest (that will form part of the T13 Express Tram route) when BB 64633 and SIM vigirail wagon n ° 11 measured the new track between Versailles-Matelots and St-Germain-en-Laye-Grande-Ceinture. Seen above in front of the old station of St-Cyr-Grande-Ceinture, which was scheduled to be demolished within a few days. Photo Erwan Quintin.
Additions to FRS Photographic Archive during September 2021
To Photographic section
- A new Folder 11, entitled "French railway stations", divided into 6 separate galleries (5 regions plus "secondaires")
- To Folder 7 - a selection of articles from the Revue Generale de Chemins de Fer 1938
To "Locations" section
- An LVDR article on Corbie


© Peter Lovell . The French Railways Society 2021. With thanks to Graham Skinner, Christophe Masse, Georges Turpin, Erwan Quintin and Michael Bunn