Tramway de Mont Blanc developments
2023 sees major developments on the TMB with the first summer for the four new motrices, that entered service last December and replaced the previous three motrices that dated from the late 1950s. The extra vehicle will provide capacity for a more intense service with service intervals of every hour or thirty minutes from 8th July. Above,
Marguerite
is seen heading towards Bellevue on the 26th June. To the right of the photo the line can be seen snaking up towards the temporary terminus at Mont Lachet (2077m).
Photo:
Christophe Masse.
This summer work will at last commence on extending the TMB. Work was suspended at the outbreak of the First World War and the line never reached the intended terminus at Aiguille du Gouter.

For 109 years trains have terminated at the rather spartan terminus at Nid d'Aigle 2,380m (See photo). From here intrepid passengers can scrabble up the rough boulder-strewn track to the cafe (where supplies are delivered by helicopter) and the decaying Bionnassay Glacier.
On completion in 2026 the line will be extended about another 300m to a new terminus featuring a Mont Blanc interpretation centre, an immersive space called 'Objective Mont-Blanc', a restaurant/shop, and a themed walkway and viewpoint over the glacier.
The TMB is owned by Département de la Haute-Savoie and operated since 2020 on a 15-year concession by Compagnie du Mont-Blanc/Caisse des Dépôts et Consignations group. The Département plans to invest a total of €70 million over the term of the concession.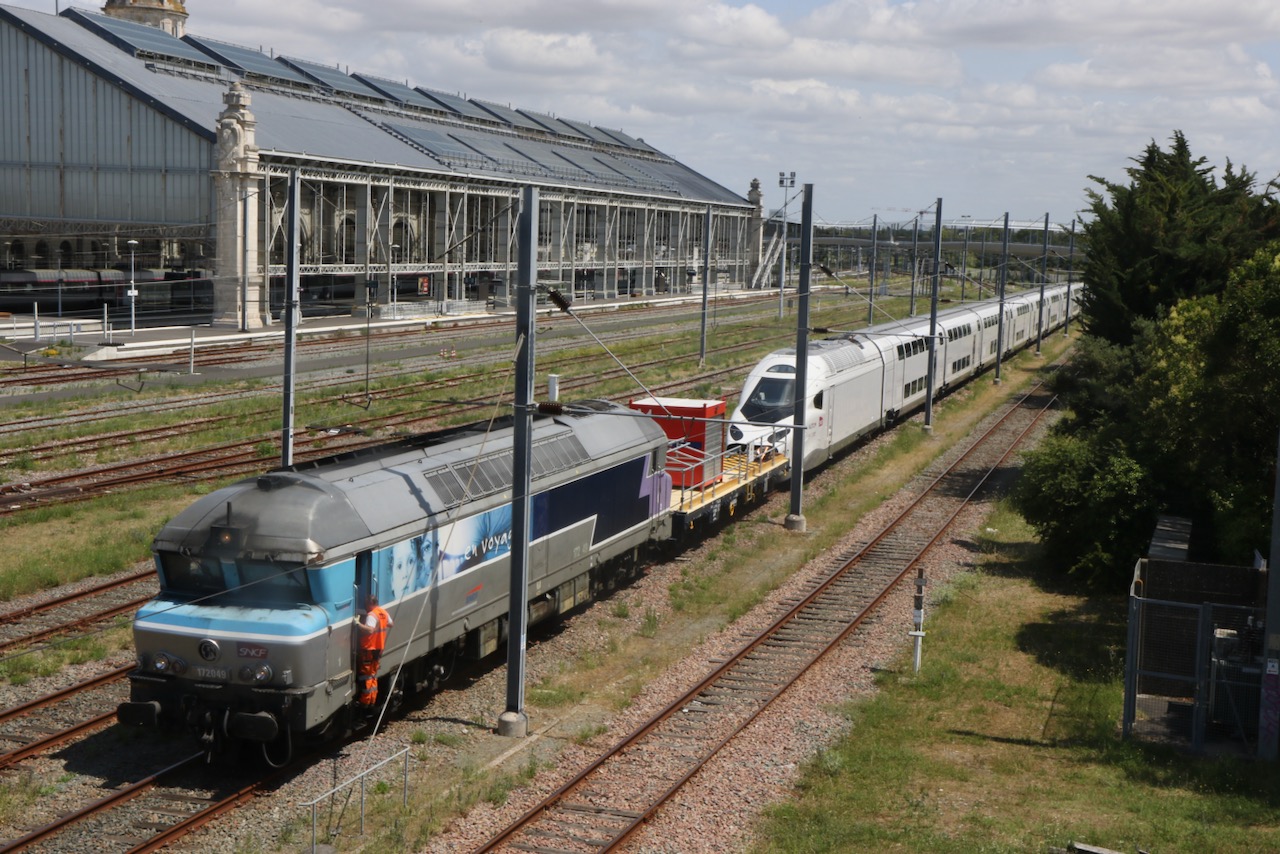 TGV M on test in France
Following successful trials at Velim in the Czech Republic prototype TGV M 997 was moved from La Rochelle to Plouaret-Trégor in Brittany at the end of June for track-circuit testing. It is seen above on 26th June at La Rochelle ready to depart to Poitiers hauled by CC 72049, a class once familiar at Le Rochelle when they worked Nantes –Bordeaux services. TGV M 997 has been fitted with a mobile laboratory at La Rochelle to enable the Établissement public de sécurité ferroviaire (EPSF) to undertake approval testing. The red container on the wagon between CC 72049 and TGV M 997 contains the onboard power supply to operate the brakes and suspension when being hauled. Currently powered by a generator, it is shortly to be converted to solar energy. Photo: Georges Turpin.
With track circuit testing complete the TGV M was moved to Trappes on the 21st July for the next phase of testing. This will take place in collaboration with EPSF,
SNCF Voyageurs, SNCF Réseau and Alstom and will include tests
to validate the gains of the new, more aerodynamic shape of the nose.
On the 31st July testing began between Gare de Lyon and
Melun. This will be followed by testing at 200km/h between Les Aubrais and Vierzon during August before testing at 320km/h on the LGV from September.
Below TGV M 997 and CC 72049 at
Plouaret-Trégor on the 6th July. Photo: Michel
Joindot.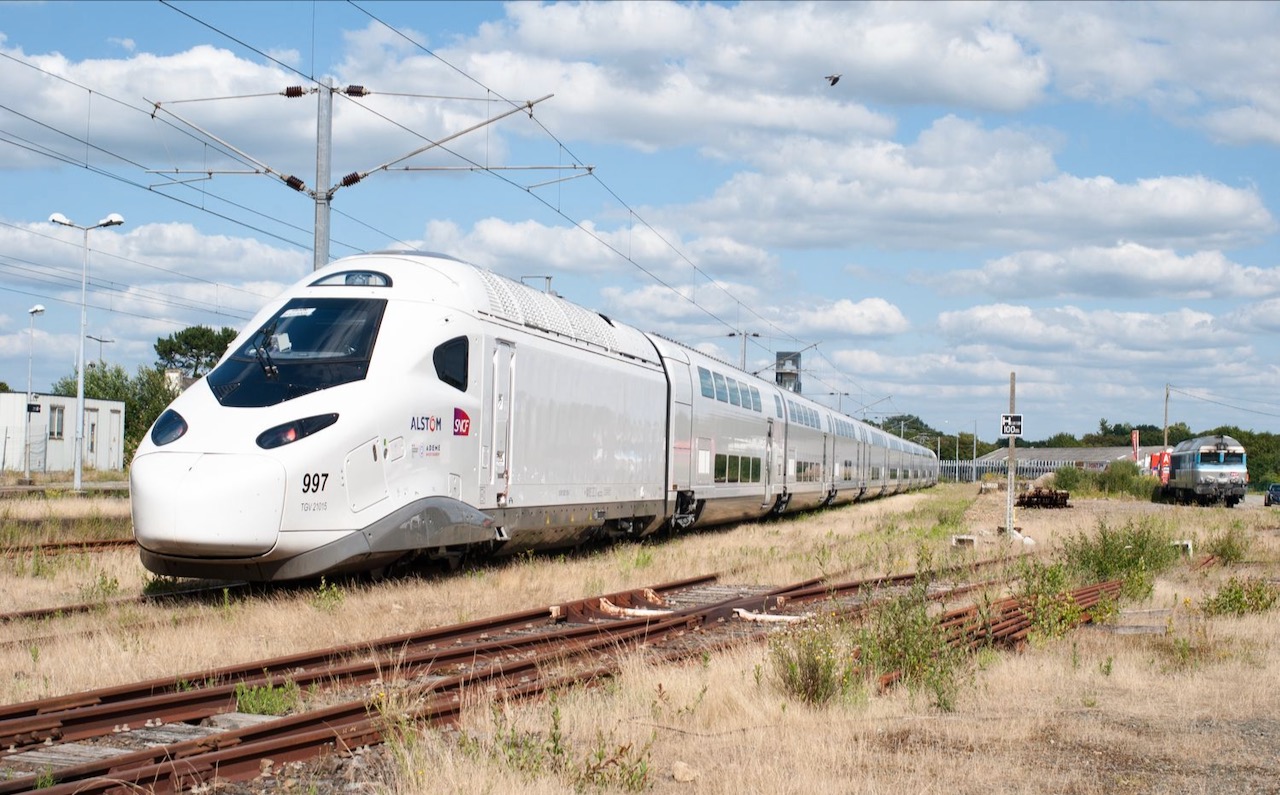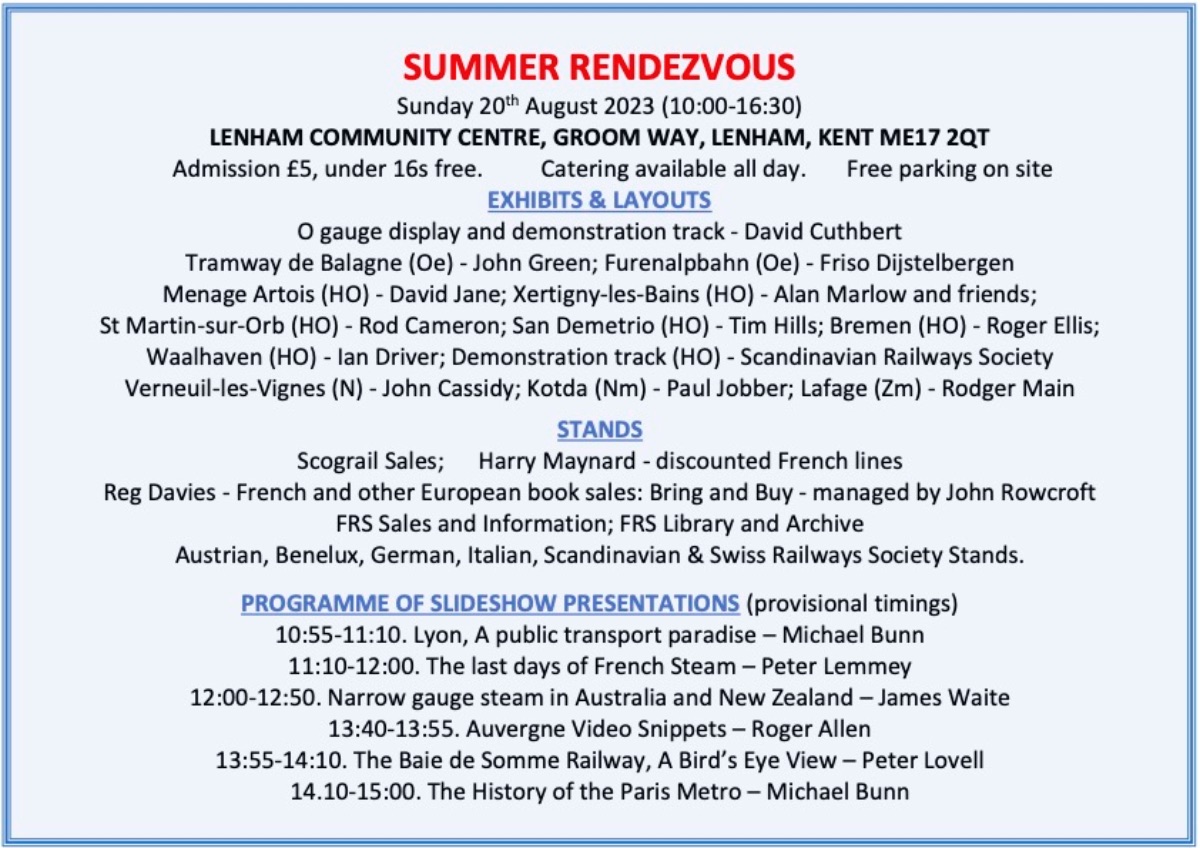 Oxygène on the move
The first of the Oxygène trainsets constructed by CAF in Spain has travelled from Hendaye to

Vélim in the Czech Republic for testing. It is seen above on the 21st July passing Chamigny, near

La-Ferté-Sous-Jouarre in an eastbound freight. The first batch of 28

trainsets

are scheduled to enter service from late 2024 on the

Intercités routes between Paris –

Clermont-Ferrand and Paris

–

Limoges

– Toulouse. Photo Christophe Masse.
As reported last month a further 20 sets have been ordered for
Bordeaux – Toulouse – Marseille Intercités services
Rennes RER progress
Resignalling at Rennes, planned since 2018 and delayed by covid, will allow all 10 platforms to accommodate two arriving or departing trains at the same time, an essential prerequisite at this congested station to introduction of 30min interval peak-hour services. SNCF Réseau is Installating
système d'enclenchement intégré
(SEI) and
module informatique de signalisation et de traitement des alarmes
(Mistral), integrated interlocking and command and control systems previously used only on LGV lines.
Resignalling at a cost of €12.6 million has saved the expense of constructing a new platform and will simplify operation of 20% more trains to suburban stations from September 2024. Merging services on four lines into cross-city routes is the first stage of Rennes' putative RER, which will see even-interval timetables introduced on all lines radiating from the city. The aim is to increase rail patronage by 50% by 2030 and 90% within the 2035-40 timeframe. Availability of the city's bus/metro
Unipass
is to be extended to suburban stations to facilitate multi-modal journeys.
Photo:
SNCF Réseau.
Through Toulouse – Clermont-Ferrand services restored
Through services between Toulouse and Clermont-Ferrand via Aurillac were finally restored on the 7th July after an absence of nearly five years.
In November 2018 a major fire at Figeac station destroyed the signalling equipment. Although trains on the Brive – Rodez axis were quickly restored, Toulouse – Clermont-Ferrand services have not operated between Figeac and Capdenac whilst a new station building and signalling centre has been rebuilt.
Opposite. A string of AURA X 73500s at Toulouse with a Clermont-Ferrand service on the 22nd July.
Photo: Georges Turpin.
Calais port upgrade
Work starts this month on the long-planned SNCF Réseau scheme for upgrading the 4.4km line between Calais-Ville and Calais Port, known as
La voie m
é
re de Calais .
The State (81%) and Hauts-de-France région (19%) are investing €53 million to raise capacity from the current three or four return trips daily in stages to reach 15 by 2040, with the aim of reducing the number of lorries serving the port and improving local environmental standards. In the first stage, the line between Calais-Ville and the Quai de la Loire boundary with Calais port will be entirely renewed including replacement of the pont Mollien over the canal de Calais à Saint-Omer.
A new 225 tonne structure will be rolled into place during a 90h closure over the weekend of 28th/31st October. Acoustic barriers will be installed at various locations along the route, especially to shield houses on rue Hoche from sidings in the SNCF Technicentre.

Phase 2 will investigate possible alternative routes to the existing track from the Quai de la Loire to the port, including further electrification, level crossing upgrades, more noise and visual barriers, and changes to the road layout.
Openings proposed, closures opposed
Several communes close to the line between Tours and Le Mans are pressing for reopening of the station at Fondettes-Saint-Cyr, 8km from Saint-Pierre-des-Corps, where extensive house-building has taken place since the station was closed in the 1990s. Seen as essential to development of the cross-Tours RER-style services planned under l'étoile ferroviaire Tourangelle scheme, it is hoped that peak-hour trains could start calling next year.
Proposals for reopening throughout of the Tours – Châteauroux line, currently used by passenger trains only as far as Lôches (47km), have surfaced regularly since closure in the 1970s. Now, with the replacement bus service along the congested D143 carrying some 600,000 passengers a year, Urgence ligne Châteauroux-Châtillon-Loches-Tours has been set up to seek support for reopening, and as a start to press for a better service to Lôches than the present five 5 a/r daily.
At Le Mans, two halts on the line to Laval are to be closed from 28th August to facilitate introduction of a more frequent service on the route. Rouessé-Vassé and Crissé are served by three trains each way daily, timed for commuting into Le Mans; the first westbound train does not run until after midday. Stops are being replaced by TAD (Transport à la demande) car or minibus service to adjacent stations, free to ticketholders. The communes point out that stopping all trains could substantially increase patronage at the cost of lengthening the through journey time by just 6min. According to SNCF, the two halts have only 16 regular users.

Occitanie update
In a wide-ranging interview with La Dépêche du Midi last month, the President of Occitanie Carole Delga gave an update on the région's public transport plans ahead of Toulouse's Urban Mobility summit to be held in October. In a bid to ease severe traffic congestion in Toulouse and the surrounding area, rail, road and personal mobility options will all be augmented. Top of the list is development of an RER network in a 15-year programme costed at €2.5 billion, for which she hoped finance would be forthcoming in the government's €100 billion investment proposals. A network of express buses running on reserved motorway lanes will serve towns away from rail routes, with a flat fare of €2. Reserved lanes will be open to car-shares with three or more passengers.
In the first stage of RER development, the number of trains on the line from Toulouse towards Auch will be increased. This is the only line running into the Gers, a départment currently poorly-served by public transport. Later there would be more trains on the route through Ariège to Pamiers and Foix, and along the main line towards Carcassonne. Interval service northwards into Tarn-et-Garonne would only be possible once the Bordeaux LGV was available to free-up capacity on the classic route. In Toulouse itself, the région would contribute up to €150 million towards construction of metro Line C, principally for the interchanges with other modes.
Gers would be even better served by reopening of the 70km Auch – Agen line, which has been sought ever since the last freight trains ran in 2014. A complication has been that part of the line at its northern end is within Nouvelle-Aquitaine. Now the two régions have formed a société d'économie mixte à opération to seek possible customers for a revived freight operation and commission studies into reopening for passengers, a move which would shorten journey time between Auch and Paris by some 80min.
Referring to the LGV project, Mme Delga confirmed that preparatory work would start by the end of this year on provision of a fourth running line between Toulouse Matabiau station and Saint-Jory (15km), following approval in June of European Union funding of €32.5 million. She was still hopeful that the original completion date of 2030 could be achieved, rather than 2032 as currently projected; discussions on revising the timescale would take place shortly.
In addition, the Montpellier – Perpignan LGV has received €6.3 million to cover half the cost of the current year's studies and preparatory works. Reopening of the Montréjeau – Luchon branch was on schedule for late 2024, with upgrading work due to start this winter ready for trials of Alstom's hydrogen-powered MU before the start of public service. Reopening between Alès and Bessèges is planned for 2028, while studies are underway for resumption of service on two other lines in 2030: Rodez – Sévérac-le-Château and the Limoux – Quillan section of the branch from Carcassonne.
Finally, with the low-cost operator Vueling now flying between Toulouse and Barcelona, Mme Delga was hopeful that either RENFE or SNCF (and possibly both) might be interested in resuming daily TGV service between the cities within two years (see June News).

IC 14140 the 07.00 Bayonne – Toulouse formed of Alstom Régiolis Z51597/98 rolls into Tarbes a few moments behind its scheduled 08.55 departure time on a misty 23rd June. This set is one of nine four-section all-electric Régiolis units delivered to Intercités for Toulouse – Bayonne/Hendaye services. These sets were leased to Nouvelle-Aquitaine and Bourgogne-Franche-Comté régions whilst not required for IC service during last winter's closure between Tarbes and Montréjeau for upgrading works (see June News). Z51597/98 made short-shrift of the 1 in 33 Rampe de Capvern on the newly-laid track; running was whisper-quiet as it was for most of the journey. Despite two slacks close to Toulouse, the train arrived 5min early at 10.25. A few minutes later at 10.36 Europorte Vossloh Euro No 4026 (above) crawled through with cement tankers. Photos: Chris Bushell.

AVE running to Lyon and Marseille
With its operating licence granted (see July News), RENFE's first AVE service into France since last December left Barcelona for Lyon at 08.22 on 13th July. Stopping at Perpignan, Narbonne, Montpellier, Nîmes and Valence, journey time was 4h 58. Fares from Barcelona to French stations started at €29. A Madrid – Marseille service was scheduled to begin on 28th July. Due to shortage of staff trained to work in France, these out-and-back trains are running only Friday to Monday during the summer. The Barcelona train will run daily from 1st September, and the Madrid daily from 29th September.
Above. AVE from Barcelona seen on arrival at Lyon Part-Dieu. Photo: AFP - Olivier Chassignole.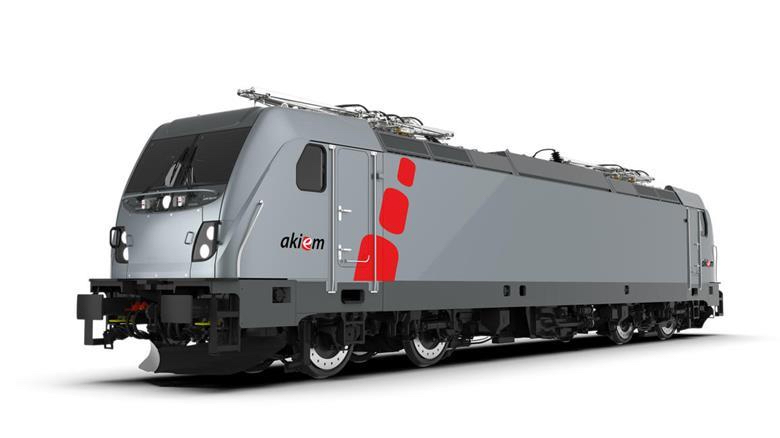 Akiem orders Traxx MS
Leasing company Akiem have agreed an umbrella contract with Alstom for 100 Traxx MS Universal locomotives. The agreement includes a firm order for 65 locomotives, some of which will have "last mile" diesel capability for non-electrified lines. The TRAXX MS locomotives are approved for Germany, Austria, Switzerland, France, Italy, Belgium, Netherlands, Luxemburg, Hungary, Poland, Czech Republic, Slovakia.
The locomotives will be equipped with Alstom's Atlas signalling system that is compatible with ETCS and major legacy systems. They will increase the number of locomotives in France with cross-border capability and will enable traffic from the North Sea ports to Italy to be routed via France . Although intended primarily for freight work the top speed of 160km/h will also make them available for passenger traffic.
Photo: Akiem.
Pays-de-la-Loire sticks with SNCF
The Pays-de-la-Loire
Région has awarded its first competitive contract for TER services to
SNCF Voyageurs, following a tender exercise that attracted five bidders.
Running for ten years from December 2024 the contract covers the Nantes – Chateaubriant and Nantes – Clisson tram-trains and local services from Nantes to Pornic/Saint-Gilles-Croix-de-Vie, Nantes – La-Roche-sur-Yon – La Rochelle/Les Sables d'Olonne and Nantes – Cholet – Angers. T
he contract is expected to generate savings of 25% that will be ploughed back into building a new depot and a 30% increase in services by 2030.
New Operator Funding
Le Train, which plans to operate high-speed services in Western France from 2025, has announced another €8 million of funding. The investors are Aquiti Gestion, a company that finances start-ups and SMEs in Nouvelle-Aquitaine; Charente Périgord Expension, a subsidiary of Crédit Agricole; and NACO, an investment fund for the Nouvelle-Aquitaine région and local entrepreneurs. The funding will be used to develop reservation and other IT systems.
Meanwhile, sadly, Railcoop still struggles to raise capital for its Bordeaux – Lyon service, despite having over 14,000 individual, corporate and civic members. Now Railcoop is offering €30 bonds that can be exchanged for €40 worth of travel when the service commences, with the proviso that the bonds will be refunded if the service does not commence.

SNCF and SNCB planning joint Paris – Brussels loco-hauled service
SNCF and SNCB have announced their intention to introduce a joint service between Paris and Brussels to compete with road transport. They have lodged applications with their regulators to introduce five return services a day from December 2024, utilising SNCB Class 18 locomotives and conventional stock running via the traditional route.
The application suggests a journey time of about 3h, falling roughly between road and the 1h 20 by LGV; intermediate stops have yet to be determined. SNCF wants to introduce the service as soon as practicable, possibly in time for the Paris Olympics.
BreizhGo Express Sud
Bretagne région and six local authorities along the 120km route between Quimper and Vannes met on 11 th July to flesh out an accord which if approved would see a substantial increase in TER service by 2025. Serving a population of around 900,000,
BreizhGo Express Sud
would see the number of daily TER services rise by almost 50%, with interval service throughout the day and a train every 30min at peak times.
There would be additional stops at Brandérion, Landévant and Landaul-Mendon, currently served by six trains daily, and at Rosporden. A further three Régio 2N EMUs would be required, to be financed 70% by the région and 30% by local authorities, the latter contributing to rolling stock purchase for the first time. Total cost of the project is put at €60 million.

Farewell blue & grey TGV Atlantique
A once familiar sight since introduced in 1989 the last two blue and grey TGV Atlantique sets are receiving a mid-life overhaul and will receive the latest TGV Inoui.livery.
The work is being carried out at the SNCF technicentre in Bischeim (Bas-Rhin),
Nice depot expansion
Having secured the contract to operate TER services on the so-called Etoile de Nice lines from December 2024, SNCF Voyageurs Sud Azur is to modernise and expand the depot at Nice Saint-Roch. A contract valued at €55 million has been awarded to NGE Nouvelles Générations d'Entrepreneurs for construction of a three-track maintenance shed capable of accommodating six-car trains, twice the size of the existing facility. There will be raised inspection platforms, an underfloor wheel lathe and a new automated washing area.
With service on the main Cannes – Nice – Monaco axis set to increase to four trains per hour in 2025, the agglomeration is proclaiming the start of another RER project. The Maire of Nice, Christian Estrosi, has strongly supported local proposals for development of both metro and RER to ease the severe traffic problems along the coastal strip.

15 months of disruption for Bourges – Montluçon modernisation
Modernisation of a 101km section of the line between Bourges and Montluçon will see major disruption to passenger services for 15 months until September 2024 with no through trains for much of the time and frequent bus substitution. At present there is a limited rail service between Bourges and Saint-Amand-Montrond while work is concentrated on the southern section of the route, with limited-stop buses running from Montluçon direct to Vierzon or Bourges. No attempt has been made to augment Montluçon's rail service westwards to Limoges, still just two trains daily and one at weekends.
The €85 million project jointly funded by Rhone-Alpes and Centre Val-de-Loire régions will see replacement of degraded infrastructure, rail, ballast and sleepers at a number of sites where speed is currently limited to 40 km/h. The objective is to restore 110 km/h running on single-track and 140 km/h on double-track sections. Speed restrictions will continue to apply in the Saint-Florent-sur-Cher area, where the double-track from Bourges (20km) becomes single.
Local rail users' association Codérail is disappointed with the limited extent of the work and wants to see double-track restored over the whole section together with electrification. It is argued that the planned work will still leave journey times between Paris and Montluçon 20 to 40 minutes longer than in 1998.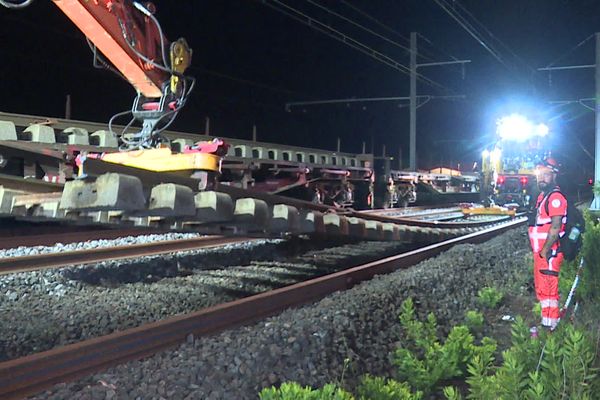 Nîmes area track renewal
SNCF Réseau has reached the half-way point in a five-month €74.5 million programme of works on the two heavily-used Marseille and Avignon routes east of Nîmes, to Beaucaire and Saint-Gervasy. Sleepers and rail are being replaced and ballast cleaned over a total of 46 route-km using a track renewal train working between 22.00 and 07.00 Monday to Friday. With the process heavily automated, 450 SNCF and contractors' personnel are able to replace about 900m of track per night.
Three years in planning, this task is a further stage in renewal of Occitanie's most heavily-used routes to cope with tomorrow's traffic. Some of the recovered material will be reused on the région's lightly-trafficked routes.Photo: SNCF Réseau

SNCF increases wind energy
In a move to both increase the use of sustainable energy and avoid some of the recent volatility in the energy market SNCF has signed two long-term deals during July for wind energy. The objective of SNCF Voyageurs is to have 1,100 gigawatt hours of renewable electricity from long term direct contracts by 2027-2028, equivalent to 20% of its electricity needs.
SNCF Énergie, a subsidiary of SNCF Voyageurs, and CNR (Compagnie Nationale du Rhône) have signed a direct purchase contract for renewable electricity for a period of 25 years. CNR's subsidiary Vensolair will build two wind farms in Haute-Vienne and Eure-et-Loir with an output of 36 megawatts. The annual production will be equivalent to consumption on RER Line D.
SNCF Énergie, has also entered into a 25 year contract with Voltalia for the output of a 37.4 megawatt wind farm called Rives Charentaises2 in Nouvelle-Aquitaine. Annual production will be approximately 78 gigawatt hours, or 1.4% of SNCF Voyageurs' traction electricity consumption.
SNCF Energie and Voltalia already have an agreement covering the 143 megawatt capacity of three solar power plants being built in Gard and Var
The creation of SNCF Énergie is an interesting move. Until a few years ago SNCF owned a subsidiary SHEM that had been created in the 1920s by Compagnie du Midi, with a series of dams in the Pyrénées producing renewable hydro-electricity. Despite being the biggest industrial user of electricity in France,SHEM was sold off by SNCF as it did not fit in with its strategic objectives of operating passenger and freight trains

Intercités summer offer
Announced with a flourish over the loudspeakers at Paris Gare d'Austerlitz by Transport Minister Clément Beaune, 200,000 tickets for Intercités trains went on sale on 7th July at a fixed price of €19. Designed to ease the cost of holiday travel, the offer was initially open for a week. However, unlike previous offers that sold out within hours, take-up was lower than expected, with more than half the tickets unsold. On 17th July the booking period was extended through to the end of August or until stocks were exhausted.
This was followed on the 31st July with the release of 300,000 TGV Inoui tickets at €29 each
Journées Européennes du Patrimoine
The 40th Journées Européennes du Patrimoine will take place this year over the weekend of 15th – 17th September, with activities on the 15th primarily for schools and children. SNCF will be organising over 200 events through France covering all aspects of railway operation. Further details of individual events can be found on the website
https://patrimoine.sncf.com
were bookings will open on the 1st September. Some of the main events include:
1981 World record holder TGV 16 on display at Lyon Perrache with an exhibition on world speed records
14 Technicentres open to the public, including Hellemmes at Lille which is celebrating its 150th anniversary
20 signalling centres open to the public
A number of major stations will open areas normally closed to the public open, with stained glass on display at Limoges and Metz; also Reims, Tours, and Paris Saint-Lazare and Gare de Lyon where visitors will be able to climb 67m to the clock tower
The rail welding depot at Saulon (10km from Dijon) showing how rails are recycled.
Most preservation organisations will have events, some in conjunction with SNCF. At Marseille there will be a display of 1960s electric locomotives and 141 R 840 will be burning 'green' fuel.
Further TER funding announced
Prime Minister Élisabeth Borne announced in June further details of the €100 billion investment that aims to restore and modernise the national rail network. Negotiations will take place with the Regions over the rest of the year for the release of €8.6 million funding public transport projects over the next five years. Separately, €800 million is being available for
Services Express Régionaux Métropolitains
(SERM) the term being given to the introduction of domestic RER networks promised by President Macron last year. This will be in the form of match or challenge funding with regions and local city administrations expected to put in similar amounts. Projects are planned in Lille, Nantes, Rennes, Tours, Bordeaux, Toulon, Mulhouse and Rouen, although legislation will be required before further details can be agreed.
Nouvelle-Aquitaine renews SNCF contract early to avoid competition
Nouvelle-Aquitaine région has renewed its contract with SNCF for operation of TER services early to avoid compulsory competitive tendering. The current contract runs from 2019 until the end of 2024. Under both French and European law any contract renewed after 25th December 2023 must be undertaken on a competitive tendering basis, a process that takes 38 months from ssue of the Pre-Information Notice to start of contract.
To avoid this process, Nouvelle-Aquitaine has agreed a new seven-year contract with SNCF running from 1st January 2024 to 31st December 2030.
Whilst other régions have been dissatisfied with SNCF's performance, Nouvelle-Aquitaine believes the existing contract is working well and meets the contract objectives of quality, service development and economic control. TER services have been increased by 11%, with improvements in 2019 and 2020 to both services and station facilities. Passenger numbers are up 33% and costs are well within the projected budget.
The new contract seeks to increase passenger journeys to 120,000 a day by 2030. Delays should be reduced by 34% with 95.2% of trains on time, or 98.2% if non-SNCF reasons are excluded. Cancellations should be reduced by 20%. The new contract envisages a saving of €24 million over the seven-year period with train/km costs reduced by 11%.
During the period, the région will invest €500 million in infrastructure and other improvements. This is in addition to the 11 Régiolis and four Régio2N MUs purchased in 2022 and the €180 million mid-life overhaul programme underway for 62 bimode AGCs. Improving the fleet is expected to raise availability by between 16-25% depending on the type of rolling stock.
To comply with the new laws on competitive tendering, an exercise will commence during this contract period based on tendering operation of TER services in four lots: Poitou-Charentes, Bordeaux area, Limousin Périgord, and Sud Aquitaine. Other functions such as rolling stock maintenance and provision of digital services will also be tendered.
At Bordeaux Saint-Jean on 31st May Régio 2N EMU 406 Cm forms TER 866343 the 16.35 to Arcachon in Platform 1 (left), alongside AGC Bimode 81686 on TER 866033 16.53 to Mont-de-Marsan in Platform 2. Due in Platform 3 was the late-running 14.02 Paris – Bordeaux/Tarbes TGV 8574. The Arcachon train, a stopper, had been advertised as 5 min late but in fact left on time so as not to delay the Tarbes portion of the Paris TGV that would have left first had it been on time. The Mont-de-Marsan train provided unusual but welcome cross-platform interchange with the TGV.

Ninety minutes later (18.10) at Ygos, halfway between Morcenx and Mont-de-Marsan, the 16.53 waits to pass TER 866036 17.55 Mont-de-Marsan – Bordeaux.
Since last December's timetable change, this station sees trains cross several times a day, with a chef de gare present to supervise and guide passengers across the tracks. Portions of both platforms have recently been rebuilt to standard height for level access to trains.
Photos: Chris Bushell.

Nord Rapides on the move
On Wednesday 21st June BB 67514/67558 are seen heading away from Laon with a transfer working of former Nord Rapide coaches (B9 Nos 7107/7108/7109 and one A3B5) from Châlons-en-Champagne to CFTV at Saint-Quentin.


Photos: Jocelyne Bourneuf.

Fête Nationale at Carcassonne
For the Fête Nationale fireworks at Carcassonne on 14th July both Occitanie TER and Train Historique de Toulouse operated extra trains. Occitanie TER ran two additional services from Toulouse and one from Limoux while BB 7338 operated the Train Historique de Toulouse service formed of stainless steel stock. The latter is seen above at Villenouvelle. Photo:
Georges Turpin.
Over the years this served has been hauled by 141 R 1126, BB 66200, BB 66304, BB 7338/7398. Of interest is that the historic train is getting shorter. This is probably due in part to the cost. The Occitainie TER services were €2 return compared to €40 charged by Train Historique de Toulouse, although they also have a bar on board.
Urban & light rail update
Public transport targeted in riots
Cities are counting the cost of damage to public transport infrastructure in the unrest that engulfed France at the end of June. RATP alone put the cost of remedial works at a minimum of €20 million. In Hauts-de-Seine, a T6 rubber-tyred tramcar was completely destroyed and the Chatenay-Malabry depot of newly-opened T10 was attacked causing severe damage to one of the brand-new cars. Burning rubbish buckled the guideway of T5 at Saint-Denis and incidents elsewhere caused widespread damage to street furniture and disruption to services. Buses were also an easy target; five depots in Île-de-France were burned down and 40 vehicles destroyed.
In Lyon a tram was badly damaged at Villeurbanne; Marseille's bus and tramway network came under attack as did those in Bordeaux, and Strasbourg. Public transport in several cities closed early evening during the unrest, the revenue foregone adding to the financial losses.
Photo:
©
Radio France/ Laurent Borde.
GPE Line 15 cars
The first of 150 cars destined for Grand Paris automated Line 15 emerged from Alstom's Valenciennes works on 19th June en route to the
Centre d'Exploitation Matériel (CEM) at Champigny. Further deliveries enabled a three-car set to be assembled for static testing starting in mid-July, to be followed by dynamic trials in November.
The design has been developed from Alstom's Metropolis platform. Running as six-car sets, the 1.5 kV DC trains have capacity for almost 1,000 passengers spread through the open interior. They are fully accessible, with wheelchair space, air-conditioning, LED lighting and USB sockets.
The southern section of Line 15, between Pont de Sèvres and Noisy-Champs (33 km, 16 stations), is scheduled for opening in 2025. On 30th June Île-de-France Mobilités announced RATP Dev as the preferred bidder for the six-year contract to operate Line 15 South, while on 13th July Société du Grand Paris awarded a design and build contract for the first section of Line 15 West to the Intencités15 consortium. Extending from Pont de Sèvres to La Défense, this 14km underground portion of Line 15 with five stations is planned to open in 2031.
Photo:
Alstom.
Paris T10 open for business
T10 is the latest tram route in Paris, opened on 24th June between Clamart Jardin Parisien and La-Croix-de-Bernay in the south-western suburbs, The 6.8km line links Clamart with RER Line B and Trans-Val-de-Marne buses at La-Croix-de-Berny, interchanging also with T6 at Hôpital-Béclère. Built at a cost of €351 million, T10 has a fleet of 13 Alstom Citadis 405 Lumière trams based at the depot and control centre located at Chatenay-Malabry. With a 6min peak-hour service, the line is expected to carry 25,000 passengers a day.
RATP Cap Ile-de-France has an eight-year contract to operate the line through a dedicated subsidiary, RATP Cap Bièvres, which also runs local bus routes. A 2km extension to the centre of Clamart and Gare SNCF (suburban Line N) is planned, though the choice of route is disputed locally.
Just a few days after opening, a T10 car and infrastructure were badly damaged in the unrest reported above.
Opening of Angers' tram Lines B and C on 8th July heralded a recasting of the city's public transport, with the tramway now promoted as a 'green thread' linking with other modes. There are new express bus routes and cycle lanes, and tramway park-and-ride stops. Travel was free for the first week of operation.
Lines B and C comprise 10.1km of new route with 18 stops from Belle-Beille to Montplaisir, including a 1.2km section of ABS ground level power supply, running through the city centre on the alignment vacated when the original Line A was rerouted in 2021.

Line C follows the same route from Belle-Beille to the city centre, then shares the alignment with Line A to Angers-Roseraie. Trams on all three routes run every 8 minutes, giving frequent service on the overlapping city-centre sections; ridership of 72,000/day is forecast.
Alstom has delivered 20 Citadis X05 cars for the two new routes; they are equipped with CCTV, air-conditioning and large doors and windows. Angers Loire Métropole is aiming for a 25% increase in public transport use by 2027, with the 'green thread' at the core of its plan for a significant reduction in greenhouse gas emissions.

Photo: Angers Loire Metropole/Thierry Bonnet.

Additions to FRS Photographic Archive during June 2023

To Photographic section
Additions to Folder 1
Additional (B&W) images to the "Pat Whitehouse" gallery




Additional images to the "Miscellaneous Colour " gallery




Additional images to the "David Thirlwall" gallery



PS: Any additions to Folders 4, 7 & 11 (originating from Wikipedia & other sources) have COPYRIGHT RESTRICTIONS and are intended for personal enjoyment by members only
d for personal enjoyment by members only

To Locations section


Additions to the FRS public folder during July 2023
Updated photo indexes for the Pat Whitehouse, Miscellaneous Colour & David Thirlwall galleries

© Peter Lovell & Chris Bushell. The French Railways Society 2023. With thanks to Georges Turpin, Christophe Masse, Michel Joindot and Jocelyne Bourneuf