The winter sun glints through the overall roof at Bordeaux St Jean on the 16th November as TGV Océan 842 glides along the platform with t
rain 8508, the 10.38 Toulouse - Paris
Montparnasse.
After coupling-up to set No 831 standing in the platform, the train departed for Paris at 12.46 with the front set running as empty stock. Photo Chris
Bushell
The shape of things to come
A power car from pre-production series TGV M 996 is seen outside the Alstom plant at La Rochelle on 1st November. This appears to be the second set as the launch in September featured set 997. Dynamic testing at speeds of up to 200 km/h is scheduled to start at the Velim (Czech Republic) test track by the end of the year. Coincidently X996 was the number given to CC 21003 when it was adapted for testing by Amtrak in 1977. Photo
Georges Turpin
.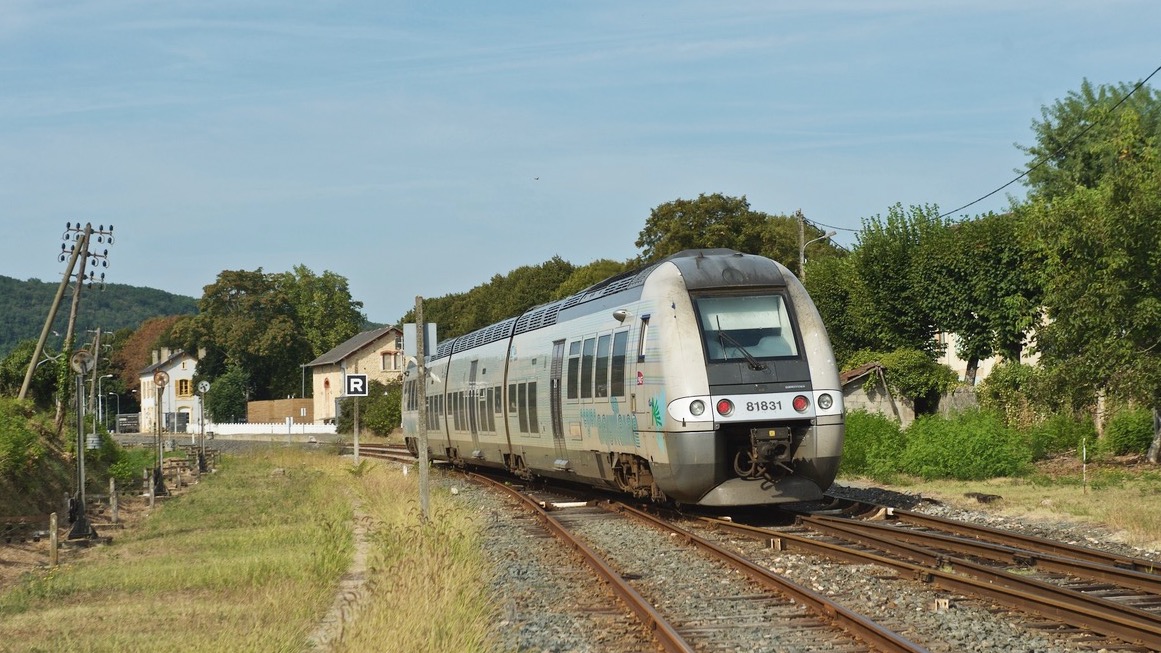 Consortium to develop operating system for rural lines
A consortium of technical companies led by Thales, and the Nouvelle-Aquitaine Regional Council are developing digital systems for signalling and traffic management of rural lines that aim to reduce operating costs by 30% and improve safety, particularly on level crossings.
The NS2F consortium has secured €7.16 million funding from
Comité France 2030
, a €30 billion project to develop high-tech solutions to ecological problems, where this project supports the transport and de-carbonisation objectives. The work undertaken will cover:
platform-agnostic, autonomous train positioning and odometry without trackside infrastructure (Thales);




cyber-secured data transmission via public telecommunications networks (Thales)




high-density digital terrain mapping (GeoSAT);




formal methods of generating safety data (Clearsy);




a tablet-based supervision and operations interface for drivers (Setec Ferroviaire and Thales)




integrated surveillance of level crossings (Thales and Nouvelle-Aquitaine Regional Council);




network surveillance using sensors mounted on rail vehicles (GeoSAT, Nouvelle-Aquitaine Regional Council and Thales).



The consortium is also working with SNCF on the Innovative Light Train project (see
AprilNews
) aimed at reviving rural lines including those that have been neglected and in poor condition. Alongside these two projects
Nouvelle-Aquitaine Regional Council is developing a €65 million railway education and industrial training centre at Saintes in conjunction with SNCF which has supplied the land. Opening in 2025 it will include two engineering schools, a digital cluster for innovation work and a test track for research and development of experimental vehicles.
Inauguration of New Transilien Line J Technicentre
Tuesday 8th November saw the official inauguration of Phase 1 of the new Line J Technicentre at Argenteuil part of the
Val Notre Dame Demain
project. The Technicentre will maintain the fleet of Z50000
Francilien
(NAT) electric units that are now replacing the locomotive hauled push-pull sets on Line J (Paris St Lazare - Ermont Eaubonne/Gisors /Mantes-la-Jolie - Vernon). The new €200 million depot will be operated by SNCF Transilien on behalf of Île-de-France Mobilités which has funded it.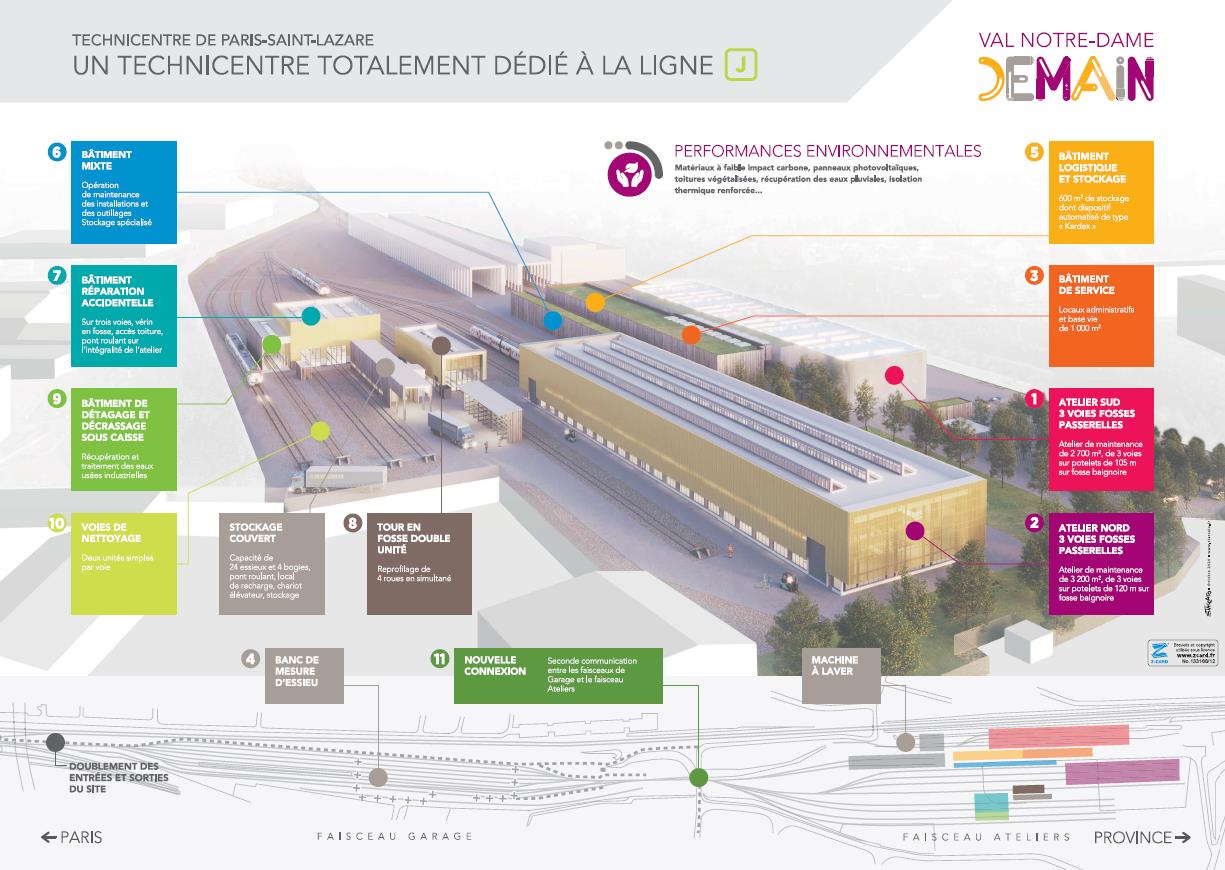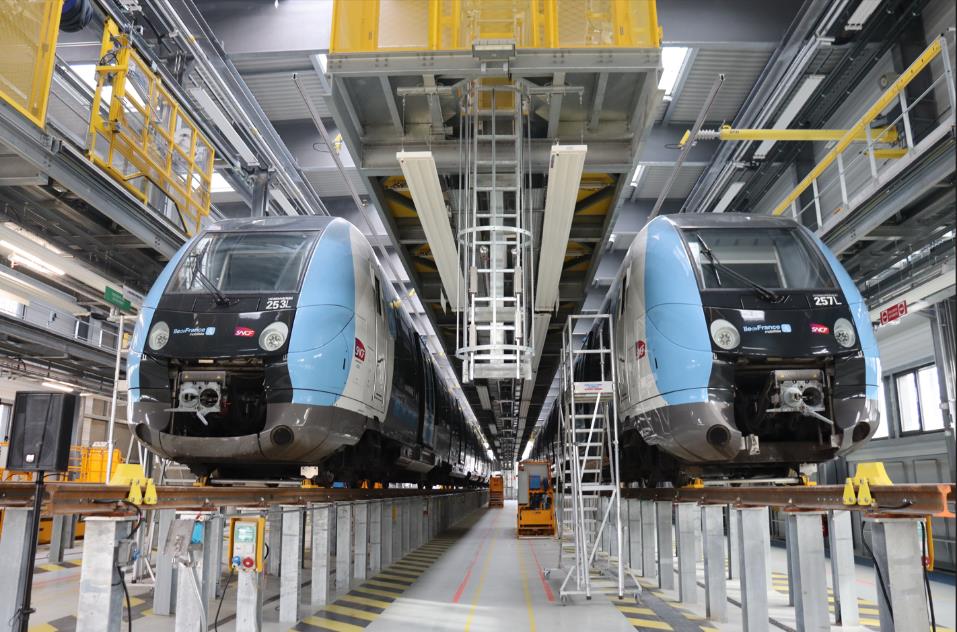 A specific feature of the Z50000 units is the roof mounted components that require maintenance facilities providing roof level access.
Phase one of the project provides a maintenance workshop of 2700 m2, with three roads on pits and walkways, a service building of 1000 m2,
and a logistics and storage building of 600 m2. Phase two, to be completed next year will increase the maintenance workshop to 3,200 m2, and provide a double pit lathe capable of re-profiling four wheels simultaneously, an accident repair building, a stripping and deslagging shed, two cleaning paths and covered storage.
The facility will provide Level 2 and 3 maintenance. At Level 2 this covers in-depth routine maintenance and replacement of light components and at Level 3 replacement of heavy components and interventions taking the unit out of service for up to five days.
Photos
Transilien SNCF ©Staccato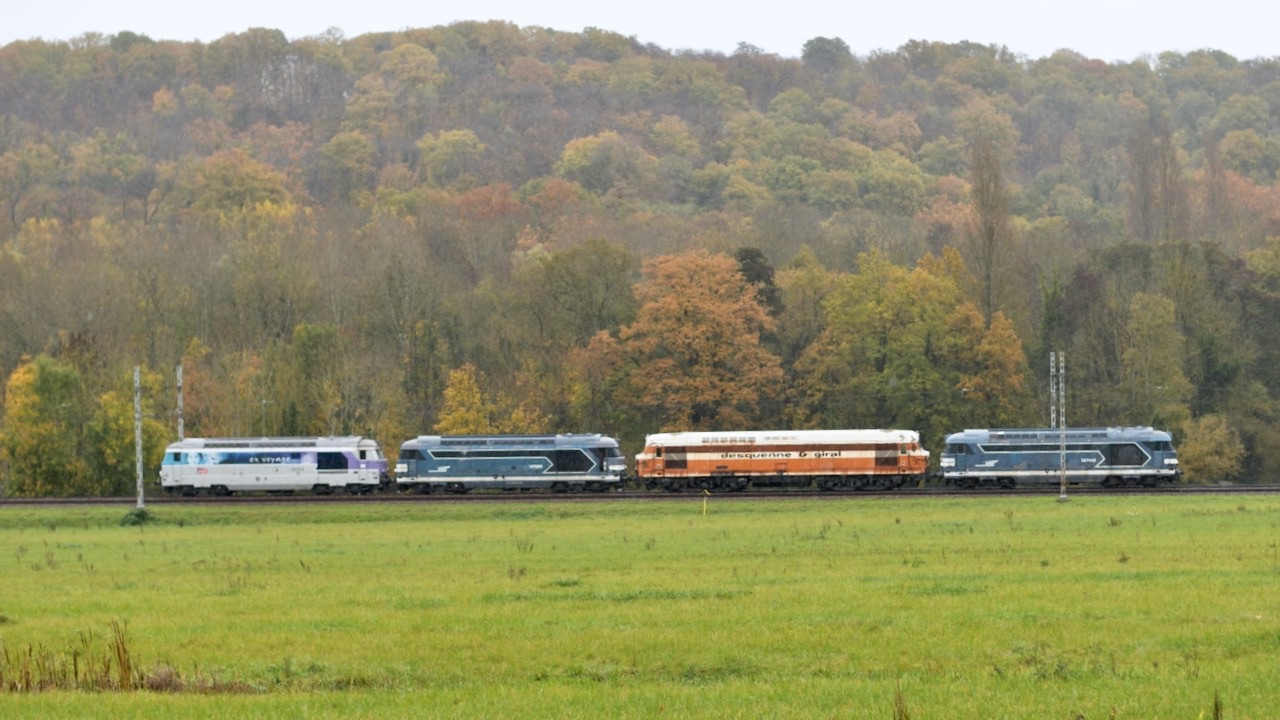 "Belphegor" on the move
On Monday 21st November the unique CC 80001 unofficially named "Belphegor" was moved from
Achères
to Dijon, on the first leg of a journey to the museum at Breil-sur-Roya. Seen above in abysmal weather passing Vauboyen on the Grande Ceinture, hauled by BB 67446 with BB 67590/67416 dead in tow. Photo Jean-Louis Poggi
CC 80001 was the first of two locomotives originally built by Renault in 1959 as 060 GA 1 to test free piston engines and gas turbines. The marine gas turbines did not prove satisfactory and they were taken out of service in 1963 when Renault ceased rail activity. In 1966 they were sold to CFD which rebuilt 060 GA 1 with two SEMT Piedstick engines connected to a single Asynchronous (hydromechanical) transmission driving the wheels of the two bogies. Here it was re-numbered CC 80001 and gained the name "Belphégor" while the second locomotive, CC 80002, became a source of spares.
Re-entering service in 1967, CC 80001 was allocated to Caen and used on Paris - Caen - Cherbourg services until they were taken over by ETG units, when it was transferred to Paris - Argentan - Granville. During this period it built up a reputation for reliability and fuel
economy, clocking
up over a million kilometres in ten years. It was never integrated into the SNCF fleet and in 1977 was leased to railway works company Desquenne et Giral who purchased it the following year. In 1985 it was taken out of service needing a major overhaul that never took place. The locomotive was then entrusted back to Renault and since 1993 has been stored in a
hangar
at their main
plant
. The move to
Breil-sur-Roya is appropriate as it was involved in the rebuilding of the line from Breil to Tende in 1978/79.
Below, CC 80001, in blue and white livery, passes Bellevue on the approach to Paris Montparnasse in March 1972 with train 3056, 11:37 Argentan - Paris. Interestingly, although running at the end of winter, this train does not include a heating van because the first series USI cars as well as the mixed OCEM vehicle, in the middle of the train were equipped with "Avialex" independent heating.

Photo

Michel Costes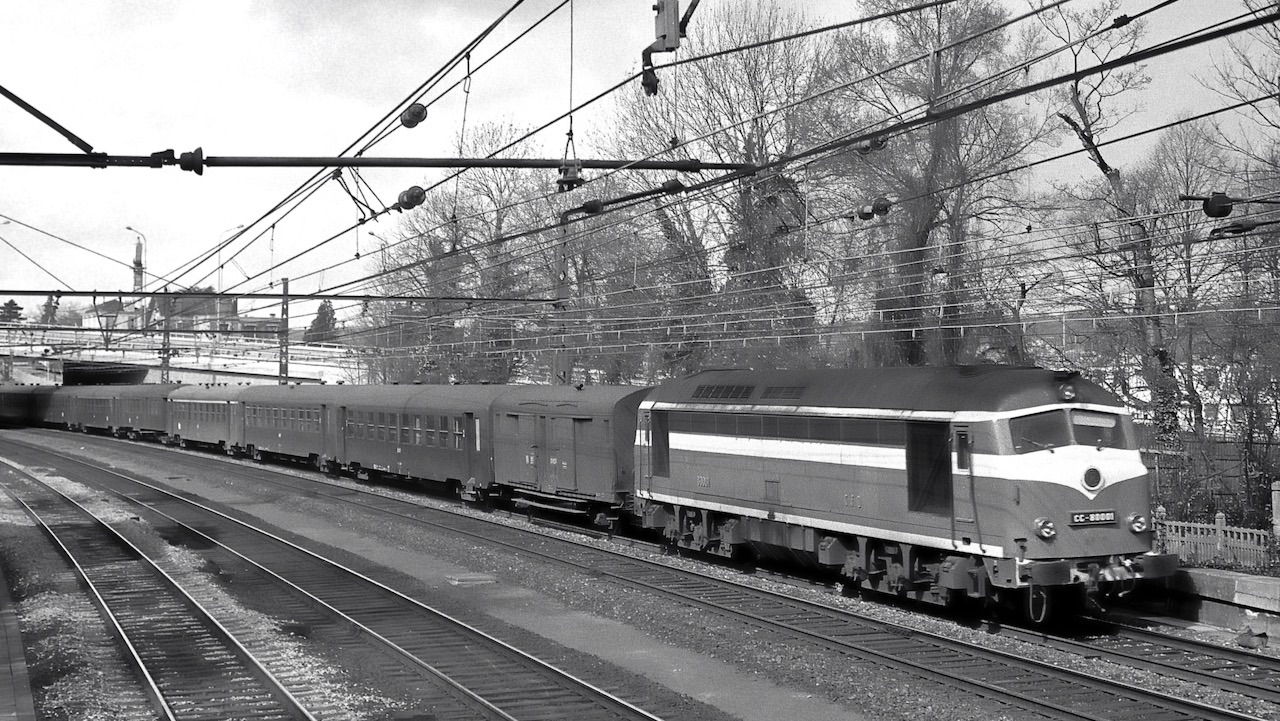 Work on new layout at Noyelles underway
Sunday 13th November was both the final day of the season for the CFBS and the last day of operation of the existing layout at Noyelles. Increased train lengths to cope with current traffic levels have outgrown the existing layout that dates from the 1980s. Locomotives have to stop close together before being detached with little room at the far end of trains for unloading cycles and pushchairs from the
fourgons
.
The new layout will see the existing crossover moved further away from the station providing longer platforms with more width between the two tracks along the entire length of thetrain. Two new sets of points and a crossover have been pre-fabricated by Vossloh at their La Fére-en-Tardenois (Aisne) factory (see photo opposite) and another two sets of points have been purchased secondhand from Corsica.
2022 was a bumper year for the CFBS with over 214,000 passengers carried, beating 2019, the previous best pre-Covid year. Photo Alain Paillard
SNCF fined for Brétigny-sur-Orge derailment
SNCF has been fined €300,000 after being convicted of homicide and involuntary injury following the derailment of a Paris - Limoges train as it passed through Brétigny-sur-Orge at 137 km/h on the 12th July 2013.
The derailment occurred when a loose fishplate became lodged in the flangeway of a crossing on the approach to Brétigny station, derailing four coaches and killing seven passengers. The fishplate had become loose due to a crack in the crossing that had first been detected in 2008. SNCF had failed to monitor the condition of the crossing and replace it, and had inadequate documentary records of work carried out by its maintenance staff.
The local track maintenance inspector and SNCF Réseau were acquitted. At the time SNCF Réseau were operating as Réseau Ferré de France but sub-contracted maintenance work back to SNCF. Following the derailment a programme to replace 5,000 sets of points and crossovers was instigated.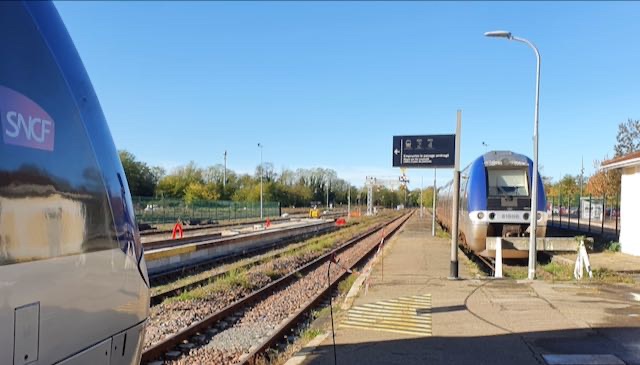 Major project to improve access at Mont-de-Marsan
A six month project to improve access for passengers with reduced mobility is underway at Mont-de-Marsan over the winter months.
The work will see platform 2/4 extended by 105 metres to accommodate six car trains and both platforms raised by 55 cm. to provide level access into trains, along with tactile platform edging. To improve safety the passenger crossing will be re-located with new ramps. Other features will include improve lighting and signage. Costing €2.8 million, 50% of the the project is being met by the Nouvelle-Aquitaine Région, 25 % by the State and the balance by SNCF Gares et Connexions.
Above. On 16th November
the 10.48 to Bordeaux St Jean awaits departure time,
visible on the left are the works to lengthen and raise the height of island platform 2/4. Photo Chris Bushell.
Major protests in Hauts-de-France
Rail-users in Hauts-de-France held protests at Gare du Nord and outside the Regional Council in Lille on 17th November over the continuing delays, cancellations and overcrowding that rail-users face.
The mood was not helped by the removal of 130 trains from the timetable at the start of the Toussaints half term holiday. This included the main commuter train from Noyon to Paris where the mayor has offered to organise a driver and signalling recruitment forum for SNCF.
Ironically those travelling to Paris on the 17th to protest initially suffered disruption caused by overnight storms, followed by chaos on the Creil - Paris section when a technical fault occurred at Goussainville signal cabin.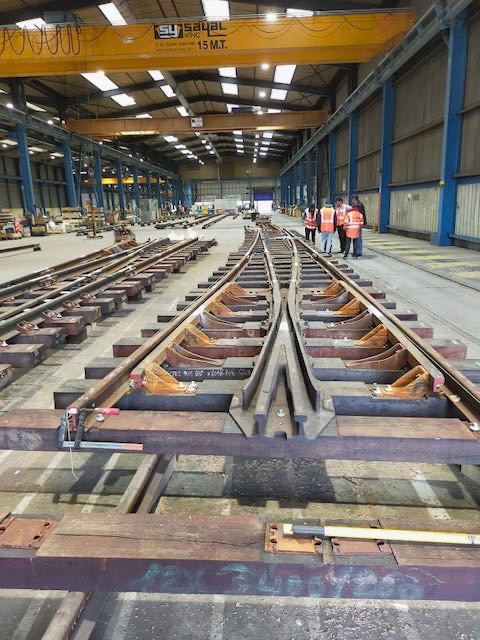 Rubber-tyred stock for Metro Line 6
Work is underway to refurbish a fleet of 45 rubber-tyred MP89CC metro transits as part of the modernisation of Paris Metro Line 6 that runs the 13·6 km from Nation to Charles-de-Gaulle-Etoile. Originally supplied for use on Line 1 they were cascaded to Line 4 following conversion to driverless operation and are being displaced again following further automation.
Refurbishment of the Alstom-built sets is being undertaken by ACC M at Clermont Ferrand at a cost of €25 million. Due to the shorter platforms on Line 6 the sets will be reduced from six to five vehicles, requiring
a reconfiguration of the Agathe information and control systems, as well as renewal of the electrical wiring, traction systems and bogies.
The refurbished MP89CC sets will replace the 48 year old MP73 sets currently used on Line 6.
As part of the line 6 modernisation the depot at Italie has been re-modelled for the refurbished rolling stock and facilities updated.
A new OCTYS ( (Open Control of Trains, Interchangeable & Integrated System) train control system is being installed, with Hitachi supplying the lineside equipment with onboard systems from Alstom. OCTYS is already operating on Line 5 and is also being installed in Line 9.

Rubber-tyred driverless trams for Marseille Metro
The first of 38 new trains for Métropole Aix-Marseille rolled off the production line at Alstom's Valenciennes plant in November.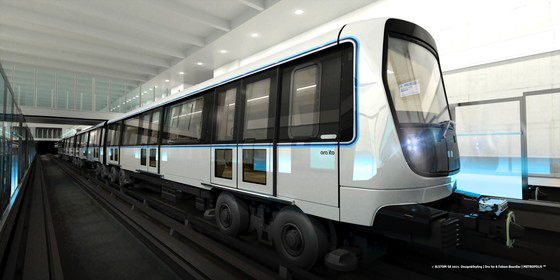 The new trains are being supplied under a €430 million contract to modernise Marseille"s two-line Metro network that will introduce driverless operation.
The new four car trainsets are 65m long with capacity for 500 passengers with the original procurement allowing for an optional further 22 trainsets. The first three are expected to be delivered in 2023, and the remainder the following year. They will be equipped with Alstom's CBTC Urbalis 400 train control system that will allow services to operate with a two minute headway.
For Métropole Aix-Marseille-Provence, the modernisation of the metro is accompanied by a number of projects to gradually make Marseille's stations more accessible. By 2023, seven stations will be accessible to people with reduced mobility, while the other 16 stations in the network will begin their transformation from 2024.

Occitanie weekend €1 tickets
Occitanie Region is re-introducing €1 tickets for the first weekend of each month. Tickets will be limited on busier routes to avoid over-crowding and available from 10 days before travel. All tickets on the following lines will be available at €1: Nîmes – Le-Grau-du-Roi, Carcassonne – Limoux, Perpignan – Villefranche-Vernet-les-Bains, Marvejols – La-Bastide-St-Laurent-les-Bains, and Béziers – Bédarieux – St-Chély-d'Apcher.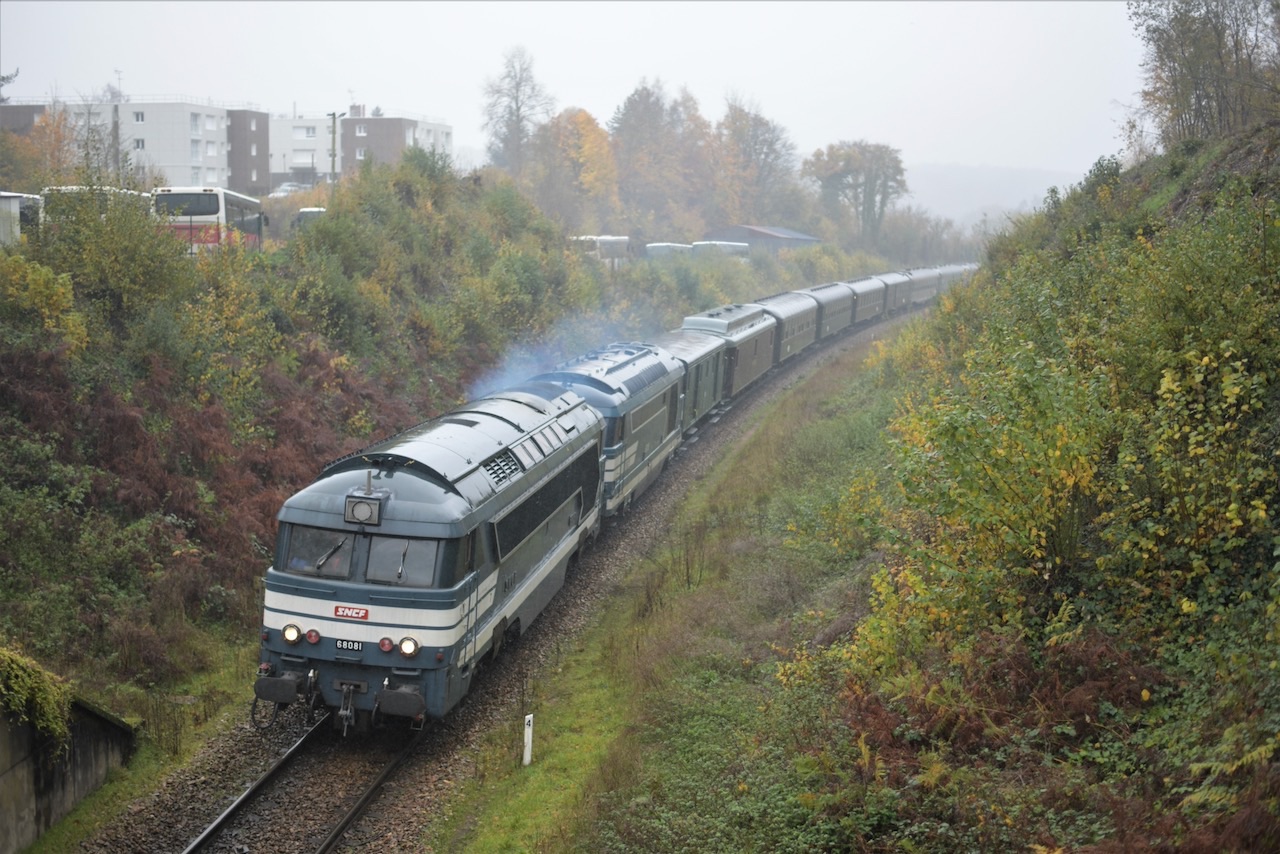 Final run for A1A A1A 68081
On Sunday 20th November A1A A1A 68081 undertook what is likely to have been its last run in passenger service when it hauled PVC's annual
Train du Hareng
from Sotteville to Dieppe. The 54 year old locomotive is in poor mechanical condition and has returned to Chalindrey where it faces an uncertain future. In need of a major overhaul there is little interest from any of the preservation societies, and it may possibly go to Mulhouse or Mohon. It is reported that CC 72084 is in a similar position.
It is seen above at Clères en route to Dieppe: Photo Jean-Louis Poggi, and below on Tuesday 22nd November, passing Rossy-sur-Seine in the sunshine, hauled by BB 67615 returning four MFPN coaches from Sotteville to Le Bourget. Photo Romain Vergnères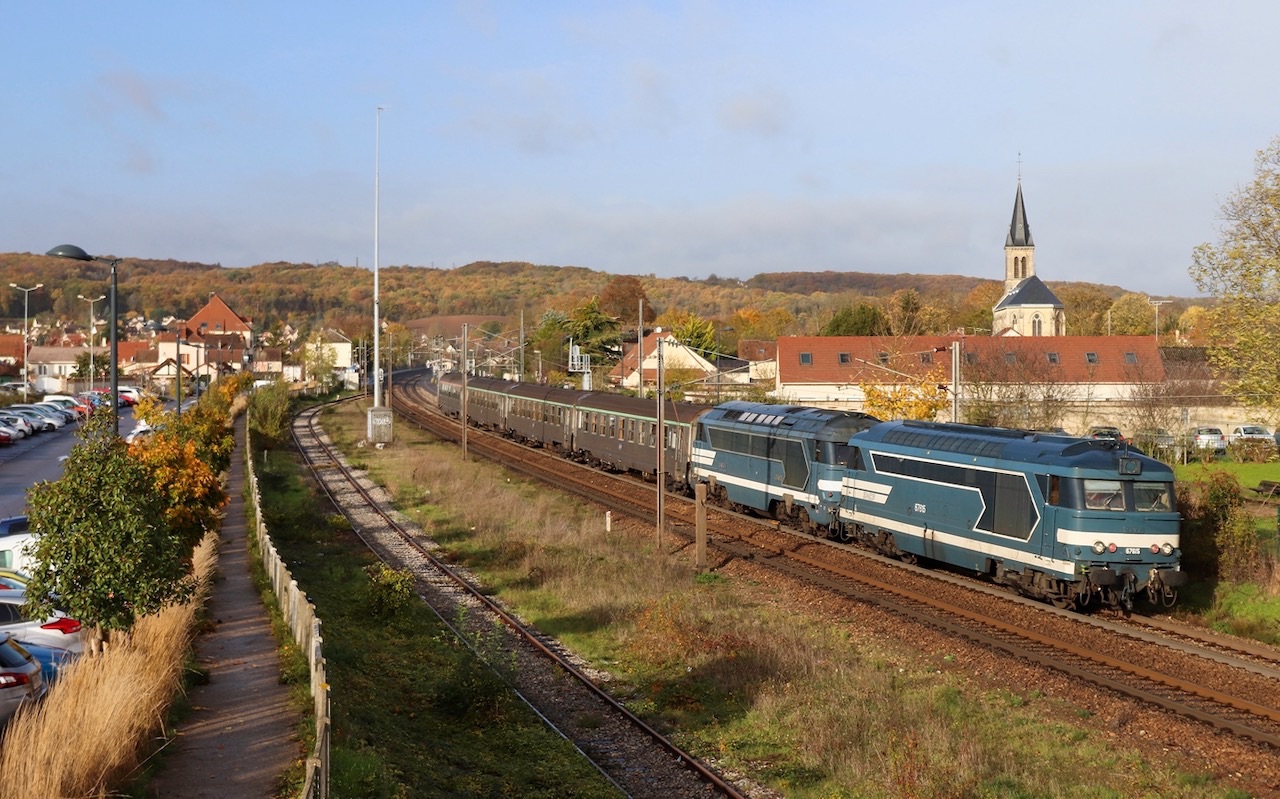 Open-Access Update
There are now four potential operators planning to provide open access services on the French network in the future. A brief round up is below.
In a recent interview with Railway Gazette International Alain Gétraud managing director of Le Train announced that they had postponed the launch of their regional high speed services along the West Coast of France from mid 2023 until early 2024. The major issue had been the acquisition of either second-hand rolling stock or buying new trains. They also faced the problem that with limited ETCS in France rolling stock needs to be equipped with the KVB and TVM legacy signalling systems over which SNCF has a monopoly on components. There are also limited stabling and maintenance facilities available for services not visiting Paris. He is confident of a launch in 2024 using second-hand stock and was expecting a major European railway company to become a shareholder that would help with development and the acquisition of rolling stock.
Midnight Trains plan to regenerate overnight travel when they launch the first of their upmarket hotels on wheels from Paris in 2024. The have an impressive array of directors and advisors, a smart website and an app. At present there is no news on rolling stock, traction or railway operator certification.
Figeac based Railcoop has now been operating its regional freight service from Aveyron to St Jory Yard, Toulouse for a year, but has made slow progress with its planned Bordeaux - Lyon passenger service. They have agreed in principle to buy eight three-car, and one two-car former SNCF X72500 units but so far have only paid for one three-car and the two-car unit. The three-car unit has received a detailed examination and appraisal by ACC M at Clermont Ferrand, that included dismantling of the interior components. This will form the basis for the refurbishment of the other units. The major challenge is to acquire sufficient capital to purchase and overhaul the remaining X 72500 units. The banks will not provide the funding without guarantees, which the State has declined to provide, although it looks likely that the Regions will step in. If this proves fruitful Railcoop hope to start with an initial Bordeaux - Limoges service in 2024.
The latest entrant to the open access market is Kevin Speed. The brainchild of Laurent Fourtune, former Eurotunnel Chief operating Officer, the concept is a blend of RER and TGV offering frequent high speed commuter services within a two hour radius of Paris. With a slogan of '
La Grande Vitesse, pour tous, et tous les jours!
' the service will be based on short trains with intensive seating (five a side) to make the service commercially viable while achieving widespread appeal through low fares. Recognising the challenges ahead Kevin Speed does not anticipate operating until 2025 or 2026
Haute Savoie Narrow Gauge
New girls for Mont Blanc Tramway
After a final summer for the three Mont Blanc Tramway SLM/Decauville railcars built in 1956 for the line's electrification in 1957, the three new Stadler replacements were undergoing testing in October in preparation for taking over for the forthcoming ski season.
The new Stadler railcars have been painted in the same colours and given the names of the railcars that they replace. The names originating from the daughters of the line's owner.
A fourth railcar named "Marguerite" was delivered at the end of
November.
Opposite "Anne" in tram mode running through the streets of Fayet. Photo Christophe Masse
On the nearby Mont Blanc Express the October low season provided the opportunity to undertake infrastructure work and prepare for winter. Below left. The Beilhack CN4 rotary snowplough was given a run out in anticipation of winter weather, seen crossing a Z850 at Argentière. Below right. On the Swiss side former a MC railcar now transformed into bi-mode Xemh 4/4 n°6 with the addition of a diesel generator, and truck EK153 are loaded with ballast at Finhaut for work in the Lachat tunnel site at Le Trétien (Valais). Both photos Christophe Masse
French Narrow Gauge Album
'Just released French Narrow Gauge Album by Society member Peter Lemmey and Michael Whitehouse contains 200+ colour photos, starting on the Côtes-du-Nord system in 1956 and running through to the present day, charting the adventures of British enthusiasts like Pat Whitehouse, John Snell and Lance King as they discovered the Réseau Breton, the PO Corrèze and the Vivarais systems amongst others. And FRS members like Mike Bunn, Peter Lovell, Geoffrey Nickson and Malcolm Ravensdale then bring the story of the French narrow gauge into the modern era. Further details from the link below.'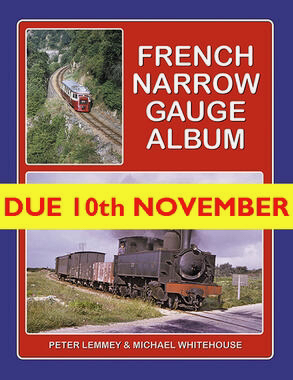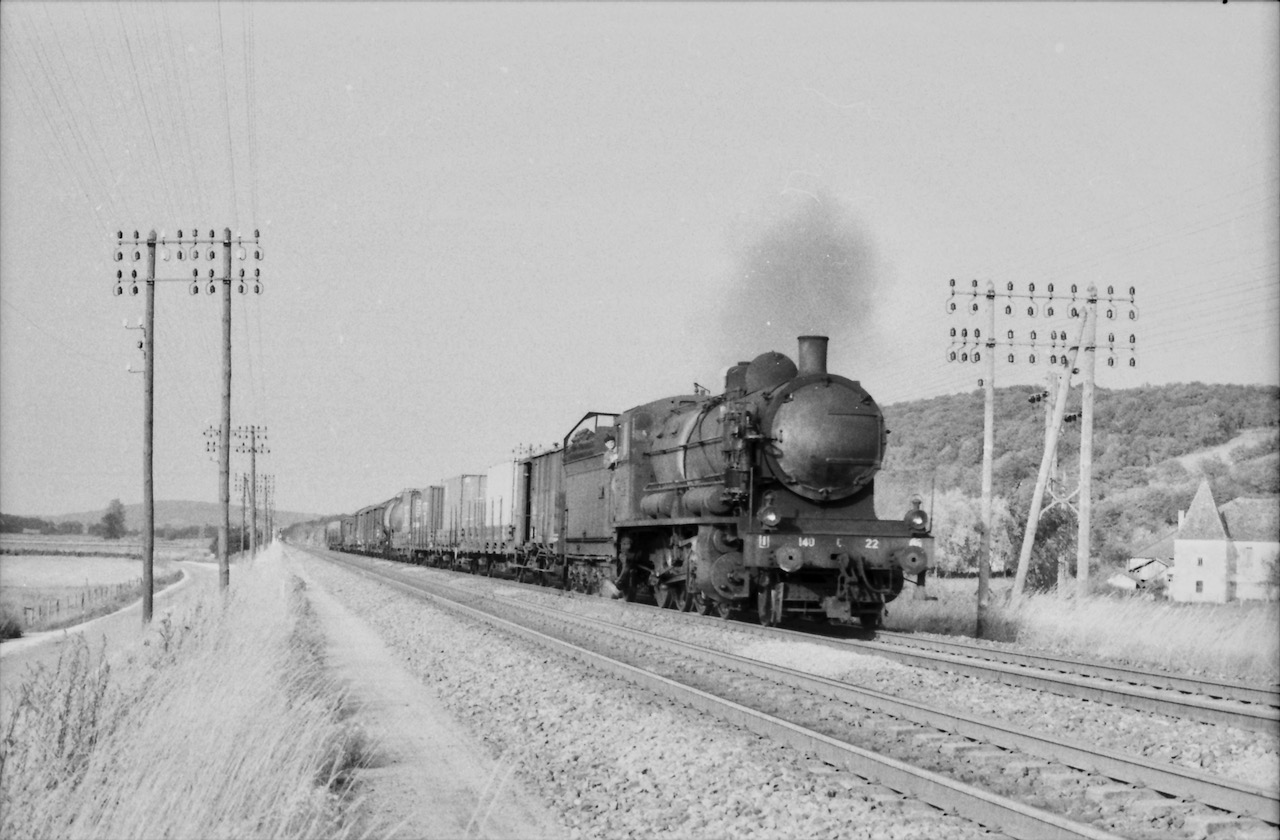 Turning back the clock
J
ust over fifty years ago on 29th September 1972 the final steam working on Ligne 4 (Paris - Bâle) finished, by which time all other services were diesel hauled. The Gray - Vesoul - Langres circular returned via Culmont-Chalindrey and Champlitte and was operated by CFTA, serving as a pick-up on the two CFTA branches and running on the main line from Vesoul to Langres then back to Culmont-Chalindrey. It is seen above near Vitriy-Vernois headed by 140 C 22 in July 1972. Photo

Jean-Louis Poggi
After the

Gray - Vesoul - Langres circular had finished, CFTA continued to operate 140 Cs on freight services on the secondary lines from

Gray

for another three years until September 1975, by which time they were the last regular steam workings in France. The final working

occurred

on 20th November 1975 when 140 C 38 towed 140 C 287 to Chalindrey, returning the locomotives to SNCF. Both have now been preserved, 140 C 38 at Limoges, while after half a century of wandering 140 C 287 is being transferred to APPMF at

Gièvres with a view to overhaul and returning to operational condition.
Below. In August 1975, about a month before the final commercial freight working 140 C 38 is seen having just left the yard at Troyes with a load of grain hoppers, and is approaching the station, after which at the

Saint Julien les Villas Junction it will take the secondary line for

Châtillon sur Seine. Further below. Some 37 years later on 20th August 2012 a VFLI Class 77 passes the same spot with a ballast train from Flamboin. While the

track work has remained the same the urban environment has changed - aesthetically not for the better. Both Photos Michel Costes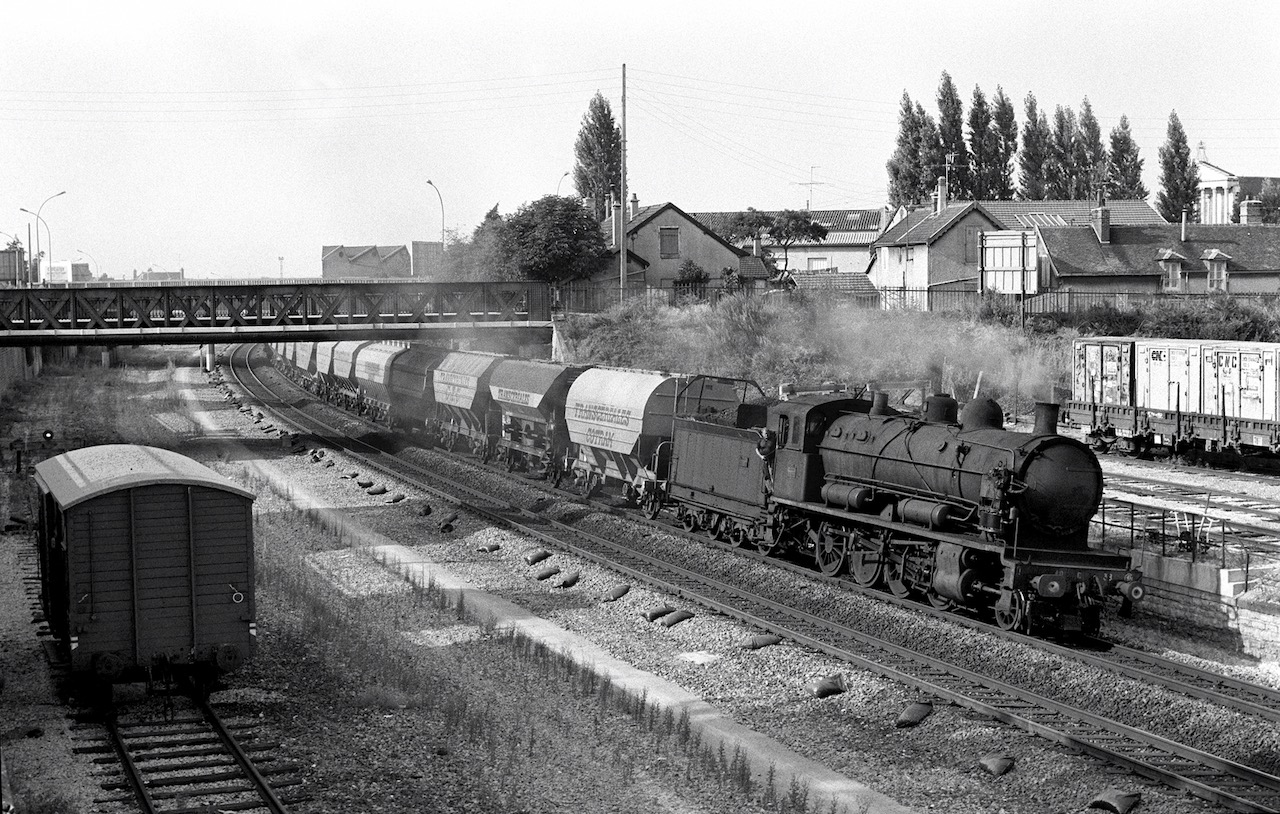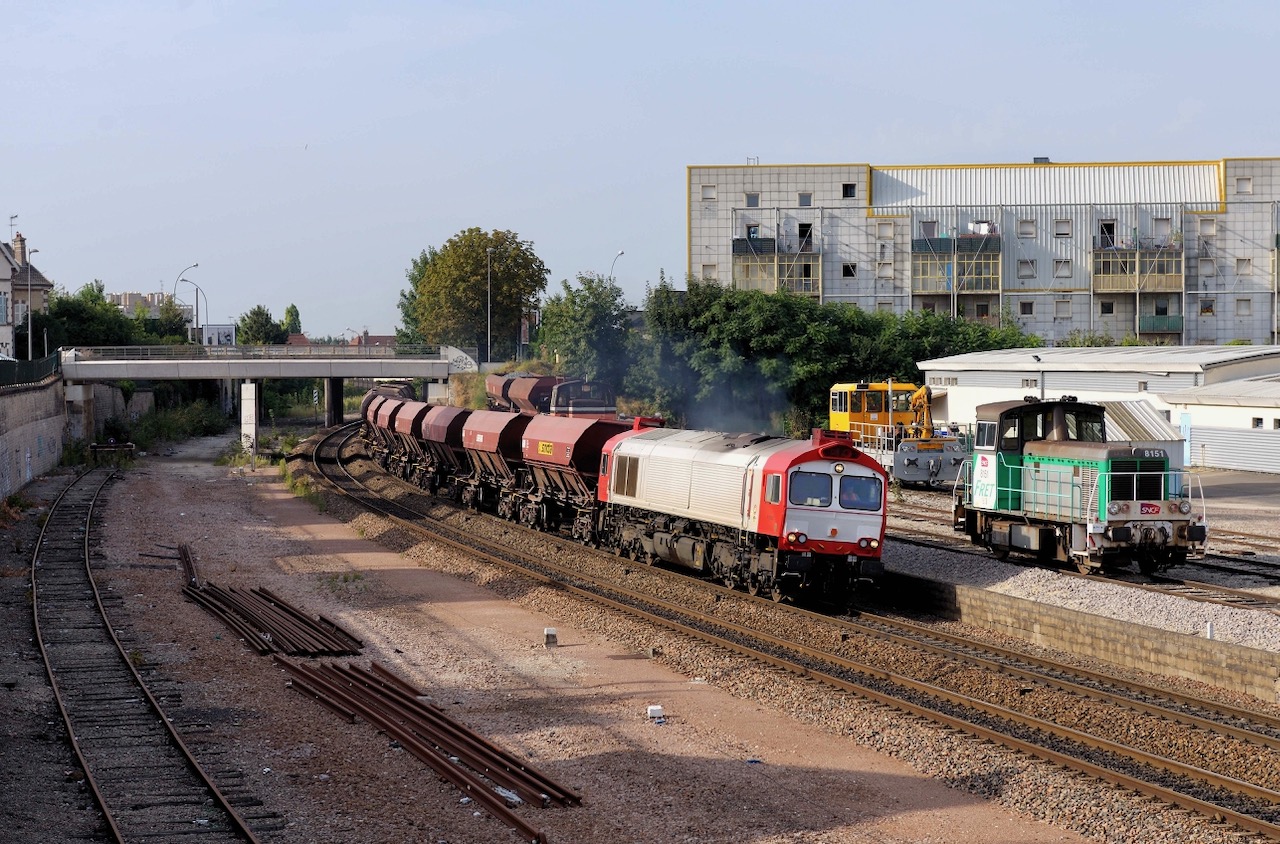 © Peter Lovell & Chris Bushell. The French Railways Society 2022. With thanks to Georges Turpin, Christophe Masse, Michel Costes, Jean-Louis Poggi,
Romain Vergnères
and Alain Paillard