Autumn in Normandy
In autumn colours former SNCF ABJ X3601 now preserved by CFVE descends through the vallée de l'Eure on Sunday 11th October. X3601, the doyen of the class, entered service in December 1948 and was withdrawn from Bordeaux St Jean in December 1977. Initially preserved by AJECTA, it was in service at Trains à Vapeur de Touraine (Richelieu)) until 1989 when it was transferred to CFVE. It is one of the oldest operational standard gauge autorails in France, but used sparingly, as it is awaiting an overhaul.
Photo Christophe Masse
CFVE (Chemin de Fer Vallée de l'Eure) operate a section of the former Rouen - Orleans line between Breuilpont, Pacy-sur-Eure and Cocherel. Their main base is at Pacy-sur-Eure mid-way between Vernon and Evreux. More information at
www.cfve.org
Final journey for A1A A1A 68500's
The continuing clear out of withdrawn locomotives at Sotteville has seen some of the remaining Class A1A A1A 68500's moved for breaking up. Above, on the 6th October, CMR's BB 25236 and A1A A1A 68081 pass Vauboyen on the "Grande Ceinture", south west of Paris, while double-heading train 817208 Sotteville - Valenton consisting of A1A 68520/68521/68533/BB 69242 and four Corail carriages for braking capacity. The three A1A 68500s were withdrawn between July 2010 and March 2011 and have spent most of the last ten years languishing at Sotteville. Photo Erwan Quintin.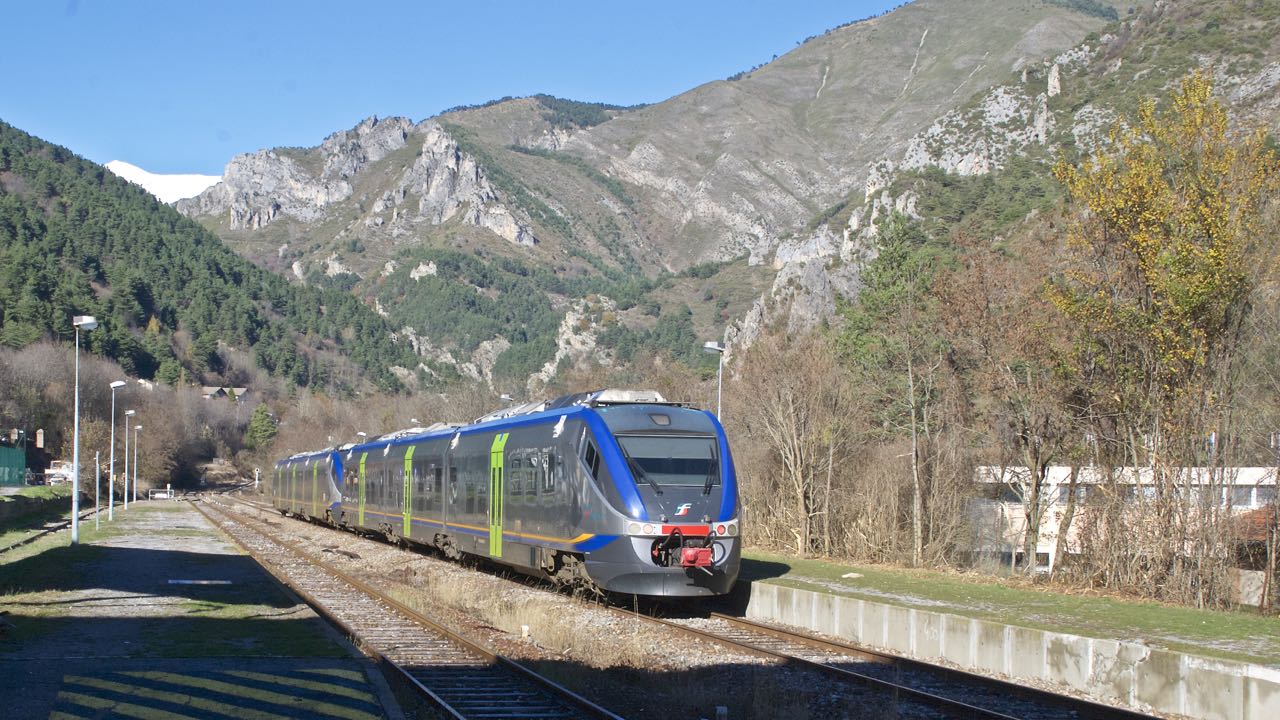 A Trenitalia Ventimiglia- Cuneo service leaves Tende on the SNCF section of the Roya Valley in December 2018
Storm Alex causes devastation in Alpes Maritime
Described as the worst storm for over a century, Storm Alex caused devastation to the Alpes Maritime when it hit the Cote d'Azur and neighbouring parts of North West Italy on Friday 2nd October. Unprecedented rainfall of 500 mm (18 ins) in the Roya Valley and a record 630mm (24.8ins) in Sambughetto, Piedmont, Italy fell in 24 hours washing away homes, roads and bridges. Some 20 people are believed to have been killed or are missing. Images from the
BBC
and
Sky
News
While rail services along the coastal mainline and other routes were severely disrupted on Saturday 3rd October, services resumed on Sunday 4th October including the line to Breil sur Roya that had been cut off from Nice. The first train to Breil carried 3,000 bottles of water for the emergency services and homes with no supply. The line into the Upper Roya Valley remained closed until the 19th October when two services a day were extended to a temporary platform at St Dalmas de Tende, some 250 metres south of the station.
With Breil effectively cut off by road the rail services to Nice are now being operated free of charge, although intending passengers need to pre-book a PASS INTEMPÉRIES NICE-BREIL to control capacity.
The outlook remains bleak. In the Upper Valley the Italian authorities have worked to re-open the line south of Cuneo and it was re-opened to St Dalmas de Tende on the 24th October, leaving a gap of 250 metres to the SNCF temporary platform. Two trains a day each way are operating between St Dalmas de Tende and Cuneo enabling the residents of the Upper Valley to undertake their shopping in Italy, and workers to cross the border.
it is hoped to re-open through Cuneo - Tende - Breil Nice/Ventimiglia services in February 2021. The roads in the upper valley have been largely destroyed with re-construction estimated at €500 million, that will take years to complete. Until then the once threatened railway will be the main source of communication.
Z22500 Twilight Years
Introduced in 1998, the 53 strong Z 22500 emu class was designed exclusively for the new RER Line E from Haussman St Lazare to Chelles-Gournay (1999) and Villiers-sur-Marne (1999) and extended to Tournan (2003). The new extension of RER Line E under construction from Haussman St Lazare westwards will serve Porte Maillot, La Défense and Nanterre Prefecture. The new RER E (West) will continue from Nanterre Prefecture on existing tracks to a new terminus at Mantes la Jolie.

When the extension is opened in three years time, new RER NG's will be introduced and the Z 22500's will be gradually withdrawn. The underground platforms at Haussman St Lazare and Magenta have to be adjusted to a different height for the new trains. They are doing this by changing the height of the track. For the last two summers, the RER E in the tunnel to Haussman has been closed to do this work. The trains were temporarily diverted to Gare de l'Est. Above. On the evening of 6th September 2020 set 20E - Z22539/40 waits to depart from Gare de l'Est with Train 118643 (TAPA) to Tournan. Photo Erwan Quintin.



Testing of the new Z 58000 RER NG (new generation) units began at the end of June on the Nançois - Tronville test track near Bar-le-Duc. Full scale production is expected to start in a years time. See July News
A firm order for 71 units for RER D has been placed. The first RER NG's will go to RER Line D at the end of 2021 and then deliveries will be switched to Line E. (the units for RER E will be shorter). Completion of deliveries to both lines will be in 5 - 7 years from now.Ultimately several hundred units will be in service by the end of the decade.
On the 17th September Valerie Pecresse (President of IDF Region) went to see the new trains at Petit Forest in the north of France. She is seen, opposite, testing the seats that appear to have more style than comfort. As there will be fewer seats on the NG's than current stock there will be plenty of room for those who prefer to stand!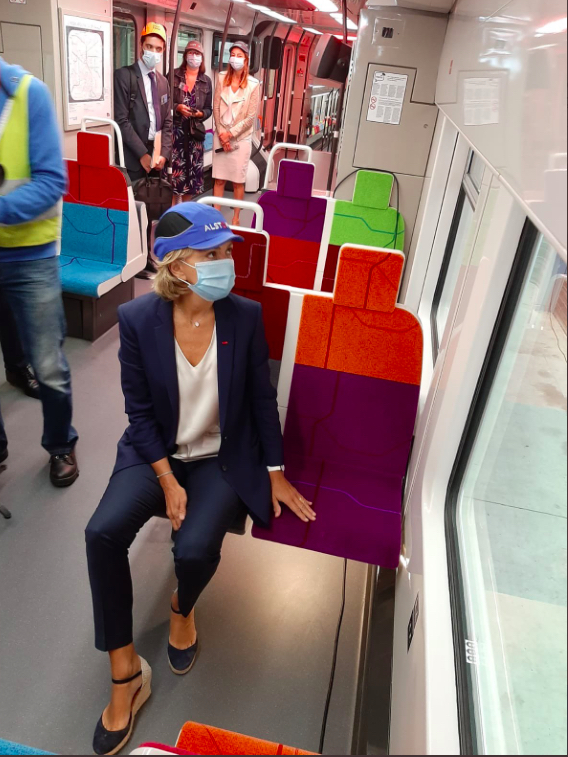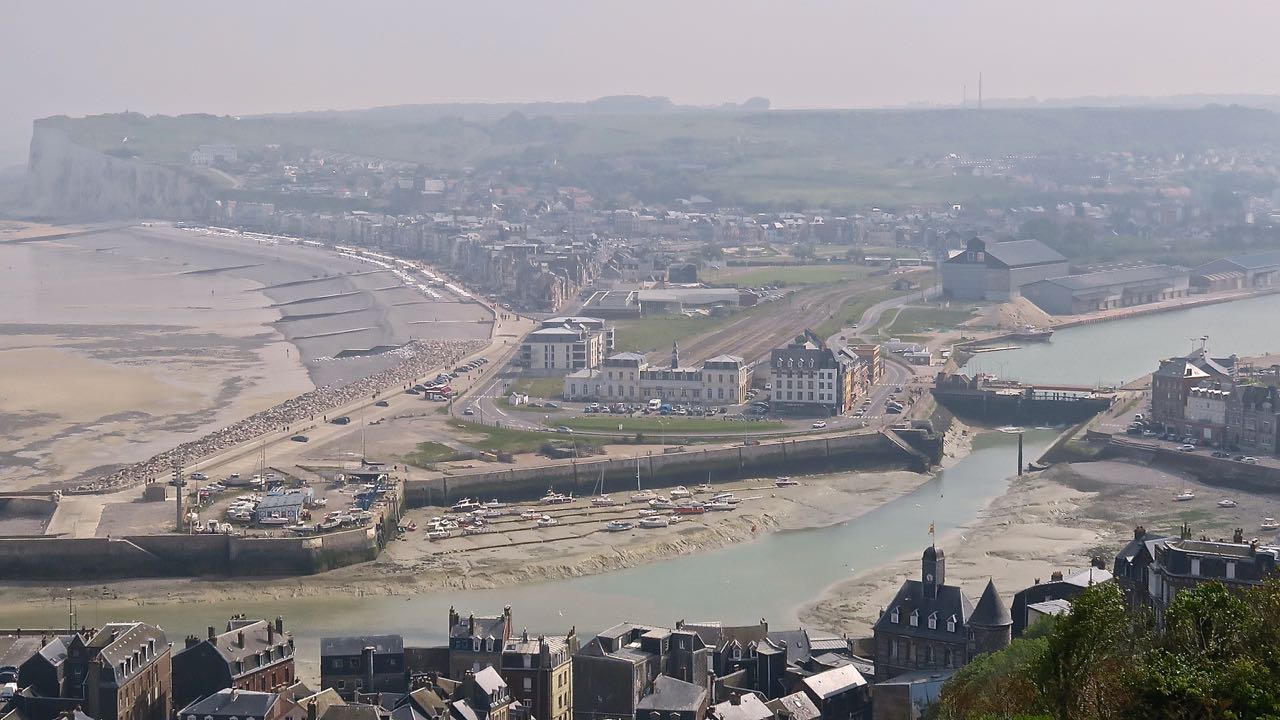 Abbeville - Le Tréport proposals unveiled
On the 28th September, the "comité de suivi" or "Comité de PIlotage sur le devenir de la ligne Abbeville - Le Tréport/Mers" (to give it its full name) announced their preferred option for the re-opening of the Abbeville - Le Tréport line. Two options, a minimal and optimal option were tabled with the optimal option being selected. This is based on eleven or twelve services each way during the week and nine services each way at weekends, each connecting with the Paris - Calais services at Abbeville. The single line would be rebuilt with a crossing loop at Feuquières-en-Vimeu. Line speed would be increased from 80km/h to 100 km/h giving an end to end journey time of 34 minutes. It is estimated that up to 900 passengers a day would use the line during the week and 500 a day at weekends.
A number of hurdles remain. The principal one is financing at €76 million. The Hauts de France Region fully supports the proposal and will seek funding from the government from the €4.5 billion recently announced for rail expansion. The proposal is also consistent with recent government announcements in relation to rural lines and where TERs will help reduce carbon emissions. The second is timing with a suggested delay of eight years before services can be re-introduced. This is viewed as unacceptable and raises a further issue about suppressing road crossings lines that have been closed for five years or more.
The recent rebuilding and reopening of the line from Beauvais to Le Tréport has done nothing to improve the dilapidated state of Le Tréport station and platforms. The station at Le Tréport was purchased by the Communauté des Communes des Villes Soeurs (CCVS) in December 2018 for 280,000 euros. The purchase included the parking in front of the station and land surrounding it. The SNCF ticket office inside the station building is in co-ownership with SNCF / CCVS. The platforms and tracks no doubt continue to belong to SNCF Réseau.
On 17th April 2020, CCVS invited bids to perform a study on the redevelopment of the station building and the surrounding area including links to the two towns of Mers-les-bains and Le Tréport. This study is expected to take 10 months from the date of selection of the best bid. It can therefore be expected that work to renovate the station building at Le Tréport will not begin before 2022.
Thello abandons Marseille - Milan service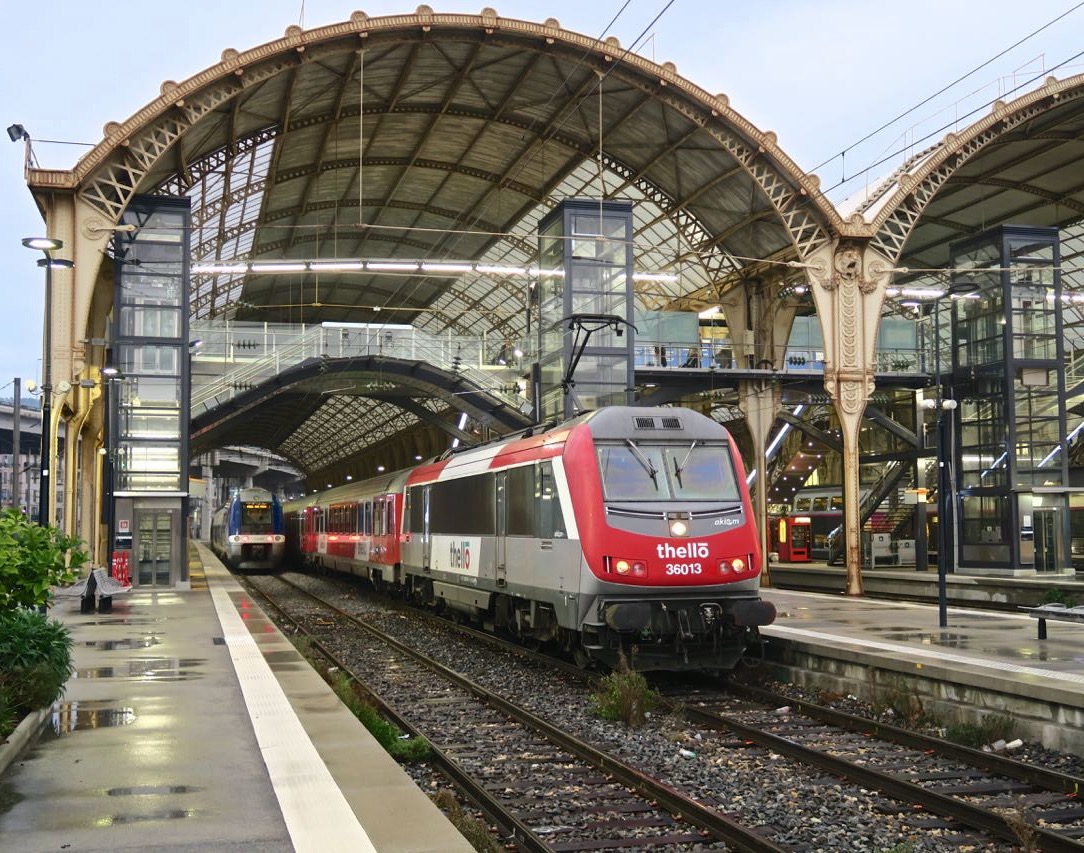 Thello has announced that it is withdrawing its Marseille - Nice - Milan service at the end of the year. Introduced in December 2014 the cross-border service employs Class BB 36000 electric hired from Akiem and refurbished Trenitalia stock. Services were initially suspended with the outbreak of the Coronavirus pandemic and restored in June between Milan and Nice, but loadings have been poor for the low-cost carrier. The overnight Paris - Venice serices remain suspended.
Above. on 30th November 2018 BB 36013 arrives at Nice with the 11:10 from Milan.
Bordeaux plans RER system
Nouvelle-Aquitaine Region has given further details of plans to create a regional express network around Bordeaux. The new system will re-organise existing TER services into five cross city services linking into the city's tram network with new stations and interchanges by 2028, once the significant infrastructure work required has been completed.
The first route will be from Libourne to Arcachon starting with one through train a day from December 2020, increasing to a half hourly service (15 minute at peak times) over the coming years. This initial service is targeted at students from Libourne using the university in Pessac and Talence, where the station at Talence-Médoquine is scheduled to reopen in 2023. The December 2020 timetable will see an additional 74 trains a week between Bordeaux and Libourne, Arcachon, Saint-Mariens and Langon, that will form part of the RER system
The second RER route will connect Langon and Saint-Mariens, although infrastructure work is required on the Saint-Mariens line. Eventually it is anticipated that doubledeck stock will be required to provide the required capacity
TGVs at St Lazare - a first !
The delay in delivery of new Bombardier Omneo Premium units, for long distance Normandy services, has caused something of a rolling stock crisis. To help alleviate the problem three TGV Atlantique sets will be employed on St Lazare - Rouen - Le Havre services until the end of May 2021. One unit will operate from the beginning of November and two more from mid December. Each unit will make three journeys a day.
Additional staff are being deployed to reduce the commissioning time for the new Omneo units. This enabled three more units to enter service in mid-October bringing the number of operational Omneos to nine, compared to the 25 scheduled to be in service.
As a result of the delays five Class BB 15000 and 41 corail coaches are being retained beyond their planned withdrawal date.
Le Mans - Alençon renovation
Work began in September on renovating the Le Mans - Alençon line with track and ballast replaced over 4.5km of track covering six sections at La Chapelle Saint-Aubin, Neuville-sur-Sarthe, La Guierche, Maresché, Fyé and Chérisay. The work is the first major repair work to the track since 1976. It is being undertaken overnight and should be completed by December.
The work will allow line speeds to be increased. Since 2017 the line speed limit has been decreased from 140km/h to 70km/h due to the condition of the track increasing journey times from 30 to 42 minutes. Cost of the work is 4.6 million euros financed by the State (76%), the Pays de la Loire Region (16%) and SNCF Réseau.
Originally proposed for closure by the Spinetta report of February 2018, this is seen as a first move in the long term future of the line although another €95 million will be required to replace all of the track and secure its future
TGV services reduced
SNCF has announced a reduction in TGV services due to a lack of demand during the Coronavirus pandemic. Although loadings were high during the summer due to pent-up demand and holiday traffic, they have dropped since the schools returned
Since September TGVs have been running at two-thirds capacity at weekend, but half empty during the week with business travel having fallen by 60-70%.
Describing the reductions as suspensions rather than cancellations SNCF stated that it is not economically or ecologically responsible to operate underfilled TGVs. TGV services, that are not directly subsidised by the government have already lost €3 billion this year

Sain-Bel - Courzieu likely to close
The Sain-Bel - Courzieu freight line, located west of Lyon, and currently suspended due to condition of the track is likely to close permanently. It is reported funding for repairs has not been found. The line has carried two freight trains a week moving 70,000 tons of aggregates a year from the Lafarge quarries at Courzieu.
The "Gardons-la-ligne" collective, seeking to retain the line announced that work to restore the track could not begin until 2024, too long for carriers to operate with temporary arrangements. The decision will bring 9,000 lorry journeys a year to local congested roads.
However, closure may not be permanent. The President of the "communauté de communes" has indicated that the end of the freight service may not mean the final closure of the line. They have announced that they are working to set up a passenger service project. The line was opened in 1876 and originally extended to Ste Foy l'Argentierre.

Ouigo introduces wi-fi
SNCF has started to introduce wi-fi to its low cost Ouigo TGV services enabling passengers to access a wide range of information and entertainment options.
Provided by digital technology company Moments passenger have the option of either a free service offering a choice of programmes including games and an interactive map or they can pay for full internet access with daily news and magazine content.
Wif-fi has initially been introduced to Ouigo's Paris - Lyon services and is expected to be rolled out to other routes in due course.
Major blockade at Toulouse to commission new traffic control system
Commissioning of the new PGRA (
Poste à Grand Rayon d'Action
) at Toulouse saw all movements suspended from 07:30 am on Saturday October 17 until 4:30 am on Tuesday October 20. Trains from Brive or Bordeaux terminated at Montauban (TGVs at Agen), Bayonne at Boussens, Narbonne at Carcassonne, Rodez at Albi-Ville, Aurillac at Tessonnières, Mazamet at Saint Sulpice. The Intercity trains between Bordeaux and Marseille were suspended with only trains from Auch entering Toulouse, as far as Toulouse-Saint Cyprien-Arènes station.
The new PGRA is located at Toulouse Raynal. It will control the

480 daily train movements that pass through the Toulouse area over the 700km of track shown on the map opposite. It deploys an automated command and control system of the Mistral HMI type (Homme-Machine Interface). Work on the new poste began in 2016 and since 2017 it has housed the PCD (Poste de Commande à Distance) of Portet-St-Simon and Muret stations.
During the shutdown control passed from a number of postes including Postes 4 and 6 at Toulouse-Matabiau. Poste 4 was located and managed the north end of Matabiau station it was commissioned in 1962. Poste 6 located south of the station was commissioned in 1958 and managed this area as well as the Impalot junction and the area from Baziège to Castelnaudary.
Below. Postes 4 and 6 at Toulouse Matabiau and some of the electronic equipment that has now passed into railway signalling history. Photos and original text by Georges Turpin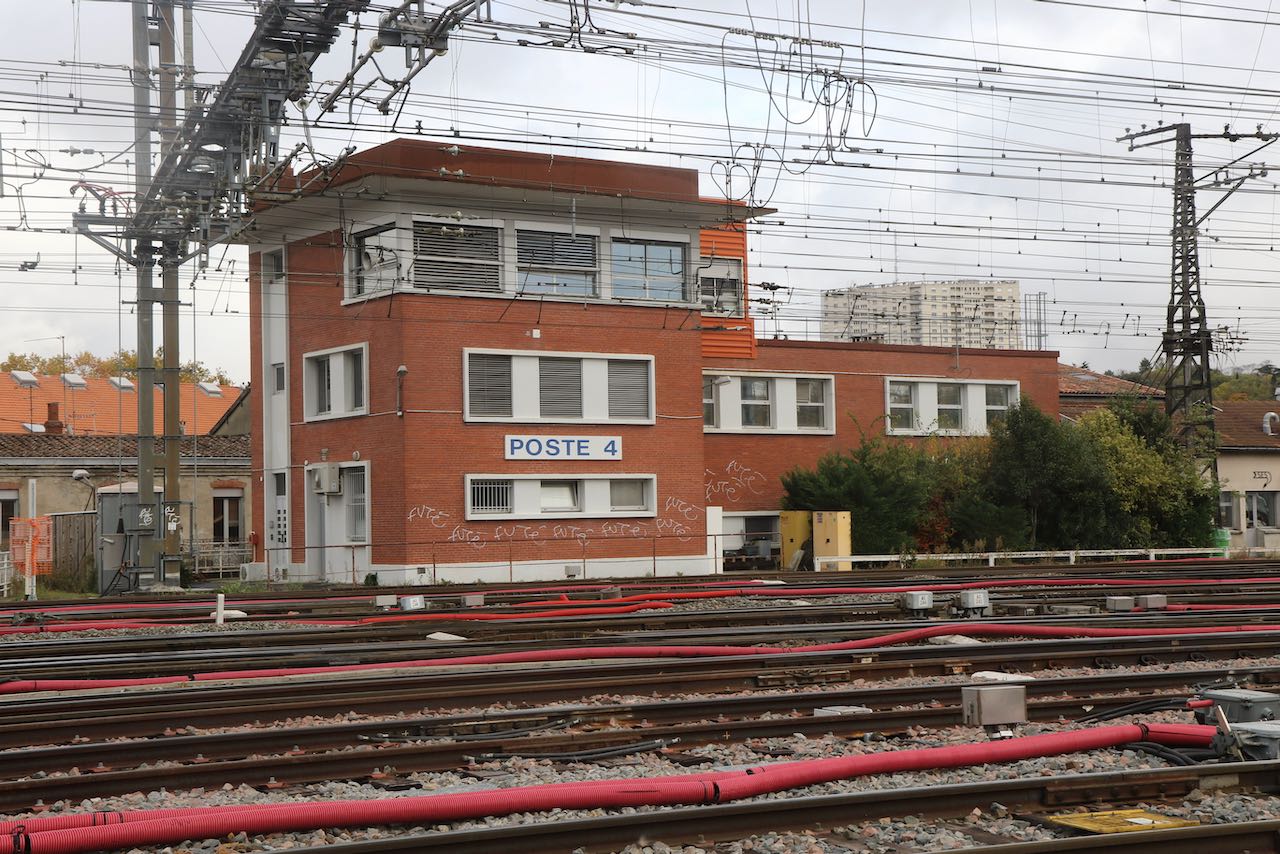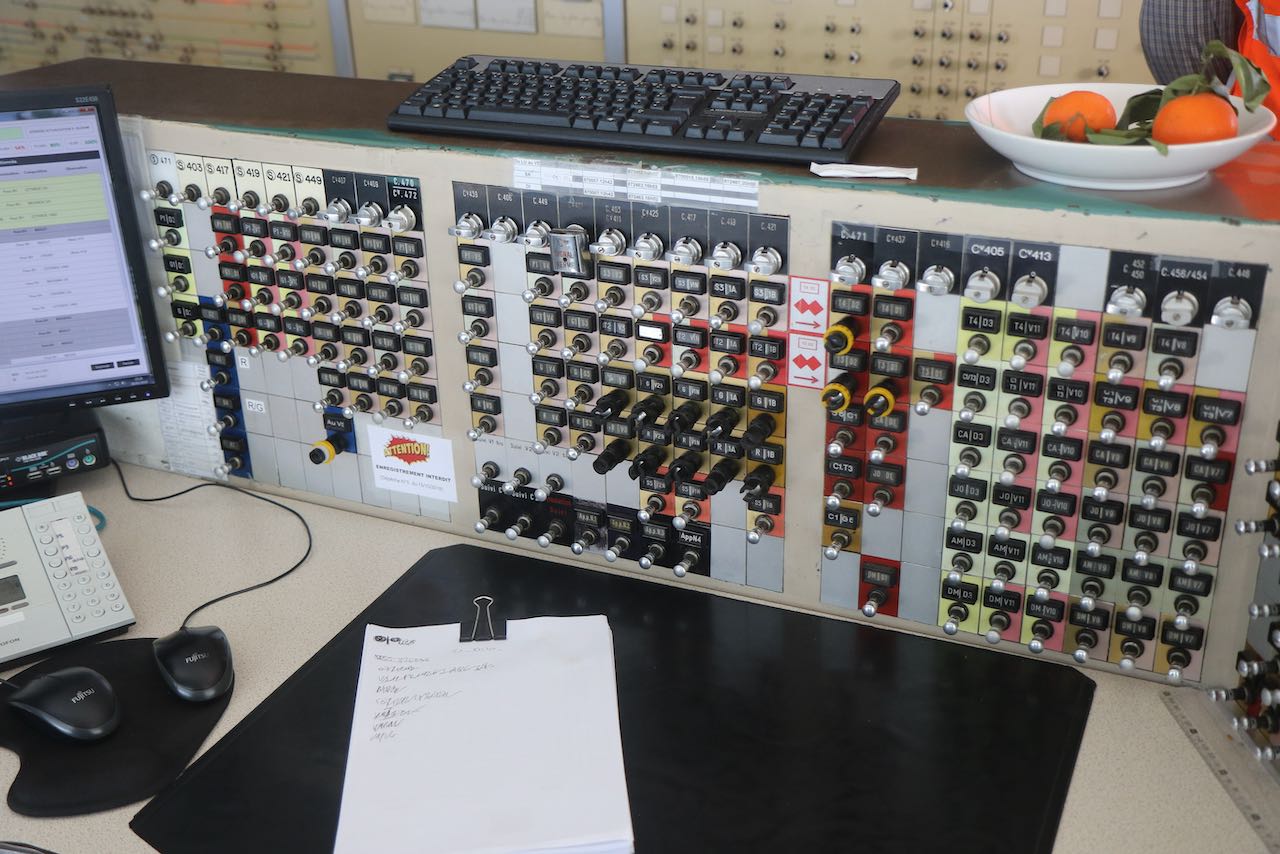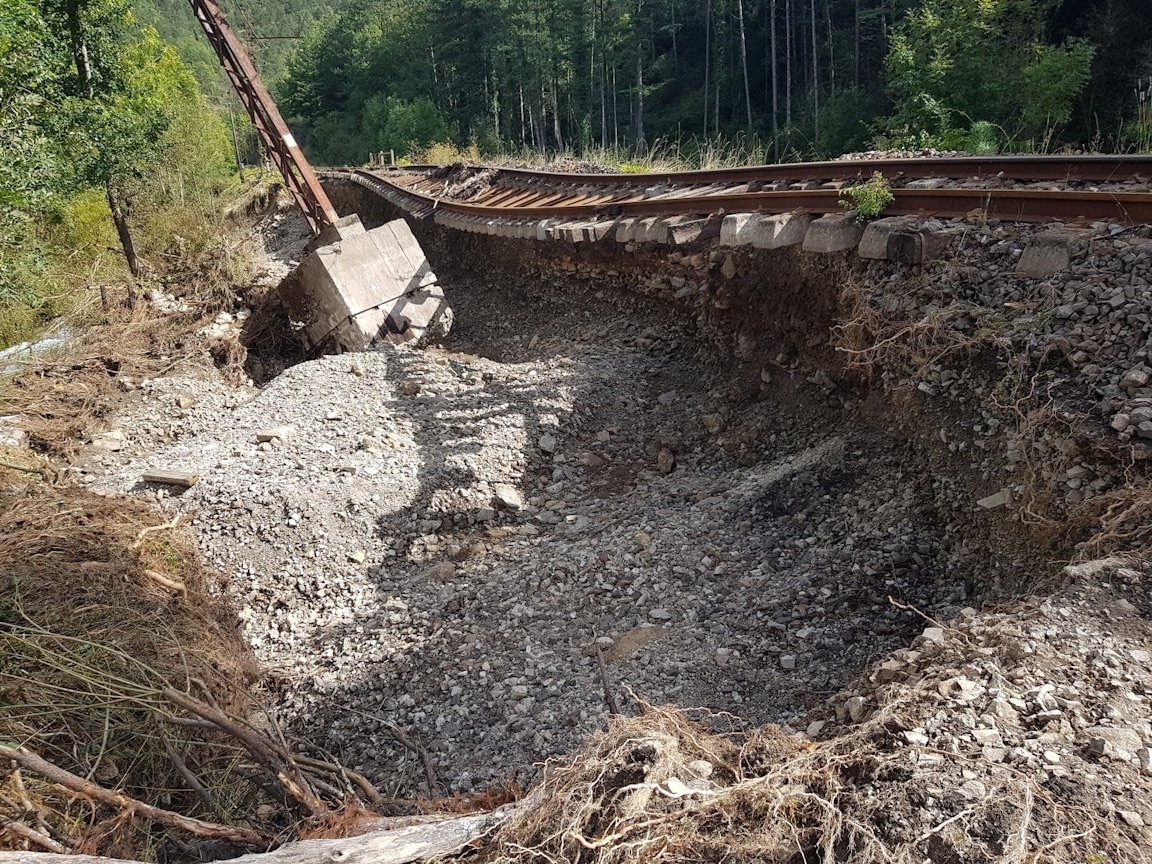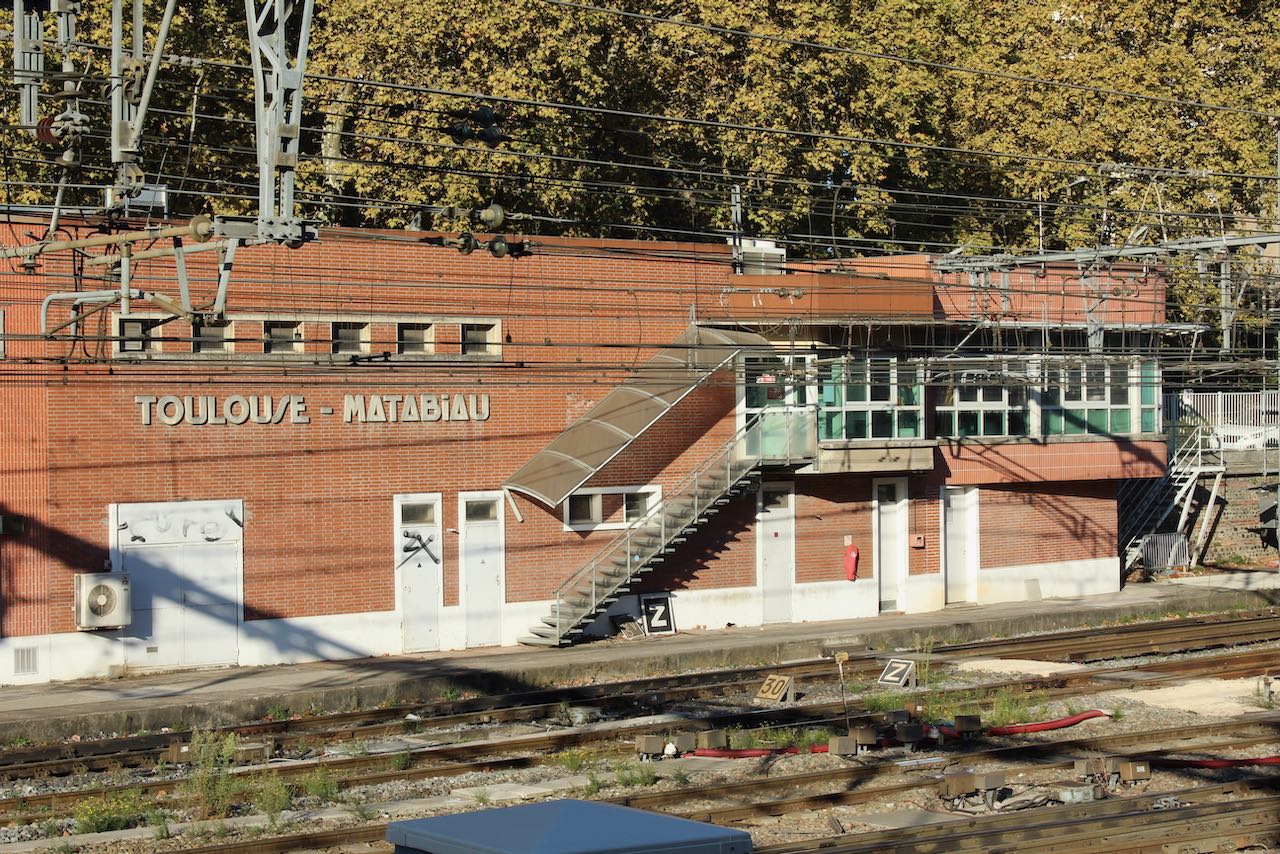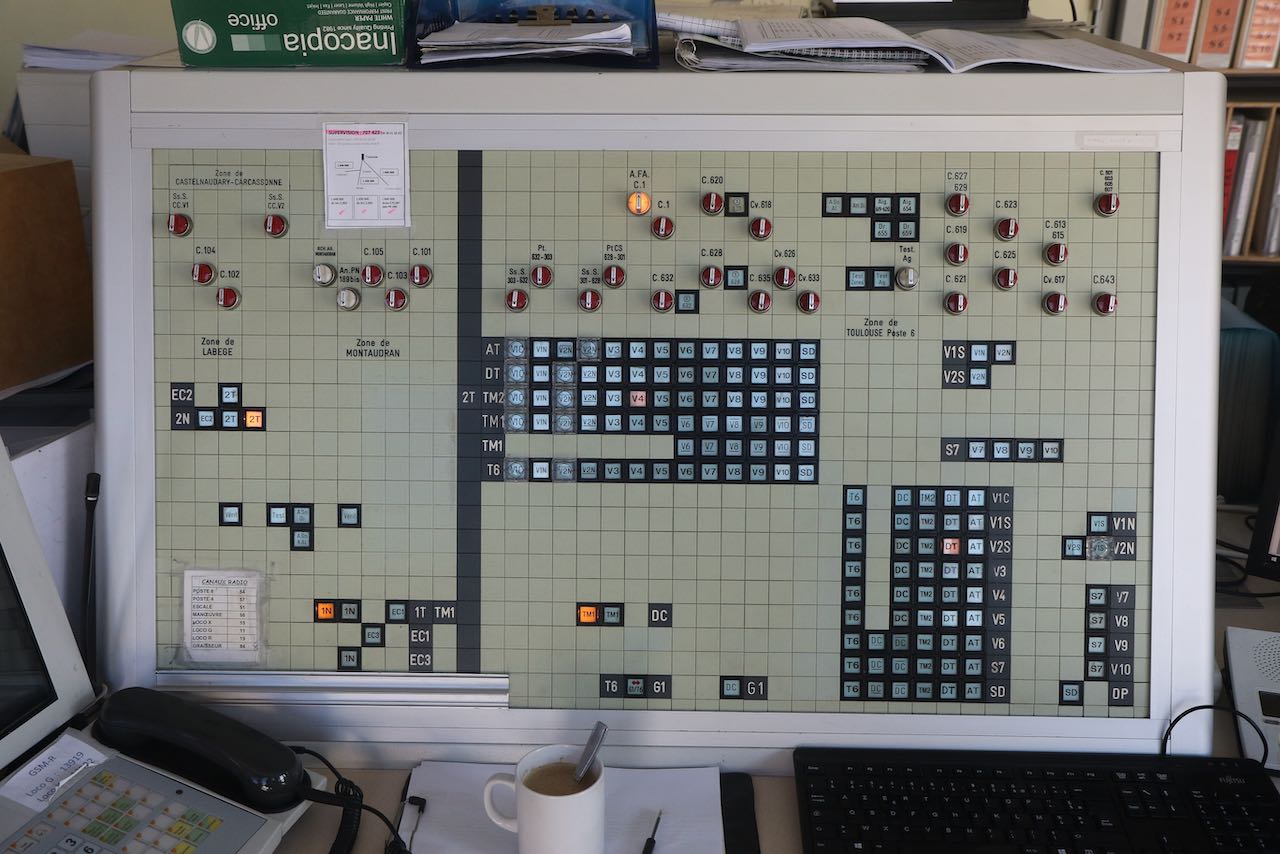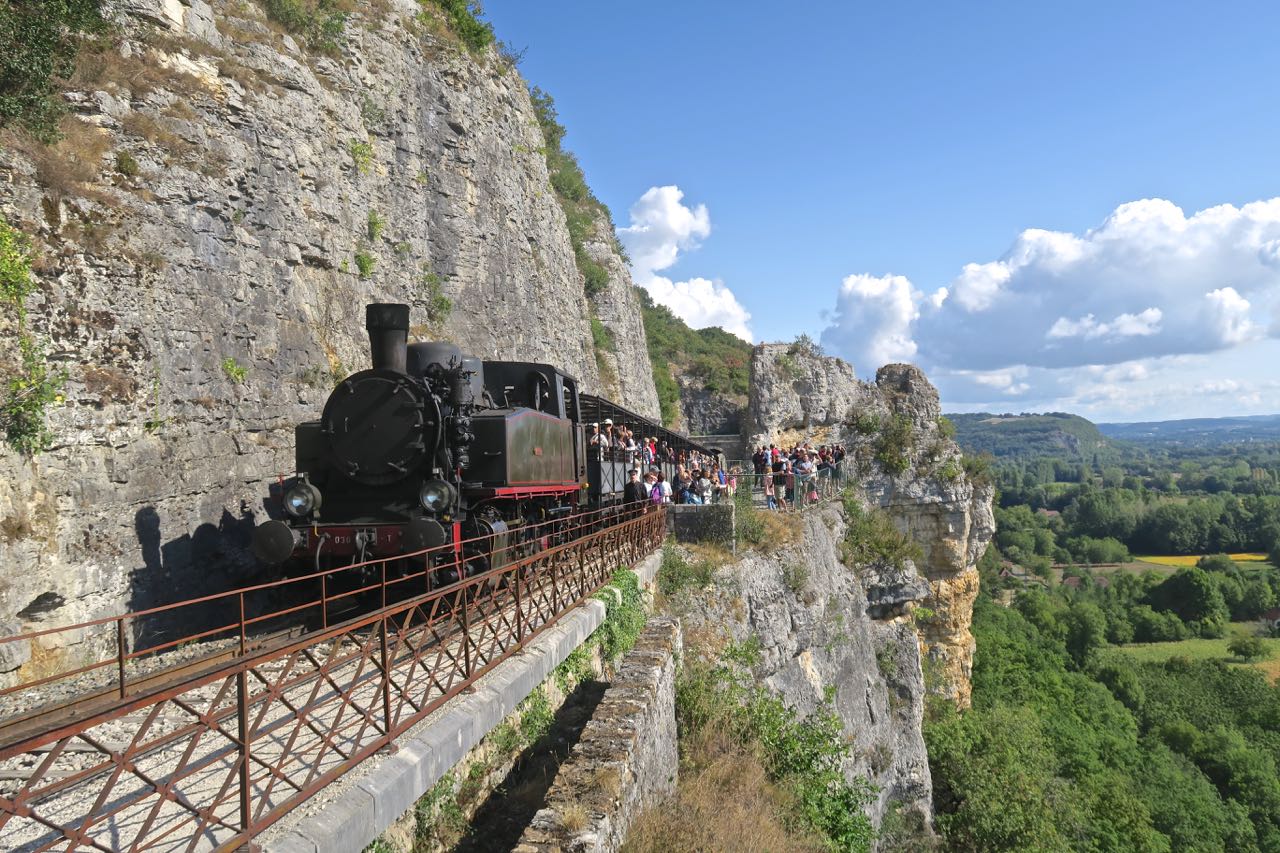 Chemin de Fer Touristique du Haut-Quercy announces ambitious expansion
The CFTHQ (Chemin de Fer Touristique du Haut-Quercy) has announced wide-ranging expansion plans to offer visitors a wide range of activities and quality services. At present CFTHQ operates between Martel and Saint Denis-près-Martel on the former line from Aurillac to Sarlat and Bordeaux. One of the main attractions are the views over the Dordogne Valley as the train descends to St Denis (see photo above). At present the train stops just short of the SNCF station and there is no facility or interface with the TER services there offering connections to Brive, Aurillac, Figeac and Rodez.
Over the last 20 years CFTHQ has increased to 100,000 visitors per annum of whom 25% are from abroad, often also visiting nearby Rocamadour. They normally offer steam trains at weekends and diesel haulage (BB63500) during the week in the high season. There are now five permanent staff and two more on fixed term contracts. In addition there are ten seasonal staff during the summer. The main base is around the former goods shed at Martel, offering only limited covered accommodation for rolling stock.
The expansion plan is based around three elements:
- Creating a 7km velorail between Martel and Le Pigeon on the section between Martel and Souillac. The track on this section remains in place although hasn't probably seen a train this century and is much overgrown.
- Extending the line at St Denis into the SNCF station with a dedicated line utilising the Sarlat line trackbed, but without crossing the SNCF network. This will provide access to the CFTHQ for rail travellers and promote the development and use of the Gallo-Roman site of Uxellodunum in Saint-Denis
- The creation of a 'Railway Rotunda' industrial heritage centre at Martel based on a reconstruction of the former depot at St Denis. This would include using recovered Eiffel beams made in the 19th century and a turntable formerly used at La Rochelle. This element of the project has been selected from over 100 possible projects in the Department and will be partially funded by the Loto du heritage. An architect in industrial buildings has been appointed by the heritage foundation who will lead the project management.
The outcome of the expansion will be to create a major tourist attraction for this area of the Lot Department. At present every euro spent at the railway brings in three euros to the surrounding economy. It will also increase the facilities and expertise at the CFTHQ and allow the development of specific skills and know-how in the maintenance and renovation of steam locomotives. Without expansion the risk is that this knowledge could be lost.
Below are two photos of the former depot at Saint Denis-près-Martel that was located to the south of the station on the eastern side. On the left an aerial photo taken in 1952 looking towards Brive (Courtesy of CPArama). On the right a pair of X 2400 autorails and trailers on an Aurillac - Brive service pass the depot in August 1977 . By this date the turntable and track had been removed. The depot was demolished in about 1981/82 Photo Christian Hospital.
French Railways Society - Photographic Archive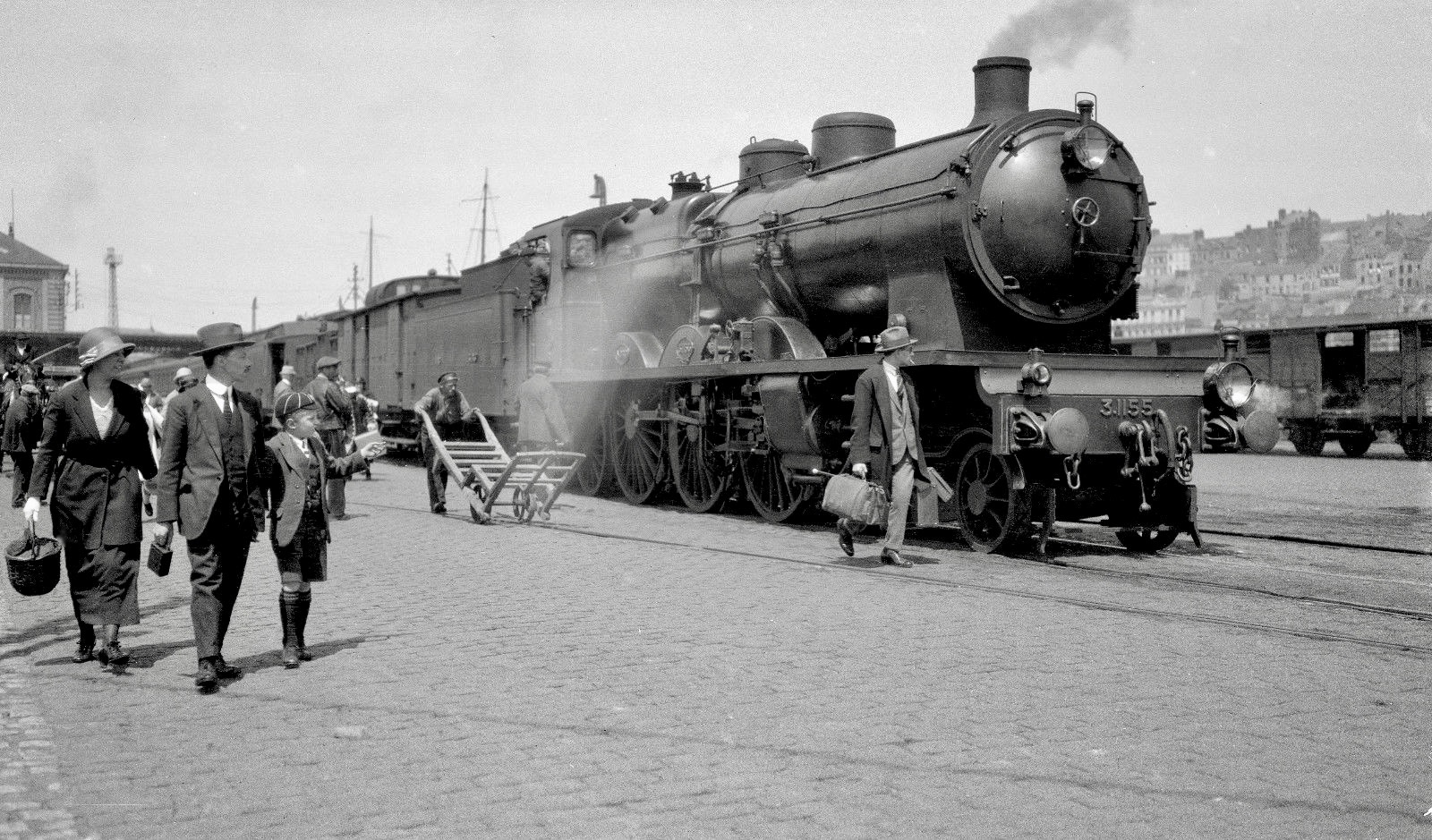 Additions to FRS Photographic Archive during October 2020
- "Peter Gulland" gallery, comprising 375 colour images of French railways from 1967 through to 2007
- Merged "Anonymous Photographer Nord" gallery with "Geoffrey Keen General" gallery
- New "CIWL Miscellaneous" gallery added to Folder 4
- New "CIWL drawings" added to Folder 2
Above. Nord 3.1155 at Boulogne Maritime 1924 - Geoffrey Keen General gallery
Additions to the FRS public folder during October 2020
- Photographic index of Peter Gulland colour images
Below. Various autorails at Saintes 1977 Peter Gulland gallery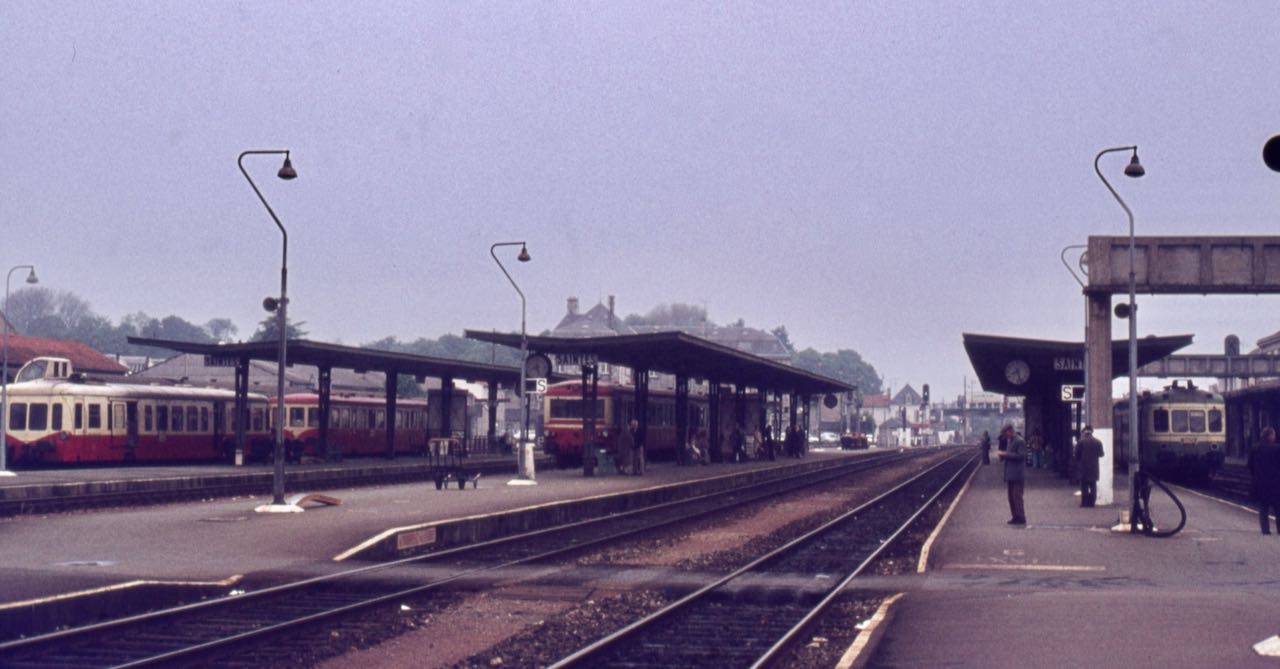 © Peter Lovell & Graham Skinner. The French Railways Society 2020. With thanks to Erwan Quintin, Christophe Masse, Georges Turpin & Christian Hospital,