Heading for Longueville
The AJECTA Festival Vapeur at Longueville over the weekend of 6-8th May saw the biggest gathering of operational preserved locomotives and rolling stock in recent years. Moving the stock to Longueville resulted in a number of unique convoys. Above. Having left Dijon Perrigny in the early hours of 1st May BB 25660 and BB 25188 are seen passing Maison Rouge, east of Nangis at 07.00 with CC 6558 and CC 6570 and ECS in tow. Photo: Christophe Masse
On 2nd May, locomotives from Orléans, Limoges and Toulouse travelled from Les Aubrais to Longueville via Valenton. Below (top) 141 R 840 is seen leading CC 72084 past Tivernon. Below (bottom) Later that morning BB 7398 leaves Toury leading 141 R 1126, BB 69421, 141 TD 740 and 140 C 38. Both photos: Alan Allbuary

AJECTA Festival Vapeur Longueville 6-8th May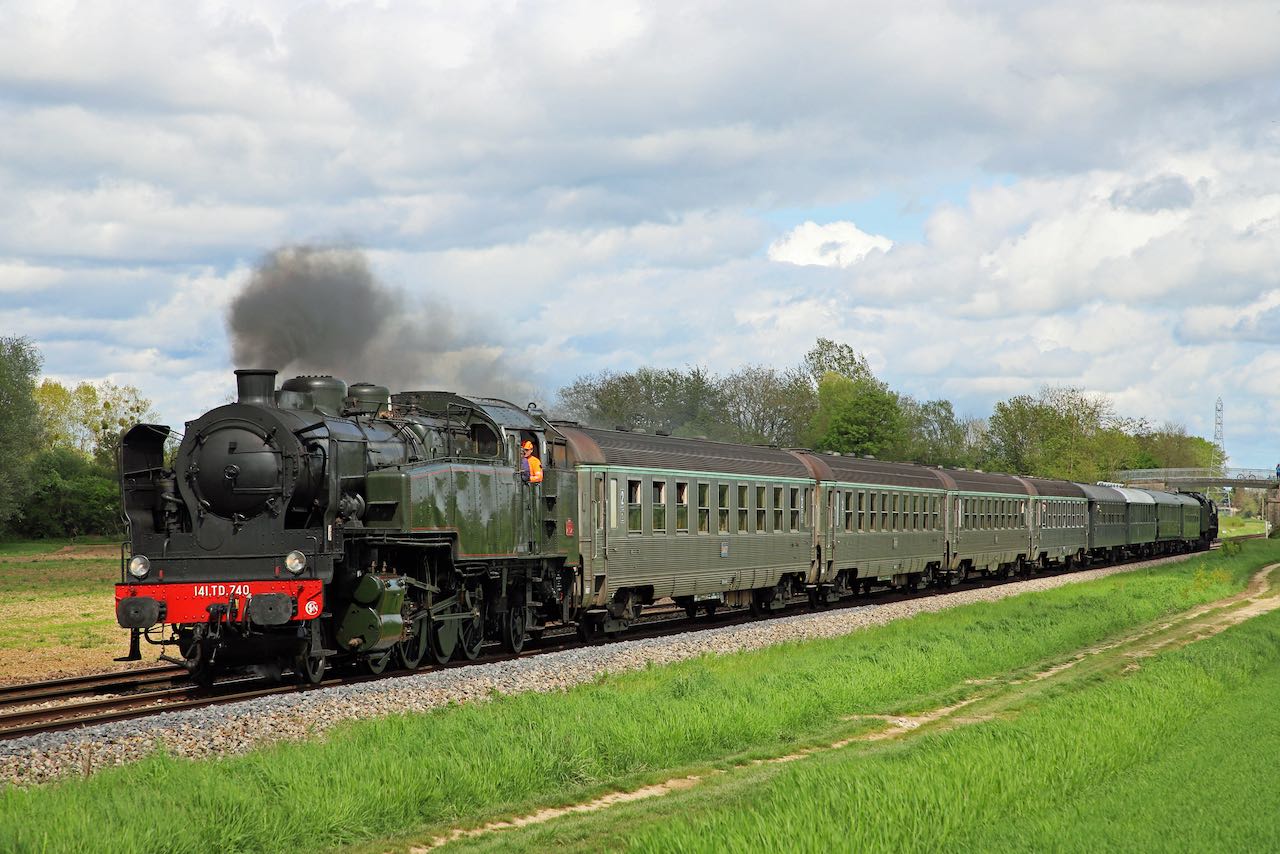 Beginning with a sponsored photographers' day between Provins and Villers-Saint-Georges on Friday 5th May, AJECTA's Festival Vapeur took place over the following three days. Despite poor weather and organisational challenges, the event bought together nine operational steam locomotives with a wide selection of heritage autorails, diesels and electric locomotives and TGV 16.
Above (top). 241 P 17 is seen passing the nuclear power station at Nogent-sur-Seine with a Longueville – Romilly-sur-Seine shuttle, (lower) returning with 241 TD 740. Both photos: Jocelyne Bourneuf
Below (top left). One of the most interesting locomotives was Mallet 020 020 ABC 2 from Train Thur Dollar Alsace at Cernay seen below between Provins and Villers-Saint-Georges. Also on this section are 141 R 1126 (top right), 141 R 840 (lower left) and 140 C 231 (lower right). Bottom. On the evening of Monday 8th May 141 R 1126 provides a superb panache as it passes Marnay-sur-Seine with the last shuttle from Romilly-sur-Seine to Longueville with BB 66304 on the rear. Photos: Christophe Masse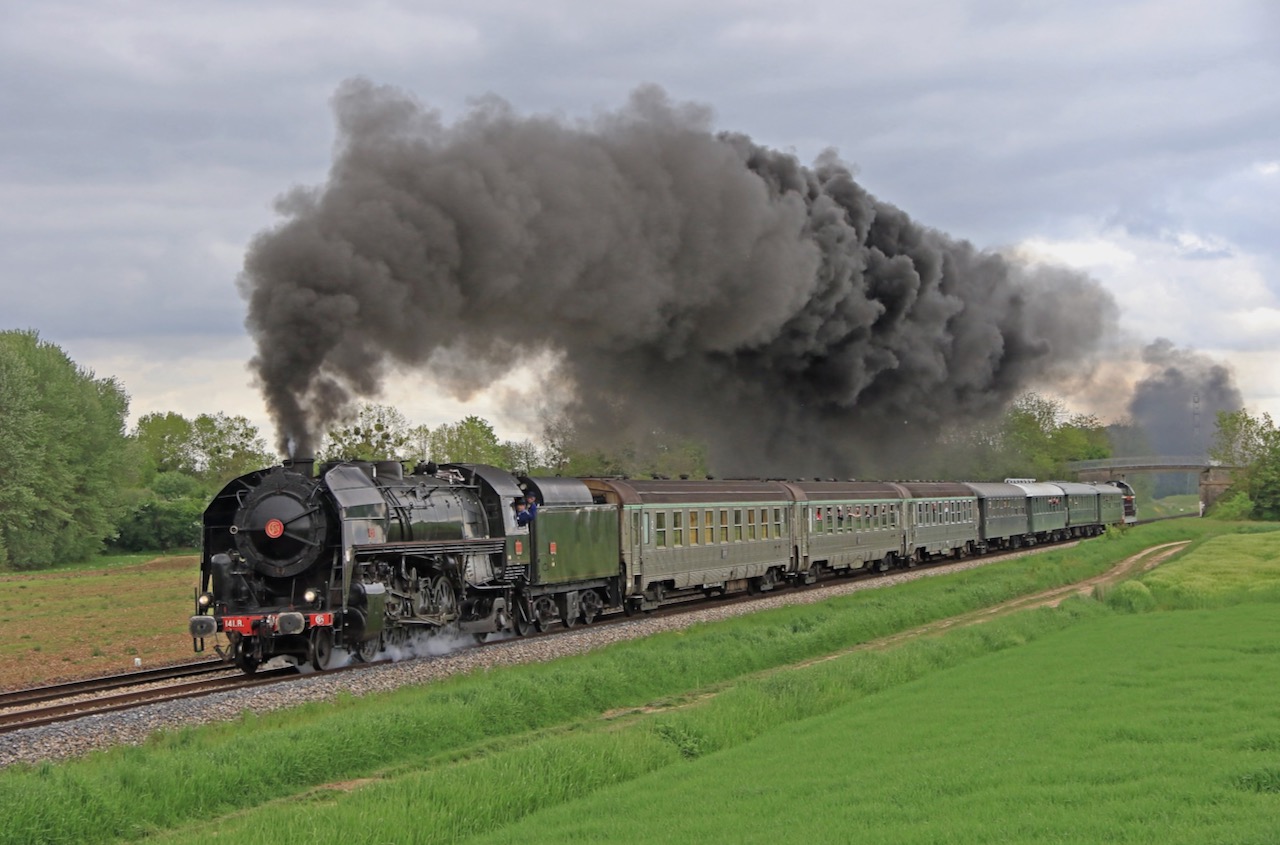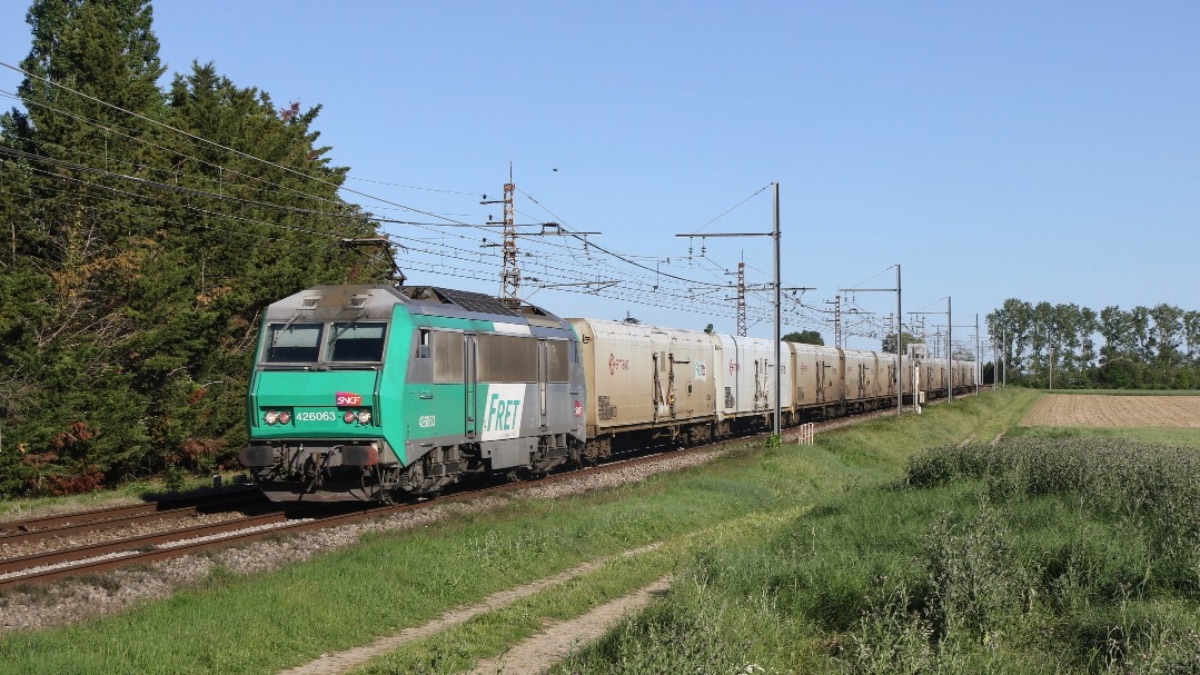 "Le train de primeurs revient"
The high-profile
train de primeurs
carrying fresh fruit and vegetables between Perpignan and Rungis market in Paris was restored on 2nd May after a two-month lapse. It is seen above near Montlaur hauled by the only remaining SNCF Fret green-liveried Sybic BB 26063. Photo:
Georges Turpin
The service had been suspended since 7th March at the request of Primever, which charters the train on behalf of producers, due to disruption caused by industrial action over the pension reforms. The service had been restored in October 2021 with government support, having been withdrawn for two years. The refrigerated wagons were overhauled and Primever has chartered the service until 2025. The wagons will then be life-expired and it is planned to replace the service with a 'rolling motorway' carrying refrigerated trucks and semi-trailers.

Freight operators may break SNCF electricity contracts
In a belated response to the rail freight industry's concerns about high electricity charges (see February News), on 21st April the government announced that operators would be free to withdraw from power supply contracts with SNCF and seek cheaper deals elsewhere. There was consternation last summer when SNCF Réseau announced an increase in electricity charges to €473.51/MWh in line with the particularly high wholesale prices then in force. This increase, amounting to 745%, would seriously compromise rail freight's economic viability and damage its environmental benefits. The move was vigorously opposed by industry groups which had suggested the price should be capped at €160/MWh.
From 1st June operators will be able to take advantage of current market conditions to secure power at between €150 and €200/MWh, giving them "the means to become competitive once again" according to Transport Minister Clément Beaune. While this relaxation goes some way towards meeting the industry's demands, the Alliance 4F Group pointed out that operators would still be paying four times the price charged for electricity in 2021, while receiving none of the financial assistance given to road hauliers. Under those terms, it said the government's objective of doubling rail freight by 2030 was unattainable.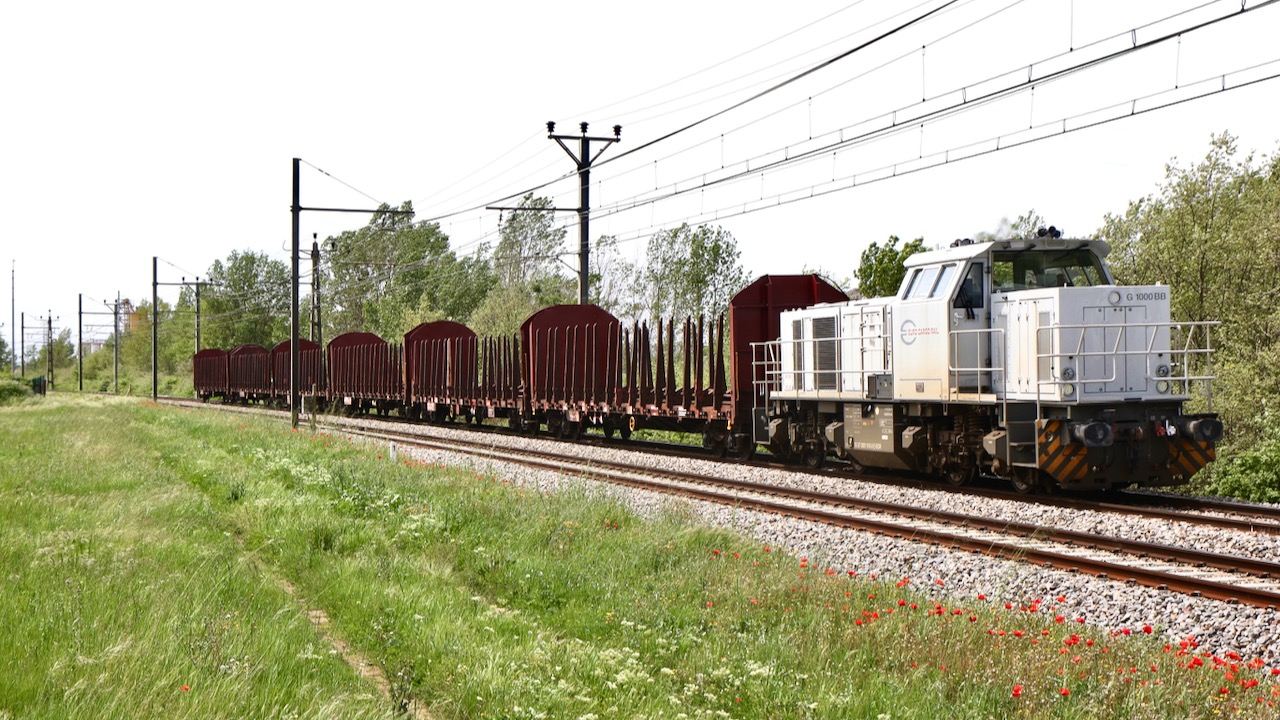 Railcoop suspends freight operations
In a surprise move the directors of Railcoop decided on 19th April to suspend freight operations to concentrate available resources on the planned Bordeaux – Lyon passenger service, scheduled to begin next summer. In a press release Railcoop stated:
"Railcoop's Board of Directors decided on April 19 to suspend its current freight traffic in Occitanie in order to focus its resources on launching the Voyageurs Bordeaux-Lyon service in summer 2024. Despite the start of a new service and good development prospects in the South-West, we cannot see our freight activities achieving viability in 2023. Thus, we are reorganizing our activities to focus exclusively on development of passenger services.

Development of local rail freight service remains a major ambition for Railcoop, as it represents an essential link to support ecological transition in rural areas. Consultation will be initiated with the membership to establish feedback on this experience and lay the foundations for resumption of freight operations in the medium term".
On 12th May, Director General Nicolas Debaisieux confirmed his aim of starting a daily Bordeaux – Lyon service in summer 2024, and had applied to SNCF Réseau for the paths. However, he complained that local bodies had been reluctant to offer financial guarantees. So far, Railcoop has received little more than a quarter of the €4 million budgeted for the start of passenger operations.

Above. Vossloh G 1000

(92 87 0001 010-3 F-ECR)

hired by Railcoop from ECR returns from Fiber Excellence at Saint-Gaudens with the final Railcoop working of six empty wagons to Saint-Jory on 28th April, seen at PK 17 between Muret and Portet-Saint-Simon. Photo:

Georges Turpin.

The G 1000 have been returned to ECR along with the 24 wagons leased from Erwema.
At the beginning of April, Railcoop had started a new service between Gignac-Cressensac (between Brive and Souillac) and Saint-Gaudens. The siding at Gignac-Cressensac only had capacity for four wagons, making it expensive to operate. Apart from a training run, it saw only four workings: an initial run with four wagons, two further workings with two wagons and a final run to collect two empty wagons.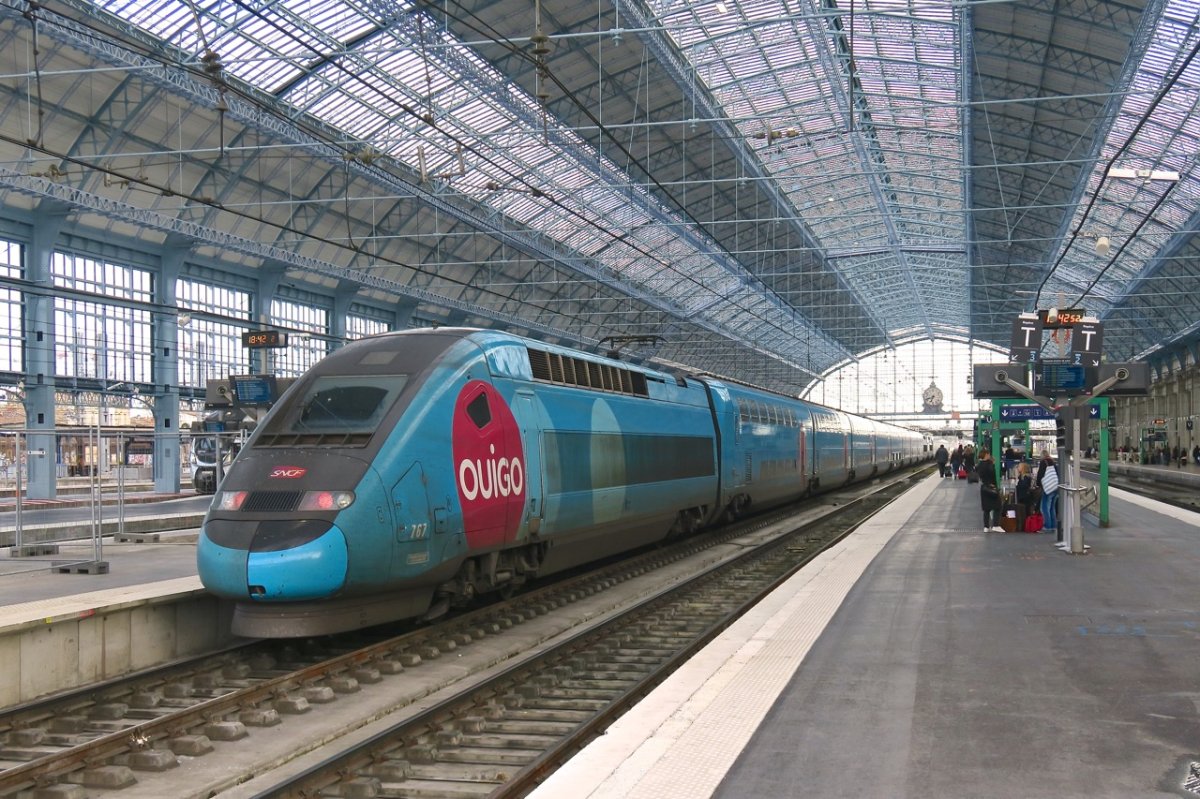 Ouigo expands
Celebrating Ouigo's tenth anniversary, TGV-Intercités Director Alain Krakovitch announced on 3rd May his aim to double the number of passengers travelling with the low-cost operator. Currently carrying 24 million passengers a year, the intention is to reach 50 million by 2030, driven by introduction of more rolling stock and new destinations. The fleet of dedicated TGV sets will rise from 28 to 50, comprising fully-renovated trains from the existing fleet. There will be more comfortable seats, USB sockets throughout, and space for bicycles.

Krakovitch mentioned new services "in France and elsewhere in Europe", Spain being the number one European destination for French tourists. A few days before, on 27th April, Ouigo Espagne launched services between Madrid, Albacete and Alicante, following the success of its Madrid – Barcelona/Valencia trains. Further expansion is planned to Seville, Cordoba and Malaga, with a total of 30 daily departures forecast to carry 10 million passengers a year.

Toulouse – Barcelona flights highlight rail failure
Despite Spain being the number one destination for French tourists (see above), SNCF seems unwilling to provide the means of conveying them. The poor rail connections between France and Spain are under the spotlight again following low-cost airline Vueling's announcement of a thrice-weekly Toulouse – Barcelona service starting on 1st July. There has been much pressure in Toulouse for reinstatement of the daily through TGV to Barcelona withdrawn in 2019, and pro-rail groups were quick to denounce the new flights as a backwards step on the route to decarbonisation. Carole Delga, President of Occitanie région, met her Catalan counterpart Pere Aragonès on 17th May to discuss joint efforts to have the service restored.

Commentators pointed out that the Perthus tunnel and associated high-speed line at the eastern end of the Pyrénées, built at a cost of €3.5 billion to provide standard-gauge to Barcelona, is now used by just two return Paris trains a day. Though these have good connections at Narbonne, giving a Toulouse – Barcelona journey time of around 3h 50, lack of a through train continues to be felt in La ville rose. With a flight time of just under an hour, the new service goes against France's desire to eliminate short-haul flights where a good rail alternative exists. In this case, the formidable barrier of the Pyrénées leaves rail poorly-placed.

With termination last year of SNCF's nine-year partnership with RENFE, "All trains from France to Spain will be operated exclusively by SNCF and TGV Inoui" according to SNCF's High-speed travel around Europe website. RENFE is willing to resume services from Madrid and Barcelona to Marseille and Lyon, but it seems that poor relations between the two railways, perhaps due to Ouigo Espagne's success, precludes co-operation to provide more cross-border trains. The SNCF statement also ignores Catalunya's proposed high-speed services connecting Barcelona with Toulouse and Montpellier, one of 10 projects supported by the EU in its Cross-Border Action Plan announced in January (see March News). At his meeting with Carole Delga, President Aragonès confirmed that the scheme was well advanced and awaiting identification of funding sources.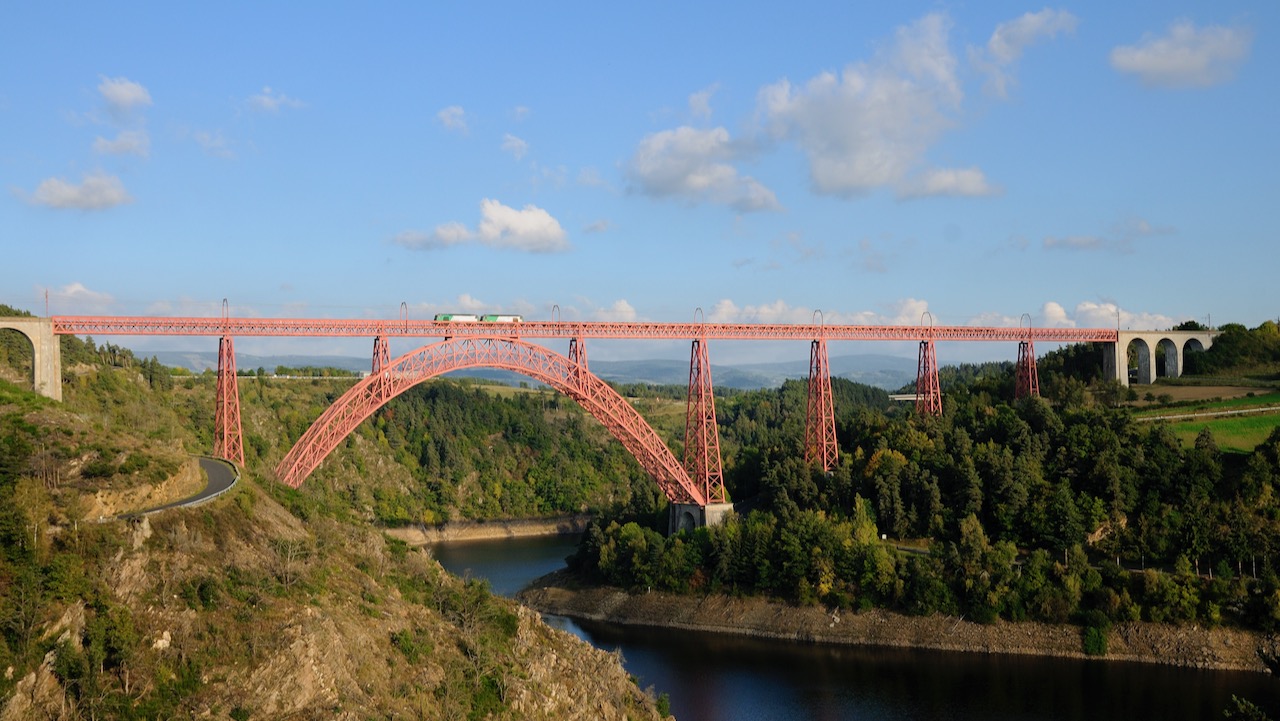 Ligne des Causses threatened again
Despite an agreement signed in 2019 that aimed to secure its future until at least 2024, the Béziers – Neussargues
Ligne des Causses
is once again under threat. Completion of this winter's engineering work at Magalas saw trains running again between Béziers and Bédarieux from 27th May, with reopening throughout scheduled for 25th June. However, it now seems that urgent work on a 26km section between Saint-Chély-d'Apcher and Neussargues, costed at €40 million, is unfunded and so threatens closure of the northern end of the line from December.
This lengthy electrified route through the Massif Central is one of the 12 lines designated as
Trains d'équilibre du territoire
(TET), but suffers from its position at the extremity of
Auvergne-Rhône-Alpes and Occitanie régions; just one daily Intercités crosses the regional boundary
between Saint-Chély-d'Apcher and Neussargues. The only other trains on this 57km section are those serving the ArcelorMittal steelworks at Saint-Chély, which would require a detour of several hundred km to arrive from the south.
Local action groups have petitioned the government to provide more financial assistance, and it was hoped that the two régions and the State would reach an agreement by the end of May to fund this further tranche of work.

Above. BB 67530 and BB 67579 head steel coil empties over the Viaduc de Garabit returning from Saint-Chély-d'Apcher to Clermont-Ferrand. Photo: Duncan McEvoy

New transport support package for Ukraine
France will provide further assistance to Ukraine's national railway Ukrzaliznytsia (UZ) under a Memorandum of Understanding signed in Kyiv on 22nd April. On a three-day visit to Ukraine, Transport Minister Clément Beaune and Pierre Heilbronn, President Macron's Special Envoy for Ukrainian relief and reconstruction, met with Ukraine's Infrastructure Minister Oleksandr Kubrakov to agree new support for UZ in assessing damage to railway installations, particularly bridges, and planning for their restoration in both short and long term. The MoU builds on last year's EBRD loan of €50 million, an order with Saarstahl for 20,000 tonnes of rail, and Alstom's contract to supply 130 electric locomotives. SNCF will also supply generator sets to power vital installations during electricity outages.
The two countries will also assess available technology for automated gauge-changing equipment to help overcome transhipment difficulties and enable more freight to reach European destinations by rail instead by ship from Black Sea ports.
Tartas branch progress
Tracklaying is well-advanced on the 12.6km Laluque – Tartas branch in Les Landes which is being reopened for freight by Nouvelle-Aquitaine. Owned by the région since 2017, the line will carry some 200,000 tonnes annually from the Papeterie Rayonier plant at Tartas and grain from Maïsadour silos. It will also serve the multi-modal transport hub planned for Laluque. The nine-month project is expected to be completed in August at a cost of €16.6 million, of which 25% has been provided by the State.
Photo: Région Nouvelle-Aquitaine

New Rennes – Lille freight link
From the beginning of April Lahaye
Global Logistics has introduced a new intermodal service carrying trucks from Rennes to Dourges (Lille). The new service will initially operate six times a week, each train carrying
thirty trucks, although the plan is to increase the service to ten times a week, carrying 40 trucks on each train by the end of the year.
Lahaye already operates intermodal rail services between Rennes – Gennevilliers (Paris), Rennes – Lyon, Dourges – Lyon and Dourges – Valenton – Bordeaux.
Le Shuttle becomes LeShuttle
Eurotunnel Le Shuttle has rebranded itself LeShuttle. Described as refreshing the brand on the eve of its 30th anniversary; reflecting the heritage and future growth strategy of innovation in customer experience and reducing the environmental footprint. The event will be marked by a 60 second advertising campaign on TV and in cinemas.
Rebates for Intercités delays
Transport Minister Clément Beaune announced on 18 th May that the government will offer rebates to Intercités passengers whose already poor travel experience has been further degraded by the rolling strikes affecting SNCF since the start of the year. Citing POLT, Paris – Clermont-Ferrand and Bordeaux – Marseille as examples, he said that on some strike days nine out of 10 trains had been cancelled.
Season-ticket holders will receive compensation of 50% automatically, while other regular travellers can apply online for a rebate of up to €100. Some 20,000 passengers are thought to be eligible for the benefit.
Île-de-France orders second batch of RER NG units
Île-de-France Mobilités has ordered a second batch of 60 RER NG units for RER Lines D and E. Costing nearly €1 billion, this brings the number of RER NG units on order to 131. The original 2017 framework order provides for a maximum of 255 units. Above Set 001 under test at Valenciennes. Photo:
©Alstom/Samuel Dhote
CAF EDMUs for Nouvelle-Aquitaine
CAF is to supply 11 Régiolis four-car trains for Nouvelle-Aquitaine region, its first order for Coradia Polyvalent electro-diesel multiple-units since acquiring the product platform and the Reichshoffen factory from Alstom last year. As agreed under the terms of the sale, Alstom will supply propulsion equipment while CAF takes responsibility for design and manufacture.
Together with an add-on order for seven trains for Dakar's regional express line in Sénégal, the contract is valued at €161 million. The new trains, authorised at the end of last year, will help cope with recent substantial traffic growth, up 15% in 2022 to 66,000 daily journeys. This has led to severe overcrowding on some services, particularly around Bordeaux at peak times. Delivery will start in 2025.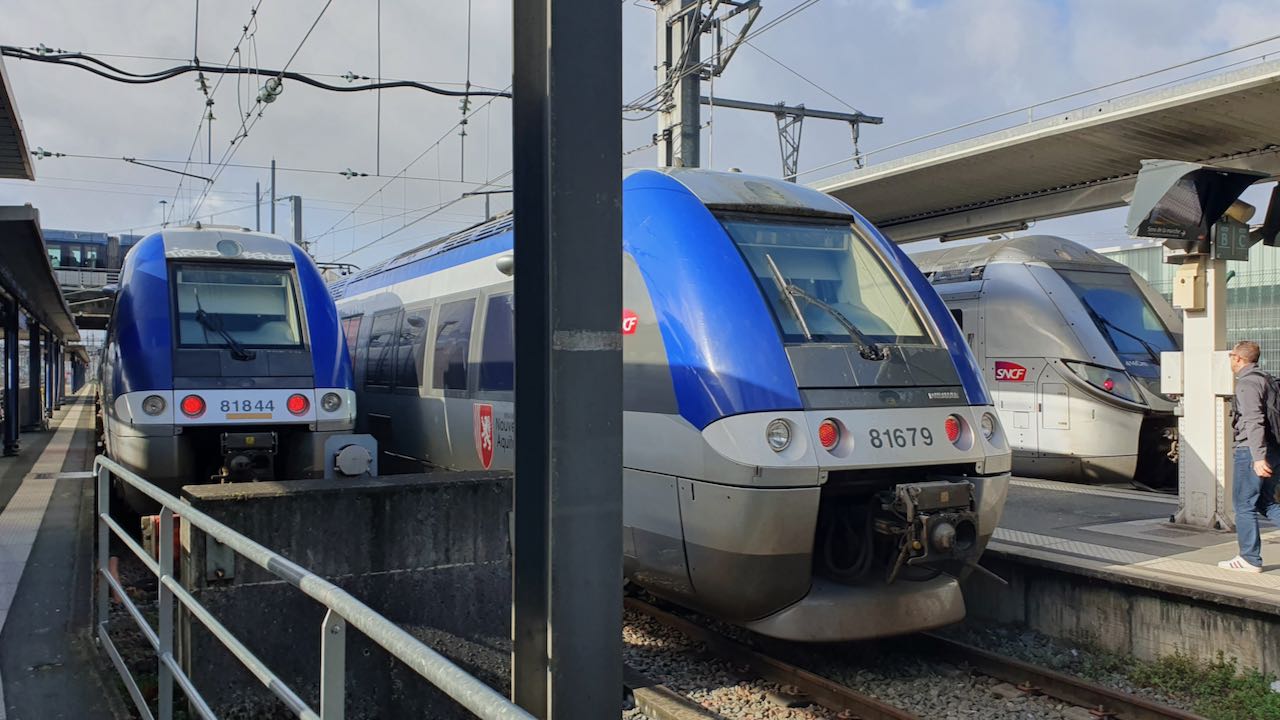 No competition for
Nouvelle-Aquitaine TER
Nouvelle-Aquitaine expects to agree a new operating contract with SNCF this month to run TER services for six to eight years. In an interview with
France Bleu,
Renaud Lagrave, Vice-President in charge of transport, confirmed that the région would not seek competitive tenders as it would be required to do from December. This follows an assurance given to trades unions last October by the President of Nouvelle-Aquitaine, Alain Rousset, that SNCF would continue to operate the regional network until at least 2027.
Above. At Bordeaux Saint-Jean on 1st April Nouvelle-Aquitaine TERs to or from Arcachon (left), Mont-de-Marsan (centre, 10.17 arrival) and Hendaye occupy the south-facing bays A, B and C. A tram on Line C can be glimpsed overhead. Photo: Chris Bushell
Classique travel at €1
To celebrate the first anniversary of the Train Classique service, on 23rd May Ouigo offered 10,000 tickets at €1 on its routes from Paris to Nantes and Lyon. Available only online and for 24 hours, the tickets were for travel on any day up to 5th July apart from Sunday 29th May. Train Classique serves 14 stations on the two routes.

Mantes ready for Line E

At the beginning of April, Île-de-France-Mobilités opened the modernised and expanded Mantes-la-Jolie station which from December 2026 will be the western terminus of RER Line E. At a cost of €35 million, the station has been resignalled, track modernised, and platforms lengthened and raised. A second footbridge will help cope with 10,000 passengers daily instead of the present 6,000, and all areas are now fully accessible. A new building on the south side adjacent to the bus station was opened in 2019. Further work next year will see construction of a depot and storage sidings for NG EMUs.
Under the Éole project, Line E is being extended 55km from Haussmann-Saint-Lazare in the centre of Paris to Mantes-la-Jolie, mostly over existing tracks but with a new 8km section largely in tunnel from Haussmann-Saint-Lazare westwards to Nanterre-la-Folie.
This is expected to open in April next year with a limited daytime off-peak service designed to prove both the new infrastructure and Alstom's RER NG trains before a full peak-hour service of 16 trains/h each way starts in December.
The second stage comprises reconstruction of 47km of existing line from Nanterre-la-Folie to Mantes-la-Jolie, over which Line E trains will share tracks with Line A between Nanterre-La-Folie and Poissy, as well as with Transilien suburban Line J, and TET trains to and from Normandie. This work is already well advanced.
Line E will reach Mantes-la-Jolie in December 2026, when 6 trains/h will run through to central Paris to terminate in new turnback platforms at Rosa Parks station. Together with trains from the east terminating at Nanterre, there will be 22 trains/h in the peaks over the central section between Nanterre and Rosa Parks. To regulate traffic at 108 sec headways and a top speed of 120 km/h, SNCF Réseau's NExTEO communications-based train control system will be deployed for the first time, a challenging task that also involves installation of ATS+ traffic supervision on certain other sections of Line E that will not be equipped with CBTC.

A full description of the NExTEO project appears in
Railway Gazette International
April 2023. Through the Editor's kindness, it is available for members to read
following this link
.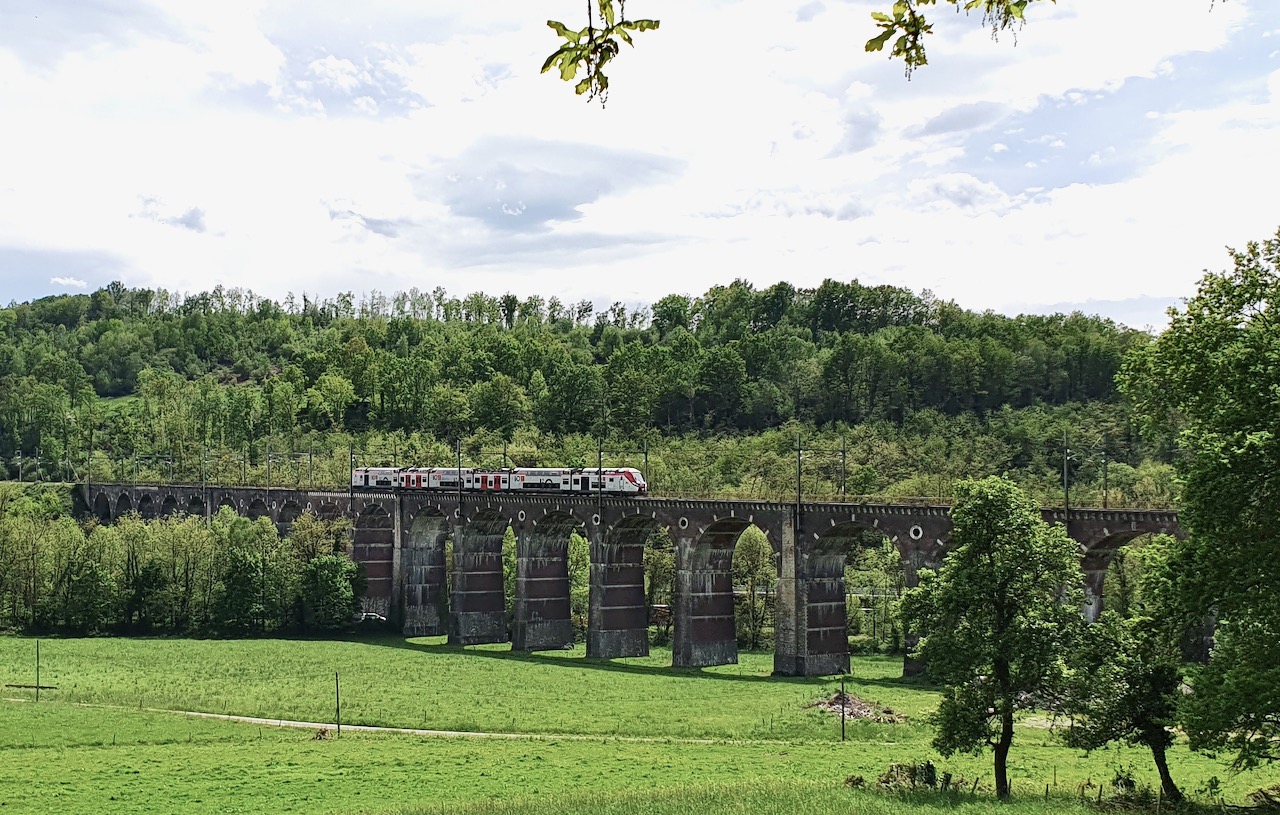 Tarbes reconnected
Trains are running again on the Pyrénéean main line east of Tarbes after more than six months' closure of the 38km between Tarbes and Montréjeau. Heavy maintenance work has been carried out on three tunnels, together with replacement of OHL between Capvern and Tarbes, and track renewal between Lannemezan and Capvern.

A few trains ran on the afternoon of Friday 28th April, with a gradual reintroduction of service over the holiday weekend before the full timetable resumed on Tuesday 2nd May.
Running under new catenary, Train 872719 the 12.31 Toulouse – Tarbes formed of Régio 2N EMU 442 Cm was the first westbound passenger service since 17th October. The set returned later as the first eastbound service, Train 872714 14.37 Tarbes – Toulouse, seen above on Lanespède viaduct just east of Tournay tackling the formidable Rampe de Capvern. This incline of 8km at 1 in 33, one of the most severe in France, is often used for as a testing ground for new rolling stock. Opposite. A sign at Tournay is a reminder that trains were once banked from here to the summit at Capvern (597m), especially heavy pilgrim trains on their return journey from Lourdes. Photos:
Chris Bushell, John Bamforth
With reopening of the line between Montréjeau and Tarbes, the Tarbes/Lourdes portion of the 21.13 Paris Austerlitz resumed operation on the night of 2nd May, along with introduction of a stop at Saint-Gaudens between Tarbes and Toulouse. This restores a Paris link to the
pays de Comminges
area which had been served by the Luchon night train before its withdrawal in 2014. Now locals are looking forward to reopening of the Luchon line, scheduled for 2025.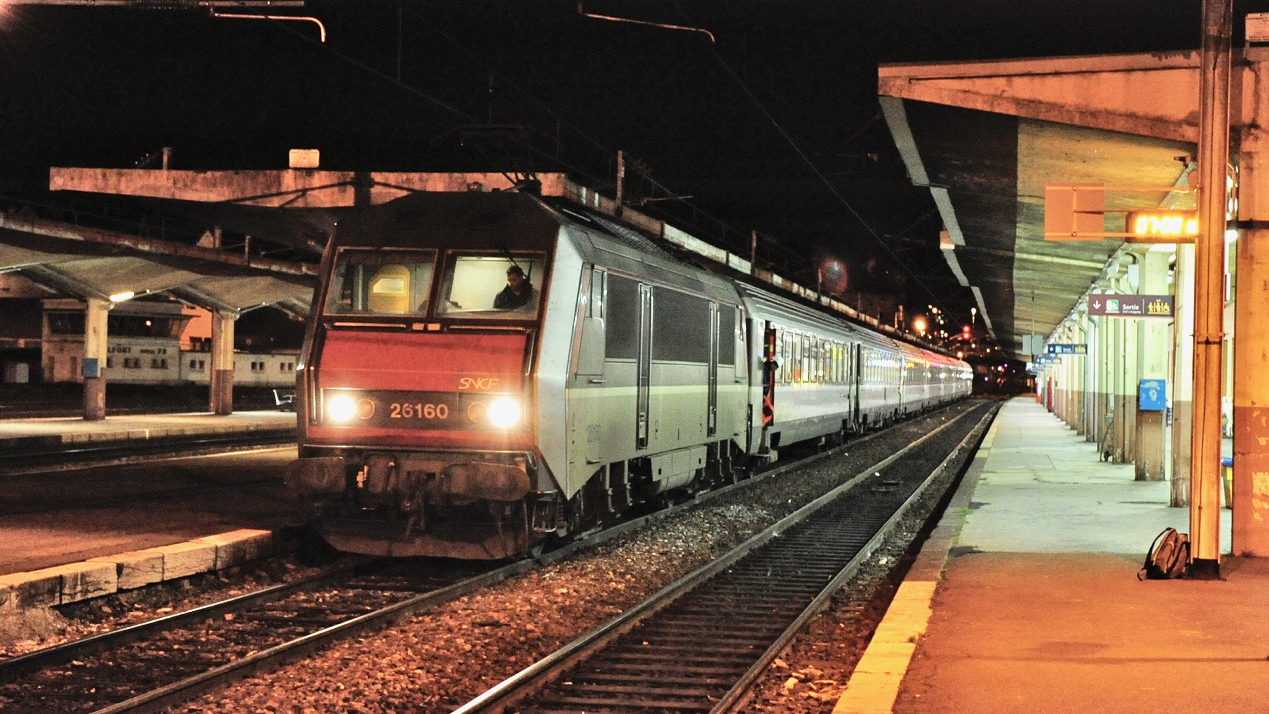 Grand Est seeks TET to the south
Grand Est région has petitioned the government to fund a new TET Intercités service that would link Lorraine with destinations in southern France, replacing services that were withdrawn in 2018 because of major engineering works at Lyon Part-Dieu. In the short term, GE could provide Régiolis EMUs from the order for 39 soon to be delivered for cross-border services into Germany scheduled to start in mid-2026. Currently, just one daily TGV links Nancy with Marseille and Nice. The proposed TET service would initially run to Lyon, with later extension to destinations further south as specified by the State.

Until December 2011 there was a two-hourly Strasbourg – Lyon service with Corail stock, later replaced by two TGV services daily using the Rhine-Rhone LGV. Above. On 9th December 2011, the penultimate day of Corail services, BB 26160 has just run round and couples up to the 05.34 Strasbourg – Lyon at Belfort.

Progress by new start-up rail companies
While Railcoop struggles to raise sufficient capital to start its Bordeaux – Lyon service, other start-up companies report more progress. Le Train, which plans high-speed services between Arcachon, Bordeaux, Angoulême, Poitiers, Tours, Angers, Nantes and Rennes, is finalising its financial arrangements. Crédit Agricole and the Crédit Mutuel Arkea group have emerged as backers and one more large institutional backer is sought. Small investors have also been given the opportunity to buy a minimum of €1,000 worth of shares via the investment platform Tudigo. This opened on 3rd April and has now passed €1.9 million, nearly twice the amount Railcoop has managed to raise from its 14,200 members.
In its response to the Competition Authority's consultation on liberalisation of passenger transport, Kevin Speed, which wants to launch omnibus TGVs, used the opportunity to refine its strategy. It plans to link secondary towns that have not benefitted from the LGV network, in particular replacing 'out of town' LGV stations such as Picardie TGV and Champagne TGV. Kevin Speed is now seeking a long-term capacity-allocation agreement with SNCF Réseau as a precursor to raising capital of €1 billion to buy 20 new TGVs from Alstom and start staff recruitment.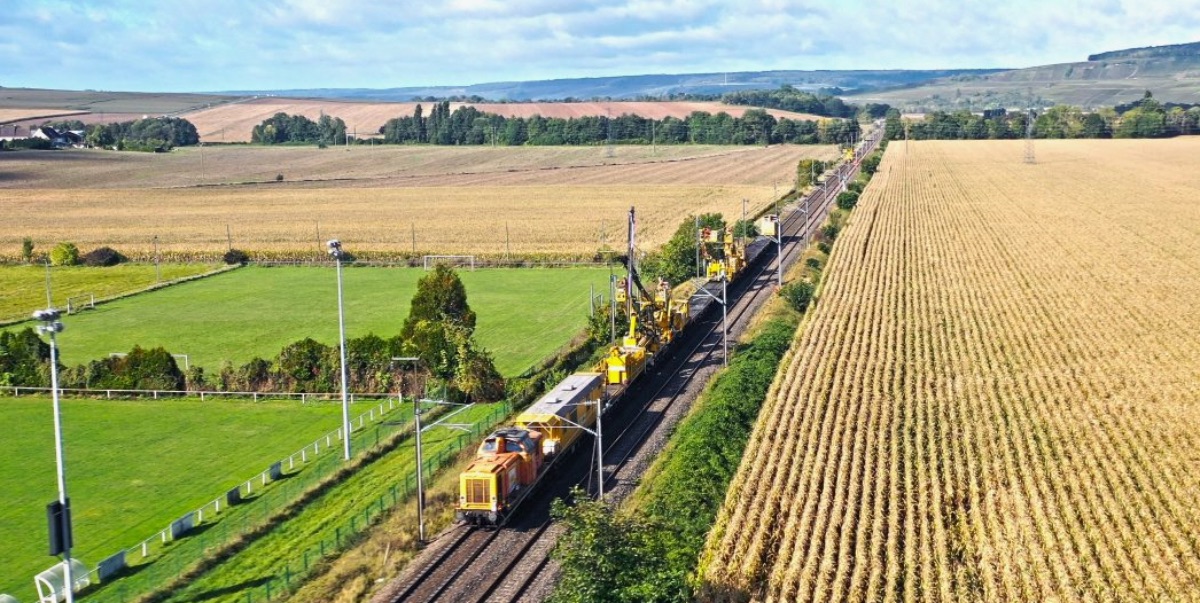 SNCF Réseau seeks third catenary renewal train
With a need to replace or renew overhead catenary on France's ageing electrical infrastructure, SNCF is seeking to acquire a third catenary renewal train Suite Rapid Caténaires. An increasing number of incidents are caused by ageing OLE and SNCF plans to replace 360km this year. SNCF Réseau already operates two such trains in conjunction with strategic partners TSO Caténaires and Colas Rail.
The first Suite Rapid Catenaires was introduced in 2019 for the 25kV 50Hz network mainly in the north of France. Here the average age of the electrical infrastructure is 43 years; normal practice is to replace the laterals and catenary to bring lines up to 160km/h standard. The 1.5kV DC train was launched in 2021, operating south of Paris. Here the average age of equipment is 75 years, with some sections dating from the Midi electrification schemes of the 1920s and 30s. Many of the masts and gantries are severely corroded and in need of replacement. Here the renewal system uses two separate formations. One is designed to remove the existing masts and structure, the second to replace with new catenary supports in the same position as the old ones. In full operation, the train requires a team of 70, of which 20 are from SNCF Réseau and 50 from TSO Caténaires and Colas Rail. Each train can replace up to a kilometre of catenary a day. Photo: Colas

Toulouse, Besançon and Brest place group order with Alstom
At the end of April the transport authorities for Toulouse, Besançon and Brest awarded a framework agreement to Alstom for the supply of trams over the next eight years.
The group agreement optimises costs for the three transport authorities and includes an initial order for 22 Citadis trams; nine for Toulouse, eight for Brest and five for Besançon. More cars may be ordered during the eight-year agreement. All three authorities already operate Citadis trams. The new trams will be 25% more energy-efficient; they will be delivered to Besançon and Brest in 2025 and Toulouse in 2026.
Bordeaux tramway reaches airport
Bordeaux's tramway was extended to Mérignac airport on 29th April with opening of a 5km branch from Quatre Chemins on Line A. Incorporating a parallel cycle way, the single track has stops with passing loops at Mérignac Soleil, Chemin long, Cadéra Issartier, Caroline Aigle and Aéroport. Trams run at 10 min intervals, giving a 35 min journey time to the city centre. Gare Saint-Jean is easily reached by interchange at Porte de Bourgogne. Initial ridership is estimated at 6,500 passengers a day.
Construction has taken four years at a cost of €95 million.
T10 and T12 testing begins
Testing of the infrastructure on the 750V DC T12 Epinay-sur-Orge to Evry street section began in April with new Class U 52600
Citadis Dualis
tram trains. These will use 1.5kV DC on the conventional rail line between Massy and Savigny-sur-Orge and 750V DC on the street section from Epinay-sur-Orge to Evry.
Mid-May saw testing commence on T10 between Antony and Clamart, with commissioning expected to take place on Saturday 24th June. The next stage is the extension to Clamart station. This will improve connectivity with T6 and other links although there are no plans to connect to other lines.

Additions to FRS Photographic Archive during May 2023
To Photographic section

Additions to Folder 1
A collection of some 380 colour images dating from the 1980's to a newly created "David Haydock" gallery




An additional 45 images from April 2023 to the David Thirlwall gallery



PS: Any additions to Folders 4, 7 & 11 (originating from Wikipedia & other sources) have COPYRIGHT RESTRICTIONS and are intended for personal enjoyment by members only
To Locations section

LVDR 1549 - Capdenac




LVDR 1704 - Cerdagne




LVDR 2016 - Cahors
Additions to the FRS public folder
A photographic index for the images in the Denis Lewis gallery




A photographic index for the images in the David Haydock gallery
© Peter Lovell & Chris Bushell. The French Railways Society 2023. With thanks to Georges Turpin, Christophe Masse, Alan Allbuary,

Jocelyne Bourneuf,

John Bamforth and Duncan McEvoy