141 R 1126 crosses the Viaduct du Viaur on the 4th September in connection with the Viaduct's 120th anniversary. See full report below. Photo Alan Allbuary
During late August and into September the VSOE has been routed to Calais and return via Boulogne and the coast requiring diesel haulage north of Amiens. On the 24th August it is seen heading towards Paris between Conchil-le-Temple and Rue headed by BBs 67621/67455. These two locomotives were outstationed at Longueau from Nevers to cover the working. Photo Pierre Colson
The Tarascon - Langeac wood train, previously operated by ECR (DB), is now handled by Captrain France (formerly VFLI). It is seen above at Gajan (Gard) with empty wagons heading towards Langeac on the 3rd August hauled by BB 75074 hired in from Fret SNCF. Photo Christophe Masse
Banlieue expatriée
Six class BB 27300 (27310/327/331/334/336/339) and four coach VB2N sets have been leased from Île-de-France Mobilités by Grand Est TER, and will operate on services from Nancy, while Z24500 units are overhauled. Above; Sunday 21st August was the first day of operating in the east and BB 27336 is seen at Bar-le-Duc after arrival with TER 833632, the 17:54 from Lunéville. Photo Pierre Colson
Ligne 4 Electrification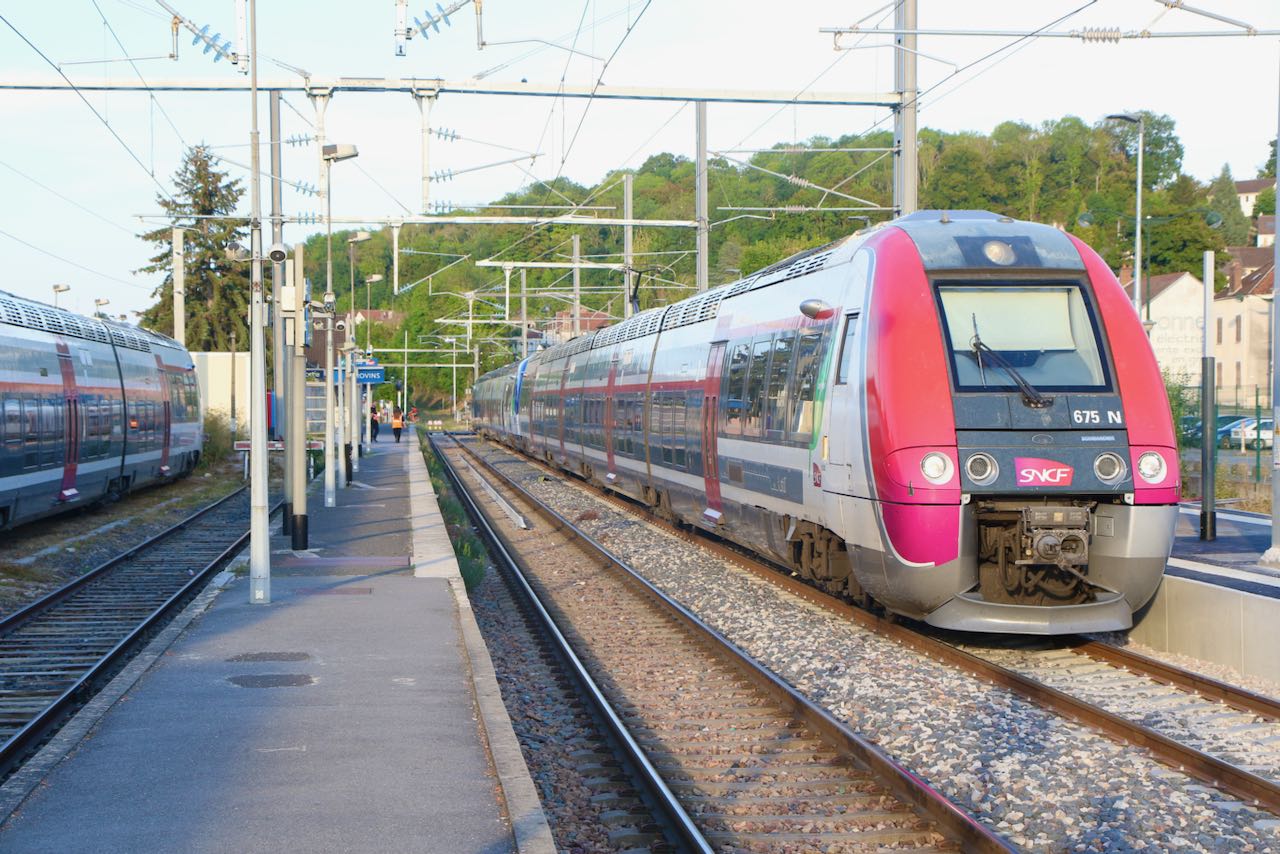 On 29th August electrification on
Ligne
4 (Paris Est - Belfort) became operational to Nogent-sur-Seine giving a 110km electrified section including all of Transilien Line P to Longueville and Provins. Above. On the 29th August a pair of bi-mode AGCs are seen departing from Provins to Paris. These will soon be a sight of the past as they are scheduled to be replaced by NAT (
Francilien
) units. Photo. Georges Turpin.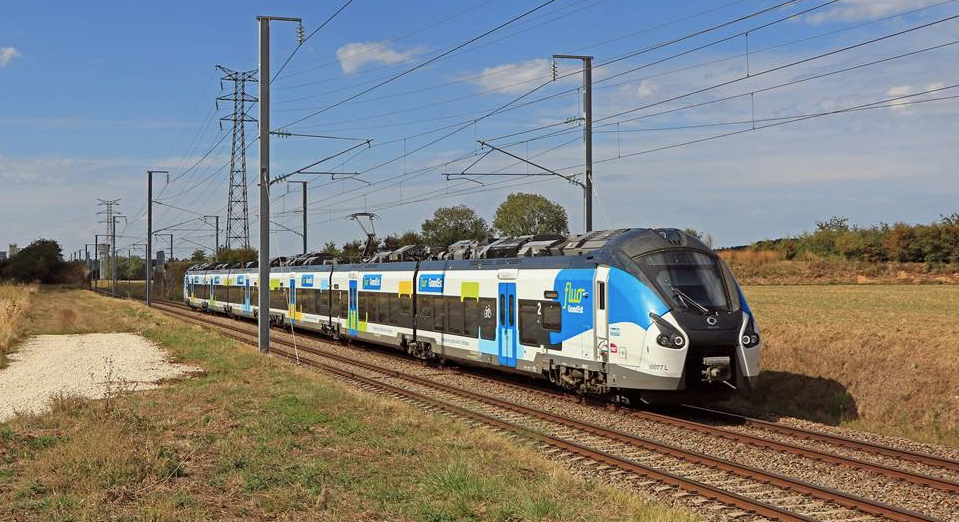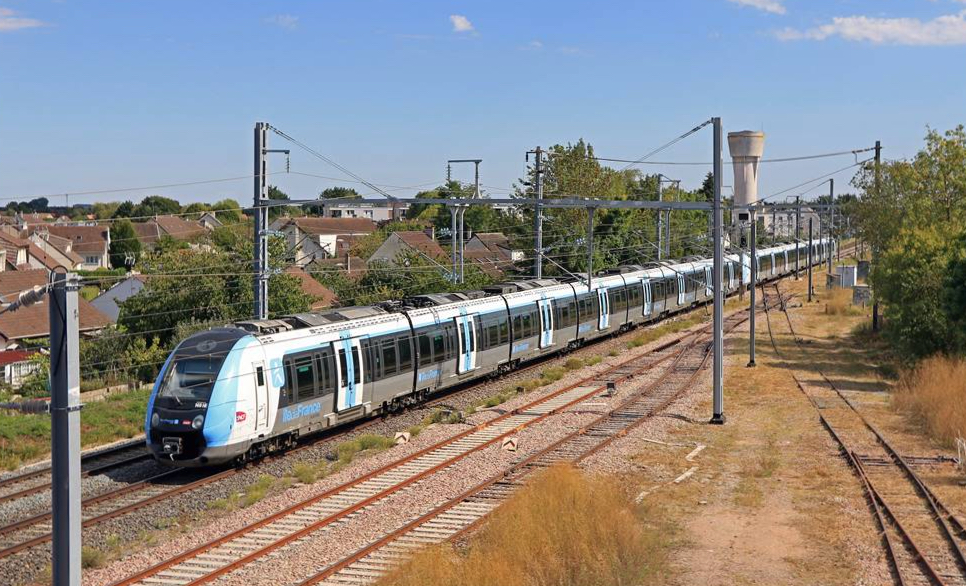 Top right. On the 6th September Grand Est Regiolis B 85077 in Fluo livery is seen with pantograph up between Verneuil-l'Étang and Mormant with a Paris Est - Vesoul service. Lower right. Later that afternoon a pair of NAT (Francilien) units head through Verneuil-l'Étang on their first day of test running between Provins – Longueville and Gretz-Armainvilliers before taking over Line P services later this year. Both photos
Christophe Masse
.
Work is expected to start on electrification to Troyes in the next two years
Eurostar to end Disneyland service
Eurostar have announced that they will discontinue the service from London to Marne-la-Vallée from 5th June 2023. Go before it's too late!!
PVC plan museum
Pacific Vapeur Club based at Sotteville and operators of 231 G 353 plan to open a museum. PVC hope to obtain from SNCF a disused building containing four tracks next to their current workshop. If successful it would enable them to keep all of their rolling stock under cover and on display.
Driver shortages continue
A revised timetable has been introduced on RER Line C due to the continuing shortage of drivers. SNCF is estimated to be currently 1,200 drivers short in addition to a shortage of qualified maintenance staff that is leading to cancellations or short consists due to maintenance backlogs.
Local councils save season for Train Touristique du Cotentin
A reception was held on 21st August to thank local officials for their support that saved the season for the preserved railway on the Cherbourg Peninsula.
In April a derailment at Carteret highlighted the condition of the track that had seen little maintenance during Covid and left the railway in a poor financial position. With five sets of points needing replacement it looked as if they would not be able to operate this season.
An appeal to the municipalities crossed by the train; Barneville-Carteret, Saint-Georges-de-la-Rivière, Saint-Jean-de-la-Rivière and Portbail, and the Department and the Cotentin Urban Community received a quick and favourable response. Over €100,000 was made available, while contractor EFT postponed some non-urgent work and replaced the points before the start of the season.

Alstom unveils TGV M as SNCF increases order
On September 9th Alstom unveiled the first prototype of the TGV M at its La Rochelle plant where production will now commence. This had been preceded at the end of August by SNCF announcing that it was increasing their order by an additional 15 units to 115. This will be divided between 100 for domestic and 15 for international services.
Testing of the prototype will begin at the Velim test track in the Czech Republic later this year, with the production series entering commercial service on both InOui and Ouigo services in 2024.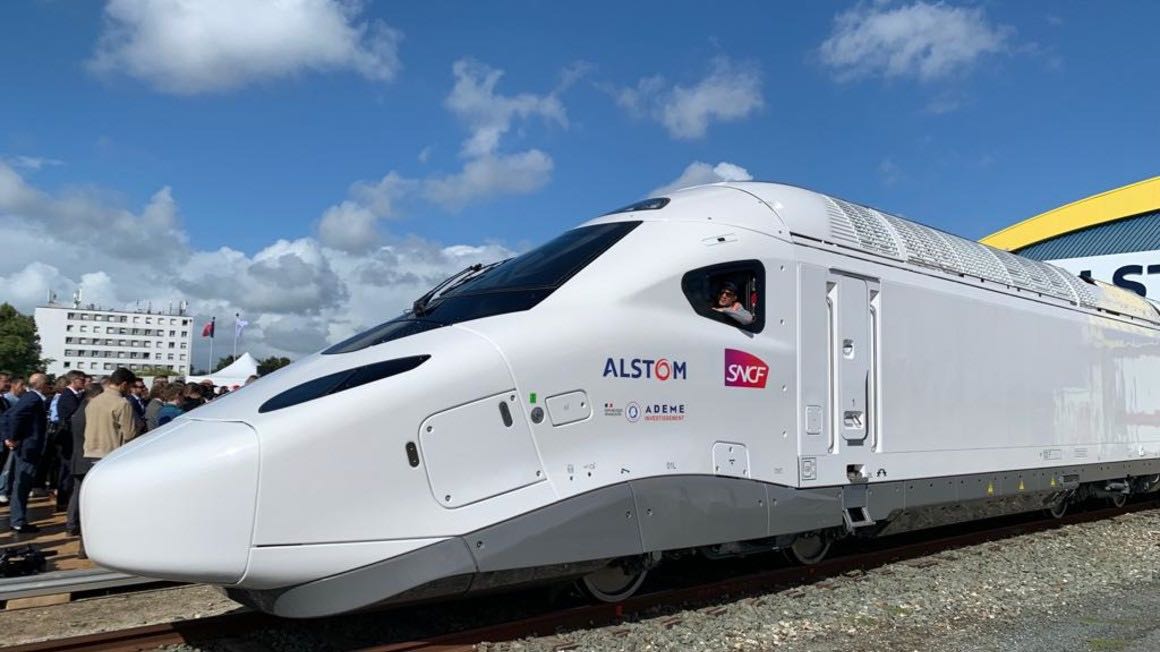 Each TGV M will consist of two short power cars and the option of 7, 8 or 9 duplex passenger carriages depending on operational requirements. The modular design of the carriages will allow accommodation to be switched between 1st or 2nd class and seats to be removed to increase luggage or bicycle apace. Each set will be able to accommodate up to 740 passengers, an increase of 20% over current TGVs.

The TGV M is more energy efficient, offering a saving of 32% on CO2 emissions. This is in part due to the long aerodynamic nose that will require stopping positions in stations to be altered for the driver to view the signals. At the end of its life 97% of a TGV M will be recyclable.
The TGV M offers improved facilities for those with disabilities. A pivotal lifting platform will enable wheelchair users to reach their place without assistance and there will be a sound system to assist the visually impaired in moving around the train. Passengers will now be consulted on their preferred seating options

Operating staff have been heavily involved with the design of the TGV M, with over 100 drivers consulted on the design of the cab. On-board staff were involved in the interior design and passenger facilities resulting in more space to greet passengers and improved storage facilities for personal belongings.

At technicentres facilities will have to be redesigned to cope with the increased length.. Numerous on-board sensors will monitor the components and relay realtime information to depots to inform both routine and preventive maintenance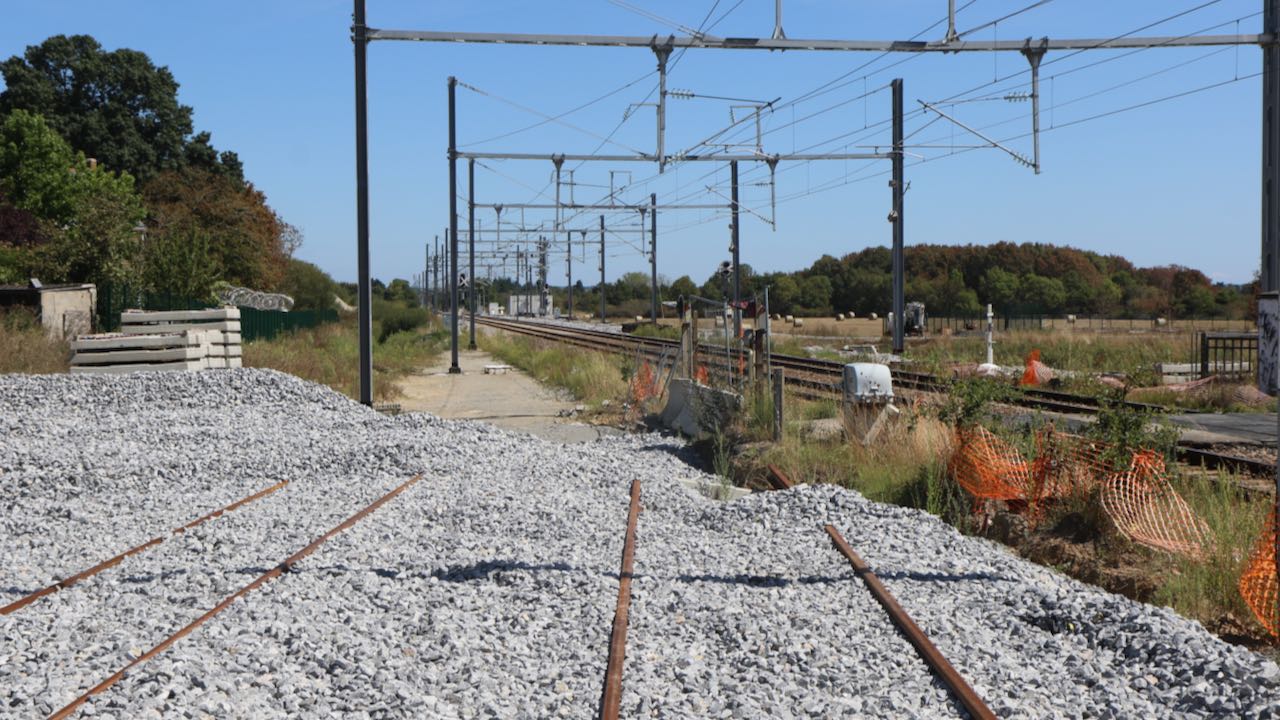 Donges deviation work underway
The section between Savenay and Saint Nazaire on the Nantes - Le Croisic line closed to traffic on the 24th September, and is scheduled to re-open on the 7th October to enable the connections for the Donges diversion to be installed. Many years in planning the 4.5km diversion moves this section of the Nantes - Le Croisic line away from the Donges industrial site and meet the EU
Seveso III Directive for
hazards involving dangerous substances. Above The scene at
passage à niveau 368 at
Mégretais
on 20th August with the eastern end of the deviation waiting for connection. The crossing will be permanently closed. Photo
Georges Turpin.
Public
consultation
on diverting the line began in 2015 with the project granted Public Utility status in 2017. The line currently runs through the middle of the 350 hectare
industrial
complex that includes a Total oil refinery,
a liquefied petroleum gas filling site (Antargaz ) and a fuel storage facility, hence the "Seveso" classification. Costing €150 million, the new 4.5km route will include a new station closer to Donges town centre and a number of road and other transport improvements. About ten zones will be created to compensate for the environmental impact including the restoration of wetlands and creation of ponds for protected species of reptiles and amphibians and a building dedicated to bats. A video of the project
is available via this link
.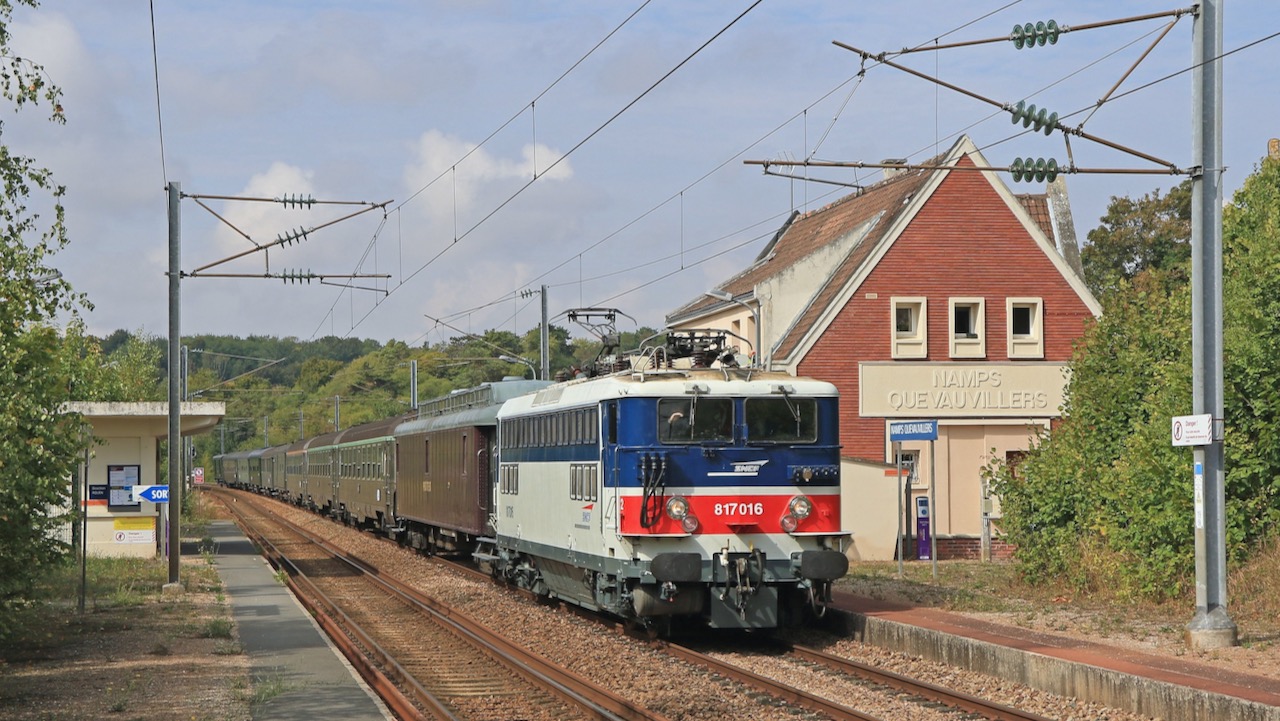 On Saturday 3rd September PVC (Pacific Vapeur Club) organised a trip from Sotteville to Lille for the annual
Braderie
. Collaborating with a number of other preservation societies, traction was provided by AAPSL's BB 17016 with a lengthy rake of preserved vehicles from PVC, MFPN and APPMF. In Transilien livery BB 17016 makes a rare sight as it passes through Namps-Quevavilliers on the outward journey. Photo
Christophe Masse
ABFC's Picasso X4039 finished its season in Hauts-de-France on the 27th August when it returned from Arques to Dijon. Its return journey included a visit through the dunes from Dunkerque to Bray-Dunes and it is seen above at Leffrinckoucke. Photo Christophe Masse
Sunday 28th August saw collaboration between three preservation movements to operate the "Annecyy Steam Express" from Le Creusot. With CFC's (Chemins de Fer du Creusot) 241 P 17 out of action, traction from Le Creusot to Amberieu was provided by Nimes based GADEFT's (Groupement d'Aide au Développement des Exploitations Ferroviaires Touristiques) 140 C 27. At Amberieu BB 25188 operated by APMFS (
Association pour la Préservation du Matériel Ferroviaire Savoyard)
took over for the leg to Annecy. Above 140 C 27 is seen crossing the Saone at Macon, and below, after the change of locomotive at Amberieu BB 25188 is seen heading towards Annecy between Grésy-sur-Aix and Albens. Both Photos
Christophe Masse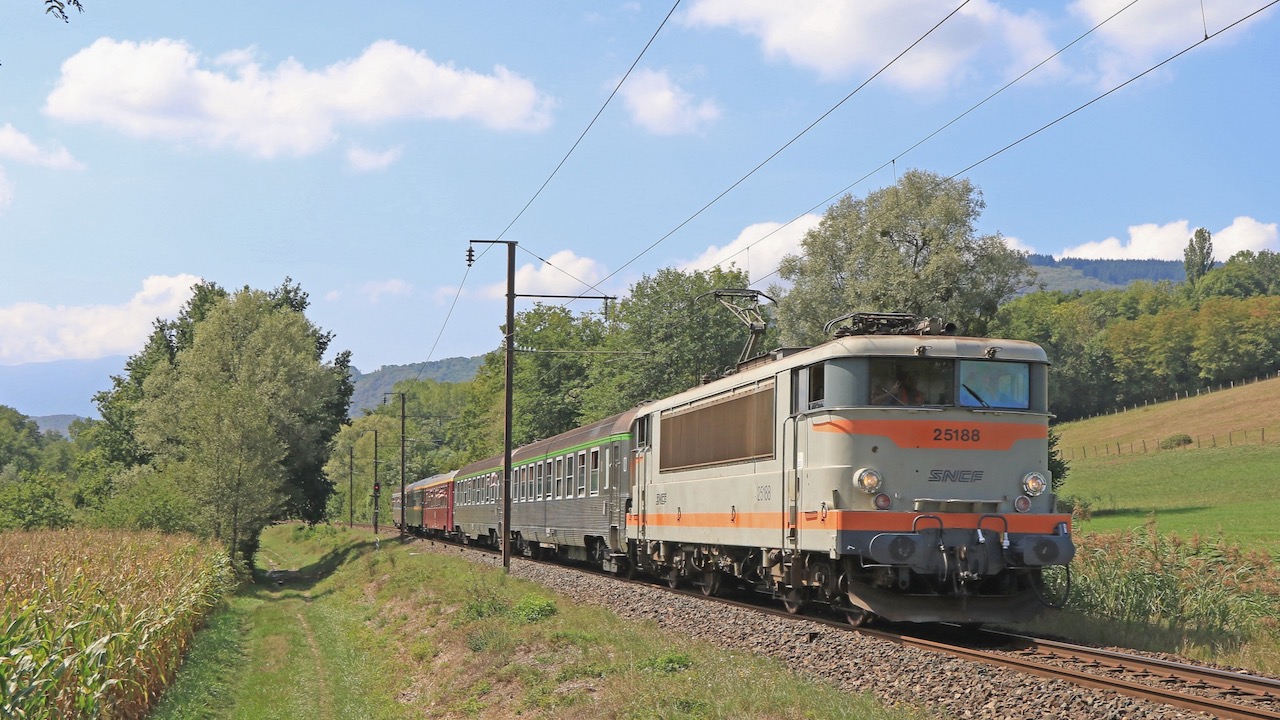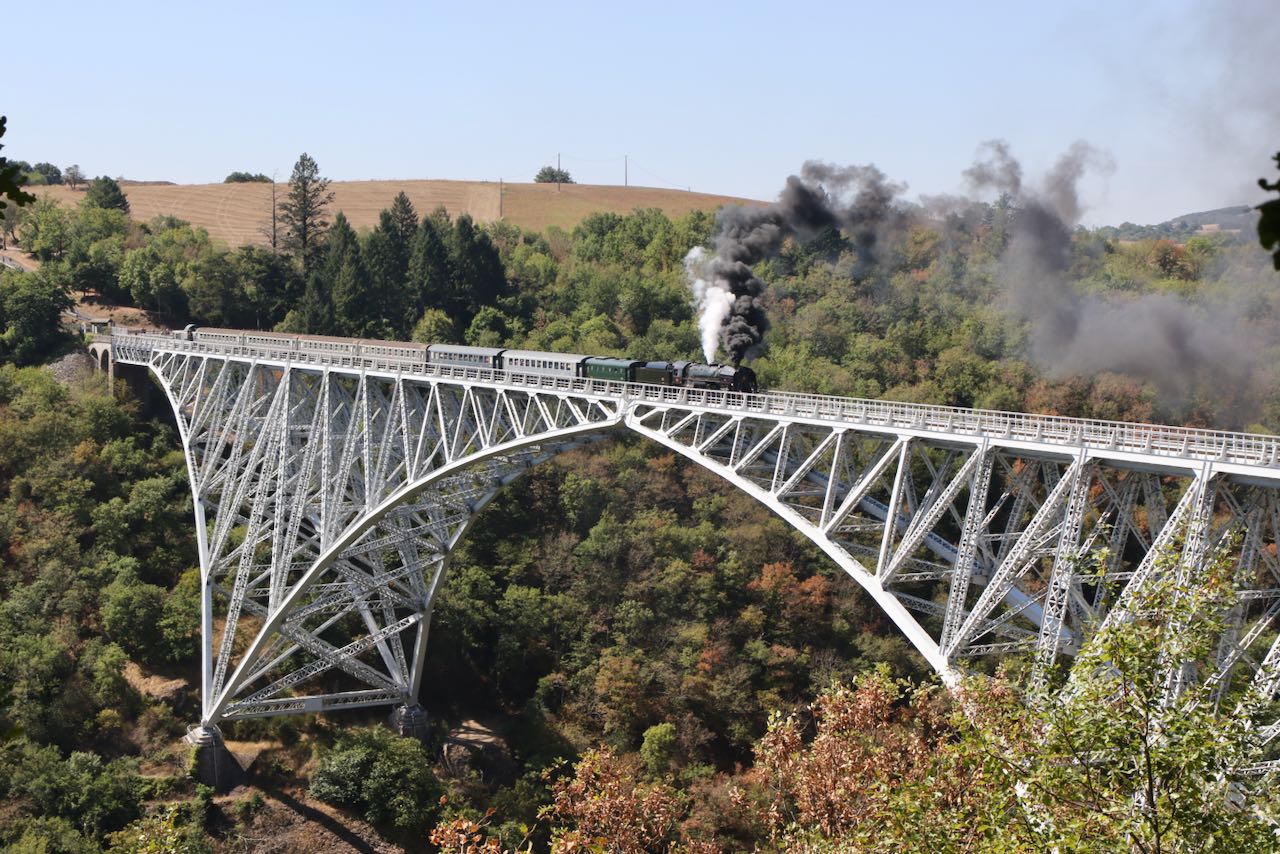 Viaduc du Viaur

- 120th anniversary celebrations




Sunday 4th September saw celebrations to mark the 120th anniversary of the

Viaduc de Viaur

organised by

L'association VVV

(

Valorisation du Viaduc du Viaur et des ouvrages de Paul Bodin

) and

le Train historique de Toulouse

. The Viaduct is located between the stations of Tanus and Naucelle on the Toulouse - Rodez line crossing the deep Viaur Valley that separates the Tarn and Aveyron departments. The Viaduct was inaugurated on October 5, 1902 with construction having taken seven years by the

Société de Construction des Batignolles

according to plans by Paul Bodin




The special train from Toulouse to Naucelle was hauled by 141 R 1126 with a train made up of a boiler van two former Est coaches, four stainless steel coaches and BB 66304 that hauled the special back from Naucelle to Albi. Above 141 R 1126 heads across the viaduct on the outward journey, and below on the double track section shortly after leaving Montastruc-la-Conseillère. Photos and original text

Georges Turpin

.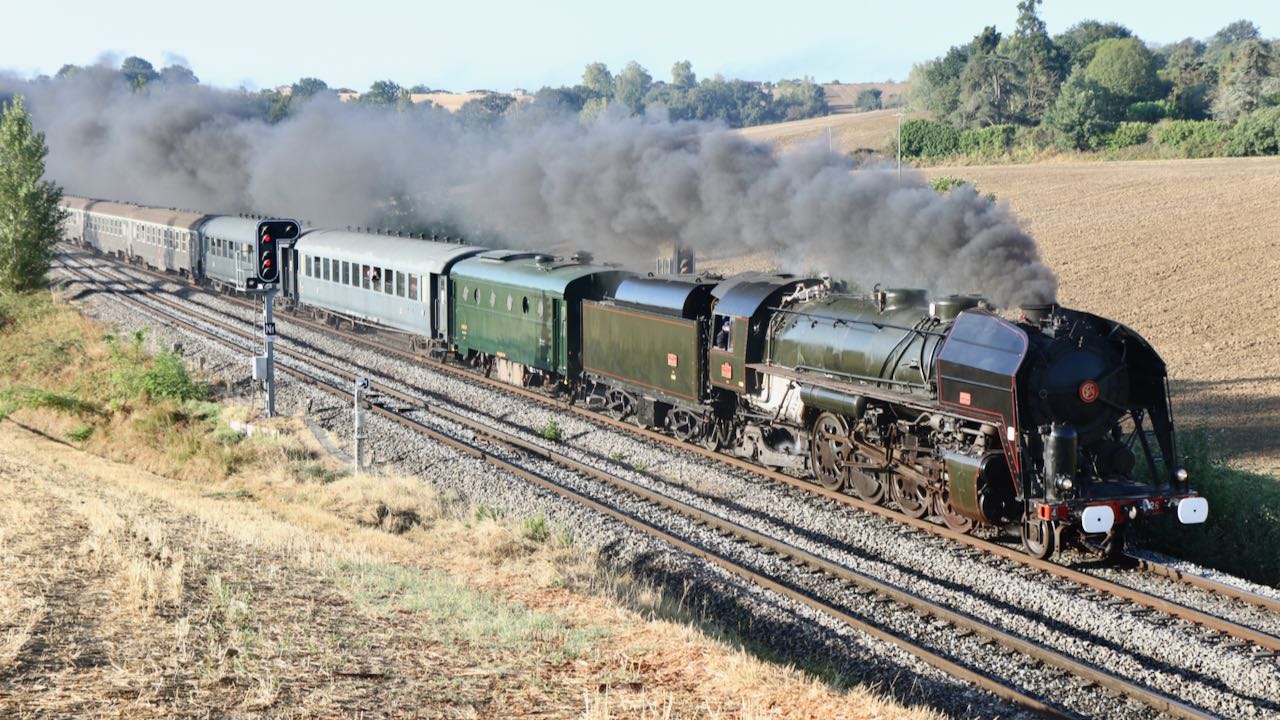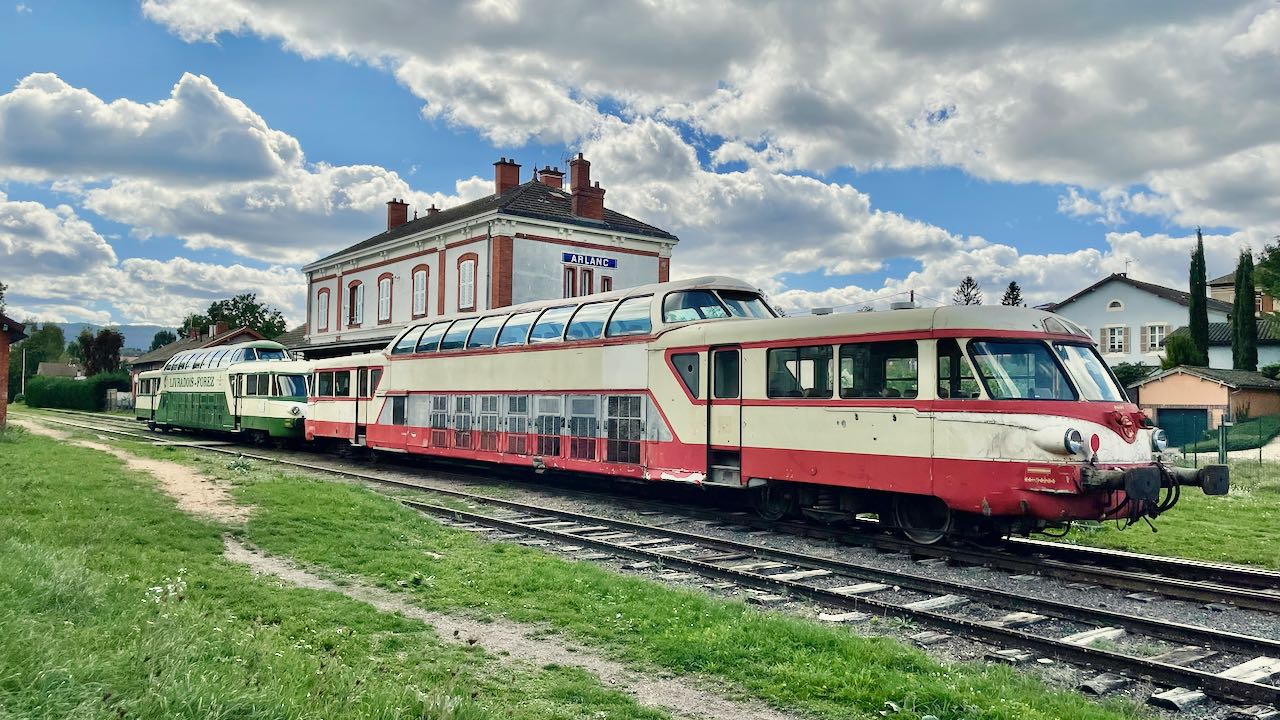 Journees des Patrimoines - AGRIVAP
Over the weekend of 17th and 18th September AGRIVAP had most of its stock on display at Ambert for the
Journeees des Patrimoines
with two particular events. Picasso X3867 celebrated its 70th anniversary since introduction to SNCF service in September 1952. Also, Panoramique X4204 was officially presented having been transferred from Renault at Flins (Yvelines) to Ambert in March. The railcar remains SNCF property and is classified as a Monument Historique. On the Saturday it was towed from Ambert to Arlanc and back by its Agrivap Livradois-Forez liveried sister X4208. With X4206 in store and awaiting restoration, Agrivap now possesses the remaining 3 intact Panoramiques
Above. X4204 and X4208 at Arlanc. Below left. X4204 Interior from 1st class looking to 2nd class and driver post. Below right.General view of some Agrivap stock outside the BV at Ambert, showing X2856, X5845, X4208, X4204 with BB 69436 behind. all photos. Roger Allen
Additions to FRS Photographic Archive during September 2022

To Photographic section
Additions to Folder 1
Photos taken by Damon Cox at Reims in September 2022 added to "Miscellaneous Colour 2" gallery



Additions to Folder 4 ("AFAC & other articles")
Voitures Ty (France Trains 1972)




Voitures Midi (Trains Rousseau 1985/86)




Wagons Midi (Trains Rousseau 1985/86)




CdF de Valmondois-Marines (Trains Rousseau 1985/86)




CdF Dept de la Cote d'Or (Trains Rousseau 1985/86)



Addition to Folder 6 "Rail Magazine"
Article on type 140 "Austerity" in France to RM No. 40 (Aug/1980)



Additions to Folder 7 ("Miscellaneous")
CIWL Materiel Métalliques (France Trains 1972)
© Peter Lovell. The French Railways Society 2022. With thanks to Chris Bushell, Christophe Masse, Georges Turpin, Michel Costes, Pierre Colson, Alan Allbuary and Roger Allen