On Wednesdays and Sundays during July and August CFCB (Chemin de Fer du Centre Bretagne) has operated the Napoléon Express between Pontivy and Lambel-Camors. On 17th August X2251 leads
XR 6202, XR 96005 and X2830
past the
l'écluse de Kerbecher
.
shortly before St. Nicolas des Eaux. The
Napoléon Express
will also run on the 4/7/11/14th September
with trips from Pontivy to Kerbecher
on the
Journées Européennes du Patrimoine weekend More information at
https://www.cfcb.bzh
Photo Jocelyne Bourneuf
Mainline Passenger - Summer 2022
A few Classes BB 15000 and VO2N sets still operate peak hour Normandie services. On the morning of 9th August BB 15045 passes through Meulan , leading the 7:02 Serquigny - Paris. Mainline services were diverted via Conflans during the summer until 12th August due to engineering work, with extended journey times as they trundled along behind the RER services, the 07:02 Serquigny being allowed 2hrs. 27 mins. for its 150km journey. Photo Michel Costes
Duplex TGV 889. runs alongside the canal at Pompignan as it nears journeys end with Train 8505 Paris-Montparnasse - Toulouse .on the 4 July Photo Georges Turpin
With further deliveries of Franciliens,
Bombardier units are increasingly dominating services from Paris St Lazare. Single deck
Île-de-France
Francilien units operate on
Transilien lignes L/J
and double deck XL Omneo Premiums on
Normandie TER Nomad
services. On 17th July a
pair
of "Bombers" are seen crossing at Meulan Hardricourt. The Normandie unit is diverted due to engineering work on the direct line from Mantes-la-Jolie. Photo Michel
Costes
Duplex InOui TGV 864 waits to leave Hendaye with 8534 09:36 to Paris Montparnasse on the 29th August. Photo Ben Pattison
On the 3rd August the southbound Cévenol from Clermont Ferrand to Nîmes is seen passing the vineyards at Saint-Bauzély (Gard) formed of two four car Regiolis sets. The train had been strengthened and was full to bursting due to Occitanie Regions one euro ticket promotion. Photo Christophe Masse.
SNCF's new Ouigo Classique services have not enjoyed a good reputation for reliability, with frequent delays and even cancellations. On the 14th July BB 22347 had arrived at Saumur an hour late, at just after 11:00, with the 07:29 Paris Austerlitz - Nantes. Booked to leave at 10:25 it is seen above at 15:00 shortly before departing 285 minutes late. No explanation was given other than it was being regulated.
A four day strike from the 8-12th July found BB 22316 and its push-pull corail set marooned at Bourg Saint Maurice
Nouvelle-Aquitaine TER bi-mode Régiolis 84669 arrives at Pons on the afternoon of 15th June with service TER 864812, 15:47 Bordeaux St Jean to La Rochelle. Photo Chris Bushell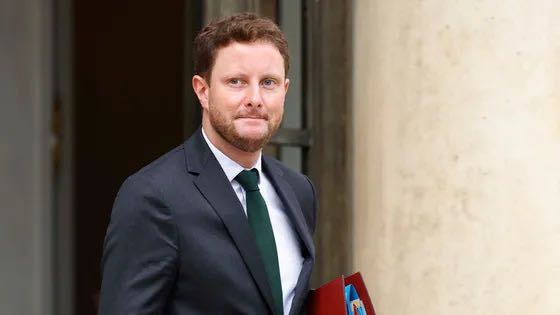 New Minister of Transport appointed
At the beginning of July Clément Beaune was appointed as the Minister of Transport under the new Macron administration. Unlike his predecessor he has no background in transport but was Macron's advisor on European affairs. His portfolio includes all aspects of transport of which the railways are just one aspect; his predecessors have struggled with increasing cost, ageing infrastructure and poor staff relations
A few days after his appointment Jean-Pierre Farandou
Chairman and CEO of SNCF gave a major interview on how France's railways could play a major part in the de-carbonisation of transport and doubling rail's share from 10% to 20% of passenger travel.This included the creation of RER networks in the 13 largest cities, but needed much more investment. He suggested that infrastructure investment of €100 billion was required over the next 15 years, a significant increase from the current €2.8 billion per year planned until 2030. France compared poorly with other
European
countries, Italy having invested €130 billion over the last 20 years and Germany €85 billion over the last ten years. France also has the highest track access charges in Europe with charges on non LGV lines more than three times those in Italy.
In France, there has been significant investment in recent years with massive projects such as Grand Paris Express directly organised and financed by the state. This has sucked up vast amounts of finance and technical expertise. Meanwhile renewal of the traditional (non TGV)
network
has seen little investment and struggles on.
In a follow-up interview Luc Lallemand CEO of SNCF Réseau highlighted the fragility of the infrastructure where the average age of equipment is 29 years old (and some parts approaching 100 years) compared to 17 years old in Germany. Signalling is a particular problem with a lack of investment in moving to 15 regional control centres resulting in the retention of a range of mainly obsolete systems, some dating back to the 1930s, and operated from 2,200 locations. Seventy-five percent of all infrastructure related delays are caused by signal failures. A recent report by France's rail regulator ART, highlighted how the slow roll-out of ERTMS made it difficult for new operators, who would need to find rolling stock equipped with France's legacy systems. At present only 40% of the LGV network is equipped with ETCS and only one line on the traditional network.

In early April a new ten year agreement between SNCF Réseau and the government covering the period 2021 - 2030 was quietly signed during the pre-presidential election period, with investment in infrastructure averaging €2.8 billion annually. No mention was made of how rural lines were to be kept operational. This had been preceded in March by a detailed report to the
Senat
on the financing of the railways. It highlighted that the reforms of recent years had delivered no positive results and made 19 key recommendations. It supported an increase in infrastructure investment to €3.8 billion per annum and an investment of €35 billion in centralised control of signalling and ERTMS that would deliver significant staff savings and improve reliability. The report also highlighted the need for proper accountability and productivity. SNCF Réseau currently has no cost accounting, did not manage by objectives and needed to introduce a culture based on performance and accountability. For TER services provided to the Regions SNCF should look to achieve productivity of 35% to equal the standards of other European railways.
In an early interview Beaune accepted that the network had suffered from 30 years of under-investment and while he would be seeking extra funding it would take time and there would need to be priorities. While he felt there was a place for new LGVs (Macron having described this as the decade of the TGV) his priority would be on everyday transport such as Transilien services in Paris and local services in rural areas, that people use every day, and where improvement would have a direct impact on their lives.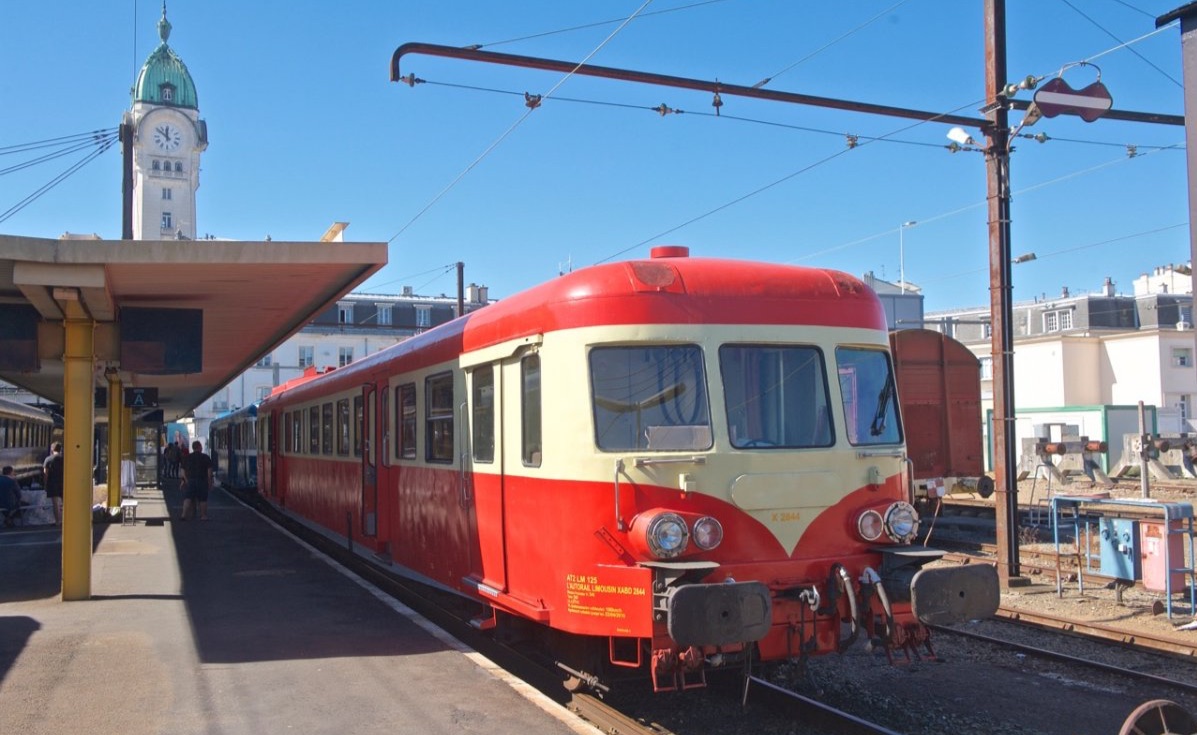 Autorail Limousins preserved Massif Central autorails X2844 and X2907 on display at Limoges Benedictins during Journées Européennes du Patrimoine 2018. They will be on display there again this year while 141 TD 740 and 231 K 82 will be on display at Limoges depot. It remains to be seen whether 140 C 38 will be able to operate due to the fire risk during the drought conditions.
Journées Européennes du Patrimoine 2022
This year the European Heritage Days 2022 will take place over the weekend of 17th/18th September. Most preservation organisations will be mounting a special event and SNCF will be participating at numerous venues with a wide range of events covering every aspect of railway operation. These include:

Displays of eco-landscaping at stations, forecourts and beside high speed lines at Lisieux, Versailles, Vaires and Brunoy

At Ground Control Paris (former La Chapelle Depot) a "Des rails & vous" festival organised by the OUAT association (Once Upon A Train)

Périgueux Technicentres where stock for the overnight trains is being re-furbished

La Cité Fertile, installed since 2018 on the site of the former SNCF freight station in Pantin, a cultural third place dedicated to ecological and social transition. It is developed on a one hectare experimental space for a shared and sustainable city.

At St Denis "Le Wagon" a restaurant car from the "Capitole", that linked Paris and Toulouse will be on display; transformed into a cultural café-restaurant it will be open to all, and in particular to young people from Saint-Denis high schools. For European Heritage Days, it will already host a photo exhibition and a poetic creation.

In Sotteville-lès-Rouen at the workshops of the Pacific Vapeur Club the SNCF Orient Express set will be on display.

Station buildings with displays at Nantes, Rouen Rive-Droite, and the Grand-Est stations at Metz, Colmar, Reims, Strasbourg

At Vierzon both the station and the SNCF depot with historic rolling stock on display and trips on a preserved autorail between Vierzon and Bourges.
Opening times for locations and opportunities to book will be available on the
https://affluences.com
website from the 1st September. Some venues such as Limoges depot are guided tour only.
At the time of writing the 2021 website is still available online which is rather confusing as this lists a number of locations that are unlikely to be open.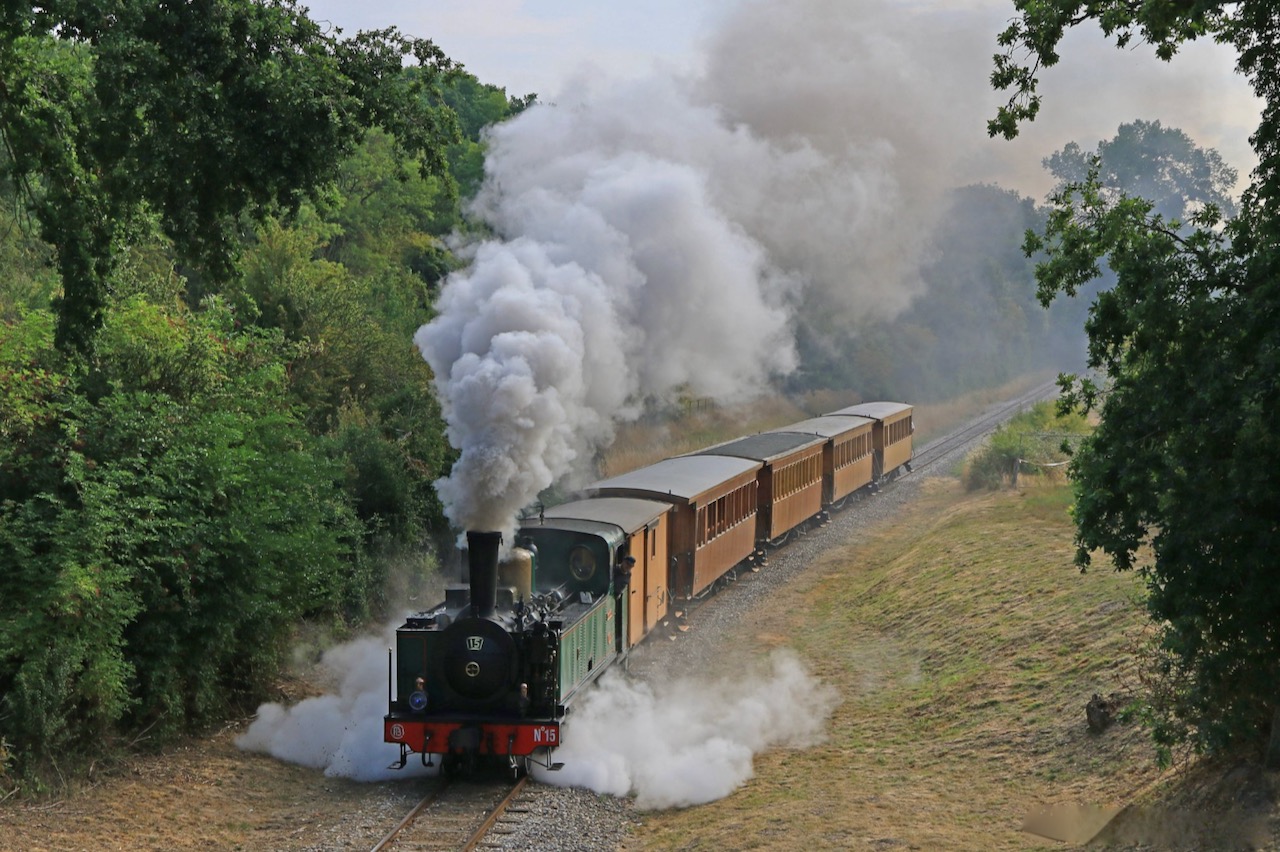 On 15th August CFBS held the annual
Fete de la Gare
at Cayeux in conjunction with the town's carnival and flower festival. A number of additional services operated between St Valery and Cayeux.
Above. Despite the warm weather former VFIL Haine St Pierre No. 15 produced an impressive exhaust as it climbed away from St Valery with a rake of wooden Somme coaches on the first train of the day to Cayeux. Right. Later, former VFIL locotracteur 352 passes through Hurt with a mixed train including an 1889 built saloon next tot the locomotive. Photos Christophe Masse.

EU Funding from Connecting Europe
The Connecting Europe (Formerly TEN-T) event took place in Lyon at the end of June during the final days of France's presidency of the EU. Some €5.4 billion of funding was approved for transport projects that will improve connectivity across the EU. Specific projects covering the French rail network included:
€4.8m Preparatory work for Phase 2 of the Paris - Troyes electrification between Nogent-sur-Seine and Troyes.
€1.6m Preparatory work to upgrade the overhead electrification equipment on the Atlantic RFC between Bordeaux and Lamothe.
€1.4m Preparatory work to develop intermodal transport hubs at Nice Airport and Marseille St Andre as part of the Provence-Cote d'Azur upgrade
€10m To develop a new Ouest Provence Rail-Road terminal at Miramas.
€4.5m Preparatory work to increase loading gauge in seven tunnels in the Vosges Mountains between Metz/Nancy and Strasbourg to enable P400 semi-trailers to be carried and increase line capacity on the Benelux - Switzerland rail route.
An additional €12.3m was also secured to improve maritime access at La Rochelle, and improve the transport infrastructure at St Nazaire to support the Atlantic Arc Windfarm.
Ty2 6690 back in service
Following a four year overhaul CFTVA's (Chemin de Fer Touristique la vallée de l'Aa) Polish 2-10-0 Ty2 6690 returned to service on 16th July. It is scheduled to operate between Arques and Lumbres on 3rd/4th September and 1st/2nd October
241 P 30 re-assembled
Over the summer the boiler of 241 P 30 has been refitted into the frames by AJECTA at Longueville following it's move from Switzerland in 2019.
The locomotive will now be cosmetically restored for static display. An estimated €2 million is required to return the locomotive to operational condition. Unless a donor comes forward there are no plans (or funds) to commence this work at present.
Record summer for SNCF
SNCF is expecting a record summer with reservations 10% higher than 2019. At the end of July SNCF had sold 18 million reservations for its own services in July and August and another four million for TER long distance services.
The most popular destinations are unsurprisingly the Mediterranean, the South-West and Brittany, with the "top 5" cities being Paris, Lyon, Bordeaux, Marseille and Avignon.
The Grand Est has also become very popular this year, with notable increases in bookings over last year to Nancy (+56% , Metz (+50%) and Reims (+63%).

Shortage of Spanish speakers stops trains at Cerbère
Since July 1, IC 3731 the overnight train from Paris to Port Bou has terminated at Cerbère. This is due to a shortage of Spanish speaking drivers and guards, who would not be able to communicate with their Spanish counterparts in the event of an incident.
Mixed reception for new Paris - Lyon Régiolis units
The introduction of Alstom Régiolis units on the Paris - Dijon - Lyon Bourgogne-Franche-Comté TER services has received a mixed reception from travellers. Whilst the concept of new rolling stock has been well received, problems with toilets and capacity have caused problems.
With fewer toilets than the Corail sets that they replaced, and finite retention tank capacity and less water (Corail toilet tanks held 500 litres compared to 125 litres in a Régiolis) sets have been running with no toilets available. One service was an hour late after extended stops at Laroche-Migennes and Beaune where passengers de-trained to use the station toilets. (Similar problems occurred when Régiolis units were introduced on Boulogne - Paris services)
SNCF put the issues down to teething problems. The retention tank emptying facilities at Bercy had broken down and those at Dijon Ville station were still being built. Mobile water bowsers have now been provided to enable the water tanks to be re-filled more regularly.
Capacity problems have also occurred when only one unit is provided, two six car
Régiolis
units having 700 seats similar to a Corail set, and less space for bicycles.
Chemin de fer touristique du Haut-Quercy developments
Work began in July on building additional passenger facilities at Martel based on a re-construction of the original 1889 station building. €800,000 is also being invested in developing a velorail on a 7km section of track westwards from Martel to Pigeon.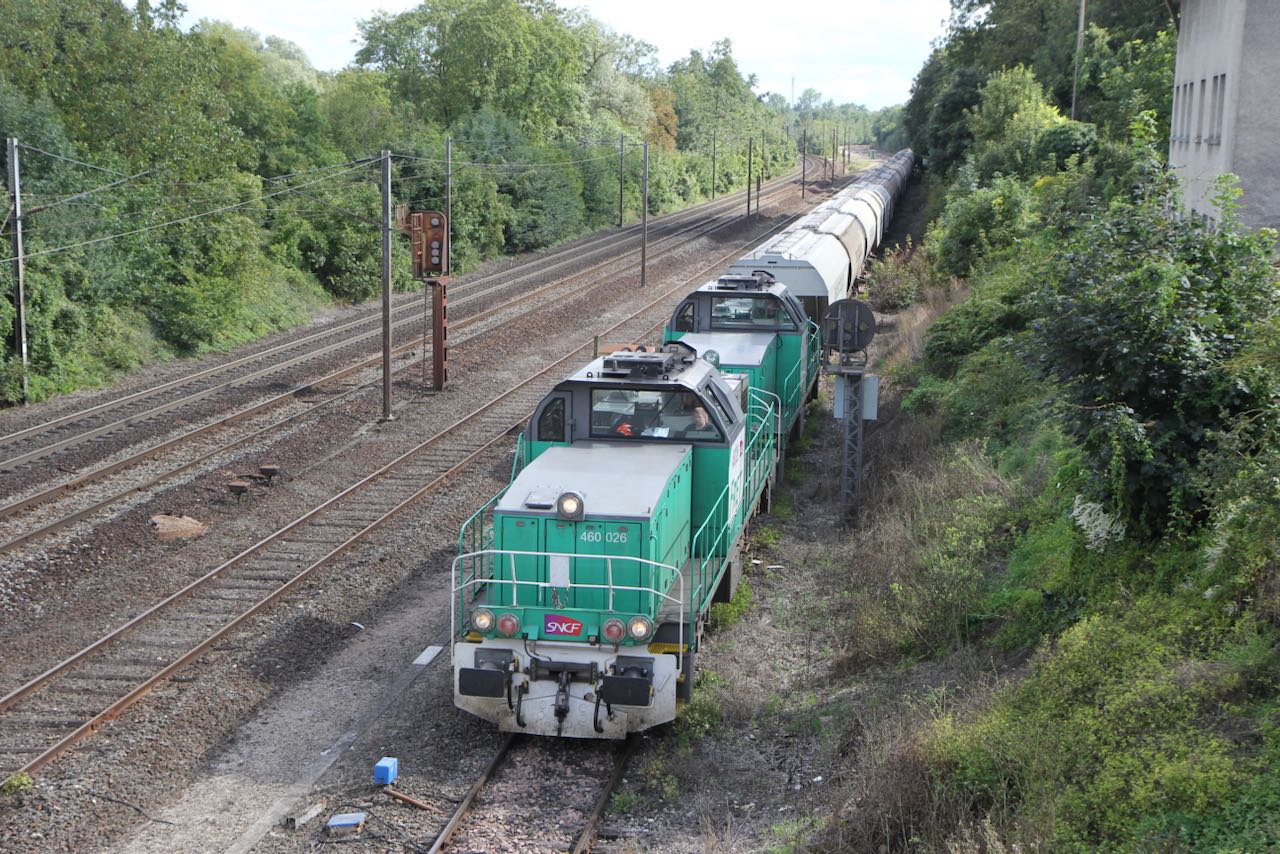 €76 m investment for Marne freight lines
Agreement has been reached to secure the future of two freight lines in the Marne. €46m will be spent on restoring the Coolus (Châlons-en-Champagne) to Troyes line and €30m on the Oiry to Esternay line, south of Epernay. Work will take place between 2023-2025 over 70km of track with new sleepers and the trackbed renewed in places. Traffic from Esternay only re-started in 2018 and the line serves a number of grain silos and the large Tereos Sucrerie at Connantre. The cost will be borne: State 45%, Region 27.5%, Department 25% Local communities 2.5%. Traffic over the lines has been charged €2 a ton towards track maintenance amounting to €900,000 a year and there is the normal row with SNCF Réseau on whether any of this money has been used to maintain the track in recent years.
Above. BB60026/82 run beside the Paris - Strasbourg mainline at Compertrix on the approach to Châlons with cereals from Nuisement on the Troyes - Châlons line. Photo Georges Turpin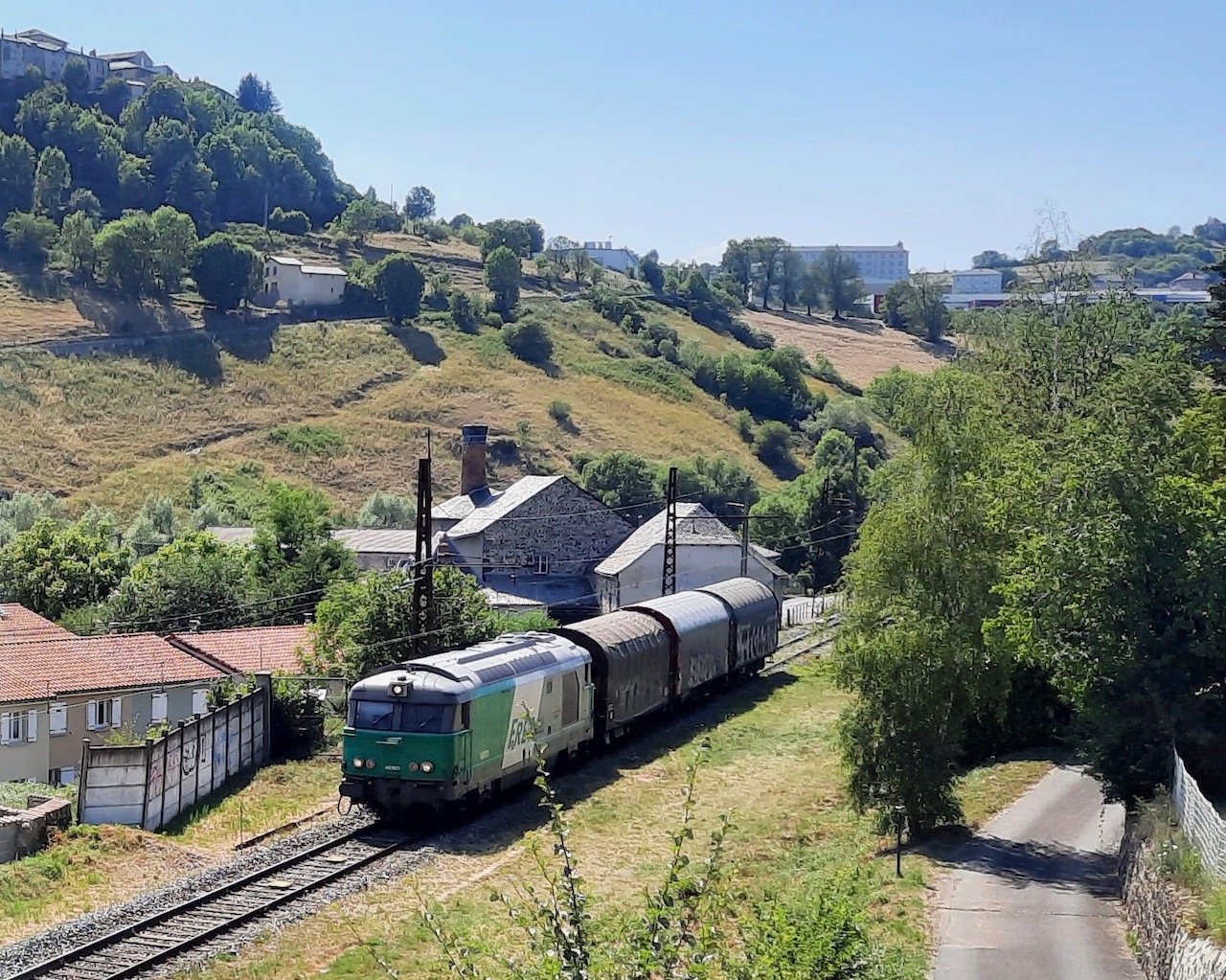 Just after midday on July 8th the St Chély coils train is seen (right) passing through St Flour in sweltering heat. Headed by BB 67471 the load consisting of Y8296 and four loaded wagons each with three 36 tonne coils
, the maximum allowed for a single BB 67400 on the 3.3% gradient leaving
Neussargues
While Y 8296 shunted the coils at St Chély BB 67471 returned to Neussargues where it collected three covered wagons and is seen (above) passing St Flour again later that afternoon.
Photos Hansruedi Plüess
Additions to FRS Photographic Archive during August 2022

To Photographic section

Additions to Folder 4 ("AFAC & other articles")

La veille Gare Montparnasse




Voitures Ty (d'origin Est) - extract France Trains catalogue




Voitures Ty (d'origine Nord) - extract France Trains catalogue




Voitures Dyle & Bacalan (d'origin PLM) - extract France Trains catalogue




Voitures OCEM RA - extract France Trains catalogue




Voitures OCEM FL - extract France Trains catalogue




Alleges Postales OCEM - extract France Trais catalogue




Wagons Tombereaux - extract France Trains catalogue




Fourgons a Bagages - extract France Trains catalogue




Voitures CIWL - extract France Trains catalogue
Additions to Folder 7 ("Miscellaneous")
Vitry Test Bank (1934 / 1950/ 1975)
PS: The additions to Folder 4, 7 & 11 (originating from Wikipedia & other sources) have COPYRIGHT RESTRICTIONS and are intended for personal enjoyment by members only
© Peter Lovell. The French Railways Society 2022. With thanks to Graham Skinner, Christophe Masse, Georges Turpin, Jocelyne Bourneuf, Michel Costes, Michel Joindot, Chris Bushell, Hansruedi Plüess and Ben Pattison.