Inaugural run of Dakota CC 65512 in preservation
Built by the Compagnie des Ateliers et Forges de la Loire (CAFL) and Alsthom and entering service as 060-DA-12 in 1956, CC 65512 covered over 1.8 million km before withdrawal by SNCF in February 1983. It then passed to TSO where it wore the company's distinctive yellow livery. Ten years ago the Association pour la Préservation du Patrimoine et des Métiers Ferroviaires (APPMF) was formed at Gièvres and since 2017 has been restoring CC 65512 to full working order.
With restoration complete, on Sunday 13th August CC 65512 (with BB 67615 for assurance) successfully undertook loaded test runs from Gièvres to Vierzon and Tours, seen above departing from Vierzon. Photo: Christophe Masse.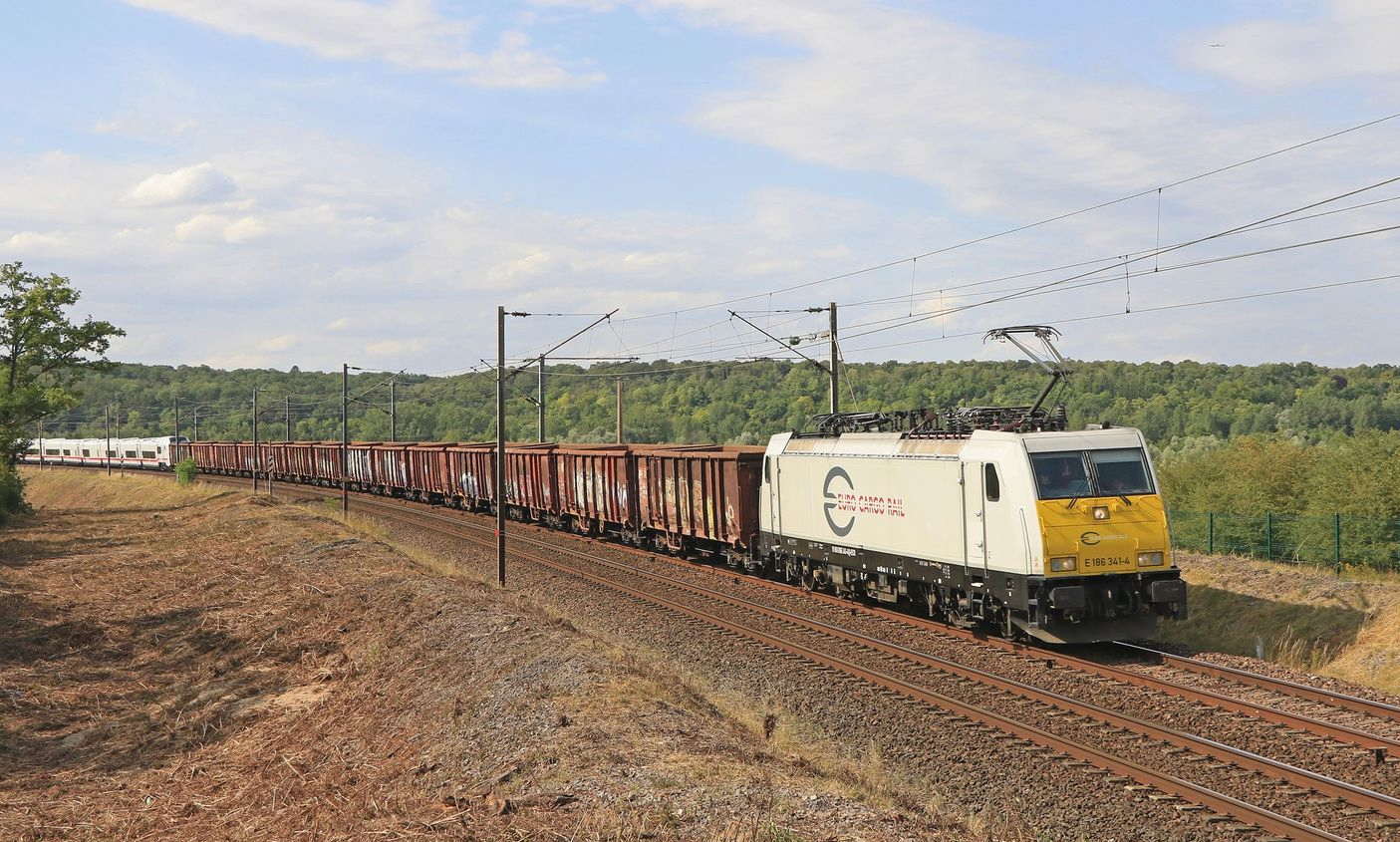 New Talgo ICE L passing through
Flanked by mineral wagons for braking purposes, on 11th July DB Cargo Bombardier Traxx No 186 341 is seen passing Trilport east of Paris with the first of Deutsche Bahn's Talgo ICE L trains en route from Spain to Germany. Static testing will be carried out at Braunschweig before the set moves on to the Żmigród test track in Poland.

A second set is undergoing climatic trials at Rail Tec Arsenal Vienna. DB ordered up to 100 of these 17-coach articulated trainsets from Talgo in a 2019 framework agreement valued at €2.3 billion; 23 sets are under construction in the first tranche and a further 56 in the second. The trains have 100% low-floor access; each set will accommodate 562 passengers. Starting late next year, they will operate on Berlin – Amsterdam services where they are expected to reduce journey times by 30 min to 5h 50, and later on various seasonal routes.
Photos: Christophe Masse.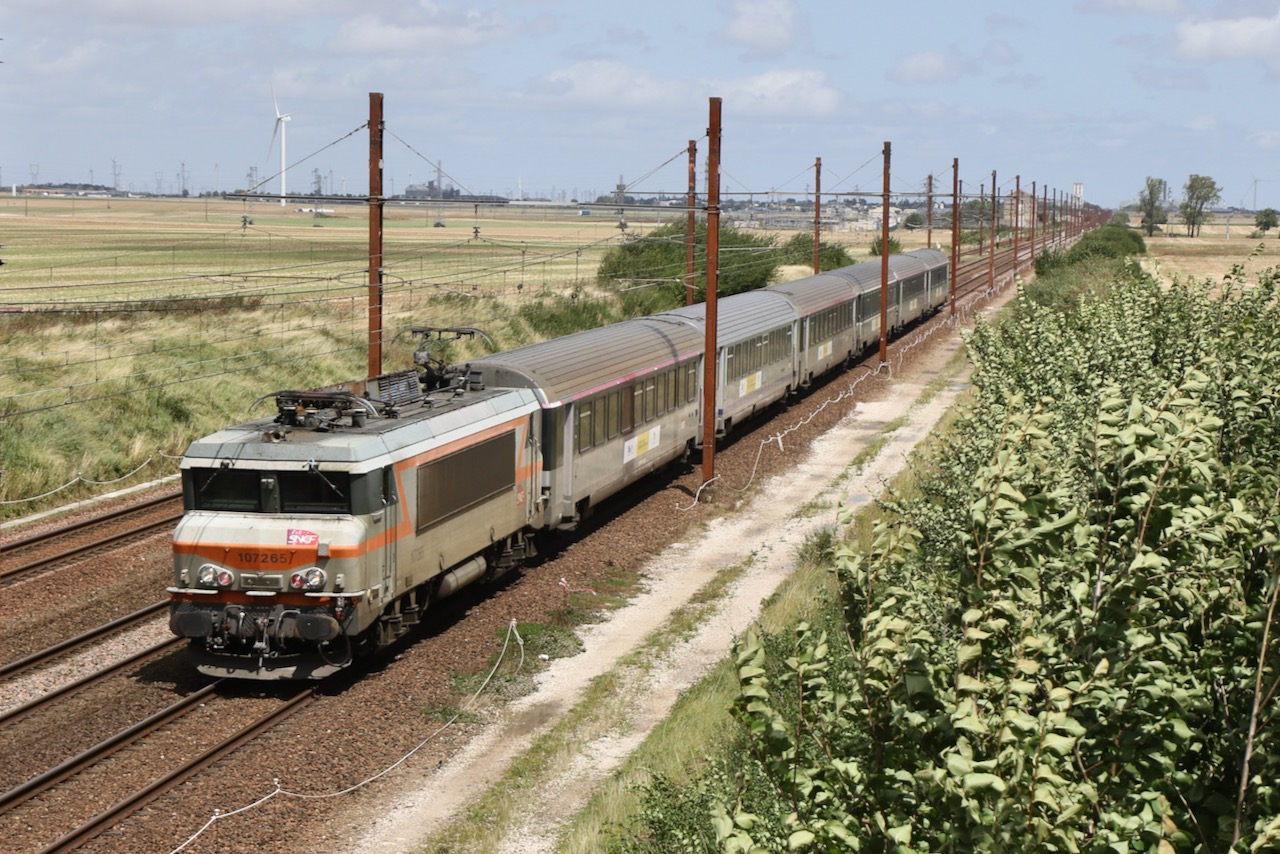 Catch them while you can!
At the beginning of the year only four of the 32 Z 56700 Omneo Premium (Regio 2N) trains ordered by Centre-Val de Loire Region had been delivered; by the end of July this had increased to 25 with only seven more outstanding. They are replacing BB 7200/BB 26000 on Corail TER
Remi
services from Paris to Orleans, Tours, Vierzon and Bourges. The use of loco hauled stock was expected to finish on Paris - Nevers
Remi
services at the end of August.
On 2nd August BB 7265 is seen at the head of Train 3911 Paris-Austerlitz – Bourges, at Tivernon between Toury and Château-Gaillard. Each of the coaches bears the Centre-Val de Loire TER

Rémi

logo, and on the front of BB 7265 is a small protrusion (to the right of the SNCF logo) which was intended to receive a socket for the connection cable to enable reversible push-pull working that was never installed. Photo:

Georges Turpin

.
Another Eurostar rival?
A new cross-Channel train service is being planned by a group including Mobico (the new name for National Express) according to a report in
The Financial Times
of 28th July. Under the brand name
Evolyn,
London – Paris trains could be running 'as early as 2025' the article stated, going on to say that 'The group had held discussions to order trains from…Alstom, and for permission to run services with the operators of both the Channel Tunnel and high-speed rail infrastructure in the UK'. Discussions with other potential investors had also taken place.
Eurostar has never achieved the patronage levels envisaged in studies prior to opening of the Channel Tunnel, estimated in a 1994 report at 27.7 million passengers annually by 2013. Mobico would face the same challenges as several other now-abandoned proposals, notably the lack of rolling stock designed to Channel Tunnel safety standards, capacity problems at both St Pancras and Gare du Nord, and border delays. At the very least, 2025 would seem to be highly optimistic as a start-date.
None of the known members of the group would comment said the FT, and nor would Alstom.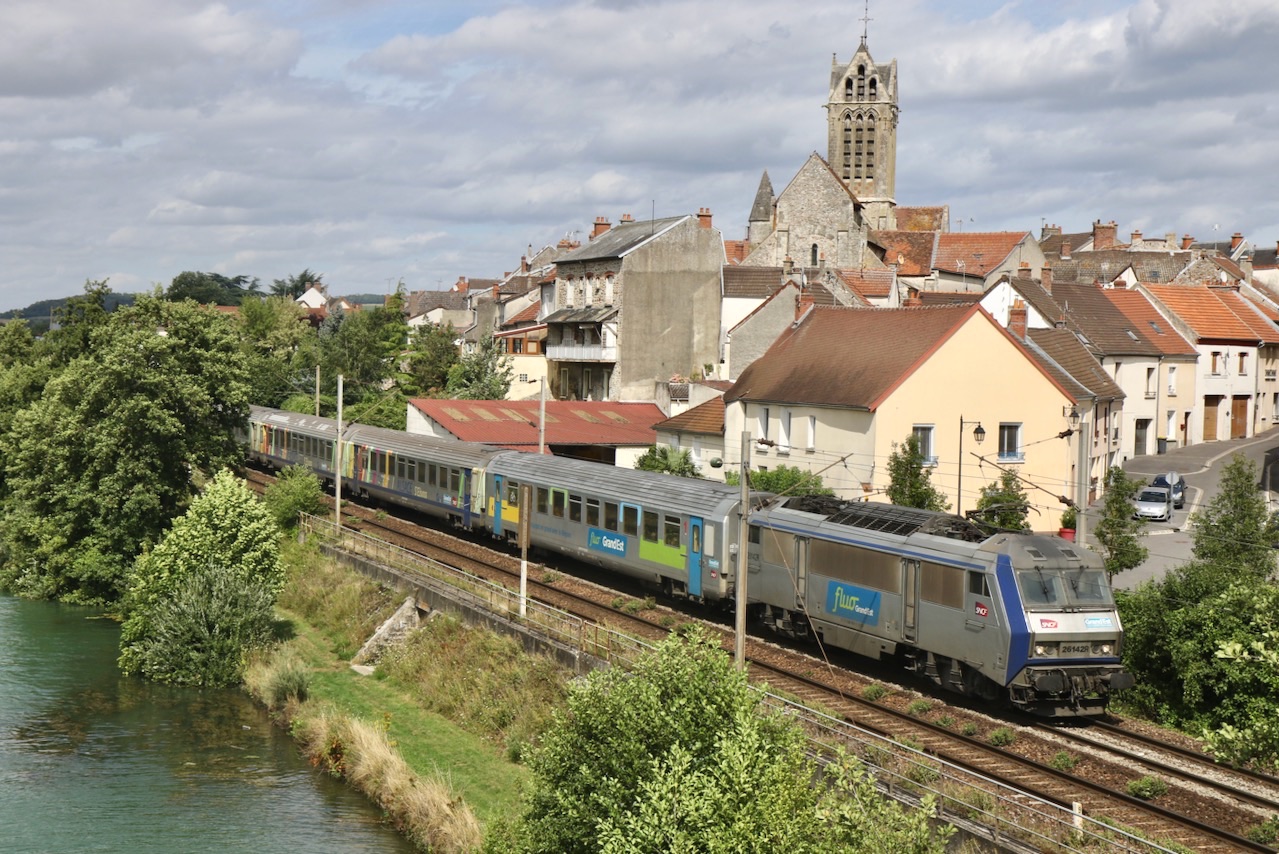 On the 30th July BB 26142 passes Dormans with TER 839116 16.50 Châlons-en-Champagne – Paris-Est. The locomotive and first coach bear the current Grand Est TER
fluo
branding, while the second and third coaches are in the old
ALSACE S'Elsass
livery with Grand Est motifs.
Photo:
Georges Turpin
.
Horizon 2024 progress
In the latest stage of the Horizon 2024 project to modernise Gare du Nord in Paris, improved pedestrian access to the Transilien concourse was due to be completed in early September in time to cope with the influx of passengers during the Rugby World Cup. The bus exit ramp at the east side of the station has been closed to vehicles and renovated for pedestrian use. The barriers to platforms 30 to 36 have been repositioned to increase the concourse area by some 200m2, easing access and improving passenger circulation; escalators from Level 2 to these platforms have been refurbished. Elsewhere, commercial outlets have been removed or relocated so as to provide more circulating area, in particular for the queues that can build up during disruptions to normal traffic. New information screens are gradually appearing, multi-coloured and clearer to read in daylight than existing panels.
After the Rugby World Cup, work will resume on other elements of the project for completion before the Olympic Games starts on 26th July 2024, including renovation of the underground car park, an 18-month job costing €7.8 million.
Below left. Architect Jacques Ignace Hittorff's grand façade of the Gare du Nord. The new forecourt area will be dedicated to pedestrians. Artist's impression: SNCF/AREP.

Below right. The main concourse now less cluttered, Transilien platforms beyond. Photo:

Ben Pattison

.
Occitanie reopenings delayed
Members of Occitanie's
Commission permanente transport et mobilités
meeting on 7th July approved proposals for takeover from SNCF Réseau of the 32km branch from Alès to Bessèges in Gard, closed in 2012 and originally scheduled for reopening in 2026. However, increased costs and safety concerns mean that there will be a two-year delay before rehabilitation can start. The transfer of responsibility concerns only passenger operation and provision will have to be made for the occasional haulage of chemical products to the Solvay works at Salindres, a traffic that cannot be moved by road. In addition, stricter safety regulations will raise the cost of renovating the 13 level crossings, as will the need for further studies of the line's environmental impact. Rehabilitation is now expected to start in 2026 for reopening in 2028. Cost of the project is put at €67 million.
It is also reported that reopening from Limoux to Quillan, proposed for 2028, has been put off for four years. The Maire of Quillan is understood to be against reopening, preferring that the alignment be turned into a
voie verte
for tourists.
These delays must call into question the other planned reopening on Occitanie's list: Rodez to Séverac-le-Château. 'Temporarily' closed in 2017, this 44km line through empty country is seen as providing a useful link between Millau (population 22,000) and the regional capital Toulouse. Such a service has been run before with little success. Indeed, Millau's meagre service on the Aubrac route, three or four trains daily, attracts no more than 30,000 passengers a year.
Above. An EAD arrives at Bessèges from Alès one summer afternoon in the late-1990s. Note the point lever frame on the platform and the run-down state of the station, such that the one other prospective passenger did not believe a train would appear. The 3km from Robiac to Bessèges was run as a branch from Alès following closure of the Robiac – Vogüé line in March 1969. Photo:
Chris Bushell.

Opposite. An X 73500 autorail crosses the metal viaduct over the River Aude shortly before Alet-les-Bains with a Carcassonne – Quillan service in July 2017 a year before closure. Photo: Georges Turpin

Bumper summer traffic? Halfway through the holiday period, high levels of patronage were being recorded on TER routes, along with complaints of overcrowding. In Nouvelle-Aquitaine crush conditions were reported on 20% of services, amounting to an extra 90,000 passengers a day. The large numbers travelling with bicycles led to a ban on some trains and routes, such as between Bordeaux and Arcachon, in the interest of comfort and safety. Pays-de-la-Loire and Centre-Val de Loire régions saw heavy use of the five Opération Loire à Velo trains deployed two or three times a day on the east-west spine linking Orléans with Nantes and La Croisic. These are Z 56500 EMUs on which a whole car is stripped of its seating to accommodate 83 cycles.
AURA prepares for competition. Région Auvergne Rhône-Alpes has divided its TER routes into five lots in preparation for competitive tendering. Auvergne will be the first, with a new operator envisaged to start in December 2028, followed by Chambéry/Grenoble in 2032 or 2033. A group of longer-distance routes comes next (2033 or 2034), then Haute-Savoie and cross-border services (2034), concluding with the most complex area, lines radiating from Lyon that are likely to form the basis of the city's RER.




Chemin de Fer de Provence new timetable.
Starting on the 4th September a number of improvements are being made at the Nice end of the line with additional evening services and request stops made mandatory. Buses will continue to operate the section from Saint-Andre-les-Alpes to Digne-les-Bains
Details here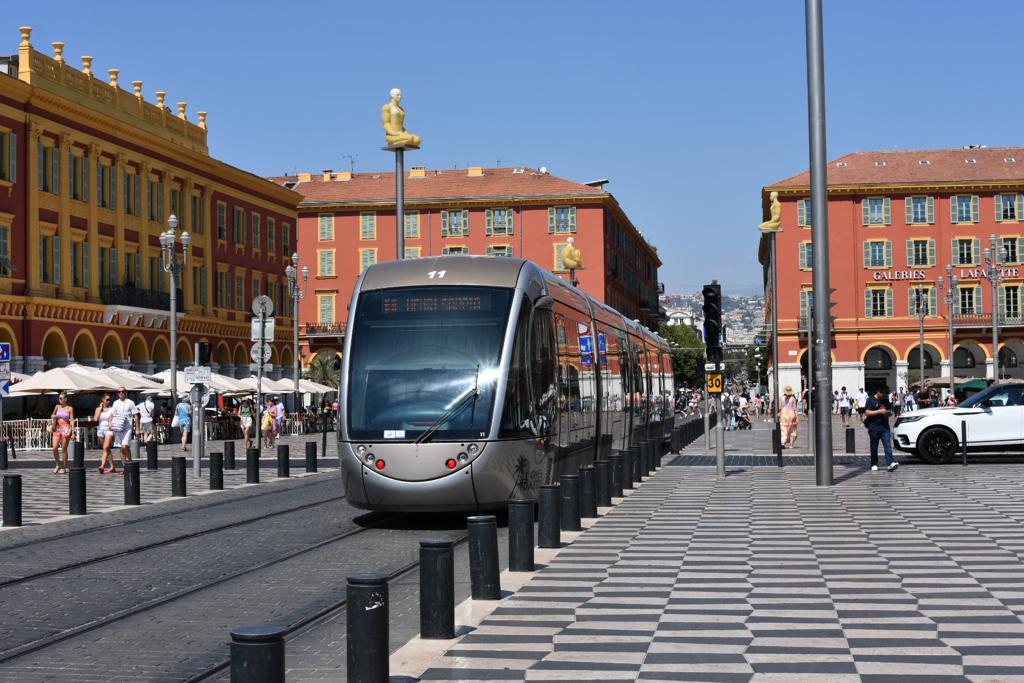 Free public transport in Nice due to heat. With hot weather increasing airborne pollutants on the Cote d'Azur, from 23rd August public transport on the Lignes d'Azur network throughout the Nice Côte d'Azur Metropolis was free of charge. Heavy goods vehicles just passing through the Département were also banned. Photo: Ben Pattison.
EuroAirport link cost rises. The proposal for a rail link to EuroAirport Basel-Mulhouse-Freiburg has attracted more criticism from environmental groups as revised estimates put the cost at €417 million, a 24% increase in one year. The 6km deviation of the existing Mulhouse – Basel line would give journey times from the airport to the two cities of 12 and 10 min respectively, far faster than the congested A35 motorway. Envisaged by SNCF as opening in 2030 and supported by Grand Est région, the line is widely seen as superfluous to local needs and likely to be environmentally damaging by encouraging flying. Extension of Basel tramway Route 3 has been put forward as an alternative. A public meeting scheduled for 19th August was postponed at the last minute.

Ouigo Classique to Bordeaux. Following the success of its Paris – Nantes/Lyon services SNCF is considering introducing loco-hauled trains to Bordeaux in 2024. Two services a day are proposed: the first calling at Juvisy and Futuroscope, the second via Versailles, Chartres and Laval. Journey times would be in the region of 4 to 5 hours compared to just over 2 hours by TGV.
€9 million for Canfranc
Amongst the latest EU Connecting Europe Facility grants announced on 22nd June is €9 million for reopening of the Pau – Canfranc – Zaragoza link between France and Spain. Specifically, the grant will finance studies prior to seeking a
déclaration publique d'intérêt
for rebuilding the line between Bedous and Canfranc, and for reopening of the 7.8km Somport rail tunnel.
Paris Line 4 incident. A report into an incident on Paris Metro Line 4 on 14th June identified several errors that exacerbated a signalling breakdown and door blockage. Five rush-hour trains were stuck in heatwave conditions, leading passengers to evacuate unsupervised. Information had been poorly and belatedly communicated, and supervised evacuation of the trains should have started sooner. Mixed driver/driverless operation in the run-up to full automation was also a factor in mishandling of the situation. One recommendation is that an individual member of control staff should be assigned to each immobilised train to keep passengers fully informed during interruptions to service.
Paris Line 8 train upgrade.
Work has started at ACC M Clermont-Ferrand on a €40 million refurbishment of the 44 MF77 trains used on Line 8 to fit them for service until Alstom MF19 stock comes on stream in 2029. The cars will be stripped of asbestos prior to reassembly with new seating. Line 8 is to be totally modernised and equipped with CBTC at a cost of €480 million.
Intercités de Nuit dewired. The classic route between Dijon and Paris was blocked for several hours on the morning of 14th August when the Nice/Briançon – Paris night train became dewired at 05.58 near Les Laumes-Alésia on the Blaisy-Bar incline, bringing down some 60m of overhead. More than five hours elapsed before the 553 passengers were transferred to another train for onward travel to Paris-Bercy; tray meals were provided.
Hybrid MU trial results
. Initial assessments from trial running on the Toulouse – Rodez/Mazamet lines (July News) show that the hybrid Régiolis MU behaved as expected, with energy recovered during braking (used to recharge the batteries) reaching more than 90%, providing an overall 20% saving in energy consumption depending on route characteristics.
Air ticket tax to rise.
Transport Minister Clément Beaune confirmed on 7th August that the tax on air fares would rise in 2024. Initially aimed at first and business class tickets, the tax increase would be hypothecated to the €100 billion rail investment programme, as well as later helping to reduce the often-substantial disparity between the cost of air and rail travel. It would be "a fair and necessary environmental move" the minister said. As for the suggested Europe-wide tax on aircraft fuel, discussions were progressing but unanimity was yet to be reached amongst EU members
Travelling to Cannes next year?
An additional option will be the Belmond VSOE that will operate between Paris and Cannes on 12th May and 8th August. Departure from Paris will be at 17.00 with arrival at 13.30 the following day. Single cabins from €4,000 or €11,000 for a deluxe suite.
Occcitanie works funded. The région's contribution towards works planned for 2024-26 has been approved. €22 million has been allocated to the following lines: Nîmes – Le Grau-du-Roi; Perpignan – Villefranche-Vernet-les-Bains; the Ligne du Train Jaune; and routes running northeast of Toulouse to Figeac and Rodez, Brive – Rodez, and Toulouse – Mazamet.
BB 60000 take over Saint-Chély steel. Pairs of Class BB 60000s have started to appear on the Clermont Ferrand – Saint-Chély steel trains replacing BB 67400 on their last regular SNCF Fret duty. This is meant to be a temporary measure pending renewal of the track to allow BB 75000s to operate. However, while the state is prepared to fund some of the cost, agreement has still to be reached with the Occitanie and AURA regions.
RENFE starts Madrid – Marseille.
As previewed in August News, RENFE Viajeros ran its inaugural Madrid – Marseille train on 28th July, thereafter departing on Fridays, Saturdays and Sundays and returning the following day until daily service starts on 1st October. Having applied for a safety certificate to run between Paris and Lyon, RENFE hopes to start operating five trains each way daily next year, one of which would be extended from Lyon to Barcelona
.
At Perpignan on 14th August RENFE S-100 set No 21 awaits departure at 09.48 with AVE 9736 08.22 Barcelona to Lyon (13.20) alongside TGV 6252 the 10.04 to Paris.
As previously reported, RENFE Viajeros began AVE service from Barcelona to Lyon on 13th July.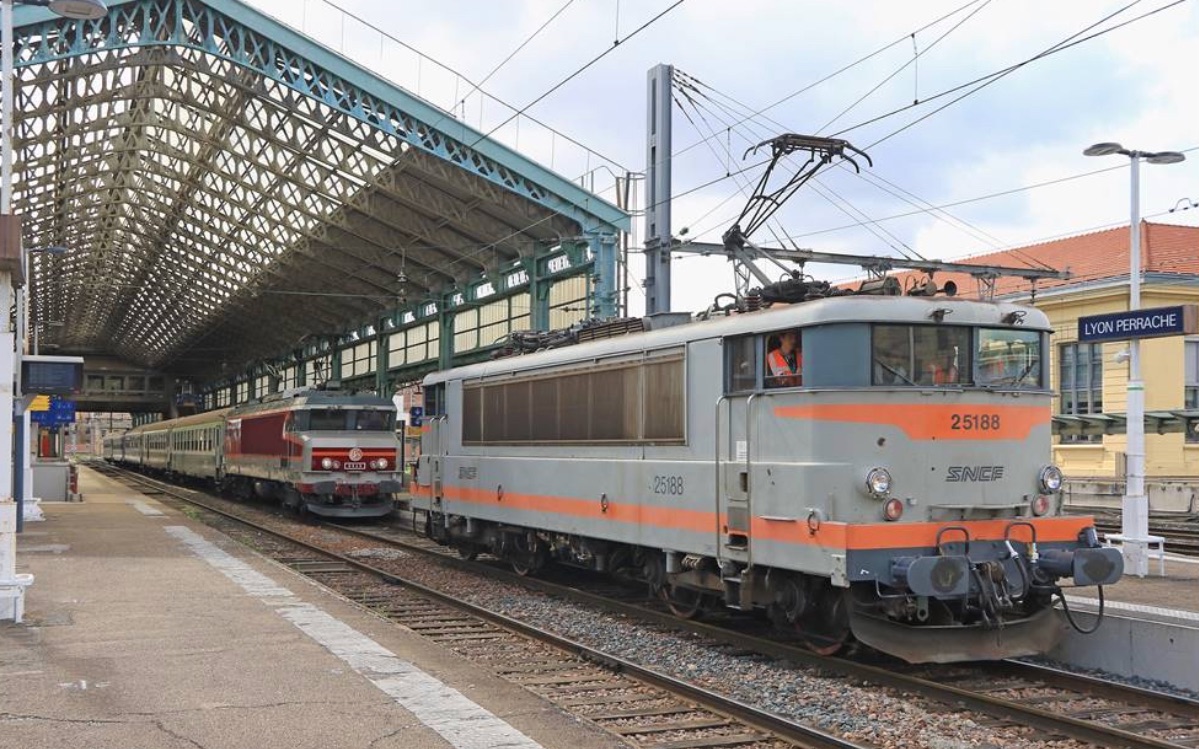 On Saturday 5th August L'Association pour la Préservation du Matériel Ferroviaire Savoyard (APMFS) ran two special trains with BB 25188 and CC 6549 from Lyon Perrache to Annecy for the Fête du Lac. The pair are seen being separated at Lyon Perrache after double-heading the empty stock from Ambérieu, consisting of five UIC/USI vehicles. BB 25188 then took three coaches to Aix-les-Bains via Grenoble, while CC 6549 took the direct route. At Aix-les-Bains the two trains combined before proceeding to Annecy. Photo:
Christophe Masse.
Clermont Ferrand looks into RER
A report from the Auvergnat future-mobility association OrbiMob' published in July sets out suggestions for development of services around Clermont-Ferrand should funding become available under the government's 10-year plan for RERs in provincial cities. Lines radiating from Clermont were surveyed with a view to provision of more trains, additional stations and improved infrastructure such as extra passing loops on single-track sections, as well as development of community transport links to new and existing stations.

Totalling 308km, the survey covered the Paris main line north as far as Moulins-sur-Allier and the parallel route to Saint-Germain-des-Fossés via Gannat; the branch to Volvic (terminus of the former line to Brive); the branch to Thiers (formerly extending to Saint-Etienne); and southwards to Issoire and Brioude, which carries regional trains to Aurillac, Béziers, Nîmes and Le Puy-en-Velay. Also assessed for prospective passenger service were the 9km from Vertaizon to Billom (owned by Puy-de-Dôme département) and the 6.7km freight line from Riom to Châtel-Guyon which serves the Volvic mineral water source. Thirteen sites for new or reopened stations and halts were identified.

Initially it is suggested that a cross-city service at 20 or 30min intervals might be provided on the north-south axis between Riom and Vic-le-Comte, and east-west linking Vertaizon with Volvic. North of Riom, trains would run at least hourly to Gannat and Moulins, and extend south of Clermont to Issoire and Brioude. Hourly trains from Thiers and Billom would feed into the east-west link at Vertaizon, running through Clermont to Volvic.
As well as improving access to central Clermont and surrounding industrial and commercial areas, such services could also boost eco-tourism, especially around Volvic where connecting links are proposed to popular hiking trails and tourist attractions such as the Puy-de-Dôme rack railway.

Above. An AURA Régiolis pauses at Parent-Coudes-Champeix on 23rd July with TER 874210 the 16.04 Brioude – Gannat, already a cross-city service. Photo: Georges Turpin.

Hautes-Pyrénées LGV funding grumbles
Responding on 2nd August to complaints about the Hautes-Pyrénées tax contribution towards the cost of the GPSO LGV project, Occitanie's Vice-President Transport Jean-Luc Gibelin highlighted the importance to tourism and the local economy of bringing Tarbes within 4h 30min of Paris. He pointed to the 60% growth in passengers at Toulouse after opening of the Tours – Bordeaux LGV cut journey times in 2017, and to the contribution the Dax LGV would make to reducing
disenclavement
(isolation) of the département.
Holiday operators in Département 65 oppose the additional
taxe de séjour
as the LGV route does not pass through Hautes-Pyrénées, even though the branch to Dax will bring faster journeys for Tarbes passengers. Tourism's contribution is estimated at around 10 centimes per night for campers and up to €1.36 for hotel guests.
At Tarbes on a damp and blustery 24th July Ocèane set 839 awaits departure on TGV 8581 10.28 to Paris Montparnasse. At 5h 24min to Paris with four stops, Tarbes TGVs are retimed during July and August to depart earlier and run 8min slower than the usual 5h 16min. When the Dax LGV opens in 2034, Tarbes – Paris journey time will be cut to 4h 30min, also benefiting towns east of Tarbes such as Lannemezan. In the background TER 872729 has arrived at 10.21 on the 08.31 ex-Toulouse, providing the connection from stations to the east.
Photo: Chris Bushell.

Tour de France visits Puy de Dôme
This year one of the stages in the Tour de France finished at the Puy de Dôme in the Massif Central, the first time this has happened since 1988. To celebrate the occasion the "
le panoramique des Dômes
" cogwheel trains were repainted in a special cycling liveryin the distinctive colours of the race jerseys. One was decorated with the green jersey for the points leader and another with the polka dot jersey for the 'king of the mountains'. The other two were decked out with the famous yellow jersey signifying the race leader.
More money for Train Jaune
Funding has been approved for the 2024-26 programme of works on the Train Jaune and its connecting line from Perpignan to Villefranche-Vernet-les-Bains. Occitanie is to contribute €8.1 million (91.5%) towards the €8.8 million cost of further remedial work on the metre-gauge Train Jaune and €3.1 million (66.5% of €4.7 million) for upgrading the standard-gauge line to Perpignan.
After closure during March and April, the current year's work on the Ligne du Train Jaune, budgeted at €9.3 million, will continue over a four-week period from 2nd October to 3rd November when the section between Villefranche and Mont-Louis (37km) will see trains replaced by buses. Nine cables are being renewed on the Pont Gisclard this year (see below right), as well as stabilisation of rock faces between Olette and Fontpédrouse, and sleeper replacement over 3km between Nyer and Thuès. Some 300 staff of SNCF Réseau and contractors have been deployed.
Since 2015, €49 million has been invested in a long-term programme of renovating infrastructure, substations and rolling stock undertaken by SNCF on this line which is classed as a historic monument, including €4.7 million for a new depot at Villefranche-de-Conflent.
On 13th August, the 08.39 from Latour-de-Carol meanders through the paysage between Font Romeu and Bolquère en route to Villefranche-Vernet-les-Bains, where (below) EMU Z 27627 was waiting with TER 877672, the connecting 13.10 to Perpignan. Although built with dual-voltage capability, these EMUs now have the 25kV AC equipment isolated.Photos: Ben Pattison.

Pont Gisclard Photo: SNCF Réseau.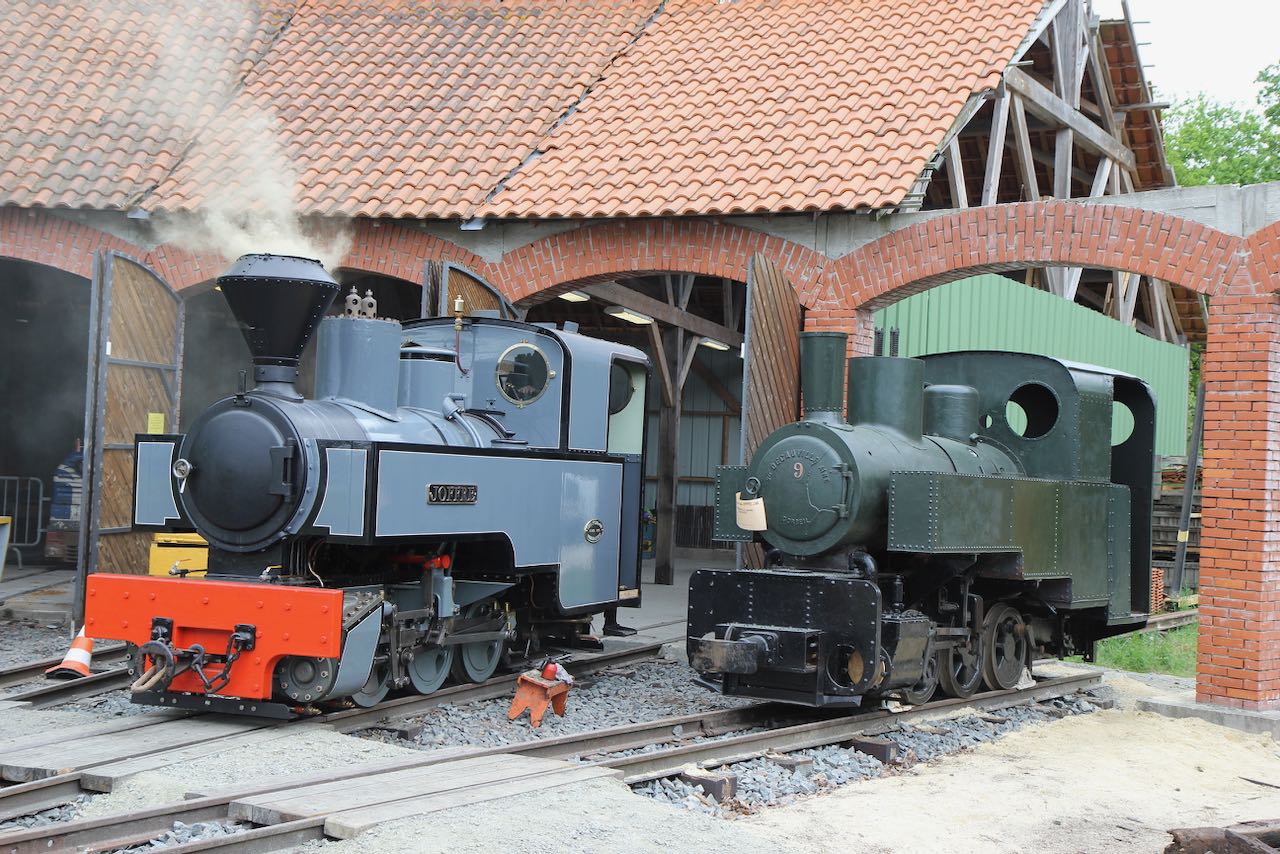 The Chemin de Fer de Rillé, located north-west of Tours was created in 1989 when AECFM moved its collection of 60cm locomotives and stock from its previous base at Marcilly. The 3km of track runs alongside the lake and park. In May 2013 Kerr Stuart 0-6-0T No 2405
Joffre,
a
locomotive that had spent much of its life in France, was visiting from the West Lancashire Railway and is seen alongside Decauville 0-6-0T No 1646 (Carrières de Luzy No 9). Although the two locomotives are externally very similar, the Kerr Stuarts had design differences with the firebox further back (giving less cab space) and weighed 6cwt more. More information at
http://aecfm.fr
Photo:
Georges Turpin
.
At Train Touristique Guîtres-Marcenais in Gironde ex-US Transportation Corps General Electric BB D No 4033 stands at Guîtres station on 26th June next to a double Lartigue signal recovered from Coutras.
This locomotive is expected to be replaced on Guîtres – Marcenais trains by Y7294 previously at the Chemin de fer de la Vendée. Photo:
Georges Turpin
.
The Chemin de fer de la Vendée has recently returned SACM 030 T 8143 (formerly No 6 of the chemin de fer de Mamers à Saint-Calais) to service after an overhaul. It is seen above arriving at Les Herbiers on 25th June with a rake of restored
boîtes a tonerre
On the same day Y 7771 was in charge of the restaurant train comprising former CIWL vehicles 2750 and 4216.
Both Photos:
Georges Turpin
.
Marseille's new cars on test
Following initial trials at Alstom's Valenciennes plant, the first four of RTM's next-generation metro cars arrived in Marseille during July. Once assembled into a train at La Rose depot, the cars will undergo static and dynamic testing before entry into public service in early-2024. Alstom is building 38 rubber tyred trains to replace the current fleet of 36. The four-car trains have capacity for 500 passengers.
Under the plan known as Neomma (Nouveau Métro de Marseille), costed at €580 million, the network is being converted to driverless operation.
Starting with Line 2 which should be running in 100% automated mode by mid-2026, Line 1 should follow in 2027.
Amongst the benefits of automation will be a reduction in headway from 5 minutes to 90 seconds, rapid step-up of service levels at busy times, and speedier recovery from out-of-course incidents. This summer also sees 4G rolled out on the metro and introduction of station announcements in Provençal.

Photos: Métropole Aix-Marseille-Provence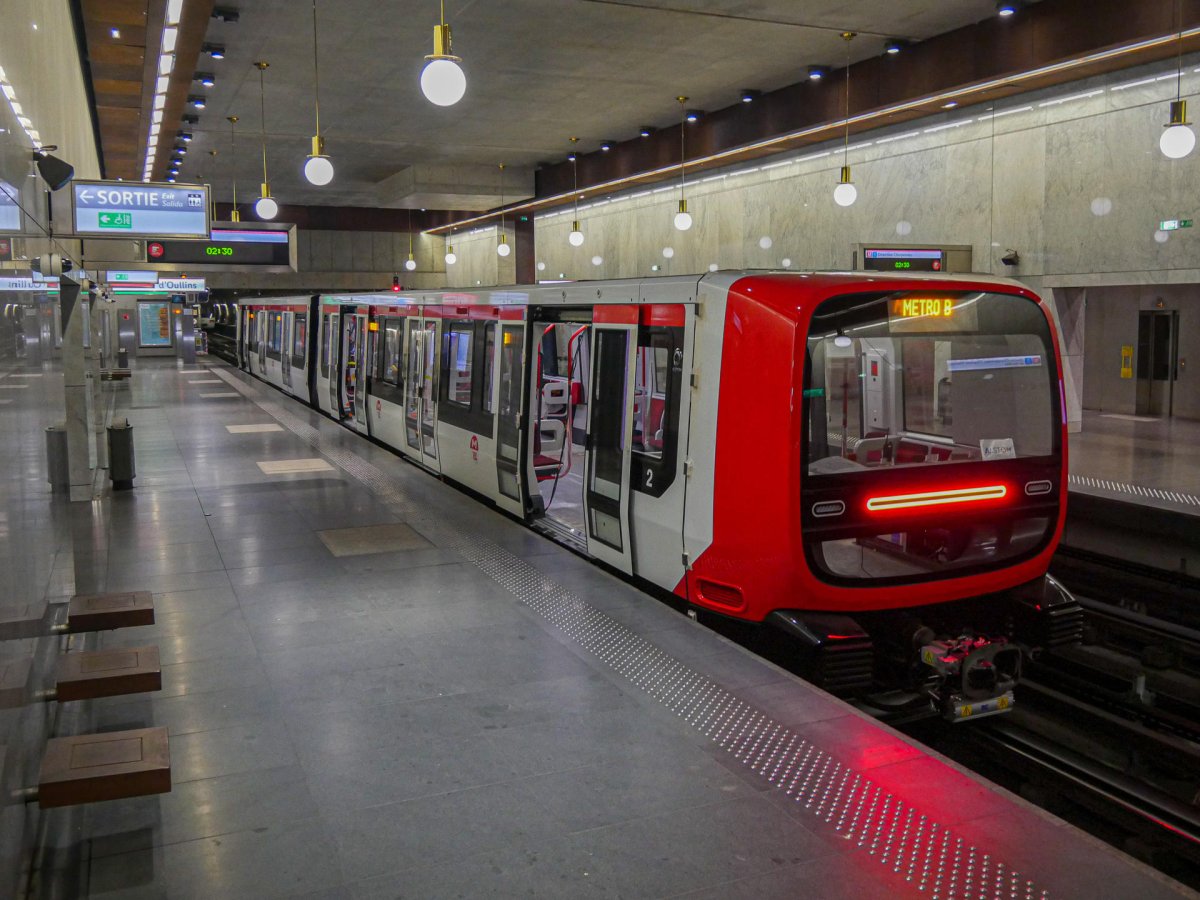 Lyon metro boosts capacity
Renewal, automation and enhancement of the Lyon metro is being undertaken by transport authority Sytral Mobilitiés in a €1.6 billion programme running until 2035. Line A is to be automated, driverless Line B will have capacity increased, and rack Line C will be partially double-tracked and equipped with CBTC. The busiest route, driverless Line D, is to be resignalled and capacity doubled to 550,000 passengers a day. The investment is split into three lots to be funded entirely locally: €222 million in 2023-26, €775 million in 2026-32 and €611 million by 2035.
Line A will be fully automated by 2035 with CBTC, platform screen doors and 20 new four-car trains at a cost of €686 million. La Poudrette depot will be rebuilt to accommodate the new rolling stock. On Line B, where a 2.4km two-station extension to Hôpitaux Sud opens next month, all trains will be four cars from 2025, bringing a 30% capacity increase. The short Line C (2.5km) will be doubled between Hénon and Cuire, equipped with CBTC and between seven and nine new two-car trains provided.
On opening in 1991, Line D was the world's first fully-automated large-profile metro. Now the original signalling is to be replaced with Go4A, the two-car trains modified to run as four-car sets, and a further 14 trains ordered.
Line B has been operating in driverless mode since 2022.
Photo: Sytral

© Peter Lovell & Chris Bushell. The French Railways Society 2023. With thanks to Georges Turpin, Christophe Masse & Ben Pattison.